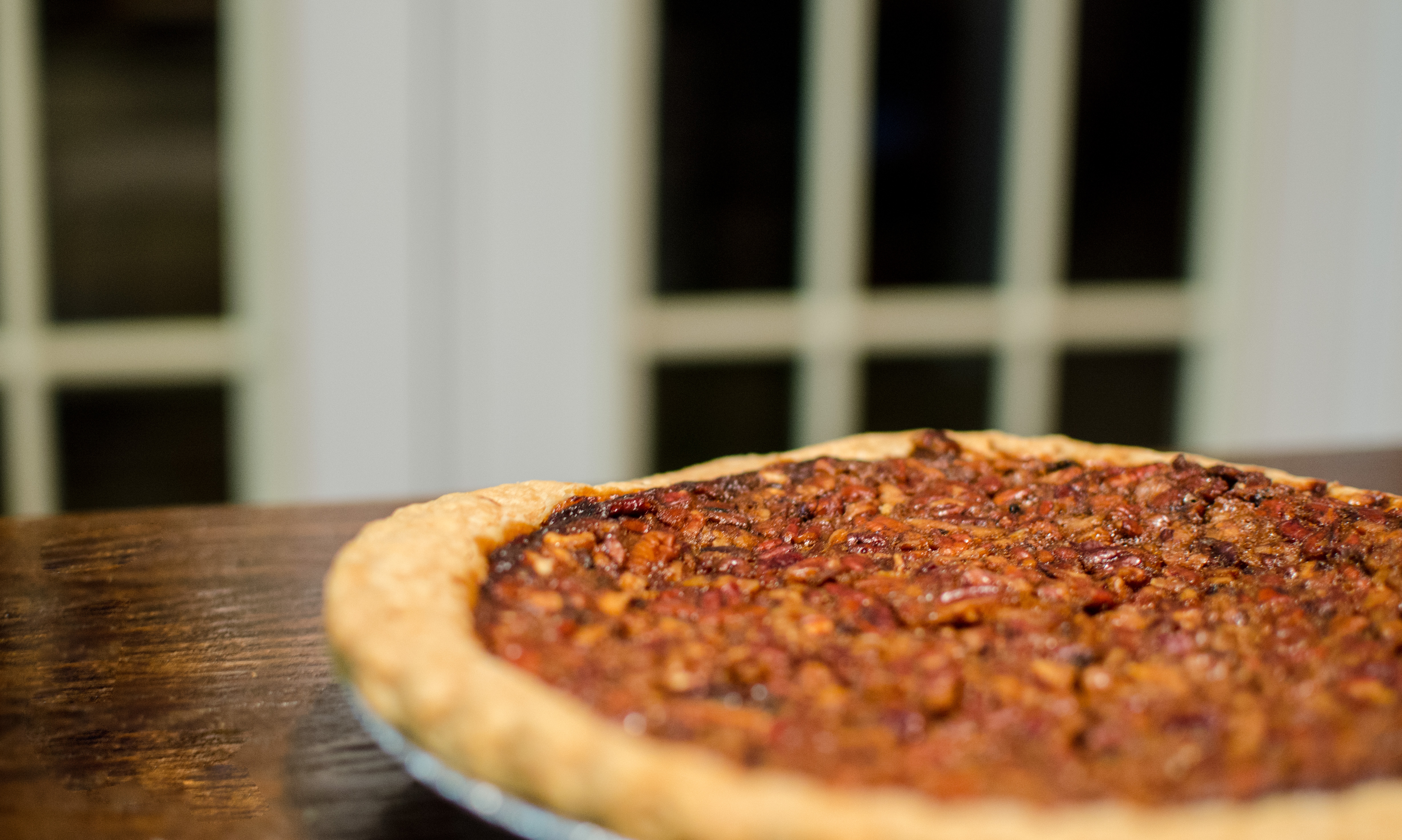 Today is none other than National Pecan Pie Day! If you aren't from the South, you might be unaware. I'm loving all of these "national" food days. Any extra excuse to eat dessert, am I right? Pecan pie is the ultimate Southern dessert that can be eaten all year round, although non-Southerners may associate it with Thanksgiving or Christmas. That's not so in Kentucky. If you haven't had pecan pie, are you even living?!? I think not! It's hard to believe there are people out there who haven't ever tried the ooey gooey deliciousness that is known as pecan pie.

What is pecan pie?
Pecan pie is a pie made with pecan nuts. The filling is made of eggs, butter, and sugar (usually corn syrup). Like most recipes, there are lots of variations, such as; using white or brown sugar, molasses, maple syrup, or honey. My favorite additions to pecan pie are chocolate and bourbon (are you even surprised?!), as well as vanilla ice cream on top. This dessert dates back to the 19th century and remains relatively unchanged ever since.
Why do you see pecan pie everywhere around Thanksgiving and Christmas?
Like I mentioned before, it's pretty much ubiquitous in the South. However, pecan harvesting season starts in late September and extends into November making fall the perfect time for pecan pie season.
Where did pecan pie originate?
Pecans are nuts that are native to the southern United States. Did you know that Native Americans used pecans more than 8,000 years ago?
Georgia is the main commercial grower of pecans in the United States. Pecans grew along areas watered by the Mississippi River and spread a bit to the east into Alabama. After the Civil War, commercial developers brought in varieties of pecans to grow. In the mid to late 1800s, grafted pecan trees became prevalent in Louisiana.
The word pecan is actually a derivative of an Algonquin word, pakani, which refers to several nuts. Some believe that the French are the creators of pecan pie after settling into New Orleans, because the name of the nut is so similar to the French word, pacane, which itself was taken from the Algonquian word, pakani. However, there is very little evidence to support the idea that this pie is French in origin.
There have been many attempts to trace this dish's origins and conflicting reports of its history. Recipes for milk-custard-based pecan pies can be found as early as 1824 in Mary Randolph's The Virginia Housewife. There was also a pecan custard pie recipe that was published in Harper's Bazaar in 1886. In 1898, what closely resembles the pecan pie that we know and love today was published in a church charity cookbook in St. Louis, but the recipe was sent in by a Texas woman. Other well known cookbooks, such as The Joy of Cooking, did not include this dessert before 1940.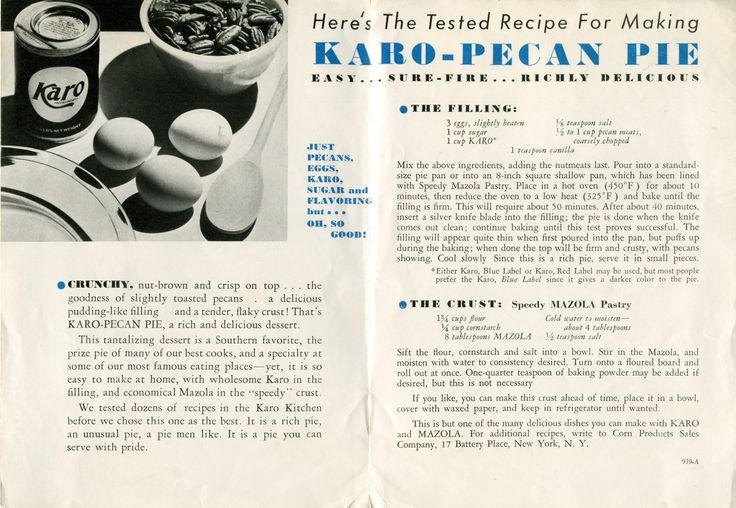 How did pecan pie become so popular?
At the beginning of the 20th century, recipes for pecan pie started appearing outside of Texas, but the recipe wouldn't become popular until later. The makers of Karo syrup significantly contributed to the popularity of the dish. The company claims that in the 1930s, a corporate sales executive's wife made a new discovery and a new use for corn syrup. Before the invention of corn syrup, older recipes for pecan pie used darker based syrups or molasses.
Promotional recipes started appearing on the labels of Karo syrup bottles, and the popularity of pecan pie soared. This led to many people being introduced to pecan pie, due to the wide distribution of Karo syrup. This is why that most recipes that you see for pecan pie are made with Karo syrup.
Want to make your own?
Your Turn: Have you ever had pecan pie before? What's your favorite dessert?
How do you say PECAN? Do you say, pee-KAHN, pick-KAHN, PEE-can, or PEE-kahn?
Happy National Pecan Pie Day!