This shop has been compensated by Collective Bias, INC. and The Coca-Cola Company, all opinions are mine alone. #ServeWithACoke #Meijer #CollectiveBias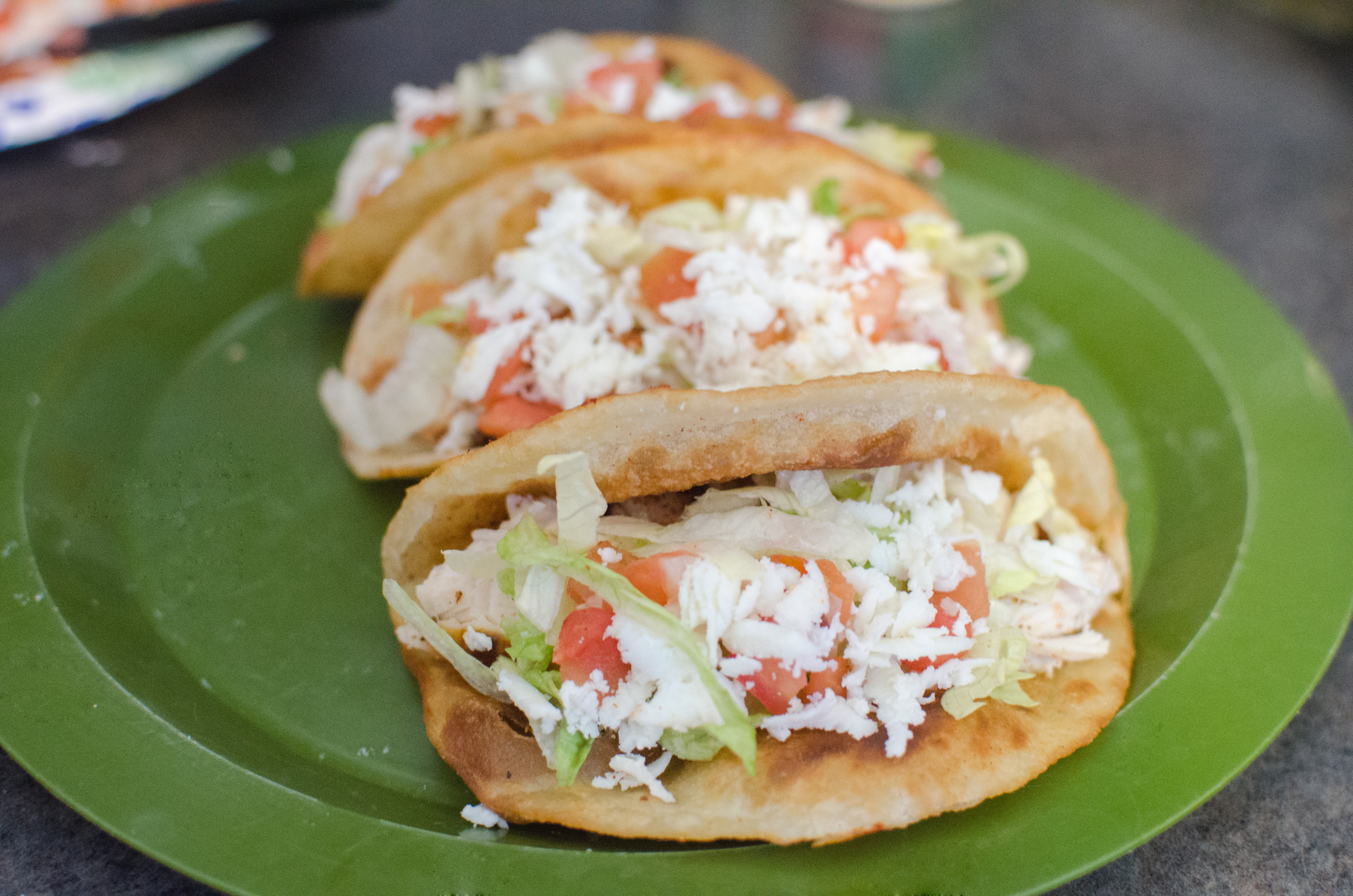 I know Taco Tuesday is a thing, but can Taco Thursday be a thing?! I think so! Both days start with a "T" and why not have another excuse to eat tacos. Everyone loves tacos, am I right?
I've put together a really simple recipe that won't take any time at all. Isn't that what everyone wants?! Quick and easy! This will only take you 20 minutes, tops! The second best part of this recipe is that it's easily customizable!
I oppose Taco Tuesday only because it sends the message that other days aren't also for tacos.
Click To Tweet
My husband was super excited that I was a) suggesting to pick up a rotisserie chicken for dinner and b) that I was making tacos for dinner. A double win. We used to get a rotisserie chicken every week while grocery shopping for years. It had been so long since the last time we got one, that we were both super excited to try an old favorite again! My husband is also a HUGE fan of Mexican food. It's his favorite! He's could eat it for every meal. I wanted to be a good wife and cook his favorite food for him.
Ingredients:
rotisserie chicken
queso fresco
shredded lettuce
tomatoes
taco seasoning (see below for a homemade recipe)
corn or flour tortillas (I used  flour tortillas)
…and other any toppings that you want to include on your tacos
Yesterday, I really wanted tacos. Now, I'm eating tacos. Follow your dreams.
Click To Tweet
Homemade taco seasoning:
2 teaspoons of paprika
1 teaspoon black pepper
1 teaspoon of kosher salt
1 teaspoon onion powder
1/2 teaspoon cayenne pepper
2 teaspoons of garlic powder
1 1/2 teaspoons of cumin
4 teaspoons of oregano
4 teaspoons of chili powder
Mix together.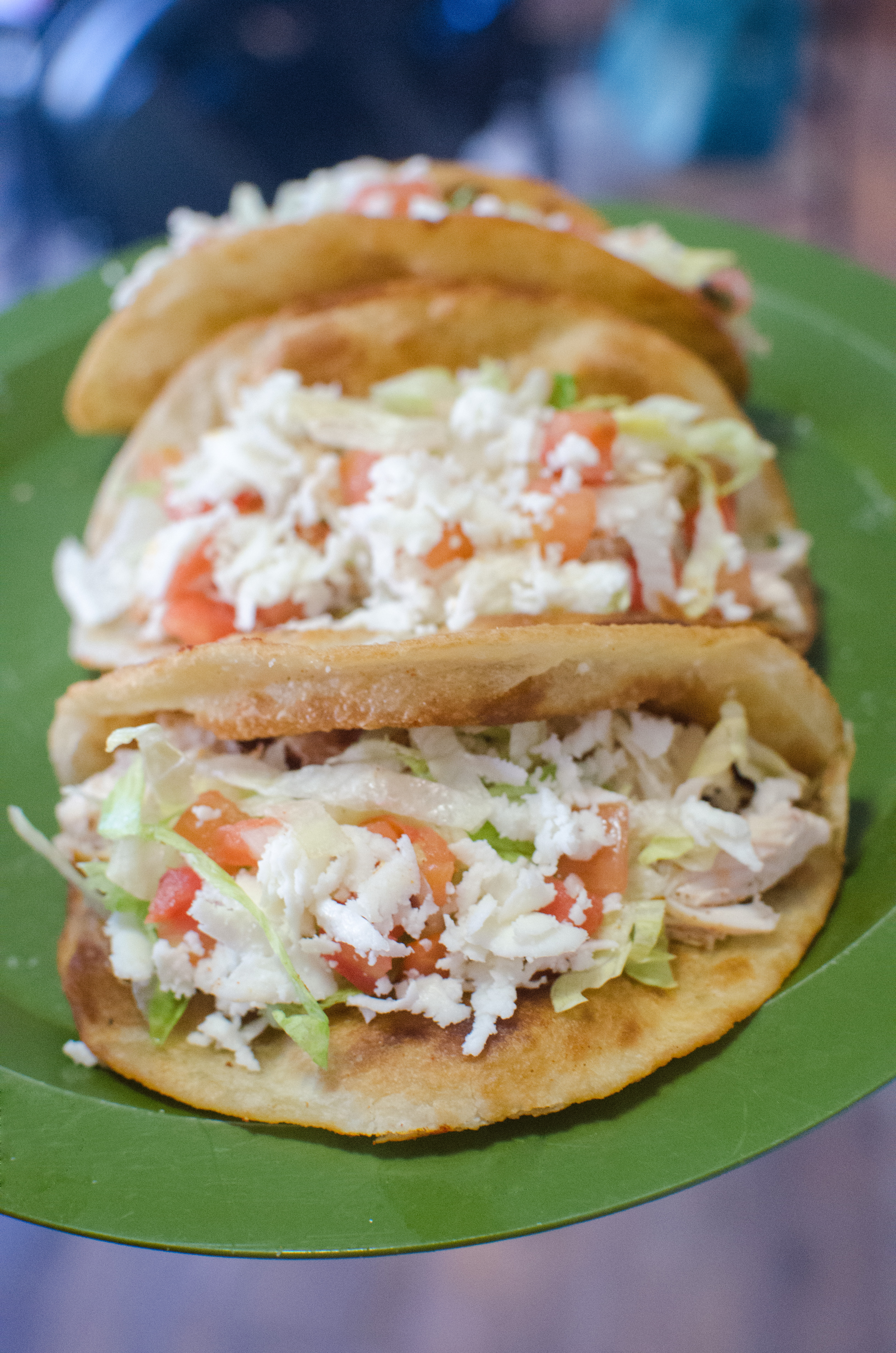 Directions:
1. Go to Meijer and pick up a rotisserie chicken and a refreshing 2-liter of Diet Coke for $7.
2. Chop up the chicken however you like. You can make the pieces long and slender, small and chunky, or even shredded.
3. Mix together your own taco seasoning (see recipe above) or you can purchase taco seasoning at the store, but I prefer making my own (there are no additives or MSG if you make it yourself).
4. Gather your toppings and make sure they are easily accessible, so you can assemble your tacos.
5. Make sure to grate the cheese, so it will be ready to put on top of the tacos.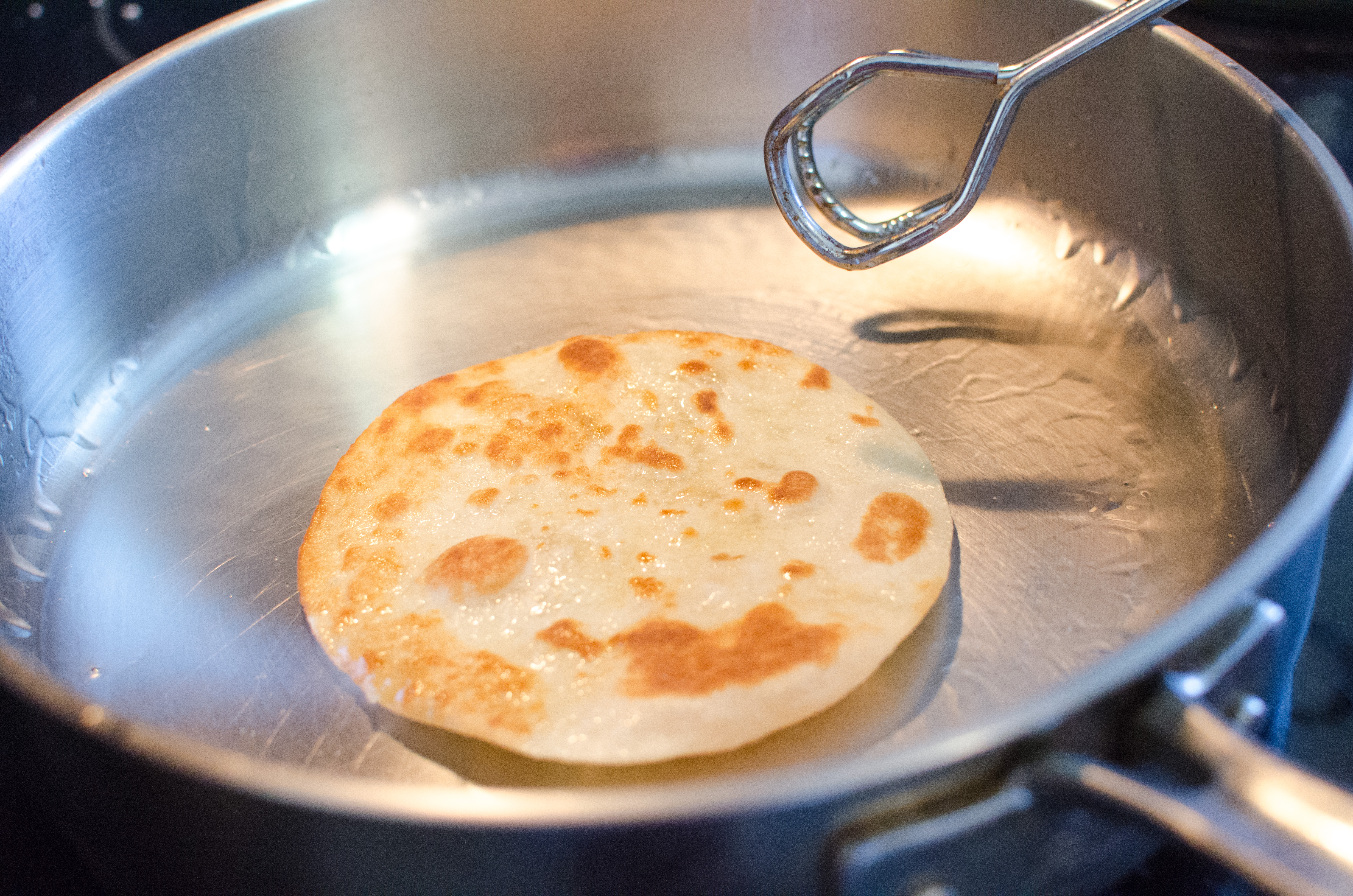 6. (This step is completely optional) You can put the tortillas in the skillet to give them that extra crunch. If you do, you only need to do it for a couple minutes or until lightly browned. Make sure you mold them so they are taco shaped or else they will break apart. You also can just use the tortillas like they come. You don't want to heat up your kitchen by using the oven! It's summer after all.
7. I started assembling my tacos by putting the chicken on my tacos first. I then started seasoning the tacos with the taco seasoning that I made. Since it is raw seasoning, you need to be extremely careful when seasoning. I gathered a few specks in my fingers and gently sprinkled it onto the top of the chicken. Be sure to not over do it.
8. After the chicken is seasoned, you can put the rest of your toppings on your tacos. I started with the lettuce, then the tomatoes, and then the queso fresco.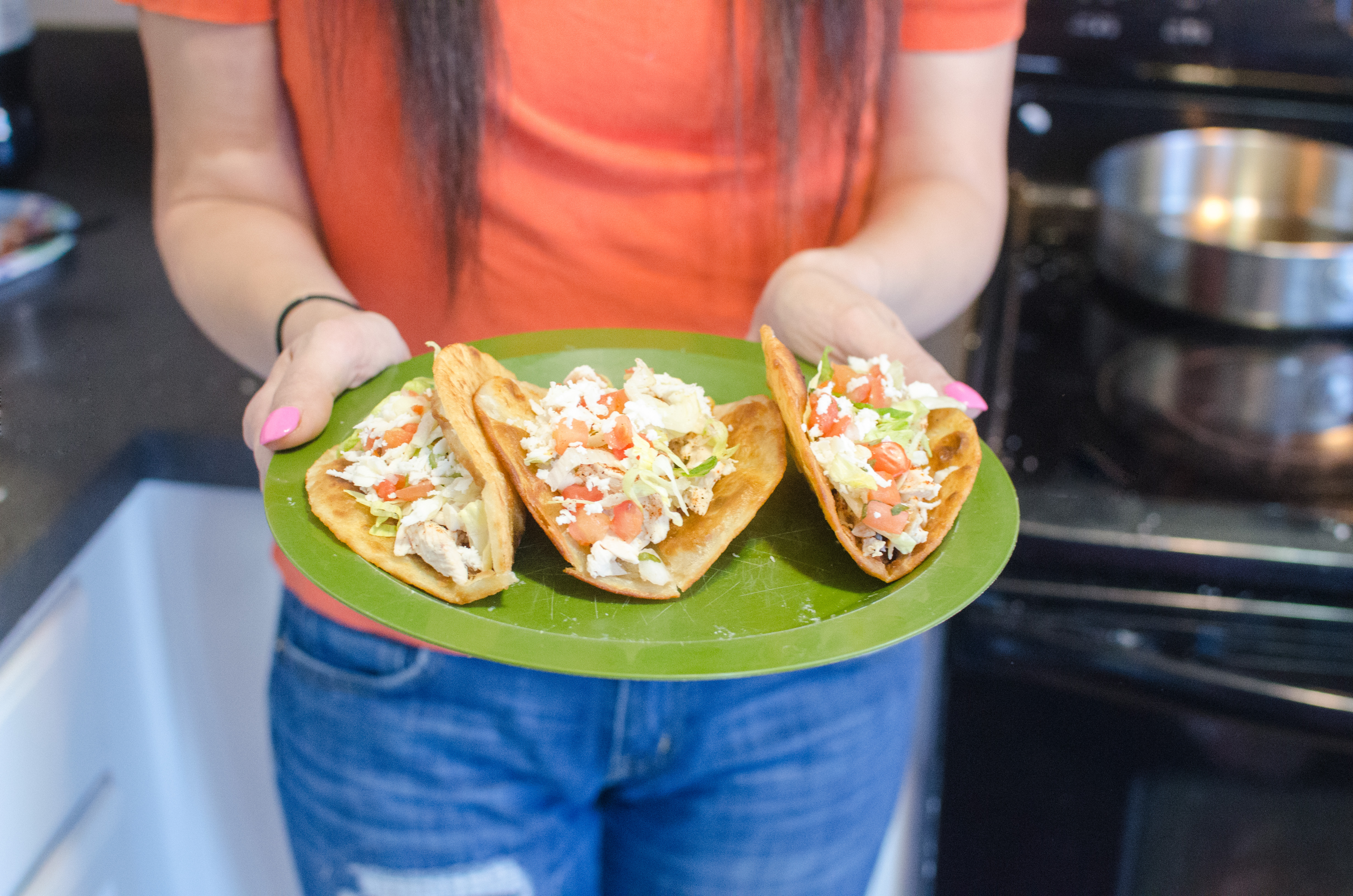 Voila. Easy peasy.
I'm going to warn you though… Three tacos won't be enough and these are totally addicting. This is coming from someone who usually eats beef or barbacoa tacos. Prepare to be hooked!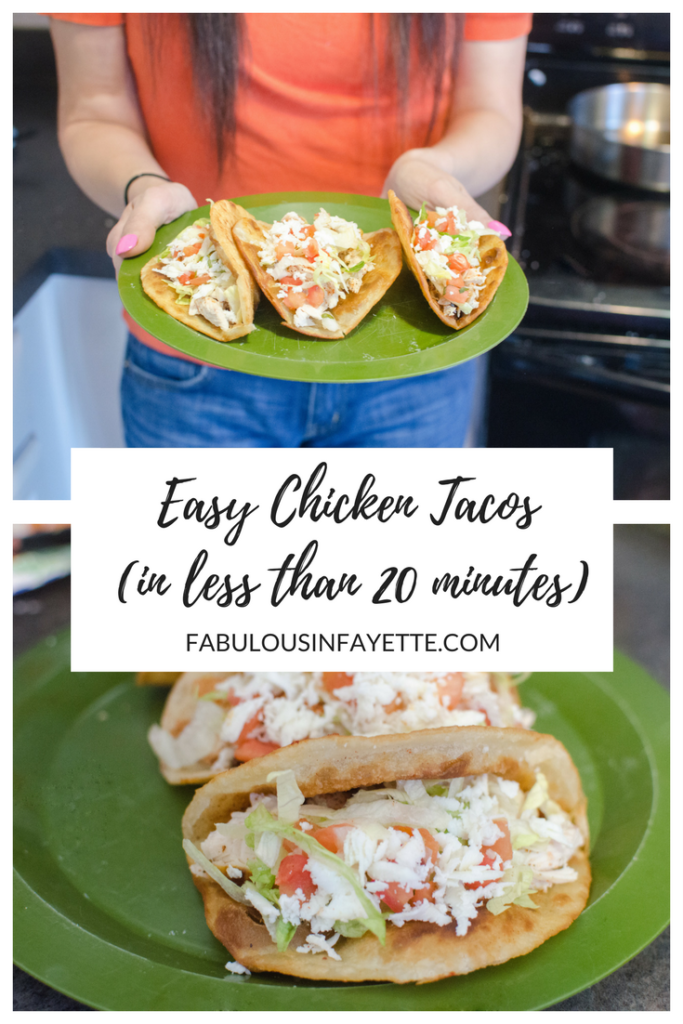 What's your favorite kind of taco??