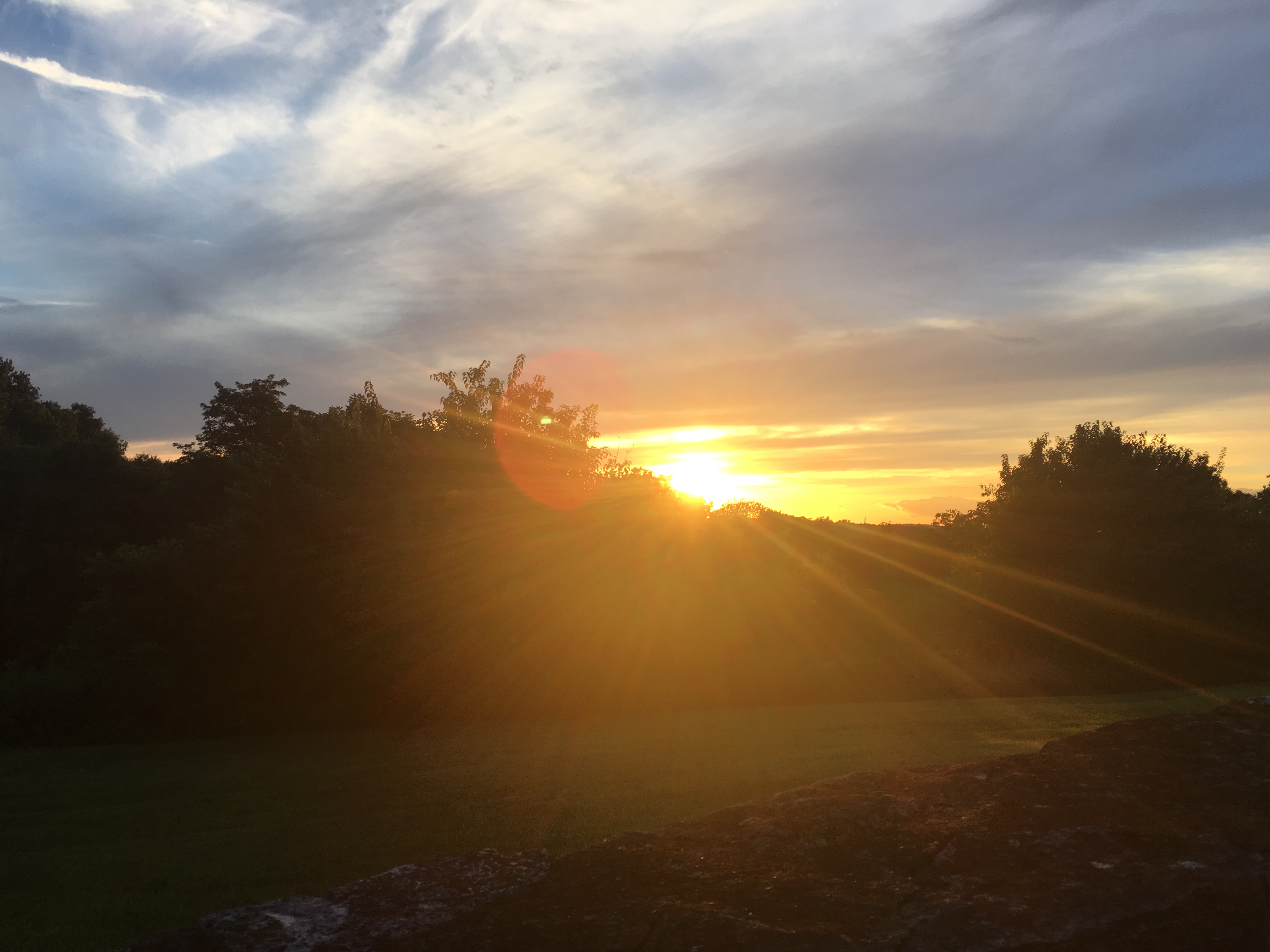 Today is officially the first day of summer, even though it has been feeling like summer for the past couple of weeks! Summer is the perfect season to spend time outdoors, since the weather is so lovely. Some people may be bored or have trouble with coming up with date activities that are out of the norm. Going on dates doesn't have to be expensive, and there's plenty of activities to do in Lexington for free and especially for under $20 for two people, instead of the stereotypical dinner and a movie.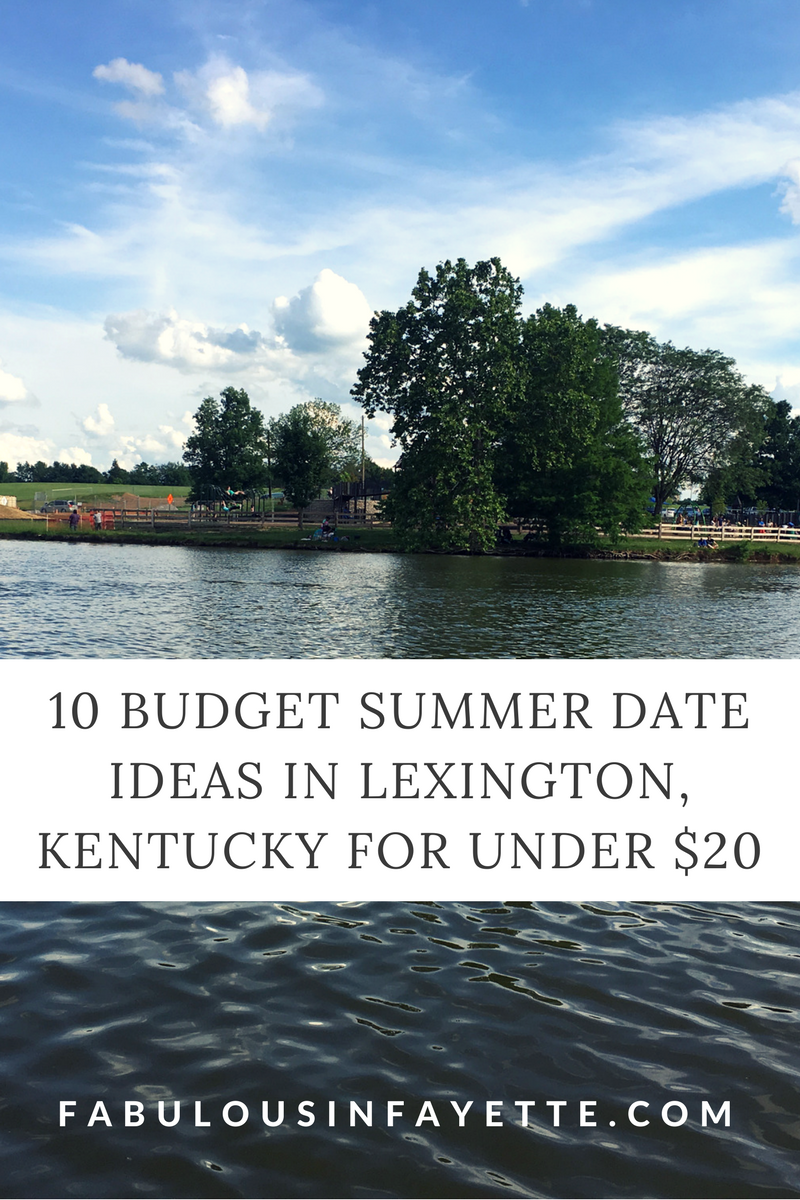 10 Budget Summer Date Ideas To Do in Lexington, Kentucky (or Central Kentucky) For Under $20:
1. Pedal Boats at Jacobson Park: Jacobson Park is one of my favorite parks. It's on 216 acres and located in East Lexington. It's one of my favorites because I lived nearby for four years and have visited many times. Going out on the pedal boat is really fun. You can check out the dock hours; here. Total Cost: $4 per boat and you are able to use it for 30 minutes (This is also kid friendly!)
2. Bible Mini Golf aka Jesus Golf: This is almost an undiscovered treasure that many people may or may not know about. I actually was taken here on a date back in 2009 and thought this place was so cool. It's located at 560 Eureka Springs Drive and is next to the Lexington Ice Center. There are three eighteen hole Biblical courses; the Old Testament, the New Testament, and Miracles. The first two course were built by the Christopher family in 1987 and the third course was built in 1991. Each hole has a sign that cites a Bible story or passage that correlates with the hole. Bible Mini Golf was on Travel Channel's Top 10 Most Unique Miniature Golf courses. Total Cost: One course is $6.95 per person, two courses are $8.95 per person, and unlimited holes are 9.95 per person (This is also kid friendly!)
3. Star gazing at Raven Run Sanctuary: From July to October, you can star gaze at Raven Run Sanctuary for free on the designated nights (July 22 at 9pm, August 19 at 9pm, September 16 at 9am, and October 21 at 9pm). Raven Run also has designated two more nights in August, in hopes of catching a glimpse of the Perseids Meteor Shower (August 5 at 9pm and August 12 at 9pm ). Total Cost: FREE (This is also kid friendly!)
4. See the Stars at the Hummel Planetarium in Richmond, Kentucky: The Hummel Planetarium is located in Richmond, Kentucky, which is about thirty minutes from Lexington. This would be perfect if the weather outside wasn't conducive to stargazing. This was actually the first real date my husband took me on back in 2009. I mentioned that I had always wanted to see a meteor shower, but never had before. He took me to the Hummel Planeterium on his motorcycle and said that he couldn't make it happen, but this was the next best thing! For showtimes and hours of operation, click here. Total Cost: $6 per person (This is also kid friendly!)
5. The Bourbon Drive In: The Bourbon Drive-In is located in Paris, Kentucky, which is about thirty-minutes from Lexington. It is family owned and operated, and has been since 1955. You're able to see two movies each night! The first movie starts at 7pm and the second movie starts at 9:10pm. To see the current movies and times, click here. A concession stand is on site where you are able to order various foods, including funnel cake! Total Cost (not including food at the concession stand): $8.00 per person (This is also kid friendly!)
6. Friday Night Flicks: Friday Night Flicks is located at Jacobson Park, and it is celebrating its 20th anniversary this year! You can pack food to have a picnic or you can purchase food from one of the concession stands. On June 23, the movie will be Trolls, and on June 30 will be Sing. If you are going to bring any kids, there will be activities for them before the movie starts. Total Cost: FREE (This is also kid friendly!)
7. Fountain Films Friday: Fountain Films Friday will be located at Triangle Park between West Main Street and West Vine Street. The movies will start at 9pm and will be on Fridays from July 14 to August 18, 2017. Total Cost: FREE (This is also kid friendly!)
July 14: Spaceballs (30th anniversary)
July 21: Nightmare Before Christmas (Christmas in July)
July 28: Happy Gilmore
August 4: Mean Girls
August 11: The Mask
August 18: Anchorman: The Legend of Ron Burgundy
8. Visit Town Branch or one of the other many bourbon distilleries located in Central Kentucky: Kentucky is responsible for 95% of the world's bourbon, so there are many opportunities to see how "America's Native Spirit" is made. Quite a few distilleries are located within twenty-five miles of Lexington, such as; Woodford Reserve, Buffalo Trace, Four Roses, and Wild Turkey. If bourbon isn't your thing, there are also many breweries and wineries that you can visit too. Total Cost: Woodford Reserve starts at $14 per person, Buffalo Trace is FREE, Four Roses is currently under construction but offering modified tours, and Wild Turkey starts at $10. 
9. Take a walk downtown and see the many fabulous murals from PRHBTN: PRHBTN states: "It is an annual celebration of art forms that have been criminalized, marginalized, and under-appreciated in the mainstream, featuring public murals alongside an exhibition of street art works in a space that complements the raw, powerful nature of the message and artistry of each piece." The sixth installment of PRHBTN took place on October 8 -15, 2016 at various locations around downtown Lexington, Kentucky. You can see the murals; here. Total Cost: FREE (This is also kid friendly!)
10. Check out the new upcoming Distillery District off of Manchester Street: The James E. Pepper Distillery Campus is of one Southern Living's Best Places in the South Now. The Distillery District is home to Crank & Boom Ice Cream, Barrel House Distilling Company, The Break Room at Pepper, the Kentucky Knows art gallery, Ethereal Brewing, Goodfellas Pizzeria, and farm-to-table Middle Fork Kitchen Bar. The historic James E. Pepper Distillery is being renovated and rebuilt and is slated to open in late 2017. Total Cost: Various.
What are you most excited about doing this summer?