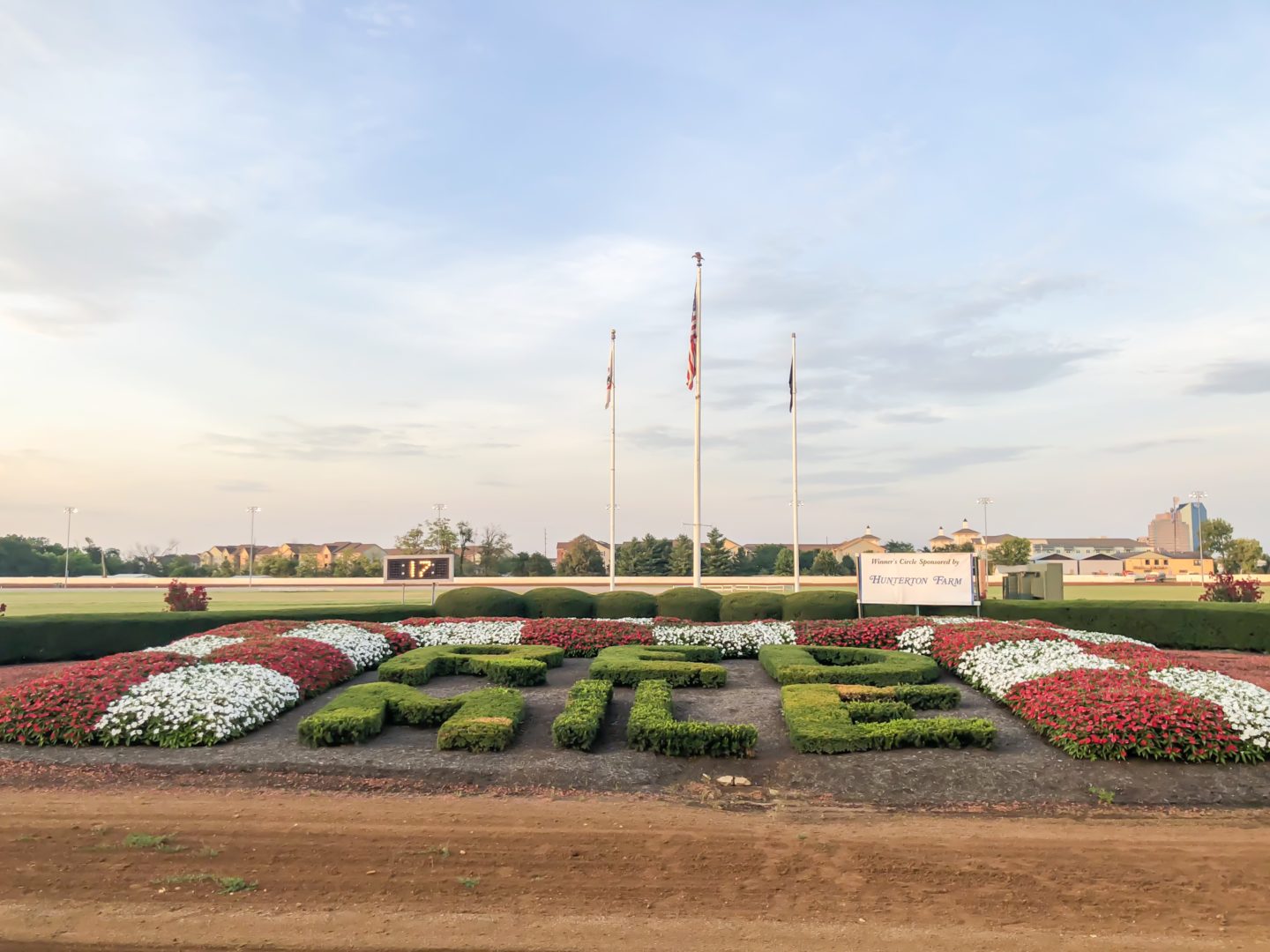 Did you know that Red Mile is the second oldest harness track in the world? Red Mile is located in Lexington, Kentucky and simulcasts 364 days per year, as well as hosting numerous horse sales. They also feature pari-mutuel gaming terminals based on historical horse races or historical horse racing. Pari-mutuel is a form of betting in which those backing the first three places divide the losers' stakes (less the operator's commission). This type of gambling is often offered at off track facilities. People can bet on events without being present to observe them in person.
Lexington celebrated Red Mile's inaugural opening of the Great Fall Trots on Tuesday, September 28, 1875.
On October 9, 1893 there were was lots of excitement amongst the crowd at Red Mile. This was the inaugural celebration of the Kentucky Futurity. The Kentucky Futurity is one of Kentucky's oldest and richest horse races. Even to this day, it ranks as the oldest classic race in the world of harness racing.

Obviously, "The Red Mile" is named that because of it's one mile red clay surface. Red Mile is also home to the iconic Floral Hall, which is the round barn on the grounds. Like I've mentioned, Red Mile has hosted the Kentucky Futurity annually since 1893, which is one of the legs of the Triple Crown for Harness Racing or Trotters.
John McMutry built Floral Hall in 1882. Floral Hall is an octagonal building, and is also known as Standardbred Stable of Memories. It was orginially built as an exhibition hall for floral displays on the fairgrounds of the Kentucky Agricultural & Mechanical Association. Floral Hall is at 847 South Broadway and is adjacent to the Red Mile Race Track. It is the most visible building of Red Mile.
Racing season begins at Red Mile in July and ends in October. Red Mile's meet opens with the Kentucky Sire Stakes and culminates on Super Night with over $2 million in purses.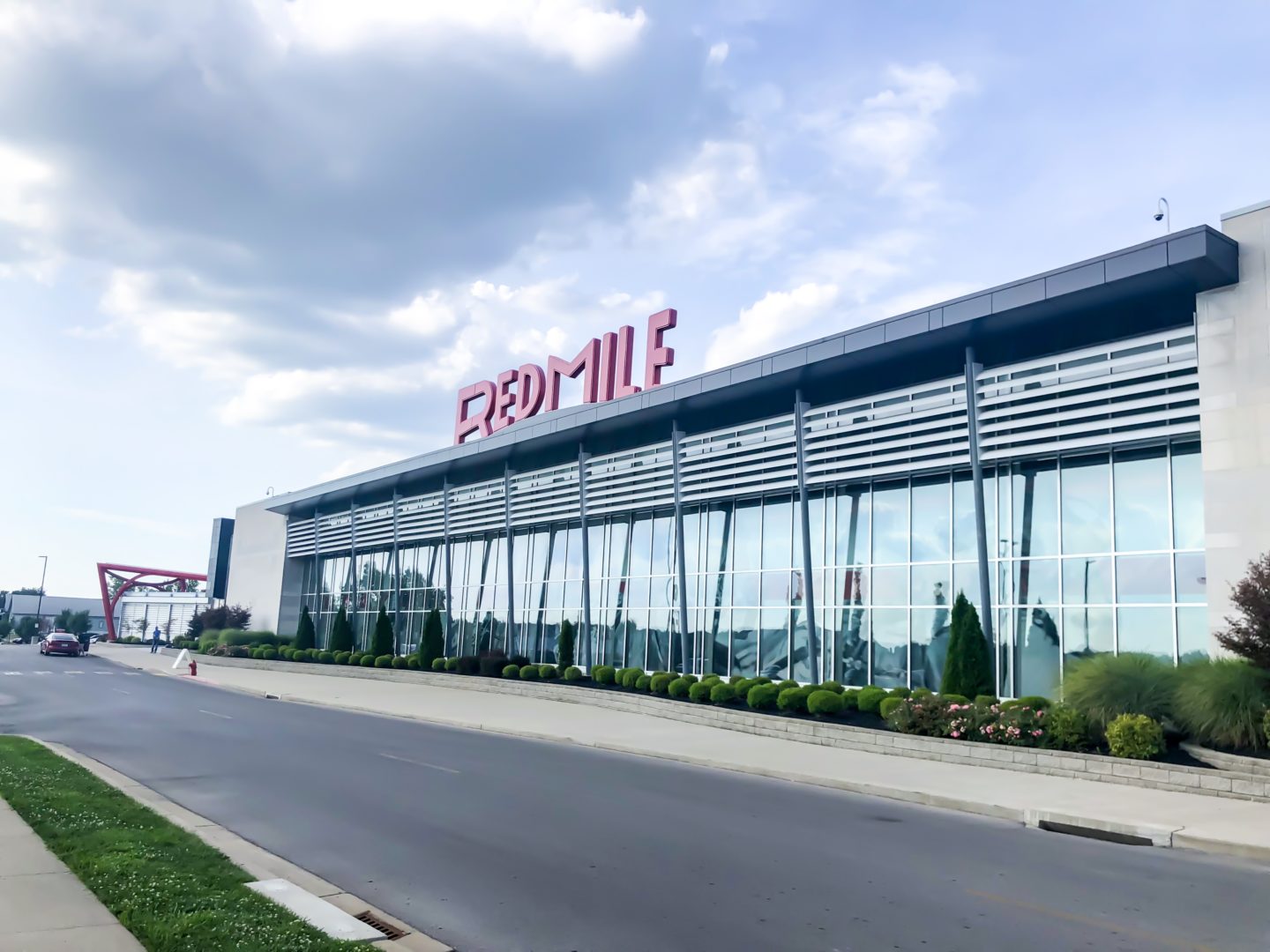 I've personally never been to Red Mile to play the slot machines, but there are tons of them there if that's your thing! The Red Mile wagering floor is open all year round and seven days a week. However, the simulcast hours of operation may vary, so be sure to check out their monthly simulcast calendar.
Red Mile has many things for you to enjoy – over 175 televisions, several different restaurants with many food options, drink specials, and more! They have a brand new simulcast facility that is open seven days a week and it features races from tracks like Del Mar, Saratoga, Gulfstream, Churchill Downs, Balmoral, Northfield, Hoosier Park, Lone Star Park, Fairgrounds, and many more. See schedule of races: HERE.
There are also several dining options at Red Mile, such as Frankie's Bar & Grill, Center Bar, Wagers Burgers & Brews, and Finish Line Brewing.
I'm sure you are familiar with Thoroughbred racing, but you should know that Harness racing is very different. With Thoroughbred racing, horses stand and shoot out of a gate when a bell rings. The horses then gallop as fast as they can, while a jockey is riding on their backs. With Harness racing, the horses must maintain a running gait while pulling a driver in a sulky, which is a little cart. When trotting or pacing horses are lined up evenly behind a 60 foot wide gate that is speeding ahead of them, the race can begin.
At Red Mile, that gate is mounted onto a 1995 white Cadillac Fleetwood that has a Corvette engine. The roof above the backseats have been raised a couple of feet, This is so it can accommodate two elevated backward facing chairs. This gives you the perfect view to see the speeding horses come together in front of you.
Greg Coon has been managing starts since 1973. He first started managing starts at the old Louisville Downs, before managing starts at Red Mile in 1974. There is a remote throttle that controls the car's speed. Coon declares the race has begun once all of the horses are running inches from the gate. The car then speeds ahead and the gate arms folds in. The car is then steered to the outside of the track, where it follows alongside the horses. The car follows alongside the horses so it can watch out for horses that are off their gait or driver infractions.
I got to ride in the car at the start of one of the races, and it was super cool to see the horses galloping right behind the car. It was a once in a lifetime experience! It's definitely one thing you should put on your Kentucky bucket list!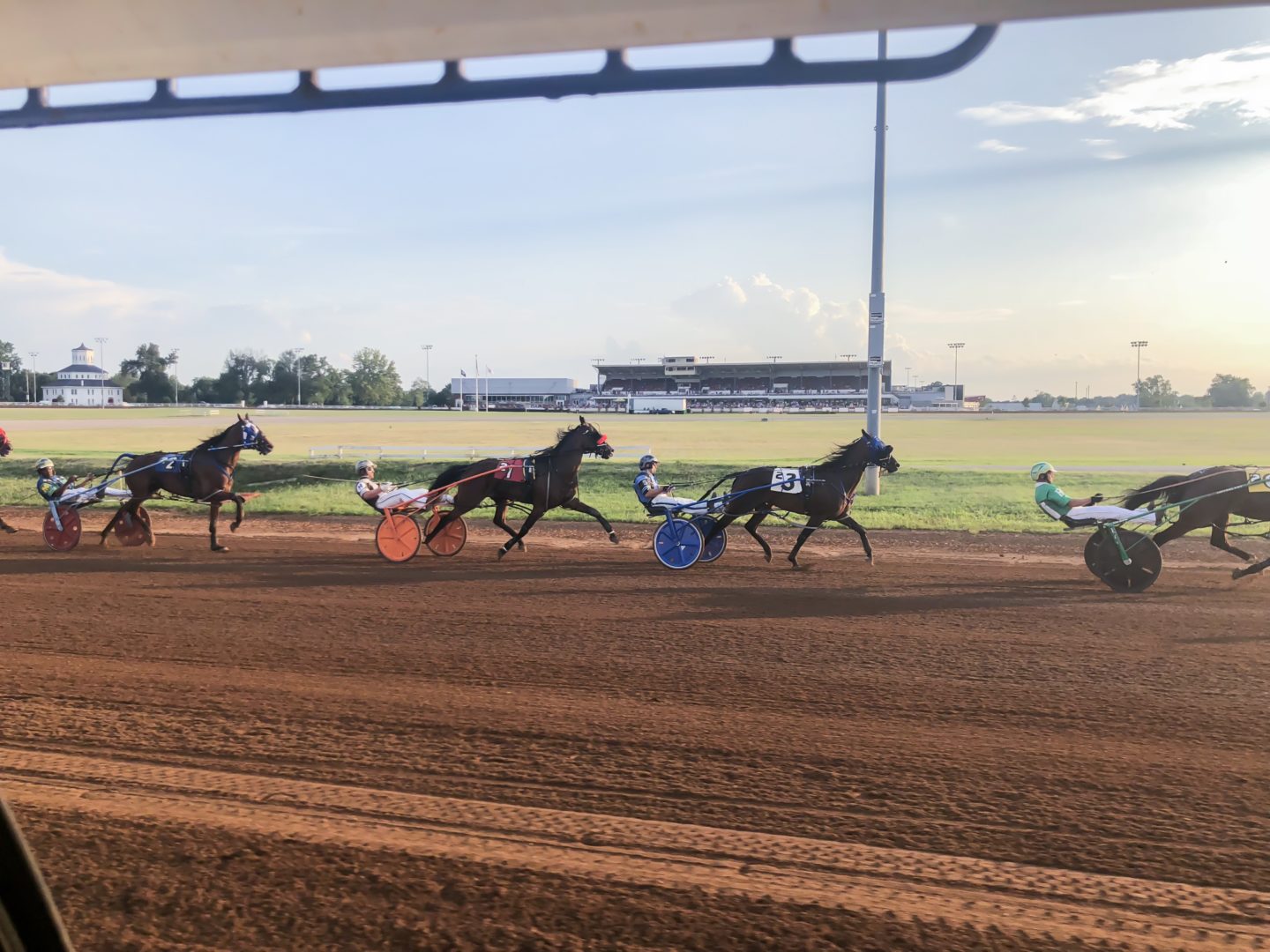 Last year was the first time that I attended Red Mile's Wiener Dog Races. It was such an adorable event that I knew I had to go back every year. The Wiener Dog Races made its way around social media, including being featured on Southern Living. August 17. 2019 marked the 4th Annual Wiener Dog Races with The Chief Stakes (bulldogs), and an All-Breed "Rescue Run." The Wiener Dog Races were held in between the Live Harness Races. Proceeds from the event benefitted the Lexington Humane Society.
Want to see a clip of the live action from the Wiener Dog Races? Check this video out!
Upcoming Event – Be sure to mark your calendars!
Fayette Fest at Red Mile – September 15, 2019 at 12pm to 6pm – FREE ADMISSION
At Fayette Fest, there will be:
Premier harness racing with over $2 million in purses

Food trucks

Beer garden

Kentucky Proud market

Artist market

Petting zoo

Pony rides

Meet Miss Kentucky

Mobile Science Activity Center

Parade of Horse Breeds

Jeff Wright & the Flying Houndz Frisbee Trick Dog Show

Rosetree Dog Training Agility Course

Live music by: Corey Smith, Halfway to Hazard, and A Common Wealth Band
You can bring your favorite doggie with you to Fayette Fest! There will be dog contests, such as a dog look-alike contest, a dog costume contests, and dog agility! Register your dog: HERE.
12:30pm – Flying Houndz Frisbee Trick Dog Show
1:15pm – Canine Agility Contest – Provided by Rosetree Dog Training
3:15pm – Flying Houndz Frisbee Trick Dog Show
4:00pm – Hound Costume Parade Contest
4:30pm – Dog/Owner Look-Alike Contest
5:00pm – Flying Houndz Frisbee Trick Dog Show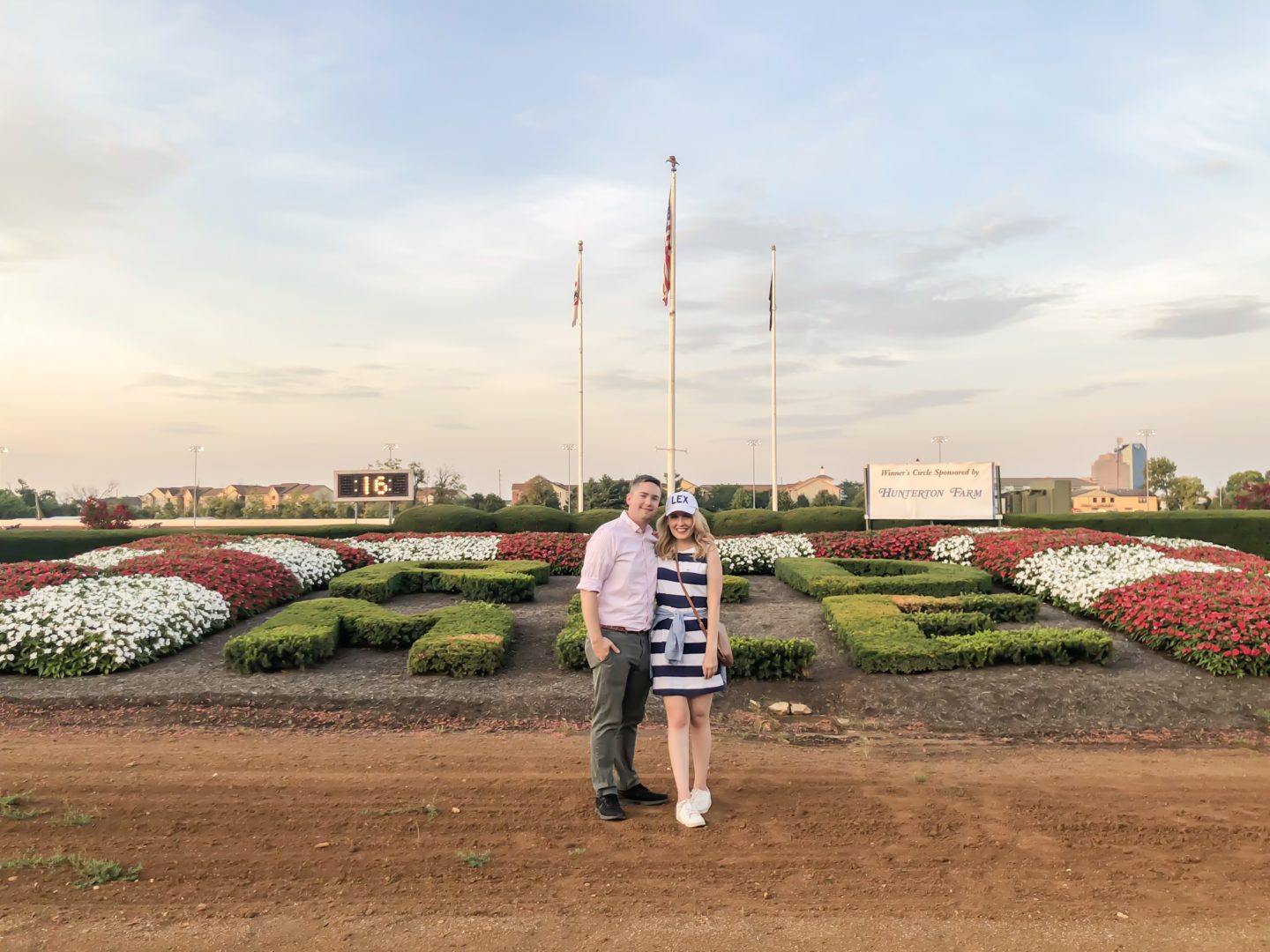 Address:
1200 Red Mile Road, Lexington, Kentucky 40504
Hours of Operation:
Sunday through Tuesday: 10am to 2am
Wednesday & Thursday: 10am to 4pm
Friday & Saturday: 10am to 6am
See y'all at the racetrack!