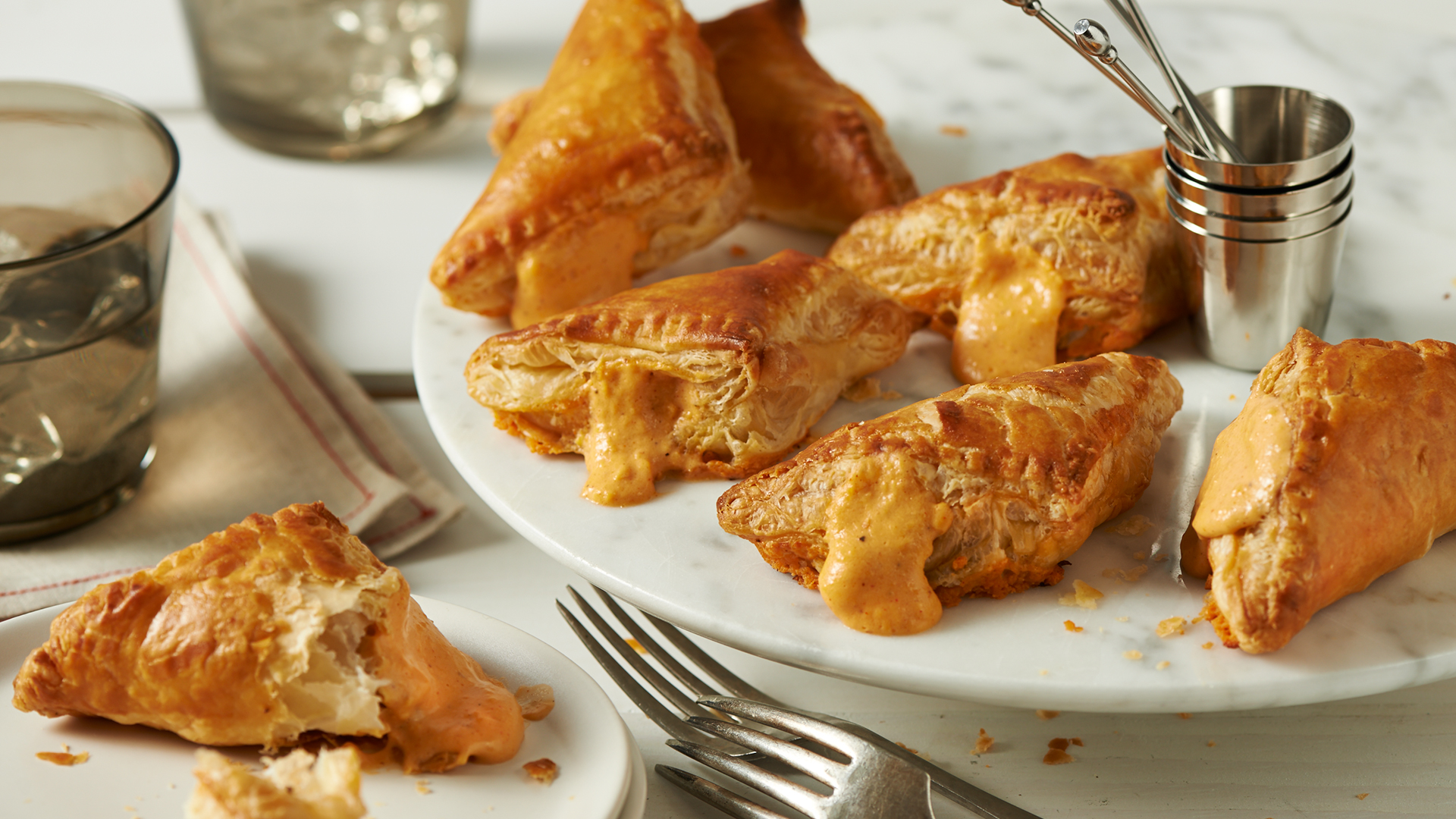 Kentucky is responsible for the creations of many different foods and drinks: burgoo, bourbon, Ale-8, Derby Pie, the cheeseburger, the hot brown, the Mint Julep, lamb fries, benedictine, and much much more. However, today, I'm going to share with you the glorious thing that is, beer cheese. If you follow me on instagram, then you have seen me post quite a bit about beer cheese – beer cheese that I have bought from stores and beer cheese that I have ate at restaurants.
Some people may be wondering what exactly is beer cheese? 
Well, beer cheese is a cheese spread that is most commonly found in Kentucky. The spread is nearly ubiquitous (which means you can find it basically everywhere). It is on just about every menu at the majority of restaurants here. You can eat it with chips, put it on burgers, have it as a topping on a hotdog, use it in soups; the possibilities are endless. Beer cheese is usually made with cheddar cheese, spices, and beer. There are so many varieties and not one is alike.
So, what's in beer cheese?
Beer cheese can vary from very mild to spicy hot. It starts with sharp cheddar cheese and then beer is added for flavor (sometimes it is recommended that the beer if flat). Garlic, a variety of spices that include dry mustard, horseradish, and cayenne pepper as then added. As with anything, everyone has their own recipe and own preference of ingredients and none are the exact same.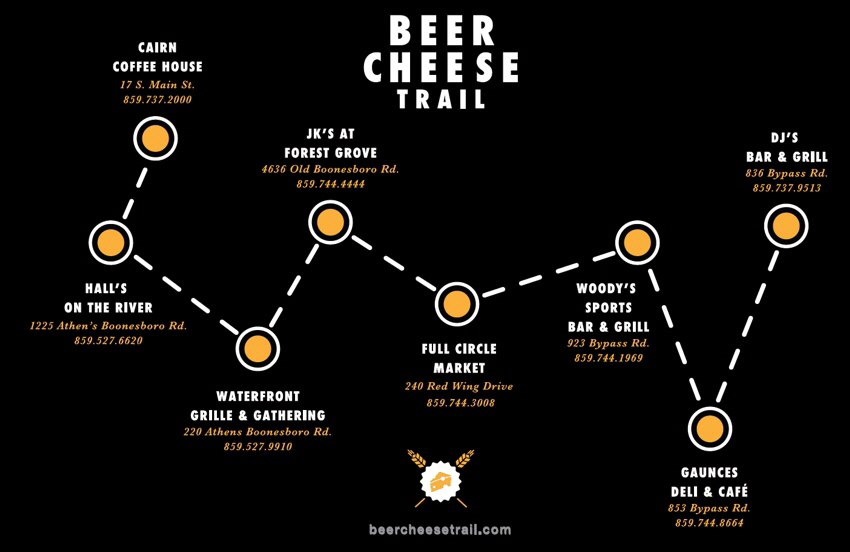 A Beer Cheese trail, say what?!?

If you have been reading my blog for quite some time, then you would have heard me mention things about the Kentucky Bourbon Trail and the Kentucky Bourbon Craft Trail. Well, did you know there is a Beer Cheese Trail? Of course, all of the places are located in Winchester, Kentucky, which is the birthplace of beer cheese. Just like with the Bourbon Trail having a passport and receiving a gift upon completion, you can get a passport for the Beer Cheese Trail as well. Once you complete five stops on the trail, you can receive a Beer Cheese Trail t-shirt. Once you complete all eight stops on the trail, you receive a t-shirt and become an Official Beer Cheese Ambassador, as well as having the chance to be a judge at the Beer Cheese Festival in June! The Beer Cheese Festival is held in June of each year and is located in Winchester. There are local arts and crafts vendors, as well as both commercial and amateur recipe contests for beer cheese. You can try all of the beer cheese that you want!
The History of Beer Cheese:
It all started in the late 1930s, when Johnny Allman opened his first restaurant, The Driftwood Inn, on the banks of the Kentucky River near Boonesborough. This was the first restaurant where Johnny first served his cousin, Joe Allman's now famous Snappy cheese (You can read the full in depth history: here).
Legend has it…
Allegedly, in the early 1960's, Johnny lost one restaurant to Carl Johnson in a card game. Mr. Johnson was tragically shot in the entrance to his restaurant. The restaurant and its recipes were acquired by the Hall family in 1965. Since that time, Hall's on the River has been a mainstay in the Central Kentucky dining scene.
Where can you find it?
Well, if you live in Kentucky or visiting Kentucky, you can find it pretty much anywhere. Outside of Kentucky? I'm not sure, but I'm sure it would prove to be rather difficult. Here, you can find tons of varieties and they are sold in many grocery stores and of course, at Liquor Barn. You can also find many other local products in our stores too (thanks to the Kentucky Proud movement!).
What does it taste like?
Probably the most important thing that people want to know is, what does it taste like?! In my opinion, this is one of these foods that are really hard to describe. It doesn't really taste like beer or cheese to me. It is just something that you are going to have to try! If you are in Lexington, I really like the beer cheese at JDI Tavern and Chatham's Southern Comfort Food!

Serving Size: 1 to 1/2 dozen
Ready In: 50 minutes, plus cooling
Ingredients:
2 tablespoons Maker's Mark Bourbon (or the bourbon of your choice)
8 ounces sharp yellow cheddar cheese, grated (2-1/2 cups)
2 ounces cream cheese
1/4 cup beer, preferably bourbon ale (but you can use any kind)
1 teaspoon hot paprika
1 teaspoon mustard, preferably beer mustard (I used dry mustard)
Kosher salt and freshly ground black pepper
1 (17-ounce) package frozen puff pastry, thawed
1 large egg, beaten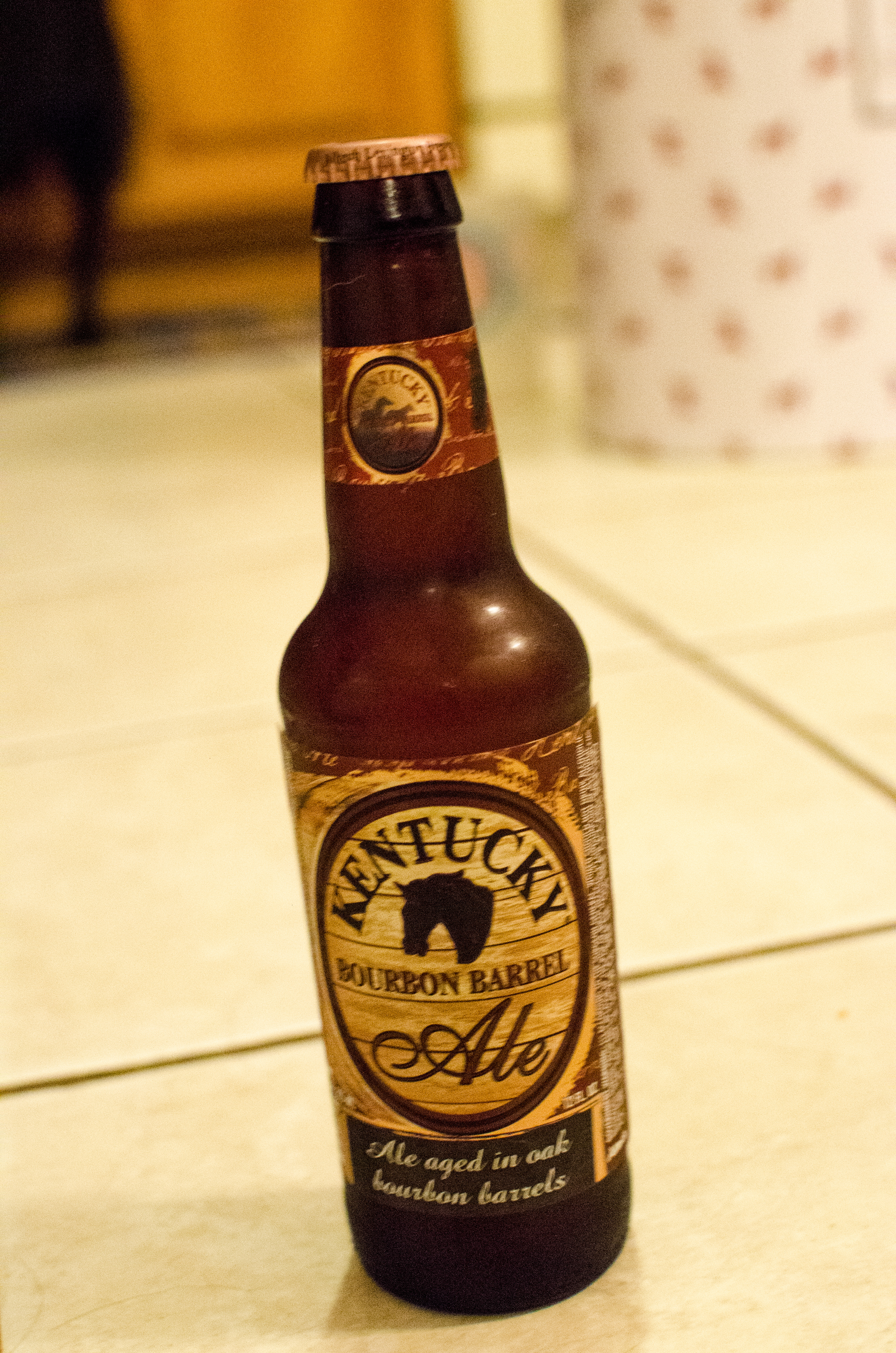 I used Kentucky Bourbon Barrel Ale. It can be rather expensive at around $13 for only four bottles, but I felt that it is the best choice, especially since the recipe called for a bourbon ale. All of these beers are produced in Kentucky, aged in freshly decanted Kentucky bourbon barrels, 100% barrel aged, and produced in bourbon barrels only used once.
Directions:
Preheat the oven to 425°F. Line a half-sheet pan with parchment paper.
In a food processor, pulse the cheddar, cream cheese, beer, bourbon, paprika and mustard until smooth, scraping the bowl occasionally. Season to taste with salt and pepper.
Transfer to a large resealable plastic bag.
Unwrap and unfold the puff pastry sheets. Cut each into 9 3-inch squares.
Snip a 1/2-inch hole in the corner of the bag containing the cheese mixture.
Pipe the cheese mixture onto one half of each pastry square, leaving a 1/2-inch rim.
In a small bowl, beat the egg with 1 tablespoon water.
Brush the egg wash on the rim of a pastry square.
Fold the pastry in half to form a triangle, press the edges to seal and then press with the tines of a fork. Repeat with the remaining pastries.
Transfer to the prepared pan, spacing 1/2 inch apart.
Brush the tops of the pastry with the egg wash.
Bake until golden brown, about 20 minutes.
Transfer to a wire rack to cool, leaving behind any cheese that may have oozed out of the pastry.
Serve warm or at room temperature.
Remember when cooking with alcohol, the majority of the alcohol cooks out, so that is something that is not worth worrying about. It's more for the flavor and texture of the dish than anything! (Besides you can't even taste the beer, so don't let that stop you from trying it!)
Kentucky's culinary scene is definitely the best out there! If you are a foodie, then Kentucky is the perfect haven for you!