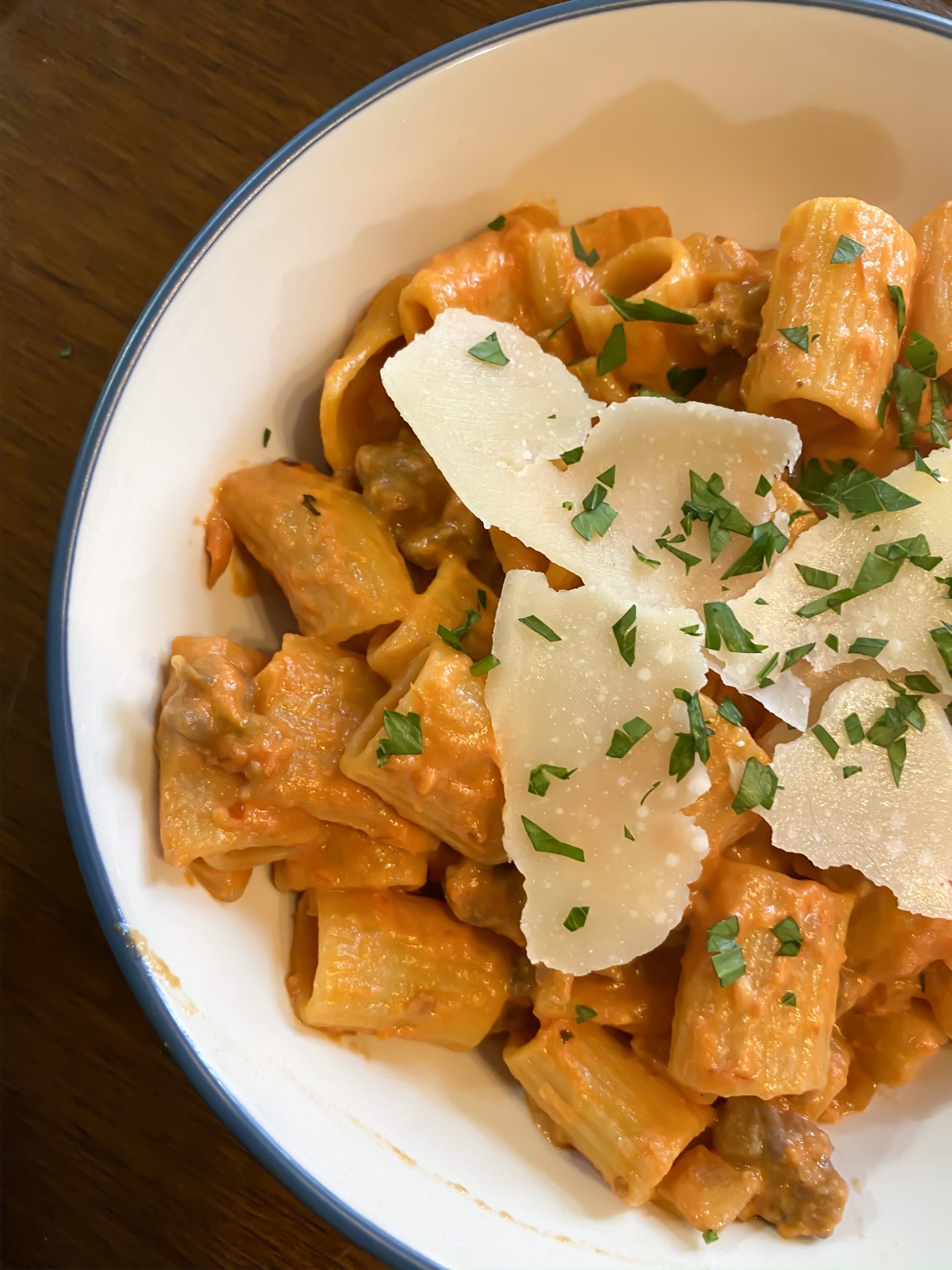 Pasta is the ultimate comfort food and I love it of all shapes and sizes. Pasta is one of those dishes that is so versatile. I don't discriminate when it comes to pasta. Two of my favorite types of sauces are tomato based sauces like a marinara, an arrabbiata, or a vodka cream sauce.
When it comes to cooking, I much prefer making my own sauces from scratch, instead of buying a jar from the grocery store shelves. Obviously, buying a jar will be a time saver compared to making your sauce. However, making your own sauce is so much better because the ingredients are fresh and you can taste the difference!

Pasta in Vodka Sauce with Sausage
Ingredients:
4 tablespoons of butter (unsalted)
1 medium onion, diced
half of cup vodka
1 (28 oz) can crushed tomatoes
1 cup of heavy cream
1/2 cup of grated parmesan
1 pound of pasta (penne or rigatoni)
1 tablespoon of olive oil
1 lb. hot Italian sausage
3 cloves of garlic, minced
Directions:
1. Heat olive oil in skillet over medium-high heat. Add sausage until browned (5 to 7 minutes).
2. Transfer sausage to a paper towel lined bowl. Wipe skillet clean.
3. Dice onion and mince garlic, set aside.
4. Melt butter into skillet over medium heat. Sauté onion and garlic until slightly brown and soft.
5. Add vodka and simmer for 7-10 minutes, until the alcohol is cooked off.
6. Pour in crushed tomatoes. Simmer for 30 minutes.
7. Slowly pour in heavy cream. Simmer for an additional 30 minutes.
8. While sauce is simmering, boil water and cook pasta according to package instructions.
9. After sauce is reduced, add parmesan cheese until it is fully mixed. Then re-add sausage to the pan.
10. Mix the noodles in the sauce. Stir!
11. Salt and pepper to taste.
Enjoy!