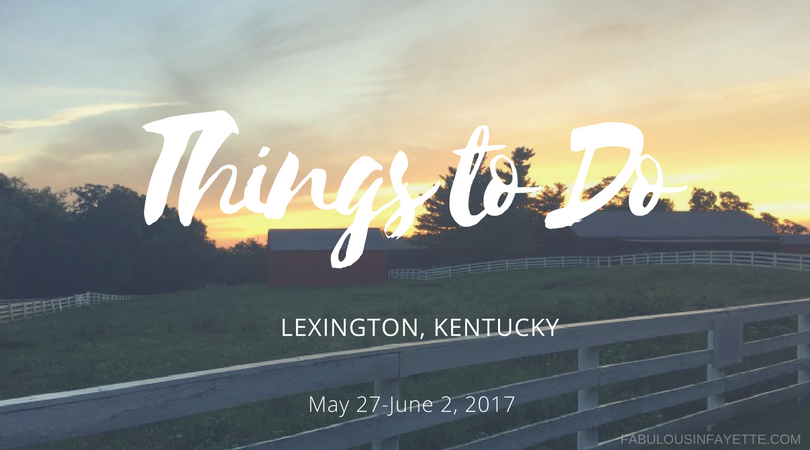 We've made it through another week! Since this is a holiday weekend, be sure to be safe and to remember the true meaning of why we have Memorial Day. It's not just a another day off work. While it's okay to have fun and to relax, don't forget to remember the ones who gave all. On June 1, Kentucky will celebrate its 225th birthday, and there's quite a few events that will be celebrating that fact. Maybe I'll see some of you out there!
Every Friday, I plan on sharing "Things to Do" in Lexington for the upcoming week. This is not a complete list of "Things to Do," as there are many events constantly being added, it would be impossible to keep up  with all of them.
For the week of May 27-June 2, I've added over 100 events happening just in Lexington. If you click on the link, there will be more information, such as the address and whether or not, tickets are required.
Disclaimer: I'll do my best to share the events that I know about. Tickets may be required to some events, and some may be sold out after this post goes live. Be sure to click on the link for more event details. This post will be written a week prior and won't be updated after posting.
Things to Do in Lexington, Kentucky: Week of May 27-June 2, 2017
Saturday, May 27
Sunday, May 28
Monday, May 29
Tuesday, May 30
Wednesday, May 31
Thursday, June 1 – HAPPY 225TH BIRTHDAY KENTUCKY!!
Friday, June 2
I hope everyone has a safe Memorial Day weekend!
Don't forget to share this post with your friends, so everyone knows what is happening this week in our fabulous city!