I know this post is a little bit long overdue, but I just could not, not mention it. Lexington Burger Week is an exciting week in Lexington that takes place in July. This was it's second year, and it didn't disappoint! Last year, 21,000 burgers were sold. Last year, I ate only one, but this year, I ate four, even though I was planning to do seven or eight. Unfortunately, it didn't work out that way.
This year, there were 36+ participating restaurants, and these burgers are completely different than the ones they had last year. Plus, there were different restaurants participating as well. Each burger was $5 and each burger is one-of-a kind, meaning it is not on the regular menu. So, this event is one that shouldn't be missed! Hopefully, if you are reading this, you didn't miss it. And if you did, then there's always next year!
There was so many mouthwatering choices that it would be impossible to try them all in one week! Unfortunately, I didn't get to try all the burgers, but I did get to try a few! To see all of 2016's burgers; click here.
So, without further adieu, here are the ones that I tried, and I'm saving my absolute favorite until the last.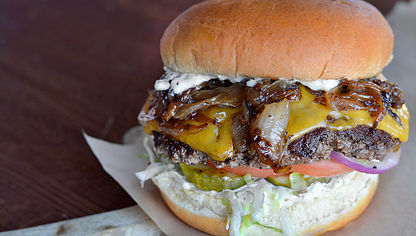 This was the Brewmaster Burger, which was found at Drake's, as well as Harry's. It's a fresh, never frozen, seared 8 ounce burger, cheddar cheese, caramelized Guinness-braised onions, Parmesan- horseradish aioli, fresh cut toppings on a toasted bun.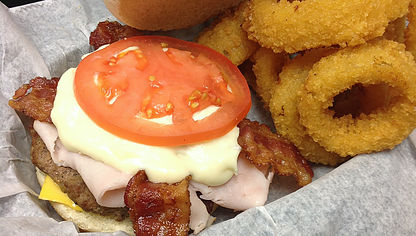 This was the Kentucky Hot Brown Burger, which was found at the Parkette Drive-In. It's a 4 ounce certified Angus beef patty topped with American cheese, oven-roasted turkey, bacon, alfredo sauce, tomato and a toasted bun.
The Parkette Drive-In has been a part of Lexington's history since 1951. The famous Parkette sign, which was built in 1957, is a symbol of Lexington and it overlooks New Circle Road. Back then the sign cost $10,000, but it would cost close to $100,000 today. It's also 30 to 40 feet tall!
Here are some fun facts via their website, that people may not know about the Parkette Inn.
At one time, Parkette's Famous Fried Chicken was called "Kentucky Fried Chicken".
At one time, there were two Parkette's in Lexington. The original, right here on New Circle Road (back then called the Belt Line) and one on Georgetown Road. the Georgetown Road location opened in 1957, but sold in 1966.
When the Parkette first opened, a giant billboard in the back listed the Menu items. The Car Hops would sit on bleachers outside of the restaurant and come up to your car to take your orders.
In its first 40 years (1951-1991), the Parkette had sold an estimated 19.2 million "Poor Boys".
When the Parkette first opened in 1952, New Circle Road was a dirt/gravel road from Broadway to Liberty Road.
For those that don't know, the Kentucky Hot Brown is a Hot Brown Sandwich (sometimes known as a Kentucky Hot Brown) is an American hot sandwich originally created at the Brown Hotel in Louisville, Kentucky, by Fred K. Schmidt in 1926. The Hot Brown is an open-faced sandwich of turkey and bacon, covered in Mornay sauce and baked or broiled until the bread is crisp and the sauce begins to brown.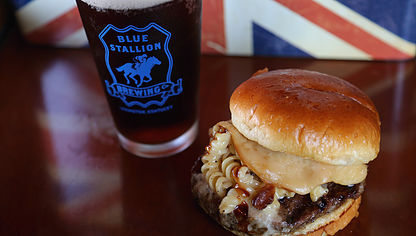 This was the Gouda Mac & Cheese Bacon BBQ Burger, which was found at The Pub. It had smoked gouda mac and cheese with bacon and Maker's Mark barbeque sauce on a beef patty served on brioche bun.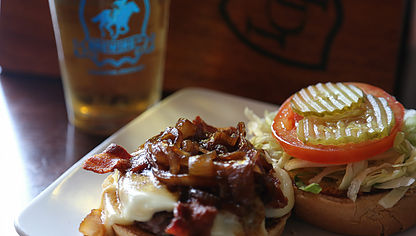 This is the JDI Bourbon Bacon Burger, which was found at JDI Grill & Tavern. It's a 1/3 pound Angus beef patty covered in housemade bourbon sauce, topped with caramelized onions, applewood smoked bacon, melted swiss cheese sauce, lettuce, tomato, and pickle!
When I was looking at the list of burgers trying to narrow down my list of choices, this burger was number one on my list. I could never say enough good things about JDI, and I plan on dedicating an entire post to this restaurant in the future, because it is one of my favorite places to eat. It also has some cool history too, but I'll wait and share that in my upcoming post.
This burger was absolutely delicious. You can never go wrong with burgers in general. Combine that with bacon and a bourbon sauce, you get a heavenly combination. After all, Kentucky is the Bourbon State, where 95% of the world's bourbon is made, so it's safe to assume, not only are we going to drink it, but we are going to use it in food as well.
The burgers I ate were all at restaurants that I had been previously been to. These were some of the ones I wanted to try the most. Ones I wanted to try, but sadly I didn't get to were: the B.A.D. Burger (Breakfast All Day) Burger from Burger Fi, The Speakeasy from Lexington Diner, The Spicy Nick from Nick Ryan's, and the French Onion Burger from Smithtown Seafood.
This is a great way to support local restaurants and to discover restaurants that you may or may not have heard of! I usually try to stay in the know, when it comes to restaurants and events in my city. I just haven't been to all the ones that participated in Lexington Burger Week yet. Personally, nine times out ten, I always eat local and very rarely eat at chain restaurants. When you eat local, you are not only supporting that local restaurant, but you are supporting the local farmers, which is where the ingredients and meat actually came from! In fact, if you go in lots of the restaurants, you may find a sign that says 'thanks' and tells where the ingredients and meat comes from. I think that's pretty awesome!
I encourage you to get out of your comfort zone and find some new restaurants in your area and to always shop local!