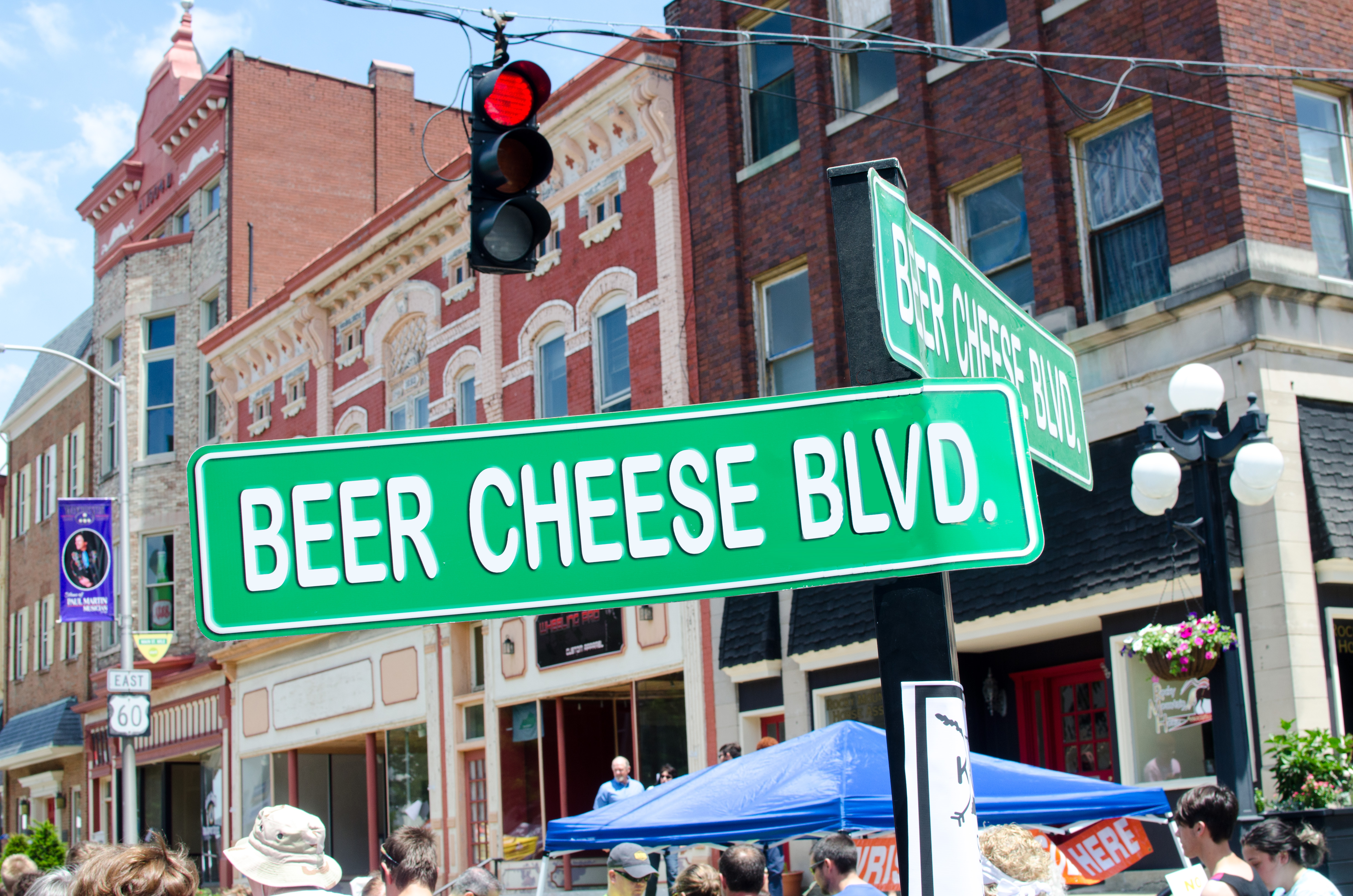 This past weekend was beautiful, but y'all it was a scorcher. It was ridiculously hot! I spent the majority of the day outside at the 9th Annual Beer Cheese Festival in Winchester, Kentucky aka the birthplace of beer cheese. (No, I don't mean beer AND cheese, but it's a festival dedicated to the wonderful food – beer cheese). The sun was out in full force beating down on all of us festival goers (the UV Index was very high – level 9). I thought I was going to die! My friend and I took several breaks from the heat by going into Cairn Coffee House (which is one of the places on the Beer Cheese Trail) and sipping on some of their Frozen Lemonade, which was so delicious!
The Beer Cheese Festival is the ONE AND ONLY Beer Cheese Festival in the WORLD! There's no other place to celebrate it than the birthplace of beer cheese. Beer cheese was first invented back in the 1940s. In fact, in 2013, the Commonwealth of Kentucky deemed Clark County the birthplace of beer cheese – HB 206 (BR 924).  At the festival, they also had music, food, crafts, shopping, activities for kids, and of course, beer cheese! It took place on Saturday, June 10 from 10am to 5pm.
If you don't know what beer cheese is, I'll briefly explain…
Beer cheese is a cheese spread that is most commonly found in Kentucky. The spread is nearly ubiquitous (which means you can find it basically everywhere). It is on just about every menu at the majority of restaurants here, especially the locally owned ones. You can eat it with chips, put it on burgers, have it as a topping on a hotdog, use it in soups; the possibilities are endless. You can also buy it at local retailers, such as Kroger, Liquor Barn, Wal-mart, etc. Beer cheese is usually made with cheddar cheese, spices, and beer. It can vary from very mild to spicy hot (I love the spicy ones the best!). There are so many varieties and not one is alike (that's one of the things I like most about it!).
If you haven't had beer cheese, then you are missing out! Mashable has deemed this one of "14 Food Festivals That Show How Serious America Is About Food," as well as one of "15 Food Festivals in the U.S. for the Ultimate Foodie." Mental Floss put it on their list of "12 Highly Specific (and Extremely Delicious) Food Festivals." The Latin Kitchen even named it as one of "10 Summer Food Festivals Worth Traveling To."
As you can see, it's super popular! Even Queen Elizabeth II of Great Britain loves it! On one of her trips to Central Kentucky, she was introduced to Hall's Original Snappy Beer Cheese. When departing from Lexington, she was seen carrying a tub of Hall's Beer Cheese, as she boarded her plane back to England.
Every time I go to a restaurant that I haven't been to before and they have beer cheese, I always order it! The Beer Cheese Festival is perfect for those who love beer cheese and those who many be new to trying it. At $5, it's a steal, since you get to try so many different kinds. You get the opportunity to support your favorites, as well as be introduced to ones you have never tried before.
This year's Beer Cheese Festival was sponsored by Shop Local Kentucky, which is owned by Winchester native Rick Paynter. This is one of my favorite stores to buy Kentucky apparel, and they are always coming up with fresh, new designs for their t-shirts.
I love how an event like this helps local businesses and allows people to support shopping local. Main Street Winchester director Rachel Alexander said:
"For competitors, it is the perfect opportunity to win new fans of their brand and to increase their name recognition. There are a lot of benefits to participating in the festival. We do a lot of advertising for the competitors leading up to the event including TV/radio commercials.  Most participants report a bounce in sales afterward, whether they win or not."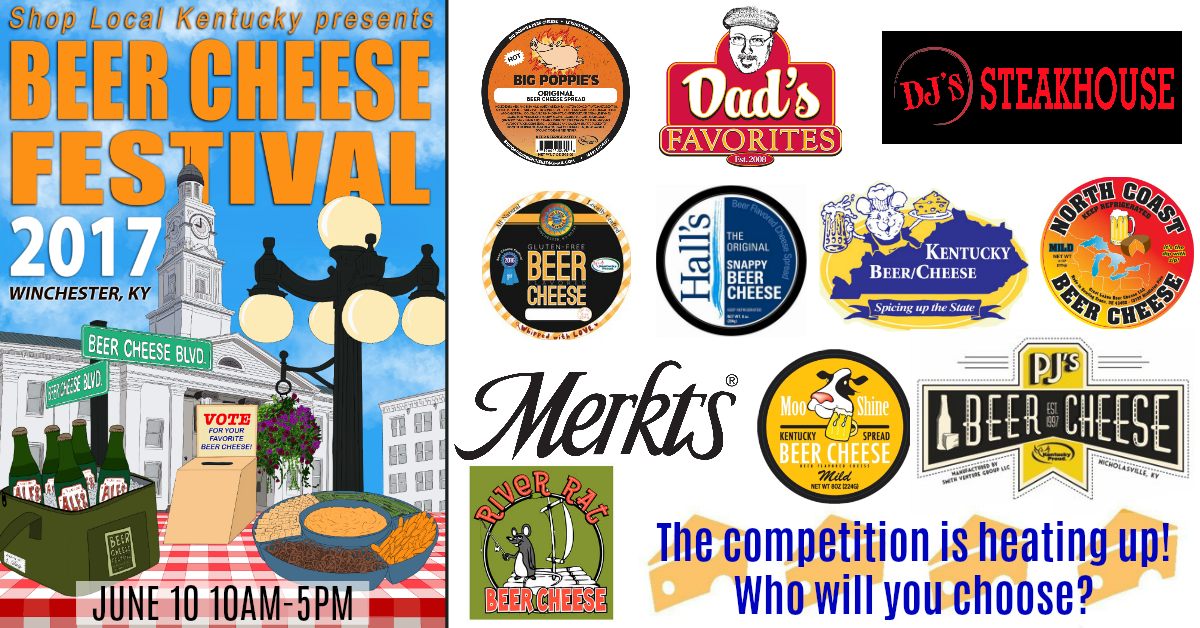 This year, there were eleven competitors:
Try out some of the restaurants:
DJ's Steakhouse, Dad's Favorites, and Hall's on the River are all restaurants that happen to make and sell their own beer cheese and were competitors for 2017.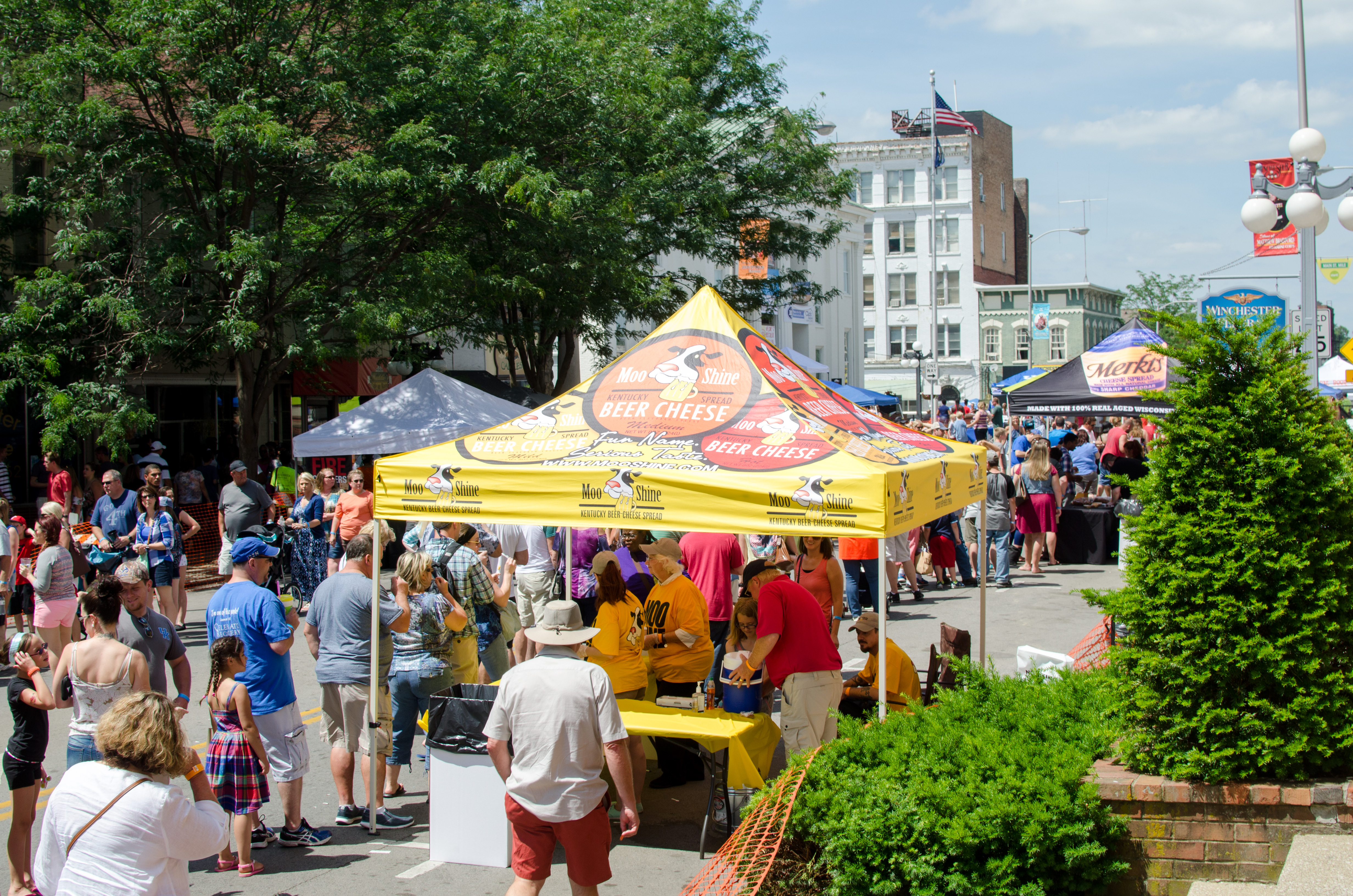 When was the first Beer Cheese Festival and how did it get started?
The first festival started in 2009 and of course, there's no better place to have it than the birthplace of beer cheese. It was organized by Winchester First to celebrate this signature food. It turned into an annual event and has grown tremendously each year.
How many people attend this festival?
In 2009, more than 8,000 people were in attendance, and in 2016, more than 20,000 people attended. It's also a super dog-friendly event! The number of people that attended in 2017 are still being counted.
What is there to do there at the festival besides try the beer cheese?
Besides beer cheese, you can shop the local boutiques or eat at the local restaurants in downtown Winchester, or you check out the Kentucky Proud area that has foods and products all made by Kentucky residents. There is also live music, arts and crafts vendors, UK Alumni Beer Garden, food court, and a children's area. The festival actually kicks off on that Friday. On June 9, they showed "The Neverending Story" from 9pm to 11pm on Main Street.
How much does it cost to go to the Beer Cheese Festival? 
Wristbands cost $5. This allows you to try ALL of the beer cheese, as well as being able to cast one vote for your favorite (This year, you were able to sample beer cheese from 11 different companies – some brought various flavors).
How are the winners determined?
Having a wristband allows you to cast one vote for your favorite. Voting ends at 4:15pm and around 5pm the winners are announced. Whoever gets the most votes will win the award of "People's Choice" for the favorite beer cheese. Judges choose the winners for first, second, and third place, which includes cash and other prizes.
Did you know?
Proceeds from the wristband sales benefit Main Street Winchester and are reinvested back into beautiful, historic downtown Winchester. There's also an amateur beer cheese contest at Winchester City Hall early that morning (it's judged only by the judges of the contest though!)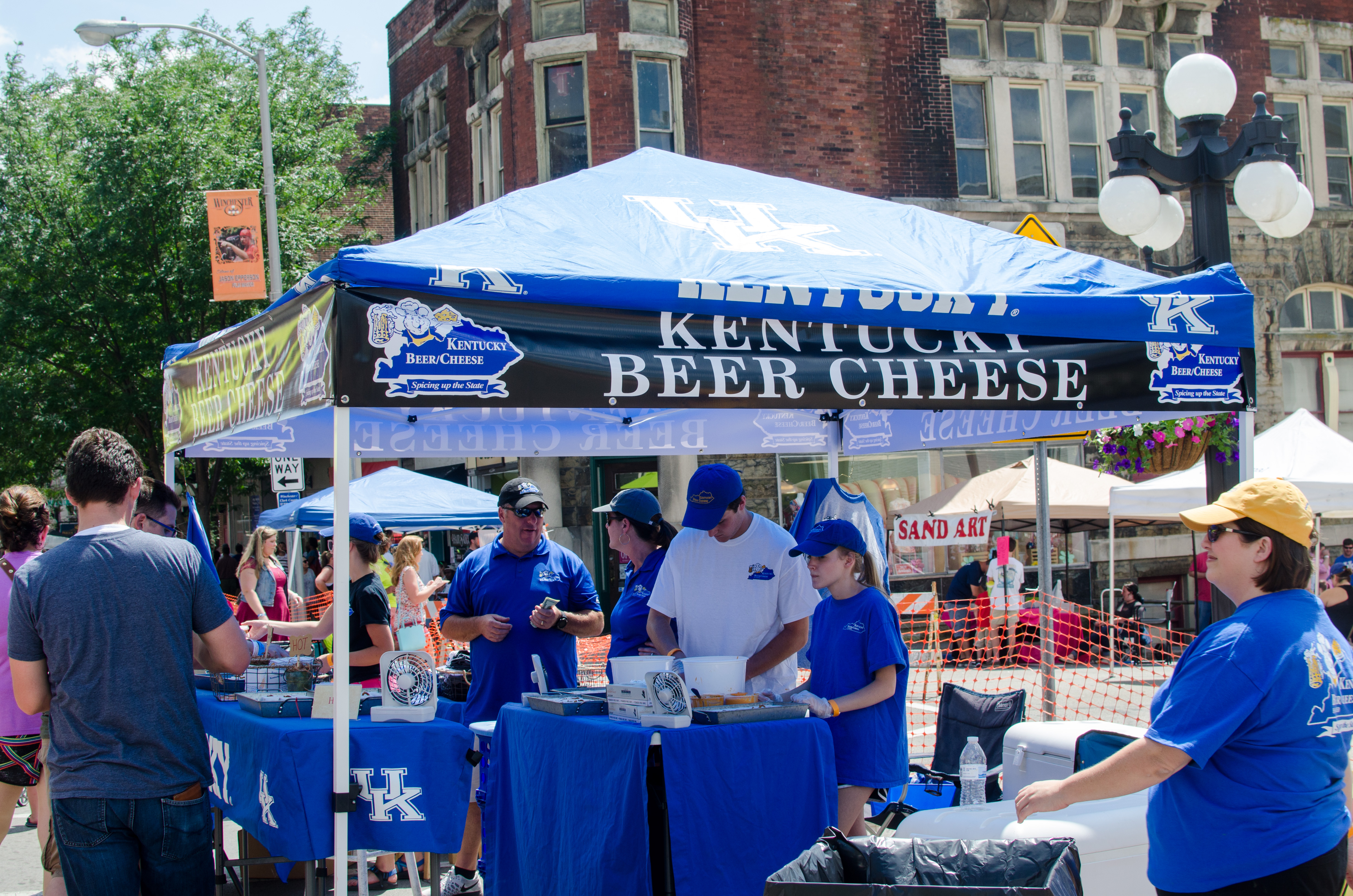 Who were the winners for 2017?
Amateur Beer Cheese Contest winners for 2017:
First Place: Ben Goff/Top Shelf/Sharp
Second Place: Quaintance Clark/Q's Triple B Beer Cheese
Third Place: Ben Goff/Top Shelf/Smoked
There were so many choices and it was so hard to pick a favorite to vote for! I always buy Kentucky Beer Cheese and Moo Shine Kentucky Beer Cheese, when I'm at the store and have been a fan of both of theirs for quite awhile. Thanks to the Beer Cheese Festival, I was able to discover new favorites, such as Dad's Favorites Cheese Spreads and PJ's Beer Cheese.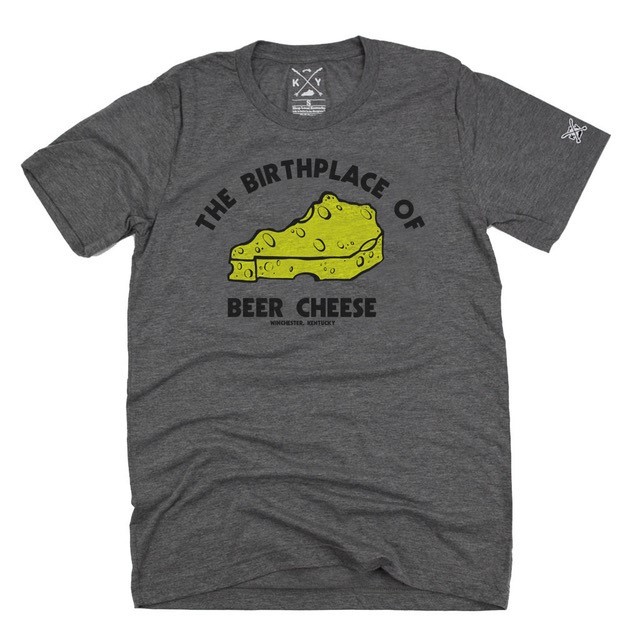 Tips:
Be sure to wear and bring sunscreen. It's usually super hot and humid on this day!
Bring cash (You may need to pay for parking, and those places will only accept cash. I'm not really familiar with Winchester, so I don't know the best place to park during the festival. I parked at a church downtown for $5, and it was very easy to get into and out of, it wasn't crowded, and was within walking distance to downtown. Also, to buy your wristbands, you'll need cash and some vendors only accept cash as well. However, there is an ATM tent with an ATM that you can use).
Drink lots of water and bring water with you, because you'll definitely want to stay hydrated! (My friend and I had to keep taking breaks and going inside Cairn Coffee House to cool off, because it was so unbearably hot! I need to go back and try their Hot Mess Panini, since it sounds amazing!).
There are tons of people and there can be long lines, so get there as early as you can! (They said you didn't have to wait in line, but I just feel like I would have been considered rude if I walked up in front of everyone. Since lines had formed, I just waited in line along with everyone).
If you went to the Beer Cheese Festival, which was your favorite?