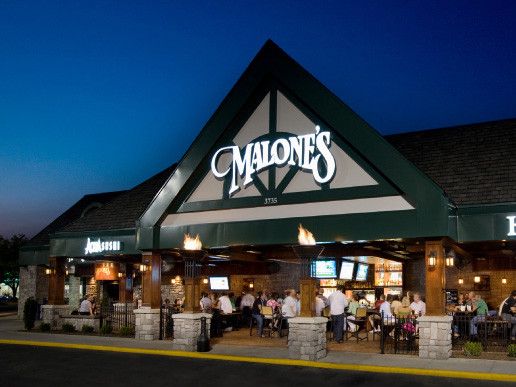 I'm a huge fan of Malone's and the BHG (Bluegrass Hospitality Group) restaurants in general. My husband and I have been eating at these restaurants for years (Harry's, Malone's, OBC Kitchen, and Drake's). There is always such a comfort in going to Malone's and we always have an enjoyable experience. Even though we would go quite often throughout the year, we would also use it as place to go for celebrations. As the years have gone by, we started switching it up to other restaurants for our celebrations of birthdays and our anniversary (but obviously still eating at Malone's, because it's just too good not to!). This year to celebrate our seventh year anniversary, we celebrated with an old friend – Malone's.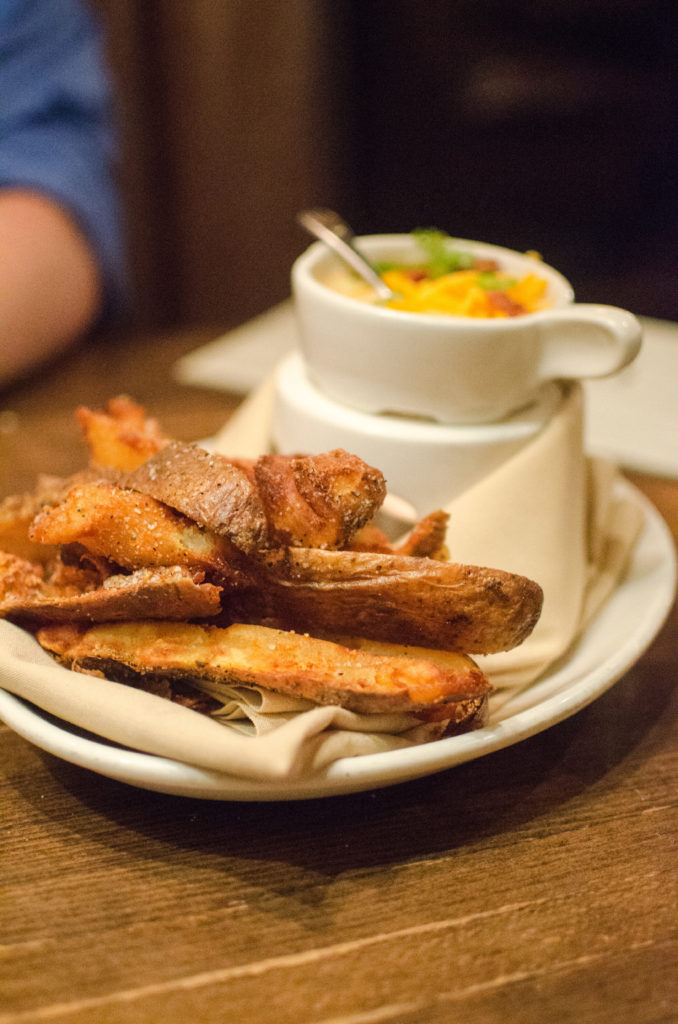 Just about every time we eat out, we always order an appetizer. I've eaten my fair share of appetizers throughout my life, but Malone's has the best appetizer of all time. Hands down. If you haven't had the Baked Potato Fondue, then you haven't been living your life right, because it is too delicious for words! I could seriously eat my weight in that ooey gooey cheesiness! I would even be content with just ordering that as my main entree. The Baked Potato Fondue is crispy spears of hand cut potatoes served with Mornay cheese sauce; loaded with bacon, cheddar, and scallions. If you haven't tried it, stop everything you are doing and go order it. You won't regret it!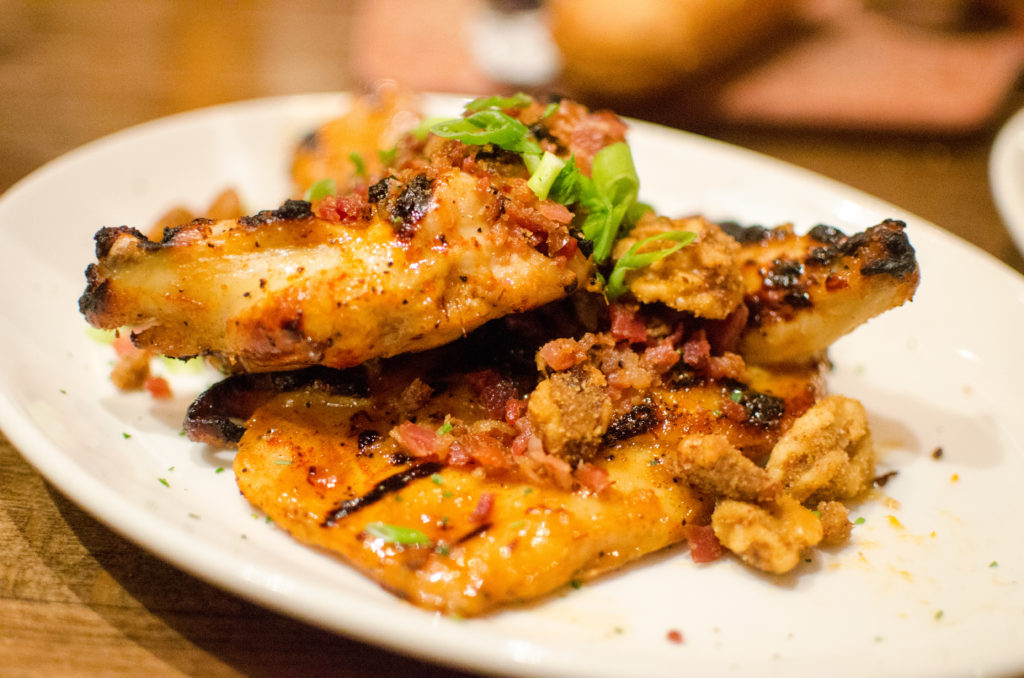 Like I mentioned earlier, I have been going to Malone's for years. It wasn't until a few months ago that I discovered the Maple Bacon Grilled Chicken on their menu, and I'm so glad I did! It is maple bacon grilled chicken brined twin French breasts, oven-seared and grill-finished with a sweet and savory maple bacon glaze and candied walnut bacon crumble. Just look at how amazing it looks!
My husband's favorite dish is Coach Cal's Chicken. This dish is a rosemary-lemon marinated breast, pan-sautéed over fresh, house-made lemon pepper linguini; white wine-lemon butter sauce. It's also a delicious dish that I guarantee you'll enjoy!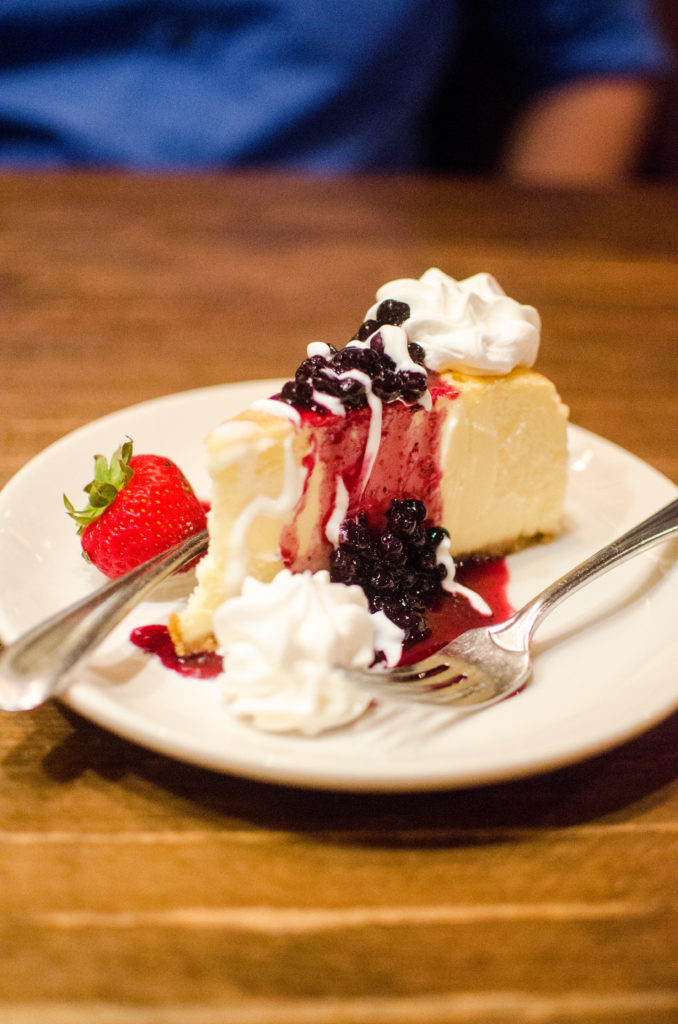 One of my favorite desserts that Malone's has is the Kentucky Bourbon Butter Cake, which is three layers of buttery cake and bourbon ganache studded with chocolate and pecans, bourbon icing, bourbon honey and a candied walnut-bacon crumble (see the amazingness: HERE). It isn't a regular fixture on their menu, but it is always a Chef's Feature when they have it. Whenever you see it being offered, you need to try it, because once it's gone, it's gone. One year for my birthday, I was even going to pay them to make an entire cake of it for my birthday (but I ended up not doing it. Sad face). However, this time  when we went, the Kentucky Bourbon Butter Cake wasn't one of their Chef's Features. This time, the dessert on the Chef's Feature menu was their Blueberry Lemon Cheesecake. It's a creamy New York style cheesecake topped with a sweet blueberry compote and lemon cream. I always love trying desserts off on that menu instead of the regular dessert menu.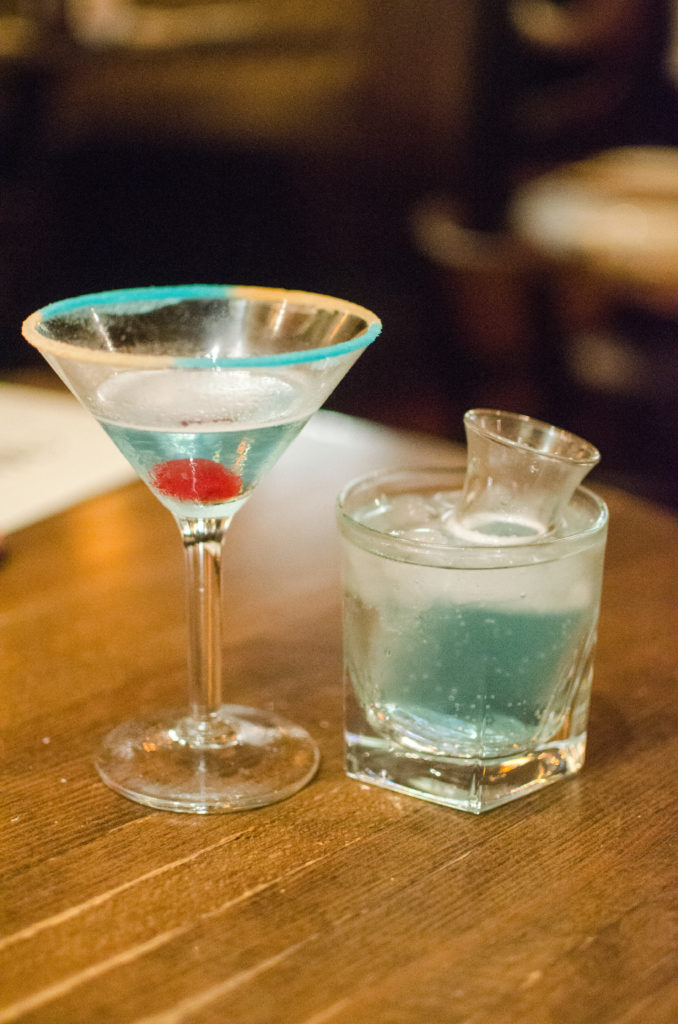 If you haven't ate at Malone's, then what are you waiting for? Malone's has three locations –  Palomar, Landsdowne, and Hamburg. Also, why you are at it, make sure you grab a drink at Drake's, enjoy a meal on the patio at Harry's, or eat an elevated take on a classic dish at OBC Kitchen (They also have some of the most creative cocktails!) If sushi is your thing, be sure to hit up Aqua Sushi!
Address:
Malone's Palomar: 3735 Palomar Centre Drive, Lexington, Kentucky
Malone's Landsdowne: 3347 Tates Creek Road, Lexington, Kentucky
Malone's Hamburg: 1920 Pleasant Ridge Drive, Lexington, Kentucky
Hours of Operation:
Sunday – Saturday: 11am to 10:30pm
Be sure to check them out and support a local business!