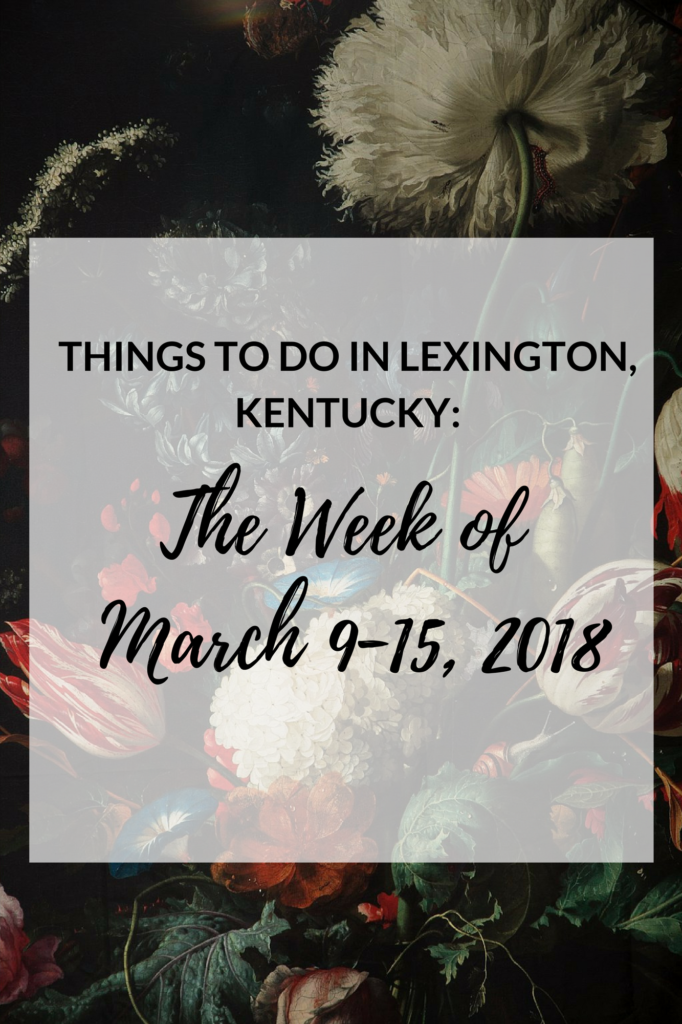 It's finally the weekend again!! Spring is right around the corner, so hopefully the warmer weather will be here to stay instead of this fickle weather that we've been having lately!
As always, I've included some events happening in Lexington to keep you entertained and an excuse to get out of the house, experience Lexington, and to support a local business!
Friday, March 9, 2018
Saturday, March 10, 2018
Sunday, March 11, 2018
10am: Lexington Comic & Toy Con 2018 at the Lexington Convention Center: The Lexington Comic & Toy Convention is back in Lexington on March 9-11, 2018! The guest list includes Chuck Norris, John Barrowman, Pauly Shore, Ric Flair, Lou Diamond Phillips, Billy Dee Williams, Tara Strong, Jason David Frank, Amy Jo Johnson, and many, many more! Tickets available: HERE. (Also, on March 10 at 10am to 7pm and March 11 at 10am to 4pm).
10am: 21c Yoga with Art – Bethany Bubenzer at the 21c Museum Hotel Lexington (fitness/health/wellness): This fun class will be in the Art Gallery! Find your inner peace at 21c Museum Hotel Lexington's weekly Sunday yoga series. Perfect the art of oneness as you work through a variety of poses. Sessions are just $5 at the door and are led by certified yoga teachers from YOGA at The Massage Center in Dudley Square. Attendees should bring their own mat or towel and water and arrive early to ensure a spot because space is limited.(Recurring Sundays). 
6pm: Motionless in White: The Graveyard Shift Tour at Manchester Music Hall (music): Live music! Purchase tickets: HERE.
6pm: Red Barn Radio Open Mic at Twisted Cork (comedy/music): Join us weekly each Sunday from 6-9pm at The Twisted Cork to hear the best live music you will find in town. Bring your instrument, bring a friend, sign up and perform! Great listening atmosphere with the best people you will ever meet! (Recurring Sundays).
6pm: Johnny Roy & The RubTones at Lynagh's Irish Pub (music): Live music!

7pm: Blind Corn Liquor Pickers + Roadie at The Burl

(music): Live music!

Purchase tickets: HERE

.

7:15pm Medium Cindy Kaza at Comedy Off Broadway:

Cindy Kaza is an evidential medium. Evidential mediumship is a style of mediumship practiced around the world that puts heavy weight on the medium's ability to bring through the extremely specific evidence to the sitter. This evidence can include, but is certainly not limited to, names, personality traits, physical ailments, favorite past times, and phrases often used by loved ones in spirit. The purpose of this style of mediumship is to diminish skepticism among sitters and to prove that the medium is truly connecting with the client's loved ones in spirit.

Purchase tickets: HERE  (Also, show on March 12 at 7:15pm).

9pm: White Buffalo Woman w/ Matthew Douglas Simpson & Flying Things at Al's Bar (music): Live music!
Monday, March 12, 2018
Tuesday, March 13, 2018
Wednesday, March 14, 2018
Thursday, March 15, 2018
Be on the lookout for the new post date! The Things To Do: Week Of… posts will now be posted on Thursdays instead of Friday! The next post will be published on Thursday, March 15, and it will include things to do for Friday, March 16 through Thursday, March 22!