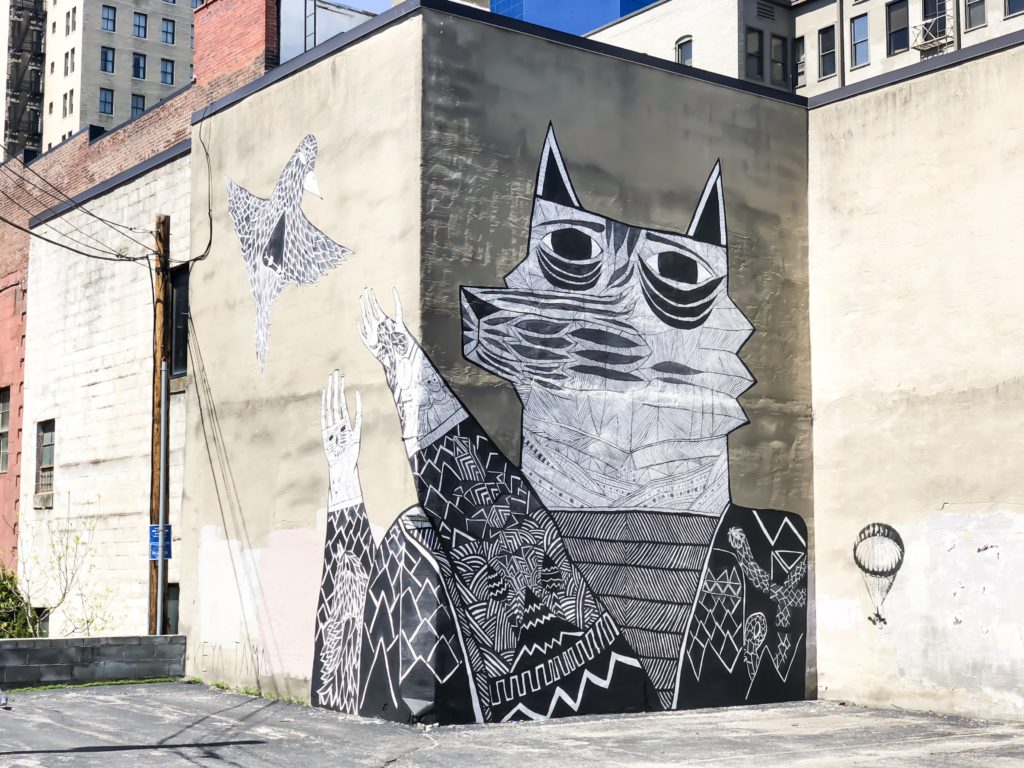 I've been having fun sharing all of the murals and street art that we have throughout Lexington. I think it's something that makes our city beautiful, interesting, and unique. If you look closely, you can find street art or murals just about everywhere you look!
I've spent hours walking and driving around trying to capture as many as possible! Not only that, I've done hours of research trying to track down the name of the murals, the artist, and details about the murals. Some say unknown, so if you are reading one of my "Street Art and Murals of Lexington, Kentucky" posts, and I don't know the artist, but you do, please let me know! I really want to give credit to all of the amazing artists.
For Volume III, I've captured twelve more amazing murals!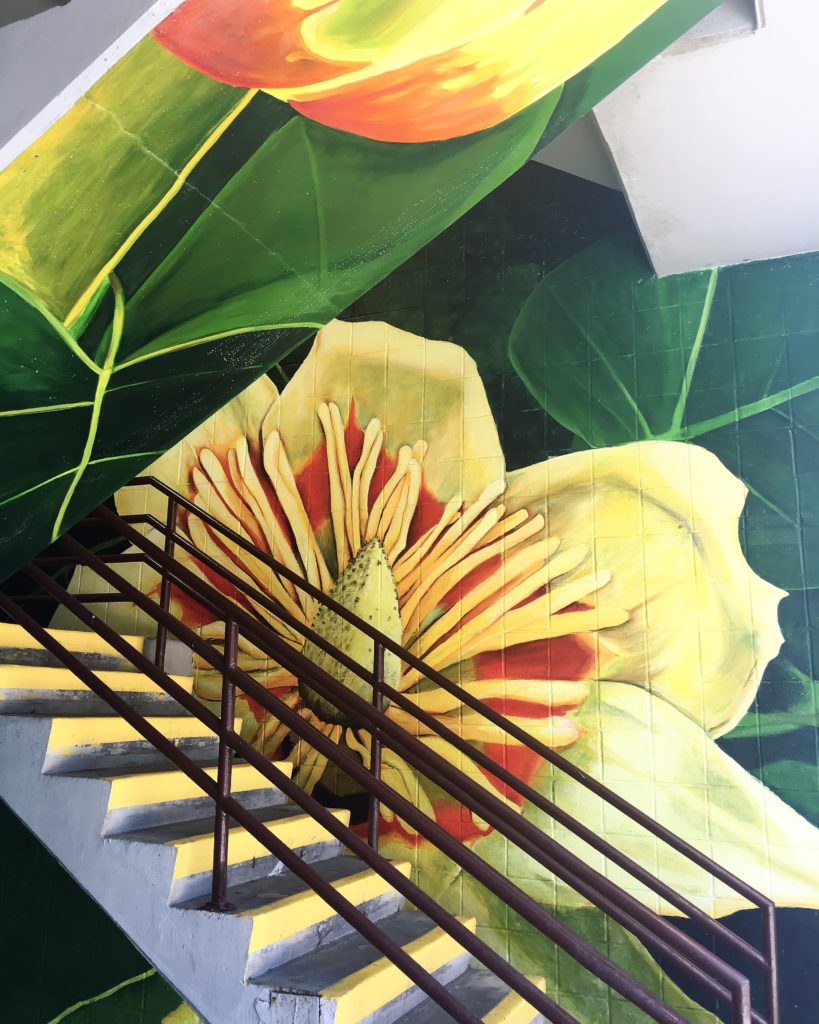 "Tulip Poplar"
Artist: Lucy Hale
Location: Broadway between Short and Main. It's in the staircase that leads to the parking garage.
Details about the mural: Painted in October 2014, this colorful mural coats a stairwell inside the Lexington parking garage. Originally from Knott County, Hale is a graduate of the Pratt Institute in Brooklyn.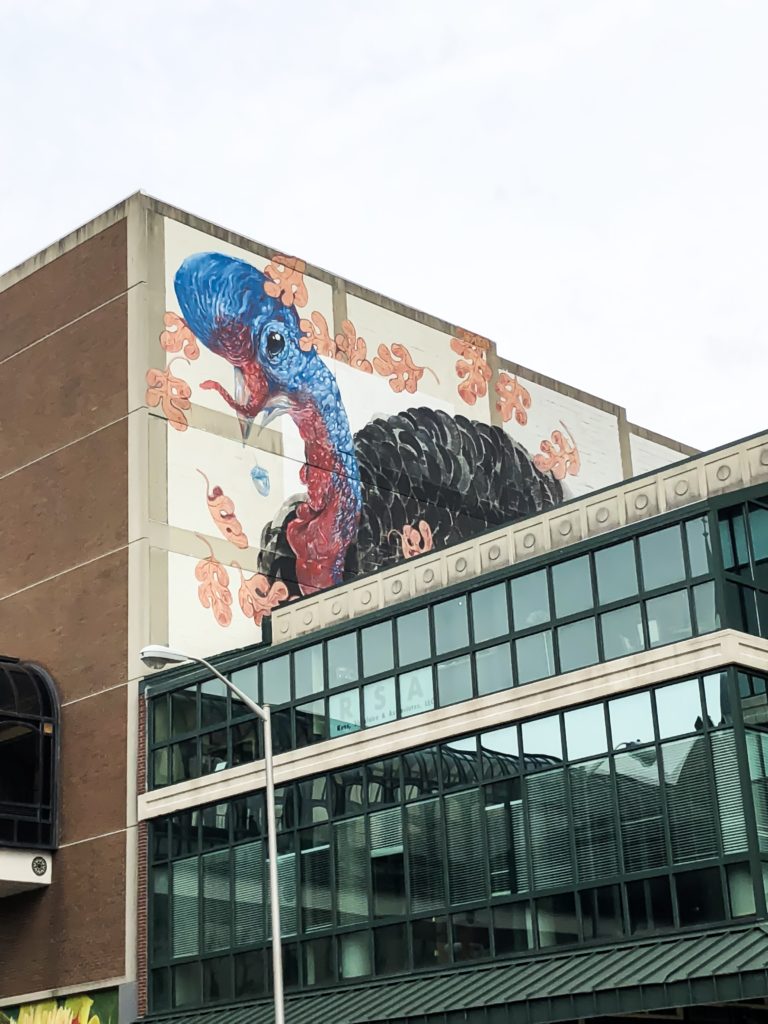 "Wild Turkey Mural"
Artist: hiTNES
Location: On the city parking structure on Broadway between Main and Short. It's near another mural – Tulip Poplar
Details about the mural: This mural was for the Audubon Society and is of a wild turkey.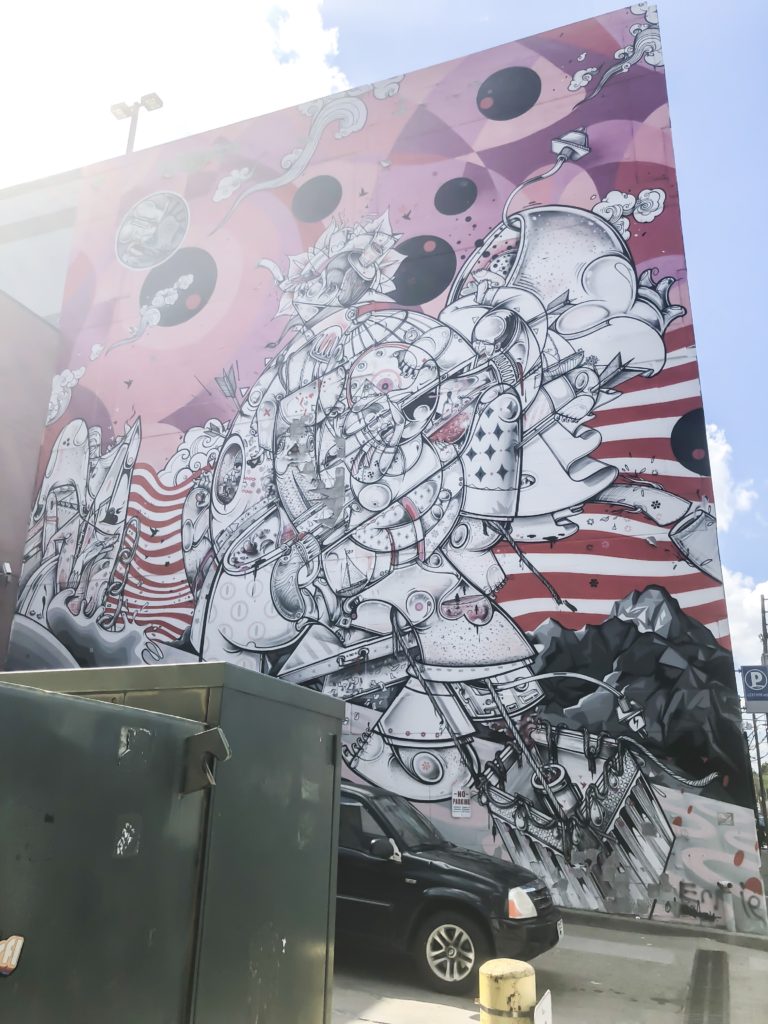 "Moonshine"
Artist: How & Nosm
Location: Short Street between Broadway and Mill – on the opposite side of the side of The Village Idiot
Details about the mural: Only visible by foot, this whimsical yet industrial mural was painted by artists and twin brothers, How & Nosm. See if you can count the number of black spheres in the mural, or better yet, take a jump photo in front of it!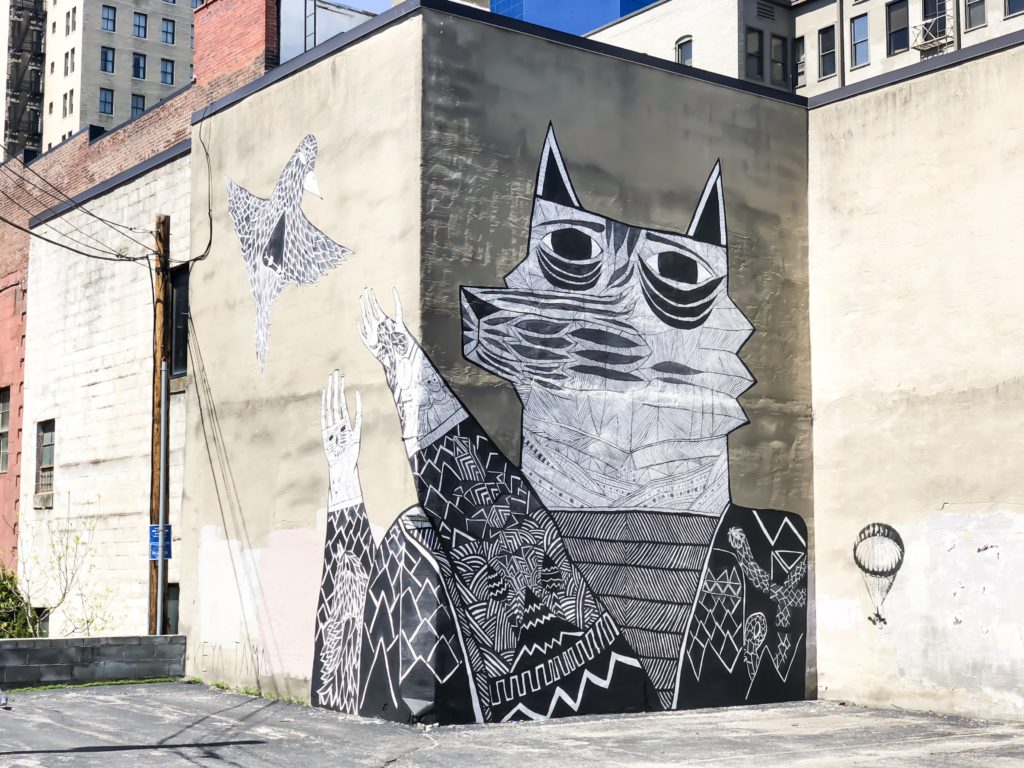 "Keya Tama Mural"
Artist: Keya Tama (aka Jack Fox)
Location: Located at 144 Church St., on the rear wall of Block + Lot's Short Street office
Details about the mural: The artist's Lexington mural, painted in his signature black-and-white acrylic style, depicts a large cartoon fox with hands reaching up to a bird. The mural wraps around the corner of the building, which is visible from the Church Street parking lot located next to Lussi Brown Coffee Bar. Created in partnership with PRHBTN in 2017.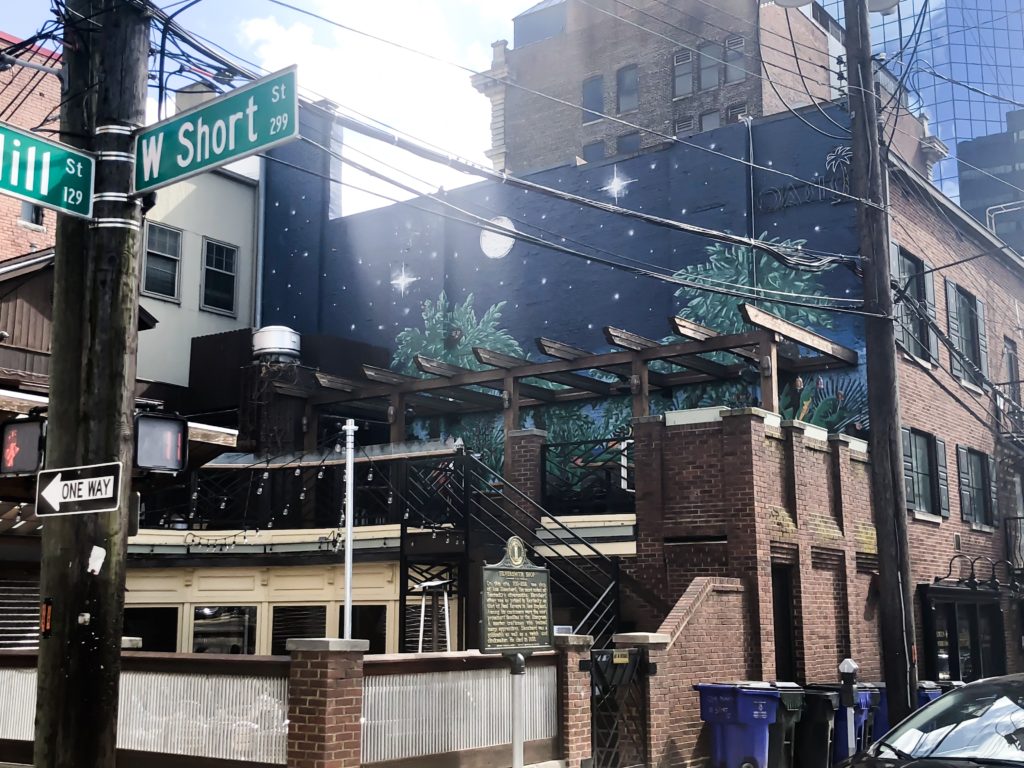 "Cheapside Mural"
Artist: Unknown
Location: The Ruddy Duck (formerly known as Cheapside Bar and Grill), Cheapside Park, 131 Cheapside, Lexington, Kentucky 40507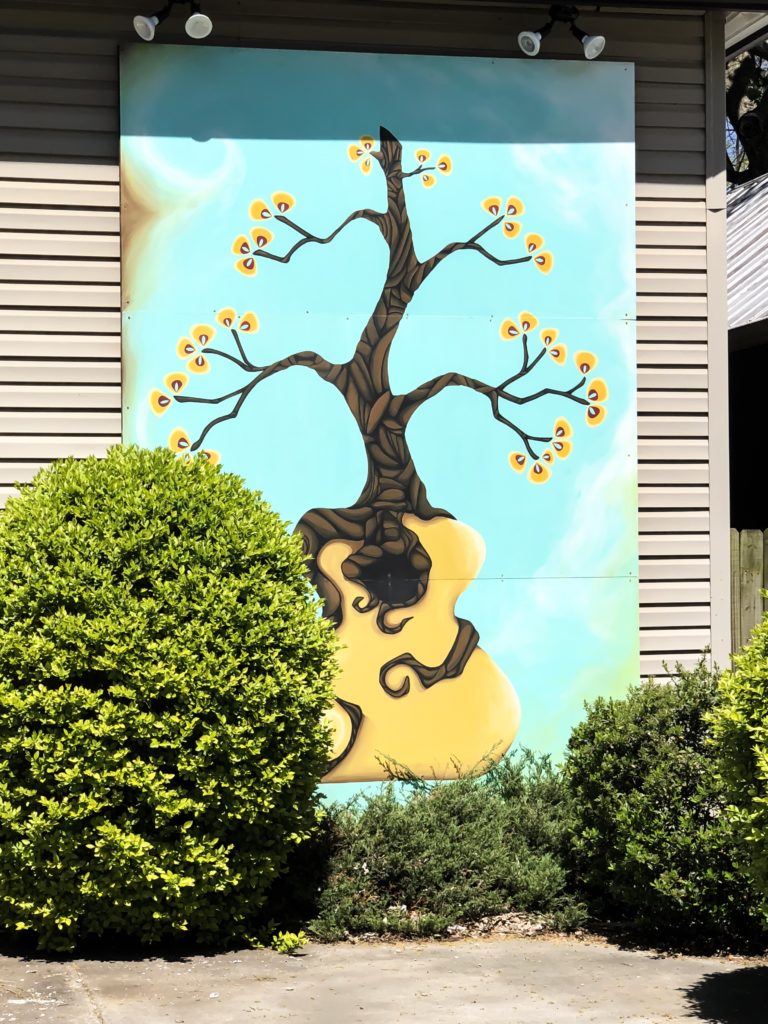 "Guitar Tree Mural"
Artist: Niah Soult
Location: Located at 509 North Limestone – across from Duncan Park.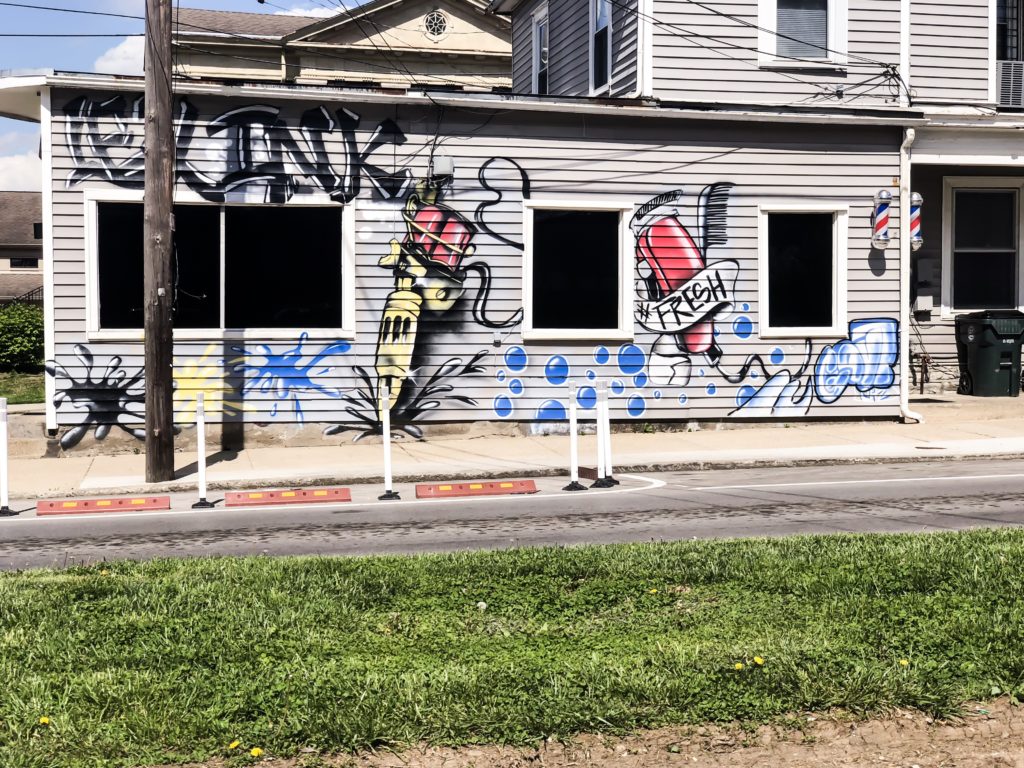 "Lex Ink"
Artist: Unknown
Location: 147 East Loudon Avenue, Lexington, Kentucky 40505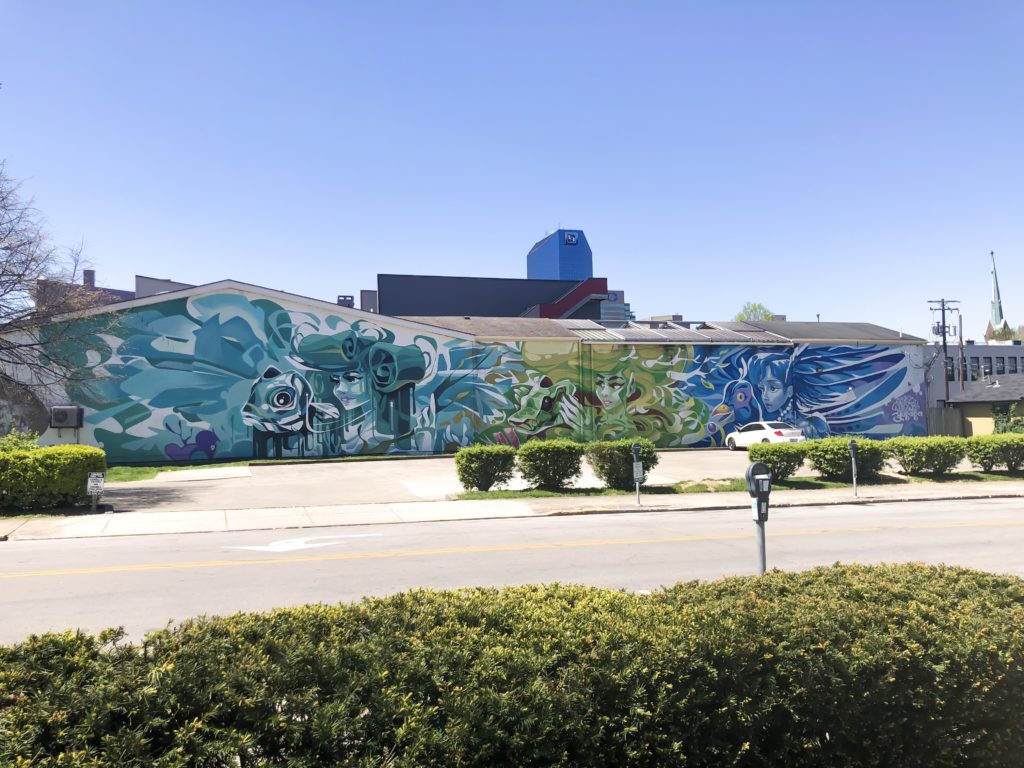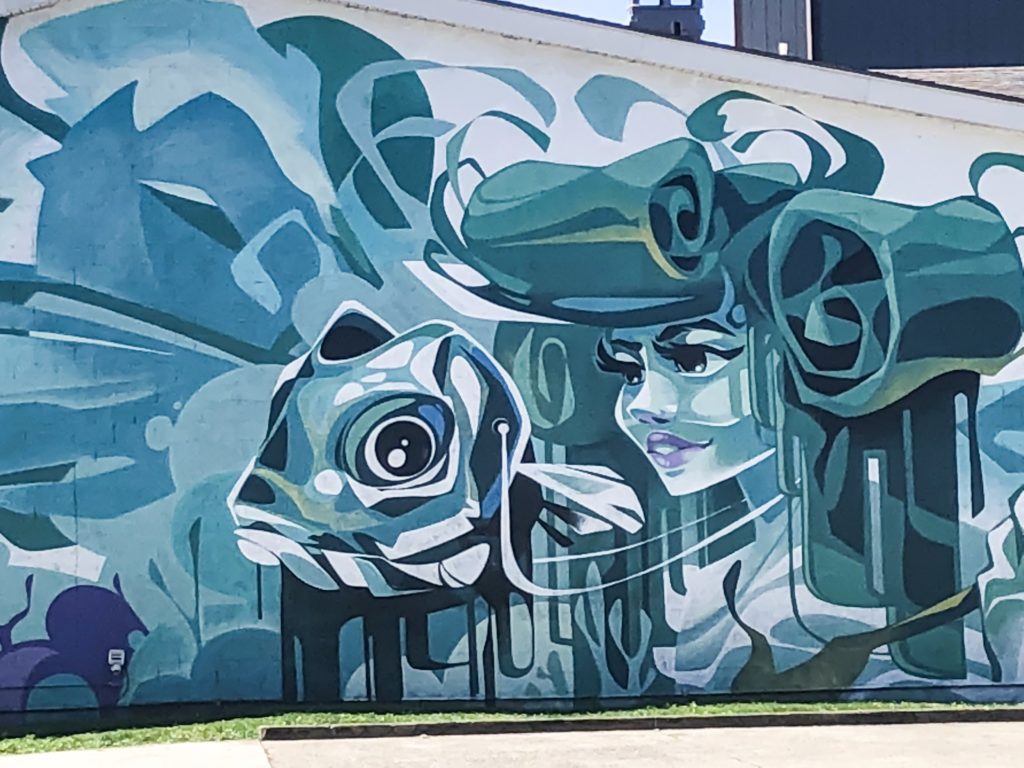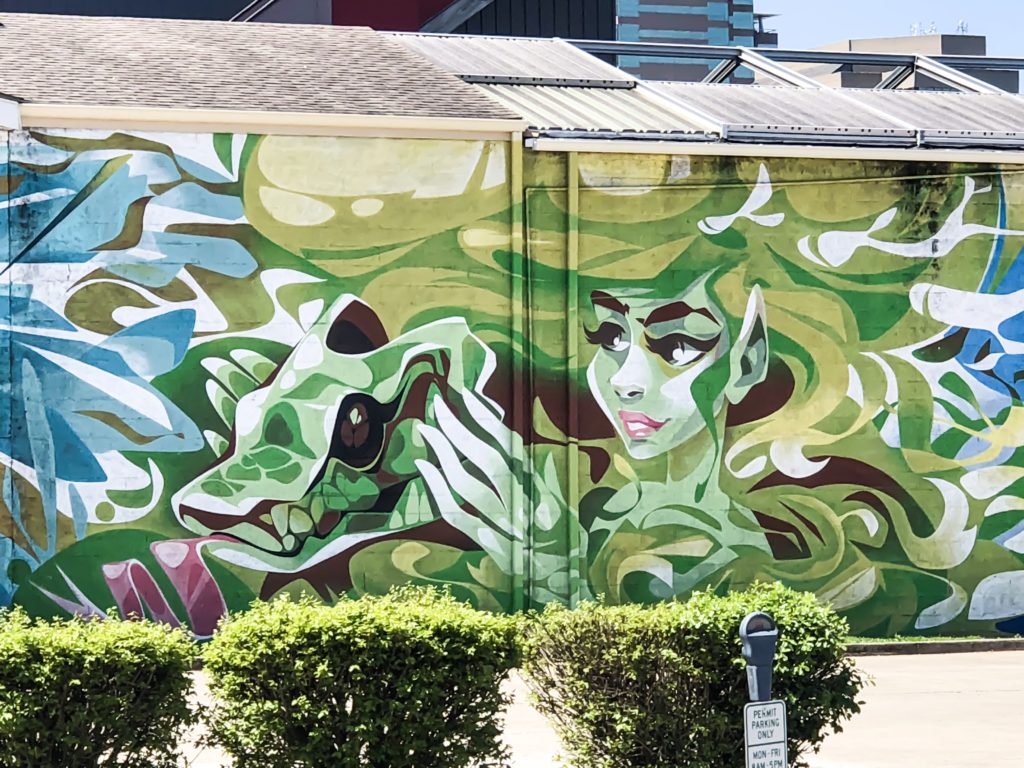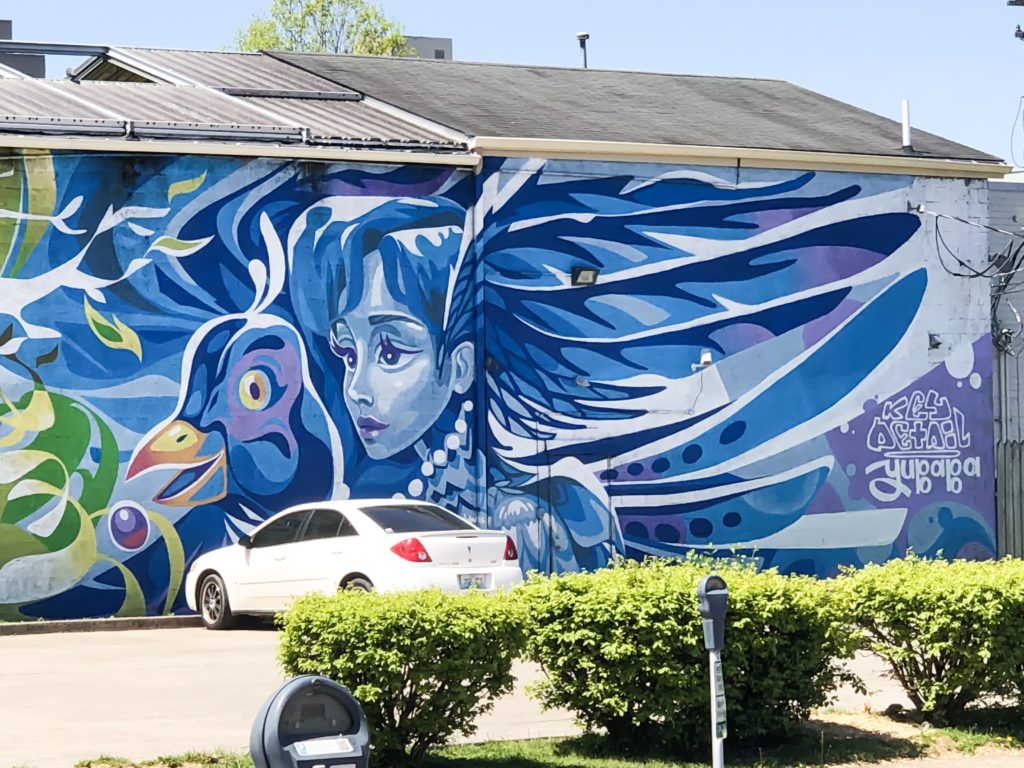 "Three Elements; Water, Earth and Air"
Artist: Key Detail & Yu-Baba
Location: 227 North Limestone, Lexington, Kentucky
Details about the mural: Having recently moved to New York from Belarus in search for more artistic opportunity, the married muralist duo Key Detail x Yu-baba – both of whom are former architects who left the profession also in search of further artistic freedom – contacted PRHBTN after catching wind of the rise in popularity of street art in Lexington. Their works often feature shades of blue, green and red, and relay messages of emotion and naturalism. This Lexington mural, installed in October as part of PRHBTN 2016, is based on the three elements water, Earth and air, and is one of the duo's widest collaborative efforts.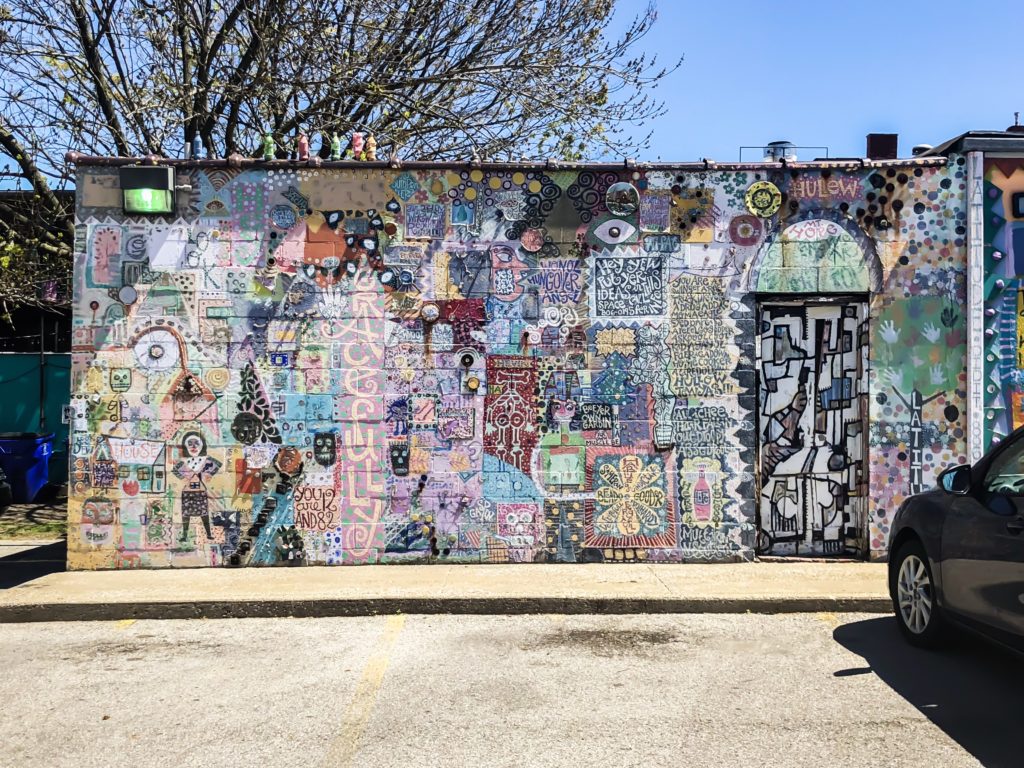 "Third Street Stuff & Coffee"
Artist: Pat Gerhard
Location: Third Street Stuff & Coffee, 257 North Limestone #1, Lexington, Kentucky 40507
Details about the mural: The front, the sides, and back of the building, as well as the inside are all very colorful and so interesting!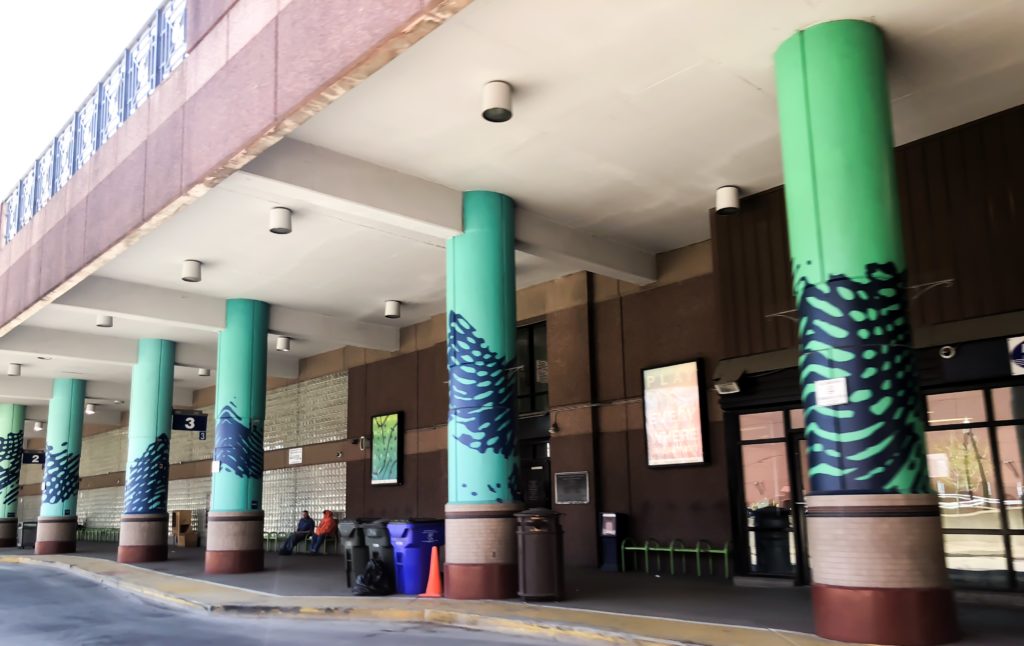 "Unknown"
Artist: Unknown
Location: Lexington Transit Center, 220 East Vine Street, Lexington, Kentucky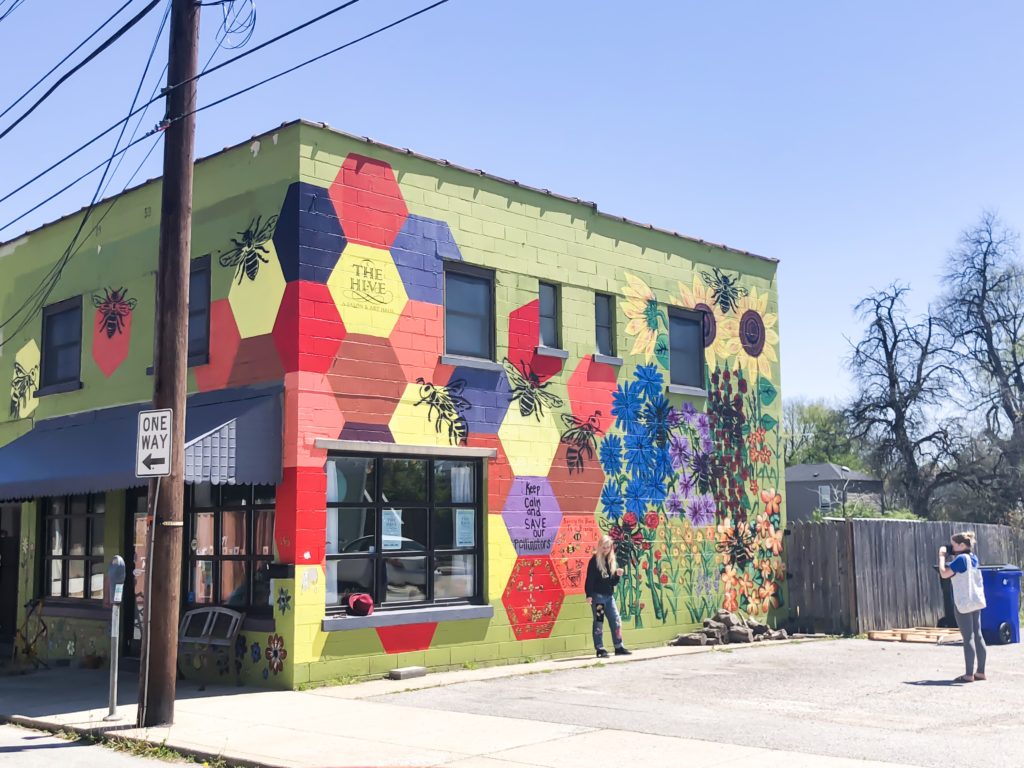 "The Hive Salon Mural"
Artists: Michelle Newby-Armstrong, Graham Allen, and students
Location: 156 Deweese Street, Lexington, Kentucky 40507
Details about the mural: The mural on the exterior of the downtown hair salon The Hive was created by Michelle Newby-Armstrong, a Lexington-based art teacher at Cardinal Valley Elementary, with contributions by three groups of students and fellow local artist Graham Allen. Newby-Armstrong said her goal with the mural, which was completed in 2016 and partially funded from a LexArts community arts development grant, was to raise awareness about the declining honeybee population, an interest of hers that stems from a love of nature as well as science-based activities she has done with her elementary students.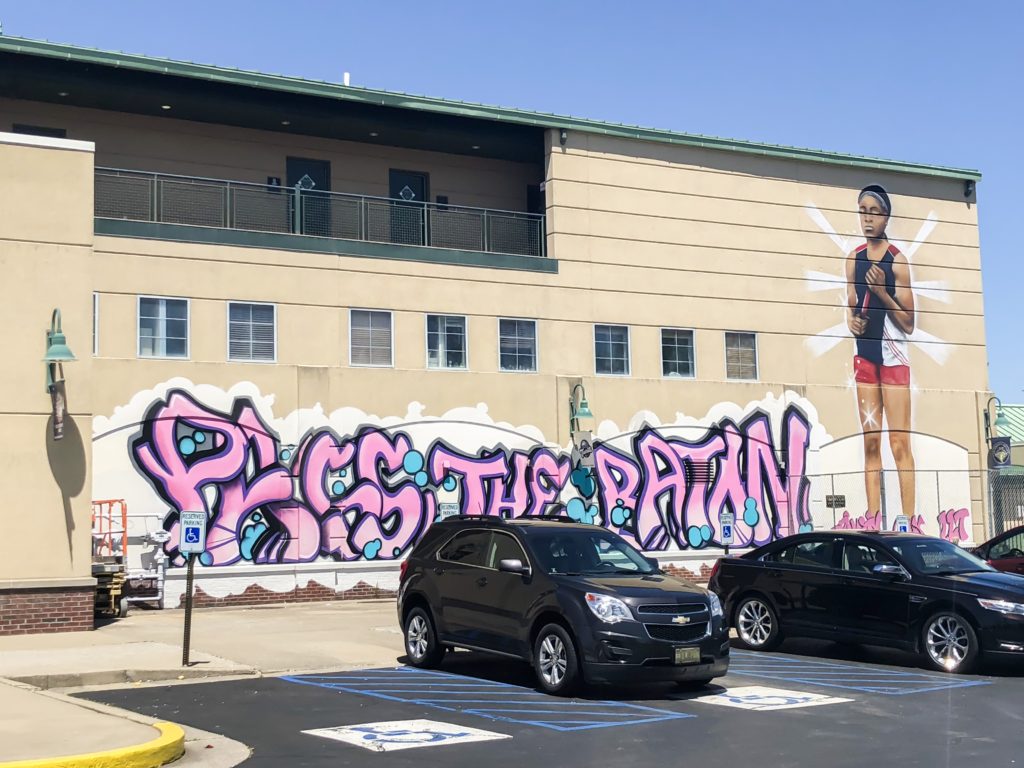 "Pass the Baton"
Artist: Dani Greene
Location: Whitaker Bank Ballpark – The mural is on the the back of the grandstand and faces North Broadway.
Details about the mural: Trinity Gay, the 15-year-old daughter of Olympian Tyson Gay died early Sunday, October 16, 2016 at University of Kentucky Chandler Hospital after a shooting at Cook Out restaurant on South Broadway. This mural is in remembrance and to honor her.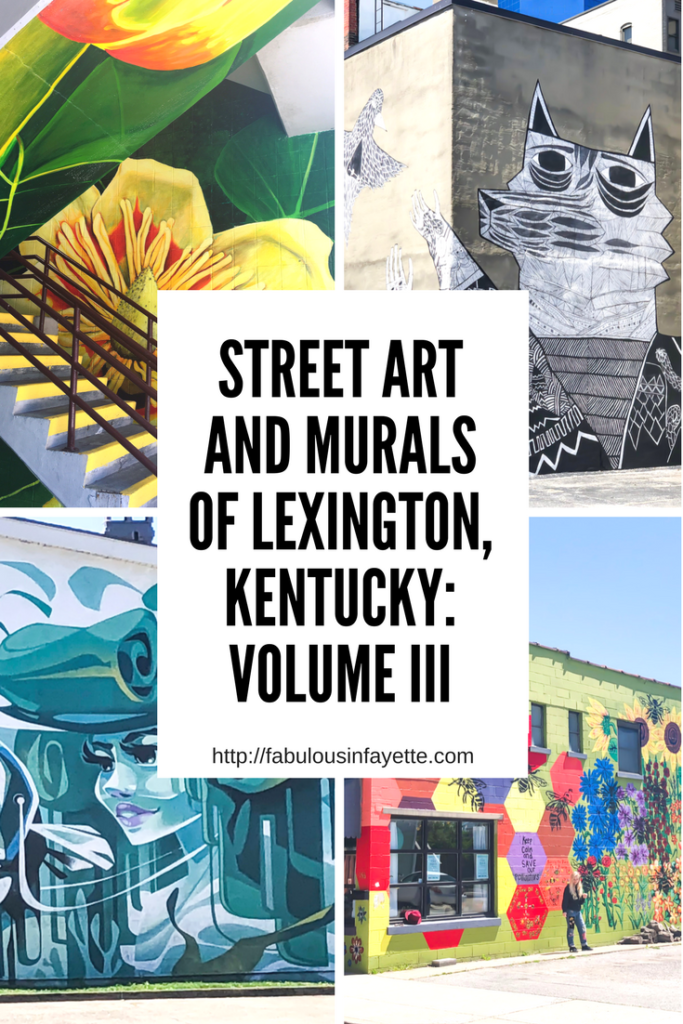 In case you missed it… Be sure to check out the previous street art and murals:
Be sure to check out Volume IV coming later this week!