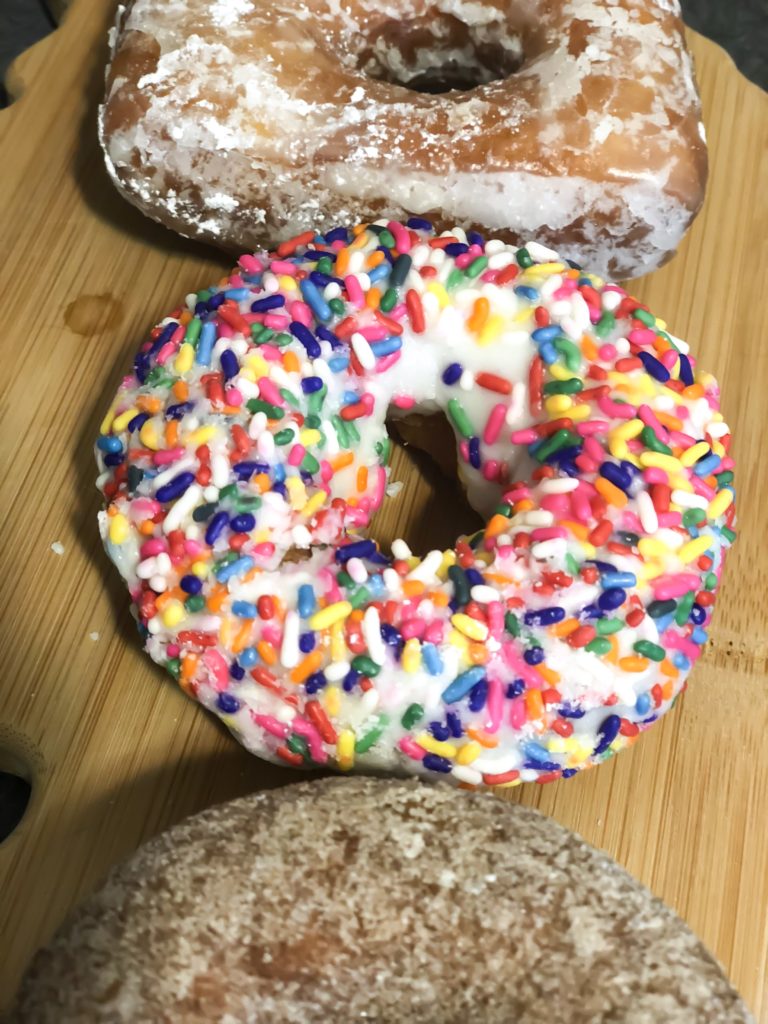 Woo! It's National Doughnut Day! This particular food holiday is one of my favorites. It ranks right up there with National Pizza Day.
Now, I know what you are thinking, "Oh great! Another social media holiday." If you are thinking that, well, you are WRONG. National Doughnut Day wasn't a day created by social media with the sole purpose of posting a picture with a hashtag on Instagram in hopes of gaining numerous likes and followers. National Doughnut Day was a thing way before social media was in existence and even existed way before the internet was invented!
National Doughnut Day always falls on the first Friday of June. It also has origins dating back to 1938! Yes, 1938! That's eighty years ago!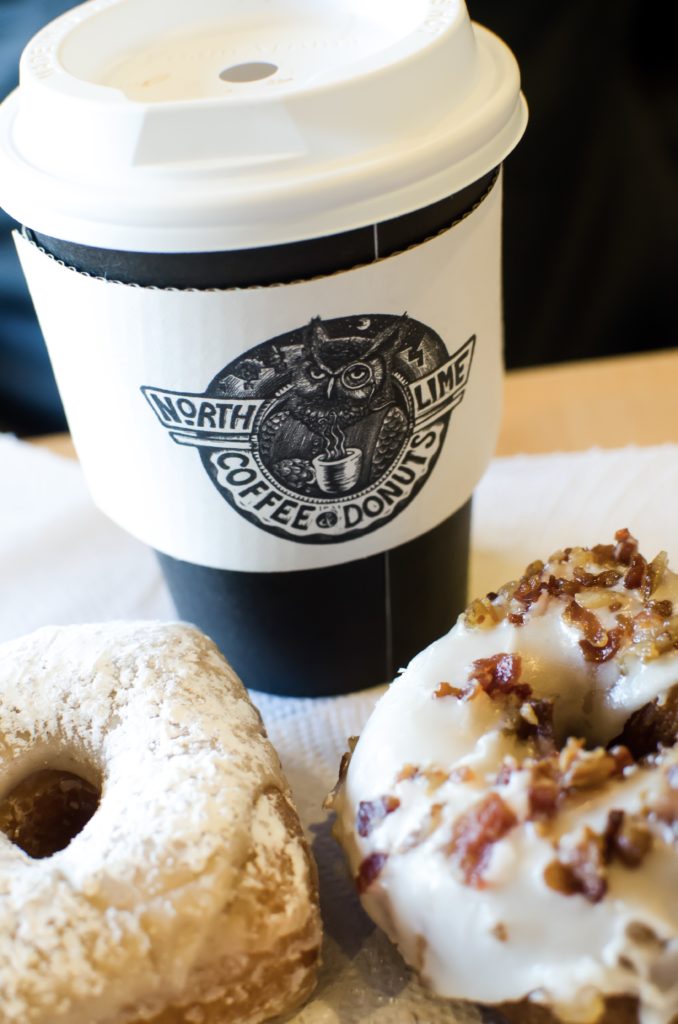 Women volunteered for the Salvation Army during World War I. It was during that time, they made doughnuts for those serving overseas. The purpose in doing this was to boost morale.
In 1917, the Salvation Army began a mission while U.S. soldiers were fighting France during World War I. They wanted to provide spiritual and emotional support. Small huts were set up near the front lines by approximately 250 volunteers. There they could provide the soldiers with clothes, supplies, and baked goods. Considering the limited rations and the conditions of the huts, it was rather difficult to serve baked goods. So, two volunteers, Ensign Margaret Sheldon and Adjutant Helen Purviance began frying doughnuts in the soldiers' helmets. These doughnuts boosted morale and obviously won the hearts of many of the soldiers. These two women were nicknamed the "Donut Lassies" and are credited for popularizing the doughnut in the United States when the soldiers returned home from the war.
During World War II, the Salvation Army continued to provide donuts, comfort, and care to those that were serving our nation.
National Doughnut Day has origins dating back to 1938! Have you ever heard of the 'Donut Lassies?'
Click To Tweet
In 1938, National Doughnut Day became official! It was launched by the Chicago branch of the Salvation Army. The purpose behind this was to raise awareness of the work the organization was doing in the community, as well as raising funds. But this day was also to help recognize the contribution these women were doing for the war effort.
Now, that you know the origins of National Doughnut Day, let me tell you of some local doughnut shops where you can go celebrate!
1. North Lime Coffee & Donuts/North Lime Coffee & Donuts – Clays Mill
Lexington has two locations – 575 North Limestone and 3103 Clays Mill Road, Suite #300a. Just be aware that each location usually has different "daily specials." The best place to stay informed of that is on instagram (@northlimelex and @northlime_claysmill). At North Lime, they mix, cut, fry and ice every donut by hand. They have some of the most creative flavors and they are always changing. Be sure to get there early, because sometimes they run out of their daily specials! Some of my favorite daily specials are: Chicken and Waffle Donut (it is topped with chicken from Raising Canes) and Maple Bacon. If you like cake donuts, then this is the place for you!
2. Spalding's Bakery
Spalding's Bakery is located at 760 Winchester Road, Lexington, Kentucky. Spalding's is a family-owned business that has been hand-forming doughnuts since 1929. The "original" is a glazed, yeast doughnut that melts in your mouth fresh from the glazer. Spalding's Bakery also offers filled doughnuts, cake doughnuts, cinnamon rolls, brownies, cakes, cupcakes, and more! Please note, Spalding's Bakery only accepts cash. There's an ATM located in the convenience store next door. Spalding's will be closed from Monday, June 4th through Tuesday, June 19th, and reopening on Wednesday, June 20th. They will also be closed on Wednesday, July 4th. If you are going to stop by, be sure to pay attention to their hours: Monday & Tuesday – Closed, Wednesday through Saturday 6:30am to 12pm, and Sunday 7am to 12pm.
3. Metropolitan Donuts
Metropolitan Donuts & Coffee is located at 3070 Lakecrest Circle, Suite 600, Lexington, Kentucky. It is a family-owned and operated business by Drew and Evelyn McCoy. Introducing a fun, new take on donuts to Lexington, Kentucky, the restaurant whips up mini and regular size handcrafted donuts and serves them alongside world class coffee from some of the best specialty roasters. Be sure to get there before they close for the day! Hours of operation: Tuesday through Friday: 7am to 1pm, Saturday: 8am to 1pm.
Just listen to the sound of these house favorites:
Party Time: Old fashion donut with chocolate icing, M & M's & peanut butter drizzle
Everything is Better with PB: Old fashion donut with chocolate icing, peanut butter pieces, & peanut butter drizzle
Strawberry Cheesecake: Old fashion donut with vanilla icing, graham cracker crust, ​​strawberry & cream cheese drizzle
4. Donut Days Bakery
Donut Days Bakery is located at 185 Southland Drive, Lexington, Kentucky and has been serving Lexington since 1972. Donut Days Bakery is a full-service bakery. There they make breads, rolls, pies and custom cakes for all occasions, as well as doughnuts and more!
5. Franks Donuts
Franks Donuts is located at 814 South Broadway Street, Georgetown, Kentucky. Frank's Donuts has shops in Georgetown, Winchester and Paris and, soon, Lexington. The bakery specializes in a couple dozen types of cake and yeast doughnuts, most of which sell for less than a dollar each. The shop in Lexington will be on East Third Street, just off Winchester Road. Every doughnut is cut individually by hand and everything is made from scratch. I've heard wonderful things about their cream-filled donuts!
Celebrate National Doughnut Day With These Local Doughnut Shops in Lexington, Kentucky
Click To Tweet
BONUS:
Head out to Eckert's Boyd Orchard in Versailles, Kentucky (located at 1396 Pinckard Pike, Versailles, Kentucky) and pick up some of their apple cider doughnuts. You'll thank me later. Trust me. They are out of this world!
Where are you going to celebrate National Doughnut Day?