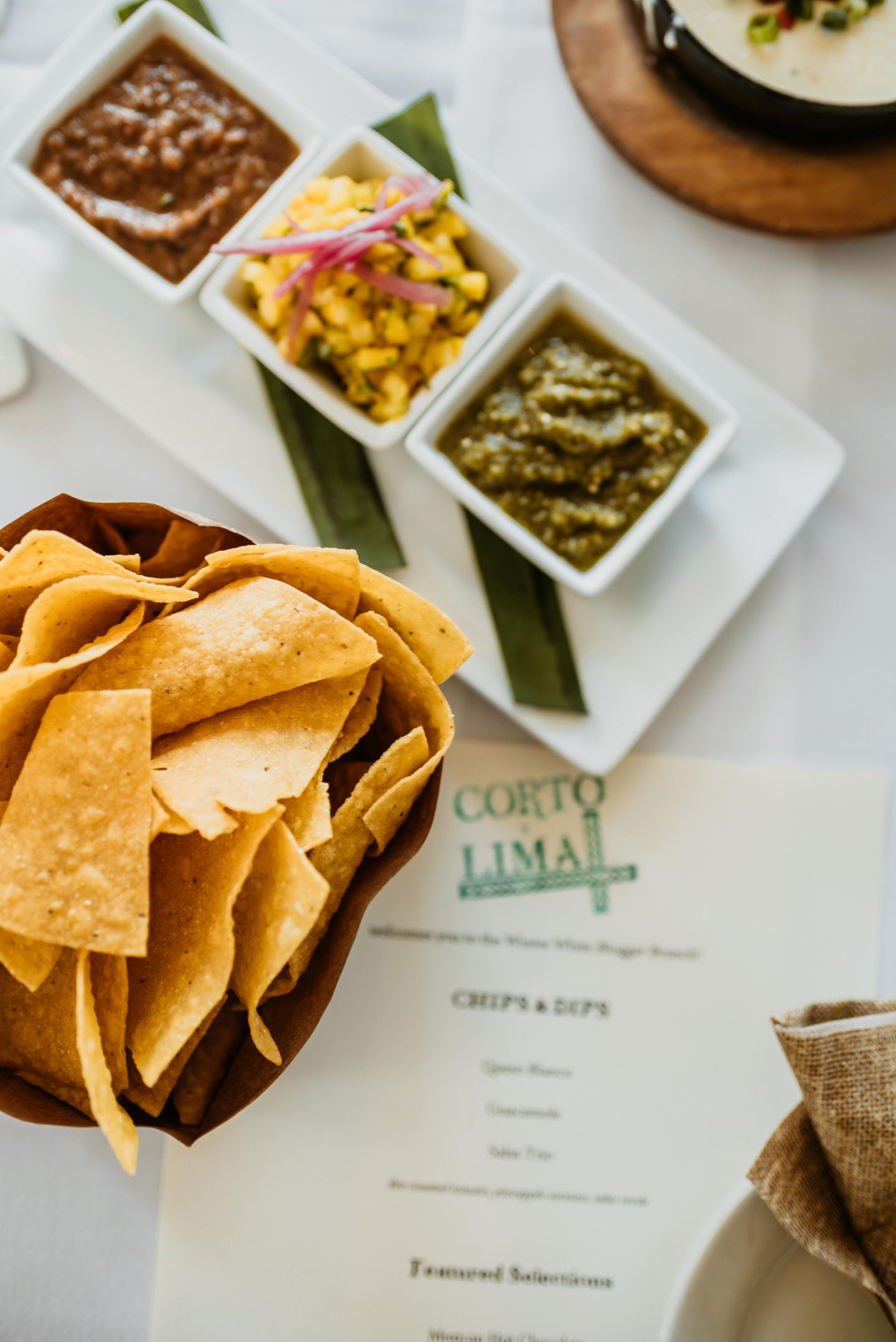 Over the weekend, a few of us local Kentucky bloggers got together for a Winter White Brunch at Corto Lima in Lexington, Kentucky. If you've never been, you should check out the Local Spotlight that I did on Corto Lima back in October of 2018. In my previous post about Corto Lima, I featured several of my favorite dinner dishes.
We got to sample many things that they have featured on their menu, and we most certainly didn't leave hungry! It truly is an amazing restaurant! I had been there for dinner, but never for brunch and it didn't disappoint!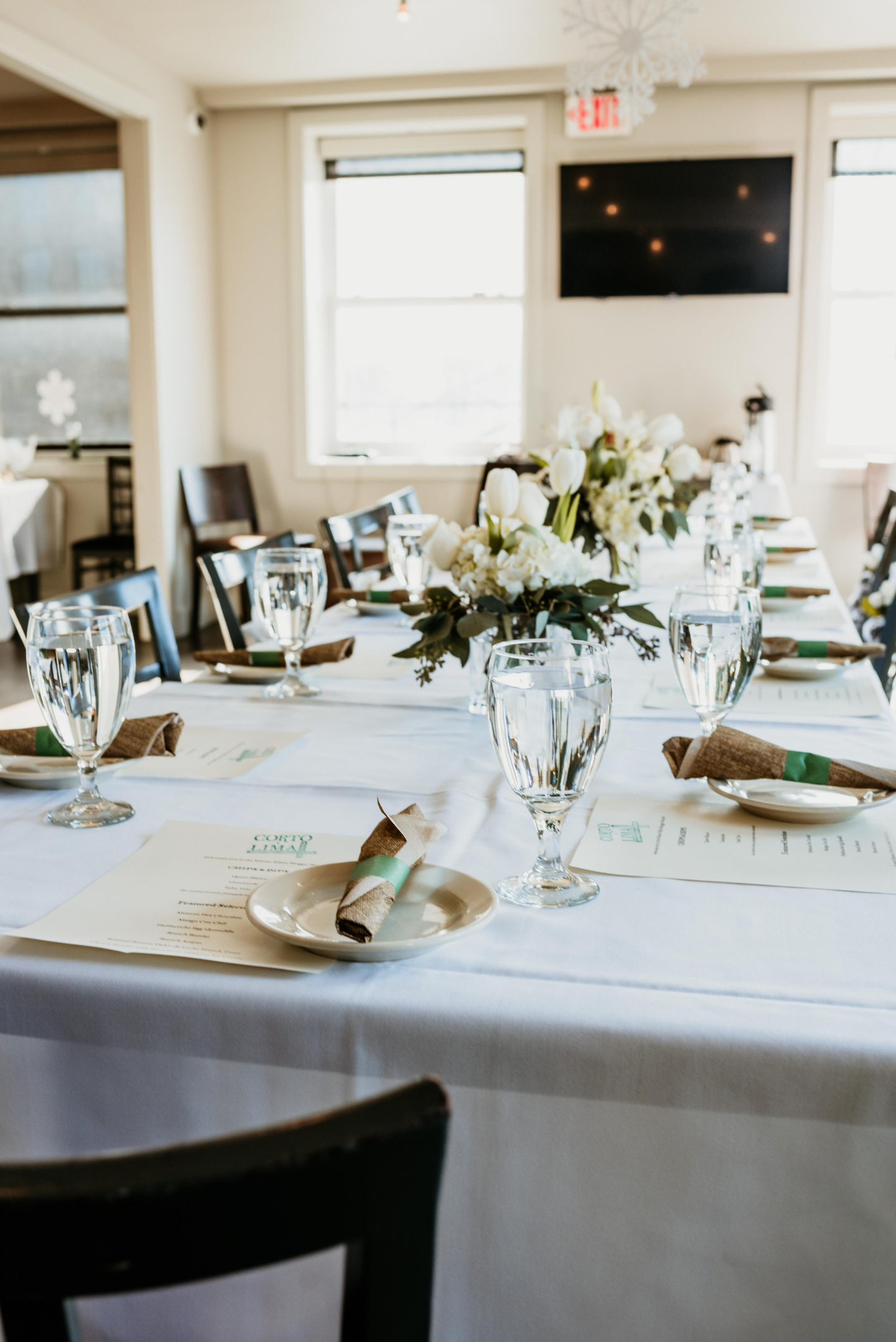 For those that who haven't been, or for those that aren't from Lexington, Corto Lima is located in downtown Lexington, Kentucky on "Restaurant Row." Corto Lima is located on the corner of West Short Street and North Limestone.
Corto Lima is a mid-scale Latin inspired restaurant that specializes in a modern interpretation of Latin cuisine. You can thank Chef Johnathan Lundy for the creation of this restaurant. At Corto Lima, you will be introduced to cuisine for various places around the world, such as Mexico, The Caribbean, Central America, South America, as well as the American Southwest.
You can find quality ingredients, a creative menu, as well as it being affordable at Corto Lima. For my vegetarian, gluten free, or vegan friends, they have options available for you.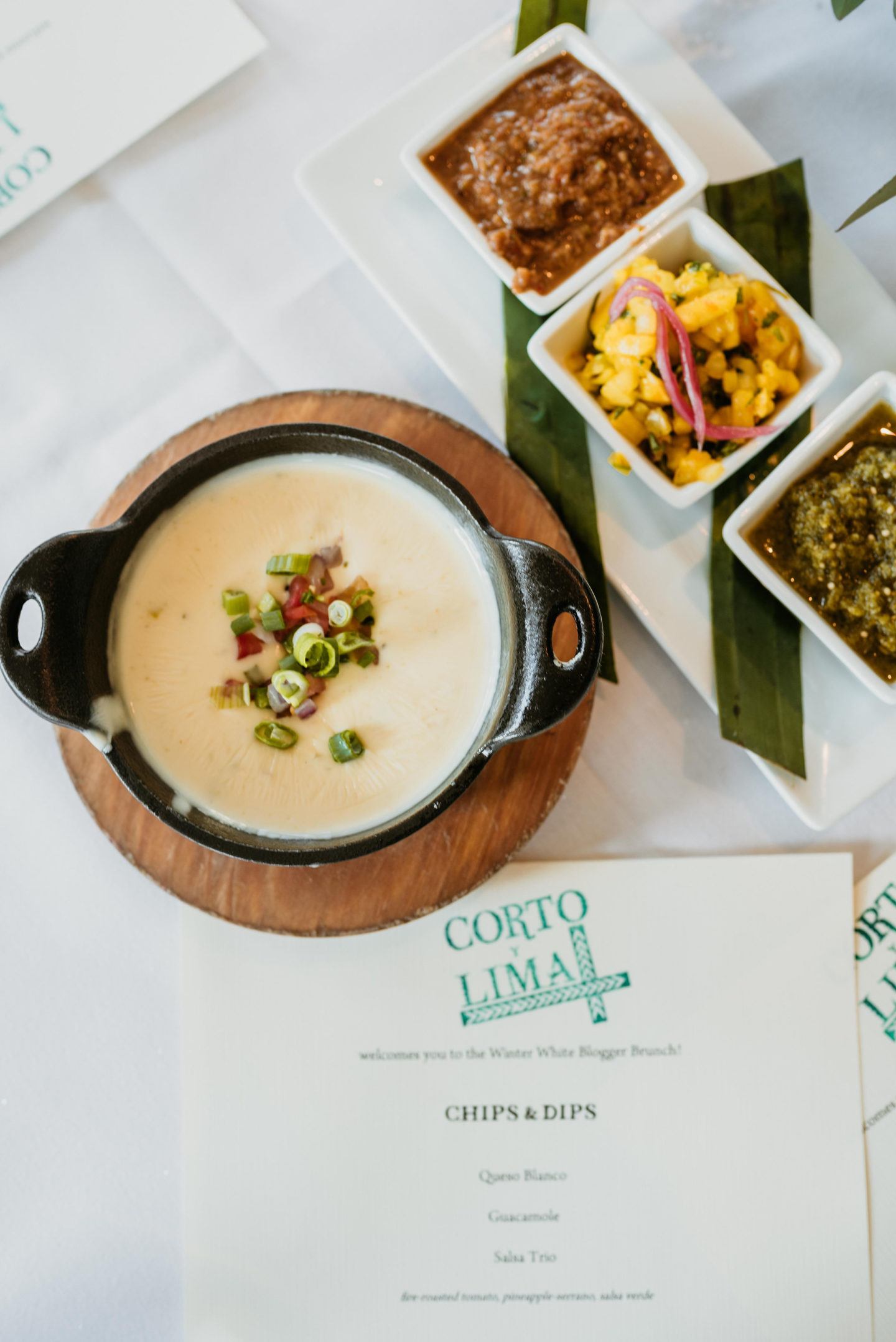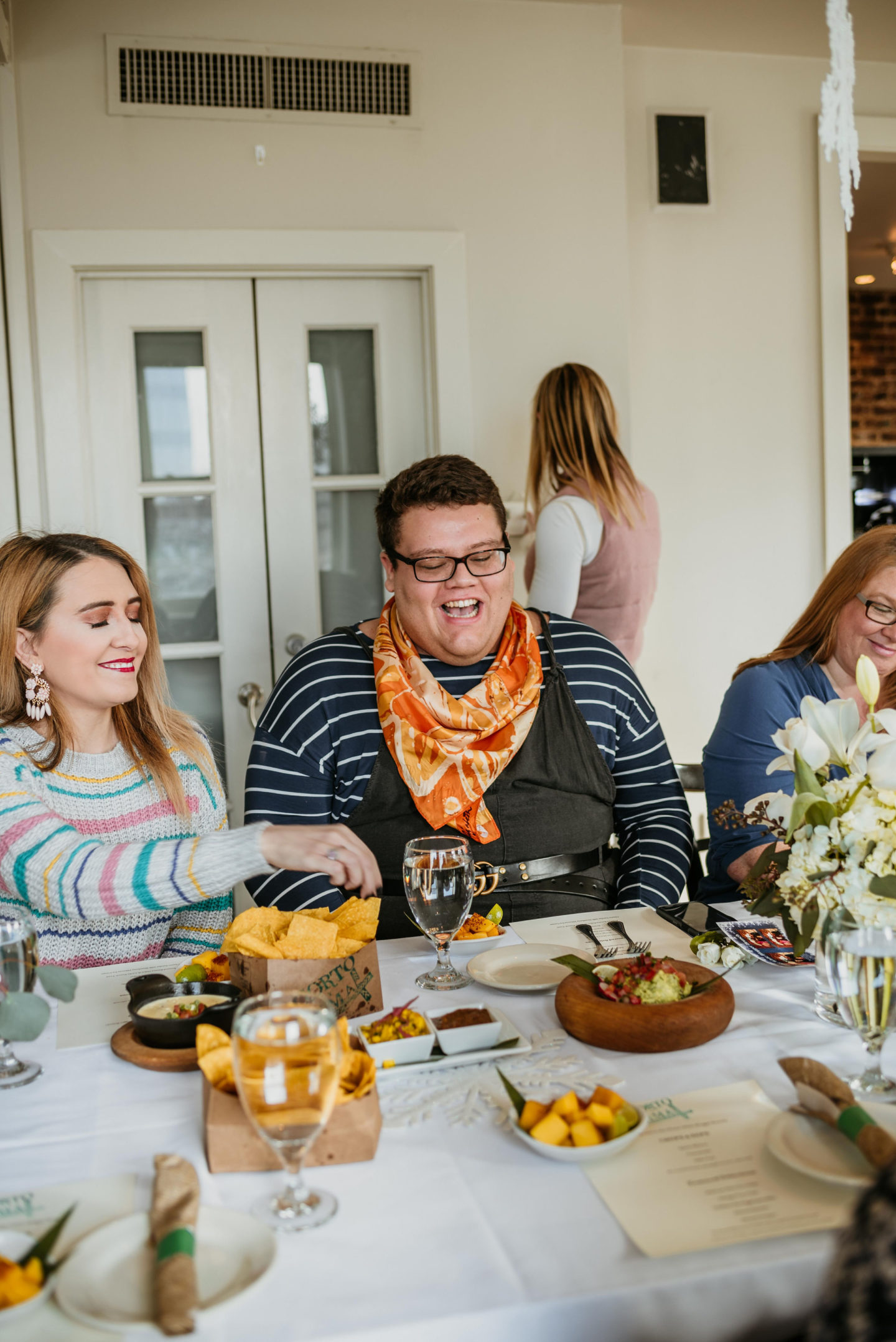 Our brunch was held in their beautiful upstairs event space. The lighting coming in from the windows was wonderful and we got a fantastic view of downtown Lexington, Kentucky.
The brunch started off with the Queso Blanco. I don't know about you, but I can never turn down queso. Corto Lima's queso blanco is warm cheese dip with onions, peppers, tomatoes, and you have the option to add chorizo. I could seriously eat my weight in their queso! If you eat this, you might want to share, so you can save room for more their dishes. Their chips are also fried to order!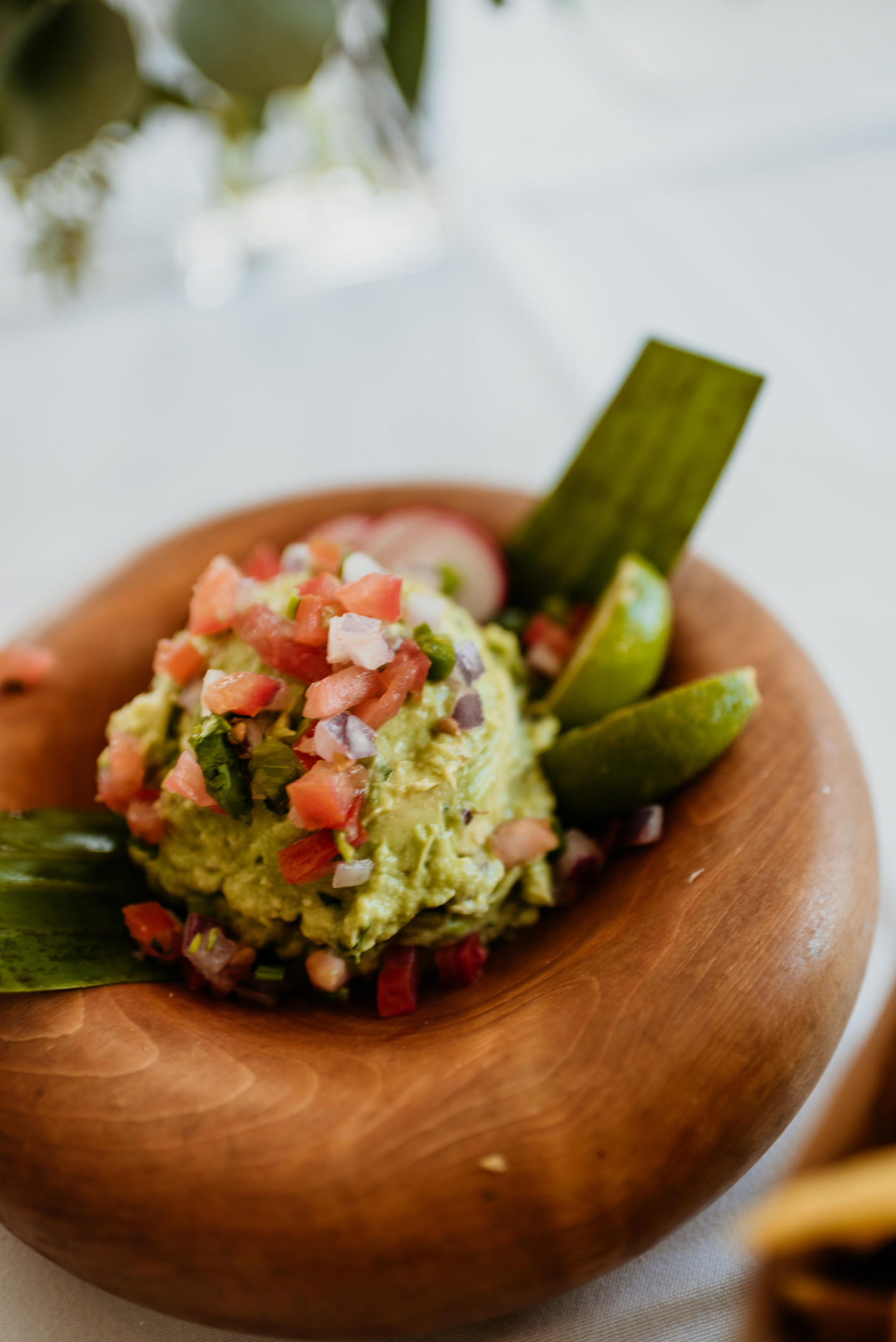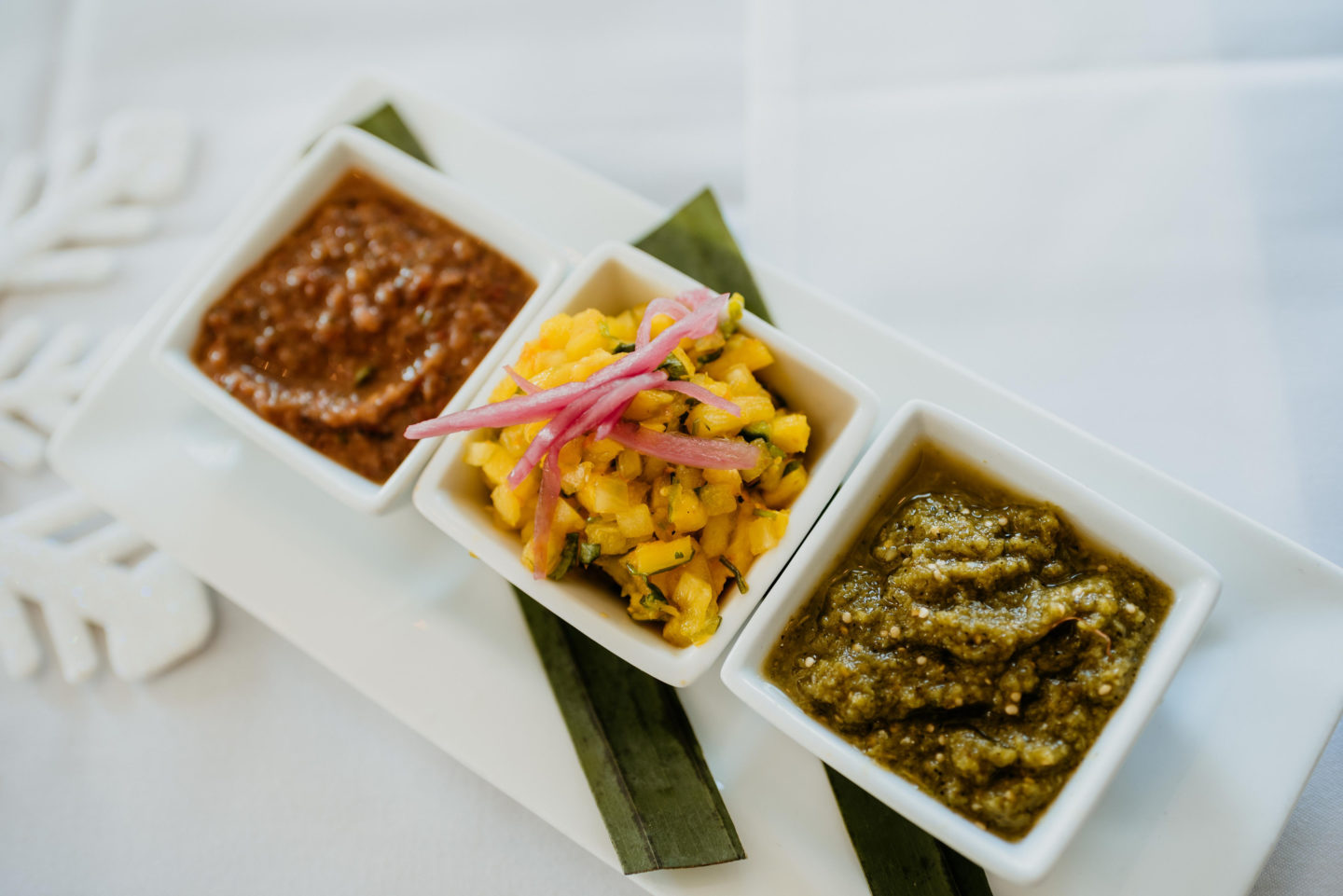 Along with the queso blanco, we were given another dip to nibble on – Guacamole. Their guacamole is made with roasted garlic, red onion, and barrel smoked salt.
If that wasn't enough, we were given their Salsa Trio. When you order the Salsa Trio, you get your moneys worth! The Salsa Trio allows you to try a variety of salsas. If you should order their Salsa Trio, it comes with fire roasted tomato salsa, pineapple-serrano salsa, and the salsa verde.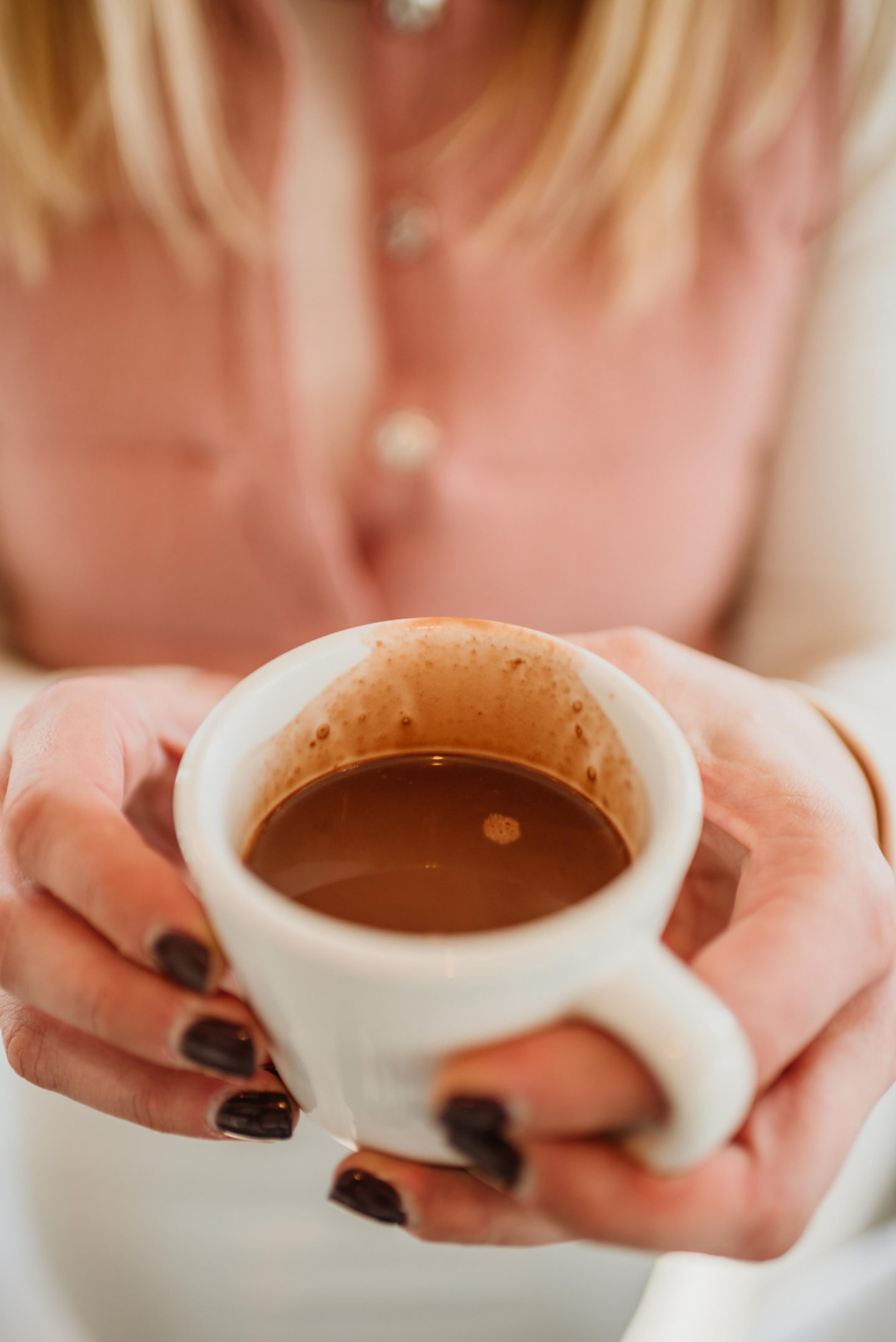 Regarding beverages, we sipped on have Mexican Hot Chocolate. With chocolate, you can never go wrong.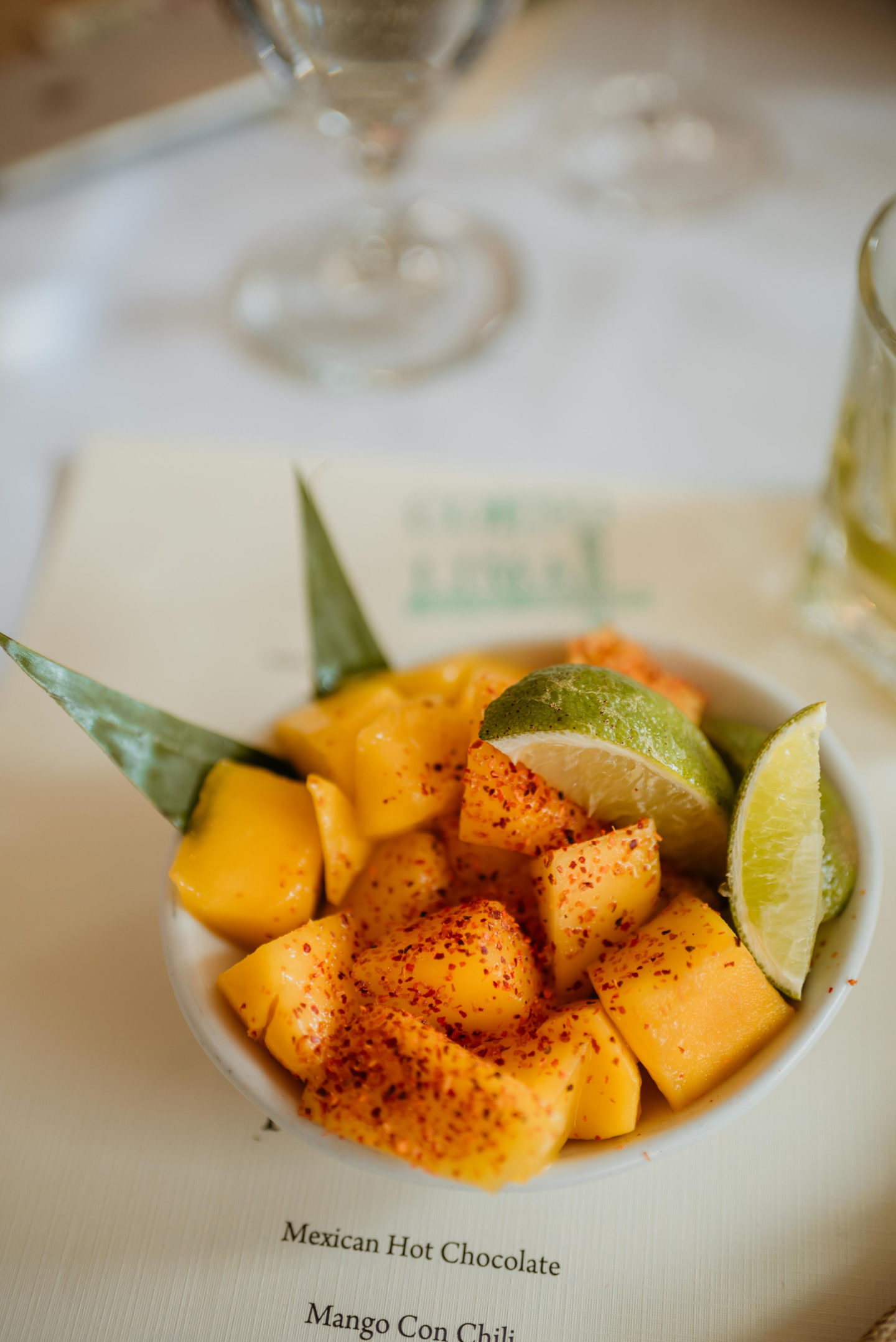 Sunday was the first time that I've ever had Mango Con Chili, and I'm in love! I don't know why I waited so long to have it. It's a simple dish, but the flavors work harmoniously together. The sweetness of the mango and the smokiness from the chili powder make for the perfect combination of flavors.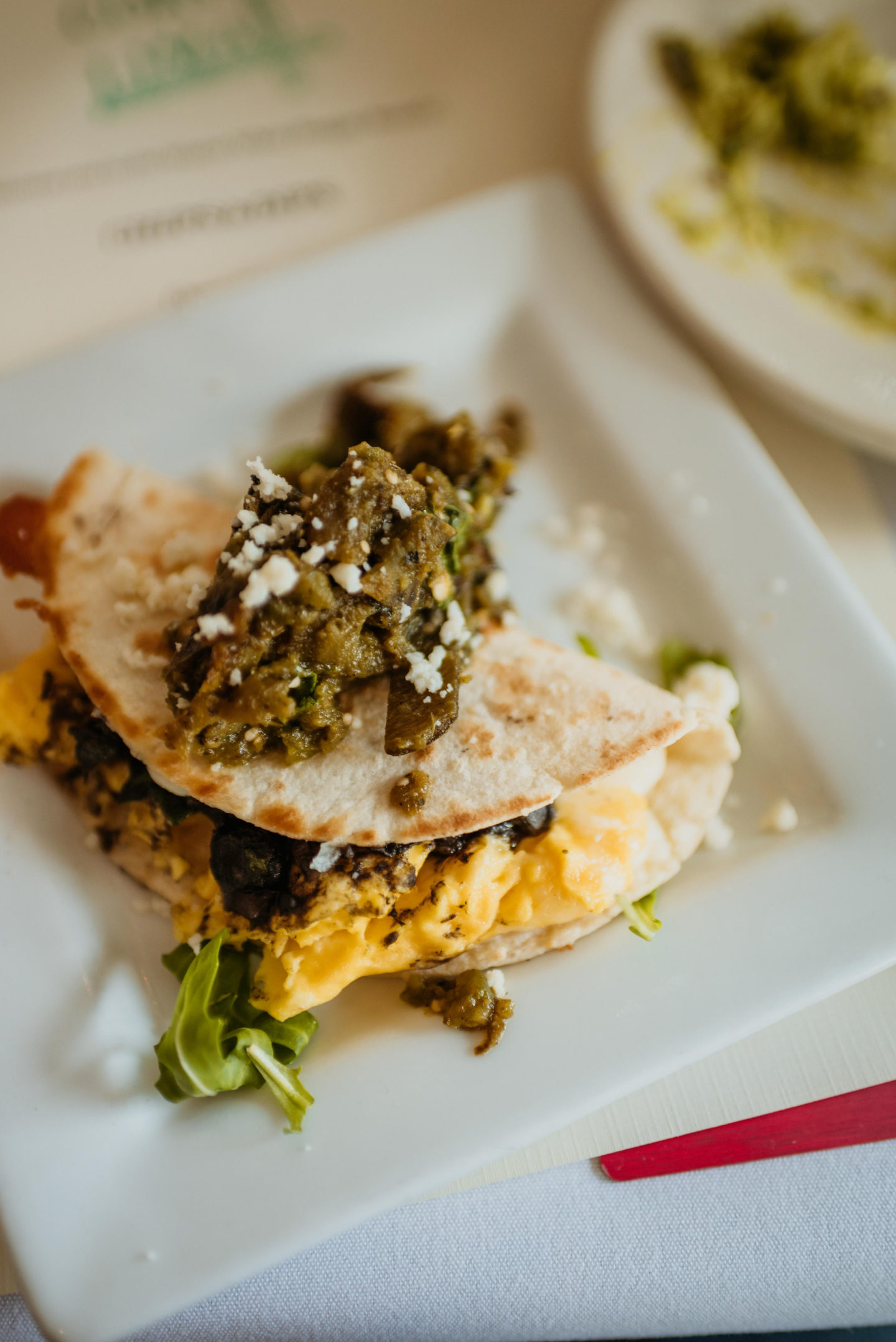 Another one of the dishes we got to try was the Huitlacoche Egg Quesadilla. Y'all may be wondering what huitlacoche is? Well, Huitlacoche is a fungus that randomly grows on organic corn. It's also known as corn mushroom, corn smut, or Mexican truffle. Don't worry, it's edible! It's actually a pretty sought after ingredient in the cooking world.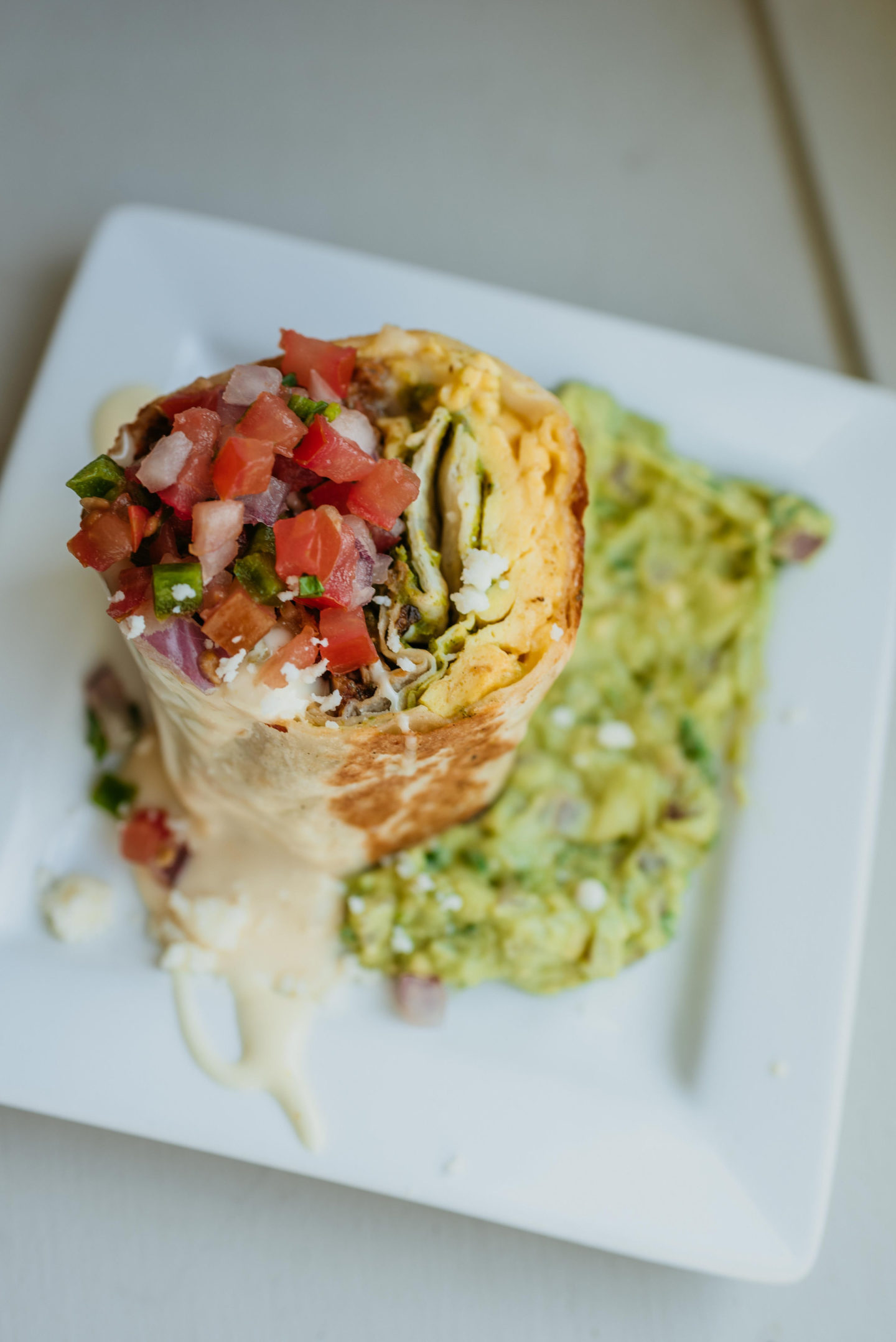 Behold the Brunch Burrito! The Brunch Burrito is a giant flour tortilla rolled with scrambled eggs, chorizo sausage, potatoes and fire roasted poblano chilies accompanied by guacamole, queso blanco and pico de gallo.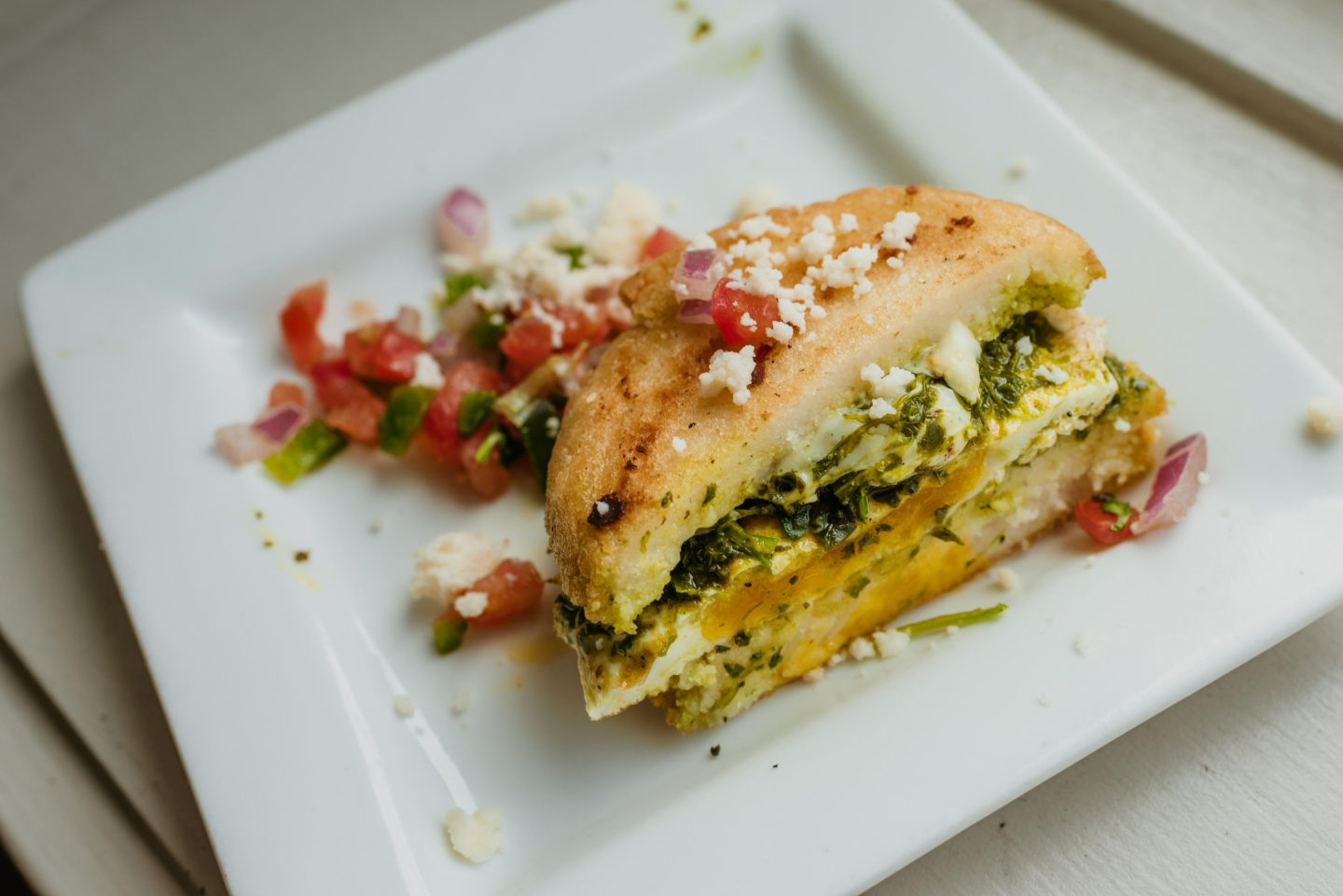 Corto Lima's Arepas are like a South American grilled cheese. They serve both a lunch/dinner version and a brunch version. The brunch version is fried eggs and two crispy corn cake sandwiches with chimichurri, queso fresco, arugula, and avocado
In case you are wondering how they differ, the Arepas for lunch/dinner are a South American grilled cheese stuffed with guacamole topped with pico de gallo and queso fresco.
I promise you need to order these!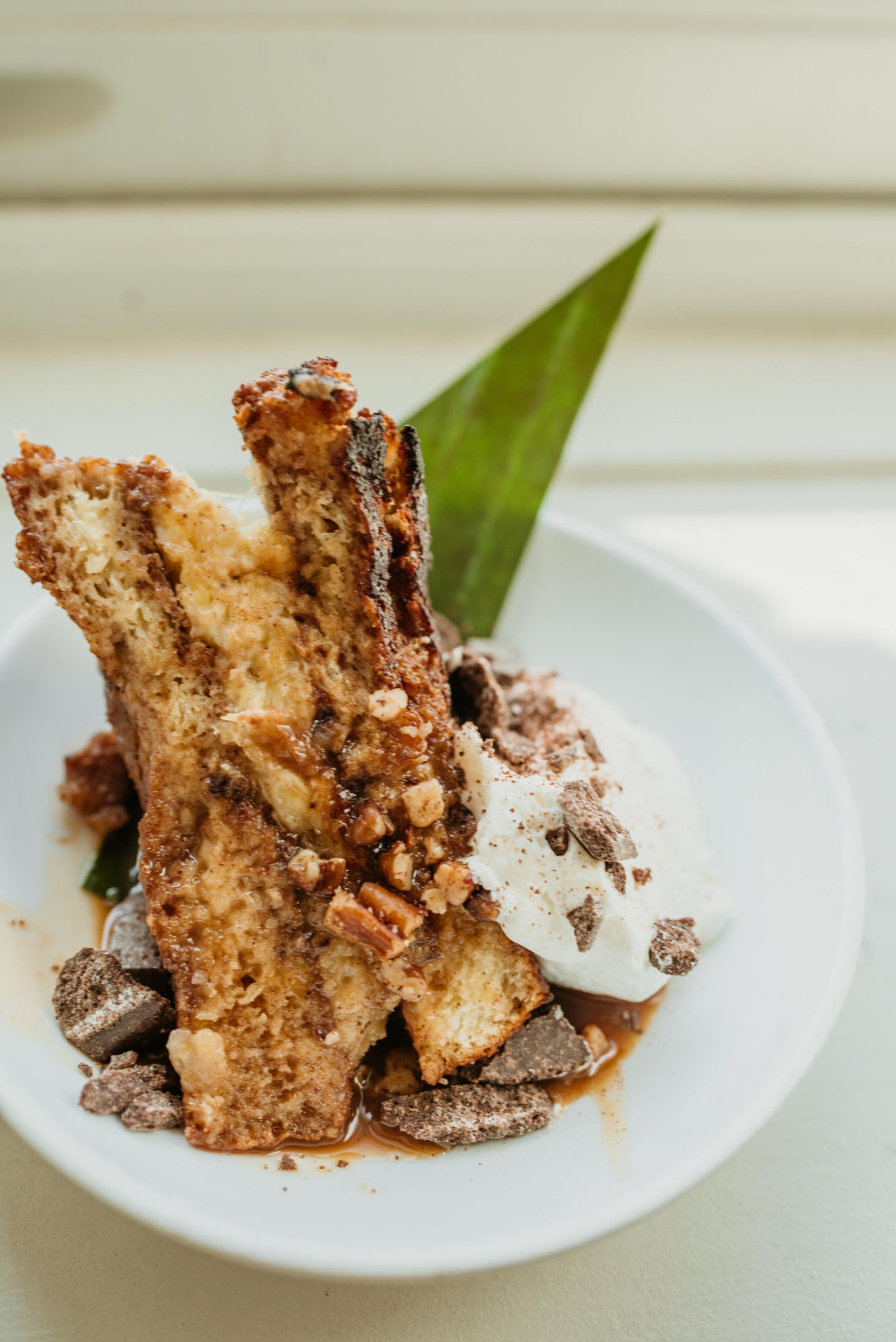 I'm a sucker for anything banana, so I was super excited about this. Lay your eyes on the Roasted Banana Dulce de Leche French Toast. It was out of this world! Since I'm all about anything banana, I gobbled this up in about five minutes. Apparently a lot of people felt the same, because it sold out at record speed when they had it at brunch in the past. If you are planning to order this for brunch, you may want to get there as soon as possible, so you can guarantee you will get to order it!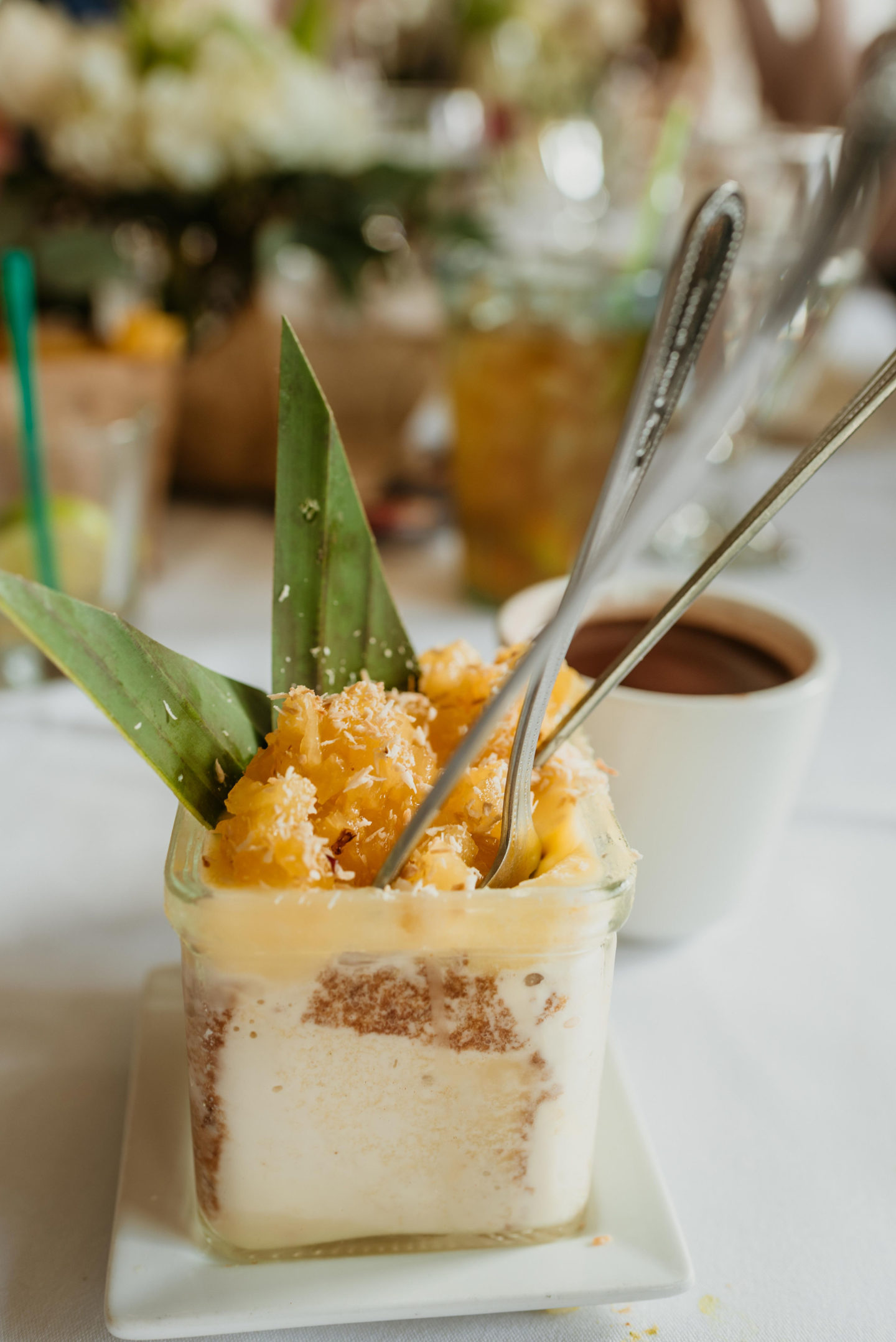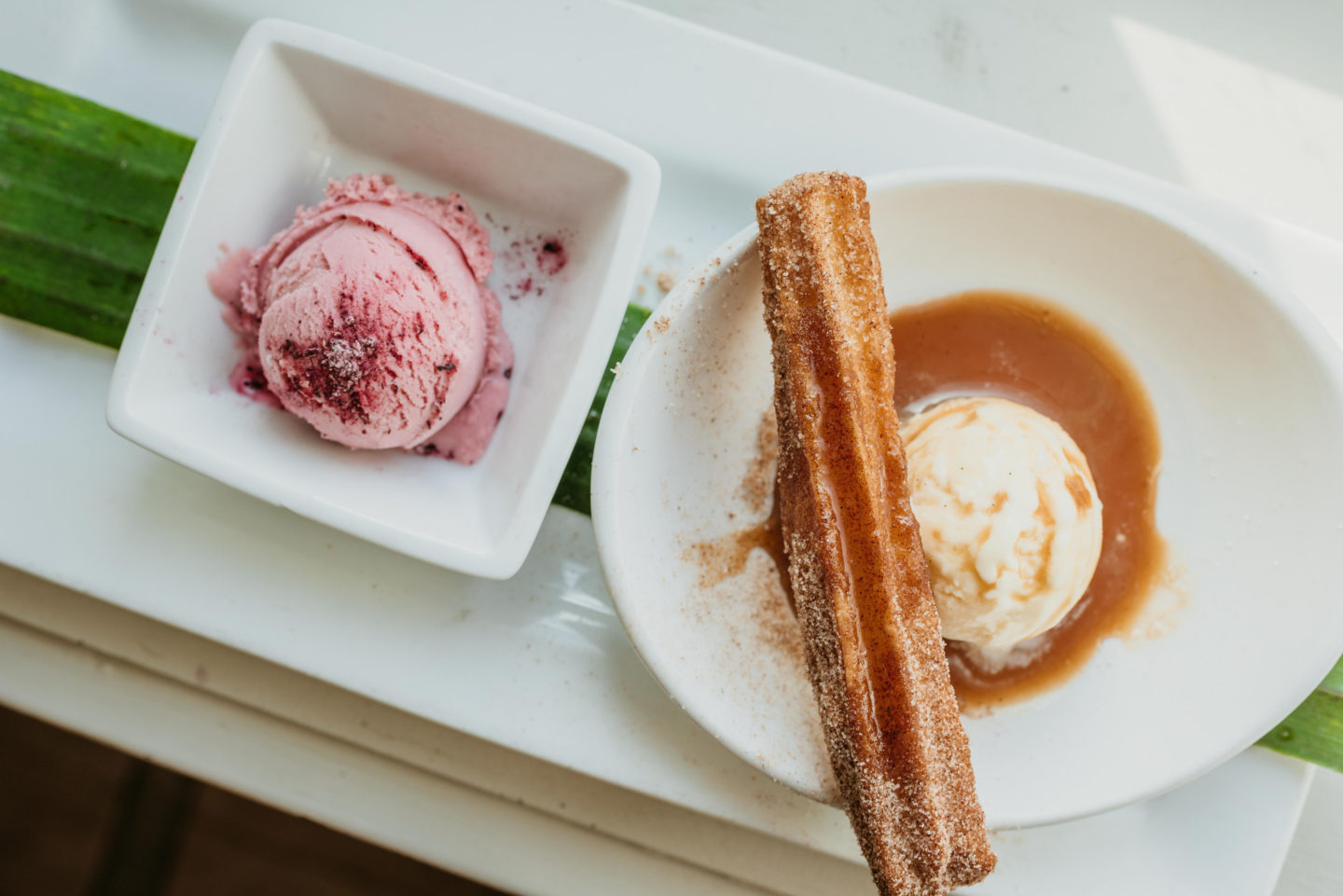 For the final courses, we got to eat the Tres Leches Cake, and the Churro Sundae with Strawberry Hibiscus Ice Cream. Thanks to Corto Lima, I've now found a new favorite flavor of ice cream – Strawberry Hibiscus!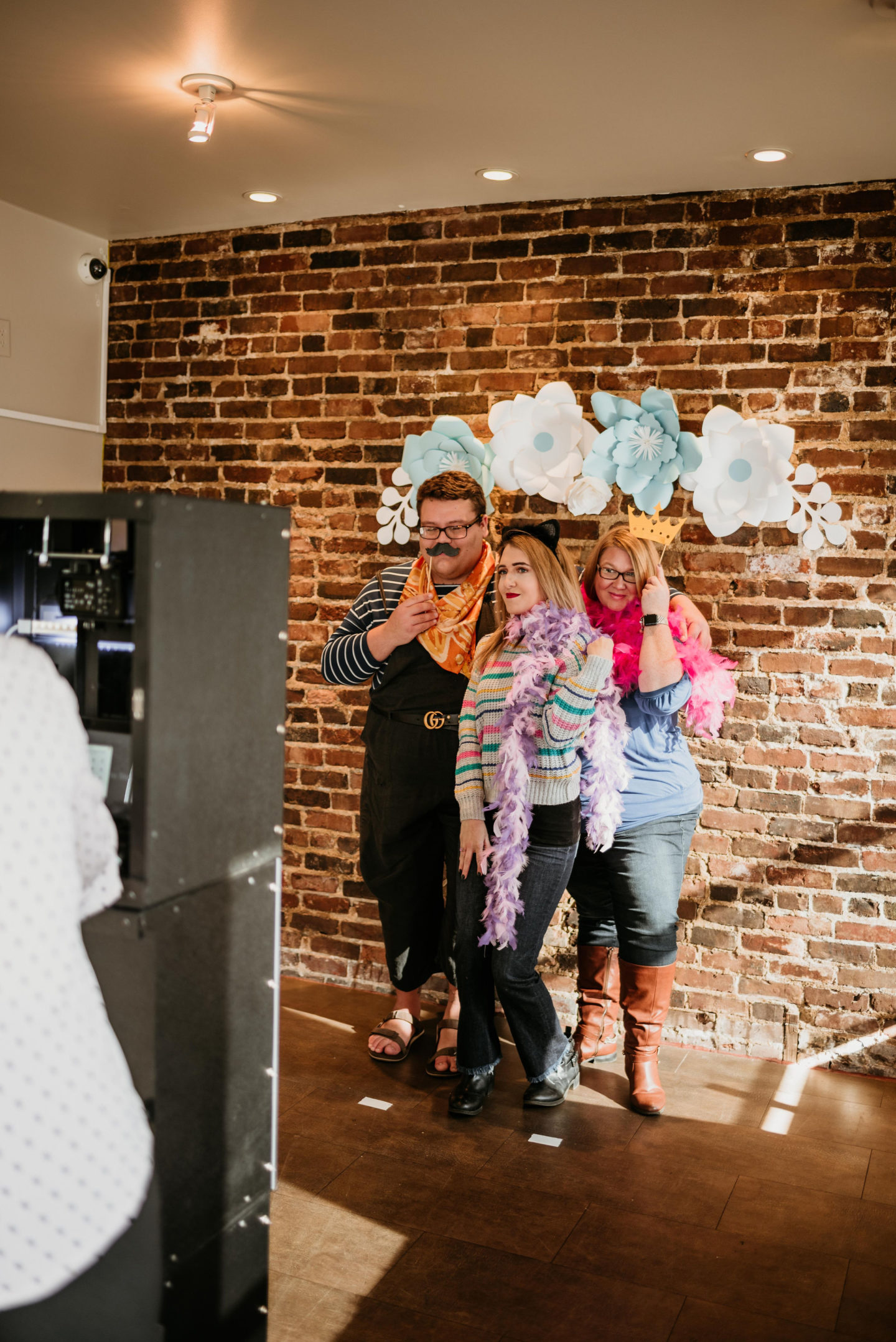 Before the brunch, we got to play around with the photos and props from The Big Events Photos. Their booth is available to book for your next party or event! You can contact them if you are interested! Miss Make It All also provided us decals for those of us that attended.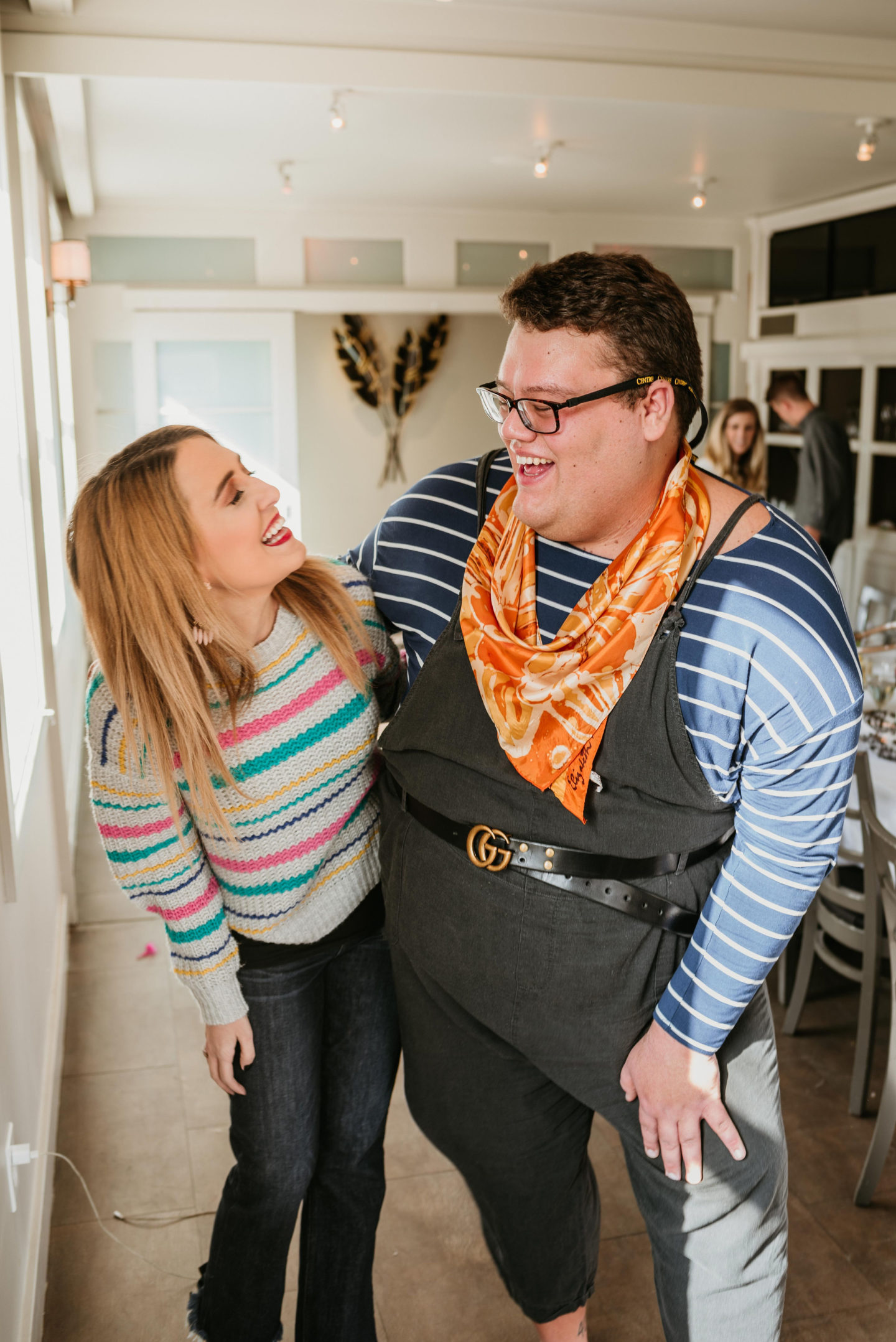 We have a wonderful community in Lexington that is full of creatives, entrepreneurs, and brick-and-mortar business owners. It's really a beautiful thing when we all come together and support each other. There is something true that has to be said about "Community Over Competition."
Thanks so much to Marie from Backroad Bluegrass for organizing this and for Corto Lima for hosting us and providing the food! Photography was taken by: Sarah of Space, Place, & Southern Grace Photo.
Check out what Corto Lima has on their menu for brunch. It is located on the corner of Short and Limestone in Lexington, Kentucky!!
Click To Tweet
Address:
101 West Short Street, Lexington, Kentucky 40507
Hours of Operation:
Sunday and Monday: 11:30am to 10pm
Tuesday: CLOSED
Wednesday and Thursday: 11:30am to 10pm
Friday and Saturday: 11:30am to 11pm
Be sure to check them out and support a local business!