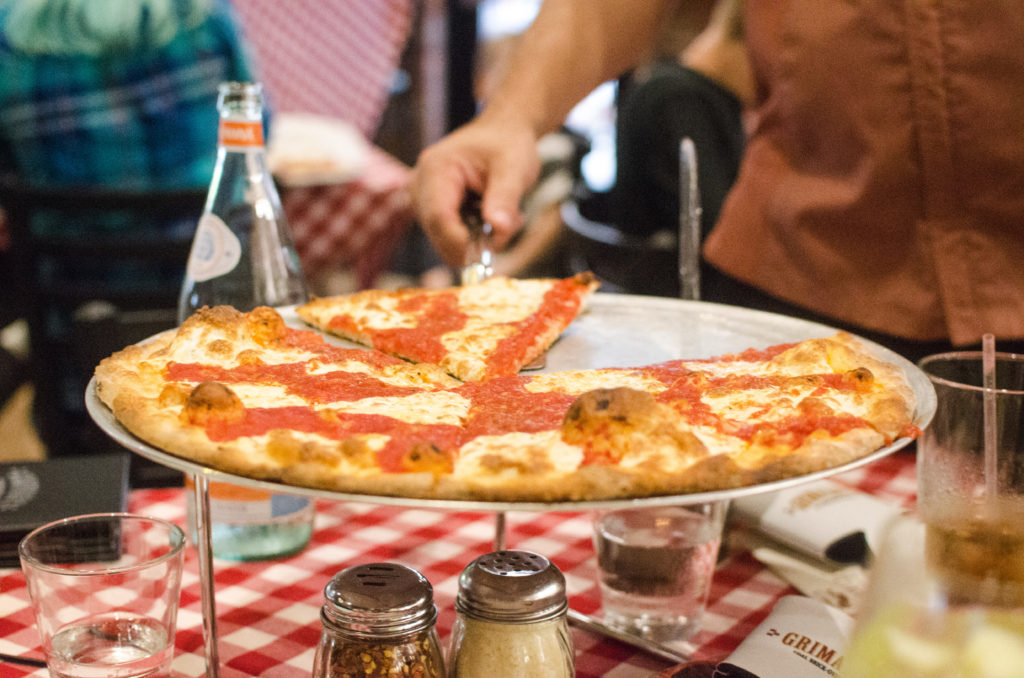 Earlier this month, I was invited to Grimaldi's to preview their fall menu before it was released to the public the following week on September 10, 2018.
I'm especially known for my love of pizza. Over the years, people started calling me "The Pizza Queen" not only because I love pizza, but because of the various pizza-related items I owne(which include a pizza purse, pizza necklace, pizza onesie, various t-shirts, and even an "ugly" Christmas pizza sweatshirt!). People would even send me pizza memes on a daily basis. Even among the friends I go four-wheeling with, the back of my jersey says "Pepperoni." So of course, I was not going to turn an invite like this down.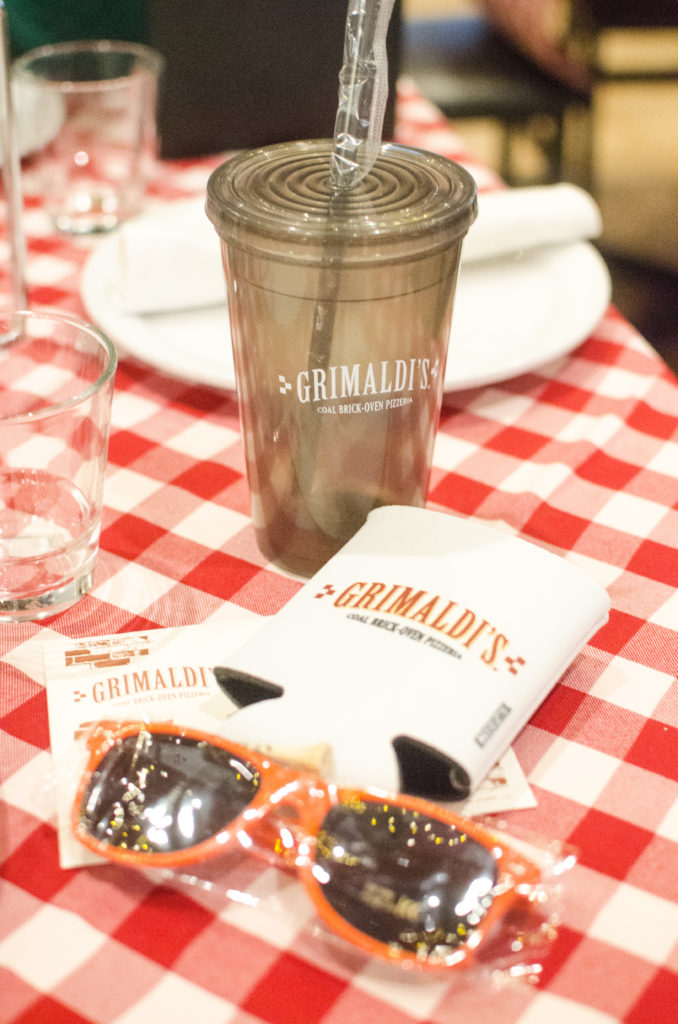 Grimaldi's in located at 118 Marion, Suite 110 at The Summit at Fritz Farm. It's located beside House of Beer.
I had never been here before this particular night. The decor was classic, yet inviting. The kitchen is open, so you can see the employees making the pizza and tossing it through the air, which is always fun!
At the event, we got to learn a little about Grimaldi's history (they have a long history, which I will mention later on!), as well as the history of making traditional New York-style coal fired brick oven pizza. Executive Chef Cory Lattuca was there in person us to give us an exclusive, intimate look at their seasonal menu that was full of fall flavors. Chef Cory Lattuca focuses on creating a traditional New York-style experience for guests at each of their locations across the country.
While there, we got to try their Traditional Pizza and their Buffalo Chicken Pizza. We also got to have their "Wedge" Salad. That wasn't all! There were several signature handcrafted cocktails that we could drink. After dinner came dessert, and that was such a treat!! We got to eat three of their desserts; two being cheesecake and one being a cannoli.
Their Traditional Pizza was so delicious. There is something just so good about a classic pizza. This classic pizza is with their secret recipe tomato sauce, hand sliced mozzarella and basil. It is topped with their signature cheese and spice blend.
When you get their pizza, you may notice that is may look a different than what you are used to seeing. It's because they put the cheese on first.
TIP FROM THE CHEF: Bend the sides together and it will be even more amazing. I tried this tip out when he told me, and you could totally taste the difference!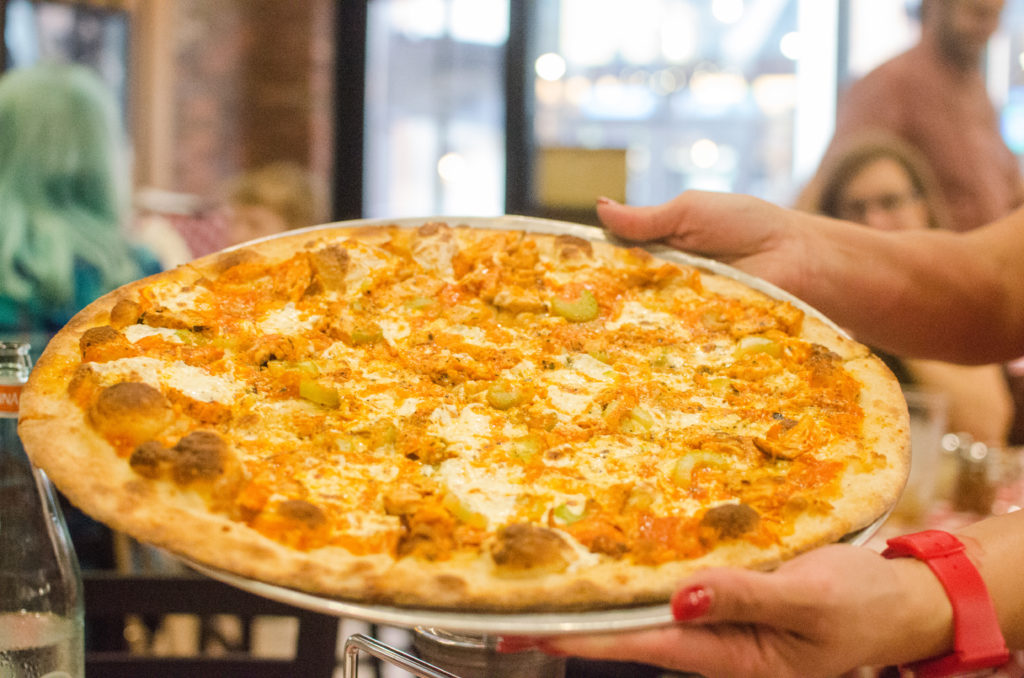 From the fall menu, we got to also eat the Buffalo Chicken Pizza. If you like a little bit of heat and things that are spicy, then you will love this pizza! The Buffalo Chicken Pizza is coal brick-oven pizza crust topped with fire-braised chicken breast, spicy Frank's RedHot sauce, mozzarella, gorgonzola crumbles and celery.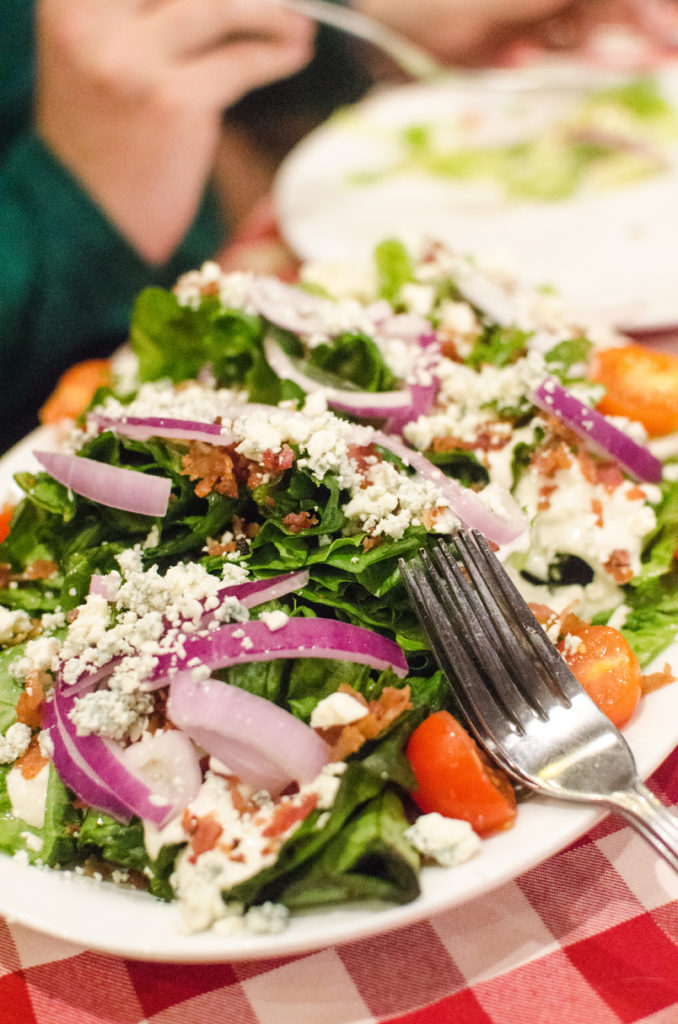 We didn't only get to try their pizzas, but we got to try their "Wedge" Salad. This is a twist on the traditional wedge salad featuring romaine lettuce, cherry tomatoes, red onions, blue cheese dressing, bacon and gorgonzola crumbles.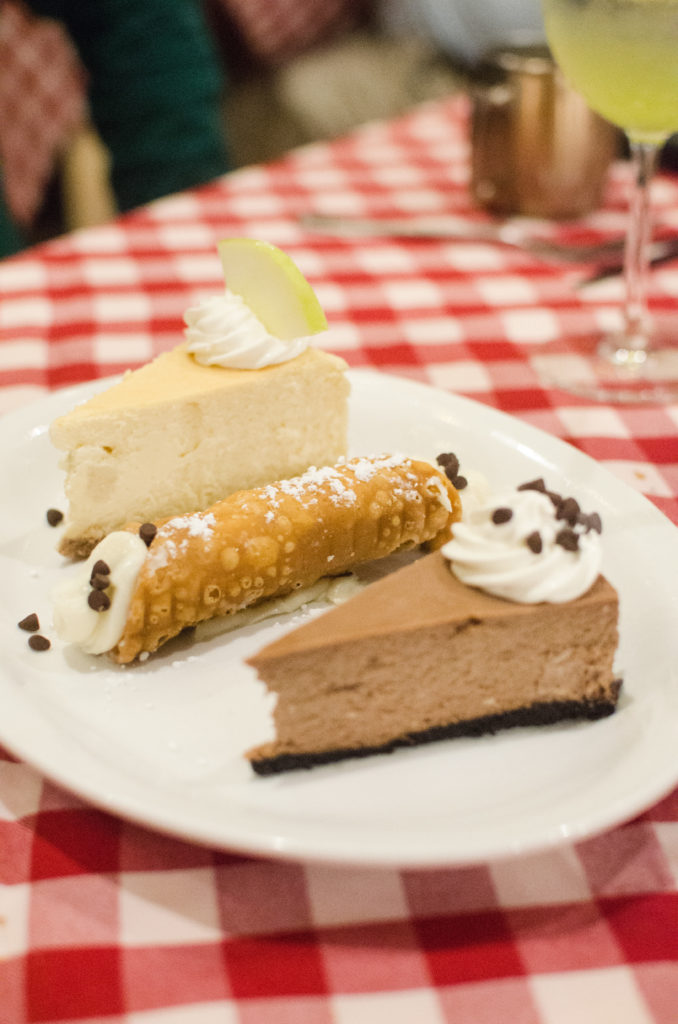 If you are like me and love all things fall, then for dessert, you should order their Caramel Apple Cheesecake. It's rich caramel and diced green apple cheesecake with a cinnamon sugar cookie crust, served with a caramel swirl and topped with whipped cream. The other two were just as delicious, and they were the Chocolate cheesecake and the Grimaldi's Famous Cannoli.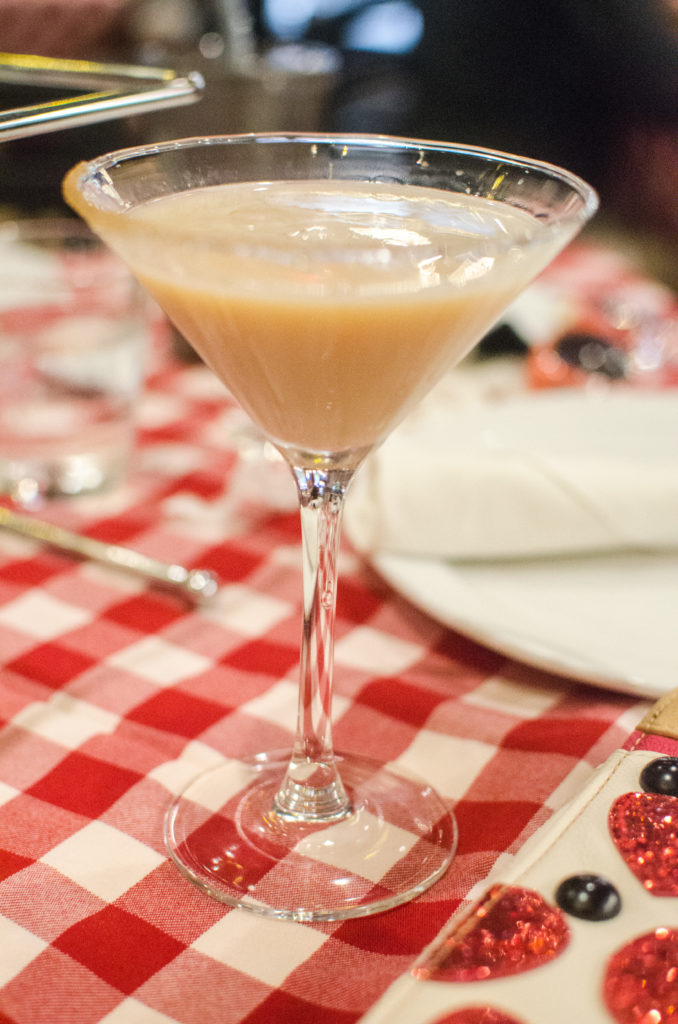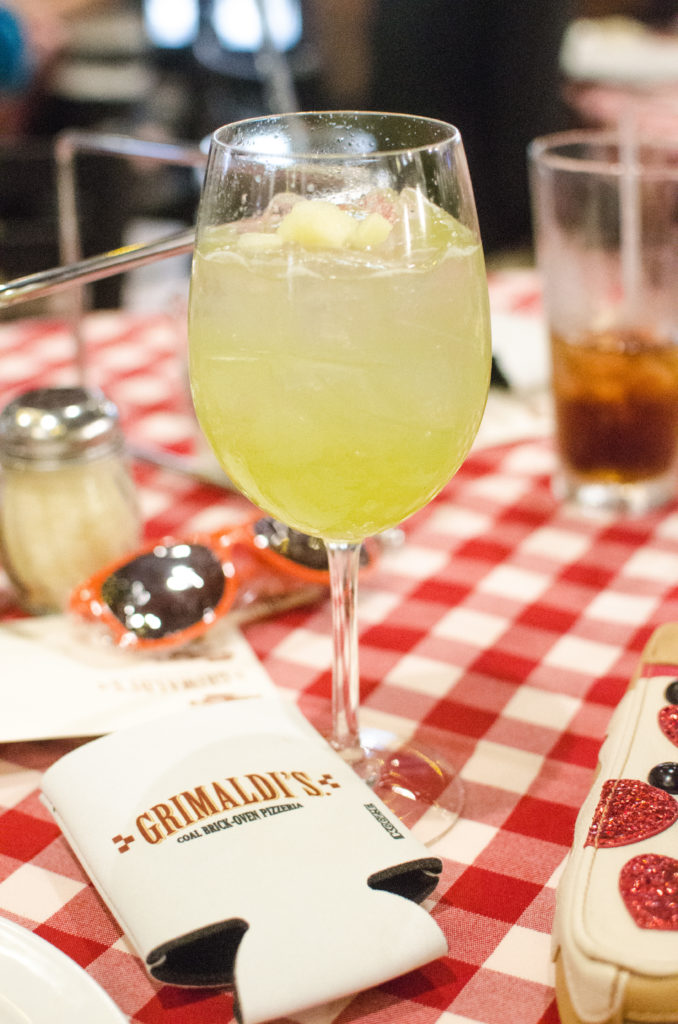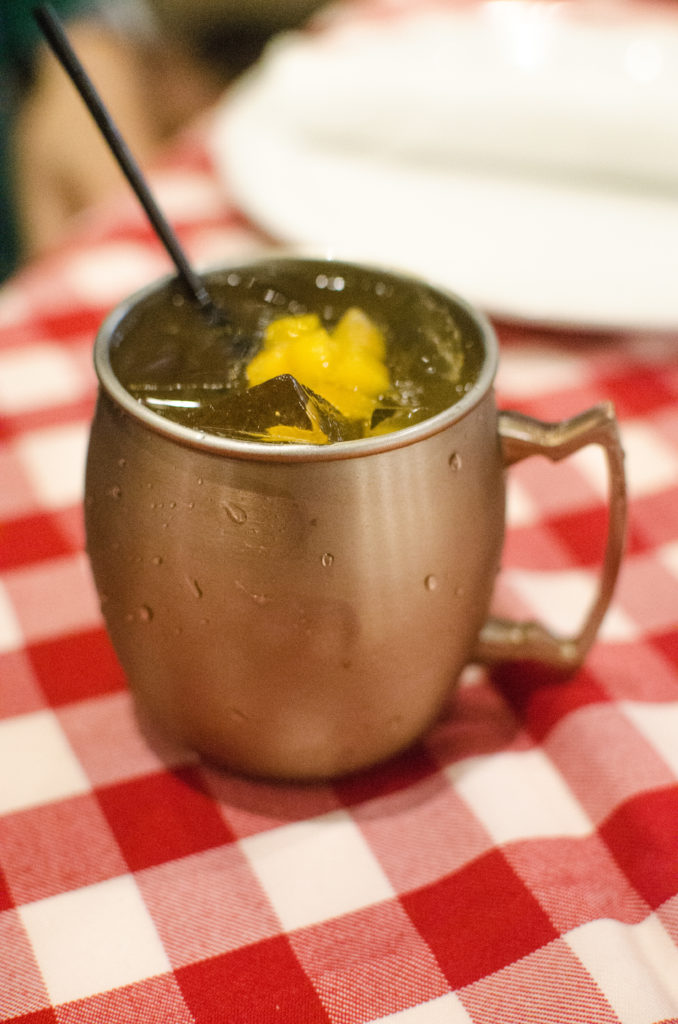 For cocktails, I had the Caramel Apple Jack Martini, which is amazing by the way! The Caramel AppleJack Martini is made with Laird's Apple Jack 86 Brandy, Dorda Sea Salt Caramel and cinnamon sugar. You definitely should get it! I can't remember the exact names of the other drinks, but I also a sangria. My husband had the Peach Bourbon Mule, which is made with Maker's Mark Bourbon, Monin peach puree, fresh lemon juice, ginger beer and topped with diced peaches.
I highly recommend Grimaldi's. It's a solid pizza joint that I'm sure all pizza lovers will enjoy!
About Grimaldi's:
Grimaldi's is a family business and began with the opening of their first location under the Brooklyn Bridge in the borough's DUMBO neighborhood in 1990. Their entire concept has been built around their family staple, which is signature, coal-fired brick oven pizza. They have over 100 years of pizza-making history.
Their use of coal-fired brick ovens are different than the gas, convection, or wood-burning ovens. Their coal-fired brick ovens offers a unique flavor and a crisp crust that you can only get from that type of oven.
Grimaldi's uses fresh ingredients, handmade mozzarella, and pizza sauce. They also have an open kitchen layout, which makes dinner an entertaining experience!
Address:
118 Marion, Suite 110
Lexington, Kentucky 40517
Hours of Operation:
Sunday to Thursday: 11am to 10pm
Friday to Saturday: 11am to 11pm
Locations:
Grimaldi's is located in 12 states:
Arizona

California

Colorado

Florida

Idaho

Kansas

Kentucky (the only one in Kentucky is located in Lexington)

Nevada

South Carolina

Texas

Virginia

Wisconsin
You don't want to miss out on this pizza joint!