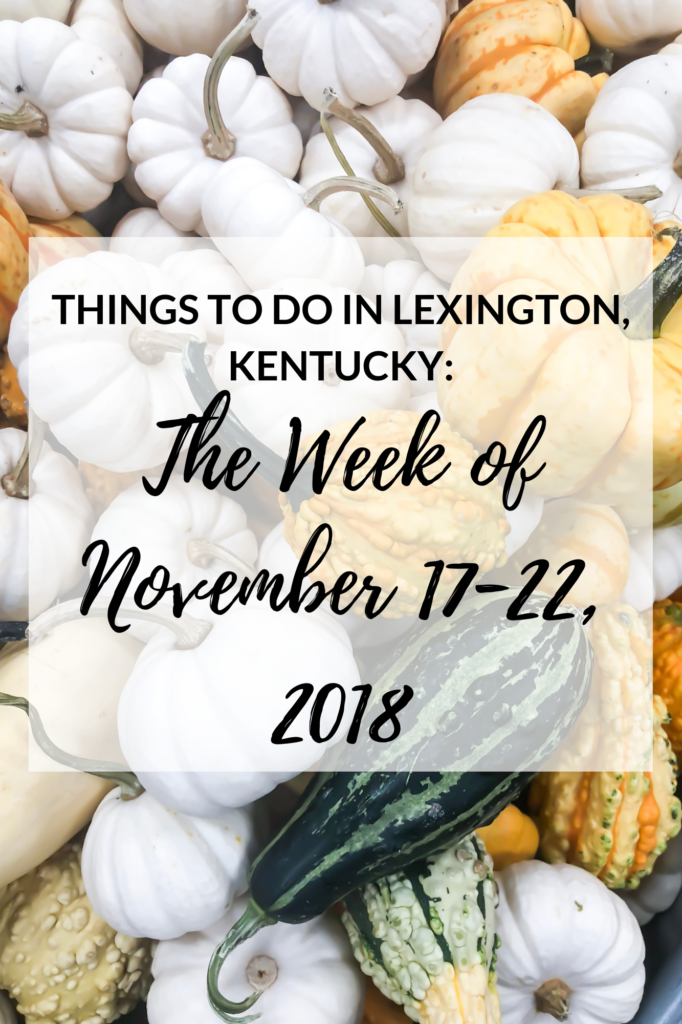 So glad it's the weekend!
I've brought back the weekly list of Things to Do: The Week Of… This post goes through Saturday, November 17 through Thursday, November 22!
Things to Do in Lexington, Kentucky: The Week of November 17-22, 2018
Saturday, November 17, 2018
9am: Ruffles and Rust Lexington at The Grand Reserve Event Center (shopping): We will be bringing you the most fun you can have at a TWO day shopping event! If it Rusty, Sparkly, Funky, Yummy and One of a Kind, you will find it at our show! (Also, on November 18 at 10am).
10am: Lexington Lincoln Day at VisitLex Vistors Center (history): Join us to hear about the importance of Lexington and Lexingtonians on the life of Abraham Lincoln. We will have a presentation discussing the influence our city had on Lincoln followed by a short walking tour pointing out some important locations relevant to him.
11am: Friendsgiving Pop-Up at Vegan Nepal (food): Festival bring people together and in the end it's all about eating good food and having good chat! Bringing back another delicious platter of joy to ENJOY! Come join us to enjoy Tihar, Friendsgiving and Centered Arts Showcase. See menu: HERE.
11am: Thanksgiving Sampling Saturdays at Good Foods Co-op (food): November 17th will be the main event where we'll be sampling all the staples like turkey, ham and even vegan entree options. Menu: roasted turkey, orange-glazed ham, vegan roast, cranberry relish, whipped sweet potatoes, broccoli corn casserole, pumpkin mousse and holiday spice hot tea.
11am: Coconut Monolith Day at Rock House Brewing (alcohol): Does the idea of a bourbon ball and Mounds Bar hooking up and making a sexy lil booze baby appeal to you? Well, you're in luck my friends. Come and celebrate our first bottle release of Coconut Monolith! It's a barrel aged stout married together with cocoa nibs, vanilla, and a boatload of toasted coconut. Limited availability!
1pm: Elf the Musical at the Lexington Opera House (performance): ELF is the hilarious tale of Buddy, a young orphan child who mistakenly crawls into Santa's bag of gifts and is transported back to the North Pole.  Unaware that he is actually human, Buddy's enormous size and poor toy-making abilities cause him to face the truth. With Santa's permission, Buddy embarks on a journey to New York City to find his birth father, discover his true identity, and help New York remember the true meaning of Christmas. This modern day Christmas classic is sure to make everyone embrace their inner ELF. Tickets available: HERE.
5pm: Lights Up at The Summit at the Fritz Farm (party): Join us for our 2nd Annual Lights Up: Santa's Arrival! Santa will land by our Man O' War Entrance/Louis' Flower Power at 6:00 PM! He will make his way down Candy Cane Lane to our Vendor Village! Enjoy kid crafts, adult beverages, sElfie stations, carolers and more! Stay tuned as we announce more dreamy details!
5pm: The Greatest Show on Earth: Beastie Ball 2018 at the Griffin Gate Resort Hotel & Spa (cause): Mingle with animal lovers and community members while bidding on fantastic live and silent auction items throughout the night. This year's gala, held at Griffin Gate Marriott Resort & Spa, will be a night that is sure to excite and amaze! Reception-style dinner will be provided along with live entertainment. Beastie Ball is our largest fundraiser and brings in much-needed funds to help us care for over 5,000 animals each year! Tickets available: HERE.
6pm: Christmas & Cocktails at Pink Spider (shopping): Two of your favorite shops are teaming up to bring you Christmas & Cocktails. This weekend at Decorator Warehouse and Pink Spider, we'll ease your holiday shopping stress with extended hours and adult beverages.
6pm: Book Benches Live Auction and Gala Celebration (cause): Join us for the Live Auction and Gala Celebration. These beautiful benches have adorned Lexington's streets throughout the summer and fall and now they'll go home with the highest bidders! Proceeds from the auction will go to further the missions of Arts Connect, LexArts, and the Carnegie Center for Literacy and Learning. Tickets available: HERE.
7pm: Trivia Night at Good Foods (games): Join us Saturday nights in our cafe as we host a battle of the brains. Bring your team, enjoy some food and grab a beer for this family-friendly trivia night where the winners take home the glory AND the swag.
8pm: Sour Cream Record Release with People Planet at Al's Bar (music): Live music!
9pm: Joslyn & The Sweet Compression Album Release Party at The Burl (music): Joslyn & The Sweet Compression will release their debut album at The Burl on Saturday, November 17th! Helping throw this party is the mighty Magnolia Boulevard. Tickets available: HERE.
9pm: Rachel Messer from NBC's The Voice at Willie's Locally Known (music): Rachel Messer is a 20 year old singer/songwriter from a little speck on the map in West Virginia. She has been singing in church since she was three and plays the guitar, mandolin, autoharp, and ukulele. She specializes in Classic Country & Western but takes pride in her Bluegrass and Gospel roots. She just ended her time on Season 15 of NBC's The Voice and is currently a vocalist in Billie Jean Osborne's Kentucky Opry in Prestonsburg, KY.
9pm: Lee Carroll's Ethos Jazz Quartet at Creaux (music): Ethos is Lee Carroll's new jazz quartet with Tripp Bratton on drums, Thomas Usher on upright and electric bass, Ibu Diop on bongos and Jonathan Barrett on alto and tenor sax.
10pm: Bonded at Pepper at Goodfellas Distillery (party): No Parking on the Dancefloor and Goodfellas present Bonded at Pepper! Starting THIS Saturday, join us at Goodfellas Distillery for prohibition-style cocktails and dancing. DJ Dahknee's style, dubbed Electro Swing, fuses big band and hip hop. What's better than late night pie, handcrafted drinks, and dancing? We'll see you Saturdays at 10pm! (21+ only, please). (Also, on November 24, December 1, and December 8 at 10pm).
Sunday, November 18, 2018
10am: Yoga with Art at 21c Museum Hotel (fitness/health/wellness): Find your inner peace at our weekly Sunday yoga series. Perfect the art of oneness as you work through a variety of poses. Sessions are just $5 at the door and are led by certified yoga teachers from YOGA at The Massage Center in Dudley Square

. 

Attendees should bring their own mat or towel and water and arrive early to ensure a spot because space is limited.
4pm: Park and a Pint at Lexington Brewing & Distilling at Kentucky Ale (alcohol): You can park at our brewery and distillery parking lot and grab a pint before the game! Our lot will be open two hours before tip-off and will be closed to new cars 10 minutes before tip-off. See other dates: HERE.
Monday, November 19, 2018
11am: Steak Out for Lexington Dream Factory at Sedona TapHouse (cause): Join us every Monday in November for Steak Out for Charity at Sedona Taphouse. Purchase a 8 oz. Black Angus Flat Iron Steak for $7 (regular price $17.9) and $1 will be donated to the Lexington Dream Factory for every steak sold! (Also, on November 26 at 11am).
11am: Mission Monday: Friends for Skateparks at Blue Stallion Brewing Company (cause): This Monday we're supporting Friends for Skateparks, Lexington KY

! Friends for Skateparks increase participation in action sports by developing attractive skateparks and enhancing existing ones in Lexington-Fayette County, while serving to educate the community about the benefits to health and well-being that action sports promote, and we're giving 10% of our sales to this awesome non-profit!

5:30pm: Novemberfest at Marikka's (food): Better late than never! Join us over dinner for German or American cuisine and Kentucky's largest beer selection. Whether you're native to Kentucky, a newcomer, or have lived here for years, the Lexington International Hour regulars look forward to meeting you!
6pm: Charity Chili Cook Off at J. Render's Southern Table & Bar (food): Join us for the 1st Annual Charity Chili Cook off with celebrity judges Angie Mattingly Ballard and Sylvia Lovely. All welcome to compete, no cost to enter. $5 to sample the Chili with all proceeds going to support Anjay's Kids.
6pm: Cup's Annual Friendsgiving! at A Cup of Commonwealth (party): Happy Friendsgiving, y'all! We've been saving calories for it all year, and it's finally here – the day when we get to eat our way through the day and dine like KINGS. On Monday, November 19th, we'll be having our Big 'Ol Coffee Family Friendsgiving, and we want you to come nom on some delicious items with us! We welcome you to bring food to share with everyone, but you don't have to bring food to eat food! Just eat, drink and hang out with the Coffee Fam.
6pm: Pet Photos with Santa at Fayette Mall (pets): Bring your furry friends for photos with Santa! Santa's Workshop is located in the Dillard's Court. Please enter through the mall entrance next to Talbots. Pets must be on a leash or in a carrier, and pet owners are responsible for cleaning up after their pets. Pets will not be allowed in any area of the mall other than the designated Santa photo area in the Dillard's Court. We appreciate your understanding. (Also, on November 26, December 3, and December 10 at 6pm).
6pm: Spirits 110: The Story of Absinthe at West Craft Brewing Company (alcohol/class): We'd like to take a moment to announce the date of our next absinthe seminar! The next class will be on Monday, November 19, from 6-8pm. We'll be tasting five absinthes from our collection, as well as exploring the incredible variety of botanicals that can be used to craft this amazing spirit. More details: HERE.
6pm: Pilates at the Brake Pad above Broomwagon (health/fitness/wellness): Ravel Studios Pilates is offering a group Pilates Mat class!! More details: HERE. (Also, on November 26, December 3, December 10, and December 17).
7pm: Friendsgiving! F•r•i•e•n•d•s Trivia at Rock House Brewing (games): What's not to like? Custard, good. Jam, good. Beer, good. Trivia, GOOD! We'll be there for your trivia needs, turkeyheads. It's just meant to be. We're your trivia lobster. You lose we get your apartment, though.
8:15pm: Donation Based Yoga at Ethereal (health/fitness/wellness):

Join us for donation based Yoga with #yoginiliv and enjoy some tasty brews! Tips for the awesome instructor are greatly appreciated.
Tuesday, November 20, 2018
11am: Friendsgiving Tuesday at The Sweet Spot (party): This is the annual Friendsgiving Celebration on Tuesday before Thanksgiving. We will have Turkey/Ham, choice of 3 different sides, cranberry relish, yeast rolls, special holiday drinks, and choice of dessert all for just $8.99. PREORDER to ensure your spot at the table.
2pm: Tea Tuesday at Waveland (food): Looking for something fun, unique and different to do with a friend or a group? Waveland State Historic site is serving tea every Tuesday! Tea is served at 2 p.m. in the mansion on fine china. All teas include a program, savory food, not to mention the delicious tea served by period dressed interpreters. Once you are finished with the tea enjoy a tour of the Waveland Mansion. A unique one-of-a-kind experience! Reservations are required. More details: HERE. (Also, on November 27, December 4, and December 18 at 2pm).
6pm: Acro Fitness at Source On High (health/fitness/wellness): Learn skills from partner and solo acrobatics as you grow stronger and more flexible.  We will guide you through proper physical techniques that will allow you to practice confidently and with ease all while have a great time. Get ready to feel the release of all your daily tension and the stretch of muscles previously neglected as your skills and strength grows. No partner required. All levels welcome. No experience with Acro Yoga required. $15 per class. (Recurring every Tuesday).
6:30pm: Free yoga at The Burl (health/fitness/wellness): Come get centered with with Christina Morales at The Burl for Happy Hour Yoga.
7pm: Bourbon 101 at Whiskey Bear (alcohol): Discover everything you wanted to know about Bourbon! Whiskey Bear will be hosting Tim Knittel – Executive Bourbon Steward and Adjunct Professor of Bourbon Studies for a special Bourbon 101 tasting. We'll talk about how bourbon is made, what makes it different than other spirits and other whiskeys, plus you'll learn how an industry professional tastes and evaluates bourbon. Tickets available: HERE.
7pm: Paint Nite at CRU Food and Wine Bar (art/crafts): Bring your friends and join us for a night of painting, music and drinks! Make a night of it by coming out early and treat yourself to dinner before the event! Find our coupon code below and enter it in at check-out when purchasing tickets! Tickets are only $27 per person with our 40% off coupon code 'Lex1'
7pm: Tuesday Night Live Team Trivia at Bear & The Butcher (games): Live team trivia. Prizes for 1st, 2nd, 3rd place, and best team name. We're a new restaurant in Chevy Chase that specializes in sausages made from scratch on premises and street food. As well two fully stocked bars with an abundance of locally brewed beer (draft, cans, bottles).
7pm: Trivia at Ethereal Brewing (games): Show off your smarts and enjoy a brew or two with some Trivia at Ethereal! Every Tuesday in September, join us at 7 PM to flex that good, good gray matter AND earn yourself some cash (and bragging rights) in the process. (Also, on November 27 at 7pm).
8pm: Open Mic Night at The Burl: Open Mic Night at The Burl hosted by Chris Floyd & Mark Cornelison every OTHER Tuesday after our free weekly yoga! All music / art welcome.
Wednesday, November 21, 2018
4pm: Turkey Eve Bash at Merrick Inn (food): Join us for some Turkey Eve Fun!! $4 Wild Turkey Cocktails!! Reunite with Friends & Family!! Good Times Begin at Merrick Inn!! Partial Proceeds Benefit God's Pantry.
6pm: Pre-Feather Get Together at Drake's (party): Celebrate the start of the Thanksgiving holiday at Drake's with live music and drink specials all night. Featuring Live Music from Cory Harris at 6PM, $3 Wild Turkey Shots and $5 Gobbler Cocktails.
7pm: Trivia Night at Crust (games): Come join us at this awesome pizza place in a stylish restaurant in Lexington. This show is unique, each Wednesday we will include pizza and cooking questions in a "Crust Culinary Question" section. We are really looking forward to this one!
7pm: Disney Trivia at World of Beer (games): Trivia teams assemble! Bring your in-laws (or leave them behind) and play to win some awesome prizes! How much Disney do you really know??
7pm: Ben Lacy Turkey Eve Bash at Mr. Brews Taphouse (party): Ben Lacy will be here to kick off your holiday break with good tunes, good times and good beer!
7pm: Pinsgiving (Thanksgiving Eve Party) at The Burl Arcade (party): Pinsgiving at The Burl Arcade w/ 25¢ PINBALL / LIVE DJ / DRINK SPECIALS & free hangovers for Thanksgiving Day.
8pm: Pub Trivia at HopCat (games): Join us Wednesdays at 8pm for Geeks Who Drink Pub Trivia. Eat, drink and be smart. Grab your friends, and a beer and give your brain a workout. FREE to play! Maybe even win a prize.
8pm: Thanksgiving Eve Party with Devin Hale at Cocktails TOO (party): Night before Thanksgiving special. Featuring Devin Hale. 8-midnight.
9pm: Thanksgiving Eve Bash At Bar Louie (party): Join Zack Attack—Zack Fresh, Zack-a-delic, Zack-a-licious, and Zacky Zack—for a night of dancing, singing, and rocking to your favorite beats! R&B, Rock, Hip Hop, Pop, Alternative—the Music, the Moves, the Shoes—we've got it all!  Ohio's highest-energy live band brings tight vocals, thumping beats, rocking guitars, sick synths and more antics than the Animaniacs to EVERY show.
9pm: Thanksgiving Eve Party at Rose & Jim's (party): Karaoke & Dance tunes with DJ Brad and all the gang
Thursday, November 22, 2018
9am: Thoroughbred Classic 5k at Keeneland (health/fitness/wellness): Join us for the 35th annual Thoroughbred Classic 5K & Kay Collins Memorial Mile on Thanksgiving Day, Thursday, November 22, 2018 at 9:00 a.m. at Lexington's historic Keeneland Race Course. See details: HERE.
9:30am: "Gratitude" Yoga Flow at Wildfire Yoga (health/fitness/wellness):
his will be a Slow Flow with restorative poses at the end of the practice. Give your mind and body the rest it needs as we move through this holiday season.
11am: Thanksgiving Dinner at Griffin Gate Marriott Resort and Spa (food): Join us at JW's Steakhouse for Thanksgiving Dinner! See menu: HERE.
1pm: Thanksgiving at Lockbox (food): Give thanks with friends and family this year over a Thanksgiving feast at Lockbox. Chef Jonathan Searle will be crafting his traditional meat and three style Thanksgiving celebration. Indulge in pre-set platters for the table to start and then a family style salad course. For the main course choose for the table one meat, three sides, and one dessert. Four-course prix fixe menu available for adults for $45-$49; children 12 years or younger can enjoy a special menu at $25.
8pm: Tryptophan Cup 11/22 at Belle's (games): Join us for an extra helping of Thanksgiving, the Tryptophan Cup. Consider it for a post meal family escape (OR bring them along!) with questions fit for Turkey day, including ones about food, holiday tv episodes, and football, too! As God as our witness, we thought turkeys could fly!
Have a good week, and be sure to share this post, so the word can get out about what's going in Lexington this week!