Have many of y'all have made cookies and then proceeded to eat the cookie dough right off the spoon? Have many times has someone told you not to do it because of the risk of salmonella? Well, enter Lexington's newest dessert shop, NoBaked Cookie Dough, where you won't have to worry about that!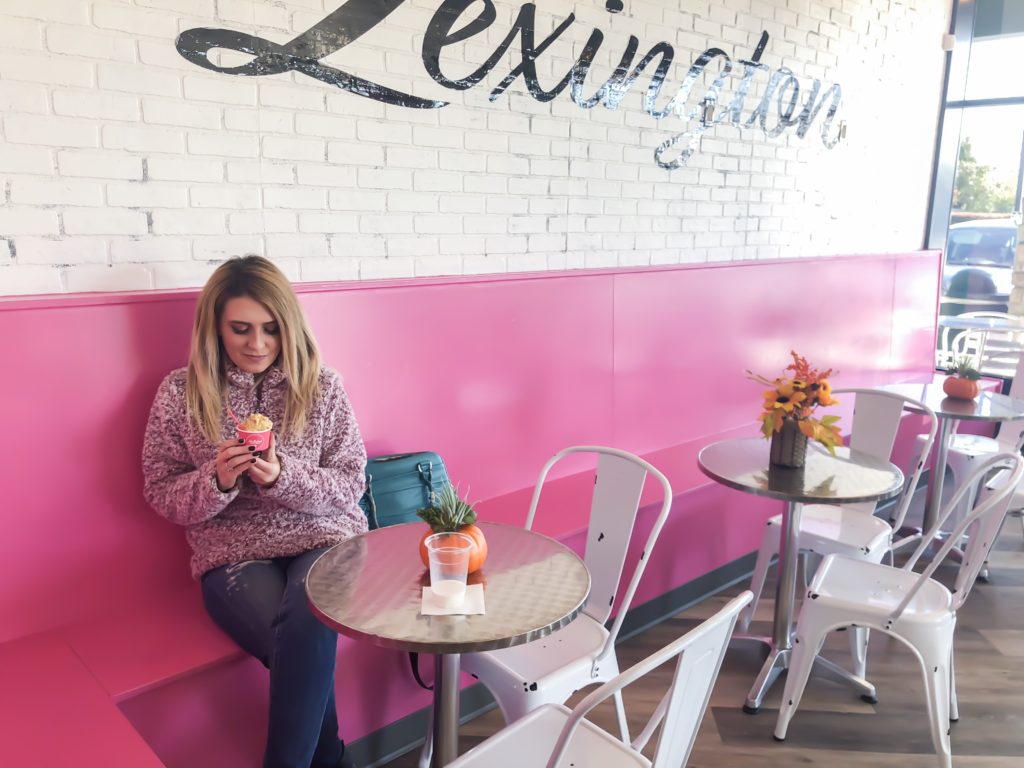 NoBaked Cookie Dough is a Nashville-based raw cookie dough shop that opened in Lexington, Kentucky back in the middle of October. Once you walk inside, it's like an Instagram dream. It's very colorful – everything is pink!
Owner Megan Beaven started NoBaked in early 2017. It began first as online ordering and then into pop-ups at local community events and then has grown into a large following across the country.
At NoBaked they serve cookie dough that is safe to eat! How is that possible, you ask? Their cookie dough is made without eggs. That in itself eliminates the chance of getting a food-bourne illness, which you can get from raw eggs. The cookie dough is also made with heat-treated flour. By heat treated flour, any bacteria, such as E.Coli is killed. Many times raw flour has been contaminated with E.Coli and we often don't even realize it. By using cookie dough without the use of eggs and using heat-treated flour, this makes the dough much safer to eat than in comparison to the dough you would buy at the store.
NoBaked offers more than ten different flavors with toppings, cones, and ice cream. This way you can make it into what you want!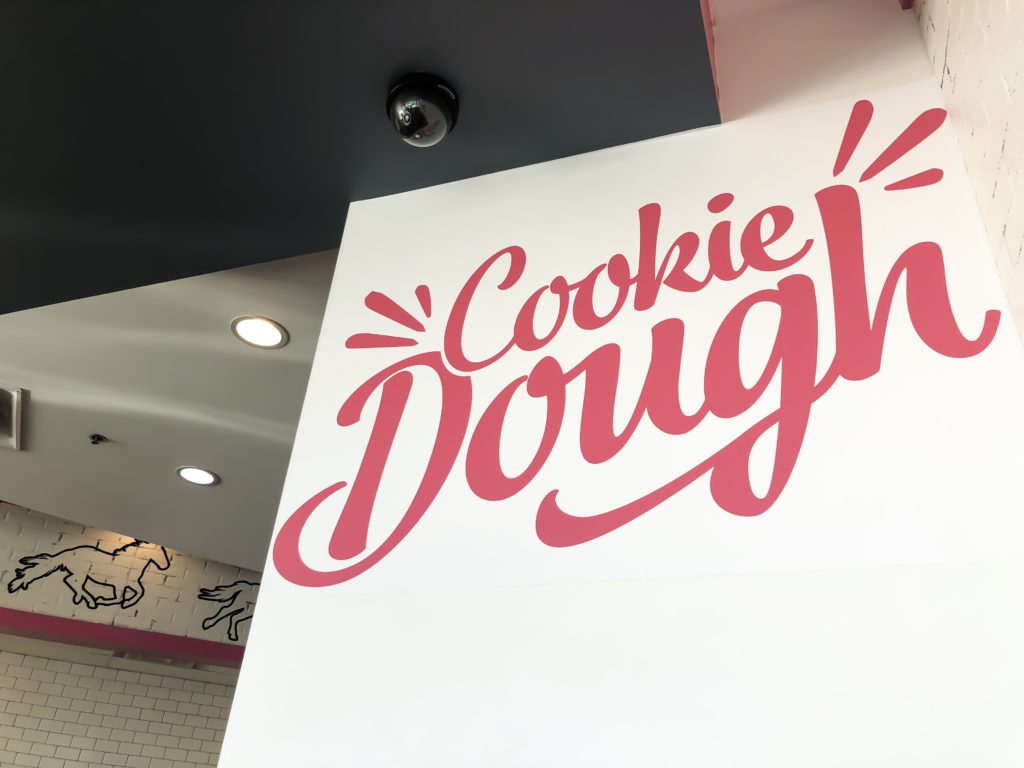 The flavors include:
Brownie Batter Chip: For chocolate lovers everywhere. It's rich and decadent.
Smores: The founder, Megan's favorite flavor. It's filled with graham crackers and marshmallow fluff.
Cookies & Cream: Made with whole Oreo's. It's the perfect balance of cookies and dough!
Peanut Butter: If you love peanut butter, you will love this cookie dough. Our Peanut Butter Cookie Dough is made with real peanut butter. It's also vegan!
Snickernoodle: Reminiscent of your favorite cinnamon cookies. The Snickernoodle Cookie Dough is full of sugar and spice. This flavor is also vegan!
Cookie Monster: Blue is just like the Cookie Monster himself, this flavor is filled with chocolate chips, M&Ms, and peanut butter chips.
Chocolate Chip: This is the most popular option they have. It's classic and filled with the sweet familiar flavors we all know and love.
Confetti Sugar: As sweet as can be, the Confetti Sugar Cookie Dough is a sugar cookie with colorful sprinkles in it. Simple and delicious, this flavor is also vegan.
In addition to your cookie dough, you can choose a wide variety of toppings:
chocolate chips
white chocolate chips
sprinkles
nutella
caramel
M&M's
marshmallows
whipped cream
chocolate syrup
You can also get your cookie dough in a waffle cone (cake batter, french vanilla, or dark chocolate), as well as a scoop of ice cream (vanilla or chocolate). If that isn't enough for you, there are sundaes and milkshakes available for you to indulge in!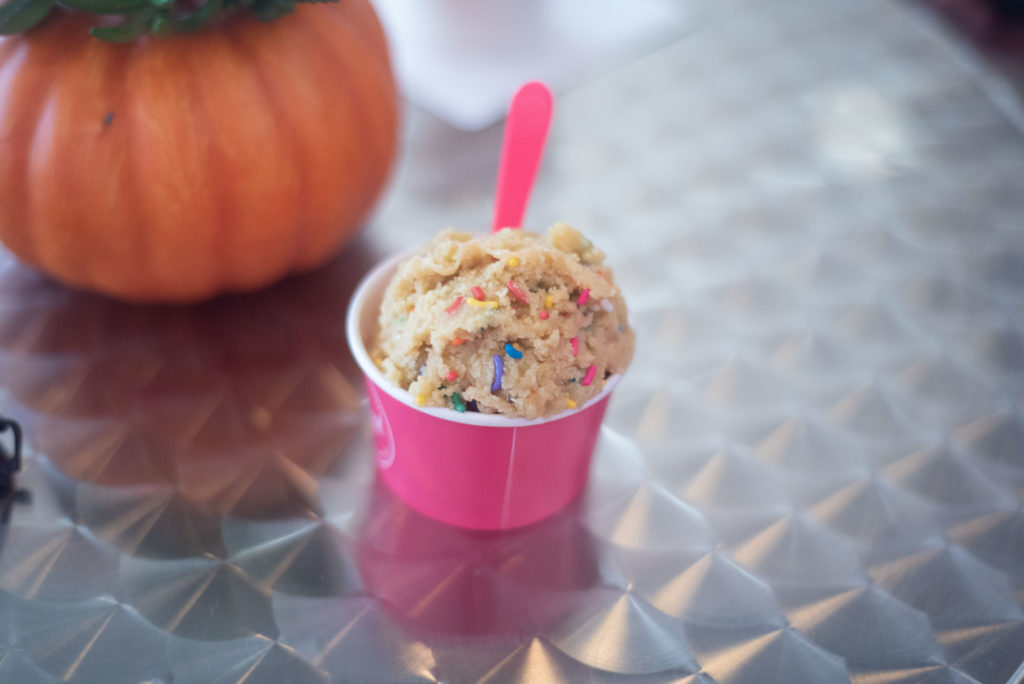 I ordered the Confetti Sugar, because I love all things that are colorful and covered in sprinkles. It was really sweet and delicious. It's definitely the perfect treat that could satisfy your sweet tooth! I also tried the Cookie Monster Cookie Dough! With chocolate chips, M&M's, and peanut butter, there is no way you could go wrong!
Address:
3735 Palomar Centre Drive #220, Lexington, Kentucky 40513
(Also, locations in Nashville and Louisville – 117 28th Avenue N, Nashville, Tennessee 37203; 1120 4th Avenue N #102, Nashville, Tennessee 37208; 805 Blankenbaker Parkway, Louisville, Kentucky 40243)
Hours of Operation:
Sunday through Thursday: 12pm to 10pm
Friday and Saturday: 12pm to 11pm
Be sure to check them out and support a local business!