This post is in collaboration with Frisch's Big Boy. Regardless of receiving a gifted item and/or compensation, my thoughts and reviews are 100% my own. Thank you for supporting brands and businesses that support Fabulous in Fayette!
I'm sure since the majority of y'all live in Kentucky, you've heard of Frisch's Big Boy! After all, it's a regional Big Boy restaurant chain with headquarters in Cincinnati, Ohio! Frisch's became the exclusive owner of the Big Boy trademark in Indiana, Kentucky, most of Ohio, and Tennessee in 2001.
If you know anything about Big Boy, you should know that they are famous for their tartar sauce. Dave Frisch, the son of the founder, Samuel Frisch, used his tartar sauce to make a Big Boy double decker hamburger, instead of using an original recipe that called for Thousand Island dressing. This happened all the way back in 1946, and their tartar sauce has been has been a hit ever since! It's been estimated that they have produced more than 1.7 million gallons of tartar sauce since its creation! That's a whole lot of tartar sauce! In 2017, Frisch's had a hand in declaring the first Friday of Lent, National Tartar Sauce Day!
I'm a huge fan of spicy foods, so I was delighted to hear that Frisch's has a NEW Tartar Sauce – it's their Spicy Tartar Sauce!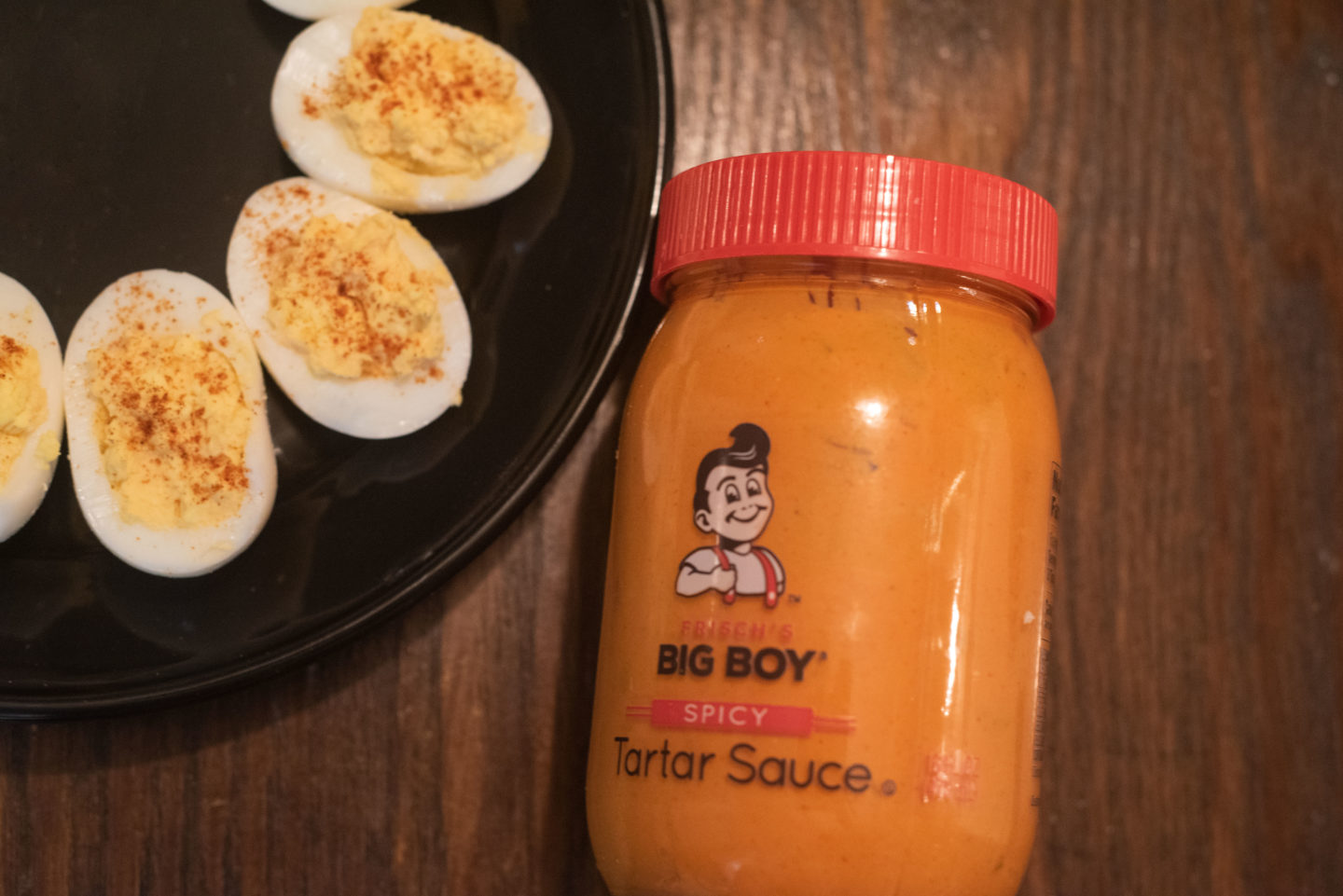 I know I used to automatically think of fish when I heard the words tartar sauce. Those two things always seem to go together hand in hand. Since I'm a Southern girl, I wanted to make a dish that was delicious and true to my heart and soul. That's when it came to me – Deviled Eggs! It doesn't get much more Southern than Deviled Eggs! Deviled Eggs are the ultimate Southern staple.
I know what you are thinking? Tartar Sauce in deviled eggs… WHAT?!?! Actually, if you look at tartar sauce, you'll see that mayonnaise is one of its main ingredients! Tartar sauce is obviously more tangy, but it would still make for a great alternative. I decided to use their brand NEW Spicy Tartar Sauce, because I like things a little spicy.
I still added mayonnaise to the eggs, because I like my deviled eggs creamy! However, the extra spice from Frisch's Spicy Tartar Sauce made the deviled eggs so much tastier! It added a nice little kick to it! One of the best parts is that deviled eggs are easy to make!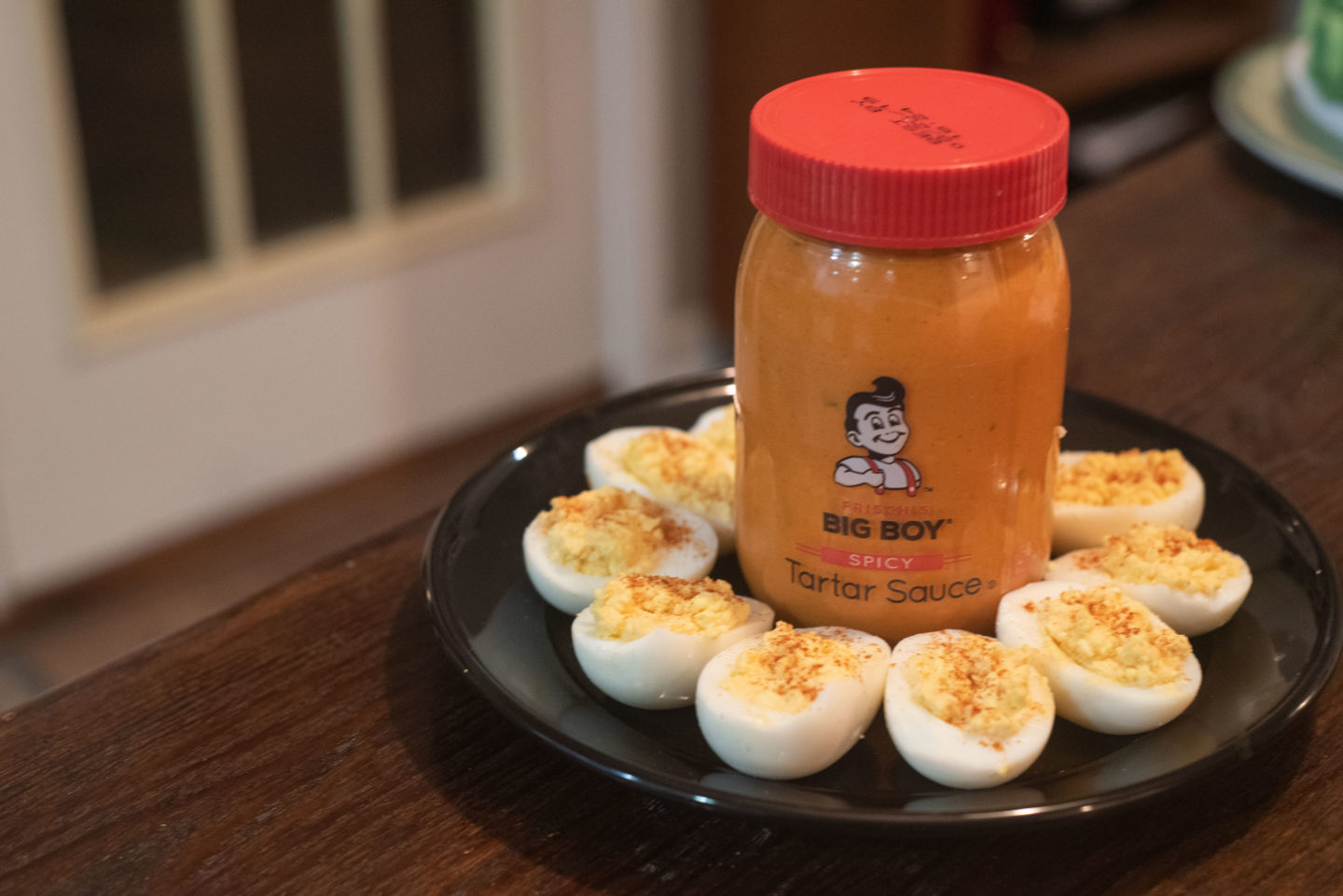 Frisch's Spicy Tartar Sauce Deviled Eggs
Prep Time: 20 minutes | Total Time: 35 minutes
Ingredients:
6 hard boiled eggs
1/4 cup of mayonnaise
1 teaspoons mustard
1 tablespoon of Frisch's Spicy Tartar Sauce
a pinch of salt and pepper
paprika for garnishing
Directions:
1. Place the eggs into a pot of water on the stove and boil them.
2. Once the eggs are boiled, you might want to place the eggs into a bowl of room temperature water for around 1-2 minutes. This will allow the eggs to stop cooking and cool.
3. After that, be sure to peel off each egg shell so you don't damage the egg whites.
4. Cut the eggs lengthwise carefully.
5. Scoop out the yolks of the egg and place in a separate bowl.
6. Add the mayonnaise, mustard, Frisch's Spicy Tartar Sauce, and salt and pepper to the bowl that have the yolks. Mash until smooth.
7. You can either scoop the mixture until the eggs, or you can pipe it into the eggs. It's easy to make your own piper. First, fill a sandwich-sized plastic bag with the mixture. To make things easier on you, fold the edges of the bag down and turn about half of the bag inside out. Be sure that the filling is at the corner of the bag. Once it is, snip the end off with scissors! Voila! You can now pipe the mixture into your eggs.
8. Garnish with paprika or toppings of your choice.
9. You may have some filling leftover over, and that's okay! Be sure to put it in the refrigerator, so you can use it in more eggs that you may make!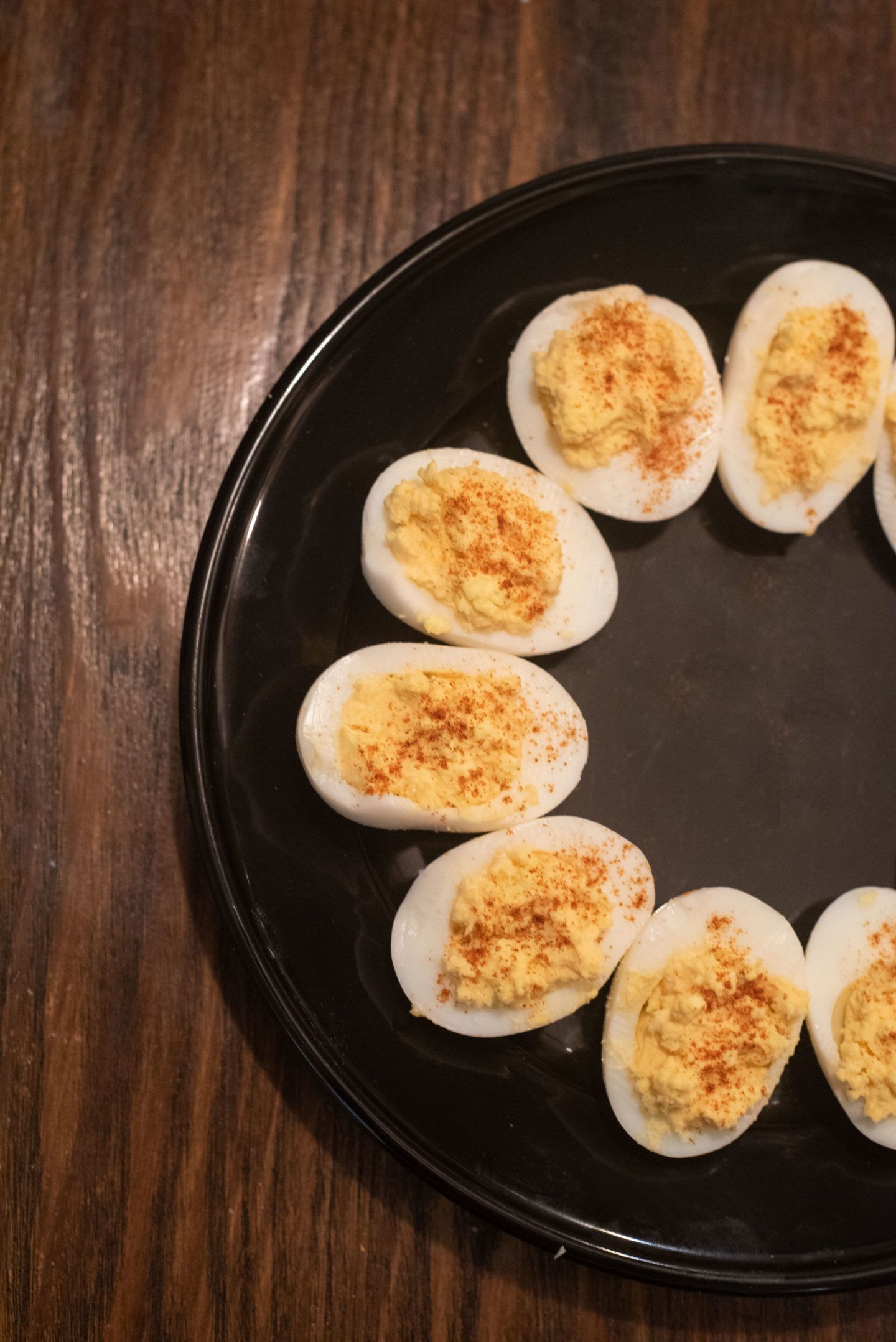 These would be perfect to bring to any cookout. After all, we are heading into the spring and summer seasons! Or they would be good just to snack on at home by yourself. Either way, you'll enjoy this nice little treat!
The only way to purchase Frisch's Spicy Tartar Sauce is in their restaurants. If you live in Lexington, Kentucky, can you visit one of our two locations:
1927 Harrodsburg Rd, Lexington, Kentucky 40503

1849 Alysheba Way, Lexington, Kentucky 40509
Enjoy!