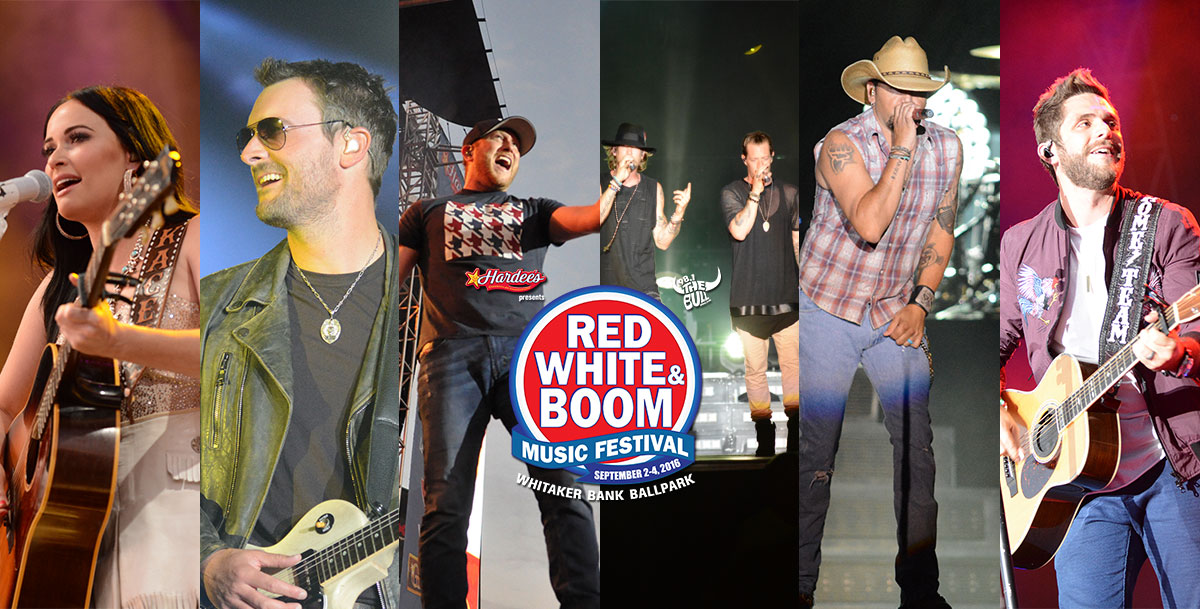 Over Labor Day weekend, my husband, our friends, and I attended Red, White, and Boom 2016. Red, White, & Boom has been a country music festival in Lexington ever since the Fourth of July in 2004. It first started as a one day event, then it expanded to two days, and now it is three days long. It used to happen on the Fourth of July, but this is the first year for it to take place over Labor Day weekend. Red, White, & Boom is sponsored by WBUL-FM 98.1. It used to be devoted to acts exclusively on a hopeful ride or on a graceful descent. But this is the first year, where there are three mega-popular headliners: Eric Church, Jason Aldean, and Florida Georgia Line. In 2016, it lasted three days with twelve different artists. For the nights that we attended (Saturday and Sunday), we stood relatively close to the stage.
The concert/festival took place at Whitaker Ballpark, and the stage for 70 feet tall. It was like there was a seven-story tall building in the outfield complete with jumbotrons and lighting. It would be just like you were seeing a concert at Rupp Arena. People from all over the United States came out for this event. There were even people that came from England to attend this festival!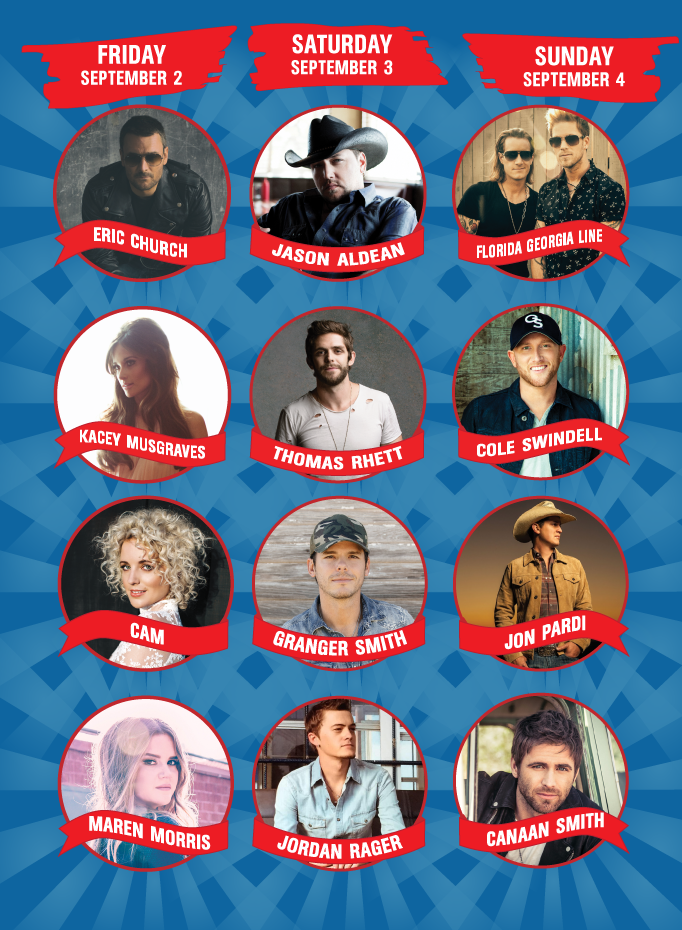 I didn't attend on Friday, but Maren Morris, Cam, Kacey Musgraves, and Eric Church performed. My husband, lots of our friends (about twenty of them), and I actually saw Cam perform over Memorial Day at Brimstone's White Knuckle Event (along with Kip Moore). The White Knuckle Event is Brimstone's event that is held over Memorial Day weekend. OHV enthusiasts from all over the world gather in Huntsville, Tennessee during May to enjoy the Cumberland Mountains, competitive events, and the latest country hits from Nashville's finest (Us and quite a bit of our friends are actually going back later this month for their fall event called, Brimstone Paragon to go riding and to see Hank Williams Jr.). For those that don't know (or haven't seen my instagram posts that I posted back in May), Brimstone has over 19,196 acres nestled in the remote wilds of Northeast Tennessee and located in the Heart of Appalachia. There is also over 300 miles of OHV (Off Highway Vehicles; side-by-sides, dirt bikes, ATVs, etc) trails and roads with numerous overlooks and culture exploration points of interest.
Now, back to the performances from Red, White, and Boom…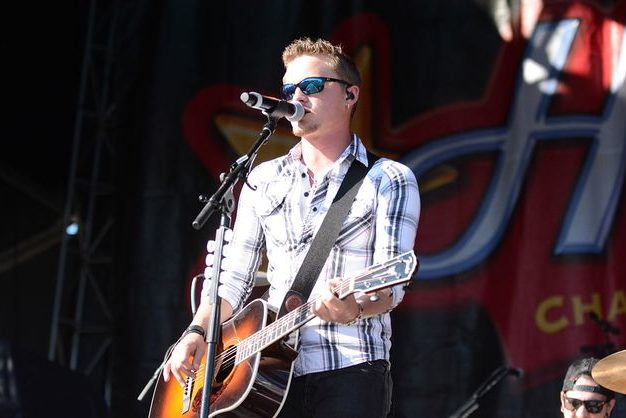 Jordan Rager kicked off Saturday at Red, White, and Boom. Rager was actually mentored by Jason Aldean's father, and his first single was a duet with Aldean. He sang some songs such as 'Southern Boy' and 'Now That I Know Your Name.'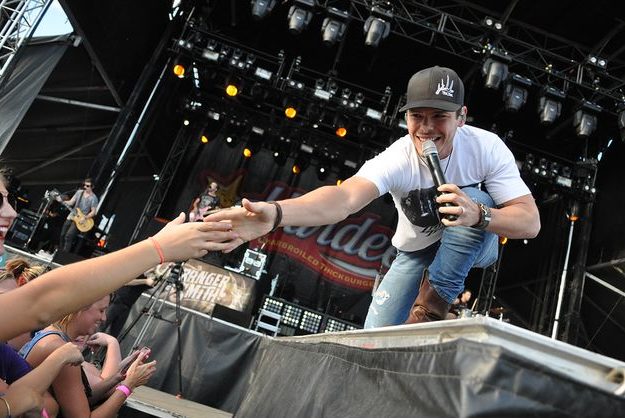 Granger Smith/Earl Dibbles Jr. performed second on Saturday (My husband, a lot of our friends, and me actually saw him perform at Bogart's in Cincinnati back in February of this year). He sang some of his well known songs such as 'Blue Collar Dollars,' 'Backroad Song,' and 'If the Boot Fits.' He also performed songs made famous by his alter ego, Earl Dibbles Jr. such as; The Country Boy Song, City Boy Stuck, Country Boy Love, and Merica.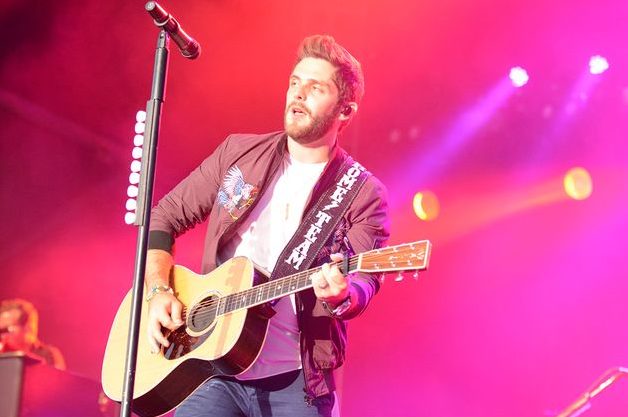 Due to Hurricane Hermine, Florida Georgia Line and Cole Swindell were supposed to be in Atlantic City, New Jersey on Saturday night. However, the tropical storm caused their shows to be canceled, so they went ahead and drove into Lexington. During Thomas Rhett's performance, he surprised everyone by bringing Florida Georgia Line on stage and singing their song, 'Round Here,' which he had written. Then a few minutes later, he surprised everyone again by bringing Cole Swindell on stage. Swindell then began singing Thomas Rhett's song, 'Get Me Some of That,' which he had written for him.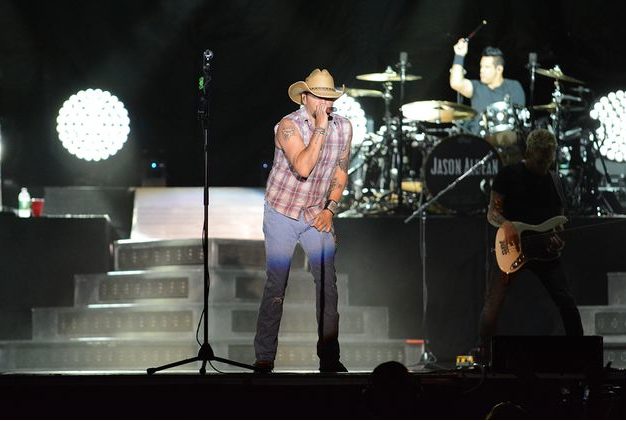 Aldean was the headliner was Saturday night. He had a 90 minute set, which included some of his greatest hits and new songs of his new album; such as, 'Lights Come On.
On Saturday night, there were approximately 14,000 people in attendance.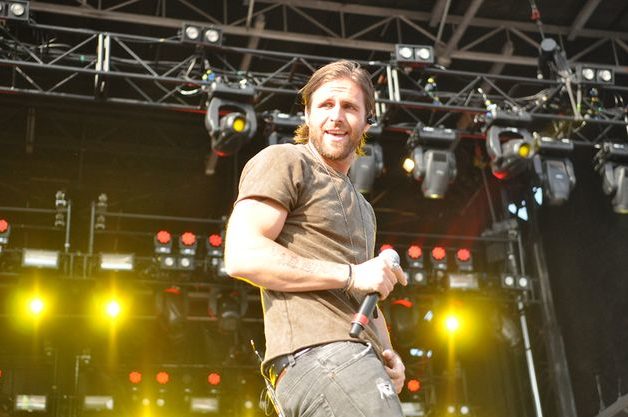 On Sunday night, the first performer was Canaan Smith, who was energetic throughout his set. He ended his set with his current hit, 'Love You Like That.' He then surprised the audience with his rendition of 'Mad Love' and a cover of Zayn Malik's hit 'Pillowtalk.' He then surprised everyone by swigging a bottle of bourbon, and then destroying a drum with a sledgehammer.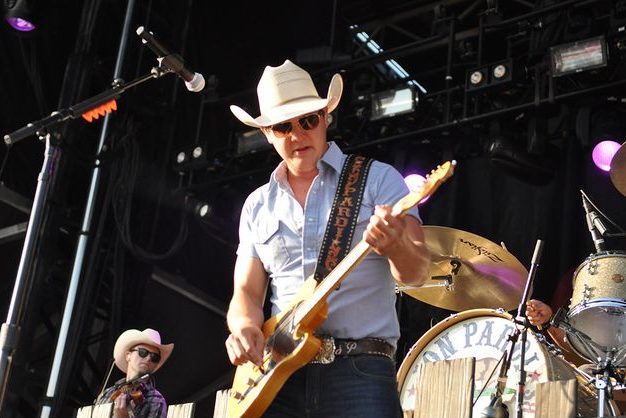 The second performer of the night was Jon Pardi, who is a crooner that could be reminiscent of country music from days' past. He is well known for his number one song, 'Head Over Boots.'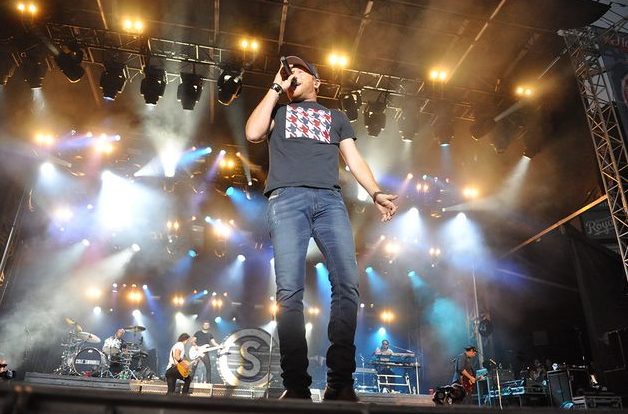 Cole Swindell performed third and he sang all of his well-known hits, which ranged from upbeat party songs to a kiss-off to an ex to a heartfelt ballad, such as; 'Chillin' It,' 'Hope You Get Lonely Tonight,' 'Ain't Worth the Whiskey,' and 'You Should Be Here.' Not only did he perform his songs, but he performed songs that he has written for other artists, which included Thomas Rhett's 'Get Me Some of That' and Luke Bryan's 'Rollercoaster.' Cole Swindell actually performed at one of the Red, White, and Boom's original July 4th festivals as an up-and-coming artist.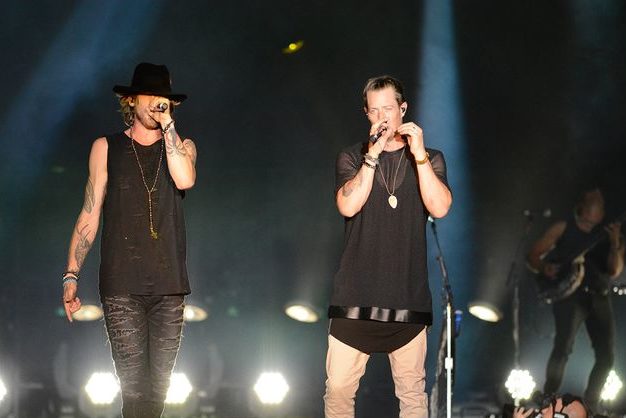 The biggest audience of the weekend came to see the country duo Florida Georgia Line on Saturday night, bearing 90-degree weather and close crowds. They was approximately over 16,000 people in attendance. I heard one report of 60,000 people, but I'm not sure which one is accurate.
Florida Georgia Line is one of country music's biggest names. I'm sure everyone knows and has heard of FGL. Their songs have to do with partying, Fireball, whiskey, summer, and trucks. They are all catchy and infectious, and you can't help but have a good time, when you hear one of their songs. They sang all of their biggest hits; 'H.O.L.Y.,' 'Confession,' 'Dirt,' 'Anything Goes,' and much more. FGL's tour right now is called "Dig Your Roots.' After performing a couple of songs, the duo shared baby pictures, pictures with their mothers, and pictures of them when they were learning to play guitar. Each picture led to a throwback song, which they essentially covered. The songs included: Nelly's 'Ride With Me,' Montell Jordan's 'This Is How We Do It,' House of Pain's 'Jump Around,' and Backstreet Boys' 'Backstreet's Back.' It was a fun mash-up of songs that everyone knows. Of course, they had to end the night with probably their most well-known song of all, 'Cruise.'
Just about every artist sang music off their new yet-to-be released albums, so we were among the first to hear their new tunes, which I think was pretty cool. They are already starting to plan the acts for next year (obviously, since you have to book the acts really far in advance in order to have them perform). There are already radio commercials stating that it is going to be bigger than ever! I can't wait to go next year, and next year, we plan on getting VIP passes (special VIP section + all you can eat and drink). If you aren't VIP, then you are general admission. You could stand anywhere you want; right at the front of the stage (if you get there first), in the stands, or back in the field on a blanket. The majority of people gathered around the stage standing in close proximity to each other. We got lucky both nights we went, and were relatively close to the stage. There were people everyone, and as the night got on, it got more and more crowded. So, if you want to go, you may not want to leave your spot, or else you might not be able to make it back through the crowd. I would suggest using the buddy system to push your way through the crowd (Luckily, when we left our spot, we were able to make it back just fine. However, I would do it at your own discretion hahaha. We were on a mission, and we WERE going to make it back to where we were).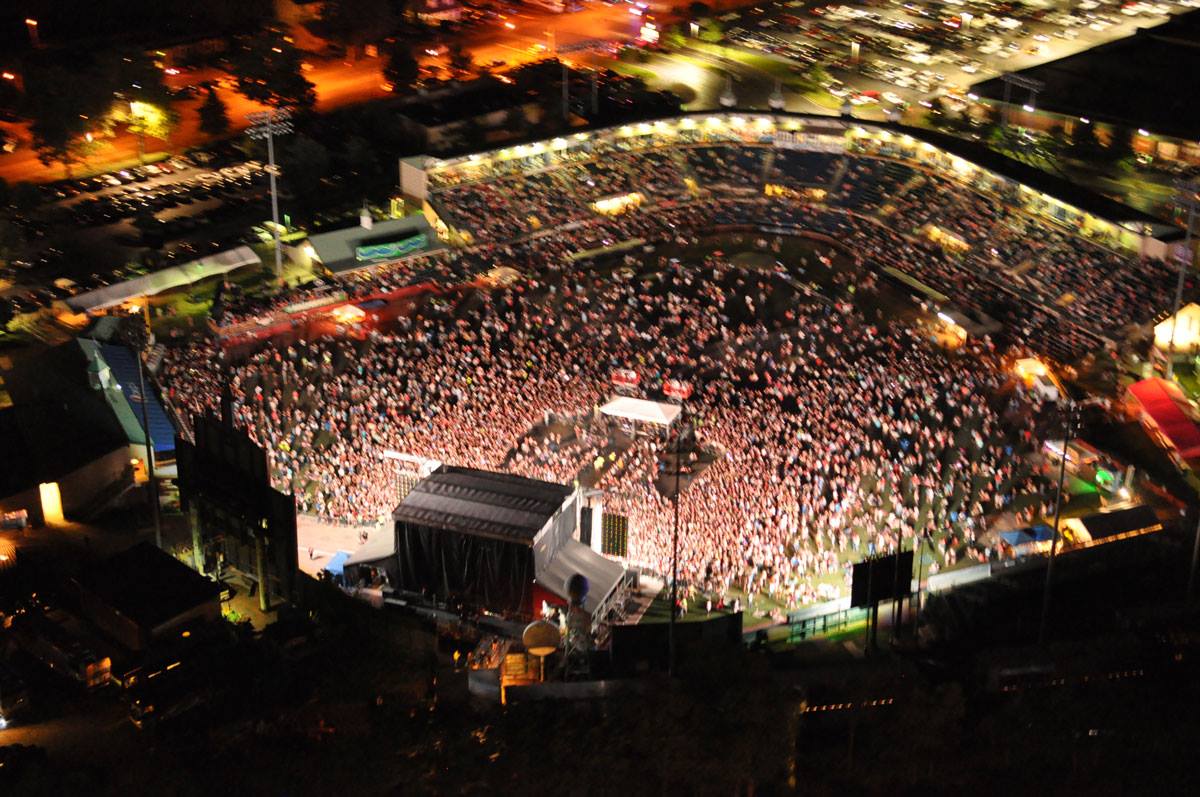 Red, White, and Boom was initially a free show, which then grew to a mini-festival with minimal admission. Now, in 2016, it was $64.50 (single-day admission), $179 (three-day admission), and $358 (three-day VIP pass). If you love country music, this is one festival that you don't want to miss. It's not just everyday that you can see that many big names for such an affordable price. You have to remember that four acts perform on each night, and twelve acts perform over the entire weekend. You just can't beat it!