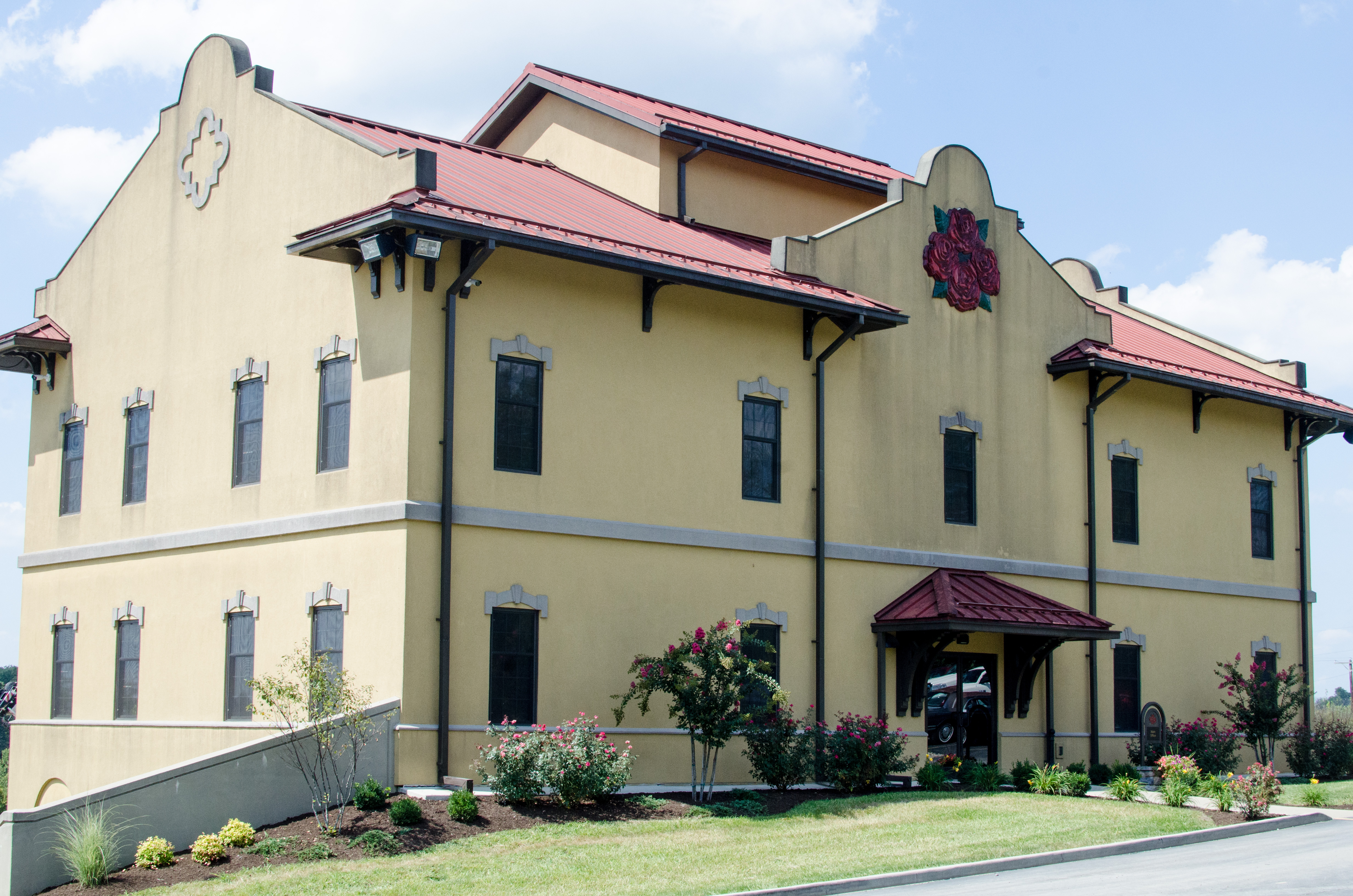 The Kentucky Bourbon Trail consists of nine distilleries. There are A LOT more distilleries in Kentucky (after all, we are responsible for 95% of the world's bourbon), and there is even another trail that is called the Kentucky Bourbon Craft Trail, which consists of eleven other distilleries. Liquor Barn is the largest retailer of beer, spirits, and wine in Kentucky. The Liquor Barn in Hamburg (for those non-Kentuckians, I'm NOT referring to Germany – it's a part of Lexington) is approximately 53,000 square feet (it's freaking massive!) and they sell over 200 different bourbons (yes, OVER TWO HUNDRED) and NO, that isn't even including whiskey (which is NOT bourbon). There are special bottles that are only available at that Liquor Barn, and other releases that are only available in Central Kentucky. Sometimes for certain bottles, people line up over night to get one of the coveted bottles, because they WILL sell out!
So far, we have visited seven distilleries on the Kentucky Bourbon Trail, none on the Kentucky Bourbon Craft Trail, and we have visited a distillery that isn't on any trail (I'll be blogging about that one later this week!). For each trail, the Kentucky Bourbon Trail and the Kentucky Bourbon Craft Trail, you are given a passport. When you visit a trail in the passport, make sure to get it stamped while you are there. Upon completion of your passport, you receive a gift. If you complete the Kentucky Bourbon Trail, you receive a t-shirt (which the design changes every year), and for the Kentucky Bourbon Craft Trail, you receive a classic Kentucky julep cup.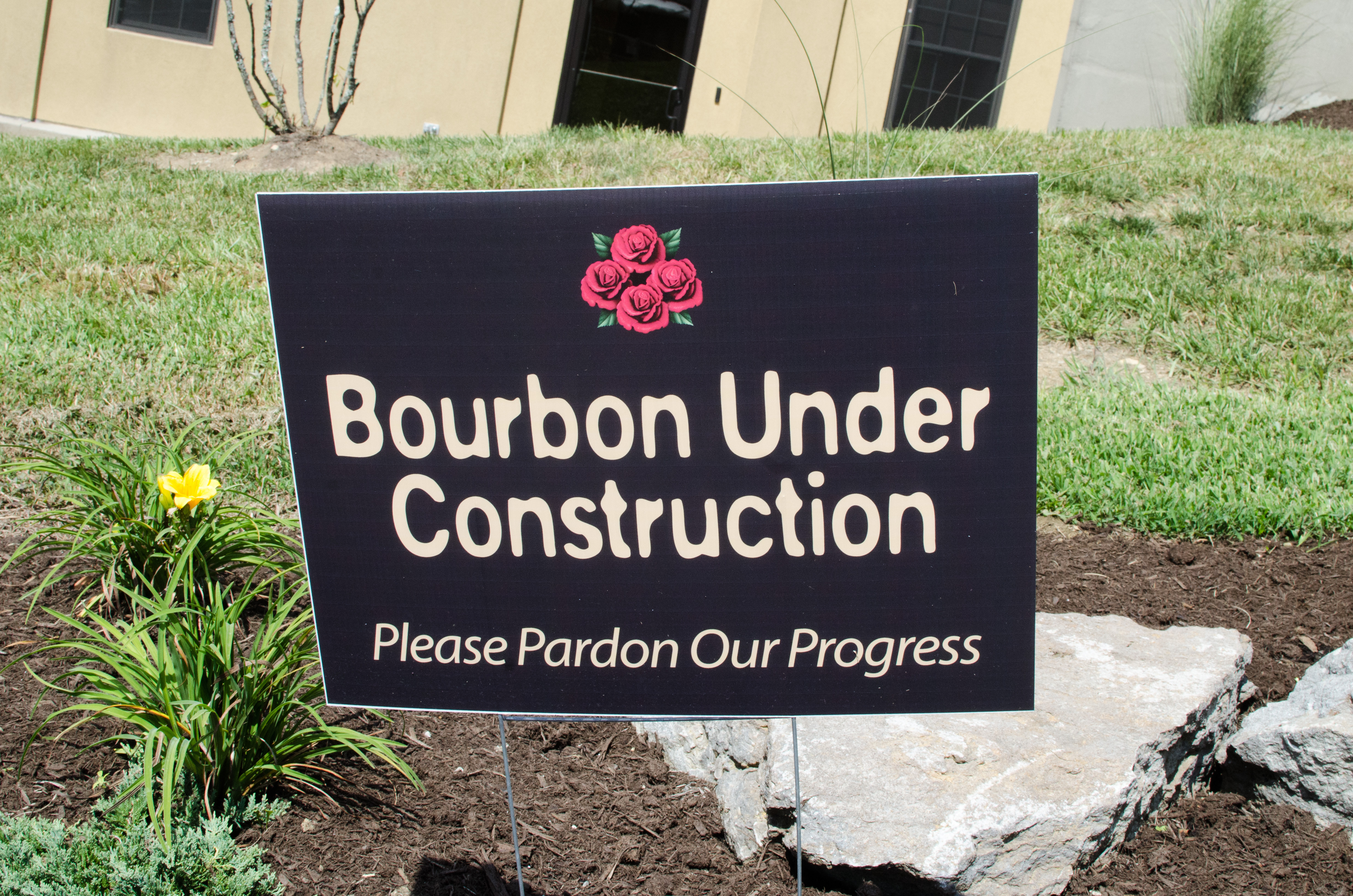 Last week, we decided to do two distillery tours that we hadn't been to before. We went to Four Roses, which is located in Lawrenceburg, Kentucky. You may remember me mentioning earlier this month that September 1st marked the beginning on Bourbon Heritage Month? Since Bourbon Heritage Month was going on, and since they are in the middle of doing a $34 million expansion, July through September was routine shutdown for them. What does that mean? You can't tour the distillery, but you can still do a tasting, which they offered to us for free. We are hoping to go back again and visit the distillery!
Note: Four Roses Warehouse and Bottling Facility is in a separate location (Cox's Creek) from their distillery in Lawrenceburg. If you want to tour the Warehouse and Bottling Facility, you can bring your distillery ticket within 60 days for no extra charge.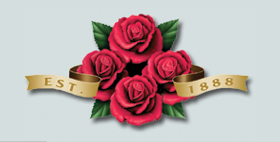 "It began when Paul Jones, Jr., the founder of Four Roses Bourbon, became smitten by the beauty of a Southern belle. It is said that he sent a proposal to her, and she replied that if her answer were "Yes," she would wear a corsage of roses on her gown to the upcoming grand ball. Paul Jones waited for her answer excitedly on that night of the grand ball…when she arrived in her beautiful gown, she wore a corsage of four red roses. He later named his Bourbon "Four Roses" as a symbol of his devout passion for the lovely belle, a passion he thereafter transferred to making his beloved Four Roses Bourbon."
The distillery was built in 1910 and it features unique Spanish Mission-Style architecture. This type of design in rarely seen in Kentucky. It is also listed on the National Register of Historic Places and operates continuously, except for summer months, typically July through early September (via).
About the Warehouses (We didn't get to see those, since they are at a different location):
Four Roses Bourbon is the only distillery using single-story rack warehouses. This is to minimize temperature variations, which provides a gentle, undisturbed and more stable aging process, as well as bourbon with more consistent flavors, body and aromas (via).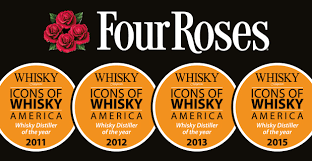 "Artistry such as this is how we survived Prohibition, The Great Depression, Two World Wars, and 40 years of exile from the US, only to be named American Whisky Distiller of the Year for 2011, 2012, 2013, and 2015 – four times in the last five years – by Whisky Magazine."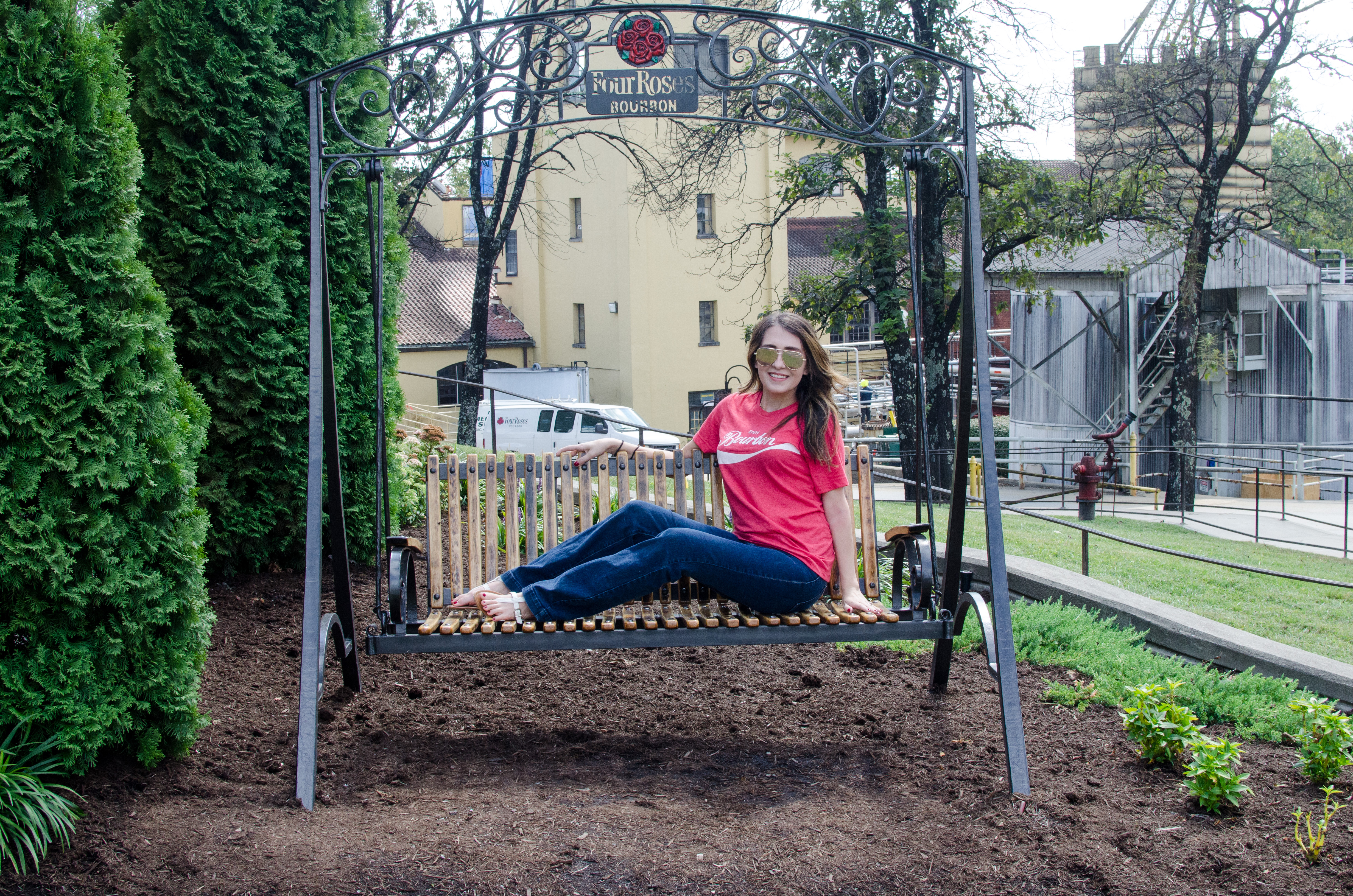 In 1884, Paul Jones Jr., moved his thriving business to Louisville, Kentucky, where he opened an office on Whiskey Row, which is a section of historic Main Street. Four years later, he trademarked the name Four Roses claiming production and sales back to the 1860s. In 1922, the Paul Jones Company purchased the Frankfort Distilling Company.
In 1943, Seagram purchased the Frankfort Distilling Company mostly to acquire the most recognizable name in the business at that time, which was Four Roses Kentucky Straight Bourbon. Four Roses was the top selling Bourbon in the United States in the 30s, 40s, and 50s. However, Seagram made the decision to discontinue the sale of Kentucky Straight Bourbon here in the United States. Instead it was moved to European and Asian markets, where the markets were rapidly growing, and it became a top-selling Bourbon there. Even today, it still remains as a top-selling Bourbon in both Europe and Japan.
In 1966, Jim Rutledge, who would later become one of the world's most legendary Master Distillers, joined Seagram in the Louisville's Plant's Research and Development Department. In 1975, he was transferred to Corporate Headquarters in New York until 1992. Jim then returned home to Kentucky to help out with the Four Roses brand. He replaced Ova Haney as the Master Distiller in 1995. For the next decade, he worked tirelessly to return Four Roses back to the States.
In the United States, during this period, the Four Roses name was used on a blended whiskey made mostly of neutral grain spirits and was commonly seen as a sub-par brand. Four Roses continued to be unavailable as a straight bourbon in the U.S. market for more than forty years until the brand changed ownership in 2002. In 2002, Seagram was purchased by Vivendi, which then sold most of its brands to Diageo, who then sold the Four Roses brand to Kirin, who discontinued the sale of blended whiskey to focus exclusively on Four Roses Kentucky straight bourbon.
At the beginning of 2004, Four Roses was once again sold in the United States and quickly earned a reputation as one of the finest names in the Bourbon world.
In August 2015, Jim Rutledge retired as Master Distiller, and the new Master Distiller became Brent Elliot, who had worked alongside Jim for 10 years (via).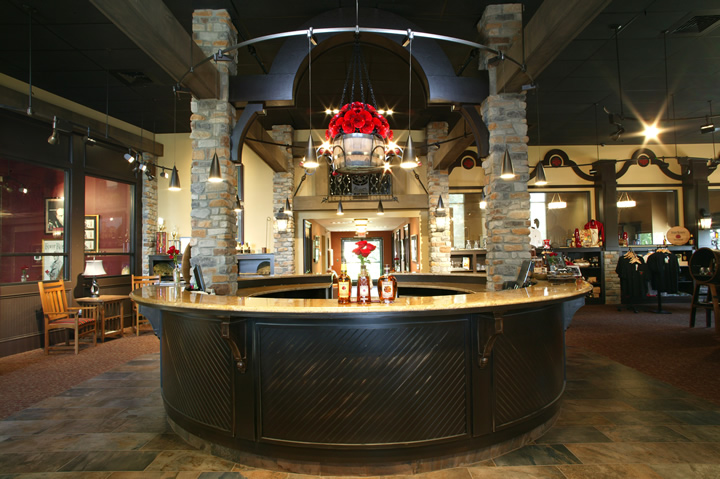 About the Tasting:
During the tasting, we got a brief history of Four Roses, and we got to try three of their bourbons. Like I mentioned earlier, they weren't offering tours when we went. If you want to go to this distillery or any other distillery, and you want it to be more in depth, regarding the history and the process, I would do a full-length tour (full-length tours include a tasting). Many distilleries offer various types of tours, and those would be posted on their website.
We got to try Four Roses Yellow Label, Four Roses Small Batch, and Four Roses Single Barrel. Each of these have a different taste (just like any other distillery that makes several products). It's all about the length of which the barrel was aged, the mashbill, where it was in the warehouse, etc.
Let me explain, Four Roses's process…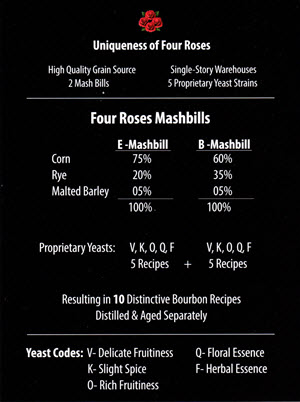 Four Roses is the ONLY distillery that uses two mashbills and five proprietary yeast strains to produce ten distinct recipes. Each of the ten bourbon recipes has its own unique recipe.
Each bourbon recipe has four letter designations. The first letter and third letter will always stay the same (The first letter indicates that is was produced at the distillery in Lawrenceburg. The third letter designates straight bourbon distillation). The second letter and fourth letter will change depending on the mash bill and yeast strain used.
The two mashbills (the second letter):
Mashbill E: 75% corn, 20% rye, and 5% malted barley
Mashbill B: 60% corn, 35% rye, and 5% malted barley
The five proprietary yeast strains (the fourth letter):
V: Light fruitiness, light vanilla, caramel, and creamy
K: Light spiciness, light caramel, and full-bodied
O: Rich fruitiness, light vanilla, caramel, and full-bodied
Q: Essences of floral aromas
F: Essences of herbal aromas
The Ten Bourbon Recipes:
OESK
OESQ
OESO
OESF
OESV
OBSK
OBSQ
OBSO
OBSF
OBSV
So, now they we have that out of the way. For those that have never had Four Roses, I bet you are wondering how the ones at the tasting can be described? And did you know there is a right way to taste bourbon? Yes, there is actually a technique that you must use. If you do it wrong, you won't be able to taste anything that I have mentioned above. I plan on doing an upcoming post for those that are interested and curious in trying bourbon.
Yellow Label is 80 proof (40% ABV). Recipe: All 10. Nose: Balance of subtle fruits and spices. Palate: Crisp fruit, caramel, and vibrant spice. Finish: Mellow, long, and pleasant.
Small Batch is 90 proof (45% ABV). Recipe: OBSO, OBSK, OESO, OESK. Nose: Rich fruit, hints of oak, and caramel. Palate: Rich, creamy, ripened red berries. Finish: More Fruit, Smooth, Long Finish.
Single Barrel is 100 proof (50% ABV). Recipe: OBSV. Nose: Dried Spice, pear, coco, maple syrup. Palate: Hints of ripe plum and cherries, robust. Finish: Smooth, rich finish.
And to think the flavor of bourbon came only from comes from the mashbill (the combination of grain ingredients), the oak wood of the barrel (it is white oak and usually at a level four char), and the combination of time and temperature in the rick house (the warehouse in which barrels are aged). There are no additives in bourbon. This is how it essentially gets it flavor (the only thing that can be added to bourbon is water or it isn't considered a bourbon anymore). Crazy, huh? I'll go more depth in the future about the process of making bourbon and the strict regulations that it must adhere to, to be considered a bourbon.
Happy Tuesday!