If you know anything about bourbon, then you would know how coveted the Buffalo Trace Antique Collection is, because everyone wants to get their hands on one of the bottles. The Buffalo Trace Antique Collection is also hard to come by, due to it being available in very limited quantities. You can't just walk in the door and get a bottle of this!
If you live in Kentucky, especially in Lexington or Louisville, and you aren't on Liquor Barn's email list, you need to be. This is how you will know about the upcoming special releases. If you aren't, by the time you find out (and if you find out), it will be far too late to do anything about it.
On Friday, October 14, I received an email about the lottery for the Buffalo Trace Antique Collection. The bottles included in the lottery were: George T. Stagg, Eagle Rare 17 year, William Larue Weller, Thomas H. Handy Rye, and Sazerac Rye 18 year. Inside the email were the details about the lottery.
How the lottery worked:
This particular lottery took place on Saturday, October 15th at 10:05am.
The lottery was at the following Liquor Barn locations: Beaumont, Hamburg, Hurstbourne, Middleton, and Springhurst.
Tickets were given out between 9am to 10am.
One person per ticket.
The lottery began promptly at 10:05am.
Important information to know:
Placement in line did NOT guarantee the purchase of a specific bottle or any bottle.
This was NOT a first come, first serve release.
There was no cap on the number of tickets distributed.
Having a ticket entered you in the random lottery for a chance to purchase a bottle.
The ticket was only applicable in the store you picked it up from.
Ticket holder had to be present to participate.
I checked my email that particular night and I told my husband just in case he hadn't checked it. We ended up going out that morning to Wild Eggs for breakfast, which is amazing by the way (that's a story for another day, but be sure to check out their delicious Hot Brown – I know I already said this, but it is seriously amazing!). Since we were already at Hamburg Pavillion, we decided to go to that Liquor Barn location, which is the one that we always go to anyways.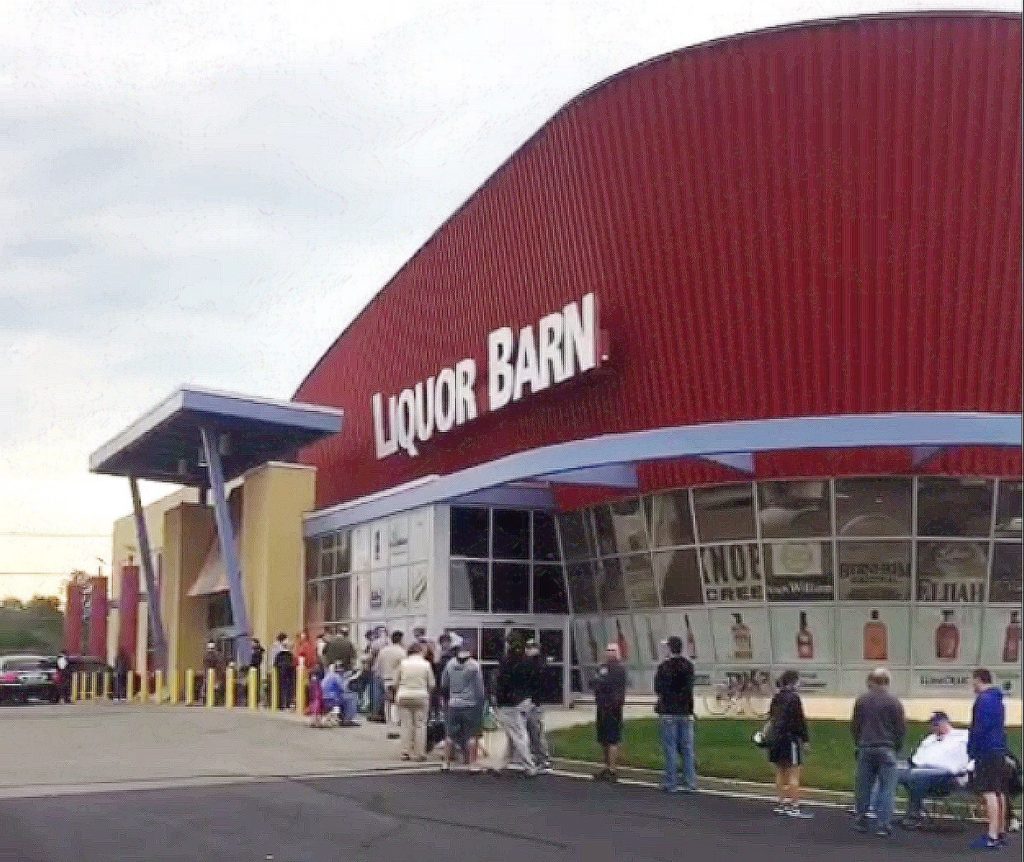 It was about 20 minutes until 9am, and there were a ridiculous amount of people already in line. Some seemed to have been there for hours, since they had brought their own chairs. It was pretty chilly outside, and I hate cold weather, but I wanted to go ahead and get in line. I remember telling my husband that we should go stand in line, but he said that it didn't matter, because it was random. Well, you could say that I ended up winning that conversation, because we found ourselves standing in line very soon after that. There were 79 people in front of us in line (just to be clear: placement in line had no bearing on if you got a bottle, since the lottery was random).
So, we got our tickets, and now you are probably thinking, what happened next? Well, I'm sure the majority of people reading this know that Liquor Barn is HUGE. I read that the location in Hamburg is 55,000+ square feet. There's tons to look at, but after awhile, I was getting restless. I just wanted to know if we were going to win or not. Plus, I wanted to go back home and go to bed, because I hadn't slept in about 18 hours.
Once it hit 10:05am, the lottery immediately started. There were approximately 450 people in attendance, all crammed in to the front of the store. There were roughly 50 bottles up for the lottery. They began drawing tickets out of the bowl one by one and calling out the numbers to the crowd.
I had a pretty good feeling about it, because I'm a pretty lucky person when it comes to giveaways and contests (Obviously you can't win them all, but I had my fingers crossed!). 
All of a sudden, we heard our number! We actually were one of the first numbers called! It was my ticket that won, since I was behind my husband in line. So, my husband went up there and chose the one he wanted, which was George T. Stagg. At that time, he could've had his pick between all of them, since they were all still available. However, Stagg was his first choice and was what he wanted.
Before long, it was getting close to the end of the lottery, and our number was called again! When we went up there, the only thing left was the Thomas H. Handy, so that's what was handed to us.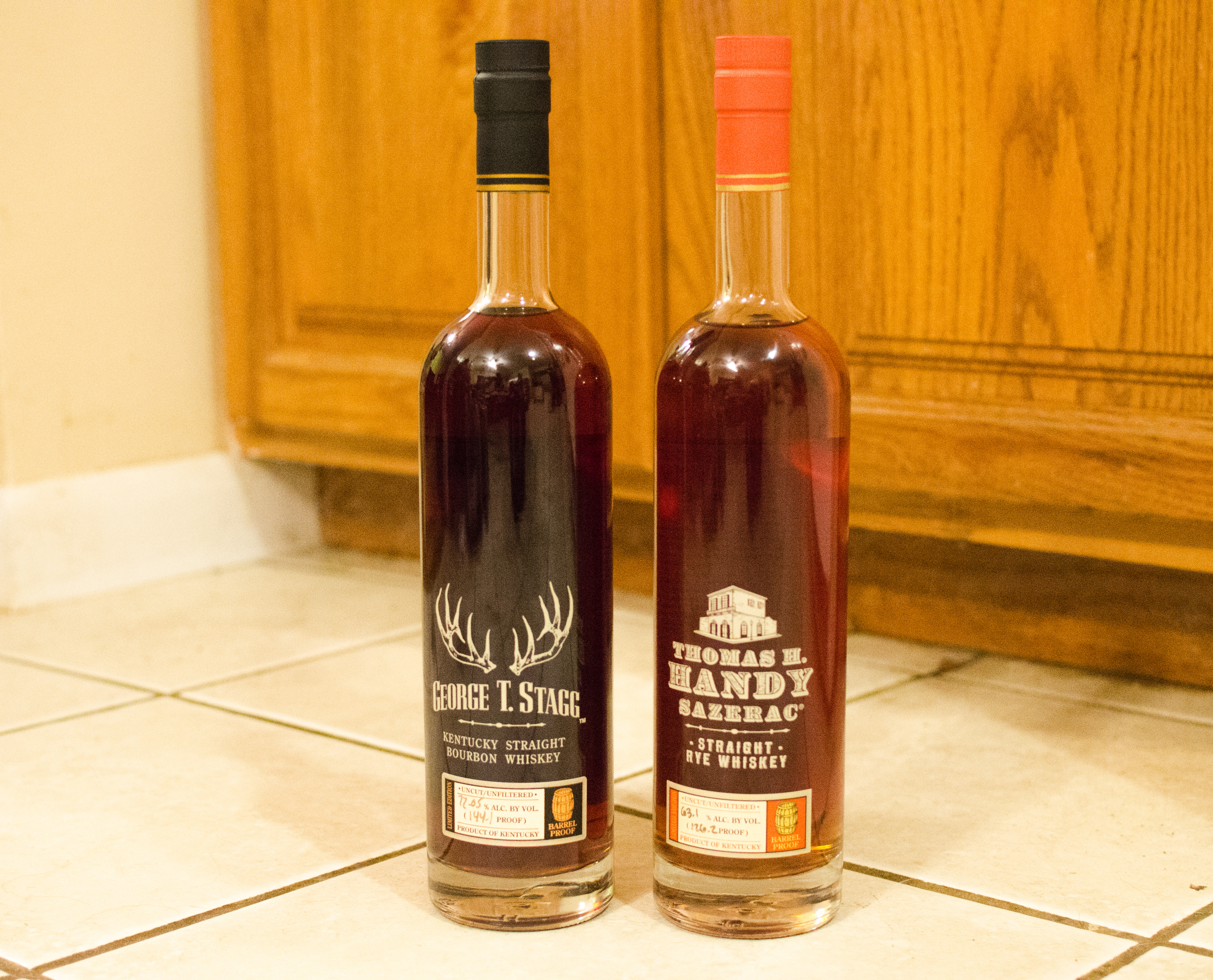 Good thing that I made my husband get out of the car when we did! Who knows what our place would've been in line, if we had waited! If you were one of the ones who got a bottle you were pretty lucky, considering the amount of bottles that were produced this year and the amount of people that showed up for the lotteries.
To put how few of these bottles were released, here are the numbers for this year (estimates):
On the secondary market, George T. Stagg can easily pull in $500. I've read on some bourbon forums, that the people outside of Kentucky have deemed it impossible to get their hands on a bottle. Other people have mentioned that they have been on waiting lists for years.
Some information about 2016's collection:
William LaRue Weller
Time of Distillation: Winter of 2003
Proof: 135.4 (Barrel Proof)
Age: 12 years and 7 months
Barrels: 145
Evaporation Loss: 65.4%
Estimated # of Bottles Produced: 13,420 bottles
Warehouse and Location: Aged on the third and sixth floors of Warehouses D, K, and L
Taste Notes: Bold flavors, which include plum, figs and vanilla
Thomas H. Handy Sazerac
Time of Distillation: Spring of 2010
Proof: 126.2 (Barrel Proof)
Age: 6 years and 3 months
Barrels: 61
Evaporation Loss: 26.8%
Estimated # of Bottles Produced: 11,944 bottles
Warehouse and Location: Aged on the fourth, fifth and seventh floors of Warehouses I, K, and M
Taste Notes: Toffee and cinnamon
Sazerac Rye
Time of Distillation: Spring of 1998
Proof: 90
Age: 18 years
Barrels: 24
Evaporation Loss: 72.1%
Estimated # of Bottles Produced: 2,587 bottles
Warehouse and Location: Aged on the second floor of Warehouse K
Taste Notes: Notable flavors of smoke, clove and all-spice with a dry finish
George T. Stagg
Time of Distillation: Spring of 2001
Proof: 144.1 (Barrel Proof)
Age: 15 years and 4 months
Barrels: 142
Evaporation Loss: 75.99%
Estimated # of Bottles Produced: 9,120 bottles
Warehouse and Location: Storage location of these barrels varied across warehouses M, N, H, L and K
Taste Notes: Dark chocolate, coffee and vanilla.
Eagle Rare 17 Year
Time of Distillation: Spring of 1999
Proof: 90
Age: 17 years
Barrels: 32
Evaporation Loss: 66.1%
Estimated # of Bottles Produced: 4,192 bottles
Warehouse and Location: Aged on the first, second and third floors of Warehouses H and K
Taste Notes: Leather, vanilla, tobacco and toffee
–
Now, how about that Pappy? Word on the street is that it is going to be released sometime in November. Gonna try my luck again, and see what happens!
May the odds be ever in your favor.