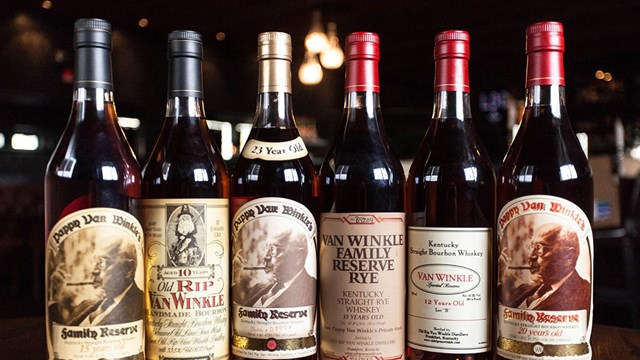 It's that time of year again… when the exclusive Pappy Van Winkle is released.
For those that are unfamiliar with Pappy…
"Pappy Van Winkle's Family Reserve is often regarded as one of the finest bourbons in the world, and is rare to find on the market due to its very low production and high demand. Bourbon aficionados have shown up in droves to get a small chance in a lottery to purchase some. It has been called 'the bourbon everyone wants but no one can get.'"
This past Saturday, November 12, Liquor Barn locations in Louisville (Hurstbourne, Springhurst, and Middletown), Lexington (Hamburg and Beaumont), Danville, and Bowling Green were participating in a lottery for the chance to purchase a bottle of Pappy.
Some of you may remember back in October, when I won two bottles in the lottery for the Buffalo Trace Antique Collection, well I wanted to try my luck again with Pappy. The lottery for Pappy worked exactly the same way. Your place in line has no bearing on whether you will get a bottle or not, since the drawing is random. There were unlimited tickets given out between 9am to 10am. Promptly at 10:05am, the lottery begins. Then if your number is called, you can choose between what they have left.
I thought the lottery for the Buffalo Trace Antique Collection was crazy, but it didn't even come close to the Pappy lottery. We arrived around 8:30am after eating at Wild Eggs (that seems to be our tradition for Saturdays and bourbon lotteries). The line ran along the building, down the entire length of the parking lot, and started wrapping around the nearby car dealership. Also, keep in mind that it wasn't even 9am, and that they would be giving away tickets until 10am. It took us about twenty minutes to even get to the front door to get our tickets.
It was extremely cold outside, but still worth it, to even have a chance at getting a bottle. Some people go their entire lives and never get a bottle, or some people's only chance is paying extravagant prices on the secondary market. Others have been on waiting lists for over a decade.
Buffalo Trace, which is the distillery that produces the Pappy bourbons don't release the exact number of bottles produced, but it is extremely limited. They estimate that there are around 6,000 to 7,000 cases of Pappy produced each year, which is around 72,000 to 84,000 bottles between all the different kinds of Pappy. Some people may think this is a lot, but it is just peanuts in comparison to Jim Beam, who produce 7 million cases each year, which is 84 million bottles. So, you are pretty lucky if you can snag a Pappy bottle, because the odds are not in your favor.
The bottles that were up for grabs at the lottery were:

via
There were approximately 1300 people there and probably around 200 bottles total. It took about two hours to give away every single bottle. My husband's ticket was one of the first 30 called. They still had the Pappy Van Winkle 20 Year when his number was called, so that's what he got. Since I still had my ticket, I stayed there patiently waiting to see if we were going to be lucky again and get a second bottle. Might as well, right? Well, it paid to be patient, because my number was called at the very end and I got the very last bottle. I then was given a bottle of Old Rip Van Winkle 10 Year.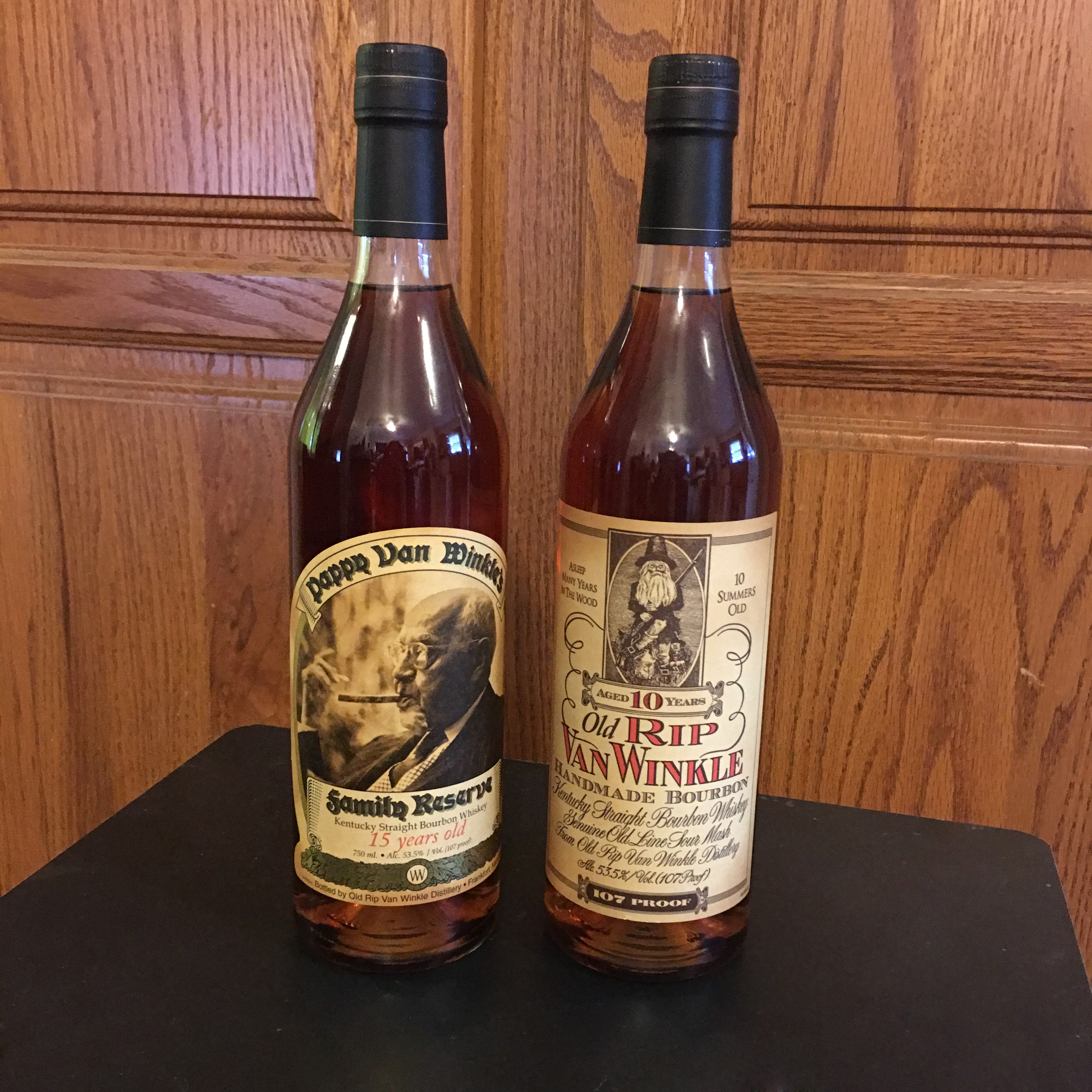 I thought it was so crazy that for the Buffalo Trace Antique Collection lottery, we won two bottles, and then for the Pappy Van Winkle lottery, we also won two bottles. What are the odds?!?! Talk about being lucky!
Some cool facts about Pappy:
Pappy was a real person, and his name was Julian P. Van Winkle. He first got into the whiskey business in 1893, when he was only 18 years old. Eventually, he became president of the Stitzel-Weller Distillery. While he was running the distillery, he kept a little sign up that said, "No Chemists Allowed." This referred to his philosophy that all you need to make good bourbon is Mother Nature and Father Time."
All bourbons are made with a mash that is at least 51% corn. Secondary grains are then added and are typically rye and barley. Pappy uses wheat instead of rye (thus making it a so-called "wheated bourbon"), resulting in a sweeter, fruitier end product, with notes of citrus and vanilla.
Crazed bourbon fans have paid up to $5000 for a bottle of Pappy. Even at some bars, a single pour is $80+.
Every three gallons of the Pappy Van Winkle 23 Year that is made fifty gallons are lost, due to "angel share."