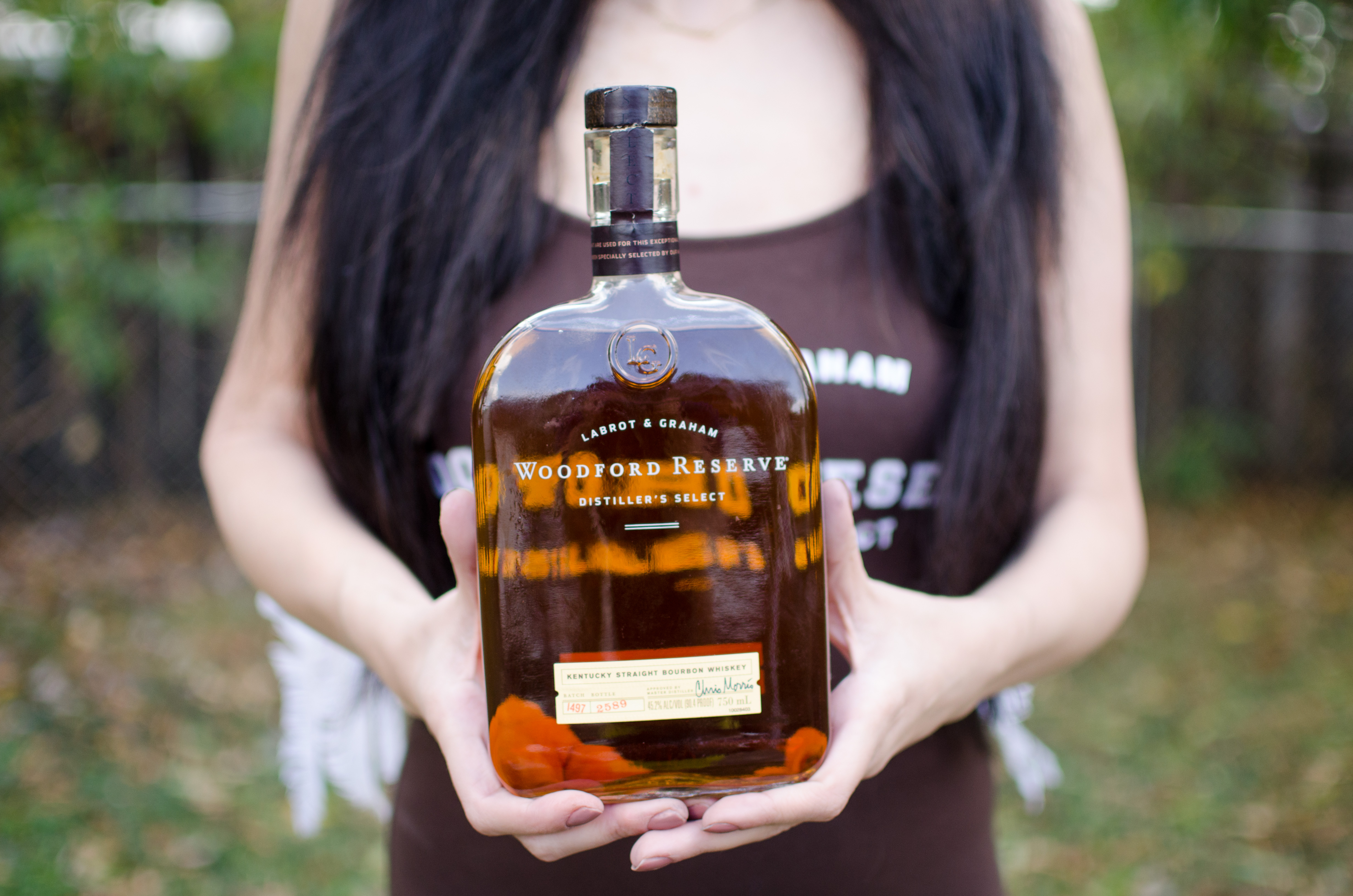 Obviously if you are reading this, then you know I'm a Proud Kentuckian. After all, my blog is called 'Fabulous in Fayette,' and is about anything related to Lexington and Kentucky. It definitely shouldn't come as a shock to anyone.
I love Halloween, and I love dressing up. Over the years, I would never put any thought into my costume. I would just go to a costume store and pay $60 to be a sexy whatever. Over the past few years, I wanted to wear more clever costumes, as well as creating my own with stuff that I already had or could use again.
In 2014, I went as Jessica Day from New Girl. I already dress similar to her and my hair was the same as hers back then, so it wasn't really a stretch. In 2015, I went as Pizza Rat from the viral video (which has 9.57 million views). Everyone (and even strangers) know me for my love of pizza. I mean, you should see the amount of pizza related apparel I own. I even own a pizza purse! In fact, in one year, I went to grand openings for four different pizza restaurants! Pizza Rat just fit and was perfect for me, since it was basically my spirit animal. However, it was in fact one of the most popular costumes of 2015.
So, in 2016, I wanted to top last year, and I wanted to do something completely unique and original. I didn't want my costume to be a copy or something that has been done to death. I was laying in bed one night, around September 25, and trying to decide what I wanted to be. All of a sudden, the idea came to me!
It was perfect! It combined my love of many things: being creative, Kentucky, bourbon, and it was a DIY project.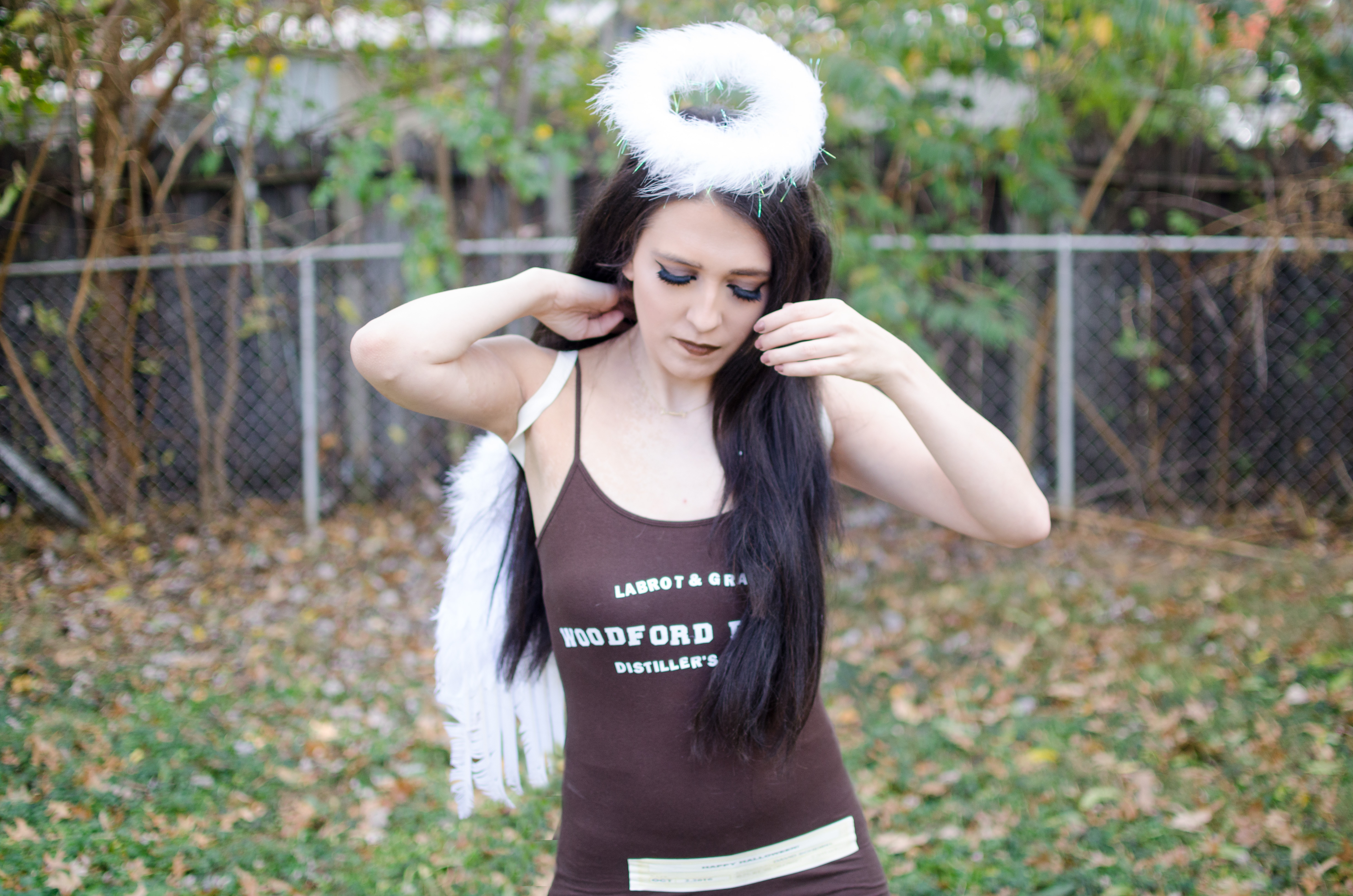 I decided to be 'The Angel's Share!'
95% of the world's bourbon is made right here in Kentucky, and it's home to many distilleries. For those that don't know the Angel's Share is a term for the portion of a distilled spirit, usually bourbon, that is lost to evaporation during aging, while in white oak barrels. It is called this, because it legendarily floats up to the alcoholic angels in the sky.
The alcohol level can also be determined by how much has evaporated. The proof is reduced as alcohol evaporates, or increases if more water is evaporating. Usually, there is a loss of about 2% of the total volume per year, but it can be more.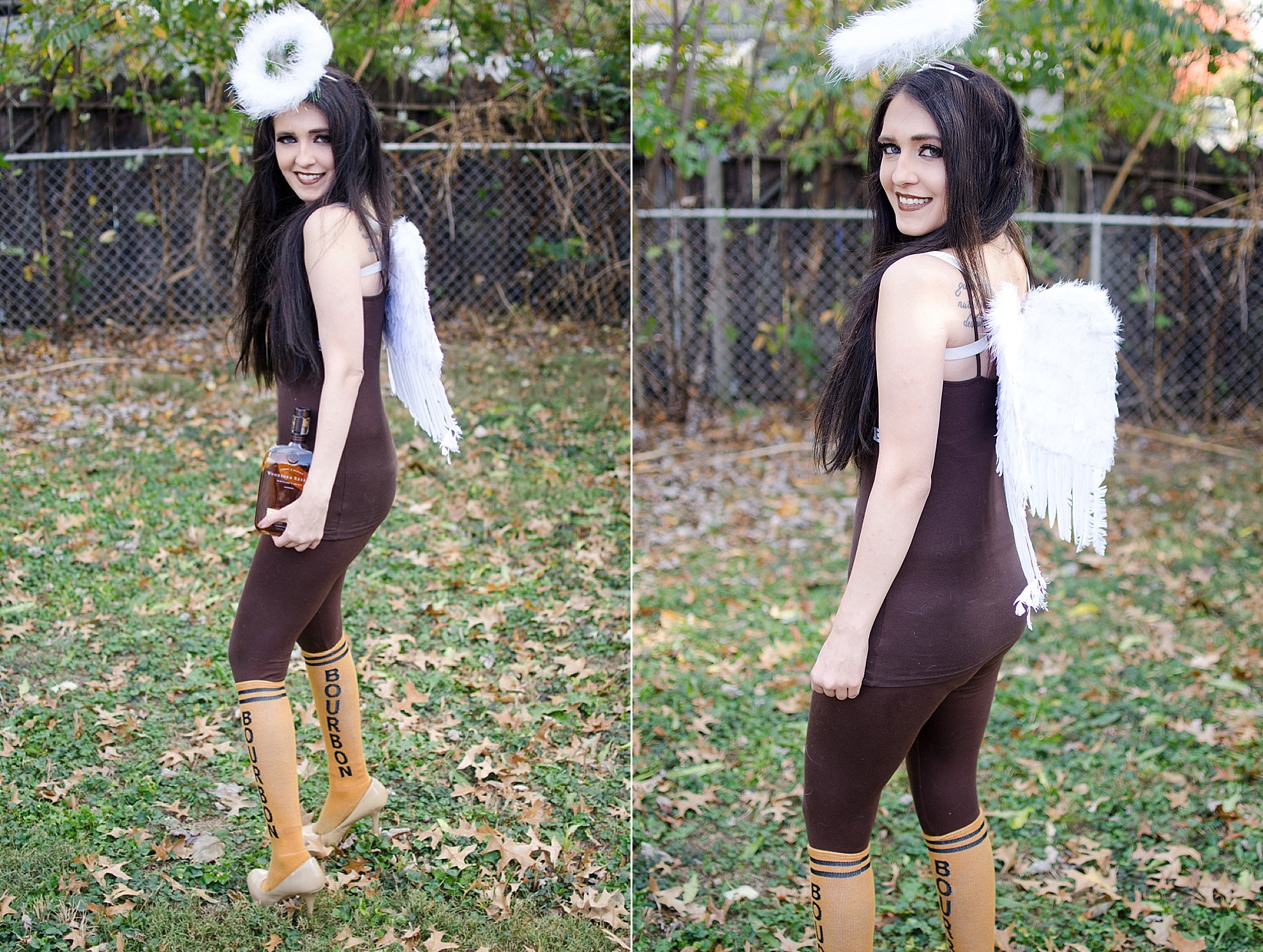 To put some things into perspective. These are the total % of evaporation loss from the Buffalo Trace Antique Collection (which I'll be discussing later this week):
William LaRue Weller 65.4%
Thomas H. Handy Sazerac 26.8%
Sazerac Rye 72.1%
George T. Stagg 75.99%
Eagle Rare 66.1%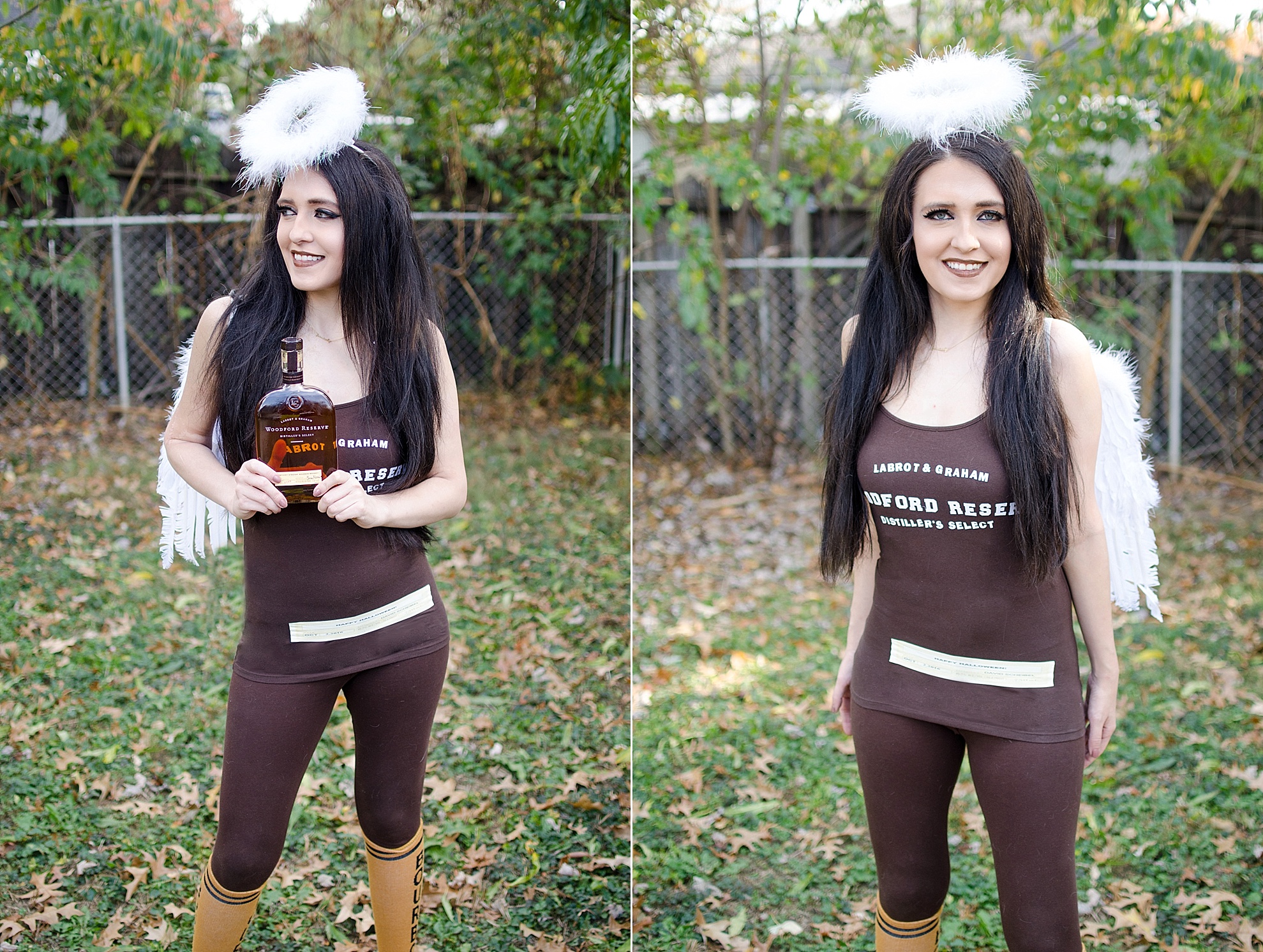 How I Put Together My Costume:
I chose Woodford Reserve, because it is one we drink often (we have many favorites), and it is our friend's group favorite bourbon. The bottle is so iconic and recognizable, and was extremely easy to replicate. I'm not an artist, so I knew I couldn't draw a design to match one of our other favorites.
I bought a spaghetti tank and leggings in brown from Wal-mart for $5 (the shirt was around $1.64 and the leggings were around $3.78), because it was ideal, since bourbon is brown.
I bought iron-on letters to use as the label on a Woodford Reserve bottle. I didn't see any shirts available to purchase. Plus, it was easier and cheaper to just DIY.
Woodford Reserve lets you make custom labels to use for gifts, which you can request for free from thier website. I wanted to make my costume as authentic as possible, so I ordered one to use on my shirt.
Once I received the label in the mail, I enlarged the size of it, and printed it on iron-on transfer paper (shoutout to my friend's mom for doing all the ironing and making sure it looked good!).
To complete the angel share look, I bought a halo and angel wings from Party City.
The night before the party, I still needed to add 'Labrot & Graham' and 'Distiller's Select' to my shirt, but my handwriting is atrocious and I didn't want to possibly screw it up. Last minute, I thought of a genius idea. Due to the fact I needed super small sized letters, I headed to the scrapbook section at Hobby Lobby and picked up a few packs. The stickers worked surprisingly well and stayed on the entire night.
I already owned my Bourbon socks, which I bought at Jim Beam back in June (but they also sell them at other various retailers, especially those that sell bourbon merchandise), and I paired them with my Steve Madden nude heels.
Finally, I finished my look off with my 'Kentucky' script necklace.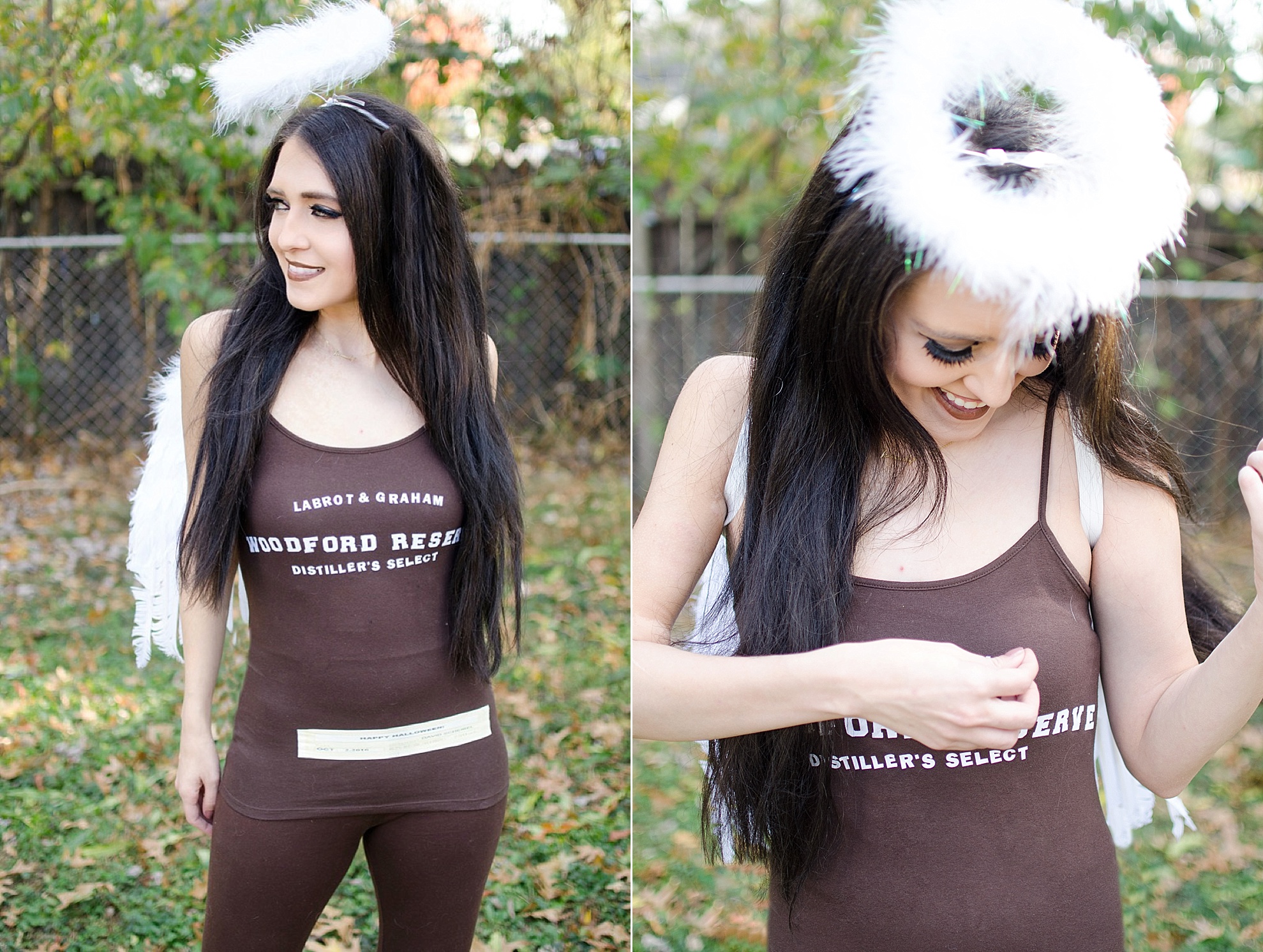 Happy Halloween everyone!