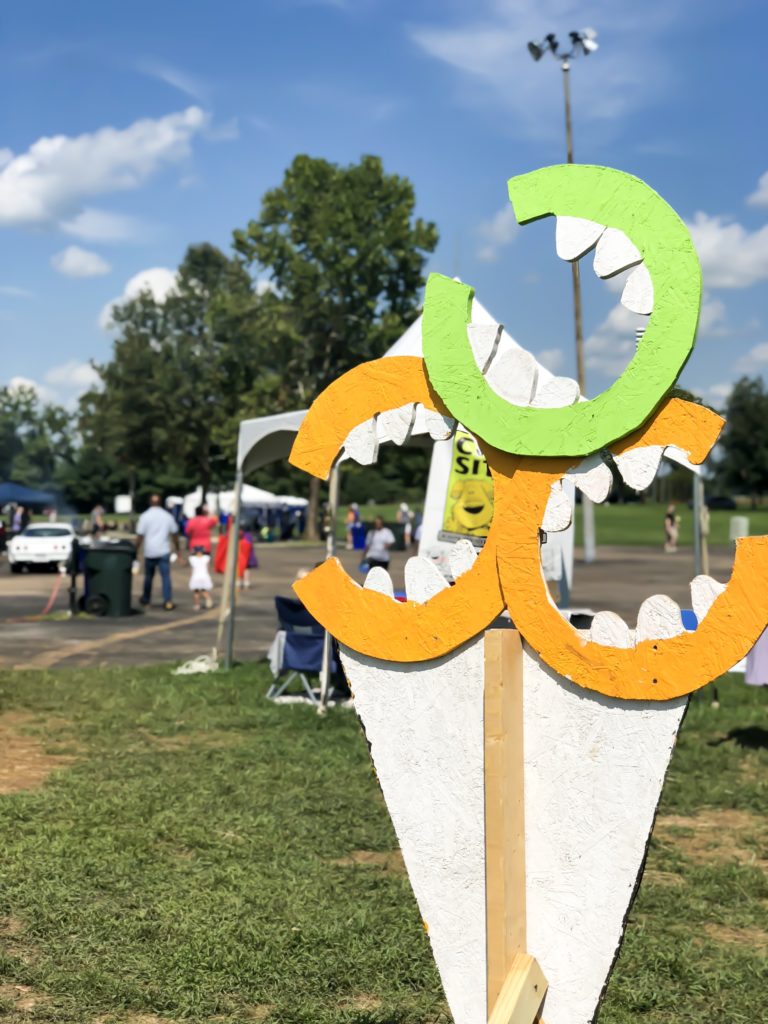 Crave Lexington is Lexington, Kentucky's signature two day food and music festival that has been occurring every year since 2013. This year marks the fourth year that I've attended. Crave celebrates locally crafted fare from more than 55 local food vendors. There's also music from over a dozen bands and even a classic car show. This year, Food Network Star Jason Smith made an appearance! The event was held on August 11 and 12 at Masterson Station Fairgrounds, which is one of the largest parks in Lexington at 660 acres.
Crave Lexington is produced by Smiley Pete Publishing, which is the the independent Lexington-based company behind Chevy Chaser and Southsider Magazines, Business Lexington, Lexington Burger Week, Bluegrass BBQ Fest, Lexington Pizza Week, Kitchens of the Bluegrass Tour, and tadoo.com.
It always seems to rain or at least have it in the forecast this time of year. This weekend wasn't any different. Crave is a rain or shine event. However, all the people that were there Saturday evening had to take shelter due to the storm. There was some rain and even some thunder and lightning. I'm not sure how long we stayed there, but everyone we encountered was so nice. The good thing about festivals like this and being in Kentucky, it's easy to make friends with strangers. The employees were great at keeping us informed with what was happening and even gave us all re-entry passes to come back tomorrow, since there was a rain delay. I was kind of bummed that our Saturday basically got cut short, but I was happy to come back again on Sunday.
[RELATED: CRAVE Lexington 2016]
When my friend and I entered the event, two people stopped me and asked if I wanted the rest of their Crave Bucks, because they were leaving and weren't going to use them. Of course, I said, yes!! (That was nice and I'm so thankful for that!)
I always tend to get super overwhelmed by the options and wander around aimlessly. There are so many choices! I want to be sure I don't get so full that I can't use all my tickets, and I also want to be sure that I eat at many places! I always use Crave as an opportunity to try out new restaurants, and of course, to support my favorites!!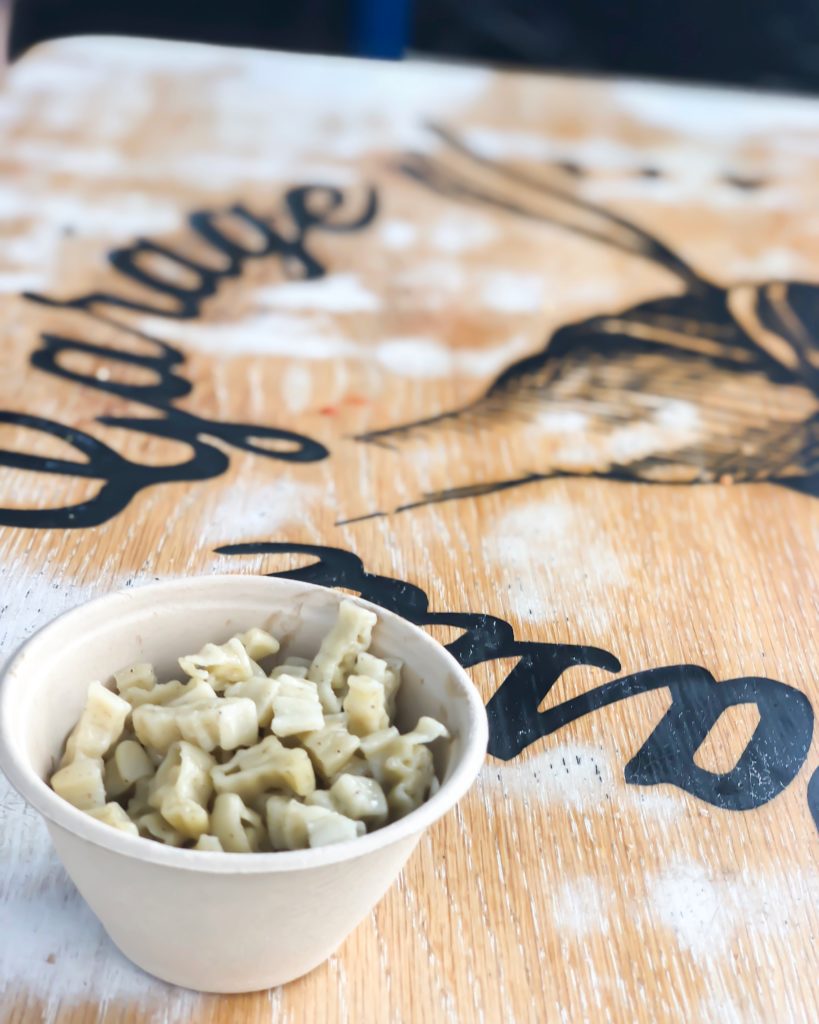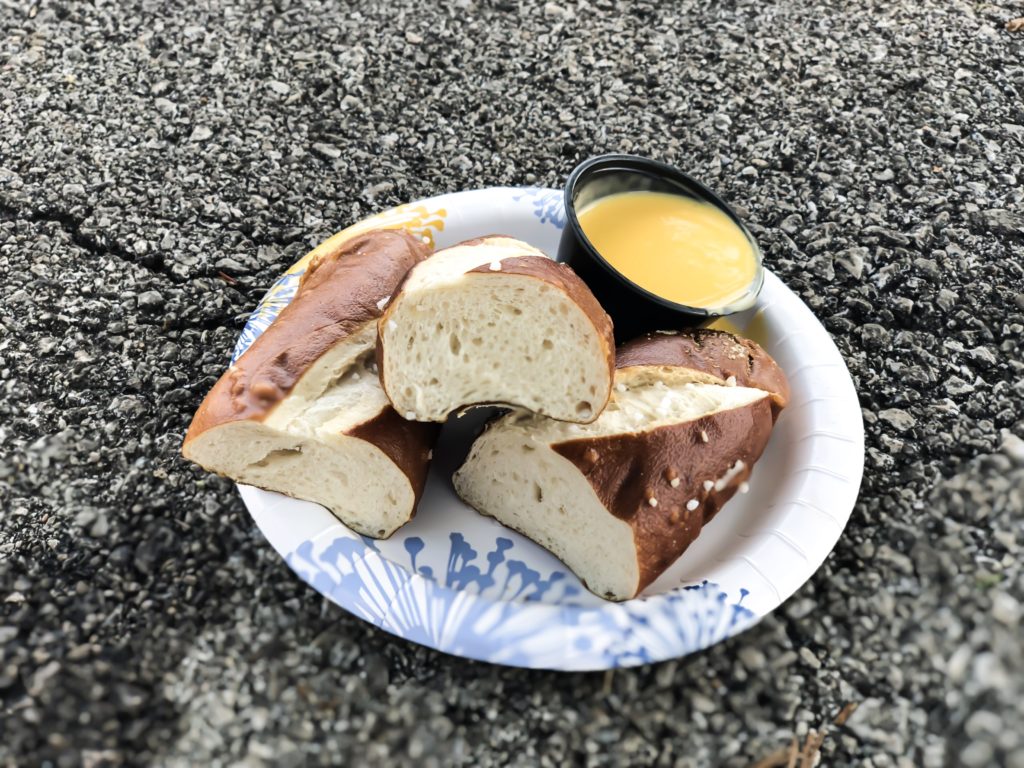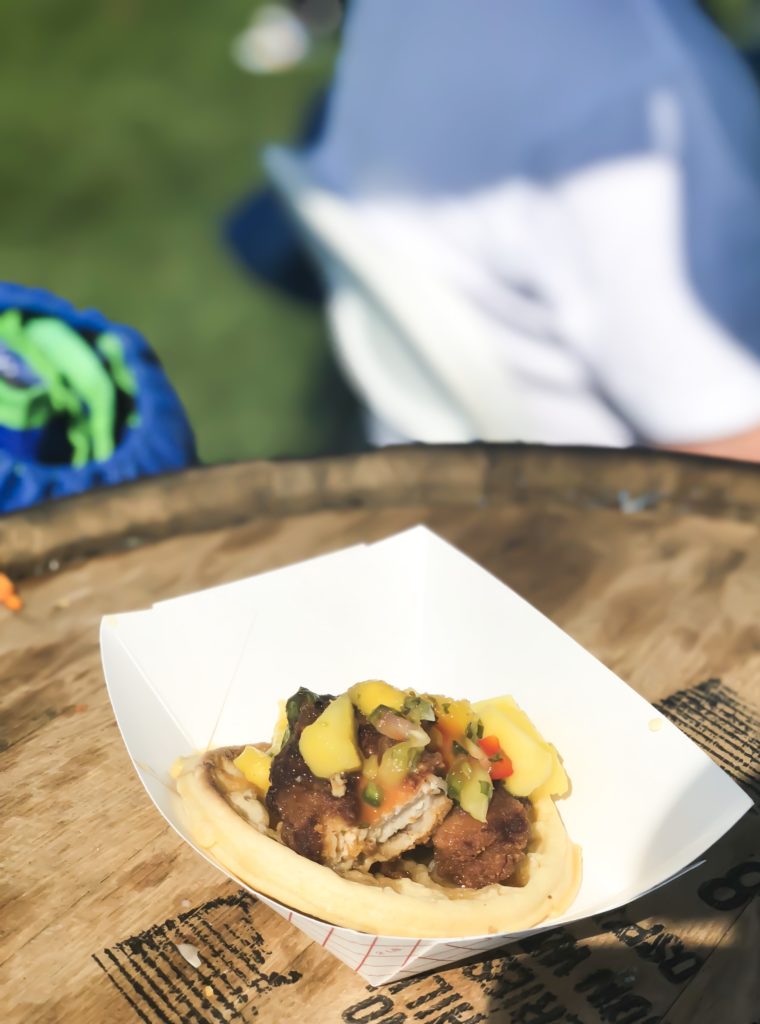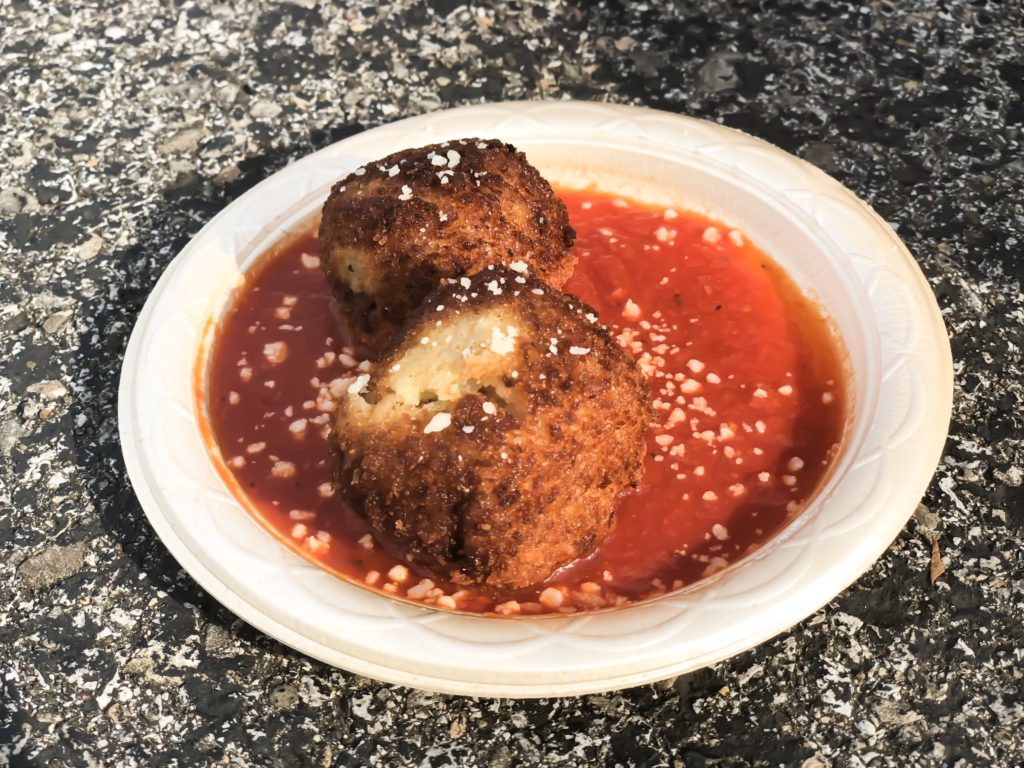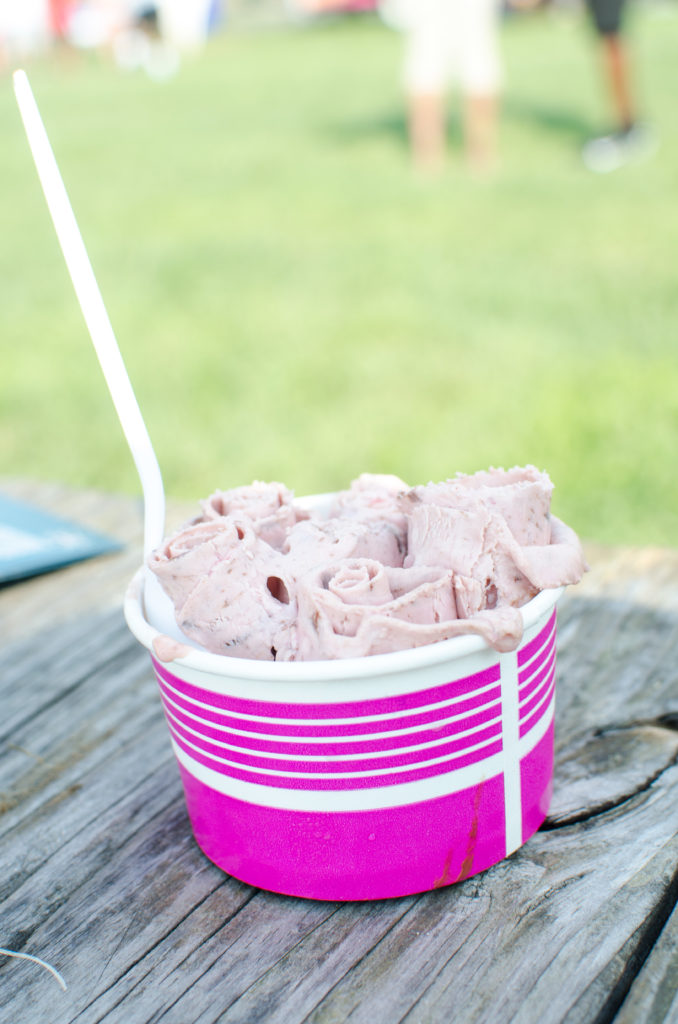 Here are some of the things I purchased… I wanted to try more but it was so hot out and I got full fast! But at least I have gotten ideas of places that I can go and try for lunch or dinner!
Mimi's Southern Style Cooking – Mac and Cheese
Pollo: A Gourmet Chicken Joint – Baby Mama Chicken Sandwich (Grilled Chicken on Buttered Bun with a fried egg, American cheese, and the sauce of your choice. I chose the Maple Bourbon sauce).
One World Ice Cream – Strawberry and Nutella Rolled Ice Cream
Pasta Garage – Arancine (Rice and cheese balls)
ACA Cakes – Cookie Dough Cups (Egg-free ready to eat chocolate cookie dough)
Pasta Garage – Kentucky Buttered Noodles Infused With Hemp
Sweet Lilu's – Coconut Cream Horn
Eddie's Roasted Corn – Corn
Old Kentucky Kettle Corn – Kettle Corn
Chef Doug's Gourmet Food – Seasoned Fries
Ted's Montana Grill – George's Classic Cadillac (Certified Angus Beef, BBQ, Cheddar, and Smoky Bacon)
Bru Burger – Soft Pretzels and Beer Cheese
Sav's Chill – Ale 8 Sorbet
Texas de Brazil – Bacon Wrapped Chicken
Fida's Carribean Cafe – Chicken N' Waffles
Which restaurant or which food item was your favorite?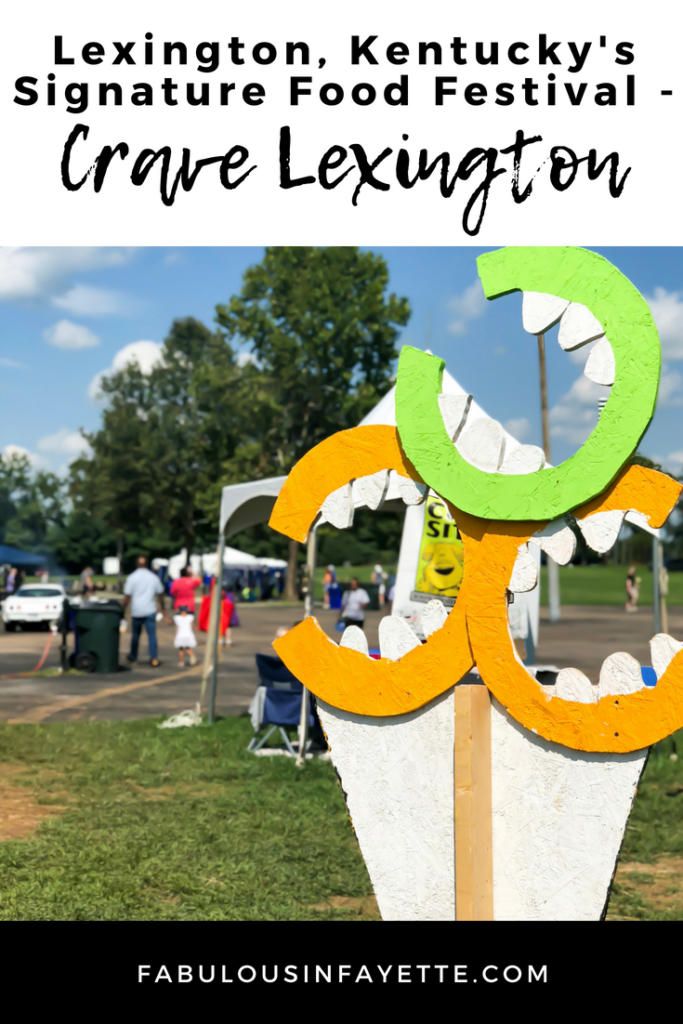 How much does it cost?
Admission is $8. Children 10 and under are free. Parking is also free.
Vendors will offer items that cost $2, $3, and $5. You can purchase your Crave bucks in advance or you purchase them at the Crave Bucks tent inside of the event. Remember this is how you will pay for food and drinks. $1 = 1 Crave Buck.
Beer is usually $5 to $8 and cocktails and wine are usually $7 to $10.
How many Crave Bucks should I purchase?
Crave suggests $30 for the average adult. They suggest $15 to $20 per child. For an average family of four, they suggest $100.
Did you know Crave Lexington supports a charity?
During the festival, Crave partners with several charities. GreenHouse 17 receives the largest portions of the festival proceeds out of all their non-profit partners. GreenHouse17 is formerly known as the Bluegrass Domestic Violence Program. It is an advocacy agency committed to ending intimate partner abuse in families and the community. Crave Lexington has contributed $57,000 to GreenHouse 17 and $3,580 to the HomeBuilders' Care Association. At Crave this year, Dress for Success will also benefit. Crave also offers discounted booth space to nonprofits with missions to provide food to the hungry or underprivileged.
What can kids do there?
Crave Lexington is a family-friendly event with lots of activities for every age group! Crave has Inflatables, games, face painting, giant board games, books and kids' art projects , and much more. Live Green Lexington and On the Move Art Studio will also offer no-charge activities. Be sure to visit Crave's website, so you can see the full list of activities that they'll offer.
Be sure to put Crave on your calendar for next year!!