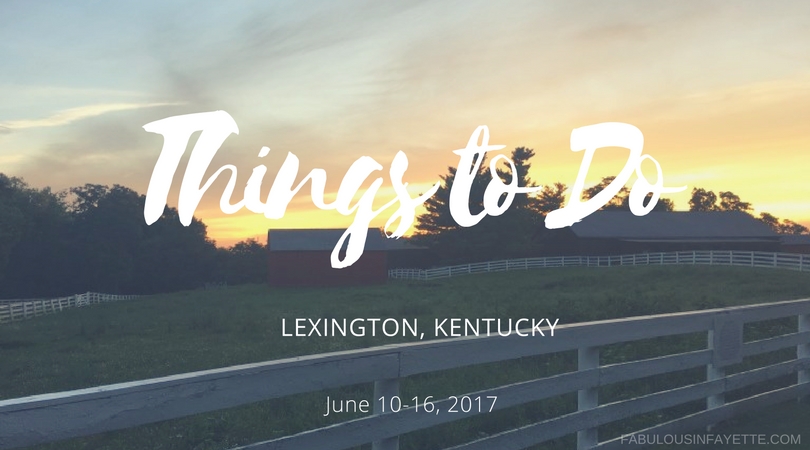 Sorry, y'all that this post was a little late and there isn't much notice on "Things To Do" for Saturday, June 10. Thursday was absolutely the craziest and longest and stressful day (full moon, anyone?). Sorry, this isn't a complete list like the others (I'll try to add more events as the week goes on!) However, as a bonus, I've included some very popular events happening outside of Lexington from June 10-16 that I know you will enjoy.
SAVE THE DATE: June 14 is National Bourbon Day! On May 4, 1964, Congress declared bourbon "America's Native Spirit." This means that to be called bourbon, it must be made in the United States (but everyone knows that means Kentucky).
Every Friday, I plan on sharing "Things to Do" in Lexington for the upcoming week. This is not a complete list of "Things to Do," as there are many events constantly being added, it would be impossible to keep up  with all of them.
For the week of June 10 to June 16, I've added over 125+ events happening just in Lexington. If you click on the link, there will be more information, such as the address and whether or not, tickets are required.
Disclaimer: I'll do my best to share the events that I know about. Tickets may be required to some events – I've indicated some but not all, and some may be sold out after this post goes live. Be sure to click on the link for more event details. This post will be written a week prior and won't be updated after posting.
Things to Do in Lexington, Kentucky: Week of June 10-16, 2017
Saturday, June 10
Sunday, June 11
Monday, June 12
Tuesday, June 13
Wednesday, June 14 – FLAG DAY AND HAPPY NATIONAL BOURBON DAY!!
Thursday, June 15
Friday, June 16
Popular Events and Festivals Happening Outside of Lexington (not a complete list):
Saturday, June 10
10am: 9th Annual Beer Cheese Festival in Downtown Winchester
Sunday, June 11
There are many events that recur every week for 'x' of months throughout Central Kentucky. For a detailed list, click here. There are over 272 events on this list, which is different than mine!
Hope y'all have a good weekend!