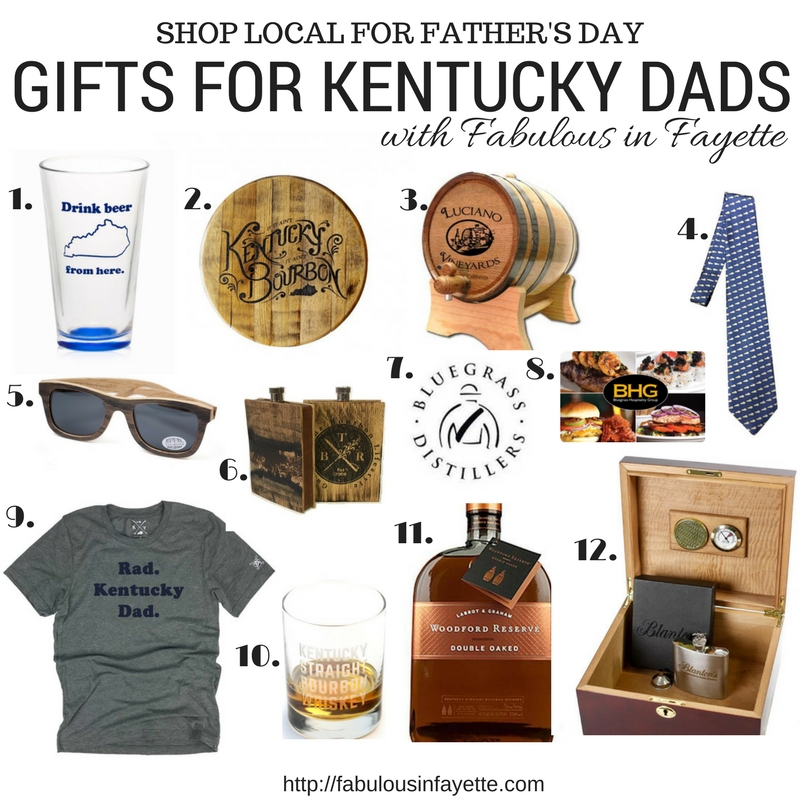 Can you believe we are almost halfway through June? Seriously, where is this year going?!? With Father's Day coming up, I figured I would put together a gift guide for your dad (also, ladies this will be good for your husband as well!) Like always, I have included products from local shops and all the items are Kentucky themed.
If you don't know already, shopping local is extremely important to me! I've sure if you live in Kentucky, especially Lexington, then you probably have noticed the movement, Kentucky Proud. Not only can you find these products in stores, but lots of local restaurants are part of the movement too. Local restaurants also use Kentucky Proud products since lots of the meats, vegetables, fruits, and ingredients are from nearby farms (Next time you are at a local restaurant, take a look around and see if you can find that information. Most will state on their menu or perhaps will have a sign, like The Local Taco does). Not only are their local boutiques to shop at in Lexington, but we also have many opportunities to shop at various pop-up markets throughout the year, such as; NoLi Night Market, Market 301, and The Distillery Market.
Don't know what to get dad? Well, I complied a list to make it easy for you! Most gifts are bourbon-related though. We are in Kentucky after all!
1. Drink Beer From Here Pint Glass: If your dad loves beer, then this would be perfect for him. We have so many breweries in Lexington, such as Mirror Twin Brewing, Blue Stallion Brewing Co., West Sixth Brewing, Country Boy Brewing, Pivot Brewing, Rock House Brewing, Ethereal Brewing, and that's just to name a few. It would be hard to drink beer elsewhere with all of these local options.
2. If It Ain't Kentucky, It Ain't Bourbon Barrelhead: This would be perfect for the man cave. Us Kentuckians know that if it isn't made in Kentucky, then it isn't bourbon. After all, 95% of the world's bourbon is made here. (It's sort of a joke among bourbon drinkers. Not to be confusing to non-bourbon drinkers, but bourbon can be made outside of Kentucky, but it has strict federal regulations that it must meet to be called bourbon).
3. Customized American White Oak Barrel: This would make a great gift, because you can customize it with whatever you want you want to say. It comes in a variety of sizes; 1 liter, 3 liters, 5 liters, and 10 liters. You can use it as decoration or you can fill it with your favorite spirit (whiskey, scotch, bourbon, rum, cognac, tequila, or any other spirit that benefits from aging).
4. State Tie: I'm sure wearing this, he will turn lots of heads.
5. Bourbon Barrel Sunglasses: Bourbon barrel accessories seem to be all the rage, especially since bourbon keeps rising in popularity. These sunglasses are made from Kentucky bourbon barrels. The lenses are polarized and the sunglasses are a wayfarer style.
6. Bourbon Barrel Wood & Buffalo Hide Flask: When I attended day two of three for Kentucky's 225th Birthday Bash, I was able to see this product in person! It's really well made and would be great for any bourbon lover. It's a stainless steel flask that is wrapped in authentic spent bourbon barrel wood and finished with nomadic buffalo leather. The back has The Bourbon Review crest and was made using the toasted charred inside of the barrel. You get more of the classic look of a barrel on the front.
7. Distillery Tour at Bluegrass Distillers: Why not visit one of the local distilleries and see how bourbon is made? Each tour is really informative and goes through each step throughout the process. At the end, you'll be able to taste some bourbon and try their bourbon cake (Tickets are on sale in bundles; 1 person, 2 people, and 4 people).
8. Gift card to the BHG (Bluegrass Hospitality Group) restaurants: If you buy a card for the BHG restaurants, you will be able to use it at any of their restaurants, which include Malone's, Drake's, Harry's, Aqua Sushi, or OBC Kitchen. Malone's is one of my favorite restaurants, and they are in the top ten for steakhouses in North America. Harry's has the coolest patio, and OBC Kitchen is known for their variety of bourbon and their bacon in a glass. OBC Kitchen is having a Maker's Mark Father's Day dinner on Father's Day. You can see the menu and reserve a table, by clicking here.
9. Rad Kentucky Dad Tee: Tell the world how cool your dad is with this tee!
10: Kentucky Straight Bourbon Whiskey Glass: If you are going to buy a bottle of bourbon for your dad, then he needs to have a glass to drink it out of!
11. Bottle of Woodford Reserve (or his favorite bourbon): Liquor Barn is a great place to look if you are wanting to buy a bottle of bourbon. They carry over 200 different bourbons, and that's not including whiskey.
12. Blanton's Humidor and Flask Gift Set: This set has an in box humidifier and hygrometer. For those who may not know, a humidor is a box or a room with constant humidity to store cigars, cigarettes, or pipe tobacco. A hygrometer is an instrument used for measuring water vapor in the atmosphere. It also comes with a stainless steel flask that is engraved with the Blanton's logo and topped with the Blanton's signature horse.
Shops featured in this gift guide: Shop Local KY, Kentucky For Kentucky, Bourbon Outfitter, Kentucky Branded, Groupon, and the Bluegrass Hospitality Group (Malone's, Drake's, Harry's, Aqua Sushi, or OBC Kitchen)