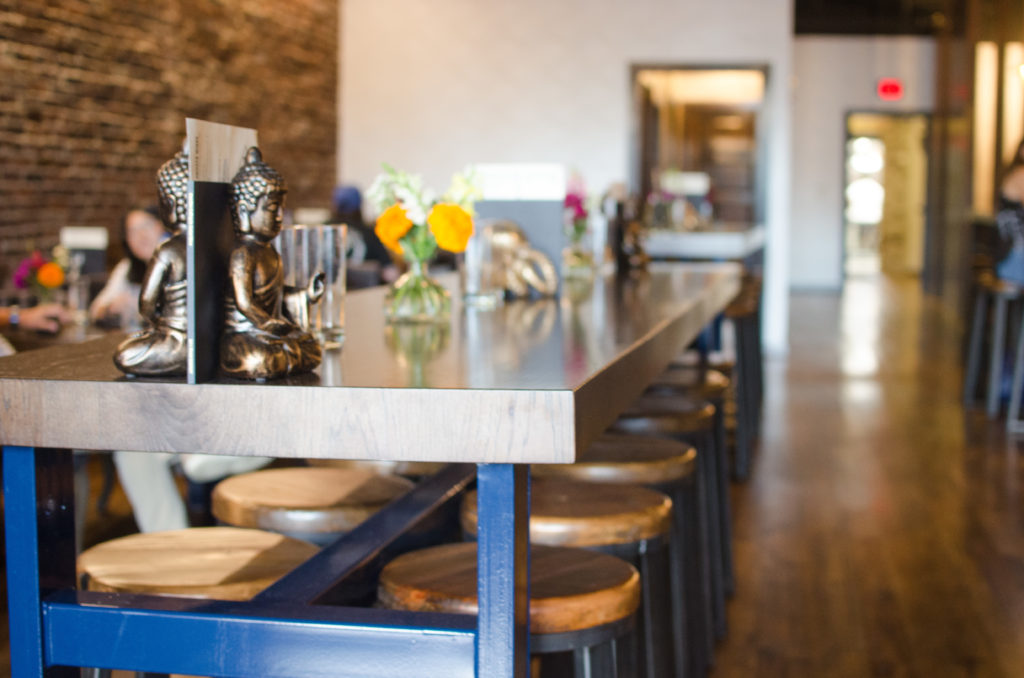 On Monday, the #lexbloggerfam didn't have a case of the Mondays, or if any of us did, it was cured with a night at West Main Crafting Company. West Main Crafting Company is located on none other than West Main Street in downtown Lexington, Kentucky (specifically 135 West Main Street). Fellow blogger, Tiffany at Bright on a Budget is friends with the owners and they all set up this wonderful blogger night, so we could enjoy some girl time, refreshing cocktails, and yummy eats.
West Main is almost like a throwback to an era from the past. From the moment you step through the door, it's like you are transported to another world. It's upscale and classy and has a different ambiance in comparison to the loud, party bars (and there's nothing wrong with that either!) Here's a description of the vibe, so you can get a feeling of the atmosphere:
"The colonial era American taverns and inns were a welcome pit stop for hungry, weary travelers. Tavern keepers entertained their guests with rustic comfort food, homemade ciders, and pastoral mixed drinks, crafted out of whatever ingredients they found in their gardens. These forerunners to the modern bartender were half-chef, half-showman. We revive those traditions."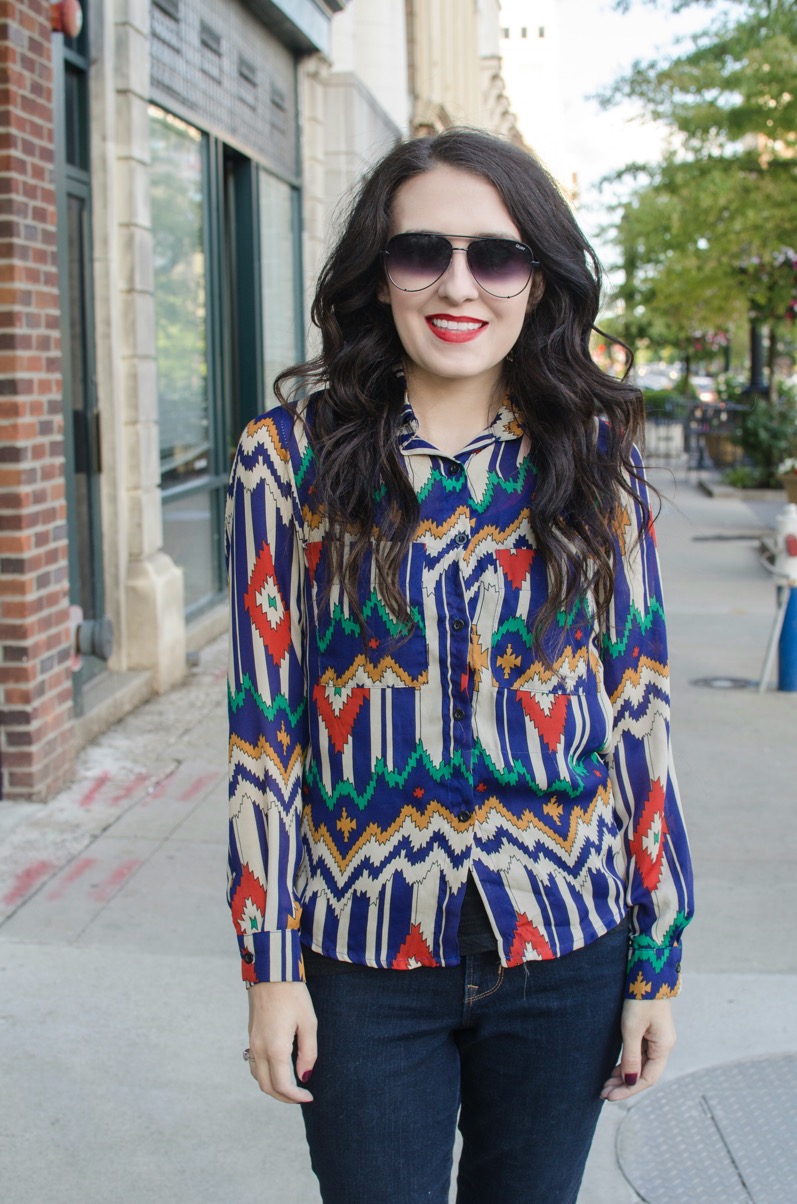 Of course, when you get a group of bloggers together, it wouldn't be complete without a little impromptu photo shoot for about thirty minutes before going inside.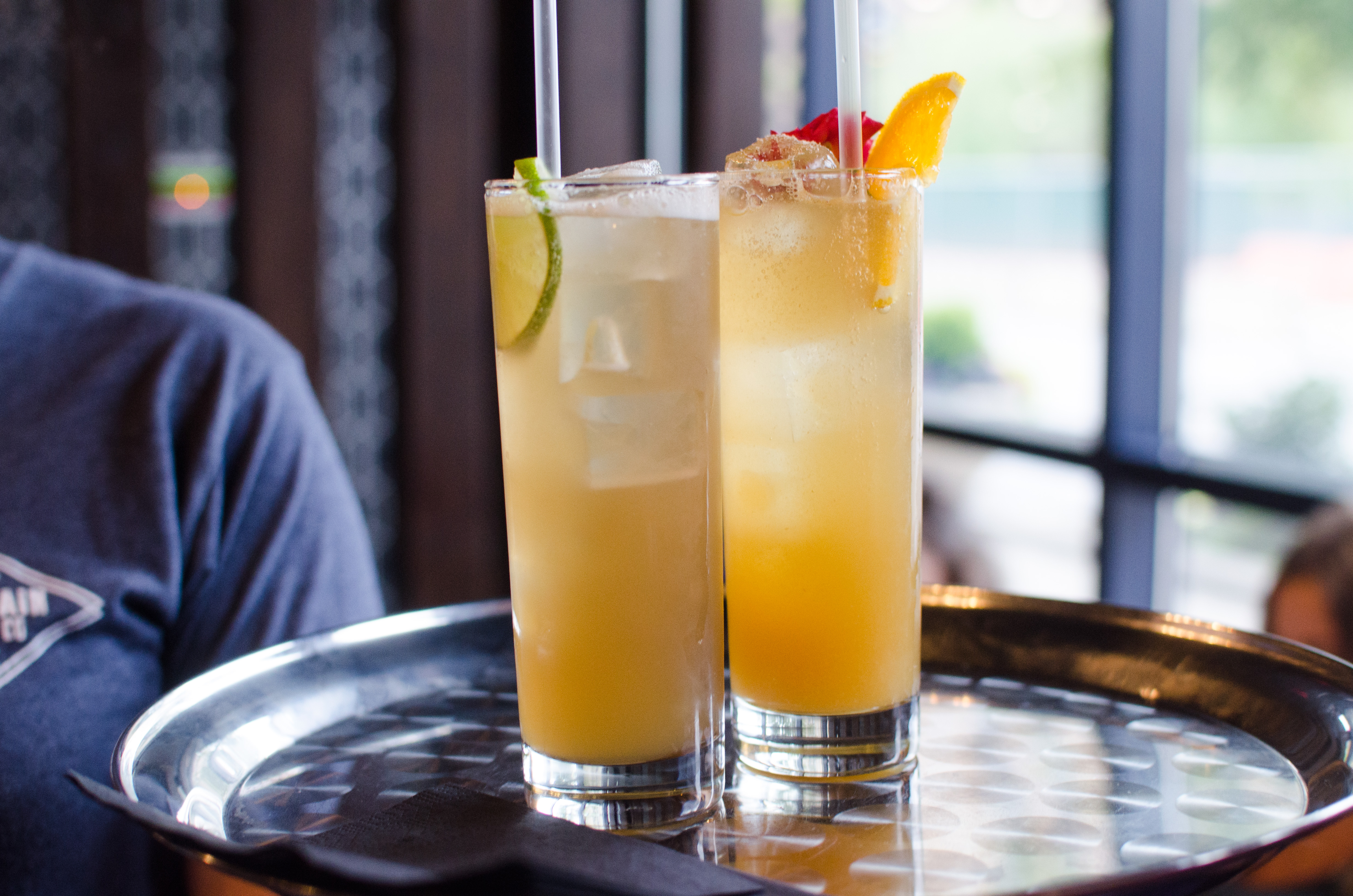 After heading inside, we grabbed the section with their fourteen foot Chesterfield sofa. I immediately grabbed the booklet that has all of their featured cocktails, which has amazing photography and was organized by categories. I can promise you that you haven't seen anything like this before!
The Categories:
Standards: The craft of bartending is more than a waxy mustache. Rather than pouring obscure and hard-to-pronounce ingredients from the back bar, we approach taste and flavor the same way as our head chef. We think of our cocktails as culinary-inspired creations, and we want you to find new, unexpected flavors even in drinks you already understand and enjoy.
Barrel-Aged Cocktails: For centuries, creative winemakers and beermakers used wooden barrels to infuse their products with flavors. By putting our cocktails into oak barrels, we're extracting tasty organic compounds such as vanillin and caramelized sugar, as well as slowly oxidizing our ingredients, creating a softer taste.
Fresh Citrus: The key to a perfect cocktail is fresh citrus. Whether we're using clementines or kumquats, pomelos or tangerines, our citrus fruit is sourced from the best purveyors. We juice our lemons and limes daily before service, and we use leftover fruit to craft lemon-scented oils and citrus-based infusions.
Into the Woods: We believe cocktails should be a culinary pursuit. We strive for originality and innovation. These wood-treated cocktails are intellectual yet playful, and they are inspired by the wonderful flavors found in the many trees around us, from softwoods, like cedar, to hardwoods, such as birch, hickory, and oak.
Preservation: Food preservation is an integral part of our beverage program. By salting, sugaring, drying, pickling, and canning fruits and vegetables, we can serve summer ingredients during the winter months. To capture those complex flavors in our cocktails, we craft "elixirs," compound syrups preserved with the addition of acids, sugars, and high-proof alcohol.
Punch: Punch is perfect for sharing with friends. Our Punches are based on classic eighteenth-century recipes, starting with oleo-saccharum, a mixture of cane sugar and citrus peels. The sugar leeches natural oil from the peels, creating an oily, fragrant syrup, which we top off with fine spirits or wine, tea, water, ground spices, herbs, flowers, and fresh-sliced fruit.
*descriptions of the categories came from West Main's website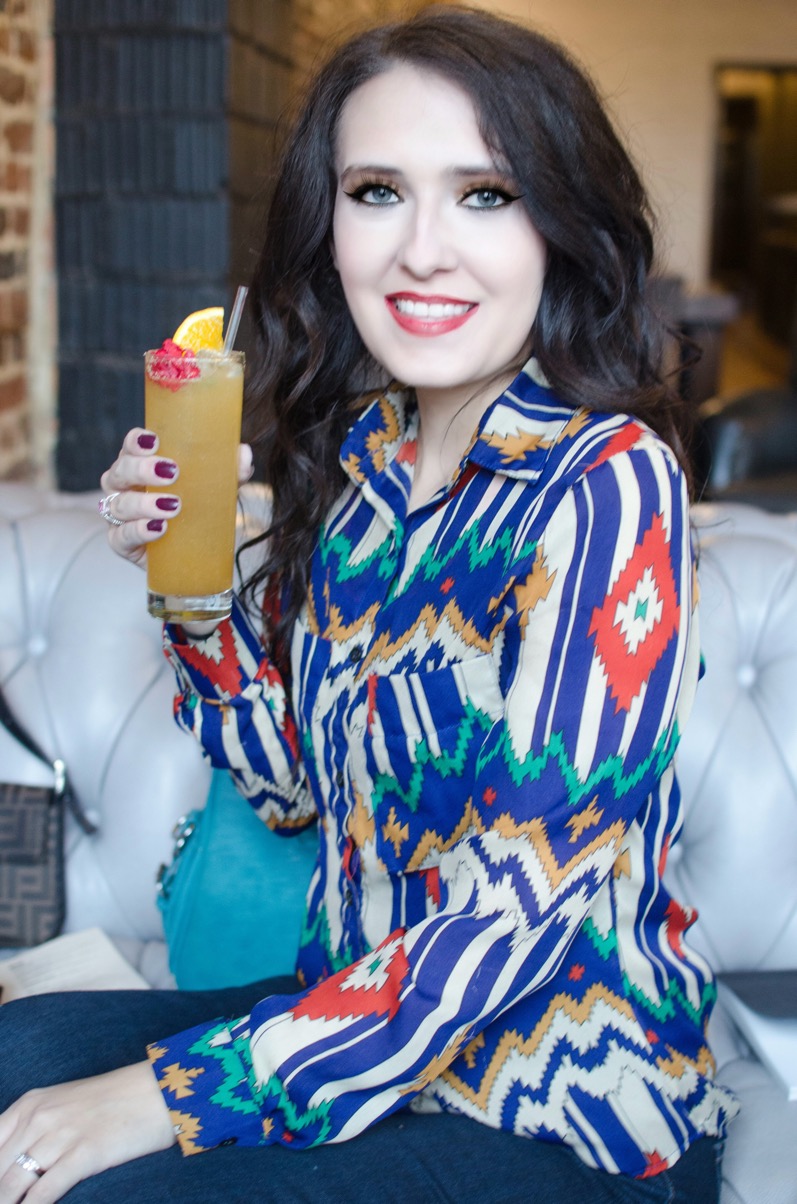 I chose one of their Preservation cocktails called Orange Soda Pop. There were so many appealing options that I'm sure you couldn't have gone wrong, no matter what you went with. I was eyeing the Orange Soda Pop, because umm… hello? Bourbon. The Orange Soda Pop has Kentucky bourbon whiskey, demerara rum, orange falernum, acid phosphate, orange bitters, and soda water (and yes, that IS a flower in my drink!).
What are those ingredients?
I'm sure we all know what bourbon is, but if not, check out my post, Bourbon 101: Starting With The Basics (because bourbon and whiskey are not the same thing!)
Demerara rum is a type of rum made on the northern coast of South America in Guyana. It has a smoky, almost burnt flavor.
Falernum is a sweet syrup used in Caribbean and tropical drinks.
Acid Phosphate is frequently used to add a sour punch to a drink
Orange bitters are a form of bitters, which is a cocktail flavoring that is made from the peels of Seville oranges, cardamom, caraway seed, coriander, and burnt sugar in an alcohol base.
Soda water is just another term for carbonated water.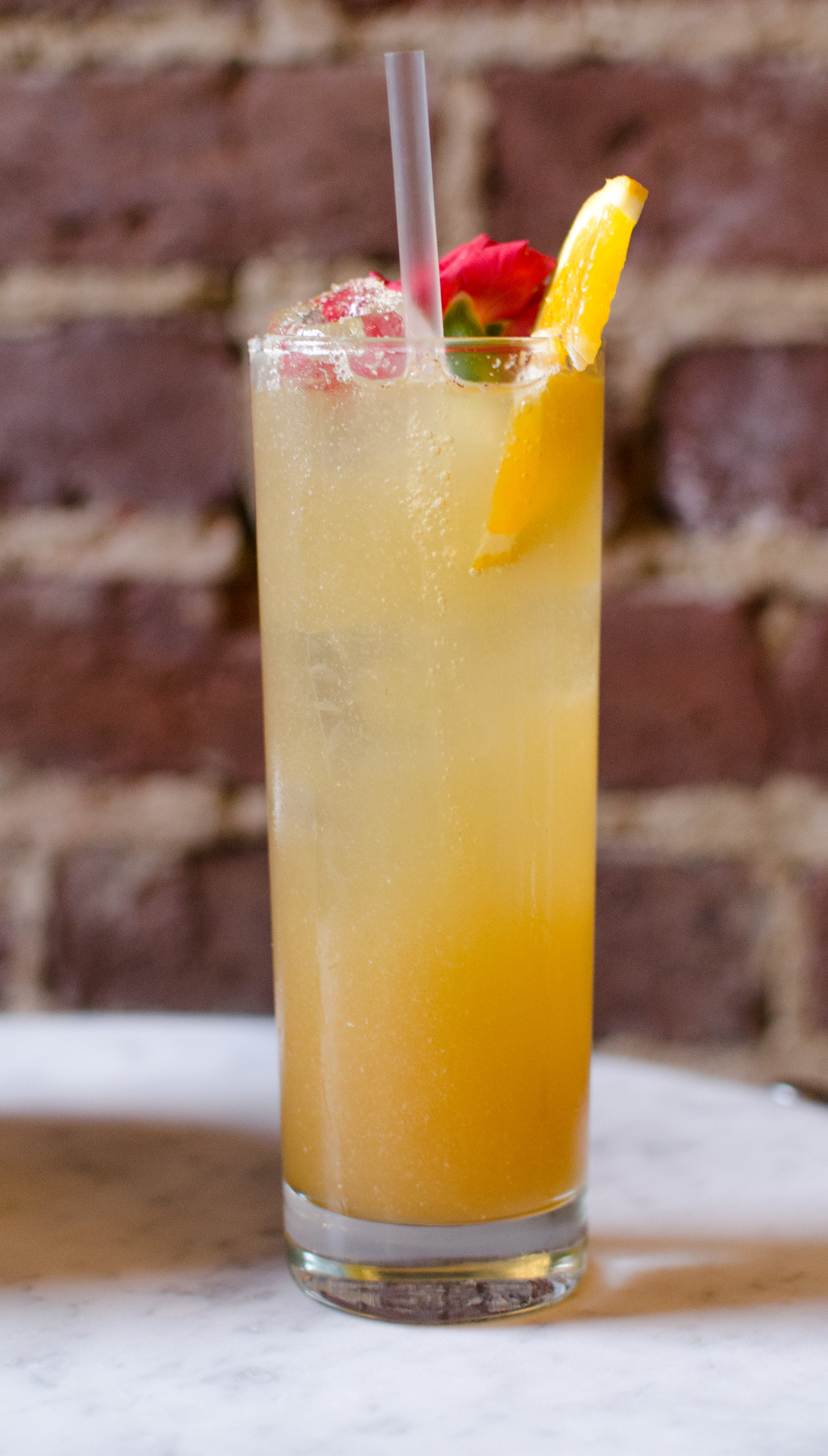 Not only do they get their ingredients locally for their dishes, but they do the same for their cocktails!
"Our bartenders create cocktails from fresh, local ingredients, and our farm-to-shaker commitment means you get authentic drinks instead of fussy fads. Like the bon-vivants of the past, we craft our own sodas, syrups, cordials, tonics, tinctures, infusions, and bitters. At West Main Crafting Company, we treat every cocktail as a visual, aromatic, and gastronomic event."
West Main Crafting Company also has vegan friendly dishes!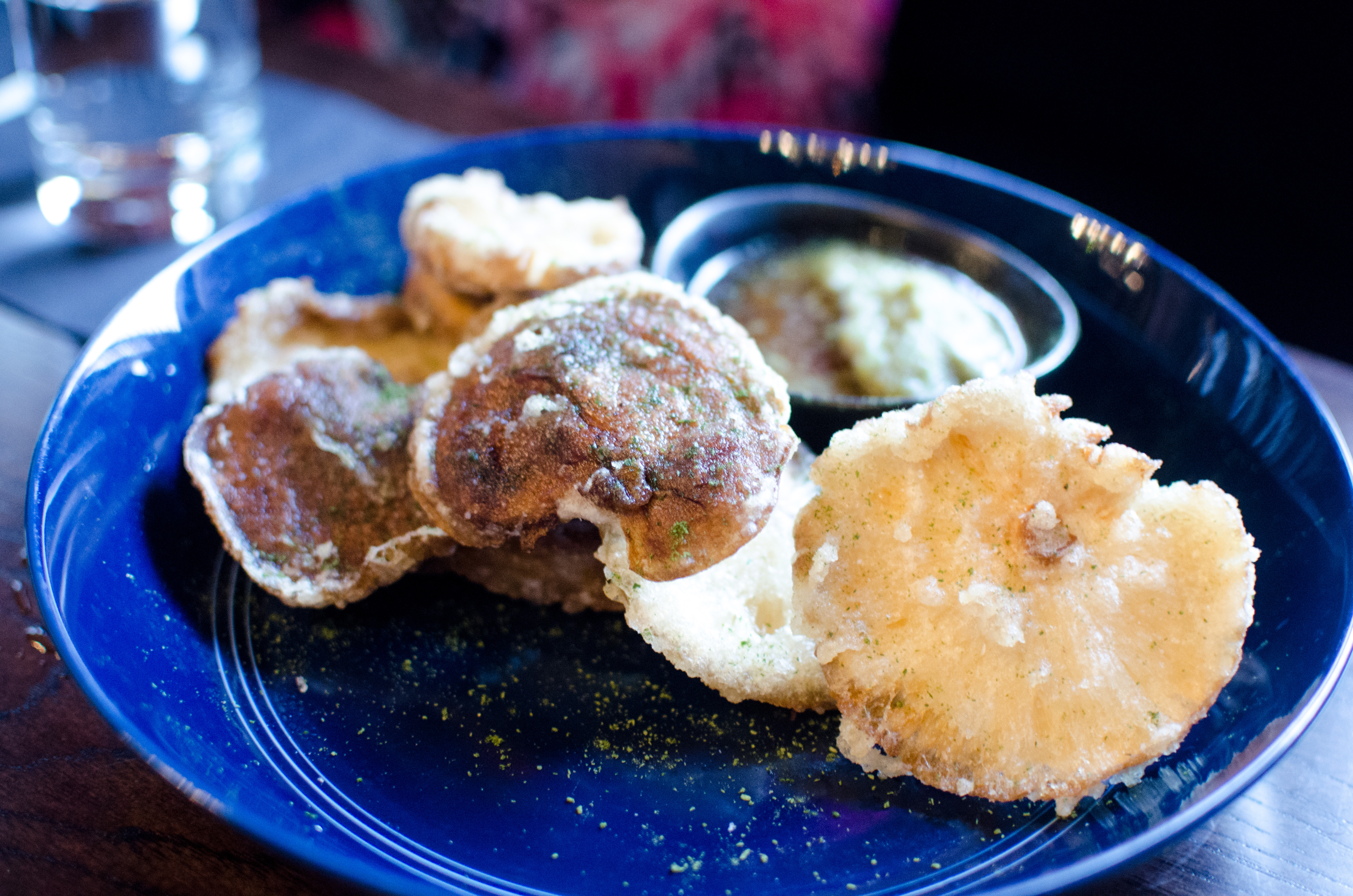 While we were sipping on our cocktails, the food began to come out…
Everything looked so amazing! Check this dish out: These are the Fried Washington County Shiitakes (tempura, green strawberry kosho, and ramp teriyaki).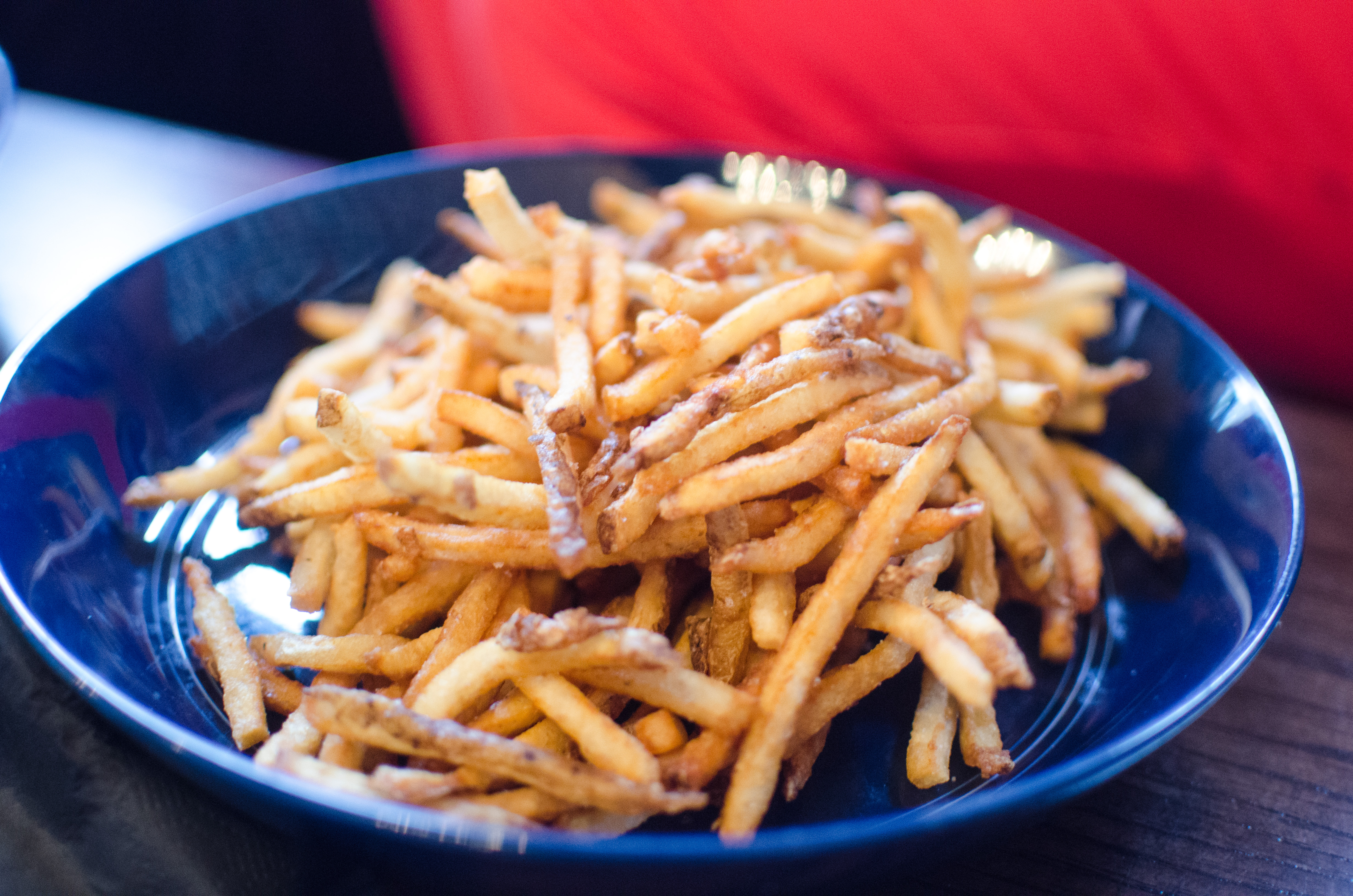 Of course, there are french fries. These are their shoestring fries with smoky aioli and had that perfect crunch!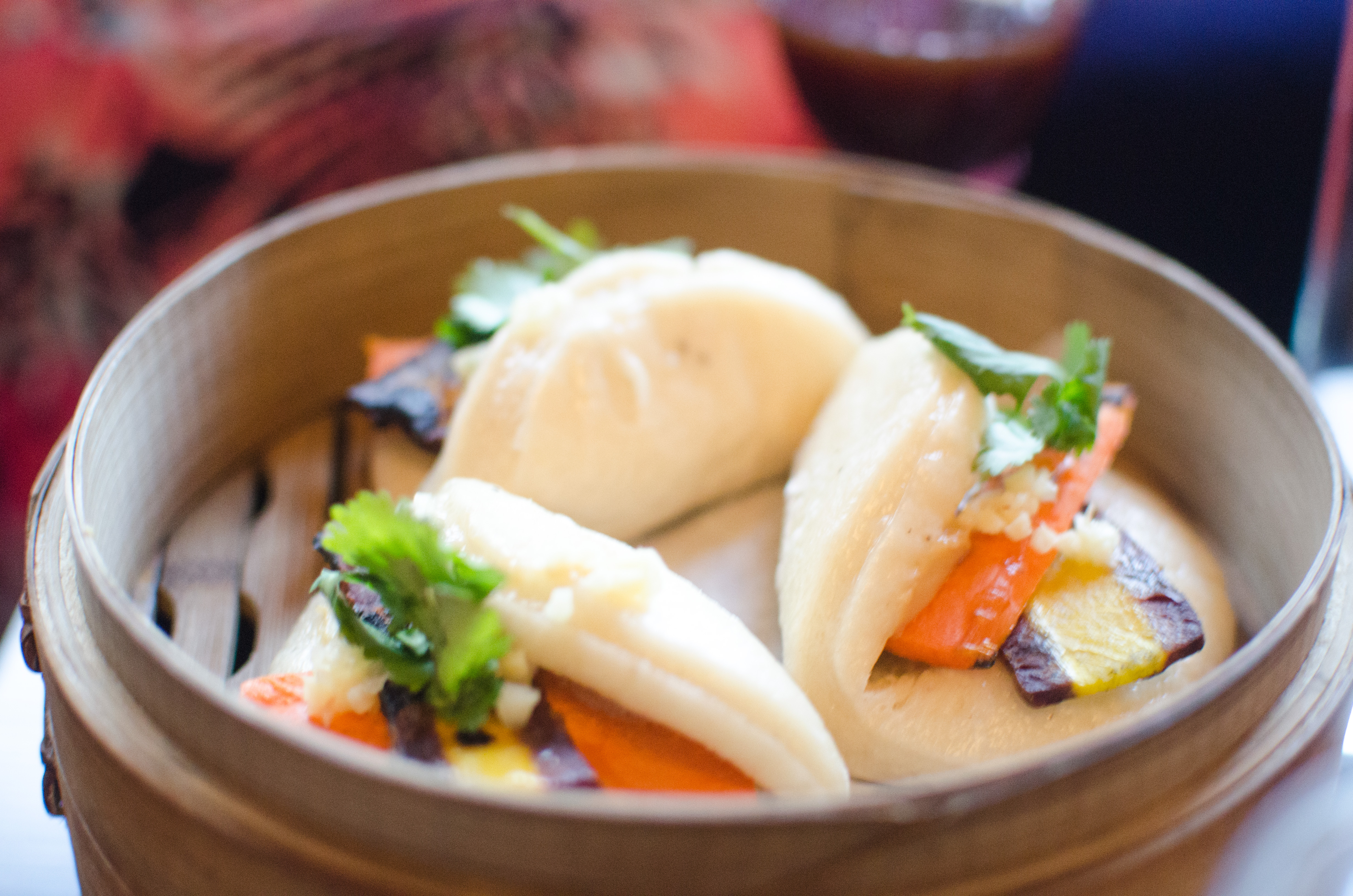 These are their Steamed Bao Buns, which they are three different types:
Grilled Carrot (garlic, miso, and ginger)
Spiced Lamb (buttermilk tzatziki and shiitake)
Barbeque Pork Jowl (plum barbeque, herb emulsion, and napa slaw)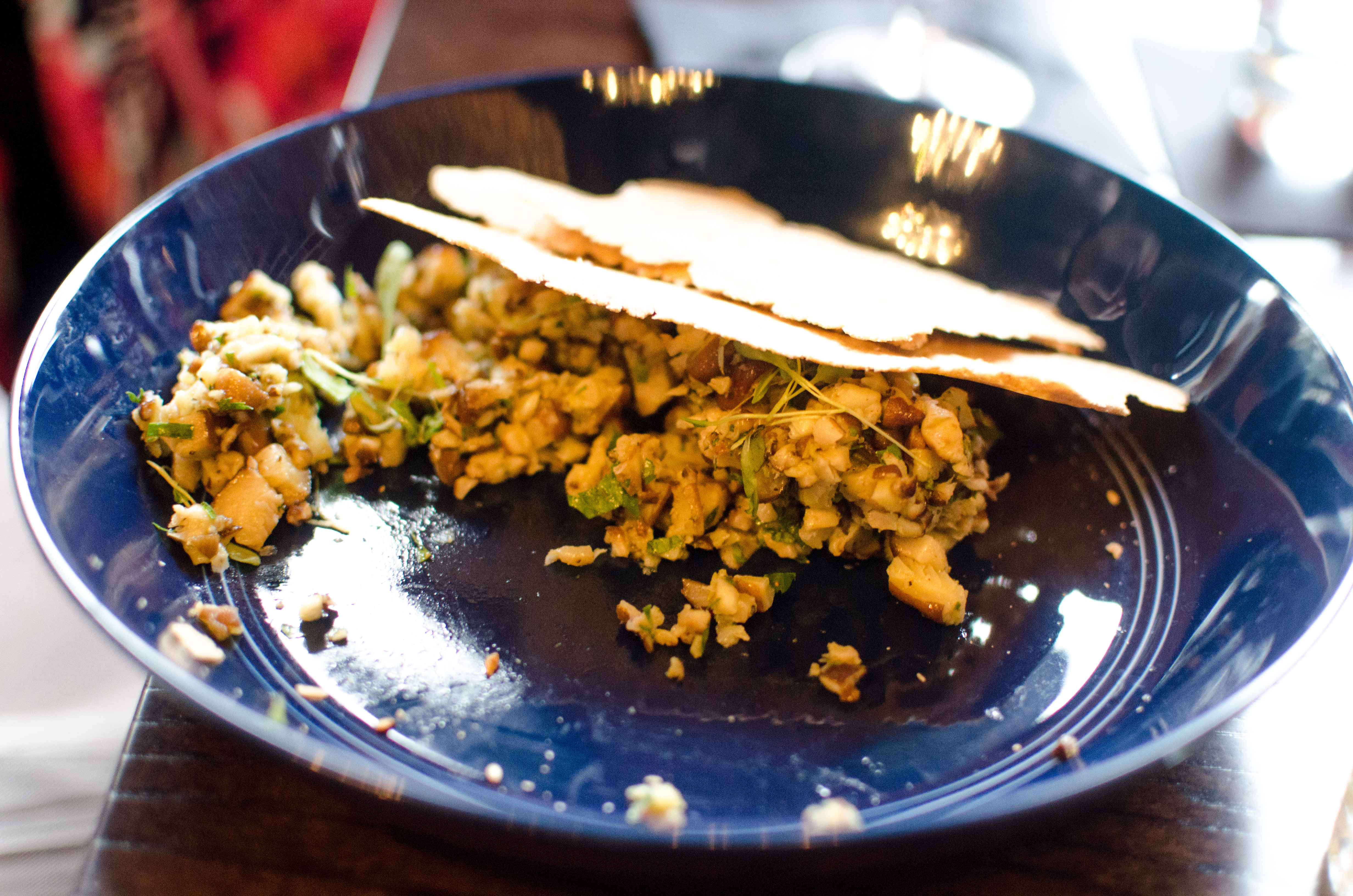 This is Shiitake Tartare with green harissa and rye crackers.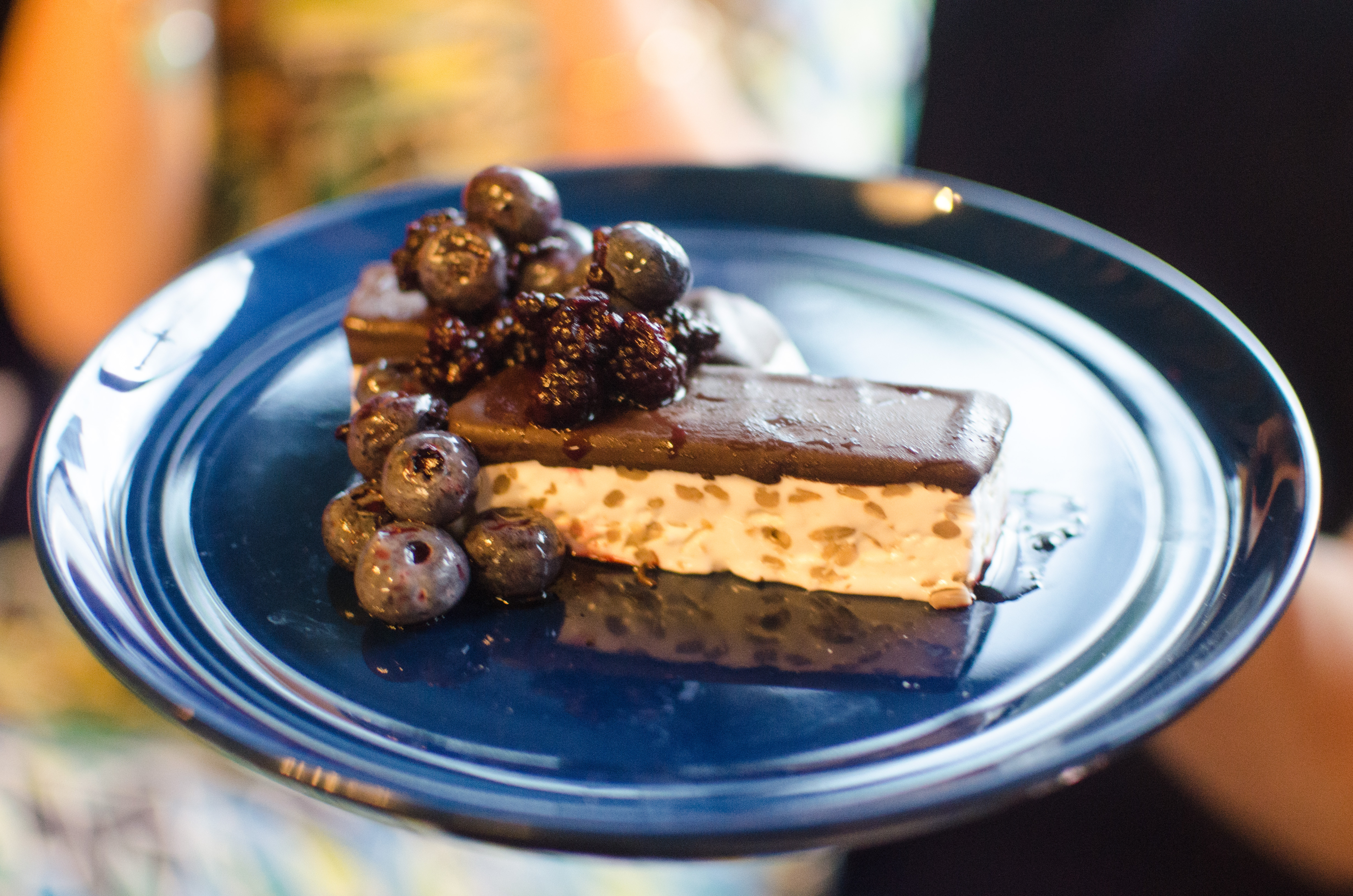 This is the Sunflower Seed Nougat with dark chocolate and crushed berries, which is from the seasonal menu.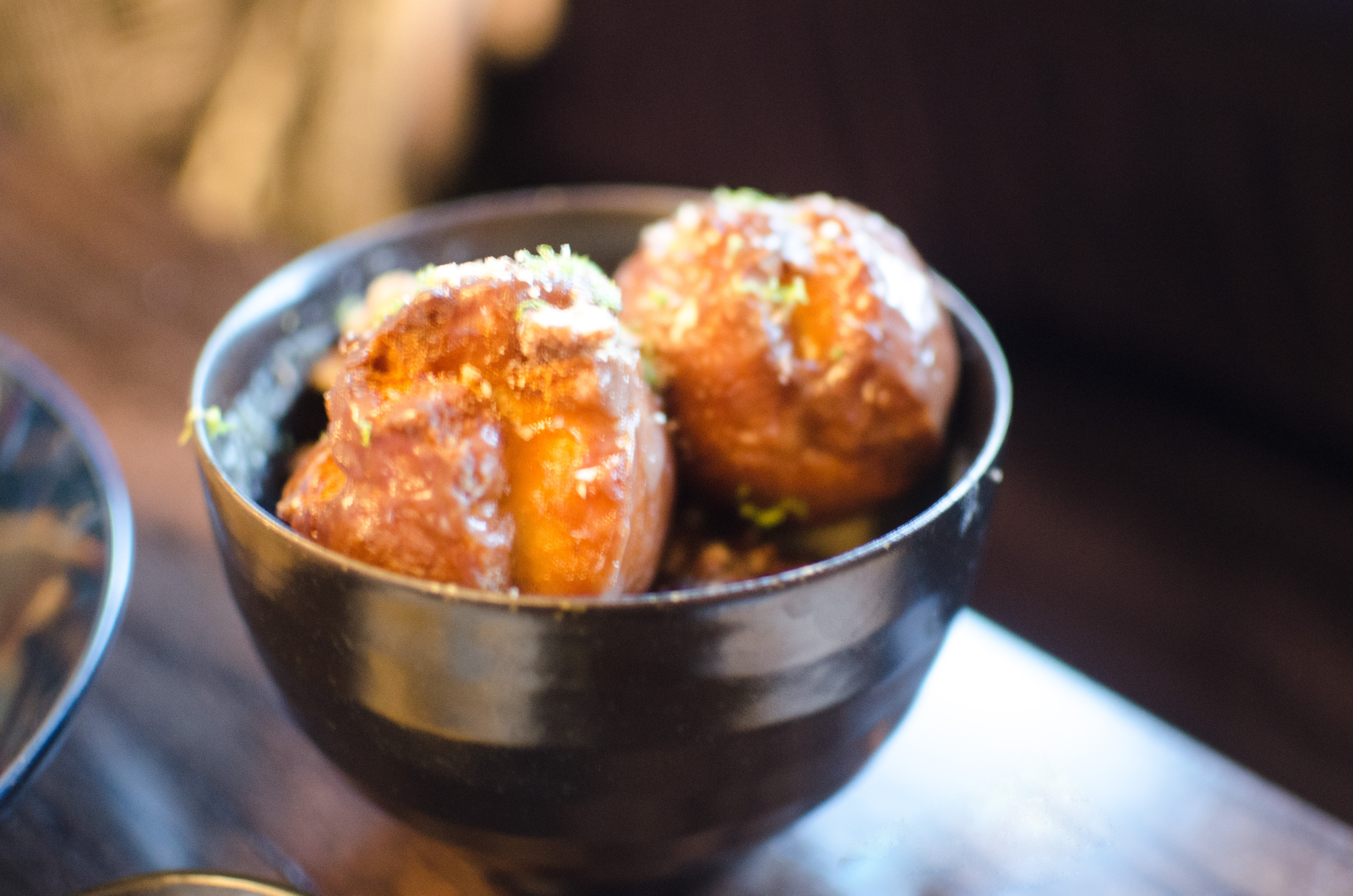 I know it may not come as a shock, but I love bourbon, and in Kentucky, we also cook with bourbon and incorporate it into our dishes. These are Cinnamon Bourbon Donuts with sour apple jelly. Donuts are a perfect way to end a fun night (and really just to enjoy anytime)!

Tell me about West Main Crafting Company…
West Main Crafting Company is brand new to the Lexington bar and food scene. The building was built in the 1800s, and they revitalized and breathed new life into it, so it could become what we know it is now (be sure to check out the before/after photos). West Main Crafting Company is easy to spot with the 20 foot sign that says, COCKTAILS that is located outside of the door of the bar. It opened up in May of this year and features craft cocktails and re-imagined bar favorites. They create authentic farm-to-shaker cocktails with house made sodas, syrups, tonics, and bitters.
All of their meats are locally farmed, as well as being hormone and antibiotic free. They also cook with regionally and locally sourced products whenever possible, whether served fresh or preserved for the off season.
Recently, West Main Crafting Company also recently spent a few days filling some barrels at Castle & Key Distillery (which will open this fall). It will be a couple of years before the product is finished, but it's still exciting!
West Main Crafting Company is located on 135 West Main Street, Lexington, Kentucky. The hours of operation are 7 days a week from 5pm-2:30am.
We've made it to Wednesday! It's almost the weekend!