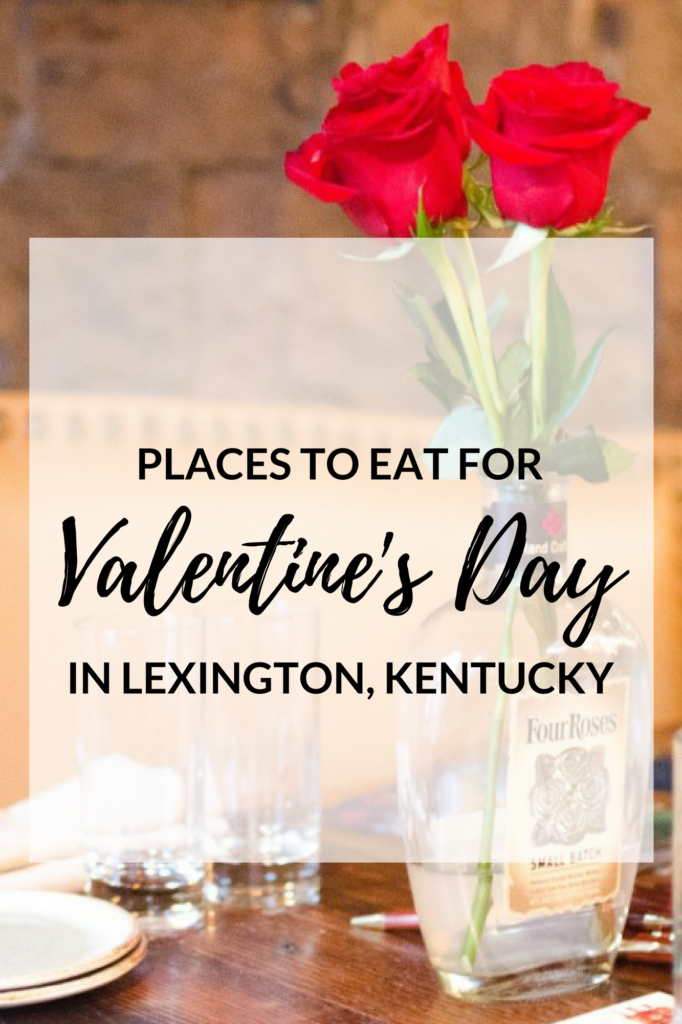 It's almost that time of year – Valentine's Day aka the day of love! Lexington has so many amazing restaurants throughout the city, so why not eat some delicious, yummy food and at the same time support a local business?!?
I made a list of "20 Places to Eat in Lexington, Kentucky for Valentine's Day" to give y'all some ideas on where to celebrate for dinner. I've included a description about each restaurant, as well as their regular menu and/or special Valentine's Day menu.
As always, remember that Valentine's Day is a busy time (only eight days until the big day!), so be sure to make reservations ahead of time! Something also important to remember is that some restaurants will have their regular menus available, while others will have a special prix fixe available for that day only.
Places to Eat in Lexington, Kentucky For Valentine's Day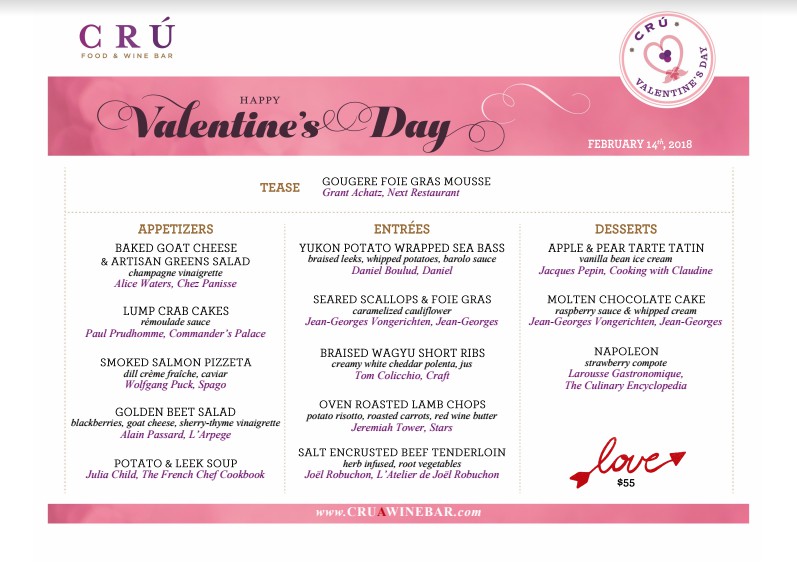 1. CRU Food and Wine Bar:
30 wines by the glass, 300 splendid bottles from all over the world at every price point. Pair your choice of wine with Napa style foods at their all-about-you wine bar. The culture demystifies the world of wine in an elegant, casually hip environment. See regular menu: HERE.
CRU pays homage to their favorite Chefs and their SIGNATURE DISHES for this year's Valentine's menu.  Treat your sweetheart to a truly epic four course dinner for $55 per person. By reservation only.  Call (859) 971-WINE for your reservation!
2. OBC Kitchen:
OBC Kitchen is a local, chef-driven restaurant that uses high quality, distinctive ingredients to create some of the best artisanal cuisine in town. The passionate and knowledgeable staff will foster a spirit of enjoyment and community. See menu: HERE.
3. Carson's:
Carson's Food & Drink represents rustic refinement in a casual and comfortable atmosphere. You will feel at home the moment you step inside our doors. With our unique decor, using leather, wood, brick, and over-sized chandeliers balanced with industrial materials combined with our amazing food and perfectly prepared cocktails you're sure to become a regular. See menu: HERE.
4. Merrick Inn:
Built before the Civil War and completely remodeled in 1936 by the Cal Milam family, the Merrick Inn served as the manor house for one of Lexington's finest horse farms. The Merrick Inn has been owned and operated by the Murray family for nearly 40 years.  Offering the finest in traditional southern dining and innovative specials. See Valentine's Day menu: HERE.
5. Dudley's on Short:
Dudley's on Short has been a Lexington staple and culinary trailblazer since 1981. We prioritize local foods, preparing the finest ingredients simply and with exceptional hospitality. Readers of Southern Living voted Dudley's on Short "The Best Restaurants in Every Southern State 2017. See Valentine's Day menu: HERE.
6. Tony's of Lexington:
In 2015, Ohio steakhouse guru Tony Ricci traveled across the river to establish the Lexington branch of his beloved Cincinnati outpost. And though this handsome chophouse had some big shoes to fill, Tony's of Lexington quickly became one of Kentucky's finest. Tony's of Lexington was named one of the best steakhouses in the nation. See menu: HERE.
7. Le Deauville:
Le Deauville offers traditional French bistro food in a renowned relaxed atmosphere. You can chose from an extensive wine list while dining in an airy space or outdoor terrace in the famous historical section of Lexington. See Valentine's Day menu: HERE.
8. Bella Notte:
Bella Notte is a locally-owned original, founded over two decades ago with a focus on quality, fresh ingredients, and preparation that enhances natural flavor, allowing ingredients to speak for themselves. See menu: HERE.
9. Malone's:
Named one of the Great Steak Houses of North America, Malone's is Lexington's premier steakhouse. Less than two percent of beef processed in the world is rated as "prime beef." Malone's is pleased to offer the widest selection of fresh, hand-cut USDA Prime steaks. Malone's is the perfect destination for lunch or dinner with family and friends, professional meetings, and celebrations. Malone's has been celebrating meals and milestones since 1998. See menu: HERE.
10. COLES 735 ON MAIN:
COLES 735 MAIN features a menu full of local inspiration and world-class fare; every dish is hand crafted like a fine piece of art. Lexington-born Executive Chef Cole Arimes showcases reinvented American classics, global flavors, and eclectic artisan dishes. Set in a tastefully restored historic Lexington landmark, the restaurant radiates a heart-warming and relaxing atmosphere – ideal for romantic fine dining or spirited get-togethers at the inviting indoor bar and outdoor gazebo. The distinctive provençal decor serves as the colorful backdrop to the ever-changing menu. See menu: HERE.
11. Middle Fork Kitchen Bar:
Chef Mark Jensen's new restaurant, middle fork kitchen bar (mfkb), offers a comfortably bold take on the traditional dining experience. Inspired by the dynamics of the season, the context of the district, and the enthusiasm of his team, Jensen combines ingredients, cuisines, and a appreciation for the craft for a fun and delicious result. The restaurant's name is a tip of the hat to the great Elkorn River, the middle fork of the elkhorn to be exact.  We call it the Town Branch, here in Lexington. This little stretch of water is what our beautiful town was originally founded on way back in 1775. See menu: HERE.
12. Lockbox:
Lockbox is committed to sourcing local, high-quality ingredients around the Bluegrass region. Led by executive chef Jonathan Searle, Lockbox uses thoughtful yet simple preparations and cooking techniques in a contemporary setting. Designed by Deborah Berke Partners, the Lockbox space highlights historic features like original marble floors, decorative plaster details and large windows. Communal tables in both the dining room and lounge provide opportunities for large groups to dine together, or for individual guests to meet new people while they dine. See menu: HERE. See Valentine's Day menu: HERE.
13. Portofino:
Located in a beautifully renovated building on Main Street in downtown Lexington, Kentucky, Portofino has an elegant interior design, a menu with the highest quality ingredients, and an extensive wine list. Portofino restaurant specializes in artful Italian and American cuisine. See menu: HERE.
14. Distilled at Gratz Park:
From award-winning Heirloom Restaurant in Midway, Ky stems "Distilled at Gratz Park." Chef Mark Wombles and his team specialize in farm-to-table fare, incorporating an artful and elevated approach to southern cuisine in a comfortable atmosphere. Located in Historic Gratz Park Inn, the establishment removes all unnecessary ingredients from fine dining, leaving only the artistic expression food. See menu: HERE.
15. Jean Farris Winery & Bistro:
Jean Farris is a Restaurant, Winery, Vineyard, and Farm all working in unison to serve you the freshest, healthiest, and most delicious food possible. Much of the food we serve is grown on our own farm and everything is made from scratch. Changing regularly, our Libations menu features a seasonally rotating cocktail list, as well as an extensive selection of sought-after spirits. See Valentine's Day menu: HERE.
16. The Blue Heron Steakhouse:
The Blue Heron Steakhouse is a comfortable and chic locally owned restaurant and cocktail bar serving a menu comprised of steakhouse classics and Southern fare such as premium cuts of beef, fresh oysters, locally raised fried chicken, and Caesar salad with fried white anchovies along with an extensive, innovative wine and cocktail list. We constantly offer seasonal specials that reflect both the bounty of local foods products and the immense creativity and talent of our culinary team. The Blue Heron has transformed from an upscale hand-crafted cocktail bar to one of Lexington's finest restaurants with the recent completion of a new kitchen addition. The Blue Heron offers dinner Tuesday through Saturday with a two-sided wood burning fireplace and charming ambiance in a renovated historic home. Located in the thriving Jefferson Street corridor, The Blue Heron exemplifies the new style of this popular, revitalized Lexington neighborhood. See Valentine's Day menu: HERE.
17. Shakespeare and Company
In today's world, Shakespeare and Co. is an old-fashioned concept with values that are just as important to us now, as they were back when we first started out. It's a place you can go with friends, colleagues, and family, to enjoy a good meal and relax, knowing there's always something to look forward to on the menu. It's unique yet familiar, elegant yet homely, classic and comfortable. And that's really all we've ever wanted to do. To offer a place promising quality food, charming surroundings, warm hospitality, value for money, and good times. See regular menu: HERE. See Valentine's Day menu: HERE.
18. AZUR:
AZUR restaurant & patio is an innovative restaurant that offers truly unique cuisine, excellent service and European ambiance. We pride ourselves as being different by serving the freshest food with the highest quality ingredients (local whenever possible). AZUR Restaurant & Patio is a local, independent restaurant established in 2004. We wanted to bring a level of cuisine that most thought was only available in major markets. The most important qualities of our restaurant are innovative cuisine, professional wait staff and ambiance. From the beginning, AZUR has strived to be cutting-edge with our food and attentive service. We prepare an adventurous menu for those who desire a unique culinary experience. AZUR offers dishes composed of local meats, vegetables and produce whenever possible and is a member of Kentucky Proud. See regular menu: HERE. Details about Valentine's Day: HERE.
19. Pasta Garage:
The Pasta Garage was created by college friends Lesme Romero and Reinaldo Gonzalez to combine their shared love of Italian street food and the freshest of ingredients. Stop by with a friend, choose your meal, and then watch our chefs make it for you on the spot from our open kitchen. All of our ingredients are carefully sourced, but we are especially proud of our fresh pasta, made in-house by Lexington Pasta. Be sure to check out our gluten-free options and stop by during the summer for our Farmer's Market Specials! See Valentine's Day menu: HERE.
20. Louie's Wine Dive and Chevy Chase Kitchen:
We create fresh, local, seasonal twists on contemporary American cuisine complemented perfectly with a wine list of hand-selected varietals from around the world. Louie's Wine Dive has a warm, casually elegant atmosphere that makes it more than just a place for food and wine. See Valentine's Day menu: HERE.
Treat your loved one to some delicious local food!