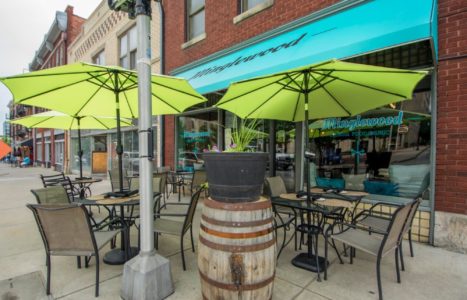 Minglewood is located in the former a la lucie's location and is on the corner of North Limestone and Church Street. Minglewood is not only a restaurant but it's a bar and live music venue! They are open for lunch and dinner, as well as brunch on the weekends!
The building that is home to Minglewood is over 100 years and was restored by interior designer Anita Sexton. The original floors were exposed and a few modern touches were added, such as painting the walls mint green and adding modern light fixtures, as well as an exposed brick and granite bar.
Trish Tungate (formerly of The Dish) and John Tresaloni (current owner of Cosmic Charlie's) are the owners. The menu at Minglewood features dishes that are inspired by their travels to Mexico, the Caribbean, and Central America.
Minglewood features 'thoughtful food, local music and serious libation.
Click To Tweet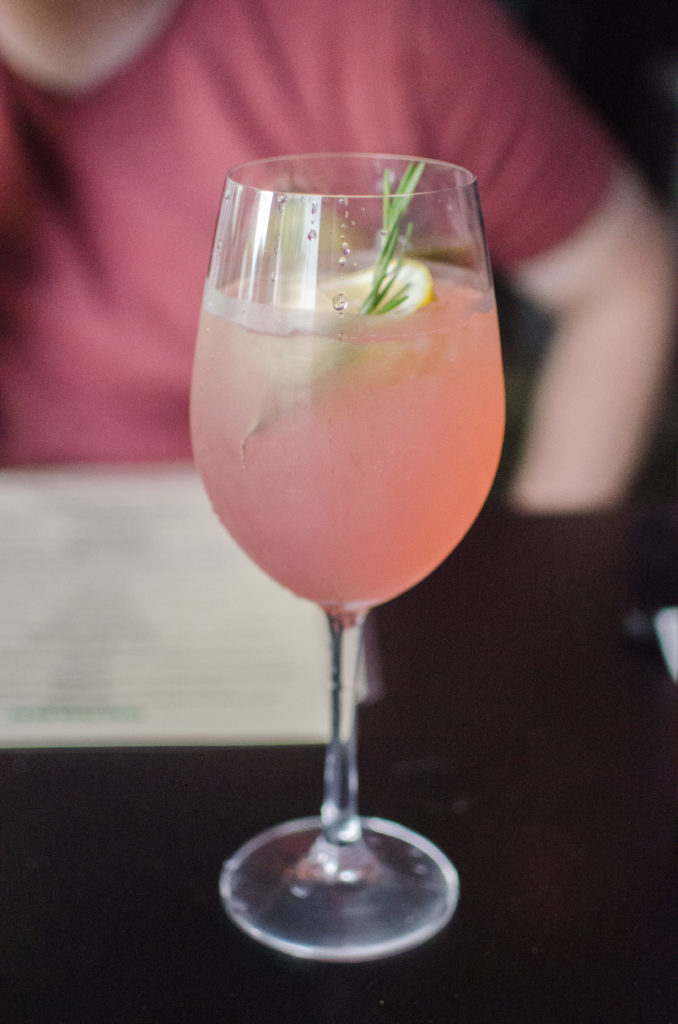 I'm usually a bourbon girl, but I like ordering different types of cocktails when flavors that I may or may not have tried before. I ordered the Olfactory Hues. It is made with Brut Champagne, raspberry lemonade, lavender with a fresh lemon and rosemary garnish. I normally don't like champagne, since I think it's pretty dry. However, this cocktail was super refreshing and one that I would definitely order again!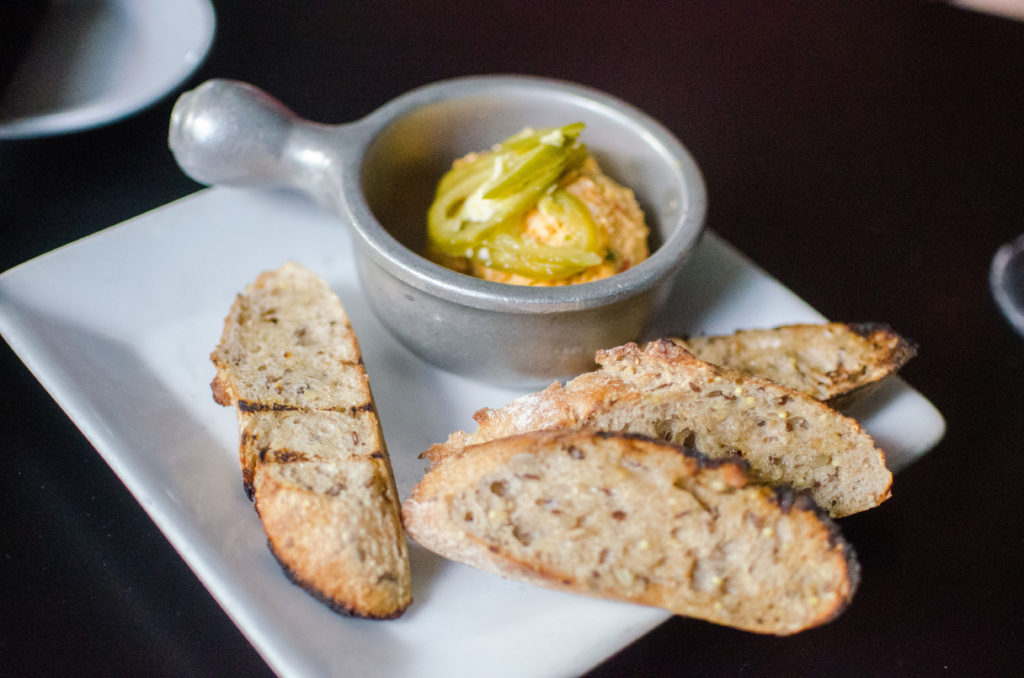 Any time I go out to eat, I just have to order an appetizer! If there is beer cheese or some type of a cheese dip on the menu, then I'm definitely ordering that. Minglewood's I'm High On Cheese is amazing! Just like with beer cheese, all pimento cheeses are made differently! Their pimento cheese has a slight kick to it and it pairs perfectly with the grilled bread that it's served with. The I'm High On Cheese is smoked cheddar and parmesan pimento cheese topped with pickled jalapeños.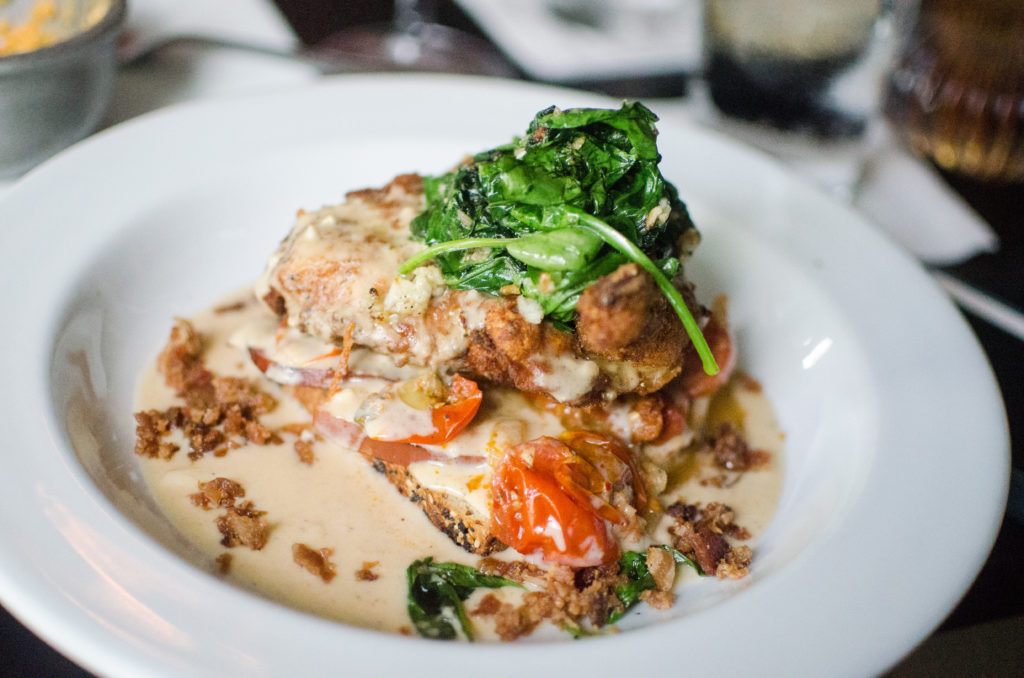 Two of my favorite Southern dishes are chicken and waffles and the Kentucky Hot Brown. Its somehting I love indulging in, because every chef puts their own spin on them. So, it made complete sense that I would order the Fried Chicken Hot Brown. The Fried Chicken Hot Brown was made with wheat toast, city ham, tomato chutney, crispy fried chicken, smoked cheddar mornay, spinach, and bacon crumbles. There was a lot of flavor and it wasn't like any other dish that I had tried before!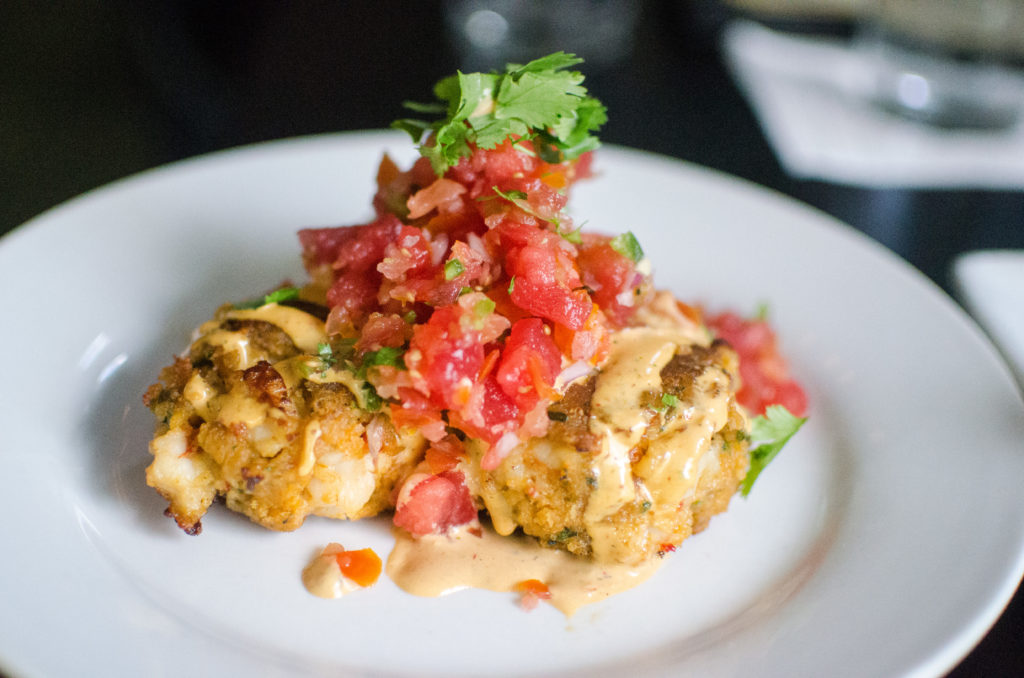 My husband got the Jamaican Shrimp Cakes. It's pan fried shrimp cakes topped with chipotle aioli and watermelon and tomato salsa. My husband said they were light with just the right amount of kick!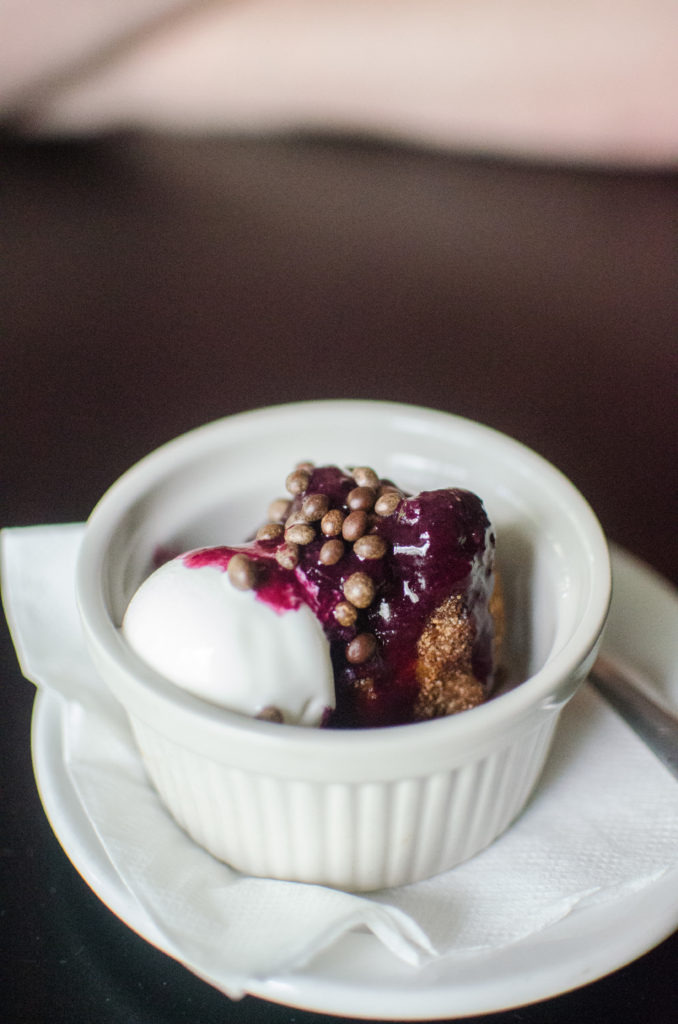 I'm a sucker for desserts, so I got the Donut Holes. The Donut Holes were dusted in cinnamon, nutmeg, sugar and cayenne with dark rum blueberry sauce, sorella gelato, and chocolate hemp seeds. I went during Lexington Restaurant Week. I only got one, but I wished there had been more, because I would've gladly ate a half of dozen of them! I always find it interesting when desserts combine the flavors: sweet and spicy. It was perfectly balanced and wasn't overpowered by the cayenne (so, if you are afraid of that, don't be!). The blueberry sauce was probably my favorite, but all the flavors combined made for a winning combination!
Some other dishes that you should try that they have on their menu: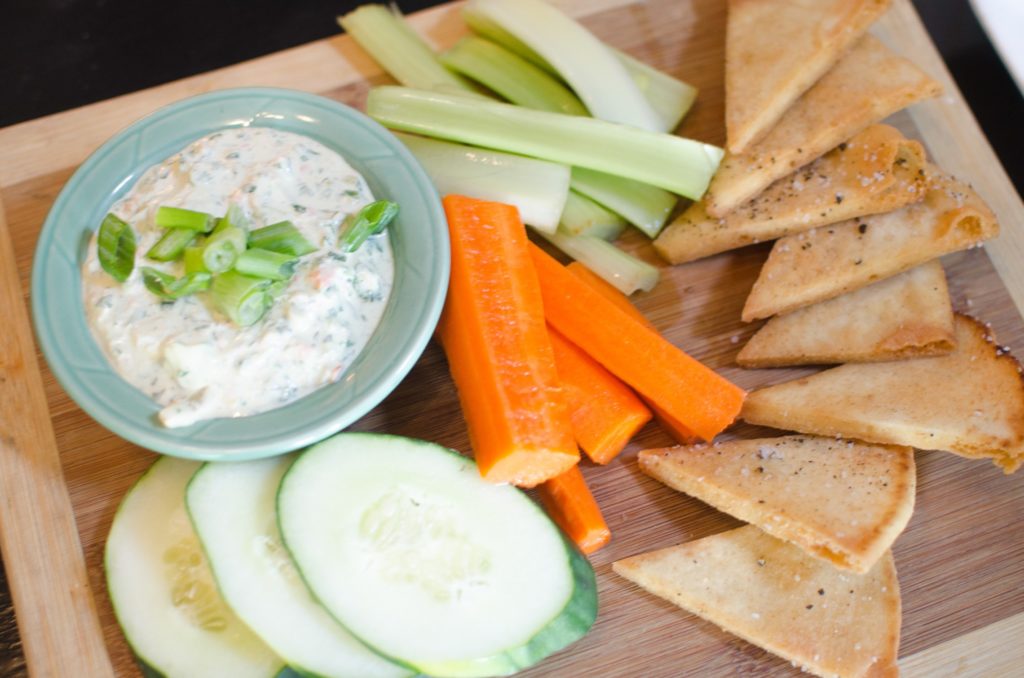 This is the When I Dip, You Dip, We Dip that we got last year during Lexington Eats Week. This is a sour cream, onion, red pepper garlic, parmesan and herbs dip that is served with crisp veggies and house fried pita chips.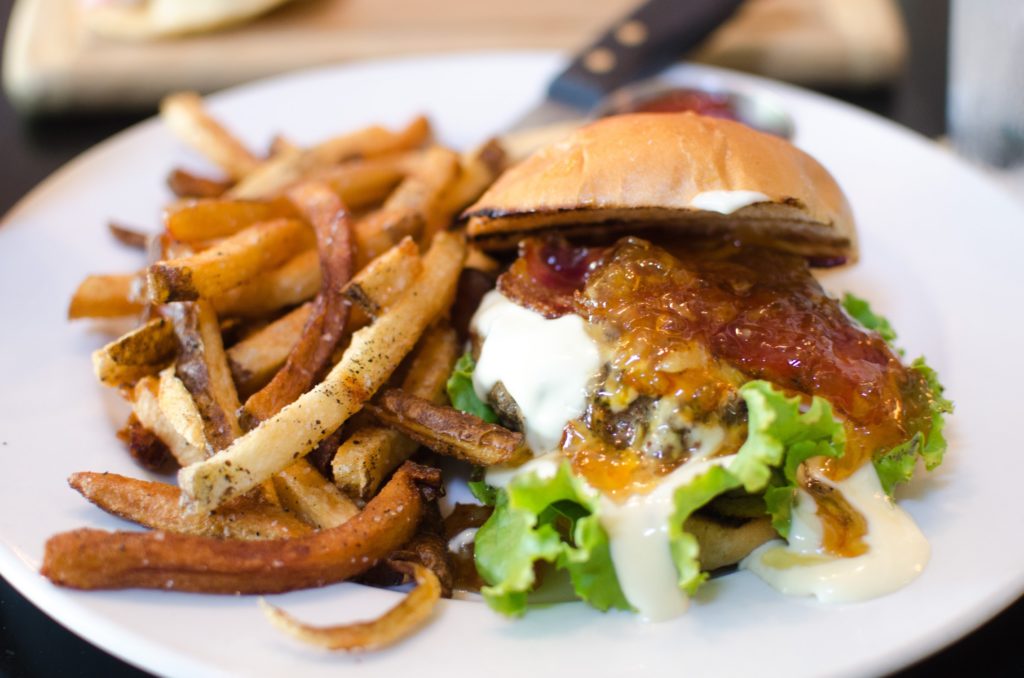 The Noli Burger is hands down one of the best burgers I've ever eaten. It is topped with melted brie, bacon orange marmalade on a 6 oz. burger and it comes with hand cut fries. The burger is ooey, gooey, and messy, but it's so delicious! I've found usually the messiest burgers tend to be the most delicious!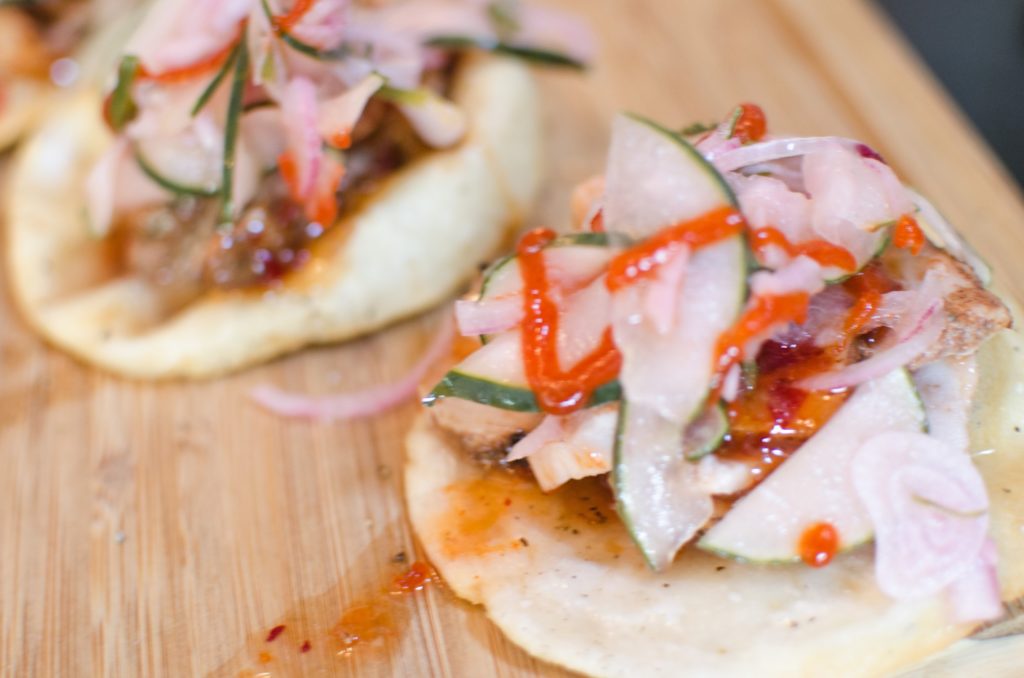 My husband ordered this dish last year but they don't have it anymore. The above picture is of their Sweet Chili Pork Tacos, which were grilled pork loin glazed with a sweet chili sauce and topped with a pickled cucumber, red onion, jalepeño and basil salad on lightly fried flour tortillas.
However, they do have another version currently on their menu. Right now, you can order their Green Pork Chili Tacos. Those tacos are green chili and tomatillo braised Marksbury Farm's pulled pork finished with jalapeño infused mescal macerated blueberries and avocado cream.
Address:
159 North Limestone Street, Lexington, Kentucky 40507
Hours of Operation:
Sunday: 11am to 5pm*
Monday: CLOSED
Tuesday & Wednesday: 4pm to 11:30pm
Thursday: 4pm to 11:30pm
Friday: 4pm to 12am
Saturday: 11am to 12am*
*Brunch is Saturday & Sunday from 11am to 4pm
Be sure to check them out and support a local business!