Disclosure: This shop has been compensated by Collective Bias, Inc. and its advertiser. All opinions are mine alone. #NutrishFureverHome #CollectiveBias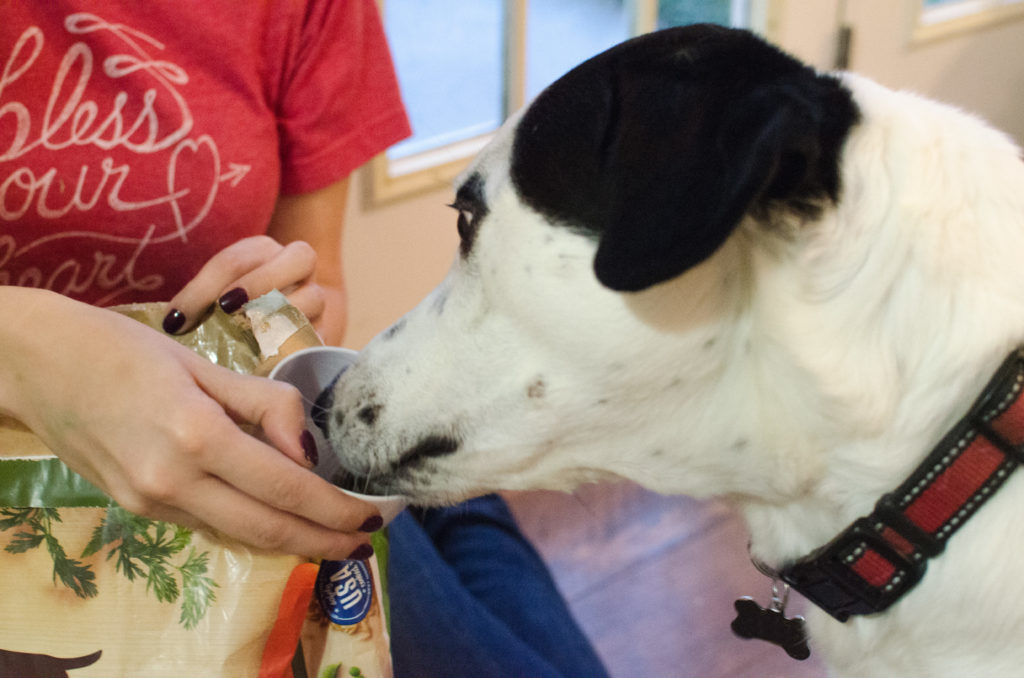 Everyone that knows me knows that I LOVE dogs. I always get excited seeing dogs and always want to meet and pet them. I've actually adopted two dogs from the Lexington Humane Society. I adopted Bentley in July 2011 and Royce in March 2012. I'm a huge advocate of adopting from shelters and giving those dogs a second chance at life in a good home. In fact, October is National Adopt a Shelter Pet Month and it encourages people to find their next pet at their local shelter. That's why i was so happy to be given the opportunity to share the adoption story of my furbaby Royce, thanks to Rachael Ray™ Nutrish® and their awesome Furever Home™ campaign.
Rachael Ray™ Nutrish® Furever Home™ is helping shelter pets find the home they deserve. In October 2017, your support helped Rachael Ray™ Nutrish® donate $250,000 to benefit shelter pets. Cash donation was made in equal amounts to three organizations: Big Dog Ranch, the ASPCA (American Society for the Prevention of Cruelty to Animals®), and North Shore Animal League.
All three of these are amazing organizations that work hard to help shelter pets across the U.S. and the world. In fact, the Big Dog Ranch rescue is the largest no-kill shelter in the Southeast United States, while the North Shore Animal League is the largest no-kill rescue and adoption organization in the whole world! The ASPCA is a national leader on rescues, adoptions, and welfare of animals, and has been around for over 150 years fighting to end animal abuse.
Since October is dedicated to finding shelter pets the homes they deserve, and since I've already shared how Bentley came to be a member of my family, I figured I would share the story of how my husband and I came to adopt Royce.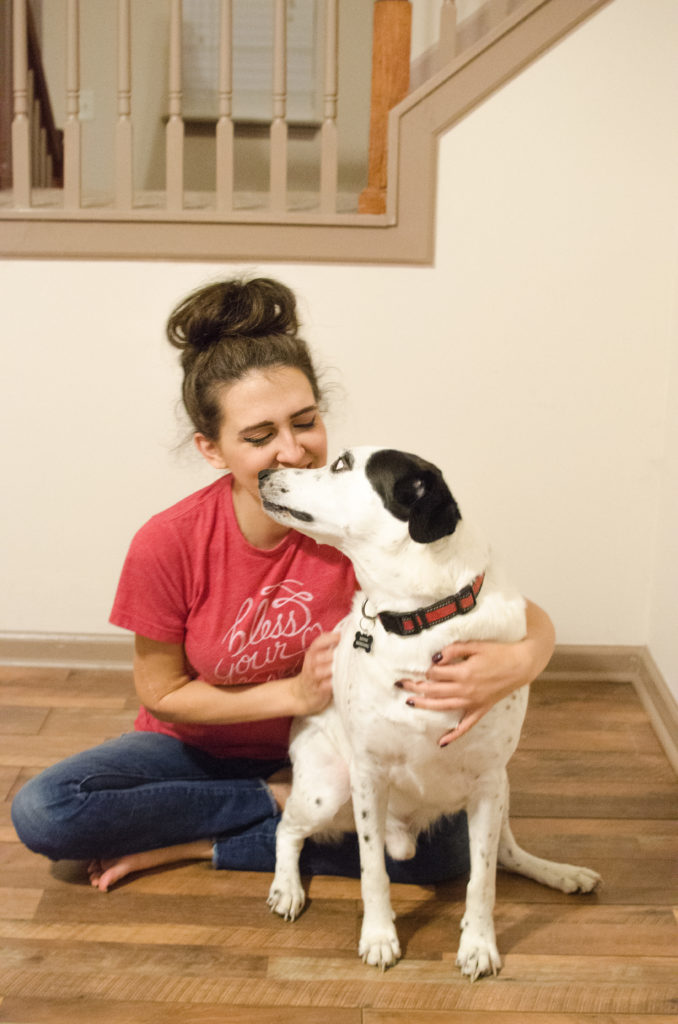 Let me set the scene… It was March 2012. We had talked about adopting another dog, but we originally wanted to wait. We wanted to wait until after our trip to California, which was going to be in April for a week (It was a trip for my birthday. My husband is from Los Angeles). We also wanted to wait after we moved into our new house (not the house we live in now, but the one that we lived in prior to the one we just bought). However, that's not what happened.
We had talked about getting a dog the night prior, so the following day, we went to a local pet store to pick up some things for Bentley. Any time we are there, we always looked at the dogs available for adoption (and we still do!) We had seen dogs that we wanted to adopt, but just didn't, because at that particular time, it just wasn't the right time (The dogs they have there that are available for adoption are from the Lexington Humane Society. There is a lot of foot traffic at the store due to it being in Hamburg Pavillon, so the dogs have high visibility and have a better chance of getting adopted quicker).
That Saturday, I was upset about something petty, aka first world problems. My husband said, "I know what will cheer you up. We will go look at puppies!" so we did, but this time at the actual humane society. The night before, we looked online at the dogs available and we found one dog named "Otis." He was around the same age as our other dog, Bentley.
We walked up and down each aisle of the kennels. Have you ever been to a pound? It has to be one of the saddest things ever. While walking up and down the aisles, we spotted the kennel where "Otis" was supposed to be. However "Otis" wasn't in the kennel, but was being walked outside by a lady. I told my husband that she worked there, but he thought the family nearby had asked to see him. I said that it couldn't hurt to ask and find out for sure. As it turned out, the family wasn't looking at him (thank goodness!). We noticed "Otis" was with the lady in the outdoor play area. We asked if it would be okay to join them outside and meet "Otis" and of course she said that would be fine. Soon the three of us were in the outdoor area and were playing fetch together (and this is actually the only time that he has ever played fetch to this day!). As we were leaving, "Otis" jumped on my husband and gave him a hug good-bye. We informed the front desk that we were wanting to adopt him, but wanted our dogs to meet first. They let us put "Otis" on hold, while we went back home and got Bentley.
We asked a little bit about his past history, and the humane society mentioned that not much was known, because he was a stray. He was estimated to be about 1 year old and roughly 40 pounds (He actually ended up being very underweight).
We felt bad about bringing Bentley back to the humane society for a meet and greet, since it was the same place where we adopted him, but we knew it was important to make sure they got along. Luckily, the meet and greet room was located at the side of the building, so we didn't have to use the main entrance, sparing Bentley from the memories of the kennels. That would have been horrible for him! Once they met, Bentley and "Otis" got along pretty well. I took Bentley back outside, while my husband finalized all the paperwork. Bentley wasn't too happy being separated from my husband. It was almost like he thought the humane society was adopting him and not giving him back. Soon, the paperwork was finalized, so the four of us went to get our "Otis" a nice collar, leash, dog tag, and all the new dog necessities.
It was pretty funny. The night before on twitter, I said, "Planning on adopting a second dog :)" Less than 24 hours, along came "Otis." The humane society didn't know his real name, since he was a stray, so we renamed him Royce to fit in with the expensive car theme, like our first dog's name, Bentley (We didn't change Bentley's name when we adopted him).
And the rest is history…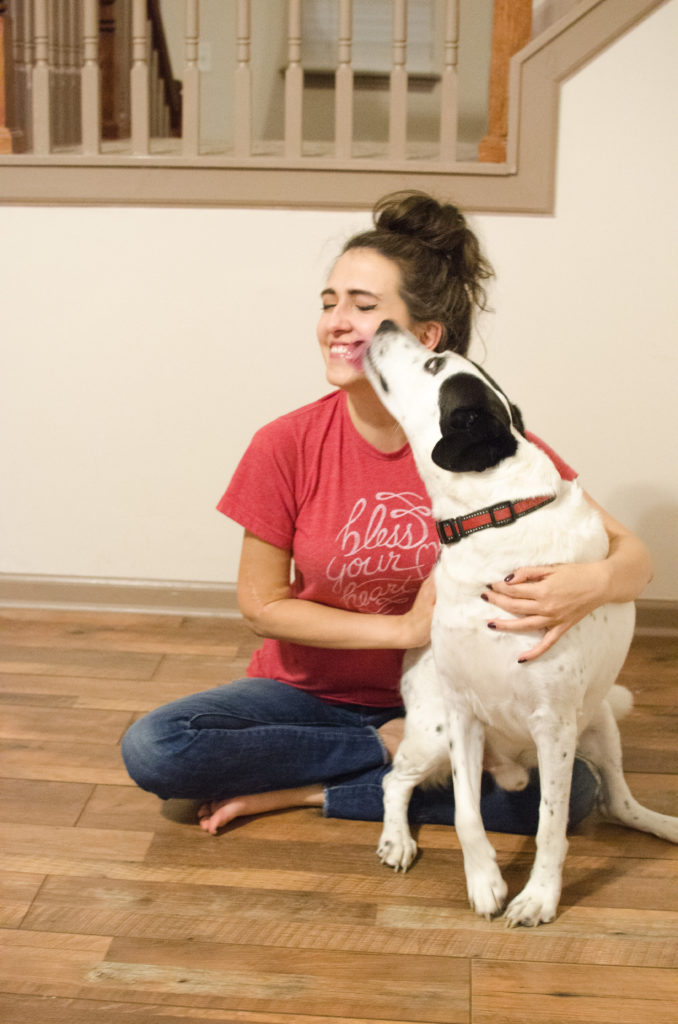 A few years ago, we switched the dog food that we were using to Nutrish. My husband and I were focused on giving our dogs food with delicious ingredients that were natural and that had vitamins and minerals. We wanted to make sure it used the best ingredients. The food contains real meat or fish and does not contain poultry by-product meal or fillers. Nutrish was actually created in 2007 by Rachael Ray and the help of pet nutrition experts. The food and treats for dogs were actually inspired by recipes from her own kitchen!
Since I give my dogs some of the best ingredients, I figured why not do the same for myself and my husband? The Nutrish I chose for my dogs was Real Chicken and Veggies, so for dinner tonight, I made Herb-Roasted Chicken and Herb-Roasted Potatoes and vegetables for my husband.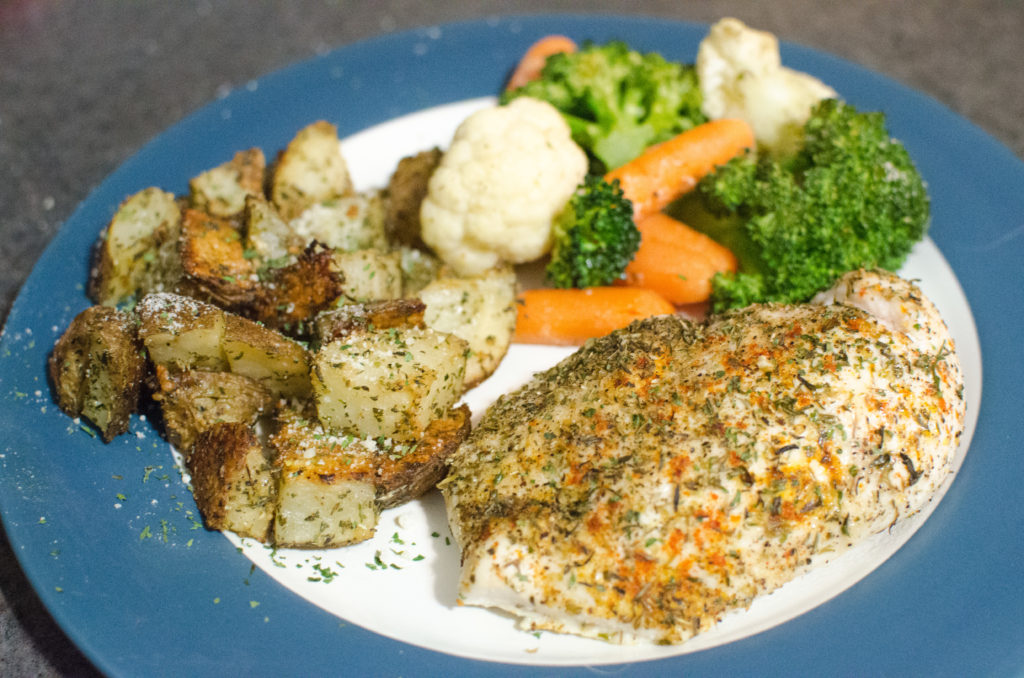 Herb Roasted Chicken With Roasted Potatoes and Vegetables
Ingredients:
2 chicken breasts
1 tablespoon of olive oil
1 teaspoon of oregano
1 teaspoon of parsley
1/4 teaspoon of cayenne pepper
1/2 teaspoon of garlic powder
1/2 teaspoon of onion powder
salt and pepper to taste
Directions:
Lightly coat the chicken in olive oil.
Sprinkle the seasoning one by one of top of the chicken breasts.
Put on a baking sheet in the oven for 425 degrees for 25 minutes.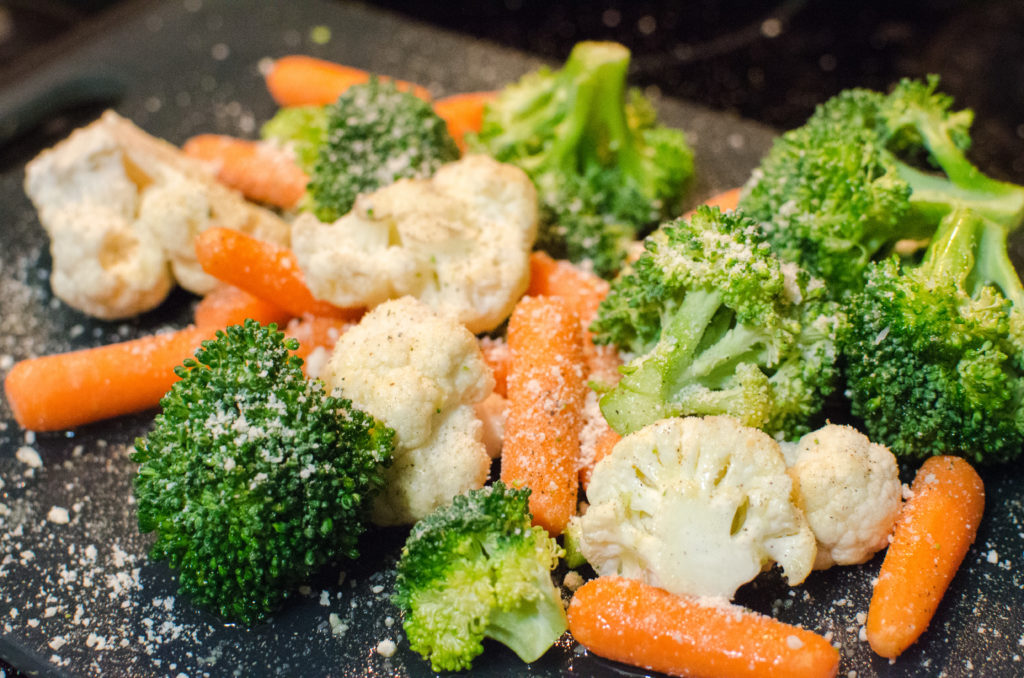 Roasted Vegetables
Ingredients:
1 tablespoon of olive oil
3 cups broccoli florets
3 cups cauliflower florets
2 cups carrots
1 1/2 teaspoon of garlic powder
salt and pepper to taste
1/3 cup of parmesan cheese
Directions:
Chop up the vegetables.
Coat lightly with olive oil.
Sprinkle with seasoning.
Put into the oven at 425 degrees for 15 minutes.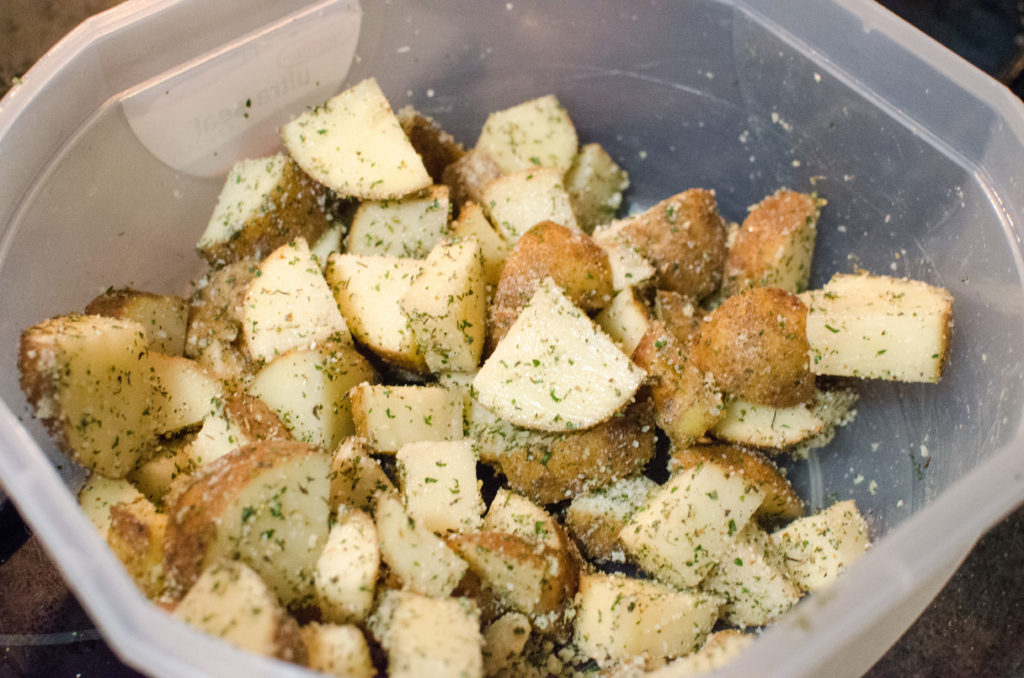 Herb Roasted Potatoes
Ingredients:
2 lbs. potatoes of your choice (I love to use Russet or Idaho potatoes)
2 tablespoons of olive oil
2 teaspoons of salt
1 1/2 teaspoons of black pepper
1 teaspoon of thyme
1 teaspoon of oregano
2 teaspoons of parsley
1/2 teaspoon of garlic powder
1/3 cup of parmesan cheese
Directions:
Chop the potatoes into small pieces.
Toss the chopped potatoes lightly in olive oil.
Put all the seasoning on the potatoes and make sure they all are coated.
Put on a baking sheet in the oven for 425 degrees for 1 hour.
Enjoy!
Rachael Ray is not only a chef, but she created Rachael's Rescue® for all of the forgotten pets. Rachael's Rescue® has donated more than $21 million dollars to numerous charities and organizations by donating part of the proceeds from Rachael Ray™ Nutrish®. These funds are used in so many ways to help our four-legged friends, from buying food to providing medical care. I'm so proud to use a food that helps out animals all around the world, and I hope you do too!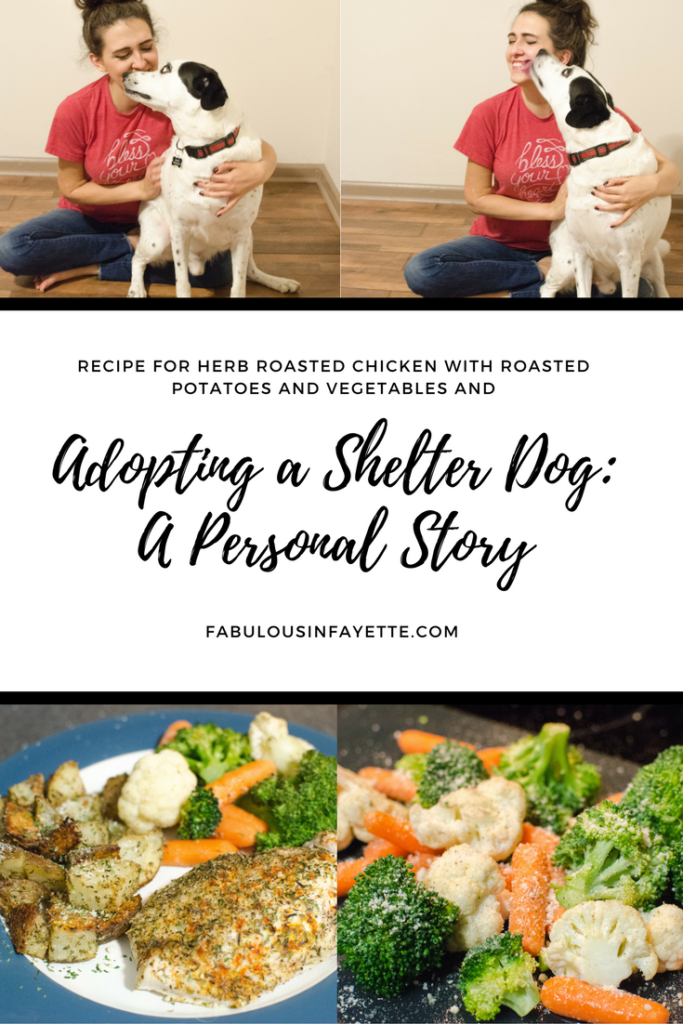 Have you adopted an animal from a shelter?