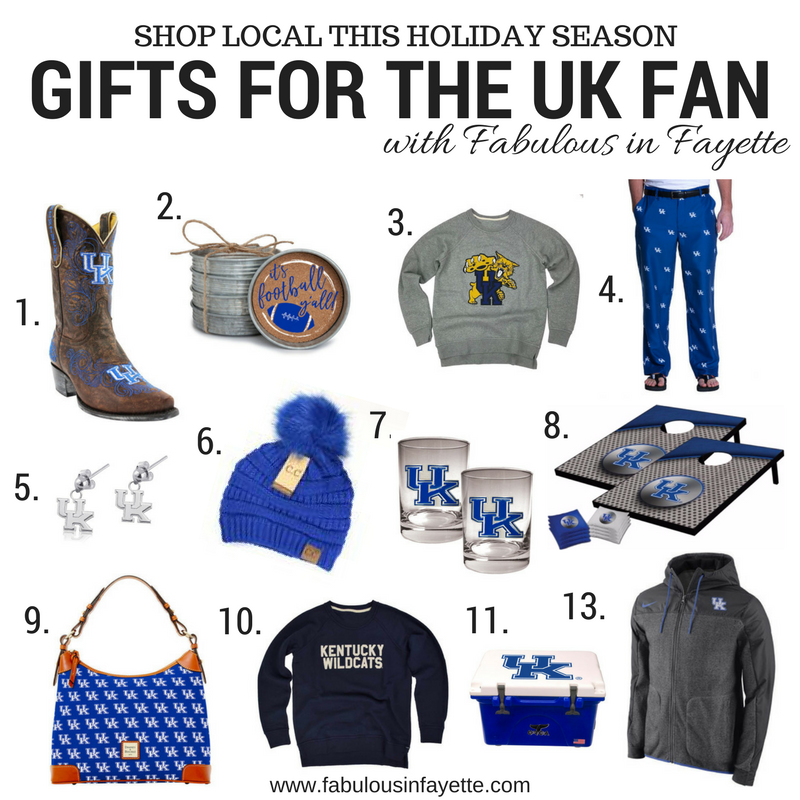 Can you believe we are almost halfway through November? I can't believe that Thanksgiving is in two week and Christmas is around the corner. With Christmas coming up, I figured I would put together several gift guides to help give you gift ideas for your loved ones.
Lexington is home to the BBN aka the Big Blue Nation. If you follow sports then I'm pretty sure you've heard of it. The Big Blue Nation is the fan base for the University of Kentucky's athletic programs, specifically the men's basketball program, the women's basketball program, and the football team.
According to figures released by the NCAA on Wednesday, UK led all schools with an average of 23,361 fans per home basketball game. Nearly 400,000 fans watched the University of Kentucky men's basketball team in Rupp Arena during the 2015-16 season, marking the 18th time in the last 21 years that UK has led the nation in home attendance. Since Rupp Arena opened for the 1976-77 season, UK has ranked either first or second in average home attendance every season.
Don't know what to get the UK fan in your life? Well, I compiled a list for both men and women to make it easy for you! 
1. Women's Brown Kentucky Wildcats 10″ Embroidered Boots: Show off your Southern ways and your love of UK with these stylish cowboy boots!
2. Football Y'all Coaster Stack: This is great to break out around football season. This would be perfect for a host or hostess!
3. Ladies Swipepaw Hand-Stitched Raglan Sweater (Grey): With the weather getting colder and colder, this would be perfect to wear to the remaining football games or just to show your pride all football season long!
4. Men's Royal Kentucky Wildcats Allover Print Pants: Wouldn't your man look stylish in these?
5. Dayna Designs Kentucky Wildcats Post Dangle Earrings: Finish off your look with some UK bling!
6. Gameday Beanie: Got to keep those ears warm during those cold night football games!
7. Kentucky Wildcats 14oz. Rocks Glass Set: A great glass for your bourbon!
8. Wild Sports 2′ x 3′ Kentucky Wildcats Tailgate Toss Cornhole Set: Get ready for any game by tailgating by showing your UK pride while playing this fun game.
9. Women's Dooney & Bourke Blue Kentucky Wildcats Team Color Hobo Purse: The perfect purse for all the fashionable ladies out there!
10. Ladies Kentucky Wildcats Hand-Stitched Raglan Sweater: Don't like grey? How about this dark sweater to show your support!
11. ORCA Blue/White Kentucky Wildcats 26 Quart Hard-Sided Cooler: Keep your drinks cold no matter the season!
12. Men's Nike Anthracite Kentucky Wildcats AV15 Winterized Full-Zip Hooded Jacket: And of course, one for the lucky man in your life!
Only 40 days until Christmas!