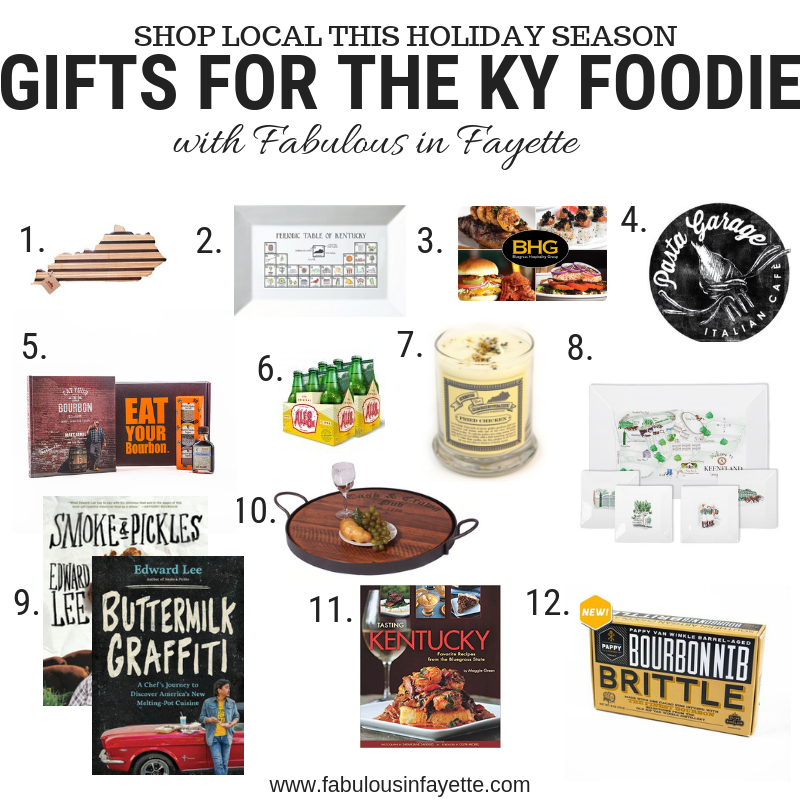 Can you believe that Christmas is less than a month away?! I know there are tons of last minute shoppers out there, so I have put together several gift guides to help you out. All the products that I have featured in my gift guides are from local shops. If you are new here, then you should know that shopping local is extremely important to me. If you live here in Kentucky (which I'm sure you do if you are reading my blog), then you would know of the big movement in Kentucky (especially Lexington) with the Kentucky Proud movement.
Why not support a local business this holiday season? I've put together my top foodie gifts for the foodie in your life. Details are within the post, as well as where to purchase each item.
Gifts for the Kentucky Foodie:
1. Kentucky Cutting Board: This Kentucky cutting board is locally made by a group of firefighters.
2. Periodic Table of Kentucky Platter: Forget the actual study of matter, and instead study what really matters in the Periodic Table of Kentucky.
3. Gift card to the BHG (Bluegrass Hospitality Group) restaurants: If you buy a gift card for the BHG restaurants, you will be able to use it at any of their restaurants, which include Malone's, Drake's, Harry's, Aqua Sushi, or OBC Kitchen. Malone's is one of my favorite restaurants, and they are in the top ten for steakhouses in North America. Harry's makes a killer Philly Cheesesteak. OBC Kitchen is known for their variety of bourbon, their bacon in a glass, and their chicken and waffles. My husband and I both agree that we've ate the best meal in our lives at OBC Kitchen. Last but not least, get the BLT Tots from Drake's. They are out of this world!
4. Pasta Club Membership from Pasta Garage: I absolutely LOVE eating at Pasta Garage! They are a local restaurant and their pastas are made fresh daily, in small batches, using the best ingredients possible by Lexington Pasta. You can even purchase their pasta at stores like Whole Foods, and they even created this amazing concept – a Pasta Club Membership! I would love to receive this as a gift! I mean, who doesn't love pasta? It's even better that it's made fresh and locally made!
The membership costs $200 ($300 value) and you will receive:
one Pasta Garage t-shirt
one Lexington Pasta container, plus one Stuarto's Olive Oil mini bottle
 two 10% off cards
12 weeks of pastas and sauces for a family of four
10% off purchases at Bodega and Pasta Garage through the duration of your membership
$10 off the Pasta 101 class (reservations required)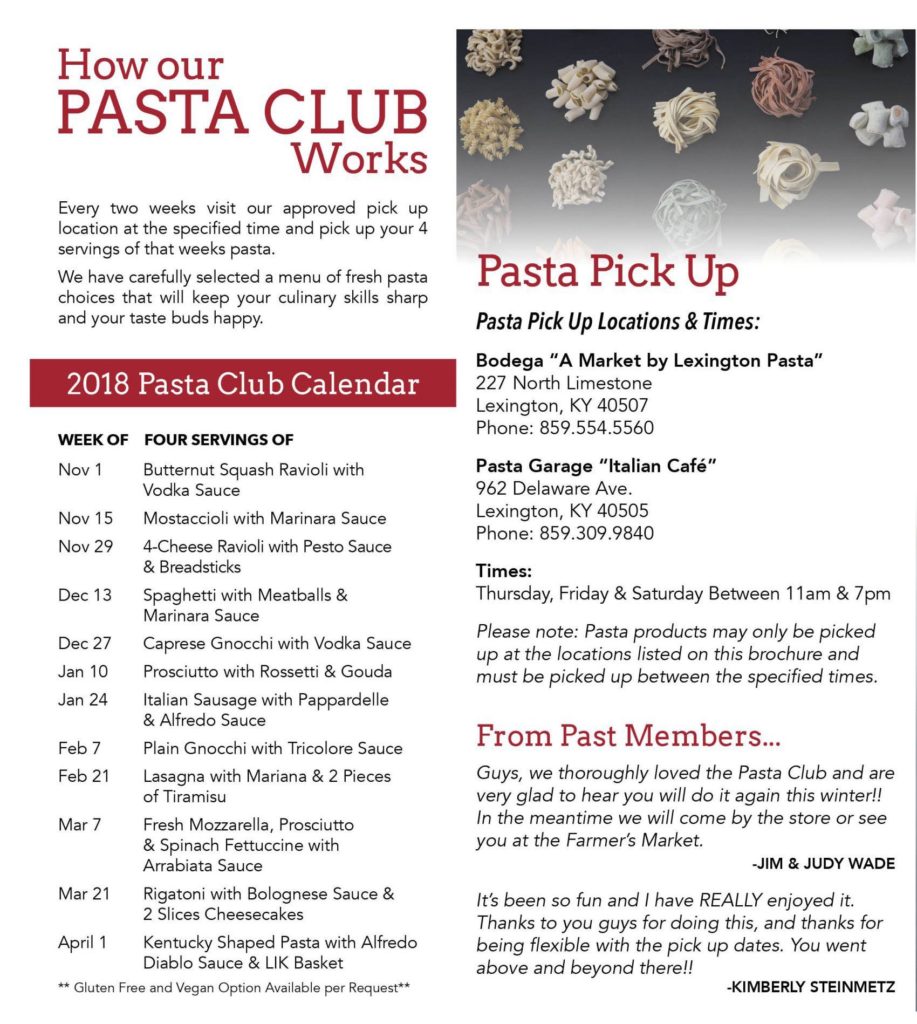 5. Eat Your Bourbon Starter Box: EAT YOUR BOURBON like the master himself. This gift set includes a signed copy of Matt Jamie's debut cookbook, EAT YOUR BOURBON, Bourbon Barrel Foods flagship product Bluegrass Soy Sauce, Bourbon Smoked Sea Salt, Bourbon Smoked Pepper, and Bourbon Smoked Paprika packed in an original gift box.
6. 12-pack of Ale-8-One: Ale-8-One or Ale-8 is a regional ginger and citrus flavored soft drink. The same family recipe has been used to make it since 1926. It's mostly distributed to brick and mortar retailers in Kentucky. Ale-8 could be described as a ginger soda with a kick. It's a ginger and citrus blend, containing less carbonation and fewer calories than conventional soda. You can also get an Ale-8 Freezee at some of the Speedway locations in Lexington and Winchester. Some restaurants even have it on tap, as well as some clothing boutiques have it in their stores. Ale-8 even debuted a new flavor this year – cherry!
7. Fried Chicken Scented Candle: These soy wax candles are fried up in a cast iron skillet with real chicken and top secret seasonings by Kick-Ass Kentuckian Kathy Werking. Back in May 2015, this amazing Kentucky scented candle has been featured on CNN, Mashable, Huffington Post, IGN, Paste Magazine, Thrillist, The Late Late Show, Food & Wine Magazine, The Metro, The Mirror and a ton of other news outlets.
Other scents available: 
Southern Snow Day
Bourbon Drunk Gingerbread Man
Oh Sh*t I Forgot a Gift!
Holiday Horse Breath
Home for the Yallidays
Cornbread
Burning Couch
Old Fashioned
8. Dishique Keeneland Set: Make a statement with these when you host your next party!
9. Smoke and Pickles by Chef Edward Lee and Buttermilk Graffiti by Chef Edward Lee: With the book, Smoke and Pickles, Lee fills his debut cookbook with tales of the restaurant world, New York City, Kentucky, and his time competing on Top Chef, plus more than 130 exceptional recipes for food with Korean roots and Southern soul. With the book, Buttermilk Graffiti, there are sixteen adventures, sixteen vibrant new chapters in the great evolving story of American cuisine. And forty recipes, created by Lee, that bring these new dishes into our own kitchens.
10. Cask & Crown Barrel Tray: The over-sized tray is surrounded by a heavy wrought iron base. The rough sawn wood top is constructed with recently retired wine barrels.
11. Tasting Kentucky: Favorite Recipes from the Bluegrass State: Tasting Kentucky: Favorite Recipes from the Bluegrass State showcases Kentucky's exuberant cuisine, from classic barbecue, Hot Browns, and catfish with beer cheese grits, to innovative fusions of regional and global flavors. Mouth-watering photographs complement 102 recipes both simple and sumptuous from the finest restaurants, inns, cafés, and bed-and-breakfasts across the state
12. Pappy Van Winkle Bourbon Nib Brittle: Pappy Van Winkle Bourbon Nib Brittle are produced in partnership with Olive & Sinclair, one of the finest artisan chocolate makers in the country to bring you one of their most prized products: bean-to-bar chocolate. The Bourbon Nib Brittle is made with organic cacao bean "nibs" aged in our used Pappy barrels. The aged nibs with hints of bourbon are then added to a caramelized buttery brittle and topped with a layer of 67% chocolate. A classic confection with a unique southern twist, it's a surefire hit for any bourbon lover and sure to convert any bourbon non-believer.
Happy Holidays!