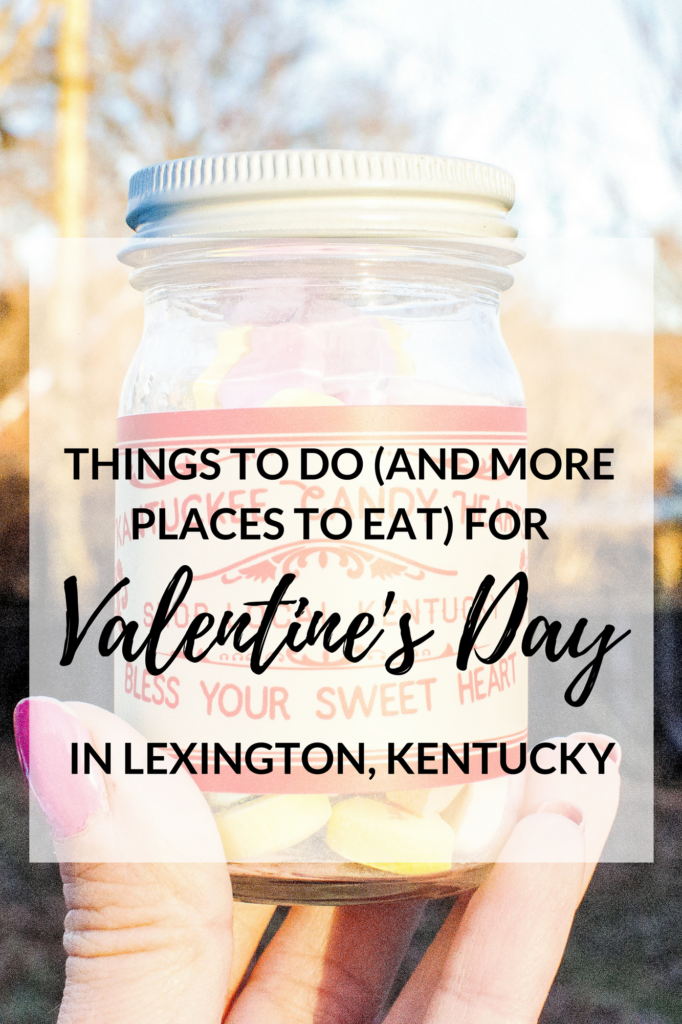 Yesterday, I shared a list of "20 Places to Eat For Valentine's Day," but today I have "45 Events and Activities (as well as more restaurants)" that will make you feel the love in Lexington, Kentucky this Valentine's Day! It doesn't matter if you are single, dating or married, have children, or just wanting to have a girl's night. There is a little something for everyone!
Single? – I've got you covered!
Dating or married? – So many romantic ideas happening this week!
Have children? – So many ideas to celebrate with them!
Dog lover? – Don't forget about your furry friend! There's events for them too
Want to make it a girl's day/night? – Plenty of Galentine's Day celebrations happening around the city!
The events on this list start on Wednesday, February 8 and go through until Valentine's Day!
1. Buffalo Love at Buffalo Trace Distillery – Saturday, February 10 at 6pm:
Celebrate Valentine's Day with Buffalo Love, a unique dinner featuring Buffalo Trace's award- winning bourbons and sumptuous cuisine. We'll delight your senses with food paired with our world-renowned spirits. 6:00 p.m.: Optional Tour. 7:00 p.m. – 9:00 p.m.: Dinner/Event. $100 per person. Tickets go on sale Jan. 8th. For reservations, email events@buffalotrace.com or call 502.696.5930. See menu: HERE.
2. Valentine's Day Dinner at Woodford Reserve – Wednesday, February 14 at 6pm:
We are all about sharing the love at Woodford Reserve – the love of food and the love of bourbon. Bring your special someone and celebrate both with us this Valentine's Day. Both evenings feature distillery tours, a beautiful four-course plated meal, cash bar and live music.  See schedule: HERE. Click HERE to view the menu for both evenings.  Guests must be 21 and over to attend.
3. Galentine's Calligraphy at The Summit at Fritz Farm – Thursday, February 8 at 6:30pm – *SOLD OUT:
Grab your girls & meet us in The Barn for a LOVE-ly evening! Mirabelle Creations will teach an interactive calligraphy class (all levels welcome) and we will offer snacks, sweets, & sips! Whether it's a card for your sweetheart or the bestie who got you through the rest, we'll help take the edge off this Valentine's! $10 gets you snacks, sips, & an awesome class! Purchase tickets: HERE.
4. Galentine's Day at The Amsden (located in Versailles, Kentucky) – Saturday, February 10 at 10am
Join us for a fun day of all things girly at The Amsden to kick off February and Valentine's Day week. On Saturday February 10th, all the businesses at the Amsden will be participating in a fun Galentine's Day party! We'll have fun activities + specials throughout the day so gather up your gal pals and come sip + shop together!
Activities will include:
Jewelry Customization with Nikki Cummings Jewelry
Make + Take Valentine Station with Lexington Design Co.
Free Barre Class with The Yoga Room Versailles
Happy Hour at The Amsden Coffee Club
Photo Booth with On A Whim Company
Free Mini Makeovers + Pout Bar
ALL DAY SPECIALS
More details: HERE.
5. Dip & Date – A date night for you and your child! at Steel City Pops – Tuesday, February 13 at 5pm:
A Valentine date night for children and their special someone! Whether it be their father, grandparent, uncle or role model – come enjoy a pop together. The dipping station will be FREE for all attending! We will also have some other fun surprises – we hope to see you there!
6. Galentine's Day DIY Party at the Lexington Habitat ReStore – Tuesday, February at 7pm:
What's Galentine's Day? Only the best day of the year! Ladies celebrating ladies, kicking it breakfast style! Celebrate with us at ReStore with waffles, friends, and crafts! Mingle and DIY as you please! We will have project stations for shower bombs, candle making, and customizable vintage saucer wall art. Edibles include a waffle bar, bacon, and punch. See you there! The event will be held at ReStore (451 Southland Drive, Lexington KY) on Tuesday, February 13th from 7pm-9pm. Space is limited so sign up today! Tickets are $20 per person and include a $10 ReStore coupon! Purchase tickets: HERE.
7. Date Night at Elle Fitness – Wednesday, February 14 at 7pm:
Burn For Bourbon Date Night Event-For over 7 years Elle Fitness has been burning up fellas at the barre for a chance to win a FREE bottle of bourbon. Show your love this Valentine's Day just what we do at the barre! Light appetizers and wine will be served following class. Stay tuned for what brand of bourbon we will be giving away this month! FREE for all guys!
8. Valentines Day Barker Party at the Southern Barker – Saturday, February 10 at 10am
Come out and celebrate Valentines day early with your pup! We will have a Photo Booth in store and also a 15% off the entire store sale! Free Valentines Day treat bags for your pups!
9. DIY: Casting molds for chocolate hearts – a Valentine's Day treat! at Kre8now Makerspace – Saturday, February 10 at 12pm
Just in time for valentines day learn how to make a mold for casting chocolate hearts! You'll learn how to make a one-part mold out of food-safe silicone that you can use to cast candy or chocolate. The principles are the same for making any one-part mold and you can apply what you learn to other projects. Take your mold home with you at the end of class. (Note. this is to make your own heart shaped mold, to take home!) Purchase tickets: HERE.
10. Couples Yoga with Wine & Chocolate at Love & Grace Yoga Studio – Saturday, February 10 at 2pm
Come experience a relaxing afternoon of bonding and loving your partner in a new way. Some very gentle partner yoga with some tai chi massage sprinkled in. This is not your average yoga class. All levels welcome, no prior yoga experience needed. Afterwards enjoy some wine and chocolate over guided conversation that will help deepen your relationship. $25 per couple. More information: HERE.
11. Valentine Salon at University of Kentucky Friends of Music – Sunday, February 11 at 3pm
The University of Kentucky Friends of Music is hosting a Valentine Salon at the home of Denise Quandt and William Balke on Sunday, February 11th starting at 3:00pm. Join us for beverages, light hors d'oeuvres and music by the Lex4 Woodwind Quintet! Cost is $40 per person and you can RSVP to bradley.kerns@uky.edu. More details: HERE.
12. Be(er) Mine Brunch at Rock House Brewing – Sunday, February 11 at 11am
Please join us for our Valentine's brunch and beer pairing. This is an event for all valentines including couples, friends and families! Food will be provided by Minton's at 760. Classic romantic comedies on the warehouse big screen. Wild Funky Love bottle special with macarons from La Petite Délicat. More details: HERE. Tickets are $20 in advance and $25 at the door. They may be purchased at the brewery or online: HERE.
13. LexSwing's Valentine Dance ft. The Walnut Street Ramblers at Lexswingdance – Monday, February 12 at 7pm
Join us for a night of Valentine sweetness and live jazz music performed by the Walnut Street Ramblers. LexSwing is excited to host this fantastic band and provide a musical treat to your ears and feet as we celebrate this holiday of love. Admission: $5 (This includes cover for live music).
14. Galentine's Day Flower Hour at Rose & Thistle – Tuesday, February 13 at 5:30pm – *SOLD OUT
It's Galentine's Day! Time to celebrate you and the awesome gals in your life. Sip Champagne, play with flowers, and take home a gorgeous compote arrangement. Very limited seating – RSVP early to avoid disappointment. Tickets include instruction, flowers, materials, Valentine's treats, and of course, Champagne! Purchase tickets: HERE.
15. Galentine's Day at bevello – Tuesday, February 13 at 5pm
Take 20% OFF your full price purchase! Enjoy our complimentary dessert bar + bubbly. Don't forget to bring a friend!
16. Valentine's Day at Oscar Diggs – Wednesday, February 14 at 6pm
Come join Oscar Diggs for a special Valentines day dinner. We will be offering a three course optional dinner menu for two. Dinner will be served at 6:00, 7:30 and 9PM. Each time slot will be limited to ten couples per time slot. Tickets will include all three courses a rooster beer (if of age) and table side service for the evening. See menu: HERE. Purchase tickets: HERE.
17. Valentine's Night at The Kentucky Castle – Various dates from Saturday, February 10 to Thursday, February 15
Bring your special someone to a magical night out at The Kentucky Castle. Make this the best Valentine's night of their life in the most romantic setting possible. You'll be served an inspired 4 course meal in an enchanting setting. Details and tickets available: HERE.
18. My Little Valentine – Daddy/Daughter Ball at The Kentucky Castle – Friday, February 15 at 5pm & 7:30pm
Bring your little Valentine to The Kentucky Castle for the My Valentine Daddy/ Daughter Ball. It will be a magical evening filled music, dancing, pictures, and real live Princesses. She will receive a personalized invitation to the ball in the mail. Upon arrival, she will be greeted by a prince and presented with a tiara. Make a memory she'll never forget. Heavy hors d'oeuvres and sparkling grape juice (champagne for adults) served. Limited seating still available at the Castle Farm Restaurant, please inquire for reservations. Details and tickets available: HERE.
19. Ballotin Chocolate Whiskey Takeover at Liquor Barn (Plaudit Place location) – Tuesday, February 13 at 5pm
A Sweet and Spirited Celebration Hosted by Liquor Barn! Don't miss the ultimate Valentine's Day celebration as we indulge in sweet snacks, spirits and giveaways! Bring a date and make a night of it or just sample and stock up for a Valentine's celebration of your own, ON US! Giveaways include gift cards, 2018 Tailspin Ale Fest – Louisville's Winter Warmer Tickets, exclusive Liquor Barn experiences and more. Giveaways will take place every 20 minutes. More details: HERE.
20. Cupid is Stupid at World of Beer – Wednesday, February 14 at 6pm
Cupid is Stupid! We are going off the beaten path to celebrate the Anti-Valentines, come out for some awesome beers and company. We'll be your "someone special" for the night. We'll even make voo-doo dolls!
21. Valentine's Day at the Greenroom – Wednesday, February 14 at 5pm
Join us at the Greenroom before or after your dinner plans for Valentine's Day! This year, we're offering two different themed packages & seating times – Aperitif & Dessert! Come by at 5:30 for some savory food & beer pairings, or hop in at 8:30 for our sweet & dark selections. Check out the two packages below – $30 per couple. All tickets include a seat reservation! Please reach out if you'd like to sit with another couple to events@westsixth.com. More details: HERE and tickets available: HERE.
22. Annual Valentines Day Event at The Mad Potter – Wednesday, February 14 at 6pm
Join us for a night of painting pottery with your special someone. Romantic music, semi-private tables, chocolates, coffee, tea and decorations. Make your reservation today. $8.00 per person ($16.00 a couple) Reservations fill up quickly. Call studio at 859-269-4591.
23. Valentine's Day Dinner at Honeywood – Wednesday, February 14 at 5pm
Come celebrate the holiday with your sweetheart! The restaurant is taking reservations for any size party for Feb. 14. Reservations available daily for parties of 6 or more. Call (859) 469-8234 to reserve a table! See menu: HERE.
24. Sweet Spot Cake Bash at The Casual Pint – Wednesday, February 14 at 4pm
We've teamed up with The Sweet Spot to bring you a Valentines treat! February 14th, get any draught beer and a slice of cake for $10!
25. Valentine's Day with Fruition at The Burl – Wednesday, February 14 at 8pm
Join us at The Burl on Valentine's Day for an evening of music with Fruition. Tickets available: HERE.
26. Valentine's Day at West Sixth – Wednesday, February 14 at 11am
All day at the main taproom, we'll be running a packaged special that includes beer, some sweet treats, & fun extras! Join us at anytime on Valentine's day to enjoy craft beer with those you love! You can purchase ahead of time online for $25, or just stop by day-of and purchase at the bar for $30. Smithtown Seafood will also have a fantastic "Plate for 2" special that day as well! More details: HERE and tickets available: HERE.
27. Singing Valentines by The Kentuckians Chorus – All day on Wednesday, February 14
Serenade your loved one with our unique Singing Valentine! A barbershop quartet, dressed in tuxedos, will surprise your friend, spouse, girlfriend, boyfriend, office staff or anyone else with medley of two love songs, a long-stemmed rose and a personalized card. Extra roses are available. This year we are only scheduling on Wednesday, 2/14. Take advantage of this opportunity and honor your office staff as well as your loved one! This will be a Valentine they will never forget! Standard package:$45, this includes a two-song medley, personalized card and 1 rose. (Additional roses are $5, while supplies last). Group packages: Start at $100 for 30 minutes of singing. Fees beyond 30 minutes are negotiable. Entertain your guests or patrons, includes a variety of love songs. Roses, if requested, are $5 each and must be ordered 24 hours in advance to ensure availability. Purchase tickets: HERE.
28. Valentine Barrel Tasting at Jean Farris Winery – Sunday, February 11 at 2pm
Join us at Jean Farris for an intimate Barrel Tasting this Valentine holiday. If you are looking for the perfect unique gift this Valentine's Day look no more. Give her an afternoon with champagne, cava, red wine, truffles, macrons, and chocolate covered strawberries. An afternoon amongst the barrels of wine in the winery at Jean Farris is unforgettable. In addition to barrel samples of our 2014 Pinot Noir, Cabernet Franc, Cabernet Sauvignon, Petite Syrah, and Red Head Blend Wines we offer glasses of Champagne and Rose Cava. A glass of each with ticket price. Servers will pass trays of house-made truffles, macrons, and chocolate covered strawberries. This special Valentine's Day event is offered on the Sunday before and after Valentine's Day from 2pm to 5pm. Regular tickets are $25pp. Jean Farris Wine Club Members $10pp. Those attendees staying for dinner will receive an additional 10% discount on their dinner in the restaurant. Must be 21 years old or older to attend event. Additional reservations required for dinner in restaurant visit JeanFarris.com for dinner reservations. Purchase tickets: HERE.
29. MAKE A Valentine's Day Gift at Michael's – February at 1pm
Bottoms up! Decorate adorable tumblers, mugs and more for your valentine this Saturday. Buy a glass, mug or tumbler, and the supplies to decorate it will be provided. All Michaels Store locations, 1-3PM local time. Ages 3 and up welcome. Pre-registration is not required, first come, first served, please arrive in enough time to complete project prior to 3 pm. More details: HERE.
30. The Little Red Dress Party at Kentucky Ale Taproom – Saturday, February 10 at 10pm
Valentine's Day celebration! Ladies in a red dress and heels in free before midnight with RSVP. Purchase tickets: HERE.
31. Valentine's Dinner at J. Render's – Wednesday, February 14 at 5pm
Come join us for J. Render's 2nd Valentine's Dinner with your sweetheart. Enjoy a 3 Course Dinner for $50. Enjoy a delightful evening at J. Render's, we'll even have some live music to set the perfect mood. See menu: HERE.
32. Find Your Sweetheart at The Local Wag – Sunday, February 11 at 2pm
It's not just puppy love, our fur-babies fill our hearts with so much joy and love. Come join us as we celebrate Valentine's Day with Woodford Humane Society, Lexington Pit Crew, BLUEGRASS PUG RESCUE, and Bluegrass Greyhound Adoption at The Local Wag.
33. Roses & Riders Valentine's Party at Man O' War Harley Davidson – Saturday, February 10 at 9:30am
Love is in the air… no wait that's just exhaust. Come celebrate Valentine's Day at Man O' War with our Roses & Riders Valentine's Party on February 10th from 9am-3pm! We'll kick off the day with a donut social from 9:30-10:30am, and then a special Valentine Workshop at 10:30am! There will be refreshments and door prizes until 3pm. Victor and Holly Niro Sewing Ministry will be here this day to sew your patches on! Bring your significant other and come have a good time!
34. Valentine's Weekend Brunch a Alfalfa- Saturday, February 10 and Sunday, February 11 at 11am
Alfalfa is celebrating Valentine's Day all weekend long! Here are a few of the specials that we have planned. We'll have plenty of Bloody Mary's, Mimosas and Bellinis as well! See menu: HERE.
35. Valentines Day w/ Maggie & Casen! at Blue Stallion Brewing Company – Wednesday, February 14 at 7pm
Come catch Maggie Noëlle (Magnolia Boulevard) and Casen Baumgardner (Restless Leg String Band) at Blue Stallion Brewing Co. for a special acoustic duo show!
36. Galentine's Yoga with Megan at Lexington Public Library (Main Street location) – Monday, February 12 at 6:30pm
Join me to practice empowering poses and breath work, with an emphasis on compassion and love for our bodies. This is open to anyone who identifies as a gal or wants to get in tune with their gal-side. We will primarily be using the floor (which is carpeted) with access to chairs and walls. There will also be reflections/journaling throughout the practice. More details: HERE.
37. Valentine's Day is for (veggie & meat) Lovers! at Alfalfa- Wednesday, February 14 at 5:30pm
At Alfalfa we feel everyone should enjoy the same amazing food no matter if you're vegan, vegetarian or a carnivore! We're making this dream become a reality on Valentine's Day. We have created a special Valentine's Menu that will allow veggie and meat lovers to enjoy the same dishes! See menu: HERE.
38. Valentine's Making with Princesses and Superheroes at the Gap (Hamburg location) – Saturday, February 10 at 11am
Along with Gap Kids in Hamburg Pavilion, we present Valentine Making with Princesses and Superheroes! Your little ones will create homemade Valentine cards for their loved ones, as two of their favorite princesses from Gleam and Glow Princess Services and a couple of our decorated superheroes are on hand to help, as well as take photos and visit with the children.
39. Valentine's Day Event at The Thoroughbred Club of America – Satuday, February at 6:30pm
Join us for our Valentine's Day celebration with a Brazilian twist! The TCA will be transformed into a Churrasco-Style Steakhouse. We will be featuring appetizer, salad, and side-item stations along with a wide variety of wood-fired and slow-cooked meats. Tickets are $65 per person (does not include drinks & gratuity). Reservations required, please call the Club to make your reservation.
40. Early Valentine Celebration at Board and Brush – Saturday, February 10 at 6:30pm
Looking for something festive to do with that someone special. Our DIY classes are the perfect way to spend quality time together and take home a keepsake memory that will last for many years to come. This class is only for 21+. Sign up: HERE.
41. Couples Yoga Workshop at Wildfire Yoga – Sunday, February 11 at 1pm
Come together with your Special someone on your mats to connect through your breath and touch. Nicole Hays will lead you through this flow. We will start with mindful breathing, while physically connecting through touch. Following, we will take partnered poses, comfortable for beginners. After we Flow, we will learn some acro basics, with my partner. To wind down our loving asana, we will play with partner assisted stretching and loving touch. Ending in a cuddling shavasana. Chocolates and refreshments after practice!
42. Valentine's Day Tea at Waveland State Historic Site – Wednesday, February 14 at 6:30pm
Waveland State Historic site is serving a special evening tea on Wednesday February 14th ! Tea will be served at 6:30 p.m. in the mansion on fine china. The tea will include savory food and delicious tea served by period dressed interpreters. Once you are finished with the tea enjoy a tour of Waveland Mansion. A unique one-of-a-kind experience! The price is $30.00 per person. Reservations are required. Gluten free options available for $5.00 fee. Call 859-272-3611 for reservations.
43. Love and Wine at Wine and Canvas – Monday, February 12 at 6:30pm
18+ for Wine and Canvas events.  TGIF will have a server during the event. See painting and sign up: HERE.
44. All Ages Family Friendly Valentines Workshop at Board and Brush – Sunday, February 11 at 1pm
Looking for something fun to do with the kids for Valentines? Join us this coming Sunday afternoon for a fun pick your project workshop. Everyone will go home with a DIY masterpiece. Sign up: HERE.
45. Send a Valentine to a Child in the Cincinnati Children's Hospital
Valentine's Day is a time to feel special – a time to feel loved. But nearly 500 of our patients will be spending it away from their friends and fun classroom festivities.
Spread some love at Cincinnati Children's this Valentine's Day by crafting an online valentine (click on the link – it's free to send a card!), and we'll deliver your card to a patient. It's fast, free and sure to brighten a child's day.
Happy Valentine's Day!
Be sure to share this post to spread the word!