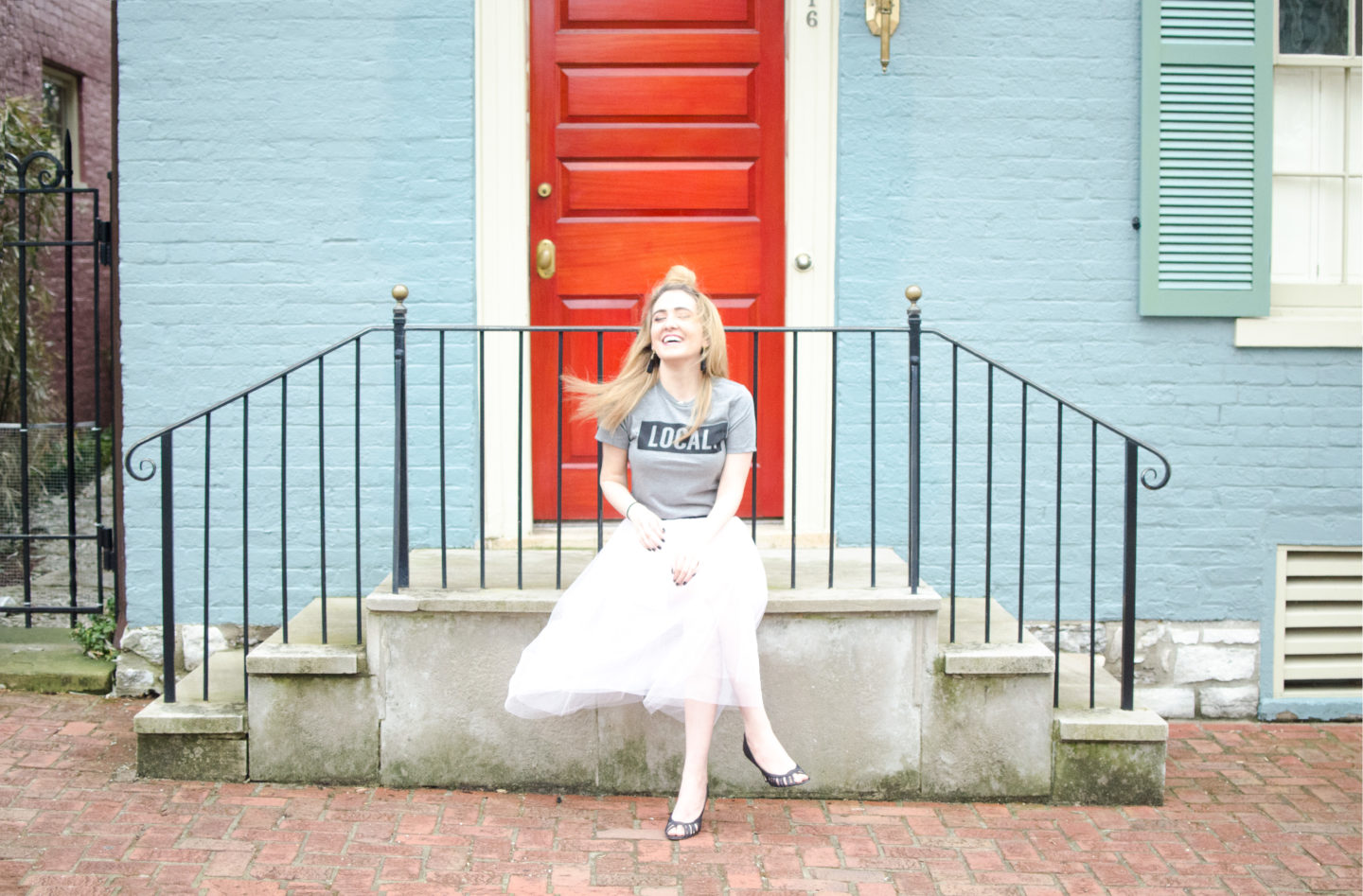 Everyone who knows me knows how much I love Lexington, hence why my blog is named "Fabulous In Fayette" and is entirely dedicated to it! Fabulous in Fayette is your one-stop place to find out what's happening in Lexington on a weekly basis, where to eat, and amazing events that you can't miss! Lexington is such a great place to live in – between the culture, the amazing local restaurants, the bourbon scene, or all of the events happening throughout the city to keep you entertained.
I've always wanted to do a post with a round-up with some of my favorite places. Maybe if you are local, you'll discover a place you haven't been to! Or if you are a visitor, then you'll know the places that an actual Lexingtonian loves!

North Lime Coffee and Donuts:
North Lime is located off of North Limestone (and also has a location off of Clays Mill), this place has some of the most creative donuts. Their donuts are made from scratch daily, and they have their classics everyday. In addition to the classics, they have specials that change daily, so you'll need to check their instagram to stay in the know! Some examples of their specials include: puppy chow, blackberry lemonade, mojito, orange dreamiscle, pepperoni pizza filled, chicken and waffles, and many many more!
Spalding's Bakery:
Spalding's has been a Lexington staple for quite some time. This is a family-owned business that was established in 1929 and is now located off of Winchester Road. The donut is so good that is basically melts in your mouth. Just a tip: They only accept cash! However, there is an ATM at the convenience store next door. They are only opened Wednesday through Saturday from 6:30am to 12pm and Sunday at 7am to 12pm, so get there early to ensure you are able to get some!
OBC Kitchen: This is one of my favorite restaurants in Lexington and is home to one of the best meals I've ever eaten! OBC Kitchen is a local, chef-driven restaurant that houses an extremely rare bourbon collection, eclectic craft beer selection and extensive wine list. The food is so delicious! For the appetizer, I highly recommend the "Bacon in a Glass." It's honey bourbon, sugar glazed bacon with a peanut butter accompaniment! OBC is known for its bourbon collection, but it's also known for their themed cocktails, which they change quarterly. Currently, they are country-music themed, which you can see: HERE. Here's an example: The Coal Miner's Daughter (A barrel-rested cocktail made with Bottled-in-Bond Kentucky bourbon, allspice dram, amaro sibona, sweet vermouth and Abbott's bitters). Be sure to make reservations!

Distillery Tour:
Lexington is in the heart of bourbon country. 95% of the world's bourbon is made right in Kentucky, so it's only a short drive away to visit numerous distilleries, such as Woodford Reserve, Buffalo Trace, Town Branch, and many more, which you can see: HERE.
Thursday Night Live:
From every Thursday starting on April 5 and ending on October 11, downtown turns into the hottest party! Join thousands of your closest friends for live music, local food and beverage vendors. It takes place each week at Cheapside Park (251 West Main Street) rain or shine! Thursday Night Live starts at 5pm and the live music starts at 5:30pm!
The Night Market:
The Night Market, which is a pop-up market located on the 700 block of Bryan Avenue, is held on the first Friday of every month from April to December. It's free and open to the public from 6pm to 10pm. While primarily serving as a platform for neighborhood businesses, artists, and nonprofits to grow their business, the Night Market also highlights the creativity in our community and brings people from all over the region to Lexington's Northside. Not only are there local vendors to shop from, but there are many local food vendors, as well as a beer draft trailer and biergarten courtesy of West Sixth Brewing and live music from local or regional bands.
Keeneland:
You couldn't visit Lexington aka "The Horse Capital of the World" without experiencing horses. Keeneland hosts two meets; a Spring Meet in April and a Fall Meet in October. During those months, the meets are three weeks long. Keeneland was founded in 1936 on 147 acres. There also has been live race meets in both April in October since 1936. The spring meet contains several preps for the Kentucky Derby and the most notable one is the Bluegrass Stakes. The fall meet contains several preps for the Breeders' Cup. In 2009, the Horseplayers Association introduced a rating system for 65 Thoroughbred racetracks in North America. Keeneland was ranked #1, and I believe in 2015, it was #2. Keeneland was also was named a National Historic Landmark in 1986, and is listed on the National Register of Historic Places.
In 2015, Keeneland hosted the Breeders' Cup for the first time. It was won by Triple Crown winner American Pharoah by six and a half lengths (I'm sure that y'all have heard of him!). American Pharoah was the first horse to win the Grand Slam of horse racing, which is the Kentucky Derby, the Preakness Stakes, the Belmont Stakes, and the Breeders' Cup. American Pharoah was actually bred right here in Lexington, Kentucky. He was born on February 2, 2012 at Tom VanMeter's Stockplace Farm.
Looking for something else to do?
Every Friday, I make a detailed list of over 100+ events happening in Lexington in the upcoming week, as seen: HERE.

Carson's:
Carson's is my new favorite place for brunch and it's located in the heart of downtown! It's a hip speakeasy with indoor and outdoor seating, and inside the decor is industrial with over-sized chandeliers. Carson's is located in the former Coach Craft building, which was an automotive customization shop. The food is absolutely delicious, and so are their craft cocktails. It's a pretty popular place, so you will definitely need reservations!
Josie's:
Josie's is located in the Chevy Chase neighborhood (and there is also another location off of Lexington Road in Georgetown) and is brought to you by the same owners as the Merrick Inn (which is an amazing restaurant!). Josie's is known for it's breakfast (but they also serve lunch too!) Their breakfast includes omelets, hearty dishes, eggs Benedict, pancakes, waffles, and all of the classics. There is also something on the healthier side such as organic granola, egg white omelets, and a selection for low-carb lovers. Be sure to get their early, because there most likely will be a wait!

Goodfellas in the Distillery District
Goodfellas is located in the Distillery District, which is located on Manchester Street, and it's such a cool location! It's located on the James E. Pepper campus, which was actually a distillery from the American Revolution to 1958. The campus, which is home to many other local businesses, was abandoned for more than 60 years. It wasn't until 2016, when the plan to revitalize the area was put into action. Goodfellas is one of businesses in the Distillery District, which is a booming food and entertainment venue. The Distillery District itself has been named one of the "50 Best Places in the South" right now.
Goodfellas has been serving pizza by the slice in the Lexington, Kentucky and the Greater Cincinnati area since 2005. Their pizza is gigantic at 22 inches! (The average large pizza is 16 inches, but not at Goodfellas!). You can even order New York style pizza by the slice! Their dough is made fresh daily, hand tossed and baked off on the stone. You'll enjoy seeing the dough being tossed through the air before it goes into the oven! Goodfellas is not only a pizza joint, but it has a cocktail lounge as well! I highly recommend the "Buttered Burgundy!" It has cinnnamon infused Hayman's Old Tom Gin, Smith and Cross Naval Rum, Tempus Fugit Creme de Cacoa, brown sugar, Jack Reaguer Café Amaro Butterscotch Foam.
*Other locations: 110 North Mill Street – downtown Lexington; 333 South Limestone – inside of Two Keys Tavern – located in Lexington; 603 Main Street – Covington; 1211 Main Street – Cincinnati, Ohio; 545 Massachusetts Avenue – Indianapolis, Indiana.

West Main Crafting:
West Main Crafting Company is located on none other than West Main Street in downtown Lexington, Kentucky (specifically 135 West Main Street). West Main is almost like a throwback to an era from the past. Their craft cocktails are all amazing and are categorized by different categories: the Standards, Barrel Aged Cocktails, or Lost Ingredient Cocktails. The Orange Soda Pop is one of my favorite drinks there. It has Kentucky bourbon whiskey, demerara rum, orange falernum, acid phosphate, orange bitters, and soda water.
Drake's:
Drake's is part of the BHG family, which stands for Bluegrass Hospitality Group (they also own Harry's, Malone's, and OBC Kitchen). This is such a great description of the vibe of Drake's: "Family friendly by day, happening at happy hour, and all out party after hours." It's a great place to grab some lunch or some cocktails after work, or even to watch your favorite sports team!
If you live in Lexington, what are your favorite places to eat, shop, or grab a drink at?? Let me know in the comments!