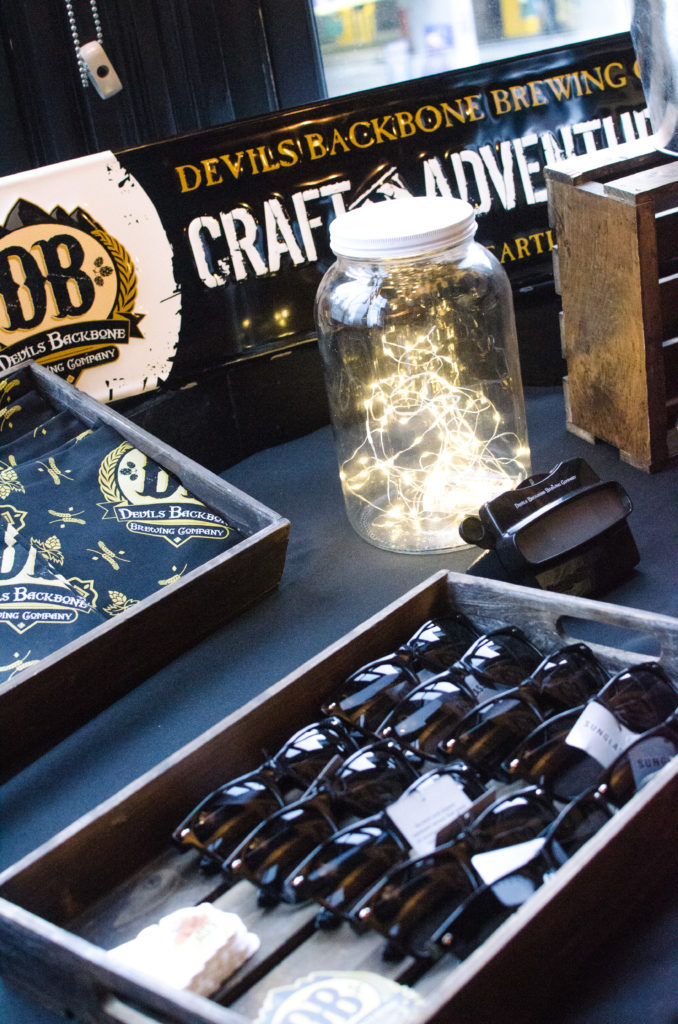 This post is in collaboration with Devils Backbone Brewing Company and The Village Idiot. All of these opinions are entirely my own. Thank you for supporting brands and businesses that support Fabulous in Fayette!
I was invited to attend a private dinner at The Village Idiot on Wednesday, February 7 in celebration of Devils Backbone Brewing Company expanding distribution to Kentucky! I was super excited to attend because I love supporting local businesses, and endeavors, and spreading the word about them. I've also been wanting to try The Village Idiot for quite some time!
At the event, we started off with a Welcome Beer, which was their Vienna Lager. We all even got a chance to talk with Jason Oliver, Brewmaster. The night was filled with many different types of beer, as well as a five course dinner! Each course was matched with a certain beer. We were informed about the beer itself, and as well as why the particular dish we were eating was paired with it!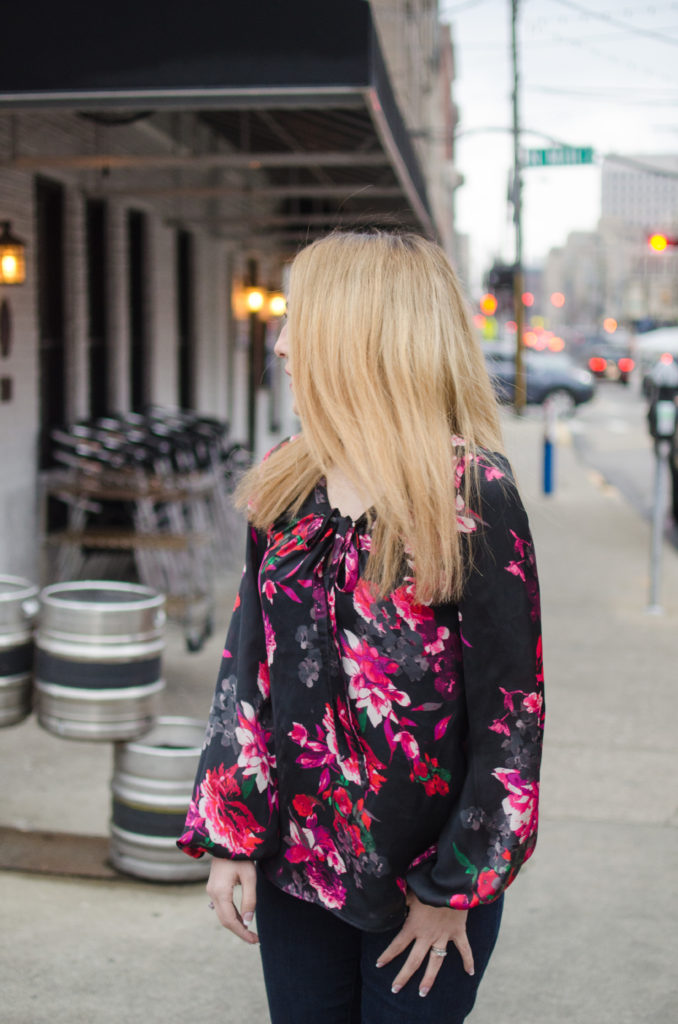 The Village Idiot offers locally sourced food that earns a spot at the table with their outstanding craft beer selection, quality wines, and exciting house recipe cocktails, while providing attentive service and an overall exceptional experience for their customers. This circa 1825 building is Lexington's oldest surviving post office building and now has been reincarnated as a gastropub.
Devils Backbone Story
In 2008, founders Steve Crandall and his wife Heidi, inspired by a skiing trip where they had their first taste of German beer, opened the doors to Devils Backbone Brewing Company in the Heartland of Virgina.
The Basecamp Brewpub & Meadows is the original brewery and a full-service restaurant. The property includes the Meadows (92 acres where we host events and festivals year round), The Oak Grill outdoor dining area, The Outdoor Beer Bar, and The Summit, a special events venue and coffee shop serving hand crafted drinks and made to order breakfast.
Also found in The Meadows is The Shanty, featuring fine cigars and serving select Virginia spirits and rare beers. Devils Backbone Distilling Co. is the newest addition to the property in 2018, where we distill our own craft spirits. The Basecamp Brewpub & Meadows is located at the food of the Blue Ridge Mountains in scenic Nelson County, Virginia.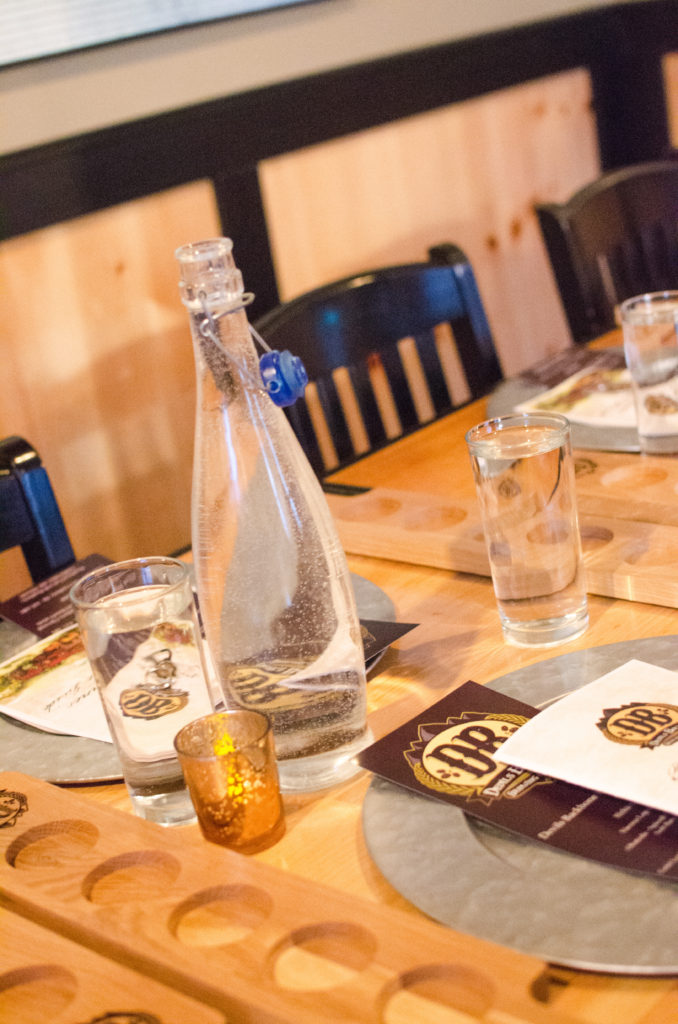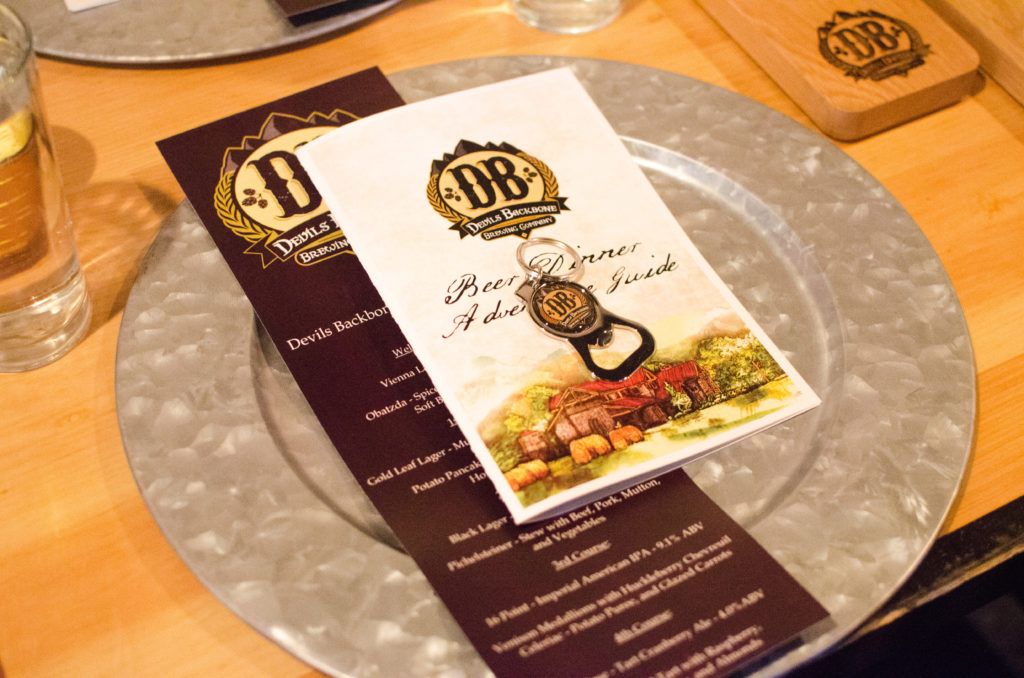 It was a great intimate setting, which allowed you to talk and mingle with the other guests, as well as the people from Devils Backbone.
I'm usually more of a bourbon connoisseur and haven't had much experience with beer, or know much about it, so it was interesting to learn about the different types and what all went into them. Out of the ones we tried that night, the Vienna Lager was my favorite, and my husband's favorite was the Cran Gose!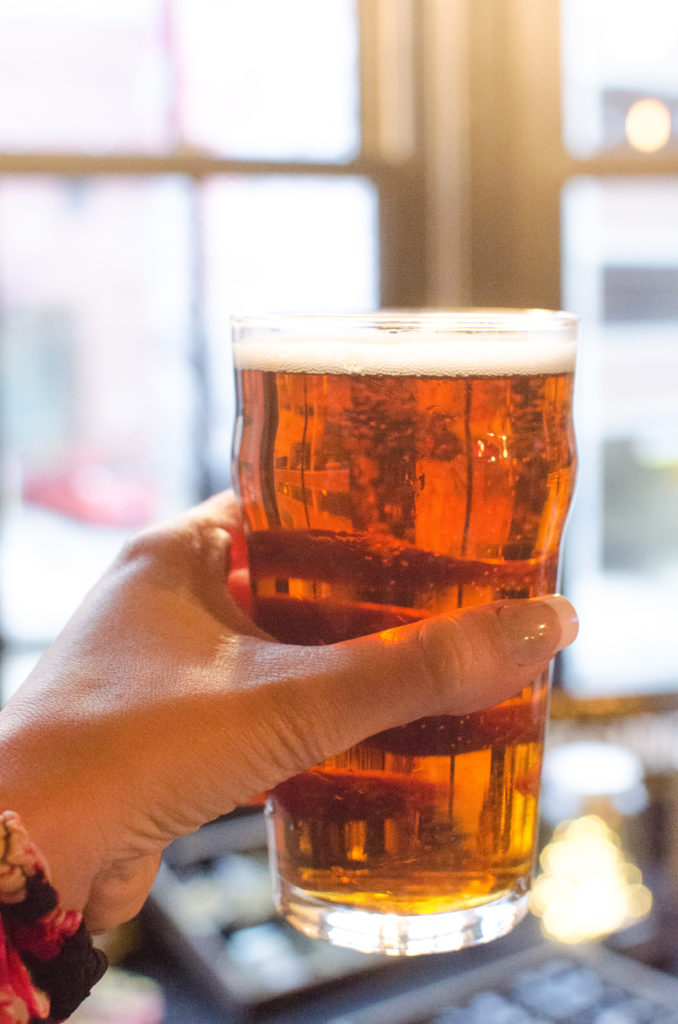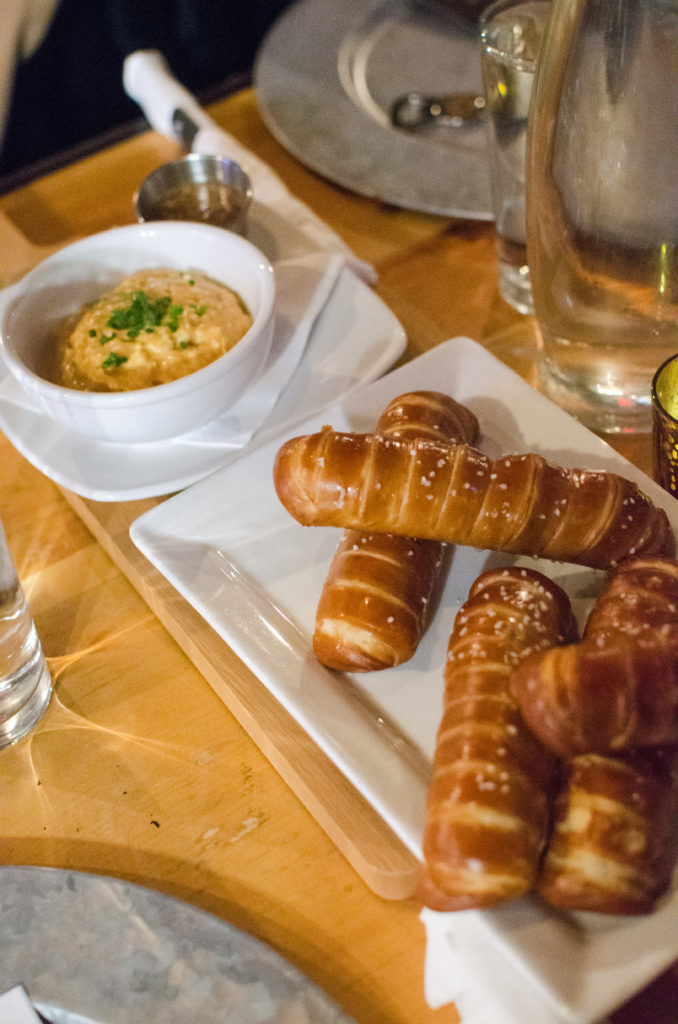 The night started with a welcome beer, which was the Vienna Lager (5.2%). The food we had that was paired with this beer was the Obatzda, which is spiced cheese spread with soft Bavarian pretzels. This is similar to the beer cheese we have in Kentucky, but this is German beer cheese, so it's more chunky with pieces of butter and other goodies bringing the flavor to another level. This is one of my most favorite things I ate that night – how could you say no to cheese?!?!
Vienna Lager (Vienna Style Lager)
Mild, Toasted, Caramel
ABV: 5.2%, IBU: 18
Malts: Vienna, Pilsner, Dark Munich, Caraamber
Hops: Norther Brewer, Saaz
Before coming to Devils Backbone in 2008, Jason Oliver had a rich history of brewing Märzens and other traditional Germanic beers. When Jason began as Head Brewmaster at Devils Backbone, he was eager to practice brewing the beer that would become Vienna Lager. Vienna-style lager is lighter and more approachable than Märzen, and at the time Jason recognized that there weren't many in the market. The Vienna-style lager is believed to be the style of beer that inspired Märzen and Munich's Oktoberfest bier. The first batch of Vienna Lager was brewed by Jason at the Basecamp Brewpub & Meadows in November of 2008. Over the years he has perfected the beer into a four-time medal winner at the Great American Beer Festival. Vienna Lager has also won two World Beer Cup awards and is even listed under the Beer Judge Certification Program style guidelines as an example of a superior Vienna Lager.
Beer Pairing Notes: One of the most food-friendly beers. Pizza, Mexican dishes, pasta with tomato sauce, German foods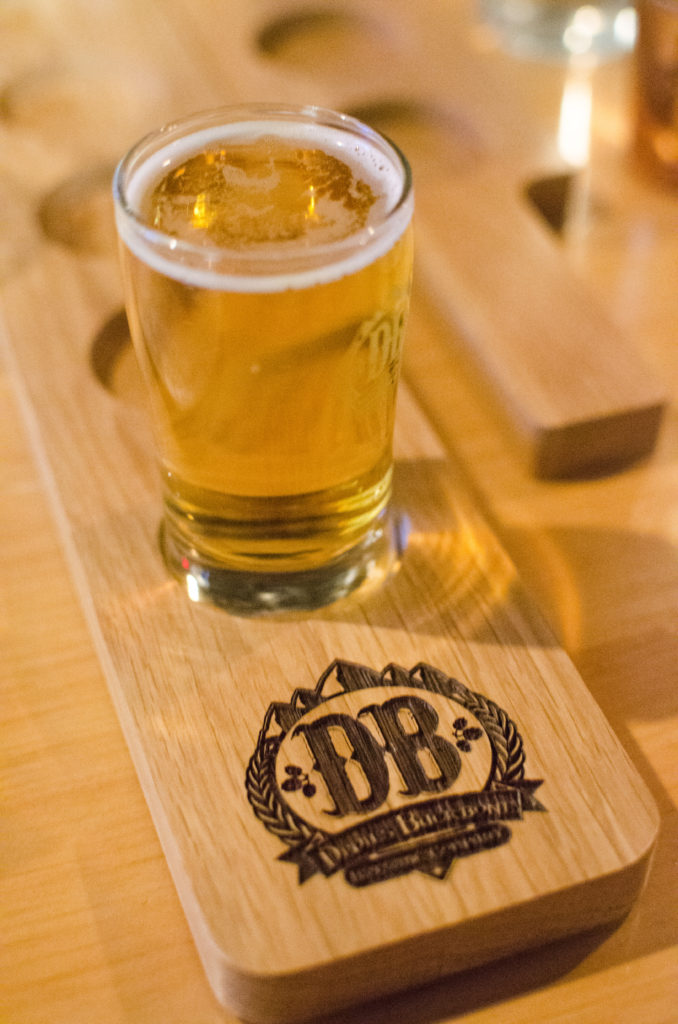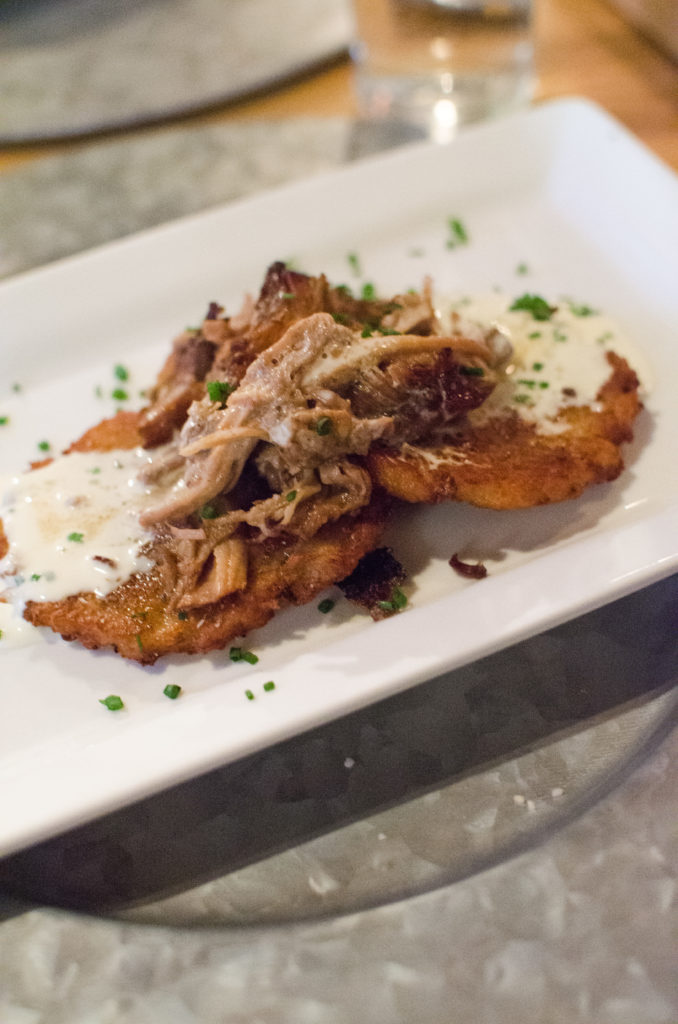 We then moved onto the next course and next beer. For this course, we had a potato pancake (also known as a latke) with braised pork and horseradish sauce. This dish was absolutely delicious and the pork was so tender! The beer that was paired with this was the Gold Leaf Lager.
Gold Leaf Lager (Golden Lager)
Crisp, Clean, Bready
ABV: 4.5%, IBU: 21
Malts: Pilsner, Weyermann Pilsner, Vienna, Acidulated Malt
Hops: Northern Brewer, Saaz, Tettnang
Gold Leaf Lager is one of the first beers we brewed at our Basecamp Brewpub & Meadows. If you visit either of our two locations, you'll likely find this beer on tap and a few locals at the bar who have been enjoying it for years! Harkening back to the days when refreshing beers were made 100% from malted barley, it's pale gold, light to medium in body with subtle fresh bready notes, and a clean crisp finish. Beers of this style are one of the easiest to enjoy, but one of the hardest to brew. The light malts and low hop profile allow any imperfections to easily shine through. Gold Leaf Lager is deceptively simple and simply delicious.
Beer Pairing Notes: Shrimp & grits, light salad, seafood, freshly baked bread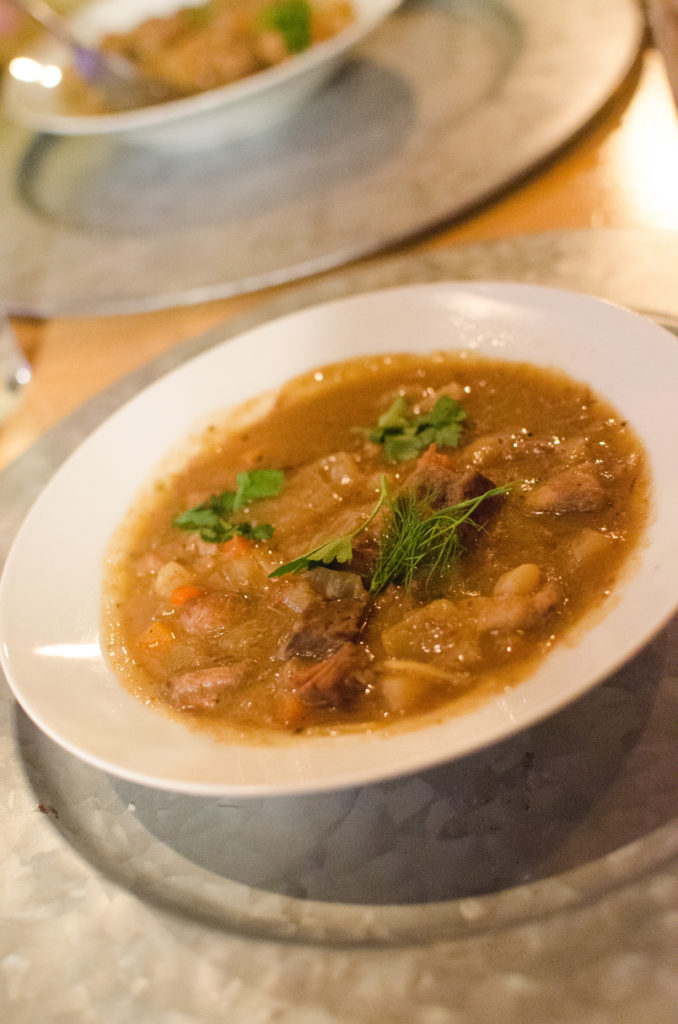 After this course, we had the Black Lager, which was paired with Pichelsteiner, which is stew that has pork, mutton, and vegetables. This was probably my favorite dish, hands down! I mean, it's hard to choose, since everything was so good, but I know what I like!
Black Lager (German Style Schwarzbier)
Subtle, Smooth, Coffee
ABV: 5.1%, IBU: 22
Malts: Pilsner, Carafa II Special, Dark Munich, CaraRed, Bohemian Pilsner, Melanoidin
Hops: Northern Brewer, Saaz
Black Lager is a Schwarzbier-style lager that Jason first brewed at Devils Backbone Basecamp Brewpub & Meadows in July of 2009. Being a history buff, many of the beers that Jason brews are inspired by old European brewing traditions with modern sensibilities. Schwartzbier means "black lager" in German, and it's one of the most ancient Germanic styles of brewing in the world. Originally, the recipe's malts and bread were charred over an open flame, turning them black, which attributed to the dark coloring of the beer. Jason uses sweet, bready, chocolately malts that result in an extremely approachable, light to medium bodied lager. Black Lager is a favorite amongst the Devils Backbone family, and it's easy to drink year round. Those who don't know yet they are fans of dark beer are constantly surprised by how much they enjoy Black Lager!
Beer Pairing Notes: Dessert chocolate, rich meat, – steak, roast beef, and other hearty dishes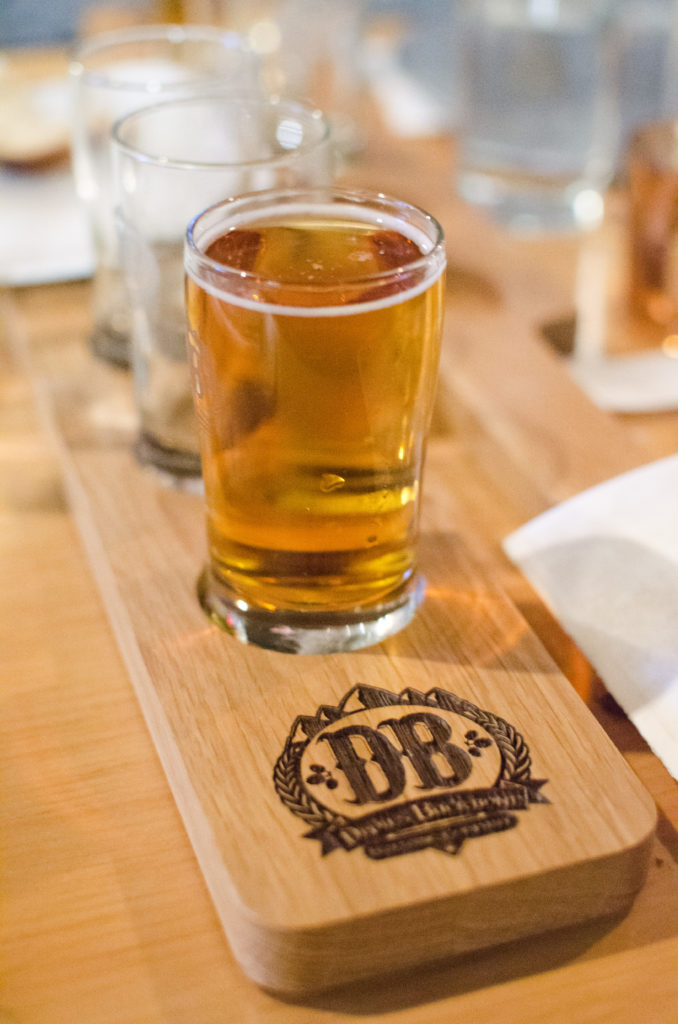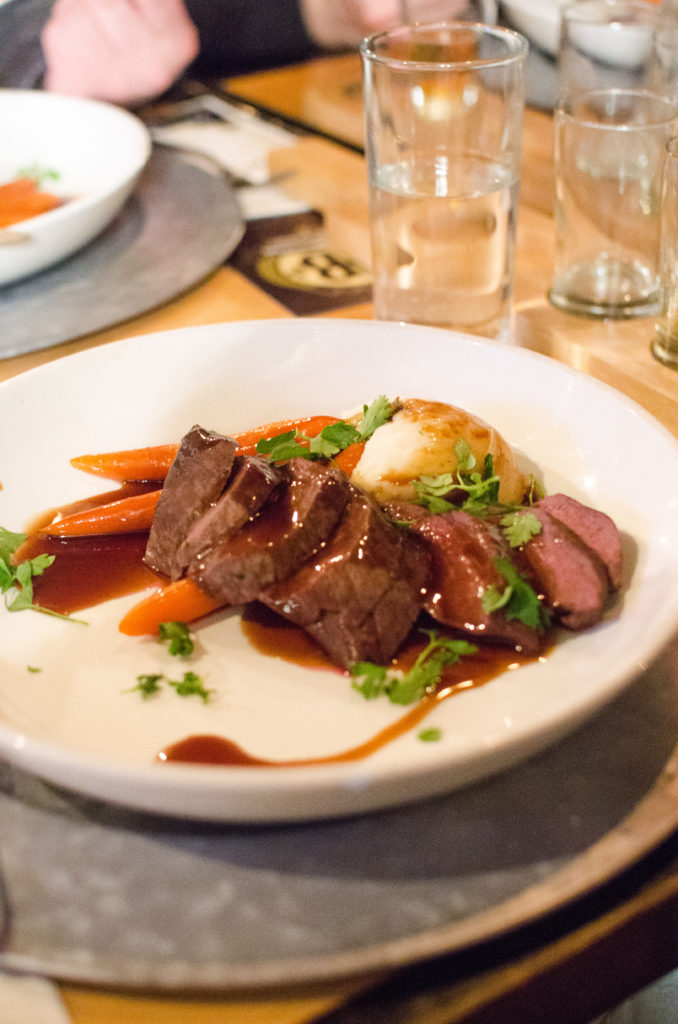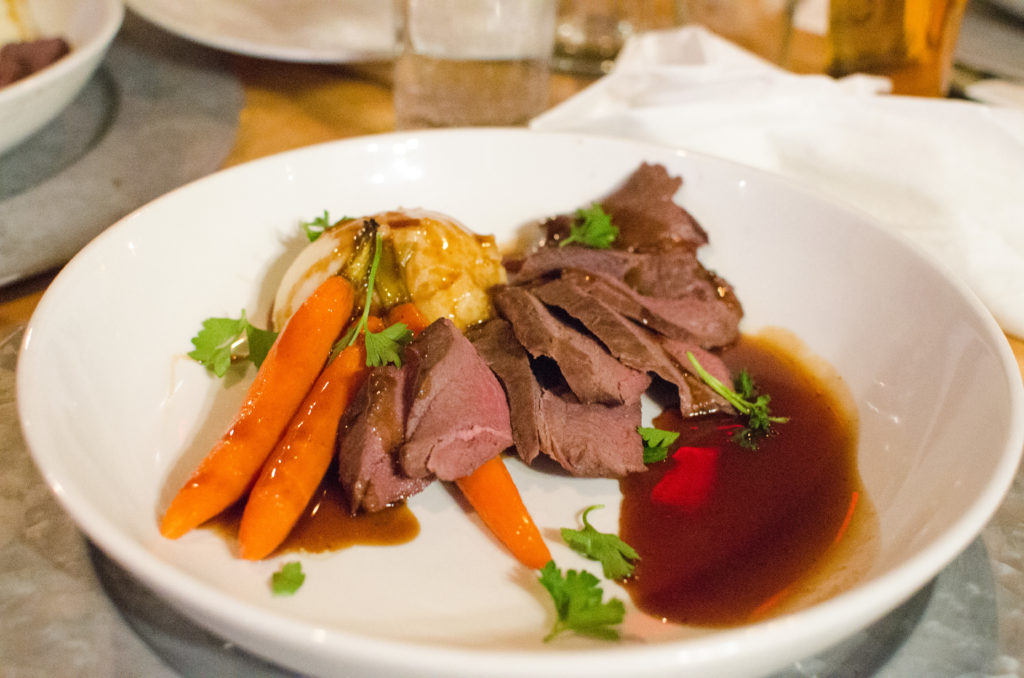 If that wasn't enough, we moved onto our final course before our dessert. For this course, we had venison medallions with huckleberry chevreuil, celeriac-potato puree, and glazed carrots. This was paired with a 16 Point Imperial IPA. This dish was nothing like I had ever eaten before! I loved the celeriac-potato puree and the sous-vide venison was the juiciest I've ever seen!
16 Point IPA (Imperial India Pale Ale)
Hoppy Resin, Pine
ABV: 9.1%, IBU: 91
Malts: Pilsner, Maris Otter, CaraRed, Torrified Wheat, Carafa II
Hops: Whole Leaf Cascade, Bravo, Citra, Columbus, Centennial, Simcoe, Beta Aroma Extract
16 Point Imperial IPA is an imperial interpretation of our Eight Point IPA. Eight Point IPA was the very first beer that Jason Oliver brewed at Devils Backbone Brewing Company in November of 2008 when the Basecamp Brewpub & Meadows opened. On the morning of his first brew day, he was enjoying his coffee on the front porch his new mountainside home when he heard a rustle along the fence line. It was two eight-point bucks, grazing uninhibitedly, in their new neighbor's yard. He decided that the first beer he would brew at Devils Backbone would be inspired by those two bold, brash youthful bucks. In 2012 Jason decided to double the hop additions in Eight Point IPA and 16 Point Imperial IPA was born! This beer is light bronze in color with tons of citrus and piney hop notes. 16 Point won a Silver Award at the 2015 Australian International Beer Awards in the Best IPA Imperial/Double IPA category.
Beer Pairing Notes: Duck, pork, charcuterie featuring sharp cheddar, black pepper crackers and salted meat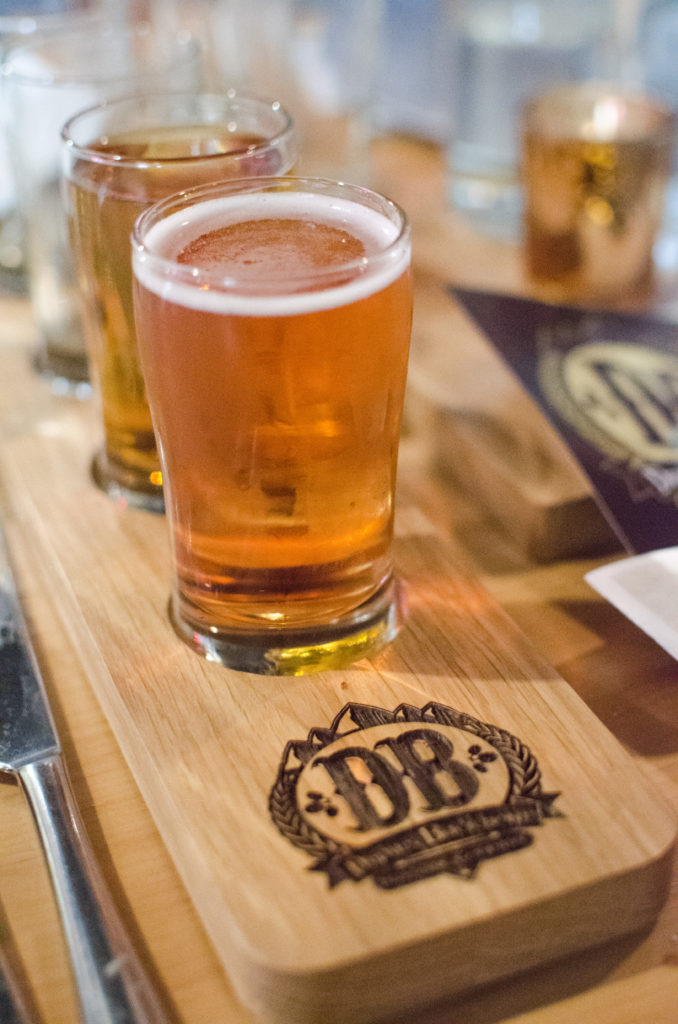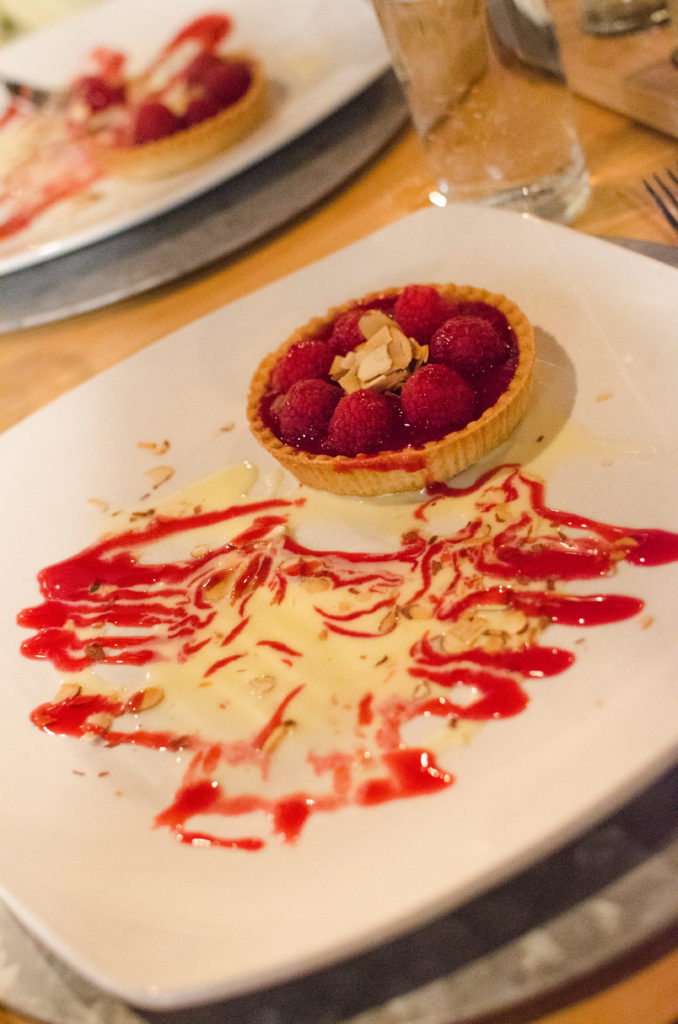 To pair with the dessert, the beer we were given was a Cran-Gose, which was pretty interesting, but in a good way! You could definitely taste the cranberry! The dessert was a shortbread tart with raspberry, vanilla sauce, and almonds. This dessert was really tasty and fresh. I'm normally meh on raspberries, but I thoroughly enjoyed this dessert and wish I could have had another!
Cran Gose (Tart Cranberry Ale)
Light, Tart, Fruity
ABV: 4%, IBU: 4
Malts: Malted Wheat, Pilsner, Acidulated Malt
Hops: Centennial
Gose is an ale that's characterized as being tart, seasoned with coriander, and having a subtle saline presence. The style originated in the town of Goslar, Germany now Lower Saxony, over 1000 years ago. It's an excellent example of the local environment impacting the brewing style of the region. The subtle saltiness of the beer can be contributed to the early recipes using water from the Gose River, a saline river that was the primary water source to local breweries in Goslar. In 2015 Jason Oliver brewed the first Devils Backbone Cran Gose. He believed that the tartness of the cranberry would complement the natural acidity and salinity of the style. After months of local beer lovers giving this brew the stamp of approval on tap at our Basecamp Brewpub & Meadows, the beer was canned for the first time in 2016.
Beer Pairing Notes: Aged ham on pretzel beard, Havarti cheese, cheesecake with raspberry glaze
I am so thankful to have been given this opportunity, and Devils Backbone has a few more events coming up around Lexington in the upcoming week, so be on the lookout!