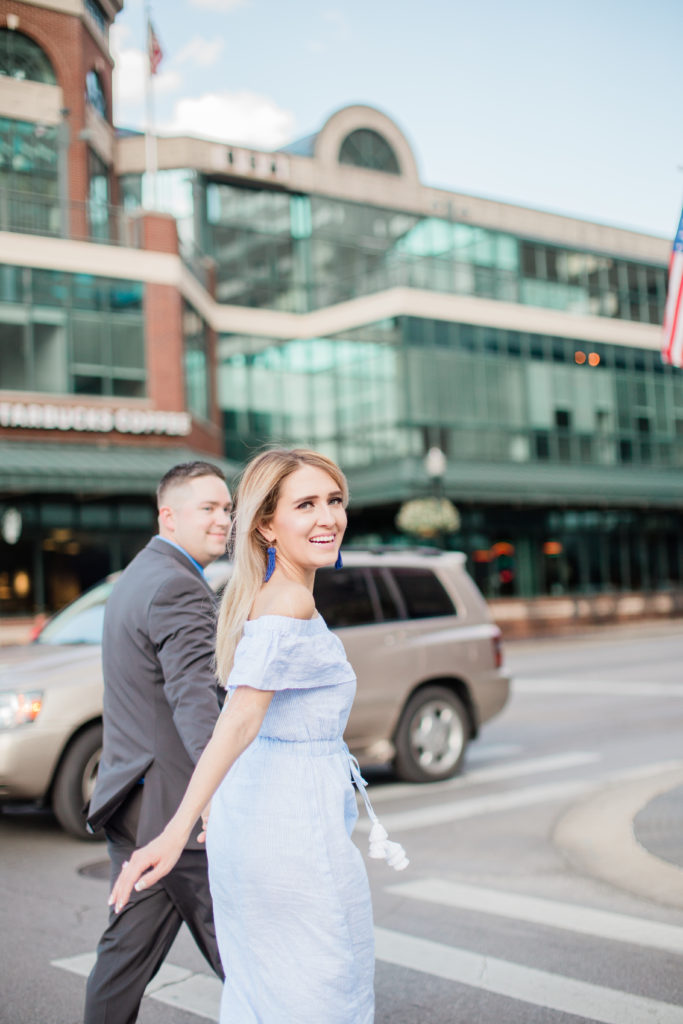 Summer is just about over, which means the weather is slowly becoming more and more bearable. What better time than now to enjoy the outdoors and the beauty of Lexington without all the yucky humid weather! There is so much to do in Lexington, especially in the downtown area. Some people may be bored or have trouble coming up with date activities that are out of the norm, or any at all, so I've come up with a list of things to do, places to eat, and places that will help you experience the city of Lexington, as well as support local businesses in the downtown area!
Enjoy the rooftop bar at Belle's Cocktail House
Belle's Cocktail House is home to Lexington's only rooftop bar. Belle's is located at 156 Market Street and opened in 2013 but the rooftop bar opened in 2016. You know it's a good bar when it is owned by The Bourbon Review guys. You won't find any food at Belle's, and there are only two TVs. At Belle's the focus is on YOU and YOUR DRINK. Bartenders will pour signature drinks like The Belle Brezing, which is a refreshing lemony vodka drink with an sultry deep pink hue that is a nod to the city's most famous madam.
Fun fact: Belle Brezing was a madam who ran a high-class Victorian-era brothel and was the model for Belle Watling in Margaret Mitchell's novel Gone With the Wind. She grew up in Lexington in a horrible family situation, had a baby out of wedlock at 16, and then became a street prostitute. Her business sense and charm helped her build a successful brothel that she ran until 1915. Belle catered to powerful men from Lexington and beyond, men who came to the Bluegrass because of the horse business and tobacco.
See a performance at the Lexington Opera House
The Lexington Opera House is a located in downtown Lexington, Kentucky at 401 West Short Street. It was built in 1886.  It replaced the former theatre, which was located on the corner of Main and Broadway, after a fire destroyed it in January 1886. Renowned architect Oscar Cobb designed the new Opera House and it is even listed on the National Register of Historic Places for its historical and architectural significance. The Lexington Opera House hosts ballet, opera, children's productions, family shows, comedy, music and professional national Broadway tours. There are only fourteen theatres in the United States built built before 1900 with less than 1,000 seats that are still in operation as a live performance venue and the Lexington Opera House is one of them!
Take a stroll downtown to see the Book Benches or the Street Murals
In the summer of 2018, Arts Connect, LexArts and The Carnegie Center for Literacy and Learning made Lexington more colorful with their collaborative project, Book Benches.​ Book Benches are thirty five book-shaped functional benches that are placed throughout downtown Lexington to celebrate Kentucky's literary heritage, to encourage reading, and provide a place for rest. Each bench is illustrated and themed around different works by Kentucky authors and will remain on display for the duration of the summer.
[RELATED: Book Benches of Lexington, Kentucky: Volume I]
Lexington, Kentucky is home to many beautiful pieces of creative and interesting street art. There are many murals downtown, but there are also many others located throughout the city. You just have to know where to look! The murals are not only created by talented artists (some are even world renowned), but some are created by anonymous painters.
[RELATED: Street Art and Murals of Lexington, Kentucky: Volume I]
You just have to know where to look for them! I've put together a list of over 60 murals and where you can find them throughout the city!
Eat a fancy dinner at Lockbox, Carson's, Dudley's, or Tony's
Lockbox, Carson's, Dudley's, and Tony's are just a few of the fancy restaurants located in downtown Lexington!
Lockbox is inside of 21c Museum Hotel and is located on 167 Main Street. Lockbox is committed to sourcing local, high-quality ingredients around the Bluegrass region. Led by executive chef Jonathan Searle, Lockbox uses thoughtful yet simple preparations and cooking techniques in a contemporary setting (If you go for brunch, be sure you get their Chicken and Waffles!) 
[RELATED: Local Spotlight: Carson's]
Carson's opened on 362 East Main Street back towards the end of 2016 in the former Coach Craft Body Shop location. Carson's is in the heart of downtown and makes me think of a speakeasy of times past. There are wood and brick accents, chandeliers, and unique decor, all mixed with in with an industrial style. Carson's Food & Drink brings Lexington to life by combining Kentucky Proud products and local craft breweries with new and exciting recipes and a décor that feels like old Kentucky elegance (Everything I've ordered that has been amazing. P.S. The portions are huge, so come hungry! It's my go to place for brunch!)
Dudley's is located in the circa-1889 Northern Bank Building on Short Street (259 W Short St #12). Dudley's has been a Lexington staple and culinary trailblazer since 1981. At Dudley's they prioritize local foods, preparing the finest ingredients simply and with exceptional hospitality (This is a great place for brunch and I've heard lots of great things about their fried chicken!)
I haven't been to Tony's, but I had to include it on my list! Tony's is located on the Square (401 West Main Street) and is a Tony Ricci restaurant combining the classic American steakhouse with fresh modern fare, an expansive and diverse wine list, matched with award winning service.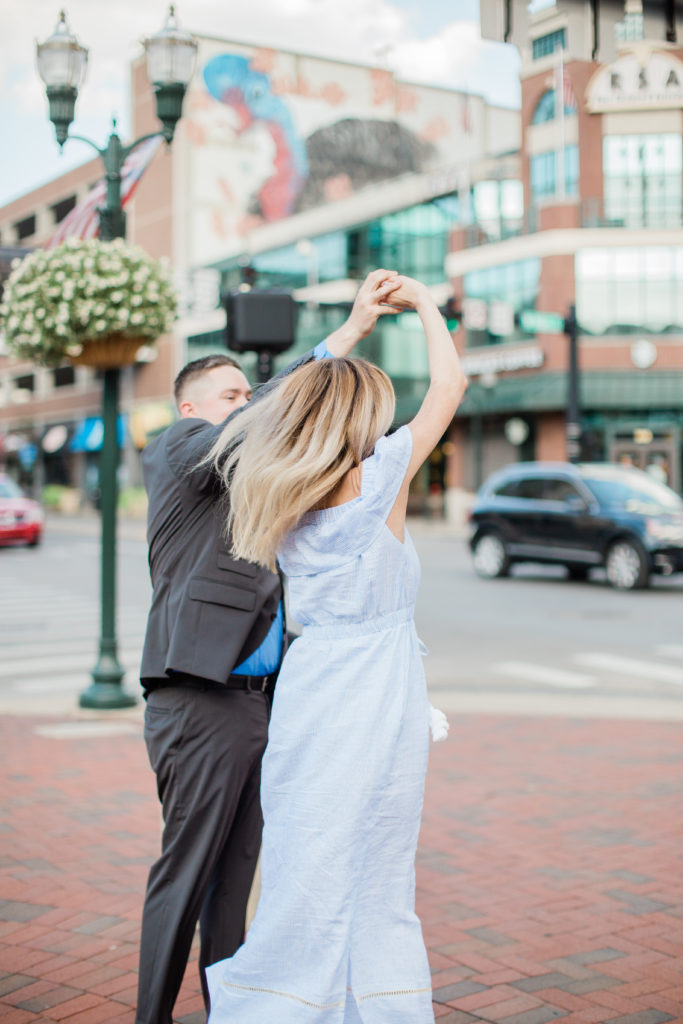 Take a walk through Triangle Park
Triangle Park opened to the public officially on July 2, 1982. It was designed by famous landscape architect Robert L. Zion of New York. Zion has designed some of New York's most cherished oases and considered landmarks of design are among the most enduring contributions to the cityscape in the past half-century. Triangle Park is located in the heart of downtown Lexington. There you can behold the tranquility of soft waterfalls, wide stone promenades lined with Honey Locust trees, pottery filled with blooming flowers, and expanses of green grass surrounded by tables and chairs. You can enjoy many activities by enjoying the beauty that Triangle Park has to offer. You can enjoy lunch from at the outdoor café, engage in games of chess and backgammon, listen to musical selections, watch theatrical productions, attend open-air classes, surf the Internet, or simply soak up the sun as it drifts through the fern-like leaves of the Locust trees. Once it is fall, an ice skating rink keeps the park vibrant and alive during the winter season.
Hit up one of the restaurants on Restaurant Row – Corto Lima, Oscar Diggs, Sidebar, or Minglewood
Corto Lima: Corto Lima is a mid-scale Latin inspired restaurant specializing in a new brand of Latin cuisine with a modern interpretation. Corto Lima is under the direction of Chef Jonathan Lundy, and the restaurant introduces downtown Lexington diners to the cuisine of Mexico, The Caribbean, Central and South America as well as the American Southwest.
[RELATED: Local Spotlight: Oscar Diggs]
Oscar Diggs: Oscar Diggs is a brand new restaurant that opened January of this year, and is located on Restaurant Row in downtown Lexington. It's the newest gastropub to open in Central Kentucky. Oscar Diggs is the brainchild of Ralph Quillin's Rooster Brewing (which is located in Paris, Kentucky) and the Gastro Gnomes food truck guys, Andrew Suthers and Kyle Klatka. They've since parked the food truck and now are operating as a brick and mortar.
Sidebar: A true hole-in-the-wall, right-on-the-sidewalk bar and grill. With what some call "the best burger in Lexington," and hand-cut potato chips, the menu certainly does not take a backseat to the unique culture of this rock-n-roll hangout. Serving up classic pub fare, the Lexington lunch crowd can't get enough of Sidebar Grill.
[RELATED: Live Love & Eat Local: Lexington Eats Week 2017 Recap]
Minglewood: Featuring "thoughtful food, local music and serious libation." The menu features shareable plates inspired by each chef's travels, from the Caribbean to the West coast, and is open for lunch and dinner. Stop by on weekends for special live music performances!
Shop Local at the Farmers' Market
The Lexington Farmers' Market exists to provide a living wage for our area farmers; conserve our farm land; provide Lexington with fresh, high-quality agricultural products; save family farms; and stimulate the local economy. The Lexington Farmers' Market operates a year-round market in Downtown Lexington in Cheapside Park and the area around the Historic Old Courthouse. While in the winter the number of growers that attend the market shrinks, by May the markets expands to over 50 farmers at seasonal locations that cover five days each week. Some of our farmers only come to the market during the peak seasons for their specialties, such as mid-summer for sweet corn or tomatoes, but others come year round with value-added or expanded product lines.
Enjoy a cocktail or your meal on the patio at Saul Good
It's the kind of place that serves chicken and waffles and chocolate beer floats, a creatively cosmopolitan pub that specializes in soul food and sweet surprises. The menu pulls from Thai, Mexican, French, Hawaiian and, of course, Southern influences, adding delightful twists in all the right places. It's a local favorite, and a place you just might have to visit more than once. My favorite dish that they have is the Chicken and Waffles! It's a Southern classic and a dish that will want you coming back for more! (P.S. If you like cocktails, be sure to ask for The Lexington. I don't know what is in it, but it's so addicting!)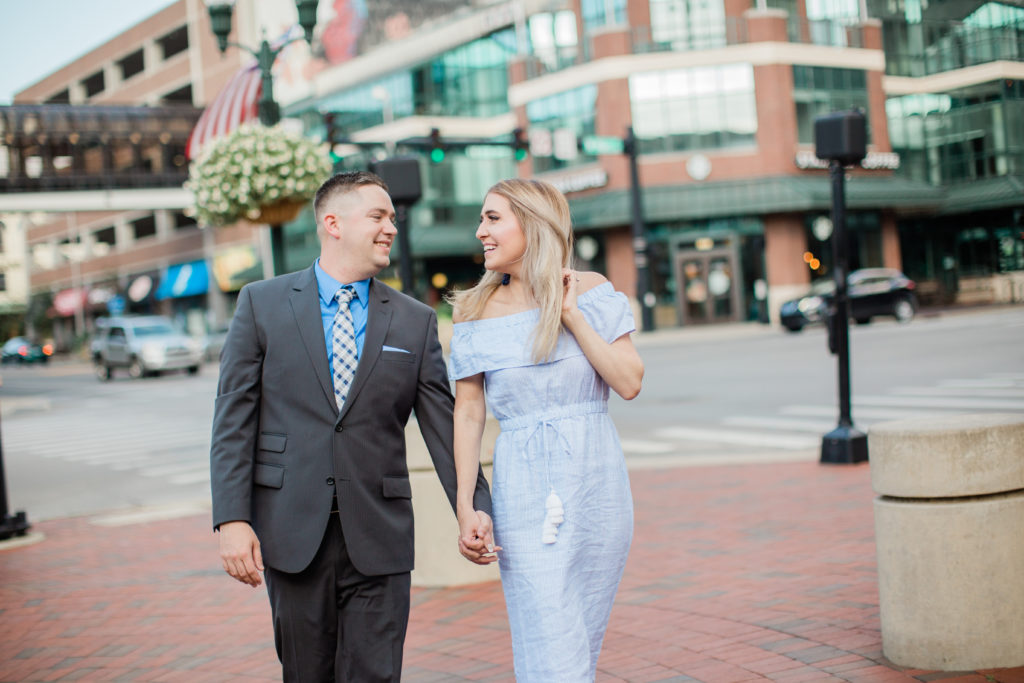 See the newest art exhibition at the 21c Museum Hotel
21c Lexington is a contemporary art museum, boutique hotel and home of chef-driven restaurant Lockbox. 21c Museum Hotel Lexington features solo and group exhibitions that reflect the global nature of contemporary culture. From the sidewalks to the lobby, there's art all around you, from Totally in Love, by Pieke Bergman, out on the front sidewalk to Spectralline, by SOFTlab, in the entrance. There are more than 7,000 square feet of exhibition space! Their galleries are open daily and feature rotating exhibitions, so be sure to stop by often! It's free and open to the public 365 days a year. If you want a guided docent tour, those are offered Wednesdays and Fridays at 5pm. Current Exhibition: OFF-SPRING: New Generations (July 2018 to February 2019)
Enjoy a meal at one of the restaurants on West Short Street
Parlay Social: Parlay Social is a Prohibition Era throwback to the Speak Easies of old; a destination and gathering place in downtown Lexington. Guests will find sophisticated, Art Deco influenced furnishings, providing a warm and comfortable environment. Parlay strikes a balance between chic theatrical and relaxing lounge with their highly stylized design. The Bourbon Review has named Parlay Social one of the top Bourbon Bars in the country.
The Bourbon Review has named Parlay Social one of the top Bourbon Bars in the country!
Click To Tweet
The Village Idiot: The Village Idiot offers locally sourced food that earns a spot at the table with their outstanding craft beer selection, quality wines, and exciting house recipe cocktails, while providing attentive service and an overall exceptional experience for their customers. This circa 1825 building is Lexington's oldest surviving post office building and now has been reincarnated as a gastropub.
[RELATED: Devils Backbone Brewing Company Beer Dinner at The Village Idiot]
Shakespeare & Company: Shakespeare & Company was conceived and developed in Dubai in 2001. From the turquoise wrought iron molding to ornate sofas, this fine dining destination is as lavish as it gets. The menu is on par too, featuring comfort foods like eggs benedict and European delicacies like penne arrabiata. Sitting on the corner of North Broadway and Short, this café restaurant is reminiscent of old-world riches and extravagant luxuries.
Go watch the CATS play at Kroger Field (or Rupp Area whenever it's basketball season!)
It's almost time for football season! It's right around the corner! What better way to spend a Saturday than a day of tailgating and cheering on the CATS!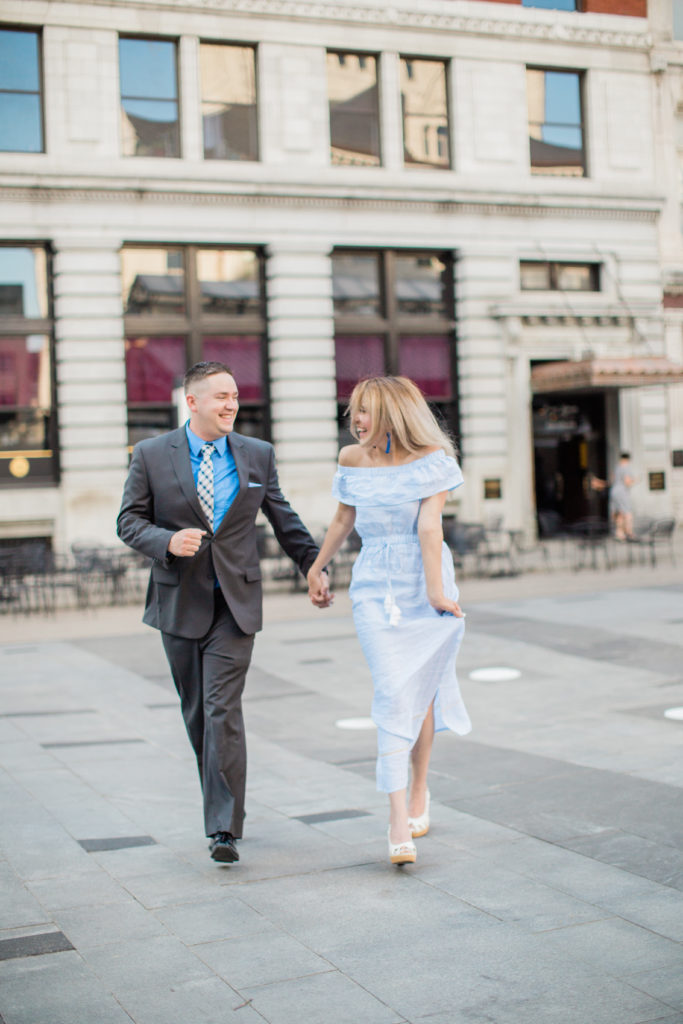 Attend Thursday Night Live!
Get downtown every Thursday through October 12, for Central Bank Thursday Night Live! Join thousands of your closest friends for live music, local food and beverage vendors, and the hottest party in town.  This event is rain or shine! The party starts at 5 pm, with live music from 5:30 pm to 8 pm. It's free!
Celebrate the arts by attending "Ballet Under the Stars"
Ballet Under the Stars is one of Central Kentucky's most anticipated summer events! It's also celebrating its 29th year! I remember when I first attended this event about 18 years ago! This event is pretty unique, because you are combining the professional world of ballet with the casual setting of the park. The event begins with a pre-show youth production at 8 pm. The main show featuring professional dancers from Kentucky Ballet Theatre begins at 9 pm. Please bring lawn chairs or blankets for seating. Ballet Under the Stars is held at Woodland Park (601 East High Street, Lexington, Kentucky), and tickets are $6 per person.
See a movie at The Kentucky Theatre
The Kentucky Theatre is a familiar Landmark to generations of Lexingtonians. It's richly ornamented walls and glowing stained glass fixtures have hosted gala events and entertained overflowing crowds. They have also endured hard times and disasters, both natural and manmade. And so it stands today, a true palace of memories, a hall full of comedy, tragedy, drama, adventure, and just plain fun.
[RELATED: NEAT: The Story of Bourbon Hometown Screening]
The Kentucky Theater is a historic cinema that first opened in 1922. The theater usually shows foreign, independent, and art films. However, some Hollywood movies are occasionally shown as well. It is also one of the few remaining movie palaces left in the United States. A movie palace is a large, elaborately decorated movie theater that was built between the 1910s and the 1940s.
Support local business owners by going to The Night Market
The Night Market is a monthly pop-up festival for artists, creatives, local chefs and non profits created specifically for the North & East End neighborhoods. This market prides itself on being one of the most culturally diverse events in the city of Lexington. Starting in May and going through December, The Night Market happens the first Friday of every month and is from 6pm to 10pm. On the day of the market, the 700 block of Bryan Avenue is temporarily closed to traffic.
Enjoy one a beer at one of the many breweries in downtown Lexington
There are several breweries located in Lexington, Kentucky and many of them are located right in the downtown area, such as Country Boy Brewing, West Sixth Brewery, Blue Stallion, and Ethereal Brewing.
Country Boy Brewing: The taproom features a full array of fresh Country Boy offerings, with plenty of other local and national craft brews. Their focus is on fresh, minimally processed beers using the finest ingredients, even adapting Japanese craft brewing techniques. Never afraid to try something new, you'll always find a few experimental beers in the mix. Some local favorites: Cougar Bait Blonde and Jalapeno Smoked Porter. Located at 436 Chair Ave, Lexington, Kentucky.
West Sixth Brewing: Part of the burgeoning Jefferson Street Corridor, West Sixth Brewing founders have remodeled Lexington's old Rainbow Bread factory and are now creating craft beers. The taproom features several rotating fresh brews and the beer garden makes for a great place to chat and try out a pint or flight. Tours are offered of the facility and production system. Located at 501 West 6th Street #100, Lexington, Kentucky,
Blue Stallion Brewing: Claiming "we no longer accept that a casual beer needs to be yellow with no character or flavor," Blue Stallion specializes in crafting quality European-style lagers and ales. The taproom offers an evolving menu of approachable in-house, local and out-of-town beers. Munich Dunkel and German Pilsner are two of their signature brews. Lunch and dinner available Monday through Saturday. Located at 610 West Third Street, Lexington, Kentucky.
Ethereal Brewing: Located in the Historic Distillery District in Lexington, Ethereal has set their sights on perfecting Belgian farmhouse and American craft beers. With a philosophy of "making the best possible beer we can, sparing no expense on ingredients or our process," you can expect both traditional craft staples (IPAs, Saisons, Witbiers), and ambitious out-of-the-norm brews exploring the "funkier side of farmhouse brewing." Located at 1224 Manchester Street, Lexington Kentucky.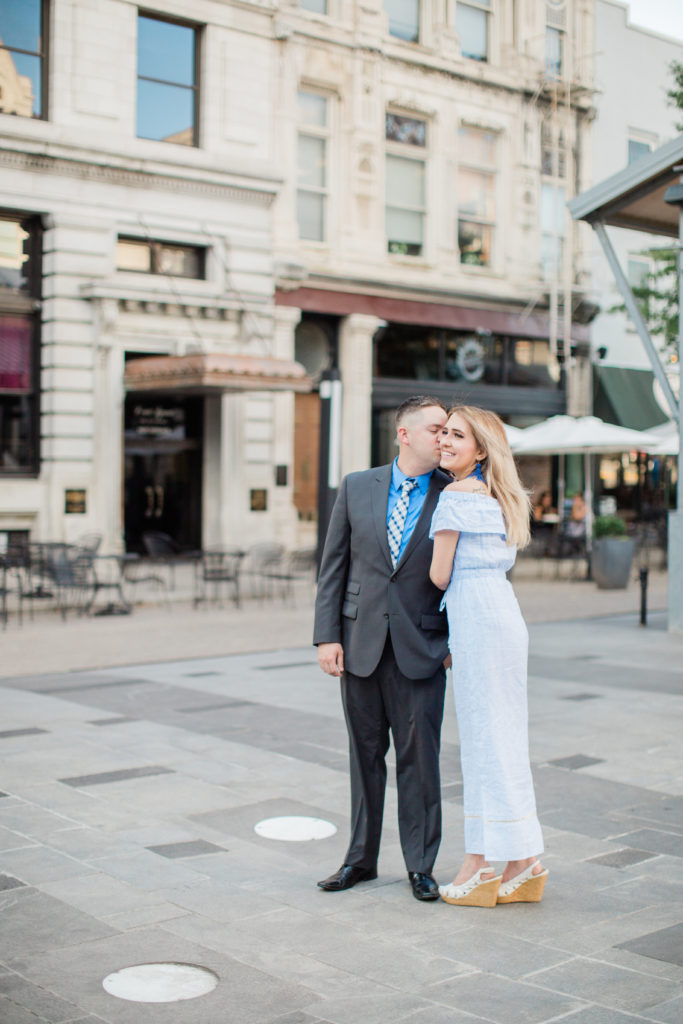 Go to a bourbon tasting at Bluegrass Distillers, Alltech, or Barrel House Distillery
Just by living in Kentucky, you have to go to at least one bourbon tasting in your life. After all, Kentucky is responsible for 95% of the world's bourbon. In Kentucky, there are many distilleries located throughout the state, but there are some located right in downtown!
[RELATED: Bluegrass Distillers Blue Corn Bourbon Release Party]
Bluegrass Distillers: Bluegrass Distillers is a relatively new distillery that opened in 2015 and they source their ingredients locally. They are located at 501 West Sixth Street #165, Lexington, Kentucky. They are known for their blue corn bourbon!
Alltech: In the heart of Lexington, Kentucky, is Alltech Lexington Brewing & Distilling Co., a unique stop on the world-famous Kentucky Bourbon Trail® experience and one of only a handful of joint brewing and distilling operations in the world. The site is home to Town Branch Distillery and our brewery, which produces the Kentucky Ale® family of beers. It is the oldest craft brewery in Lexington. Alltech founder and president Dr. Pearse Lyons acquired the 200-year-old Lexington Brewing Company in 1999 and resurrected the Lexington brewing and distilling tradition that dates back to 1794.
There you will be able to taste a wide variety of beers, as well as Town Branch Bourbon!
Barrel House Distillery: Barrel House Distilling Company is located at 1200 Manchester Street, Lexington, Kentucky. It is owned and operated by Jeff Wiseman and Pete Wright. They started work on the project during the winter of 2006, and released their inaugural product- Pure Blue Vodka – in December of 2008. Located in the barreling house of the old Pepper Distillery in historic Lexington, Kentucky, they strive to continue the tradition of the old Kentucky Distillers by producing fine spirits made with traditional methods.
Support Local Artists at the Woodland Art Fair
The Lexington Art League and Lexington, KY Parks & Recreation proudly present the 43rd Annual Woodland Art Fair on August 18-19, 2018, on the beautiful Woodland Park grounds, which is located at 601 East High Street, Lexington, Kentucky. The Woodland Art Fair will be featuring over 200 artists! There will also be live music for you to enjoy, Kentucky food, beer gardens, and family friendly art engagement activities. It's also free admission!
Woodland Art Fair has received several national, regional, and local honors, which include being voted a Top 200 Fine Art & Design Show in the nation 2007-2017 by Sunshine Artist Magazine, a Top 20 Event by The Southeast Tourism Society, a Top 10 Festival by The Kentucky Travel Industry Association, and voted as a finalist by readers in the Kentucky Living 2017 Best in Kentucky contest.
Go to the Chevy Chase Street Fair
The 14th Annual Chevy Chase Street Fair will be held on the 800 block of Euclid Ave! There will be live music, street food, drinks, vendors, and child activities. The Chevy Chase street fair celebrates the Lexington community by bringing together vendors, entertainment, and family-friendly fun. The Chevy Chase Street Fair is on August 25, 2018 at 4pm!
Attend one of the many upcoming food events
There are always some type of food event going on throughout Lexington, whether it's a farm-to-table dinner or a food festival. Here are three must attend foodie events, which are located right in the heart of downtown!
Chew Dinner Series (Thai): The next installment of the 2018 CHEW Dinner series takes us to Thailand by way of Jasmine Rice Thai & Vietnamese Cuisine. Kukie will walk us through Thai cuisine and traditions, some funny stories and some yummy food!  Featuring a delicious three-course dinner with a globally inspired menu, using ingredients sourced from Kentucky Proud farms, producers and purveyors! Tickets include dinner, beer/wine and FUN! The dinner will be at Limestone Hall on August 15 at 6pm. Tickets available: HERE.
Passport to Flavor: Show your support for refugees in central Kentucky while also enjoying global flavors and live entertainment in an international market type setting at KRM Lexington's third annual Passport to Flavor! The event will feature international food booths from KRM client's home countries, world music and dance, a silent auction and art displays, henna, a photo booth, and more! This is an opportunity to show your love to the amazing people who get to call central Kentucky their new home. Tickets are $40 until August 23rd and $50 at the door. Children under 5 years enter free. The event will be held at 903 Manchester Street, Suite 120, Lexington, Kentucky. Tickets available: HERE.
Henry Clay's Hemp Dinner: The Henry Clay Memorial Foundation in partnership with the Kentucky Hemp Heritage Alliance presents its third annual Hemp Dinner. Guests will enjoy gourmet al fresco dining under the Ashland lawn tent, featuring a five course hemp–infused meal prepared by Chef Jeremy Ashby from Azur Restaurant. Ticket includes hemp dialogue, dinner, hemp beer, and hemp product displays. See the menu: HERE. The dinner will be on August 28 at 5:30pm at the Ashland Estate. Tickets available: HERE.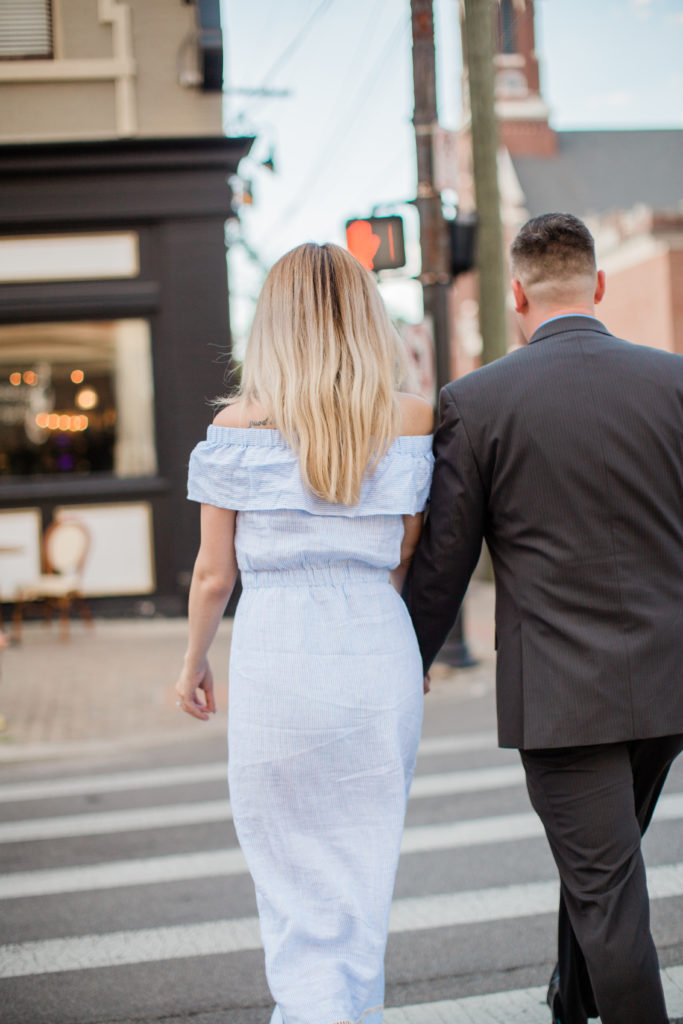 What Locals Are Saying About Their Favorite Date Ideas…
Carson's!!!
Corta Lima, Tony's, Dudley's, Lockbox – depends on the mood
Le Deauville for the first date and Dudley's for the second date
Hopcat
Malone's and Lexington Legends baseball games
Bella Notte
Carson's
Carson's
Crank & Boom and basically the entire Distillery District
Tony's
Stella's
Hopcat
Dinner at Corto Lima followed by dessert and wine on the roof at Dudley's roof
Burl Arcade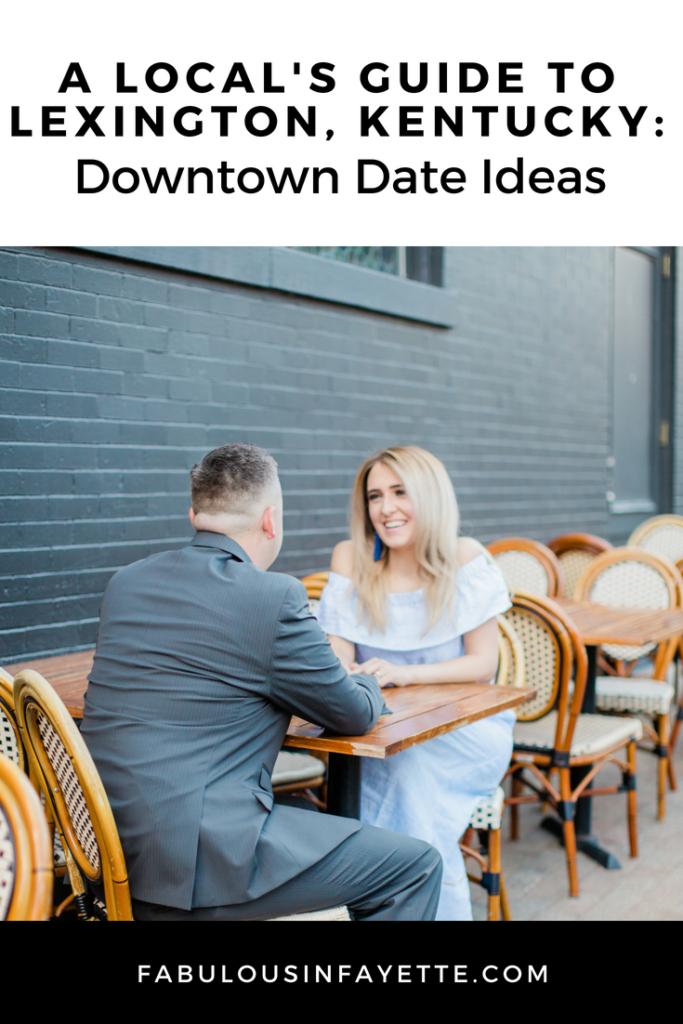 About the Photographer:
This photos were gifted by Amanda Hacker Photography.
My husband and I always love taking photos at least once every year (Okay… Okay… I love taking them a lot more than he does haha!)  We hadn't had any photos taken since I have went blonde. I saw where Amanda Hacker Photography took one of my friend's images and absolutely loved them. I'm a huge lover of bright and airy photos, so I knew her work would be perfect for me and what I wanted to capture. We decided to do the session downtown, because it's one of my favorite places in the city to spend time. There is just so much to do! Amanda Hacker Photography is a lifestyle photographer here in Lexington, Kentucky. She also does newborn and wedding photography.
Where is your favorite place in downtown Lexington to go on a date?