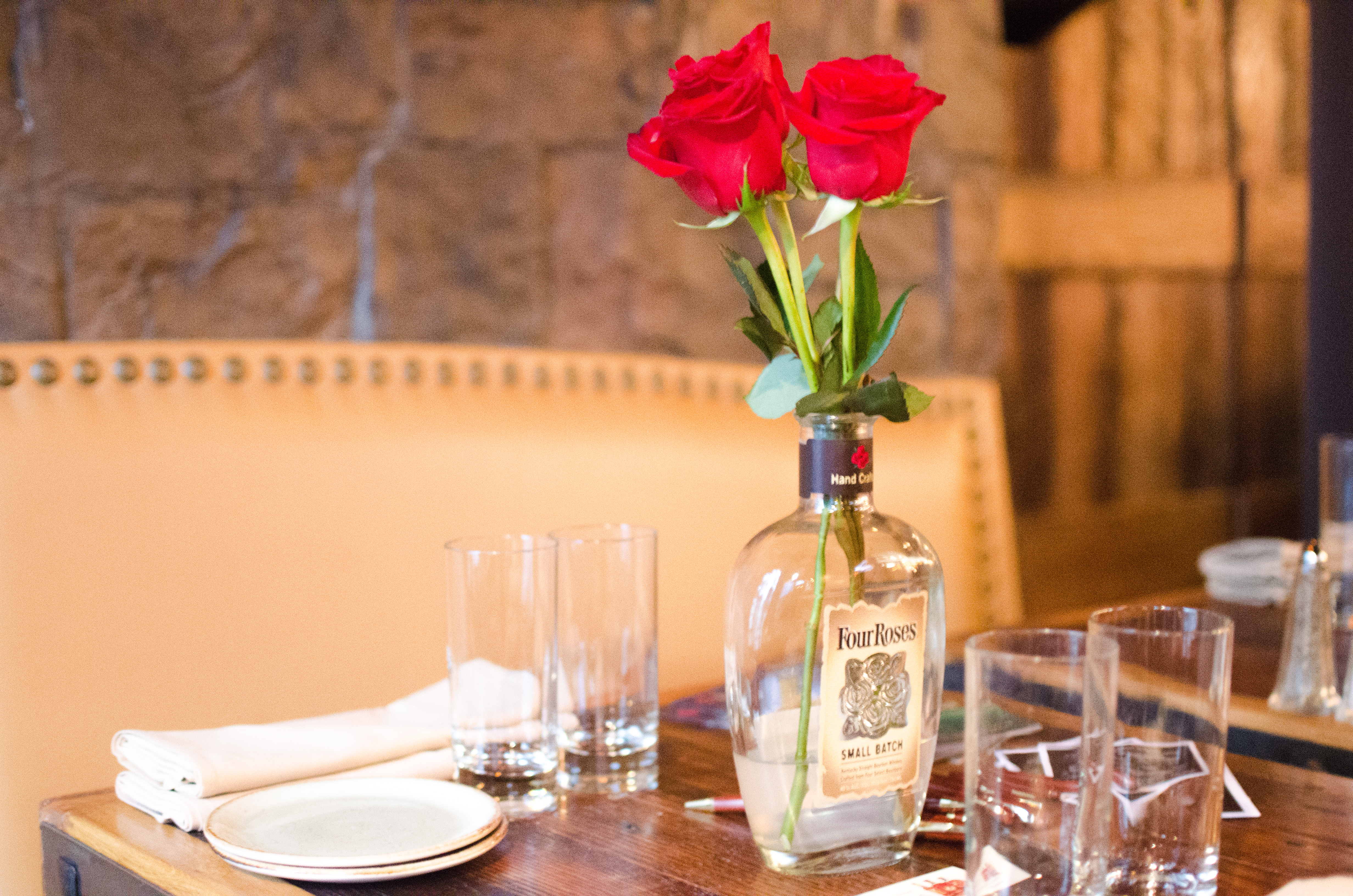 I was on facebook last week, when I saw an event pop-up in my newsfeed. It was for a pop-up tasting for Four Roses with Master Distiller Brent Elliott. Like I mentioned before, when I met Jimmy Russell, it's not everyday that you get to hang out a Master Distiller from one of the distilleries. So, when an opportunity presents itself (especially if bourbon is something you enjoy), you should take it!
There was a catch with this event. It was at a "secret" location, and the location wouldn't be disclosed until that day around noon. Also, only the first fifty people in attendance would be allowed for the event. I made sure to gather my clothes, my camera, and everything I needed the night before. I wanted to be prepared and not be running around like a chicken with its head cut off hours before the event. I set my alarm, so I could be awake way before they announced the location. I wanted to be one of the first there, and I didn't want to miss this opportunity.
Once the location was announced, I began getting ready and was on my way. I was there about four hours early, and I was first in line, and as in the words of Ricky Bobby,
"If you aren't first, you're last!"
I ended up sitting in my car for about two hours, and then I moved to a bench outside the restaurant, until it opened. This particular restaurant opens at 4pm. It began sprinkling the rain and it was pretty cold outside, but I had my umbrella and my coat. I didn't want to go back to my car, so I just kept waiting where I was.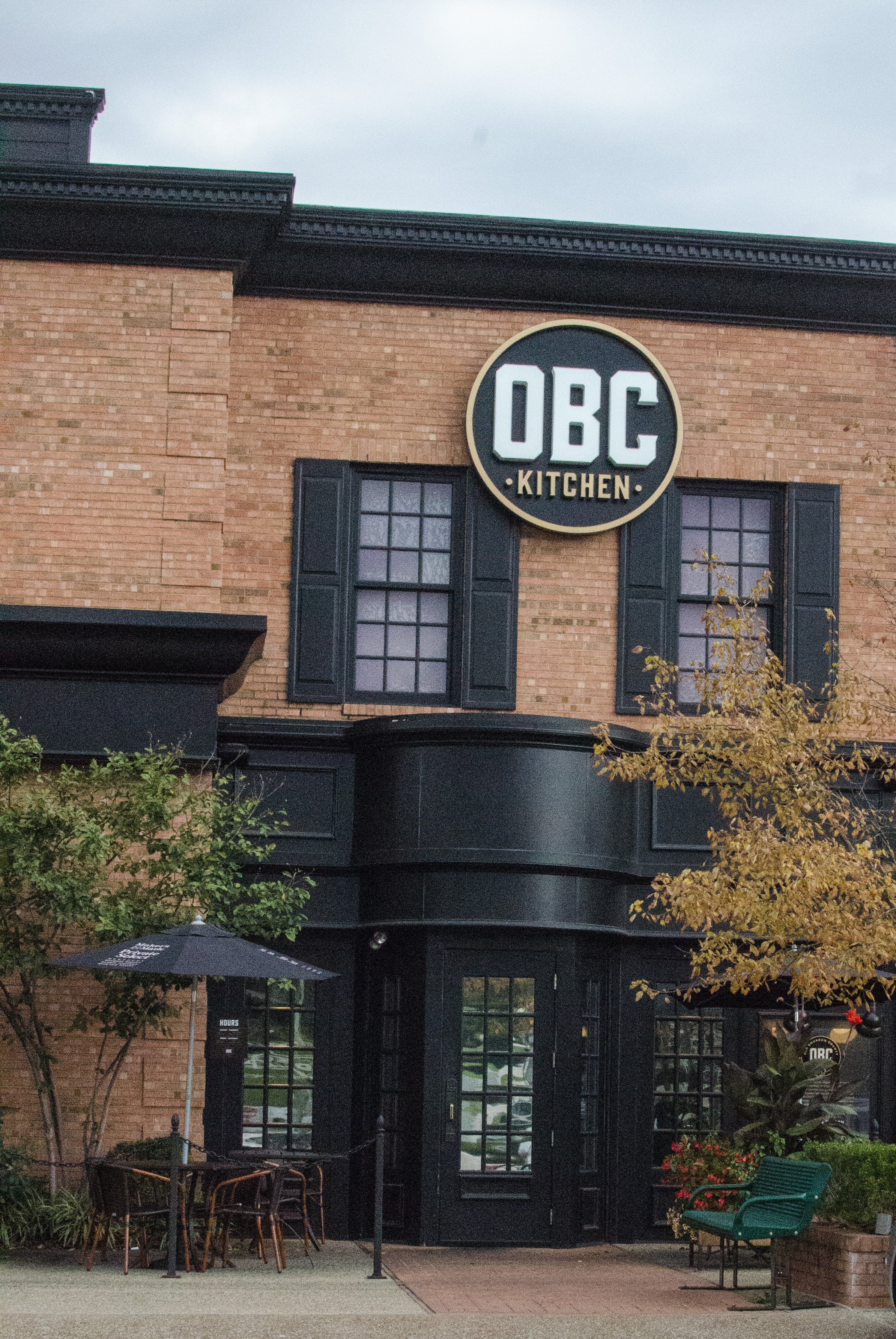 OBC Kitchen is where the tasting was going to take place. OBC Kitchen (Old Bourbon County) is part of the Bluegrass Hospitality Group (They own Malone's and among other top-knotch restaurants. Malone's is one of the top steakhouses in North America). OBC Kitchen is a local, chef-driven restaurant that houses an extremely rare bourbon collection, eclectic craft beer selection and extensive wine list. They have over 300 bourbons to choose from. For example, they have the extremely rare 2014 Pappy Van Winkle 23-year for $270 (just for 2 ounces!).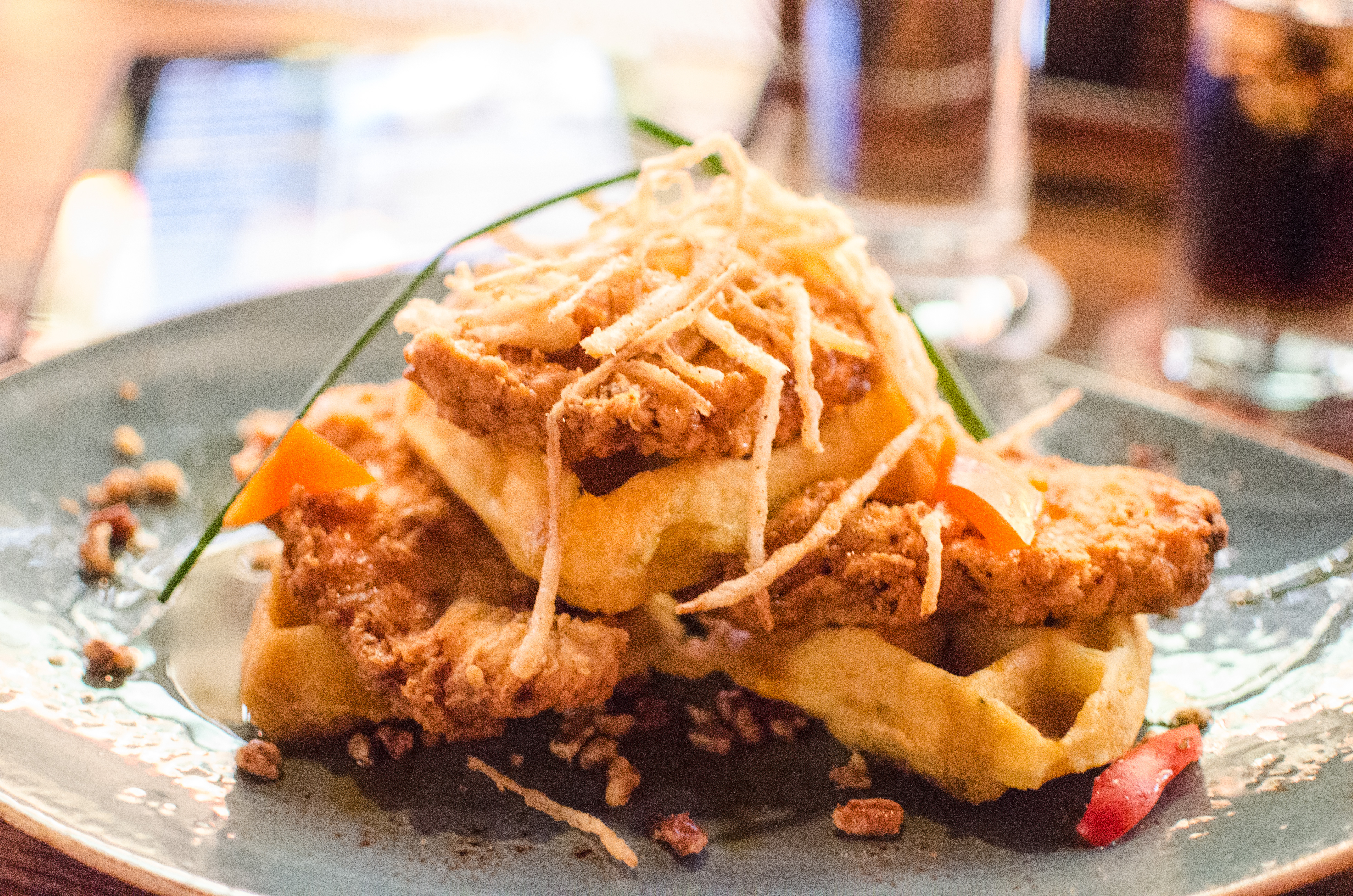 When OBC opened at 4pm, I still had about 1.5 hours to kill. At least I was inside and they knew that I was there for the tasting. so I was guaranteed a spot. I did what any normal person would do… I ordered some food. I ordered the Chicken and Waffles, because you can never can go wrong with that dish. Their Chicken and Waffles were different from any others that I have eaten. Theirs was spicy buttermilk brined, fried, candied walnuts, vanilla bourbon sorghum, hot pepper honey, cornmeal cheddar-chive waffles. It was absolutely delicious, and I probably ate it all in about ten to fifteen minutes.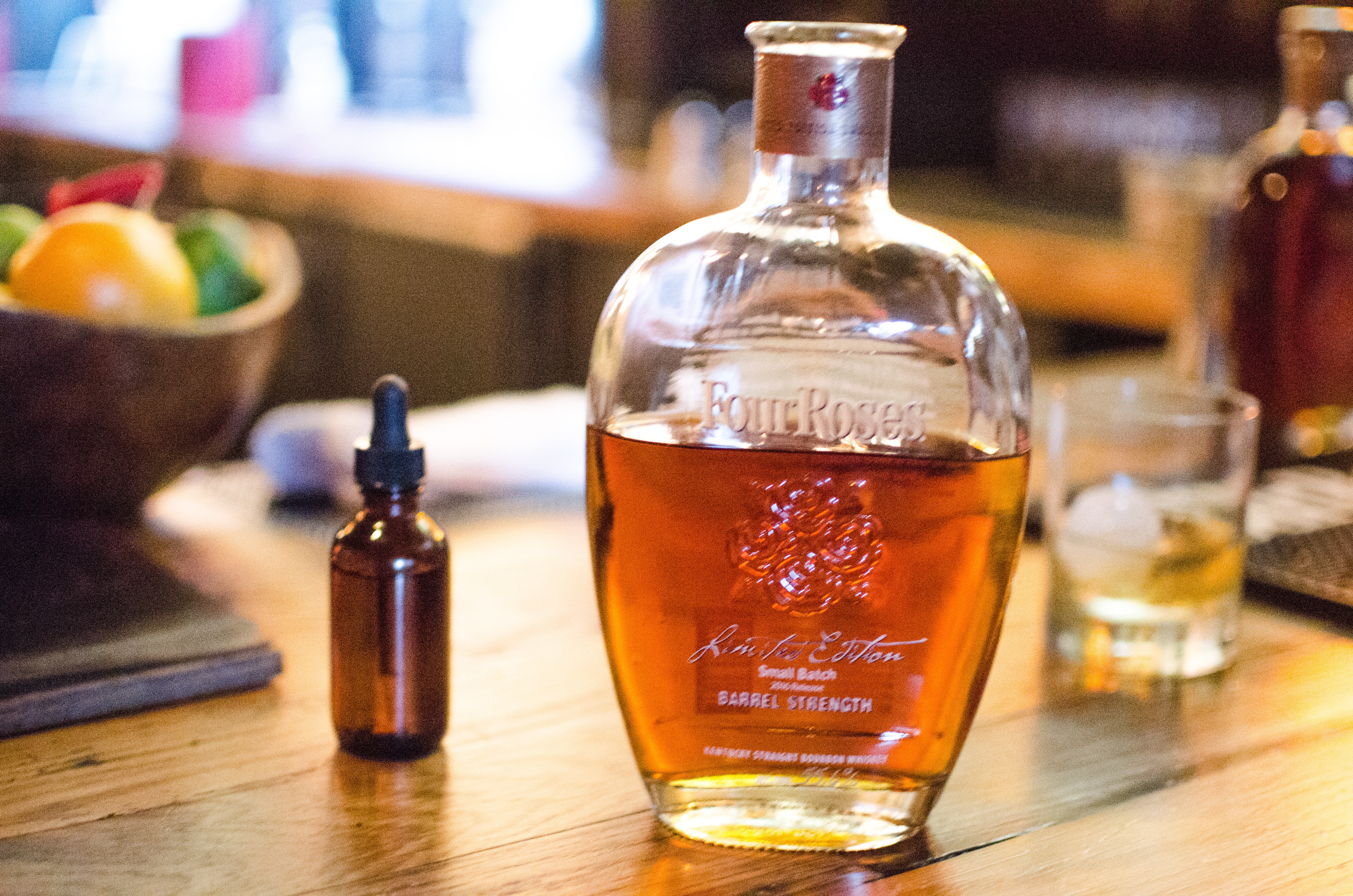 This was kind of a big deal event, because it wasn't just any ordinary tasting. At the tasting, we were able to try the 2016 Limited Edition Small Batch Bourbon, which featured three of the distillery's ten unique bourbon recipes.
Sorry, but you won't be able to get your hands on a bottle, unless you want to pay a premium price. It's already sold out! The bottles went on sale in mid-September, and my friend told me that they sold out within an hour!
With the 2016 Limited Edition Small Batch Bourbon, there were only 9,258 hand-numbered bottles in existence. Also, each year, the Limited Edition is something completely different, so if you didn't get a chance to try this, then sadly you never ever will. Next year's won't be like this one.
If you saw my post, when I visited the Four Roses Distillery, you would have seen me mention that Four Roses combines two mashbills with five proprietary yeast strains to produce ten distinct recipes. For 2016's Limited Edition Small Batch, Master Distiller Brent Elliott selected a 12-year-old OESO recipe, a 12-year-old OBSV, and a 16-year-old OESK. This is also the first time in more than seven years that the OESO recipe has appeared in the Limited Edition Small Batch.
You may be wondering what all of those letters mean? In case, you don't know what these letters mean or if you haven't read my previous post about Four Roses, I'll explain:
With Four Roses Bourbon, each bourbon recipe has four letter designations. The first letter and third letter will always stay the same (The first letter indicates that is was produced at the distillery in Lawrenceburg. The third letter designates straight bourbon distillation). The second letter and fourth letter will change depending on the mash bill and yeast strain used.
So, that means…
Recipe OESO uses Mashbill E, which is 75% corn, 20% rye, and 5% malted barley. The fourth letter is an O, which means: rich fruitiness, light vanilla, caramel, and full-bodied.
Recipe OBSV uses Mashbill B, which is 60% corn, 35% rye, and 5% malted barley. The fourth letter is a V, which means: light fruitiness, light vanilla, caramel, and creamy.
Recipe OESK uses Mashbill E, which is 75% corn, 20% rye, and 5% malted barley. The fourth letter is a K, which means: light spiciness, light caramel, and full-bodied.
Here's a description of 2016's Limited Edition Small Batch:
"Bottled at barrel strength with a proof of 111.2, the remarkably balanced 2016 Limited Edition Small Batch introduces bright notes of sweet cherry and crisp green apples, mingled with rich apricot and structured rye aromas. Tart citrus flavors greet the palate, then give way to hints of sweet molasses, peppery spices and decadent crème brûlée. The finish is long and gentle, with delicate honey and light mint."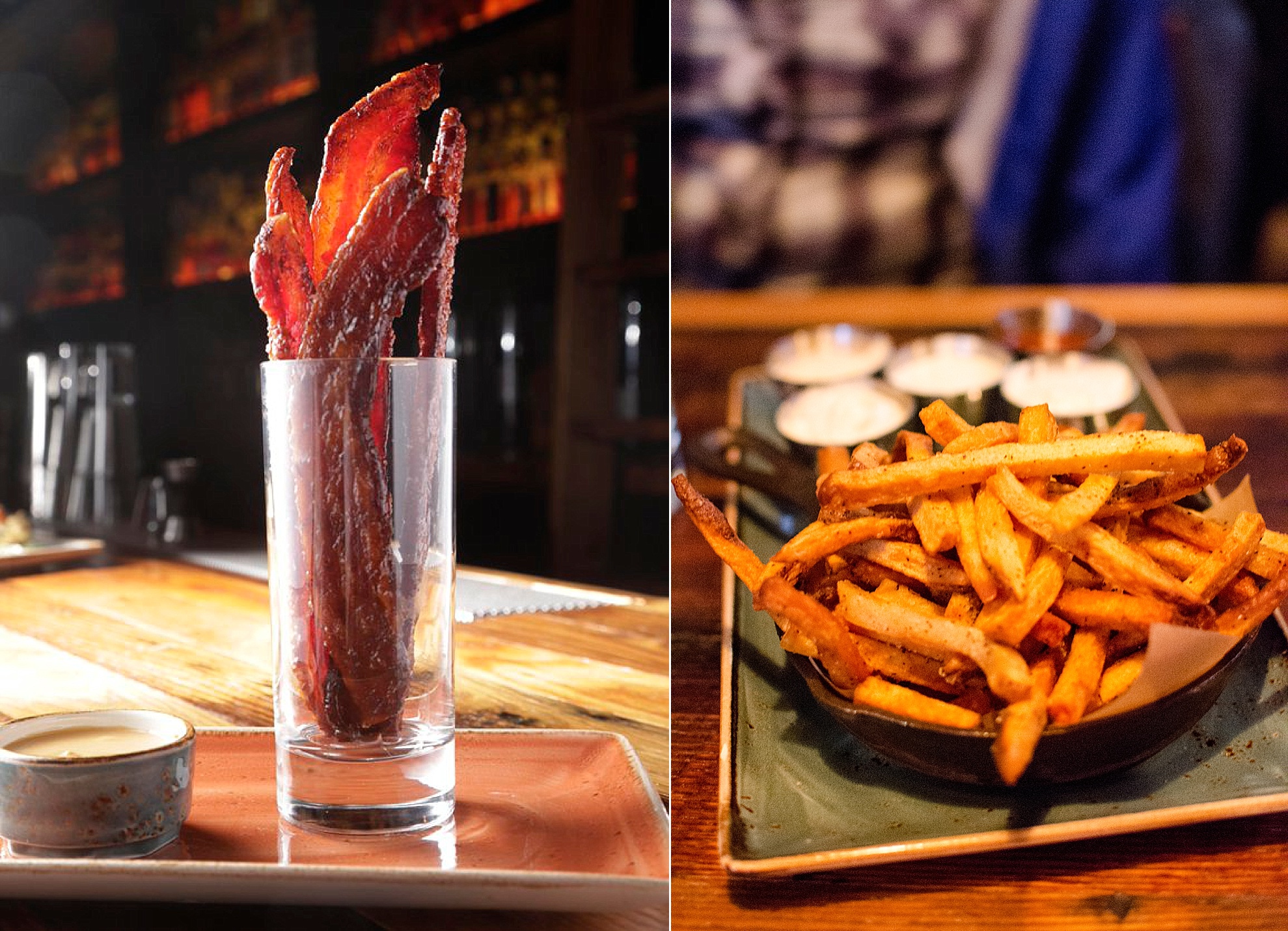 During the tasting, OBC brought everyone several different appetizers for us to enjoy. Probably one of the biggest hits was Bacon in a Glass, and it is exactly what it sounds like. It has a honey bourbon, sugar glaze, peanut butter accompaniment. Some people may think dipping bacon in a peanut butter sauce is weird, but it is really yummy. It just works. Trust me.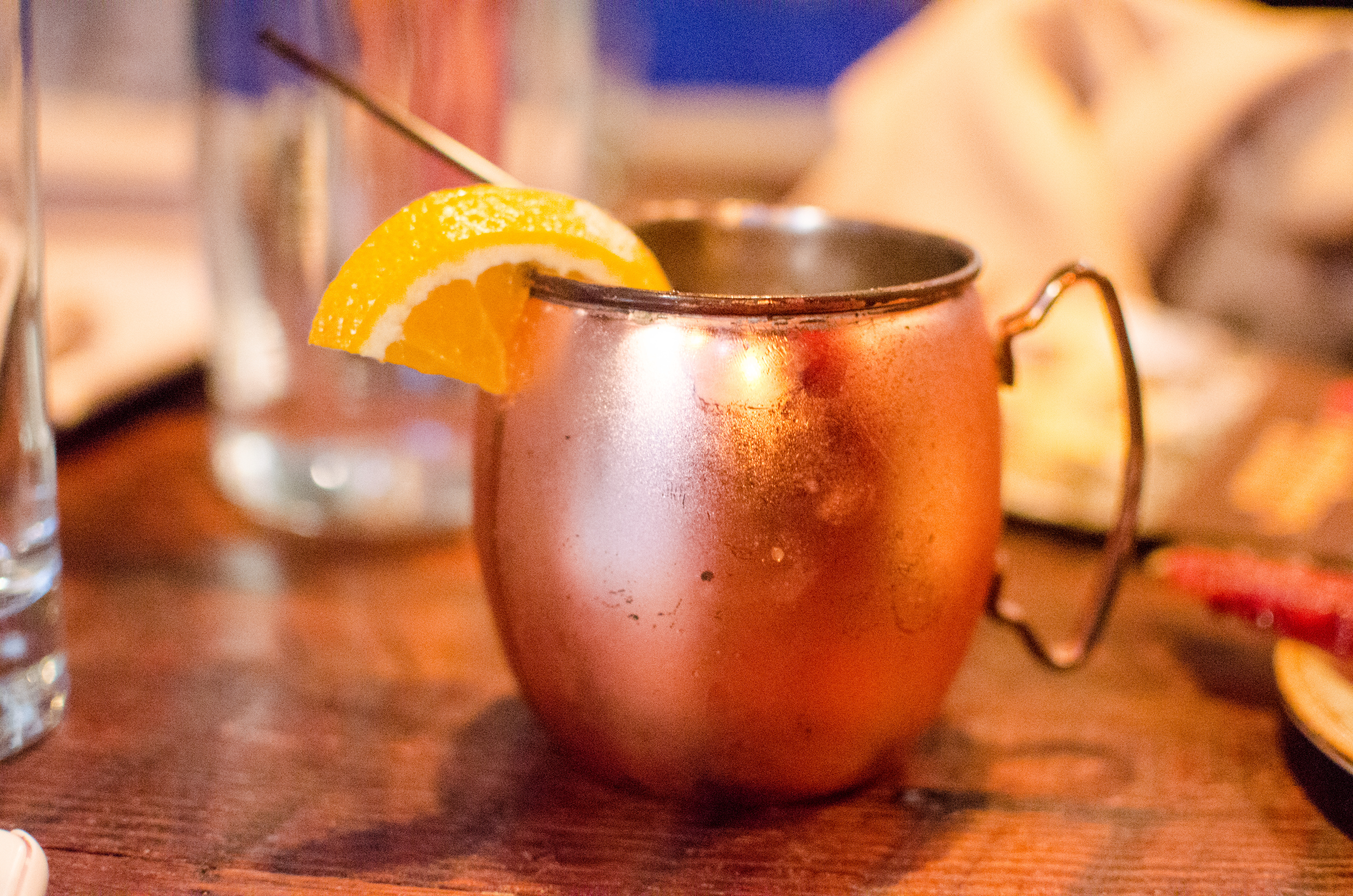 We also received two drink tickets to enjoy (with Four Roses Bourbon, of course), while we were there as well. Most opted for it on the rocks, a Manhattan, a Kentucky Mule, or an Old-Fashioned. OBC has some really cool fancy drinks on their menu, and they change them each month. This month's drink themes were bad guys, and these are the names of them: Garagmel, Dr. Klotzenstein, Cruella deVille, Bowser's Flame, Side Show Bob, Ramsey Bolton, I'll Get You…My Pretty…, Miss Trunchbull, Keyser Soze, and He Who Must Not Be Named.
We all were given a Four Roses flask for attending the event, which was pretty cool!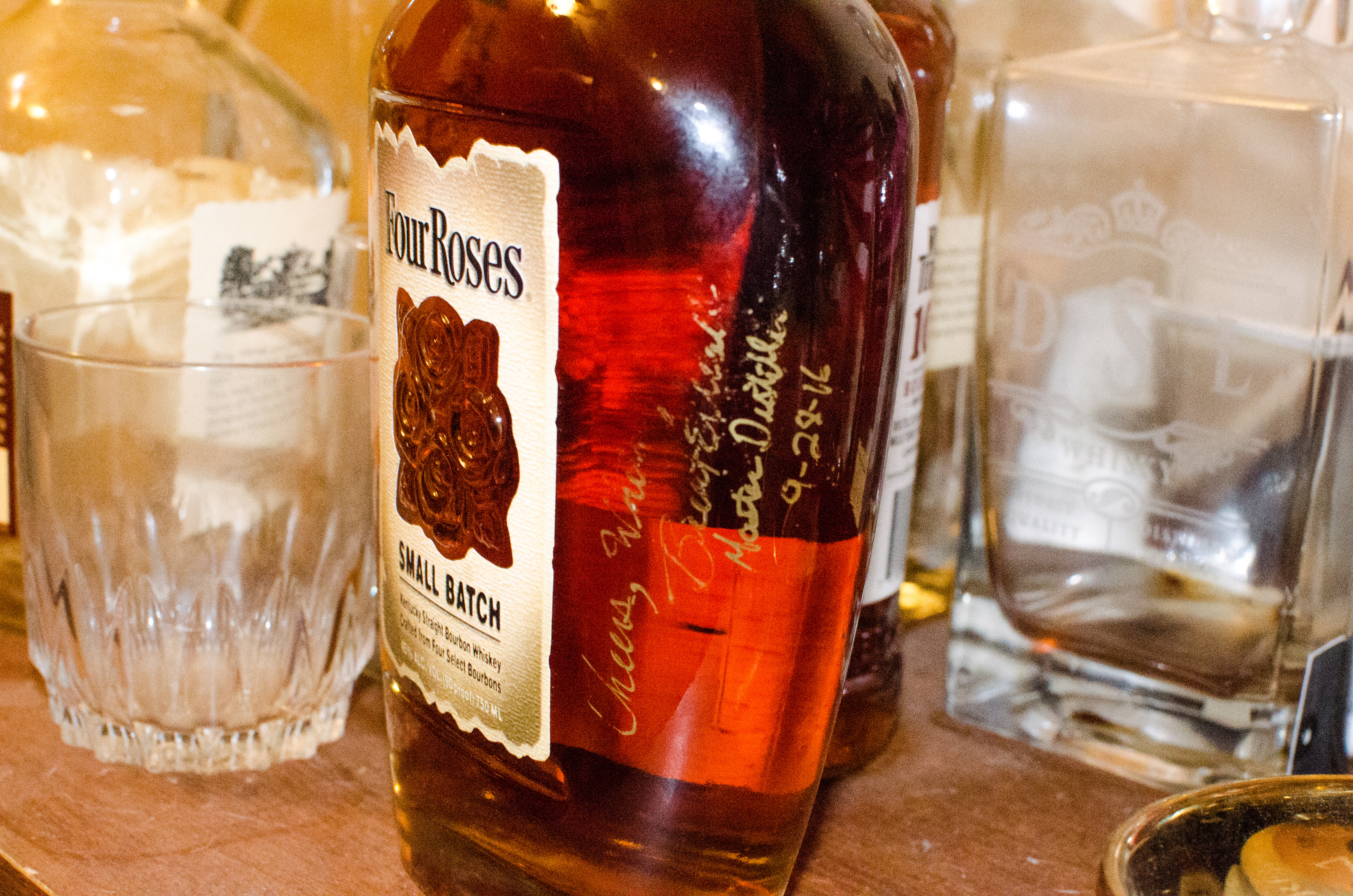 Of course, I brought a bottle for the Master Distiller to sign, so I can add it to my husband and mine's collection.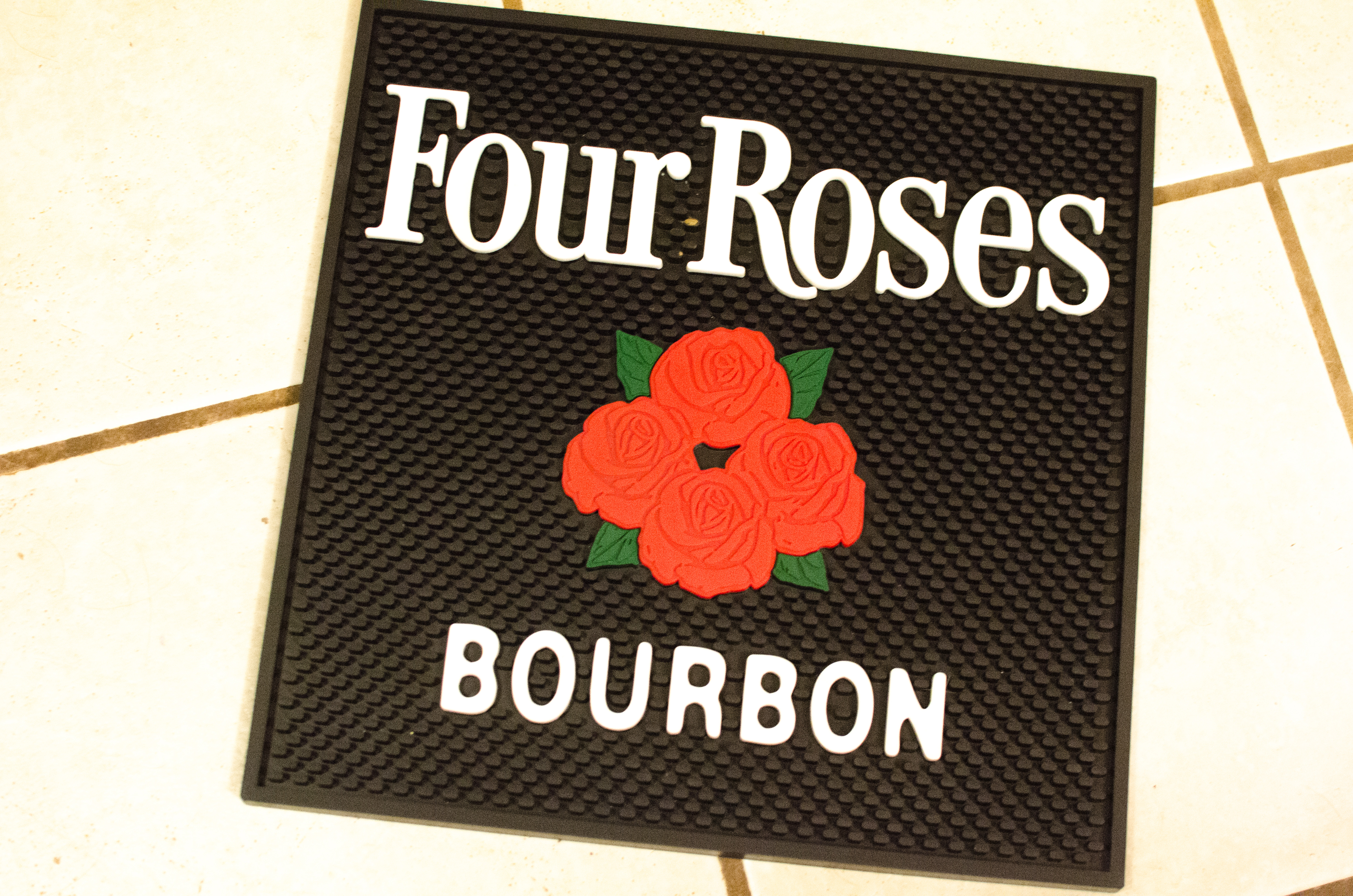 I was given a Four Roses Bourbon bar mat, since I was first in line. This will be a great addition to our collection of bottles, glasses, and decanter. It was incredibly nice, and I wasn't even expecting it!
I ended up staying about 1.5 hours longer after the event was over. I was just talking and getting to know people. I love attending events like this. The bourbon and foodie events are by far my favorite events to attend. Whether the events are free or I'm purchasing a ticket with my own money to attend, it doesn't matter. They all are incredibly enjoyable. The food and drinks are always great. Plus, the people that you meet at these events are always nice. It's that Southern hospitality. In my experience, when talking to people at these events (complete strangers, by the way), it's like you have known each other for years. There is no awkwardness. You'll always leave with the memory of a wonderful experience, great conversations, and new friends.