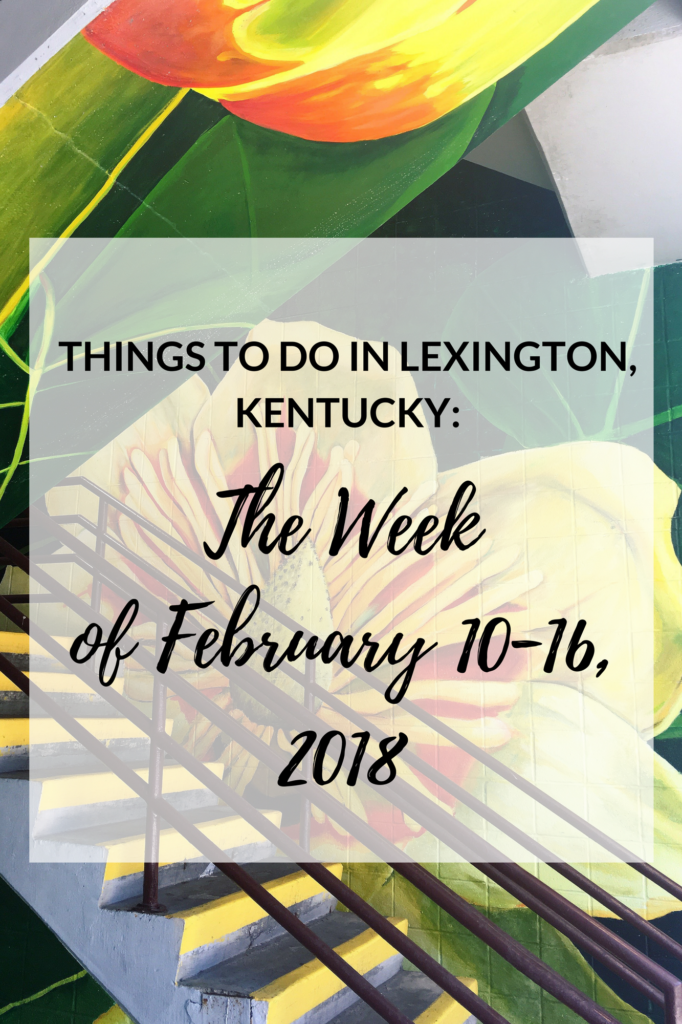 We've made it through another week! There are a lot of exciting happening in Lexington in the upcoming week – Fat Tuesday on Tuesday, February 13 and Valentine's Day on Wednesday, February 14! Don't forget about today – National Pizza Day!
Still haven't made plans or reservations for Valentine's Day?!? There is still time! You may want to check out: Places To Eat For Valentine's Day in Lexington, Kentucky (I've listed 20 different delicious restaurants along with their menus) and Things To Do (And More Places To Eat) For Valentine's Day in Lexington, Kentucky (There are 45 more things on this list!).
Things to Do in Lexington, Kentucky: Week of February 10-16, 2018:
Saturday, February 10, 2018
Sunday, February 11, 2018
Monday, February 12, 2018
Tuesday, February 13, 2018 – Fat Tuesday (Mardi Gras)
Wednesday, February 14, 2018 – Valentine's Day!
Thursday, February 15, 2018
Friday, February 16, 2018
February 5-24, 2018: Love Your Downtown – Georgetown, Kentucky
Love locally with Georgetown's Love Your Downtown event! From Feb. 5-24, locals and visitors can pick up a FREE LYD passport at participating businesses in Downtown Georgetown. The Love Your Downtown passport encourages the public to visit local businesses in our downtown in efforts to receive passport stamps/signatures. After visiting 10 or more locations, participants can turn in their passport at one of the businesses to be entered to win a basket full of merchandise!
Participating businesses include: Adorabelles – Georgetown, KY, Anniemals,Birdsong Quilting and Crafts, Bourbon 30, Georgetown Scott County Chamber of Commerce, Coldwell Banker McMahan, Cravens & Lewis Jewelers, Dan's Discount Jewelry and Pawn, Divine on Broadway, Em+Me,Fava's Of Georgetown, Galvin's, Georgetown Antique Mall, Heirlooms & Gretchen's, Hello Beautiful Salon, Hockensmith Fine Art Editions Gallery & Press, Miss Behaven, More Than Cake LLC, Scrap Paper Scizzors, Seeds & Saplings, Simple Charm, Slainte Public House, Sweet and Sassy Ashley's LLC., Twisted Twigs, Upbeat Cafe, Scott County Arts & Cultural Welcome Center, and the Georgetown and Scott County Museum.
The Love Your Downtown Passport event will take place during normally scheduled business hours. Winners will be contacted during the last week of February. For more information, contact Georgetown/Scott County Tourism at 502-863-2547.
Looking for something else to do?
Have a good weekend!!