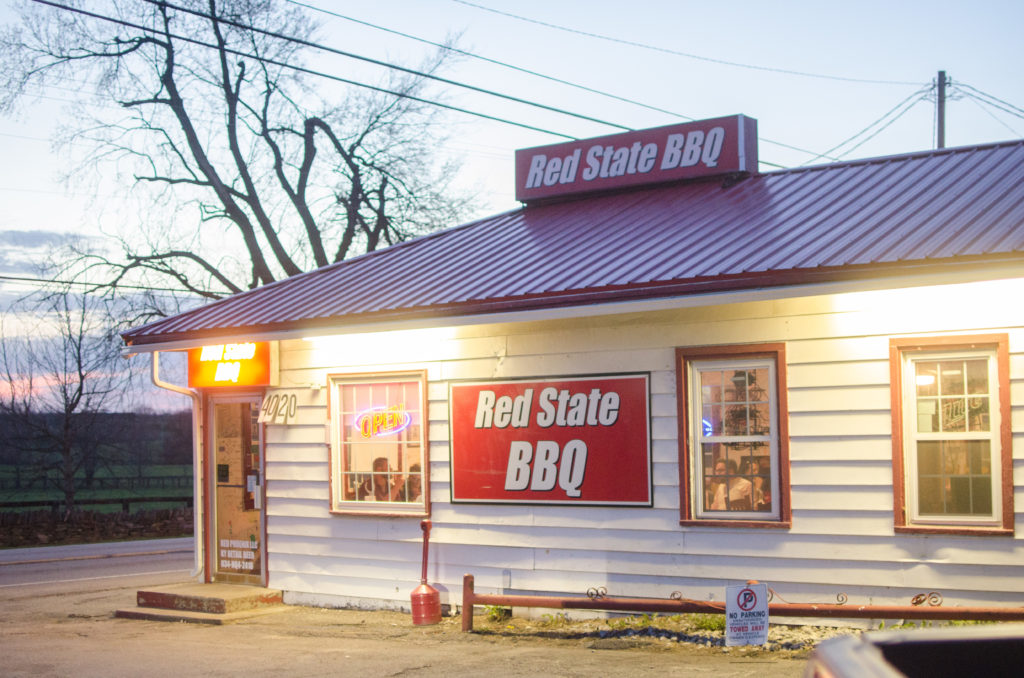 I've driven past Red State BBQ dozens and dozens of times throughout the years, but never stopped until last weekend. I have always heard that Red State has delicious barbecue, so my husband and I decided to stop in for a quick dinner and try it out. It's also located pretty close to our house, so it's definitely a spot that I can see us frequenting, especially after the great experience we had!
Red State BBQ is located on U.S. 25/Georgetown Road and is in front of the Sunset Motel. Red State BBQ was founded by Scott Ahlschwede in October 2010. He wanted a place where people could enjoy good barbecue and beer, so Red State was born. David Carroll is the owner, and this is one barbecue joint you need to eat at!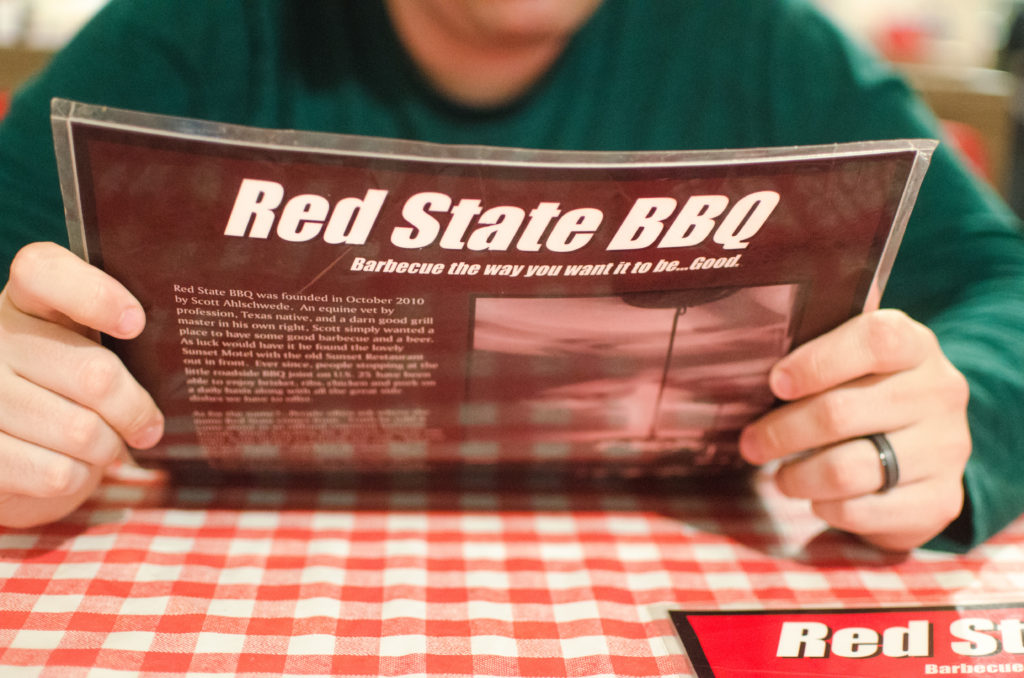 Some people may not know how Red State got it's name, but it comes from a conversation that Scott had with friends. He mentioned to a friend, "You ever notice how all the good barbecue comes from the Red State?" And thus the name was born.
Red State BBQ switched owners in 2012, but the menu has stayed the same, with the exception of additional items being added to the menu.  The dry rub recipes are still made the same, along with the brisket, ribs, chicken, pork, and sausage cooked slow and low.
FYI: Red State BBQ also has a food truck and does catering for events!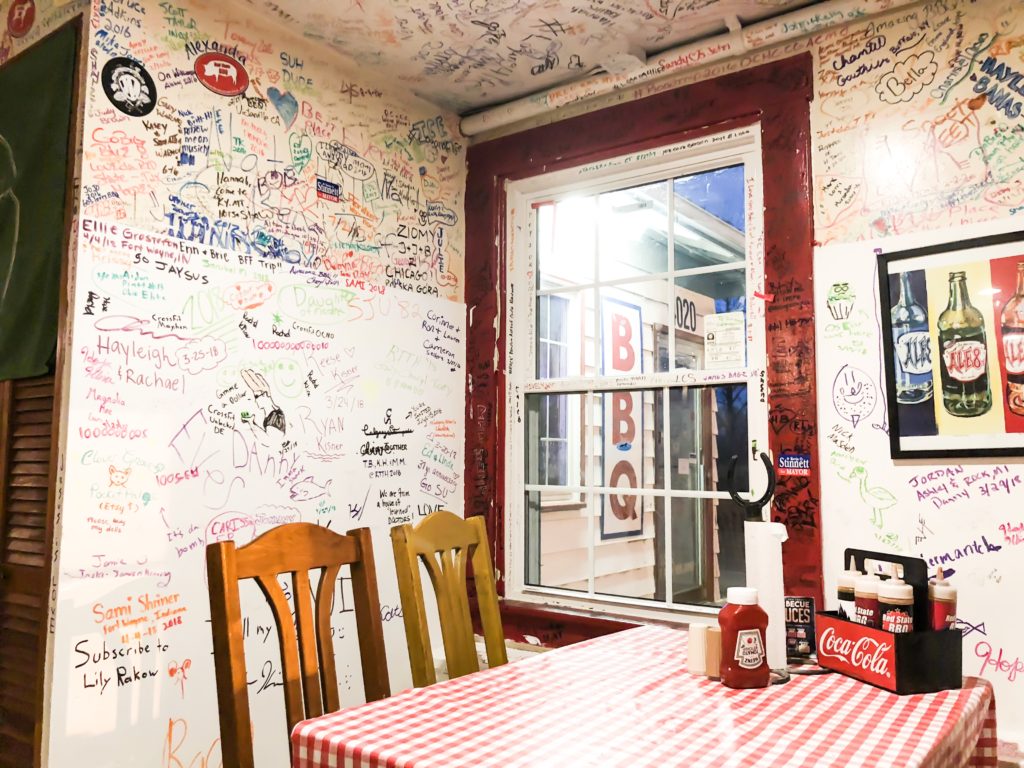 Red State BBQ is super unique on the inside. The entirety of the walls and even the ceiling are covered with names, drawings, and messages!
What I really love is that all of the sides are made daily and they are a Kentucky Proud restaurant. Kentucky Proud is something I wholeheartedly support and am truly passionate about. Even the ice cream is from another local place, Sav's Chill. They have the following flavors: Bourbon Vanilla, Bourbon Chocolate, and Bourbon Ball Chocolate.
We decided to eat there at 8:30pm on a Thursday, and it was completely packed. That just goes to show you what a great following and food that they have!
Red State has the classic comfort food sides such as baked beans, beer cheese grits, green beans, macaroni and cheese, and much more.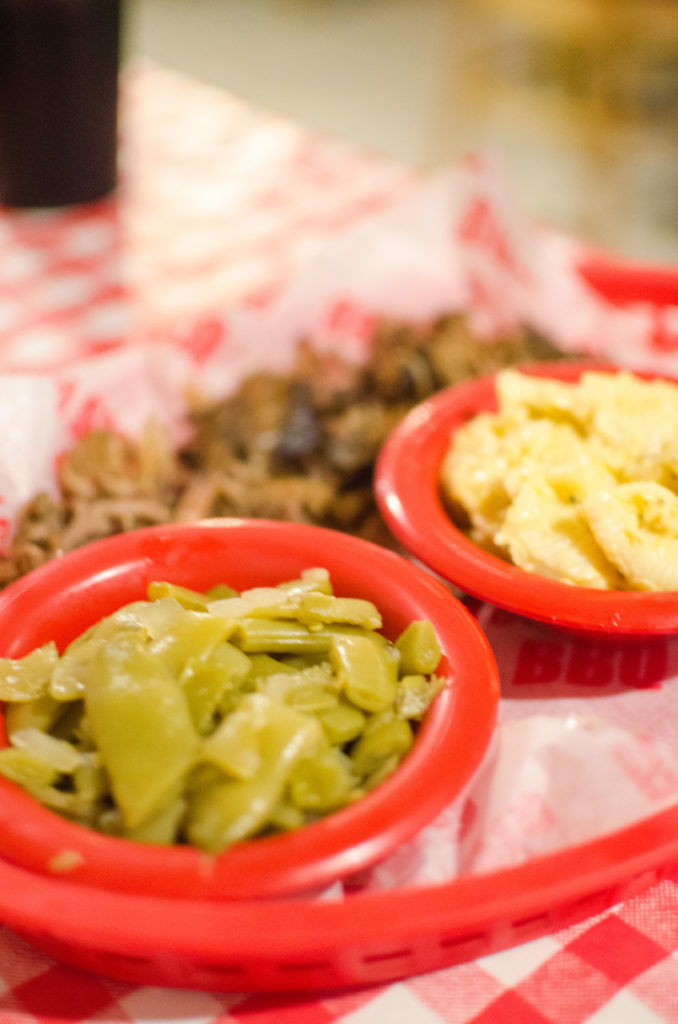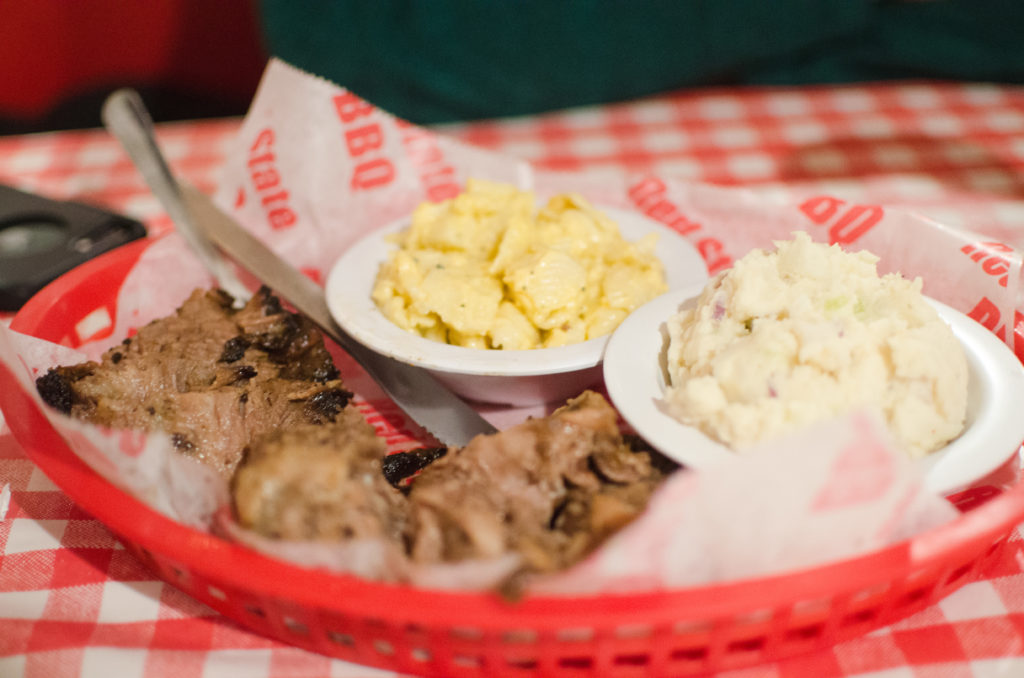 I'm a huge fan of barbecue. Everything about it is so delicious! It's just one of those foods that is so simple, but yet so comforting. I got the pulled pork with macaroni and cheese and green beans. My husband got the brisket with macaroni and cheese and potato salad. The pulled pork was so flavorful and moist that it didn't last long on my plate! The brisket had a nice crispy outer crust and it was very tender. For my dessert, I got the banana pudding. Any time there is banana pudding on the menu, I can't resist saying no, and this one didn't let me down!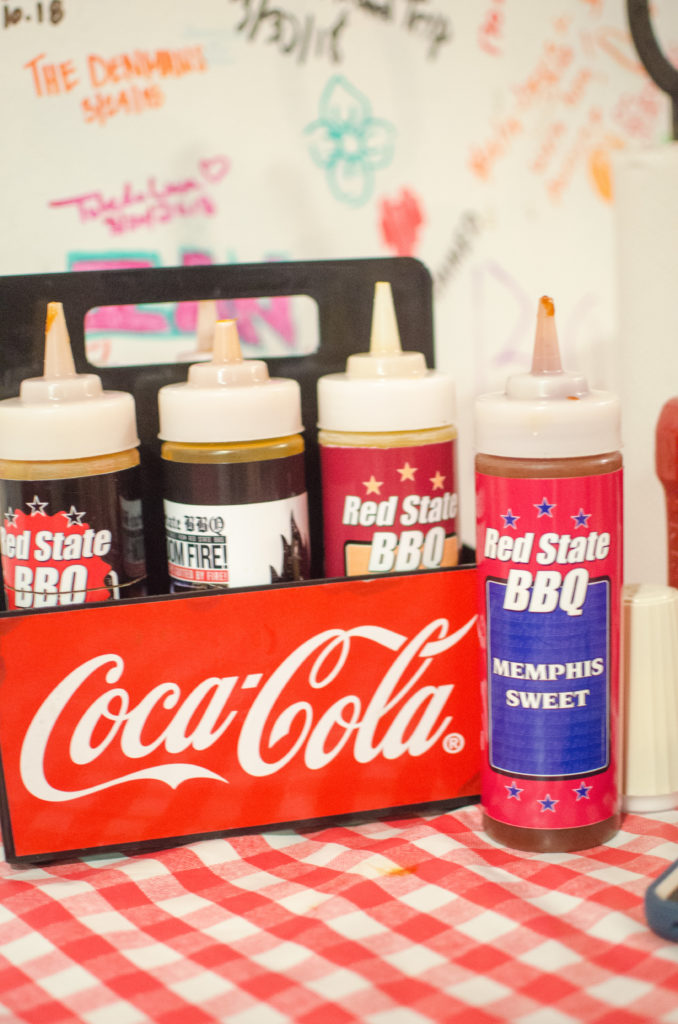 There's a wide variety of Memphis, Texas, and Carolina style sauces, such as:
Memphis Sweet
Texas Spicy
South Carolina Mustard
North Carolina Spicy Vinegar
Kentucky Small Batch (this one is my favorite!)
Alabama Show Horse
Taproom Fire
You can also purchase their sauces online: HERE or in person at the restaurant.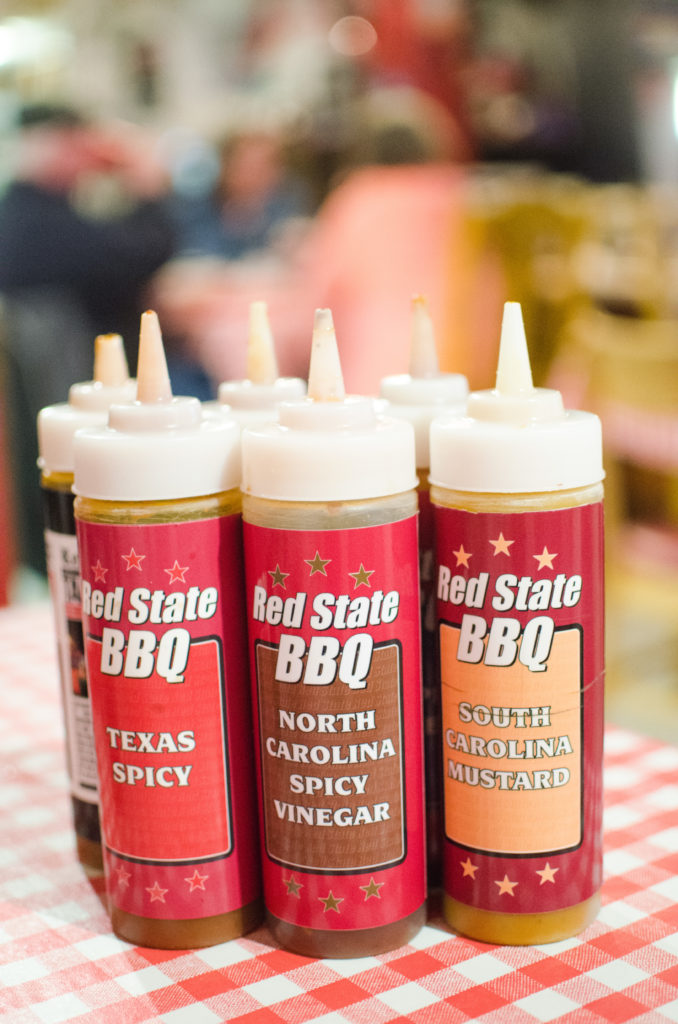 Taproom Fire is a very special sauce that is flavorful and hot that benefits the nonprofit, From the Ashes, Incorporated, which assists in providing comfort and assistance to families in our communities that have been displaced by fires. The sauce is on sale at Red State BBQ for $10 a bottle, with 65 percent of the proceeds going to a fund to help those in Fayette, Scott and Harrison counties displaced by fire.
Red State BBQ had a location called Red State Taps in Georgetown, Kentucky. They celebrated their one year anniversary in February 2017. Unfortunately, a month later, on March 23, 2017, a fire completely destroyed the location. They received so much support from the community which lightened the burden of this loss. Red State wanted to give back to the community which helped support them with their loss, and thus, From the Ashes, Incorporated was born. If you want to donate or learn more about From the Ashes, Incorporated: click HERE.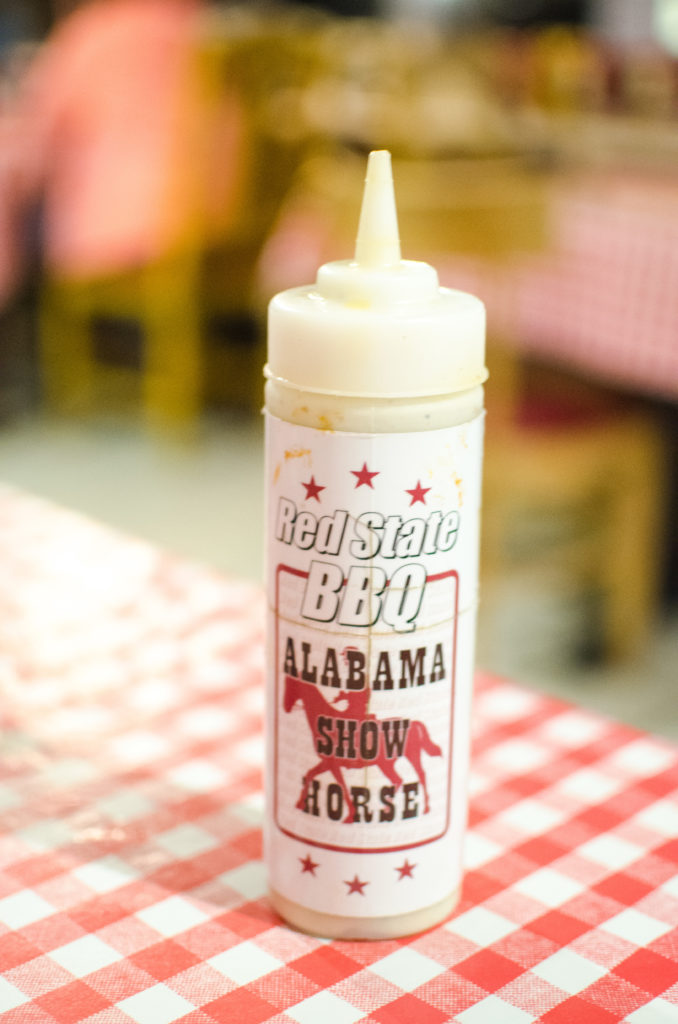 Red State – "Barbecue the way you want it to be…Good."
Awards:
Kentucky Proud Food Show People's Choice 2013
Taste of the Bluegrass Judges' Table 2013
Taste of Georgetown Judges' Table 2014
Georgetown News-Graphic Readers' Choice: 2014-2017
Trip Advisor Certificate of Excellence: 2014-2017
Readers Choice 2017 in the Herald Leader for Best Food Truck and BBQ Restaurant
Kentucky Living Best BBQ in Kentucky 2017
Address:
4020 Georgetown Rd, Lexington-Fayette, Kentucky 40511
786 US HWY 27 South, Cynthiana, Kentucky 41031
Hours of Operation for Lexington location:
Sunday through Thursday: 11:00 am to 9:00 pm
Friday and Saturday: 11:00 am to 10:00 pm
Hours of Operation for Cynthiana location:
Sunday through Thursday: 11:00 am to 8:00 pm
Friday and Saturday: 11:00 am to 9:00 pm
Be sure to check them out and support a local business!