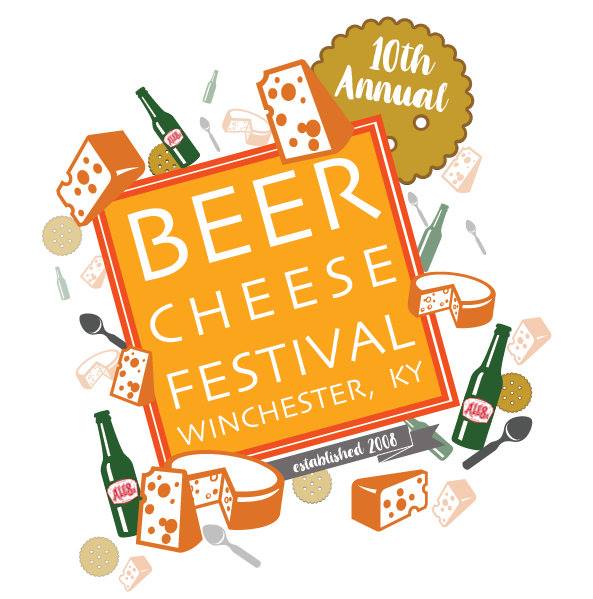 This past weekend was the 10th Annual Beer Cheese Festival in downtown Winchester, Kentucky aka the birthplace of beer cheese. If you weren't one of the 30,000 people there, then what were you actually doing with your life?! It's always a beautiful day, but y'all it's always ridiculously hot the weekend of the Beer Cheese Festival. It never fails! I went last year, so I knew it would be a scorcher this year. I wanted to be more prepared this time for being out in the heat than I was last time. The UV Index was very high at a level 9 and the temperature was in the 90s (just like last year!). This year, we brought two camel backs, so we could have access to cold water at all times to keep us hydrated. I also brought several power banks to power my USB fan. I had to keep cool, because there wasn't any breeze! The Cairn Coffee House (which is one of the places on the Beer Cheese Trail) is a great place to cool off and enjoy a bite to eat, but sadly they don't have their Frozen Lemonade anymore!
The logo above was made by Brandi Berryman Peacher for the 2018 official t-shirt design!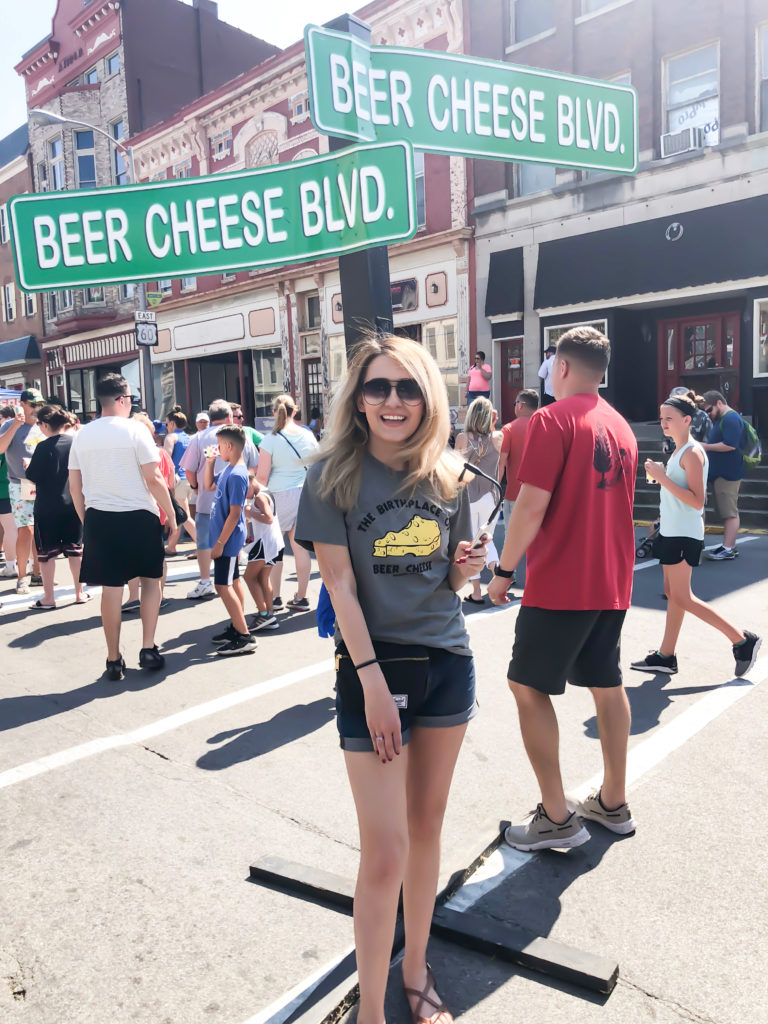 What is the Beer Cheese Festival?
The Beer Cheese Festival is the ONE AND ONLY Beer Cheese Festival in the WORLD! There's no other place to celebrate it than the birthplace of beer cheese. Beer cheese was first invented back in the 1940s. In fact, in 2013, the Commonwealth of Kentucky deemed Clark County the birthplace of beer cheese – HB 206 (BR 924). The 10th Annual Beer Cheese Festival was held on June 9 from 10am to 5pm.
Mashable has deemed this one of "14 Food Festivals That Show How Serious America Is About Food," as well as one of "15 Food Festivals in the U.S. for the Ultimate Foodie." Mental Floss put it on their list of "12 Highly Specific (and Extremely Delicious) Food Festivals." The Latin Kitchen even named it as one of "10 Summer Food Festivals Worth Traveling To."
[RELATED: The One and Only Beer Cheese Festival in the World Celebrates Nine Years]
Wait… what is beer cheese?
If you don't know what beer cheese is shame on you. Just kidding.
Beer cheese is a cheese spread that is most commonly found in Kentucky. The spread is nearly ubiquitous here. It is on just about every menu at the majority of restaurants here, especially the locally owned ones. One of my favorite things to do is order beer cheese at all the restaurants I eat at. There are so many varieties and not one is alike (that's one of the things I like most about it!). You can eat it with chips, put it on burgers, have it as a topping on a hotdog, use it in soups; the possibilities are endless. You can also buy it at local retailers, such as Kroger, Liquor Barn, Wal-mart, etc. Beer cheese is usually made with cheddar cheese, spices, and beer. It can vary from very mild to spicy hot.
When is the festival?
The festival is always on the second Saturday in June in downtown Winchester, Kentucky. The festival starts at 10am and lasts until 5pm or until there's no more food.
How much does it cost to attend the festival?
To get into the festival, you'll need a wristband. They cost $5 and that will let you sample all of the beer cheese you like. This is the best part of the festival – sampling all the beer cheese that your heart desires! You can then vote for your favorite. Beer cheese makers are competing for a grand prize worth a value of $3,000.
What is there to do at the Beer Cheese Festival?
Well, besides eating beer cheese, you can even purchase beer cheese right from the vendors. There are also plenty of other things to do at the festival, such as listen to live music, drink from the beer garden, visit arts & crafts or the Kentucky Proud booths. There were over 150 booths to shop from!
Who were the competitors for the 10th Annual Beer Cheese Festival?
Competition for the event is broken down into an amateur and commercial/pro category. There is a Judges Choice winner as well as a People's Favorite. The professional competitors for 2018 were:
Who were the winners for 2018?

Amateur Beer Cheese Contest winners for 2018:
First Place: John Hedger, "Johnny Roy's Can't Stop Licking"
Second Place: Linda Bridgewater
Third Place: John Hedger, "My Ol' Kentucky Tang"
There were so many choices and it was so hard to pick a favorite to vote for! Some of my favorites that I have loved for a long time were there, and I also discovered some new ones that I'm a fan of! The hot and spicy ones are my favorite!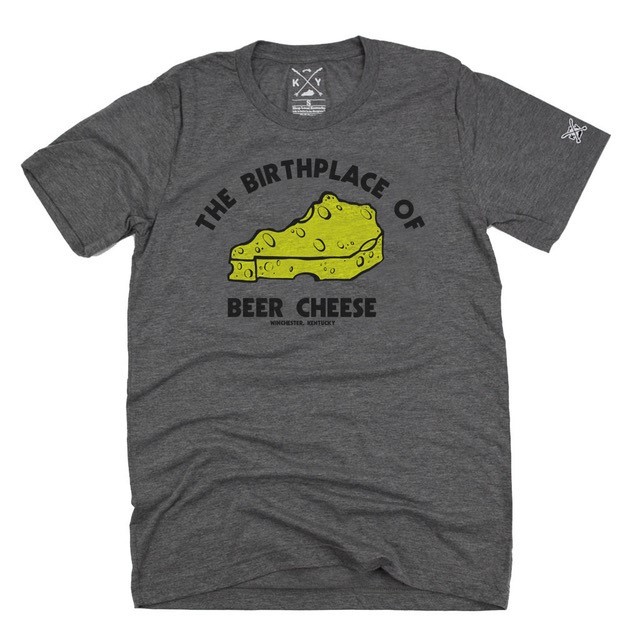 shirt from: Shop Local KY (and it's still available for purchase!)
Tips for attending the Beer Cheese Festival:
Be sure to wear and bring sunscreen: It's usually super hot and humid on this day! You'll need to protect yourself from the sun, because the UV Index is usually a 9.
Bring cash: Depending on where you park or what time you get there, you may need to pay for parking. It's best to have cash just in case. Last year, I parked at a church for $5, but this year, we parked on the street. Also, to buy your wristbands, you'll need cash and some vendors only accept cash as well. However, there is an ATM tent with an ATM that you can use.
Drink lots of water: Drink lots of water and if you can bring water with you, because you'll definitely want to stay hydrated!
Beware of long lines: There are tons of people and there can be long lines, so get there as early as you can! Not only that, but you can avoid the hottest part of the day. You weren't supposed to wait in line, but I just feel like I would have been considered rude if we walked up in front of everyone. Since lines had formed, we just usually waited in line along with everyone else).
Now, that you know about it a year in advance, be sure to mark 2019's Beer Cheese Festival on your calendar!
If you went to the Beer Cheese Festival, which was your favorite?