The fourth annual Lexington Burger Week has come to a close. We now have one week to rest and start preparing for Lexington Restaurant Week, which starts on July 26, 2018 and goes through August 4, 2018.
Each year, Lexington Burger Week has become more and more successful. Regarding Lexington Burger Week:
In 2015, over 36 restaurants participated and 21,000 burgers were sold.
In 2016, over 36 restaurants participated in Lexington Burger Week and over 61,100 burgers were sold (that's almost 300% growth!).
In 2017, there were over 46 one-of-a-kind burgers being offered at 40+ restaurants, and there were over 110,000+ burgers sold (it almost doubled!).
I can't wait to see the results for 2018!
I've been to Burger Week ever since it started in 2015! Just like the number of burgers that were consumed during Burger Week, I've eaten more and more each year.
In 2015, I had one burger.
In 2016, I had four burgers.
In 2017, I had three burgers.
In 2018, I had ten burgers!
My husband and I decided to try at least ten, so the first one we tried was the Stella's Hot Brown Burger from Stella's Kentucky Deli. Of course, everyone knows what a Kentucky Hot Brown is, so why not put it on a burger?!? The burger version of our state's most famous sandwich features a quarter pound of Kentucky beef topped with grilled tomatoes, local turkey, chopped bacon and creamy, white cheddar Mornay sauce. This ranks up here as one of my favorites!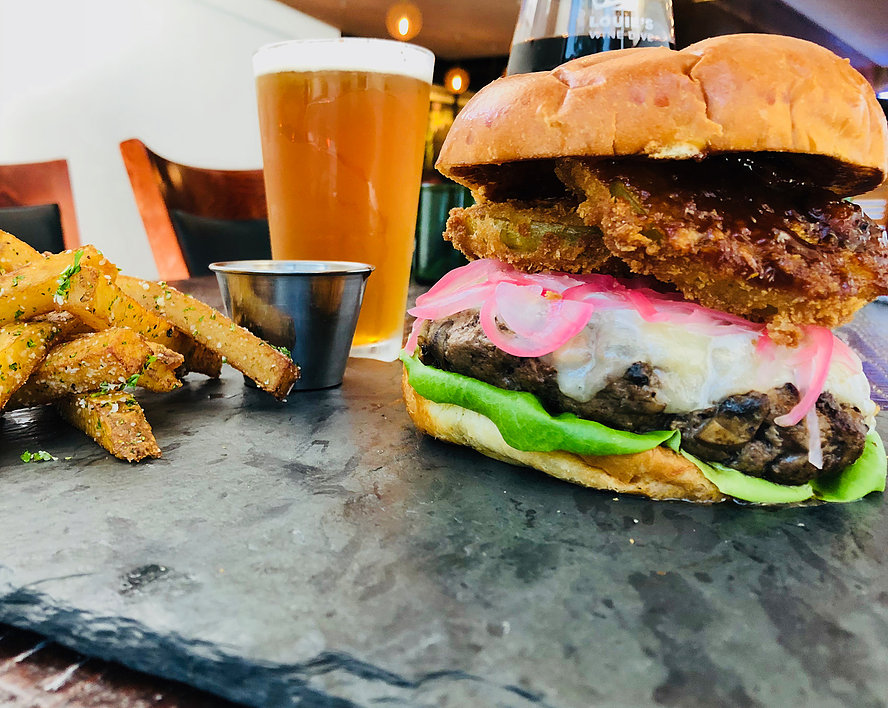 After Stella's, we headed to Louie's Wine Dive & Chevy Chase Kitchen to eat the Bluegrass Fed Burger. It was an all beef patty topped with ginger ale-battered fried green tomatoes, local cheddar cheese, Kentucky bourbon and local sorghum sauce. I just wish it had more cheese and sauce on it! We had never been there before Burger Week, but we would like to go back and try their other items on their menu.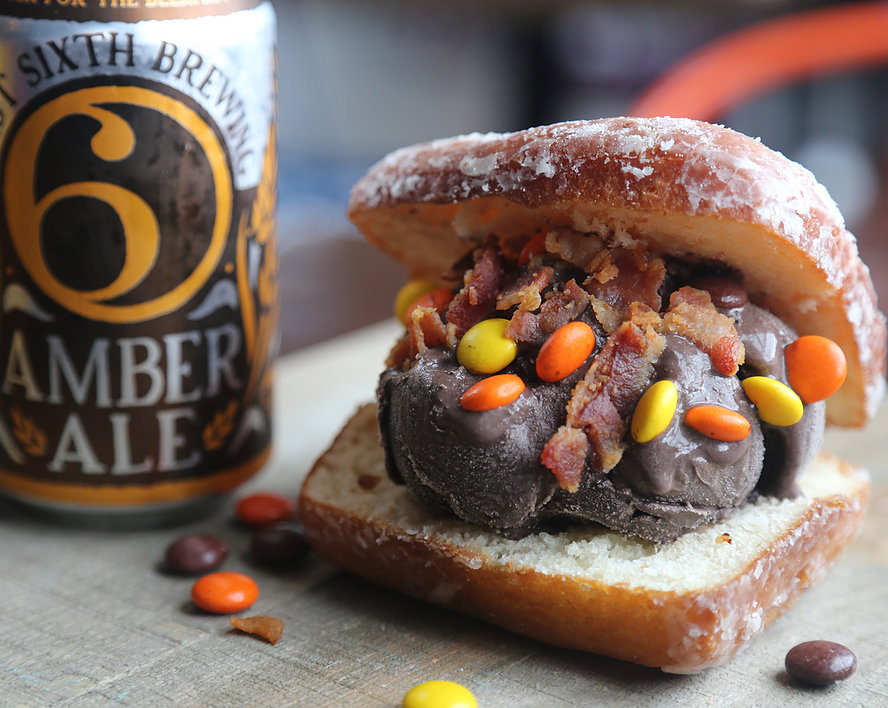 We then headed to Crank & Boom Ice Cream Lounge for our third "burger" of the day. Their "burger" was a Chocolate PB Bacon Donut Ice Cream Burger​. It was SuperFudge ice cream with local Stone Cross Farm bacon & Reese's Pieces in between a North Lime Glazed Donut. I prefer vanilla ice cream over chocolate, but I'm a huge fan of Crank & Boom, so I enjoyed it (We actually got this twice!)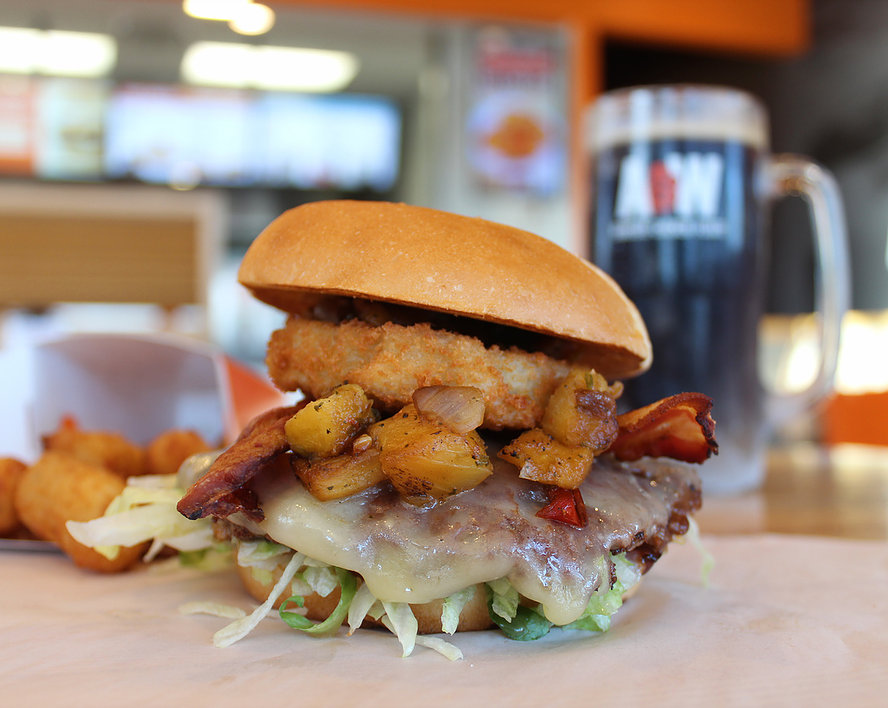 About two weeks before Lexington Burger Week, I was able to try out the Maui Wowee from A&W Burgers Chicken Floats on a VIP Night I was invited to attend. It was a juicy burger topped with sweet & smoky BBQ sauce, grilled pineapple salsa, hickory-smoked bacon, lettuce, Provolone cheese & a crispy fried onion ring served on a caramelized bun. I'm normally not a fan of pineapple, but it was actually pretty delicious! I loved all the flavors together!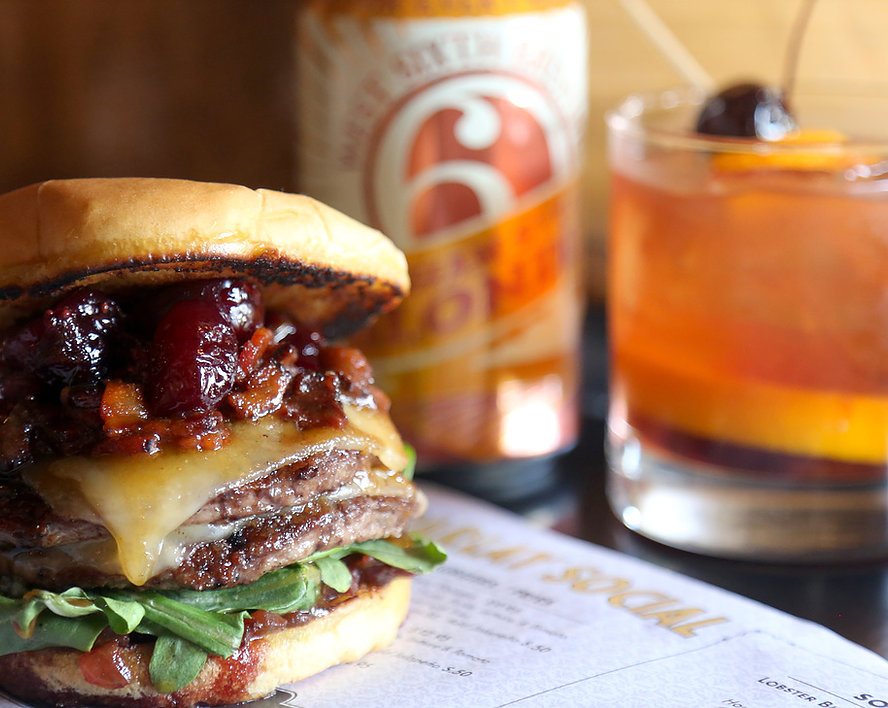 The Old Fashioned Burger (OFB) from Parlay Social was the one I was probably the most excited about! It was two 3 ounce, crispy beef patties with havarti cheese, cherry and orange chutney, arugula, caramelized onions finished with angostura bitters, topped with signature Parlay Social old fashioned syrup on a potato bun. This was one of the burgers that I would actually go back and eat again. The OFB didn't disappoint!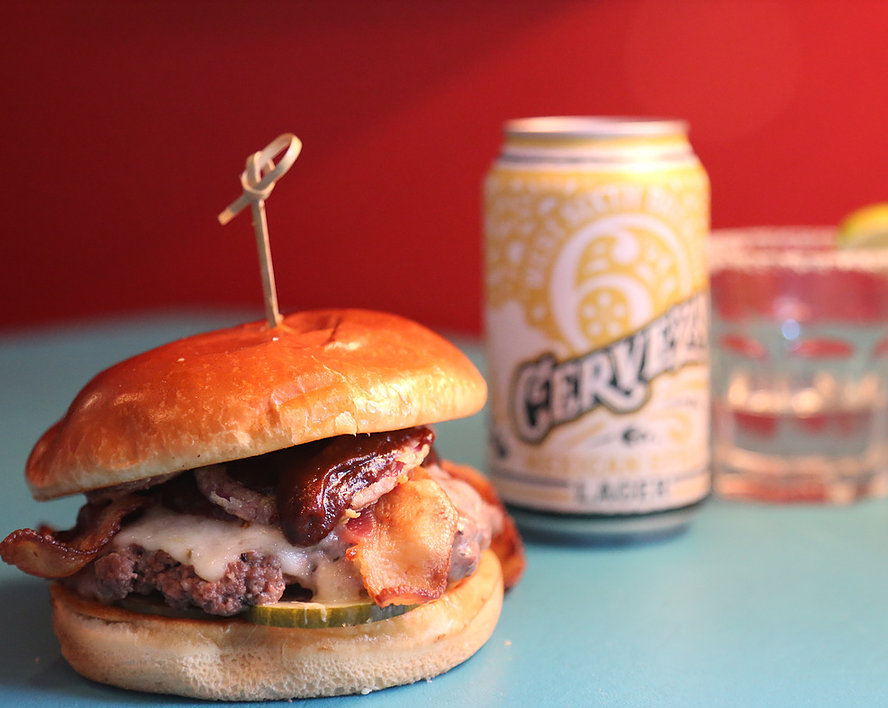 I also was really excited about The Babe from Red Light Kitchen & Lounge. It is a six ounce beef burger with pepper jack cheese topped with ancho chili barbecue sauce, hickory smoked bacon, crispy onions and house bread and butter pickles. I noticed on facebook they had posted they ran out of burgers 1.5 hours after being opened, so I made sure that I got there early the next day! The burger had the right amount of spice and I loved the ancho chili barbecue sauce mixed with the pepper jack cheese and the crunch of the crispy onions.
I can never say no to an egg on a burger, so of course, we had to get the Bourbon For Breakfast from The Original Brooklyn Pizza. It was a double smash burger with sweet rub topped with swiss cheese, an over easy egg, tomato, applewood smoked bacon, maple syrup bourbon glaze on a toasted Kaiser roll. The sauce was sweet and reminded me of pancakes (but in a good way!) It was definitely the perfect burger to remind you of breakfast. We definitely plan on going back, since we've never had their pizza before, and because I want to try their Beer Lover's Burger (It was their burger for Burger Week 2017, but I wasn't able to try it!)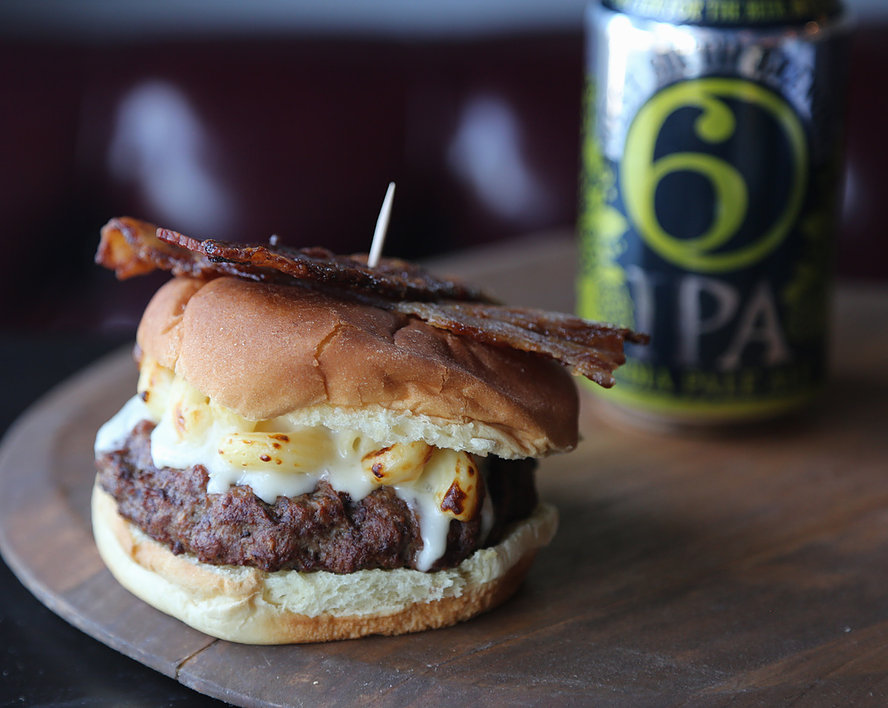 We've had Big City Pizza's pizza a few times before, so we really wanted to try their burger, Big City Gangster – So Good It Should Be Illegal. It was a 5 ounce certified Angus beef patty topped with 3 cheese mac & cheese and bourbon candied bacon on a potato bun. The bacon was sweet and paired perfectly with the creamy macaroni and cheese.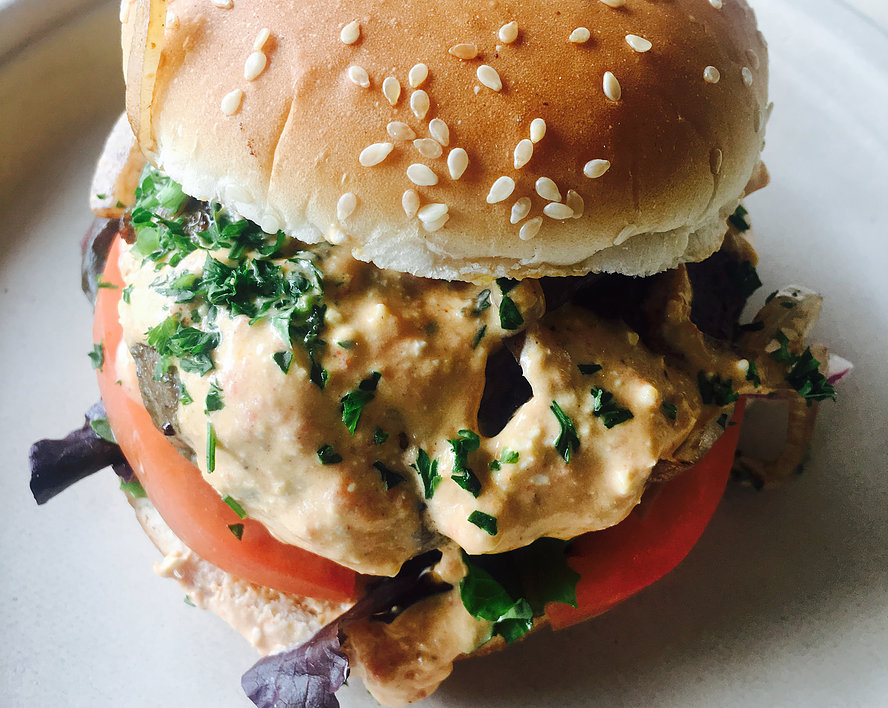 The Spartan from Athenian Grill is a burger was a house blend of ground leg of lamb and sirloin burger served on a sesame bun, spicy feta spread (htipiti), romaine lettuce, tomato and grilled onions. Making this burger out of lamb definitely made it stand out!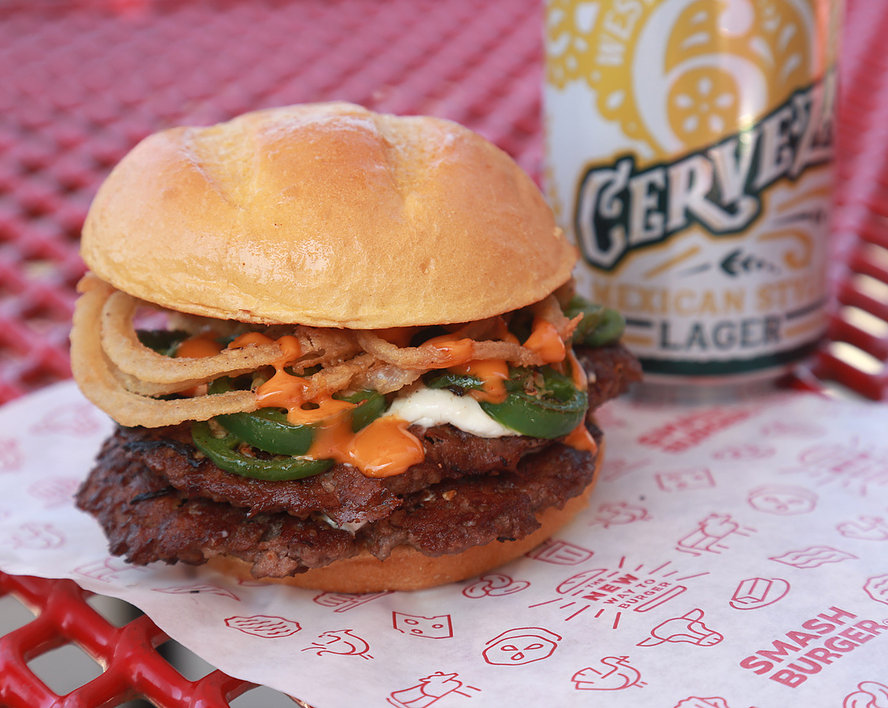 Jalapeno Double Popper from Smashburger was made with double the beef, topped with two layers of cream cheese, grilled jalapenos, haystack onions and chipotle mayo. A burger and a jalapeno popper? How could you go wrong? This burger was so delicious.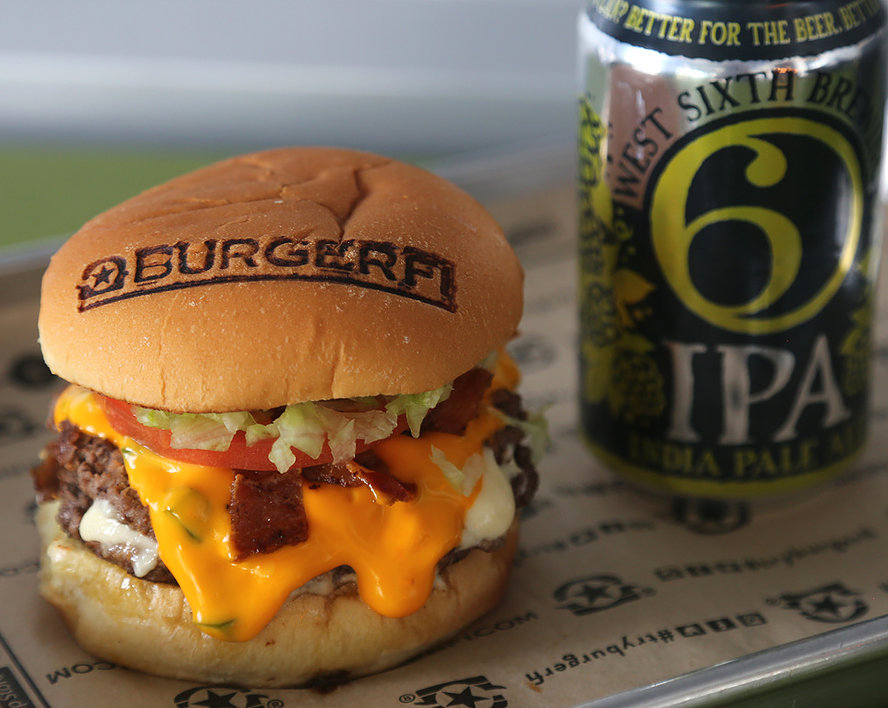 BurgerFi featured the Bayou Burger. This burger was made with two 100% Angus patties with cajun seasoning, topped with garlic aioli, cheese sauce and diced jalapenos, chopped bacon, shredded lettuce, and tomato on our BurgerFi potato bun.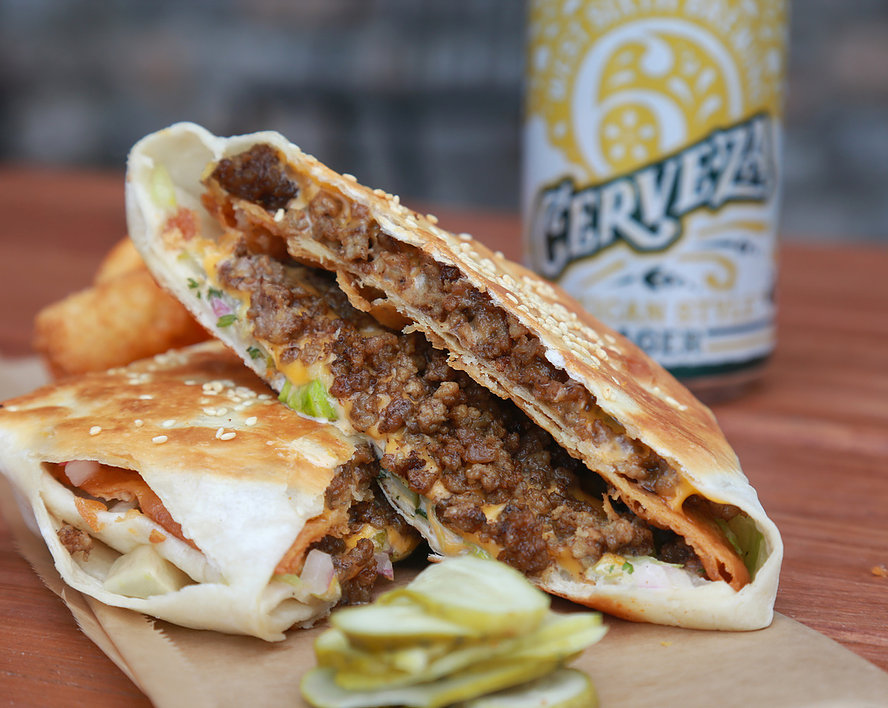 Big $tack CrunchRap from Girls, Girls, Girls Burritos
Beef: Double layer spicy ground beef, girls' special sauce, American cheese, crispy flour tortilla, shredded lettuce, cilantro, diced red onion, and girls' pickles all wrapped in sesame seed flour tortilla & grilled.
Vegetarian: Double layer refried pinto beans, girls' special sauce, American cheese, crispy corn tortilla, shredded lettuce, cilantro, diced red onion, and girls' pickles all wrapped in sesame seed flour tortilla & grilled)
Maybe this isn't a burger by definition, but it was so good! My husband and I are definitely going back to try their burritos!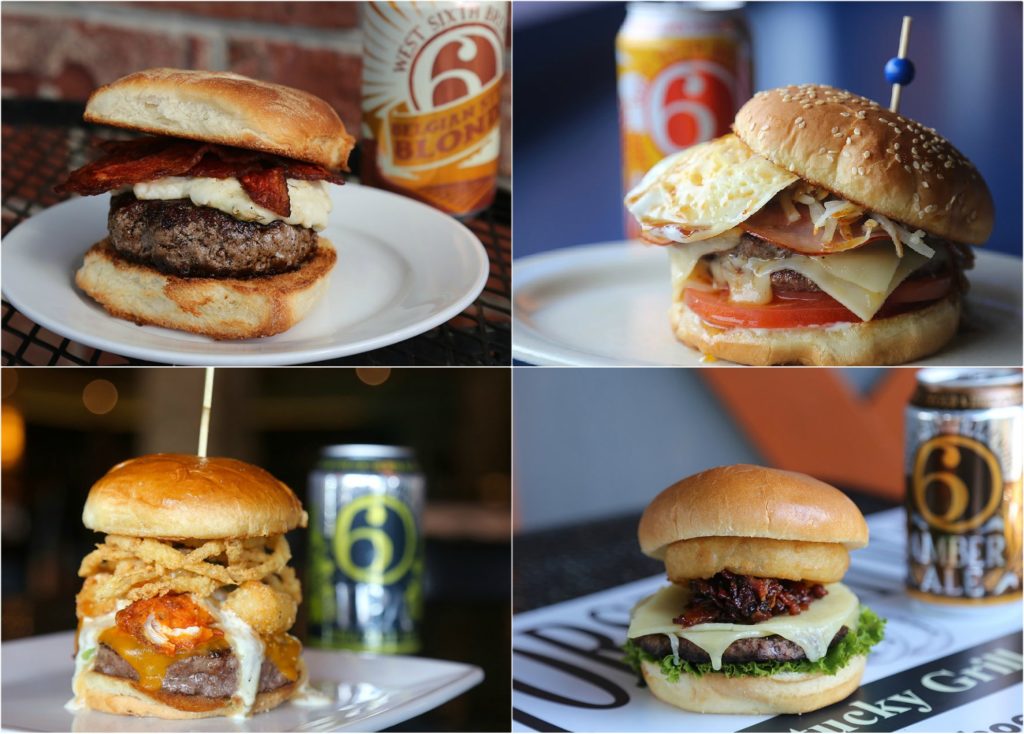 Ones I wanted to try, but sadly I didn't get to were:
Red, Hot & Boom from The Sage Rabbit (Chef Foster's house ground ribeye and top round burger, Cholula bacon, smoked jalapeño, topped with mornay on a toasted bun)
Hungover Ho from Tolly Ho (Two quarter pound patties seasoned with a cinnamon chipotle spice topped with Ho Sauce, lettuce, two slices of Swiss cheese, four pieces of Canadian bacon, hash browns, an over medium-well egg, and bourbon honey sauce)
Tacho Average Burger from Bar Louie (All beef patty with buffalo chicken, tater tots, queso, bacon bits, ranch and fried onion strings on a toasted brioche bun)
Bourbon Bacon Jam Out Burger from Horseshoes Kentucky Grill (1/3 lb certified Angus burger with white cheddar cheese, topped with our handcrafted bourbon bacon jam, and a crispy onion ring served with green leaf lettuce on a brioche bun. It's jam good)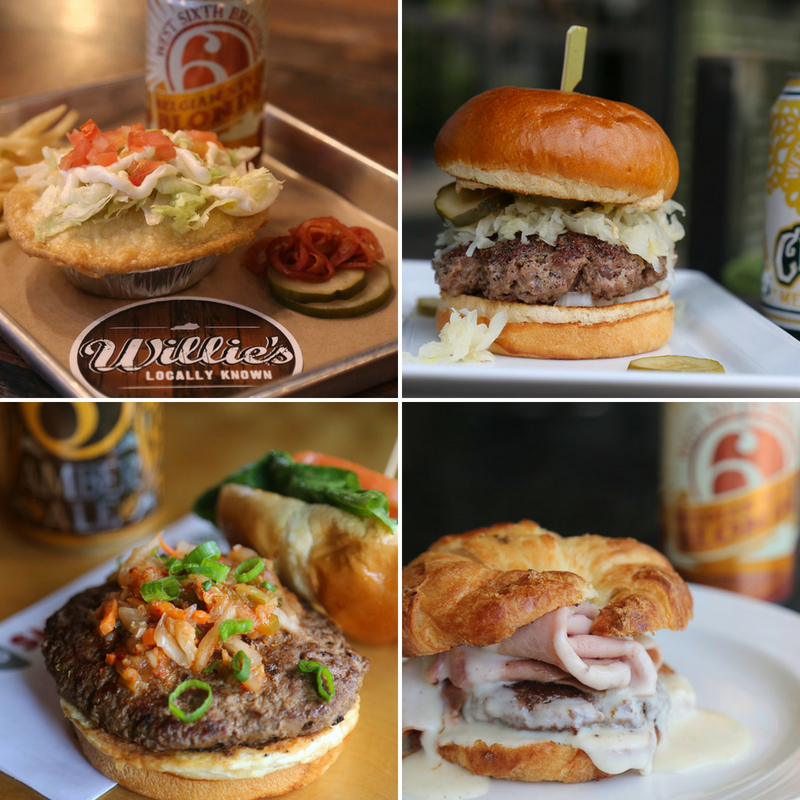 Burgers…
The Pie Expectation from Willie's Locally Known (A classic American cheeseburger pot pie)
Berlin Butcher from Bear & The Butcher (The Lexington Burger Week version of our German Bratwurst! Beef patty topped with house fermented sauerkraut & pickles, diced white onion and finished with our famous West 6th IPA mustard)
East Meets West Sixth from Smithtown Seafood (West Sixth Farm organic beef with ginger-soy mushroom duxelles, Counterculture kimchi and ginger mayo on a brioche bun)
Croque MonZURGER from Azur Restaurant & Patio (⅓ pound burger with smoked ham, gruyere cheese sauce, and Dijon)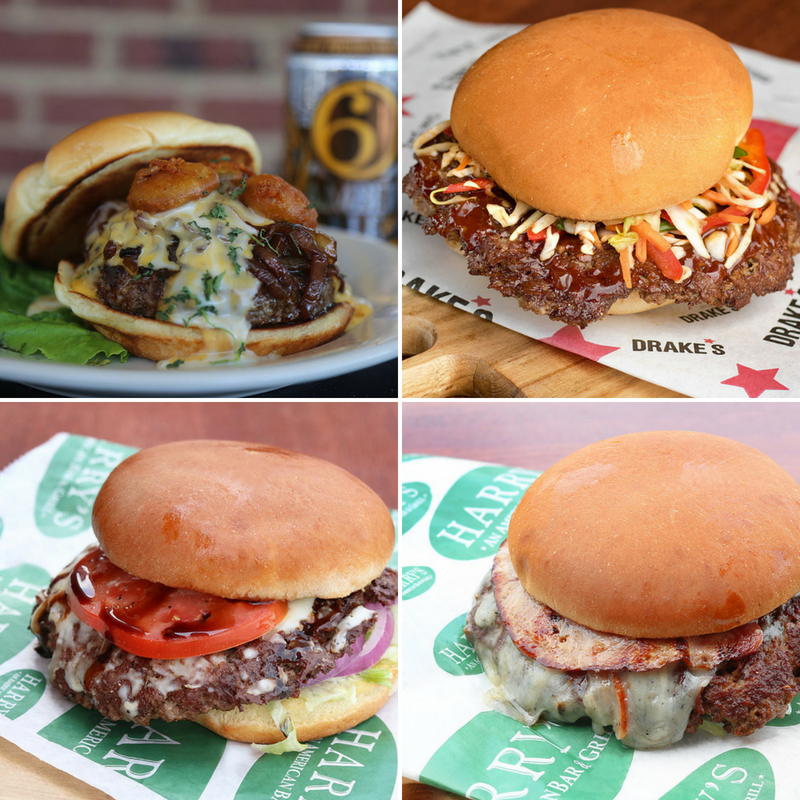 Onion Cheddar Melt from The BLVD Grill (Grilled beef patty topped with white cheddar cheese sauce, West Sixth Amber beer-braised onions and Amber-battered fried jalapenos)
Korean BBQ Burger With Kimchi Slaw at Drake's (A fresh, never frozen patty seared and glazed with Korean BBQ sauce, topped with crunchy kimchi slaw and chili-garlic mayo on warm, butter-toasted bun)
Caprese Burger from Harry's American Grill – Hamburg (A fresh, never frozen patty topped with melted deluxe five-Italian cheese blend, ripened tomato, red onion, shredded iceberg, pesto mayo and aged balsamic glaze on warm, butter-toasted bun)

BBQ Cordon Bleu Burger from Harry's American Grill – Palomar (A fresh, never frozen patty topped with smoked ham, mellow marbled jack and blue cheese, shredded lettuce and bourbon-BBQ mayo on a warm, butter-toasted bun)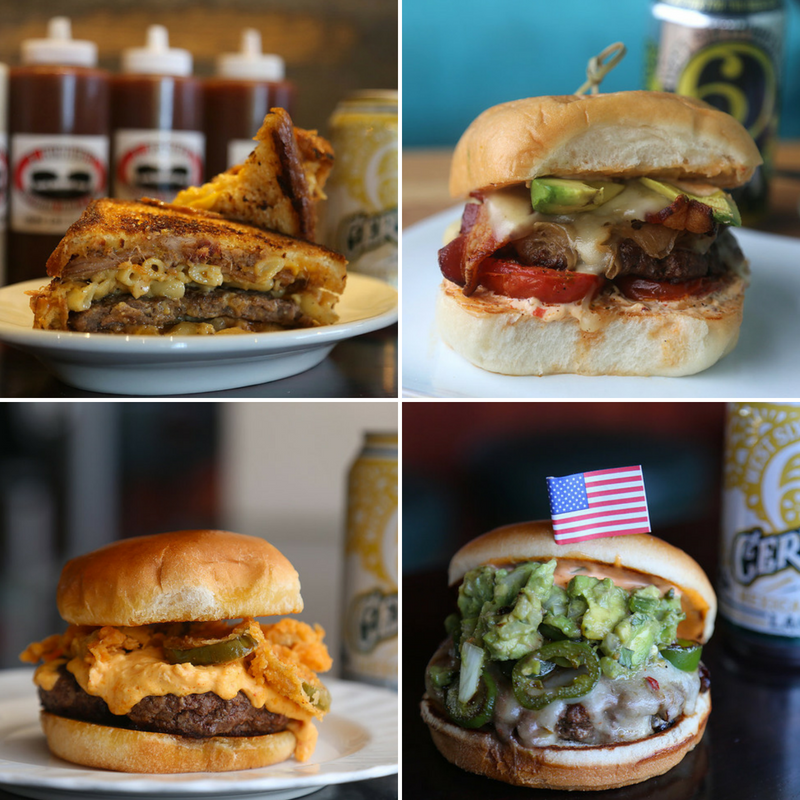 More Burgers…
"Oh No You Didn't Burger" from J. Render's Southern Table & Bar (4 ounce burger patty topped with pulled pork, bourbon & truffle BBQ sauce, smoked mac & cheese then nestled between American cheese slices and grilled Texas Toast)
BABA Burger from Babalu Tapas & Tacos (Natural Angus beef, roasted roma tomato, caramelized onions, white cheddar cheese, Hass avocado, smoked bacon and chipotle aioli on a sweet sourdough bun)
Barracho Burger from Brasabana Cuban Cuisine (1/3 pound burger with warm, melted tequila cheese and crispy fried pickled jalapeños)
Green & Hot from Ted's Montana Grill (The Green & Hot is topped with Pepper Jack cheese, grilled jalapenos and handmade, rustic guacamole on a toasted brioche bun and Sriracha aioli)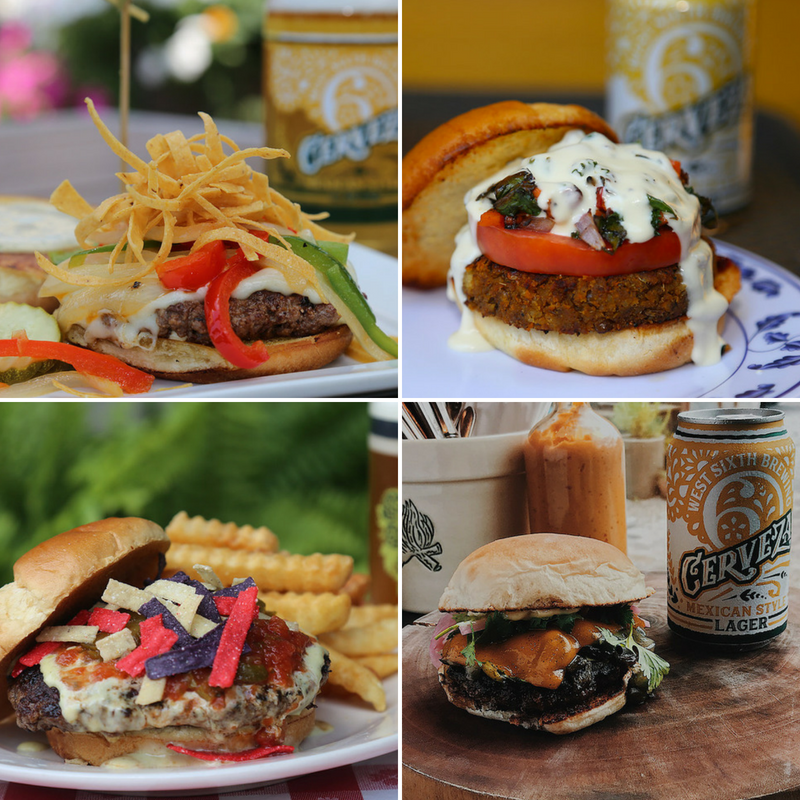 Faijita Burger from BRU Burger (Our signature blend of sirloin, Chuck and brisket beef patty, topped with grilled peppers, grilled onions, mozzarella cheese, jalapeno aioli, and tortilla strips)
Stella's Vegetarian Hot Brown Burger from Stella's Kentucky Deli (The vegetarian version of our state's most famous sandwich features a lentil burger topped with grilled tomatoes and creamy, white cheddar Mornay sauce)
"Not Yo" Nacho Mama's Burger from Columbia's Steakhouse – Downtown location only (This year we take a trip to the border with homemade queso, salsa, jalapeños and tortilla strips make our mouth watering burger an adventure)
Smoked Green Chile Cheeseburger from County Club (Burger topped with smoked and charred green chiles, Swiss and cheddar cheeses, and smoked garlic mayo on a toasted sunrise bun)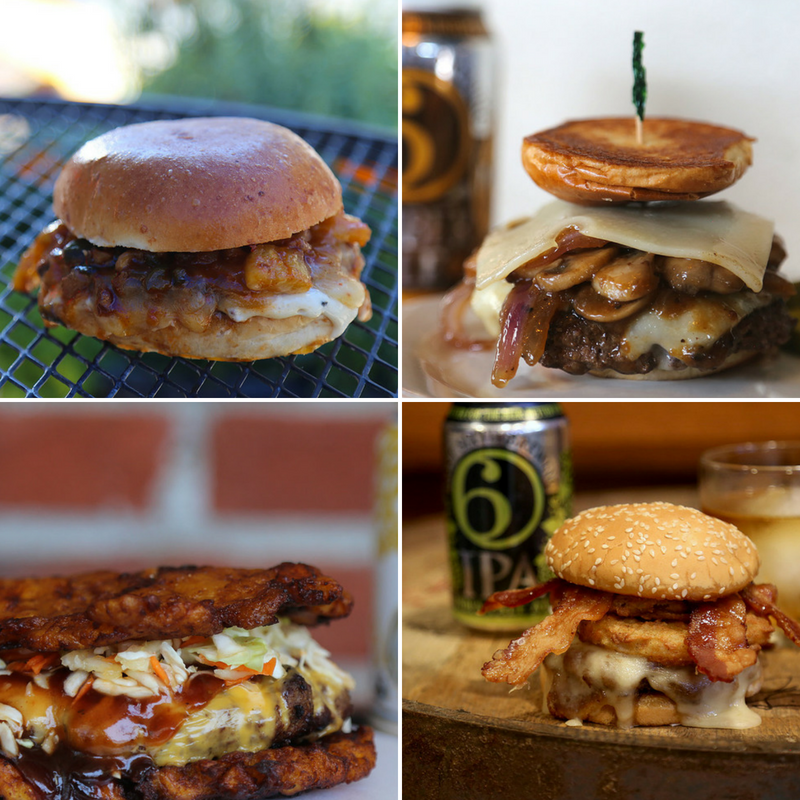 Even More Burgers…
Kilauea from Lexington Diner (Blackened burger topped with pepper jack cheese, pineapple chutney, garlic aioli)
MO Bourbon Burger from Locals' Craft Food and Drink (3 ounce burger topped with mushrooms and onions braised in a bourbon gravy layered with melted Swiss cheese and served on a toasted bun)
Caribbean Burger from Fida's Caribbean Cafe (Jerk marinated Beef Patty topped with Fida's BBQ Jerk Sauce, Cheese, Pickles, and Spicy Hot-Slaw served on Plantain Buns)
The Bourbon Legend from JW's Steakhouse – Griffin Gate Marriott Resort (Burger topped with swiss cheese, fried green tomatoes, bourbon candied bacon and sriracha mayo on grilled bun)

The Original Bar Zee from Hopcat (A classic from when we first opened is back just in time for Lexington Burger Week. Topped with hickory smoked bacon, jalapeños & homemade bar cheese. Served with lettuce, tomato & onion)
Santa Fe Burger from Nick Ryan's (Fresh 6 ounce burger patty topped with sauteed green and red bell peppers, onions and queso cheese)
Marrow Burger from Life Brewpub (House-ground beef brushed with roasted marrow butter, topped with horseradish cheddar, roasted marrow gelee, green peppercorn slaw, crushed smoked pork rinds and a roasted marrow aioli)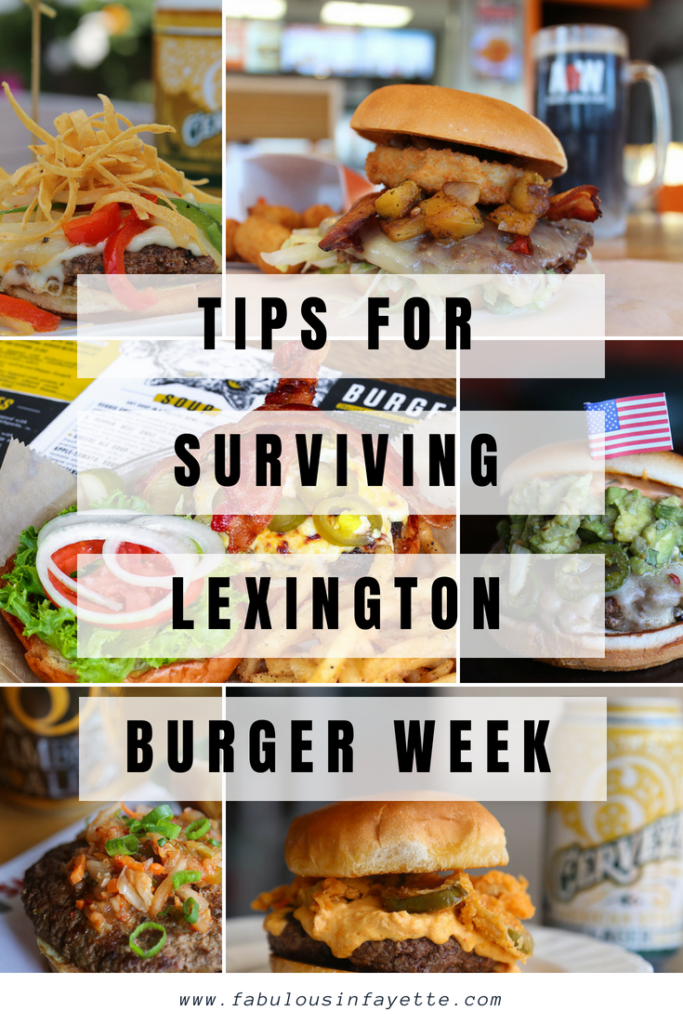 Lexington Burger Week is over, but here are tips for Surviving Lexington Burger Week 2019 (updated):
Look at the list of burgers beforehand and plan out which ones you want to try.
Pick up a Burger Week passport and be sure to get your passport stamped. If you collect three or more stamps and drop off your passport, you'll be entered for a chance to win an Ultimate Grill Out. If you collect ten or more stamps and drop off your passport, you'll be entered to win Free Burgers for a Year from Drake's and Harry's.
Make a plan of the burgers you want to try and what day and time you want to go.
Follow Lexington Burger Week on facebook and/or instagram.
Check out the participating restaurants on facebook. There you can find out if their hours of operation will change during Burger Week. You can also find out if they have sold out for the day or not. This will help you plan your day of attack!
Be sure to tip your waiters and waitresses!
Grab a beer or drink to go along with your burger!
The restaurants will be slammed, so don't be surprised if you have to wait!
Make sure you order some sides. What's a burger without some fries or onion rings? (support your local businesses!)
Get to the restaurants early, because they will sell out. That's a promise! I've had waiters tell me that people were waiting outside their doors before the restaurant even opened!
If you go somewhere and they are sold out, be sure to ask them if they will have more later that night (I wanted a particular burger and they were sold out when I went in 2017, so I asked if they would have more. They told me what time to come back, so I left and came back a little over an hour before they told me, so I could snag a seat – of course, I ordered drinks and an appetizer, while I waited).
Just know that it would be impossible to try them all (and not to mention very very expensive!), but oh so fun to try!
If you went to Burger Week, which was your favorite?
*pictures from LexingtonBurgerWeek.com