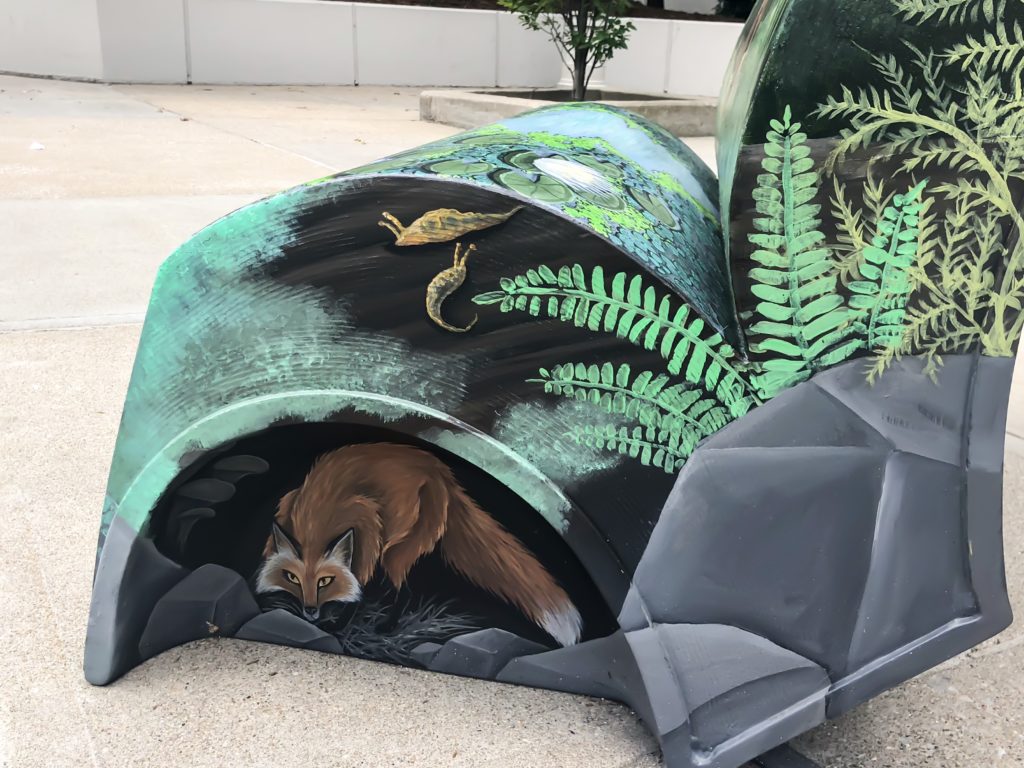 I don't know how many of y'all remember Horse Mania 2000 or Horse Mania 2010? But Lexington has unveiled their newest public art project, Book Benches. Lex Arts has lots of experience with public art, such as Horse Mania in both 2000 and 2010, The Bourbon Barrel Project in 2013, and Dynamic Doors in 2003. The now-defunct UK Basketball Museum did the Wildcat Madness project in 2001.
There are 36 fiberglass benches located throughout downtown Lexington that feature artistic renderings of books by Kentucky authors. All the benches were created by Kentucky artists, and were unveiled as a group in Gratz Park back in early June. They will remain on display through November.
I know some of you may be wondering… What was Horse Mania? What was The Bourbon Barrel Project? What is this new project – Book Benches?
What was Horse Mania?
In 2000, LexArts brought Horse Mania to the streets of Lexington. Area businesses and organizations sponsored the 79 fiberglass horses that were decorated by local artists and served as public art throughout the summer. Sponsors paid $1,200 for each horse frame and $2,500 for an artist to design the horse. They were then put out for display from July through November 2000. In December, they were auctioned off, generating $750,000 for Lexington Arts and Cultural Council and other causes. "Stonewall" sold for the highest bid: $53,000.
Another Horse Mania was launched in 2010 because of the success in 2000. The public art project incorporated 89 full-size horses and 50 foals decorated by local artists and Lexington school children, which were loved by both Lexingtonians and visitors. Horse Play, a companion project gave school children an opportunity to create foals that are currently on display at Lexington public libraries.
"Bringing back the Horse Mania project, which was one of the most successful in Lexington's history generating $1.6 million in revenue, was a no-brainer." – Steve Grossman, senior vice president of Hilliard Lyons, former LexArts board member and co-chair of Horse Mania 2010.
The foals were sold at auction in 2011 and the proceeds were divided among each school's art program, Lexington's Youth Arts Council and related programs. You may remember seeing these around downtown Lexington during the World Equestrian Games.
Even though the horses from Horse Mania 2000 and 2010 were sold at auction, you can still find someone of them around Lexington. You just have to be on the look out!
What was the Bourbon Barrel Project?
The Bourbon Barrel Project on Town Branch was a unique public art event which celebrated not only the history and lore of our beloved bourbon, but also the chronicle of a long-buried stream that was the formative basis of historic Lexington, the Town Branch.
In the fall of 2013, downtown Lexington was filled with 41 amazing barrels that were decorated by local artists. The history of bourbon and the history of Town Branch were celebrated, and our city is all the richer for these artist's inspiring visions of Lexington's past and future.
What is the Book Benches Project?
In the summer of 2018, Arts Connect, LexArts and The Carnegie Center for Literacy and Learning has made Lexington more colorful with their collaborative project, Book Benches.​ Book Benches are thirty five book-shaped functional benches that are placed throughout downtown Lexington to celebrate Kentucky's literary heritage, to encourage reading, and provide a place for rest. Each bench is illustrated and themed around different works by Kentucky authors and will remain on display for the duration of the summer.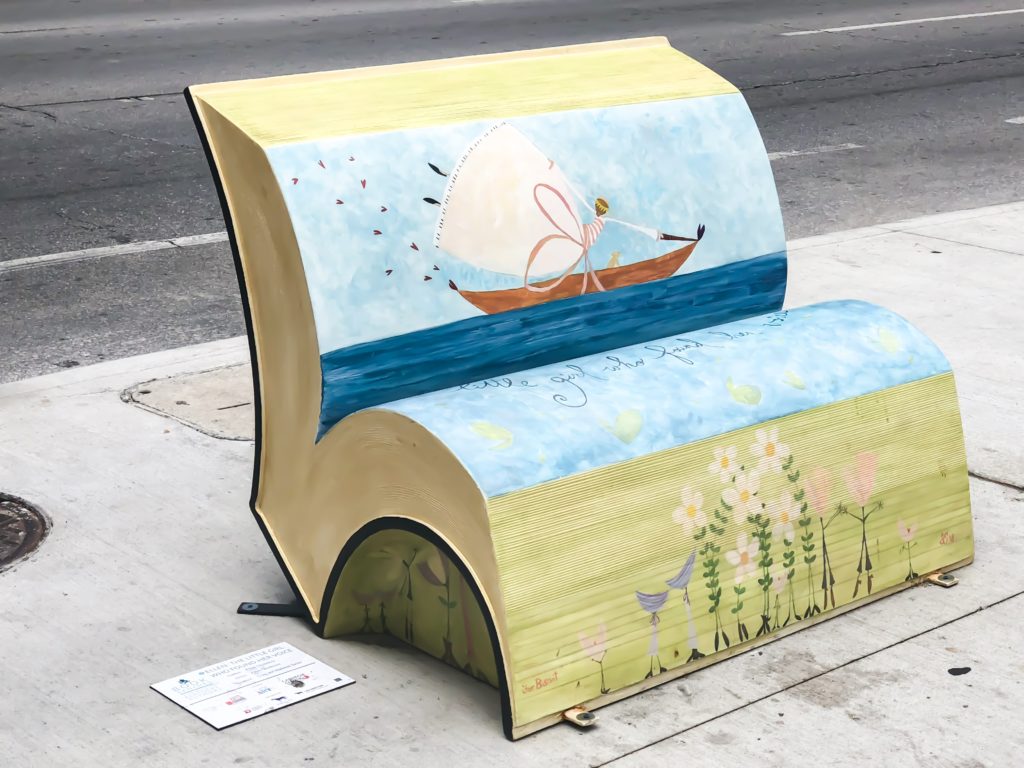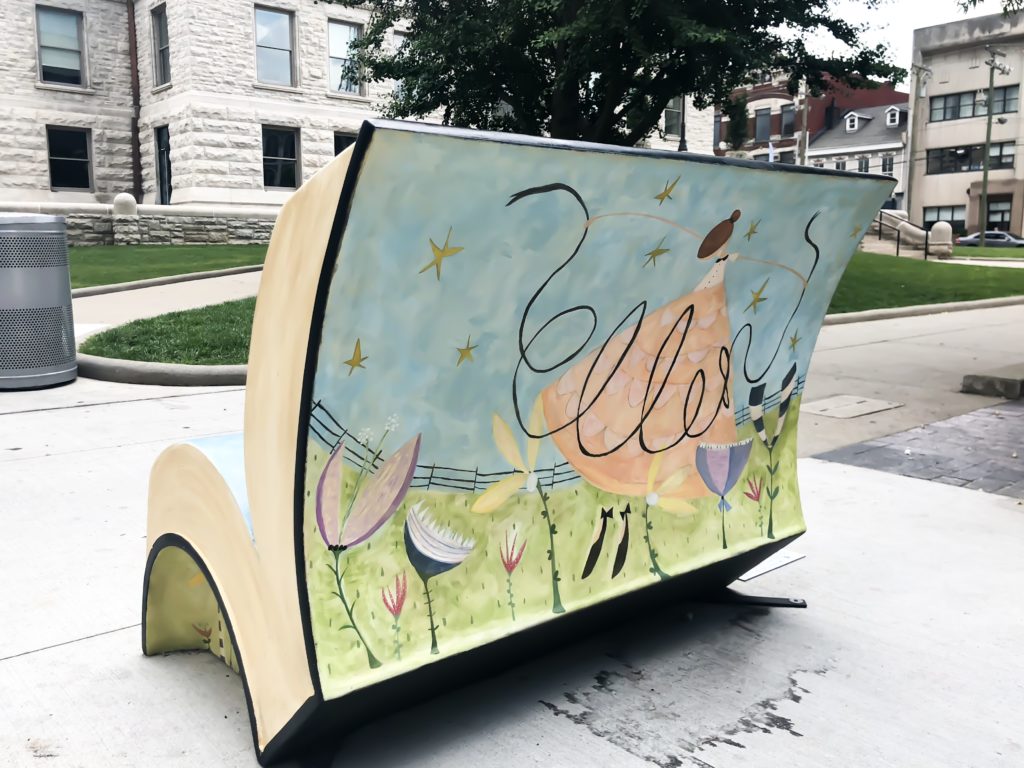 #26: ​
Ellen: The Little Girl Who Found Her Voice
Location: Near 251 West Main Street, Lexington, Kentucky
​Visual artist and writer Ellen Skidmore lives in Paris, Kentucky, where she owns a studio and gallery.  Skidmore was educated at the University of Kentucky, where she received her B.F.A.  Her work is held in numerous private and public collections across the United States and Europe. Ellen grew up with a severe speech impediment and tells of her difficulties in her 2015 children's book, Ellen: The Little Girl Who Found Her Voice.  This book is illustrated with 28 of Skidmore's paintings that are full of luminous color and whimsical subject matter. Her goal in writing this book was to encourage young children to accept who they are, especially if they feel different than other children.
Author: Ellen Skidmore, Paris, Kentucky
Artist: Ellen Skidmore, Paris, Kentucky
Sponsor: Craig and Madonna Turner
"I painted this bench using imagery from my book, Ellen: The Little Girl Who Found Her Voice. The story of Ellen is my own; I had a speech impediment while growing up. Ellen eventually learns that her happiness is found by focusing on the things she loves rather than dwelling on her frustrations. Learning to paint liberates Ellen, and her love of horses and dogs makes her life so much happier. Ellen Skidmore lives and paints in Paris, Ky." – Ellen Skidmore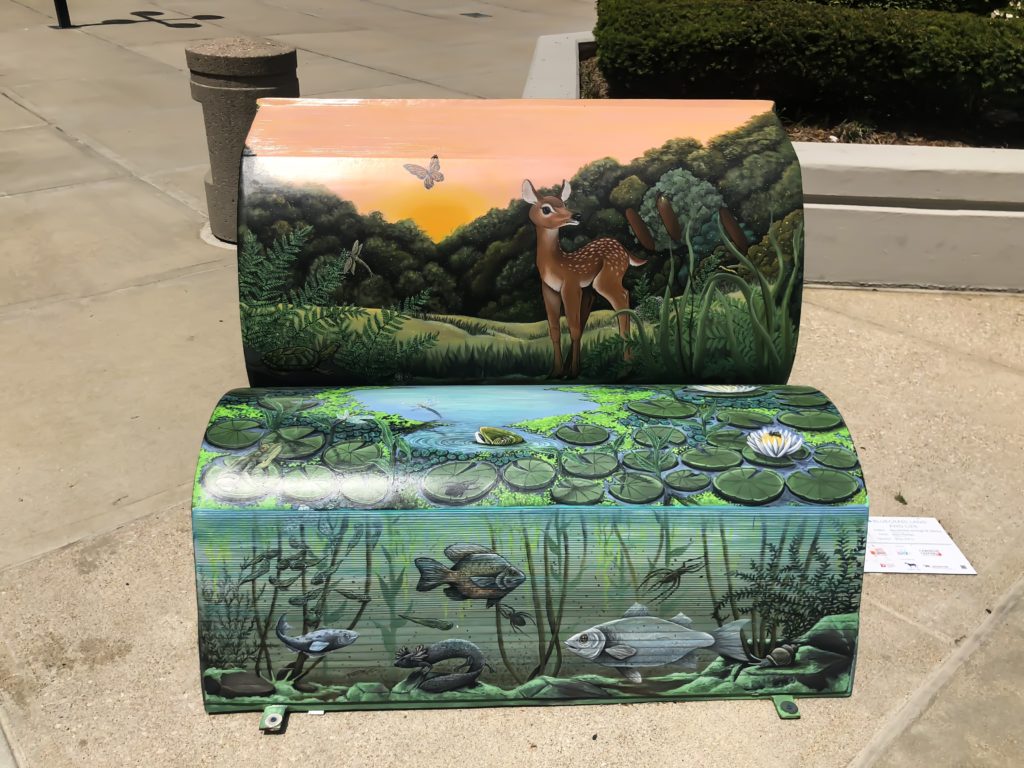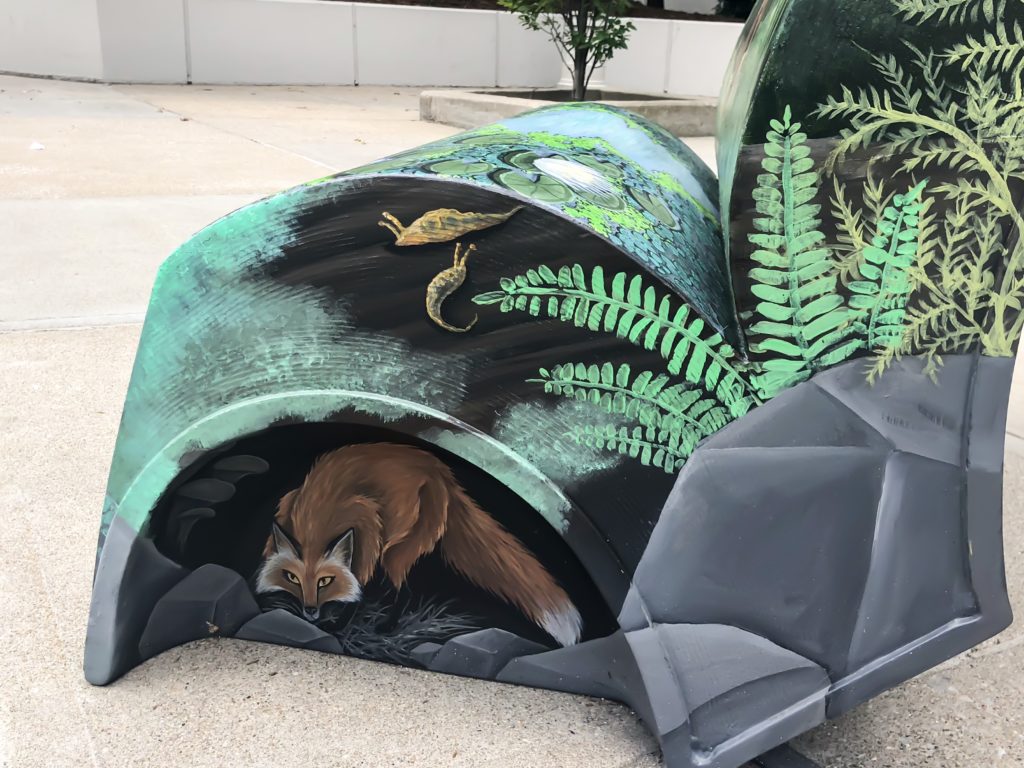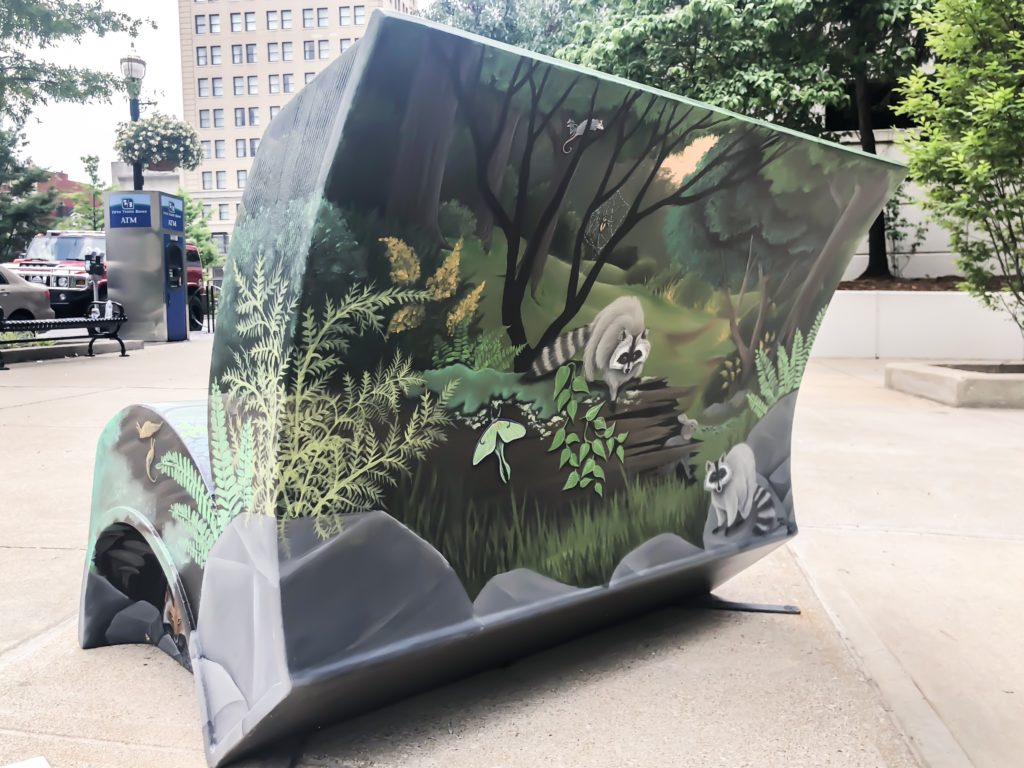 Location: Near 251 West Main Street, Lexington, Kentucky
​Central Kentucky native Mary Wharton was a botanist, environmental activist, and author. She was educated at the University of Kentucky and the University of Michigan, where she received her Ph.D. She held a teaching position at Georgetown College in Kentucky for over 30 years.  She authored or co-authored numerous books on plants and animals, most notably Wildflowers and Ferns of Kentucky  (1971), Shrubs of Kentucky  (1973), and Bluegrass Land and Life  (1991).  Bluegrass Land and Life  was co-authored by Vertebrate Zoologist and University of Kentucky Professor Dr. Roger W. Barbour and showcases native vegetation, indigenous animals, and character of the land of the inner Bluegrass region of Kentucky.
Author: Mary Wharton and Roger W. Barbour, Lexington, Kentucky
Artist: Jenni Phillips, Lexington, Kentucky
Sponsor: Blue & Co.
"I chose the book  Bluegrass Land and Life, by Mary E. Wharton and Roger W. Barbour, because I wanted to showcase the wildlife and natural beauty that Kentucky has to offer. The book has descriptions and photos of Bluegrass land, vegetation, and animal life. Jenni Phillips is a freelance contemporary artist currently located in Lexington, Ky. – Jenni Phillips"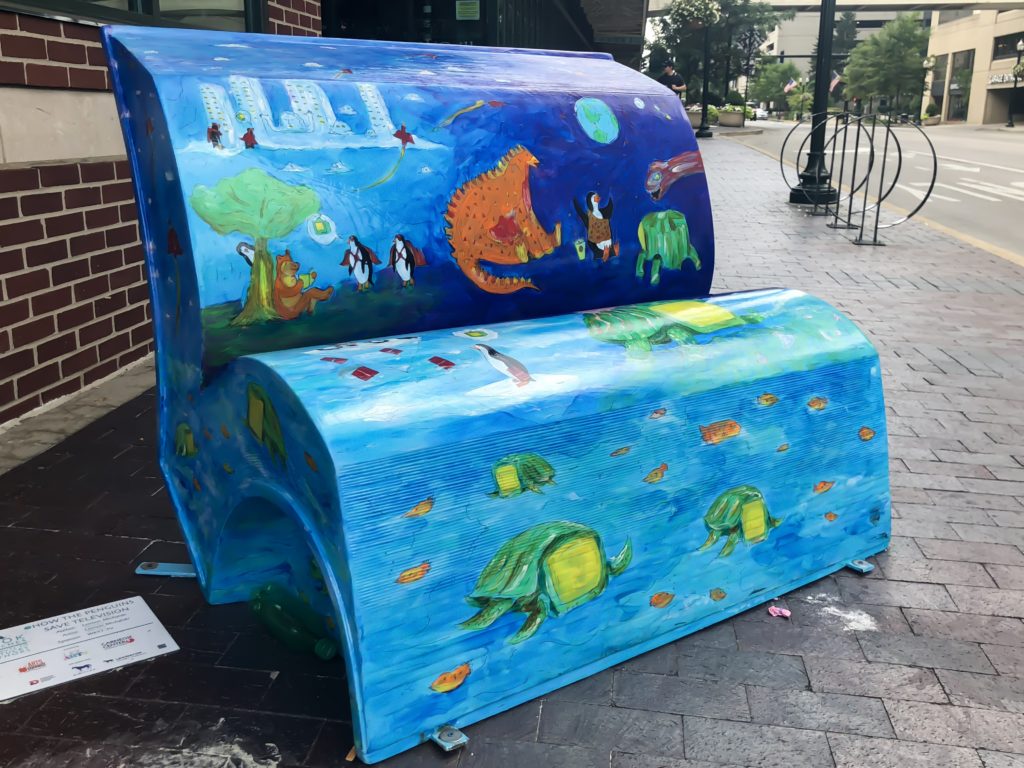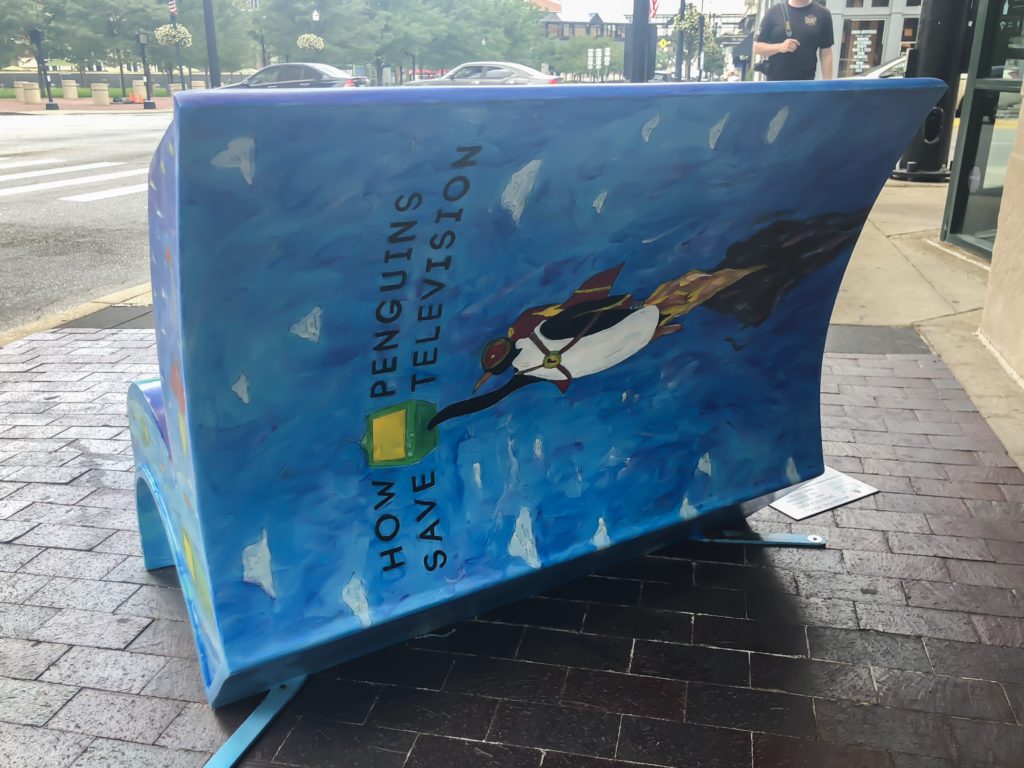 #19: How the Penguins Saved TV
Location: Near 380 West Main Street, Lexington, Kentucky
Lennon Michalski is an independent artist and instructor of painting and digital media. Michalski was educated at Eastern Kentucky University and the University of Colorado, where he earned an M.F.A. He has lectured and displayed art at numerous major universities and independent galleries both in the U.S. and abroad.  His 2017 book, How Penguins Save Television, is a self-published children's book with original poetry and illustrations about a group of penguins who search for what they think may be extinct turtle TVs.
Author: Lennon Michalski, Lexington, Kentucky
Artist: Lennon Michalski, Lexington, Kentucky
Sponsor: WKYT-TV
"Most of my work explores the relationship between technology and the human condition, which is what I did through my illustrated children's book, How Penguins Save Television. I self-published my original poetry and illustrations, and I based my Book Bench around that story. Each scene depicts a part of the penguins' adventure around the world to find their lost television sets. Lennon Michalski is a painter from Lexington, Ky. – Lennon Michalski"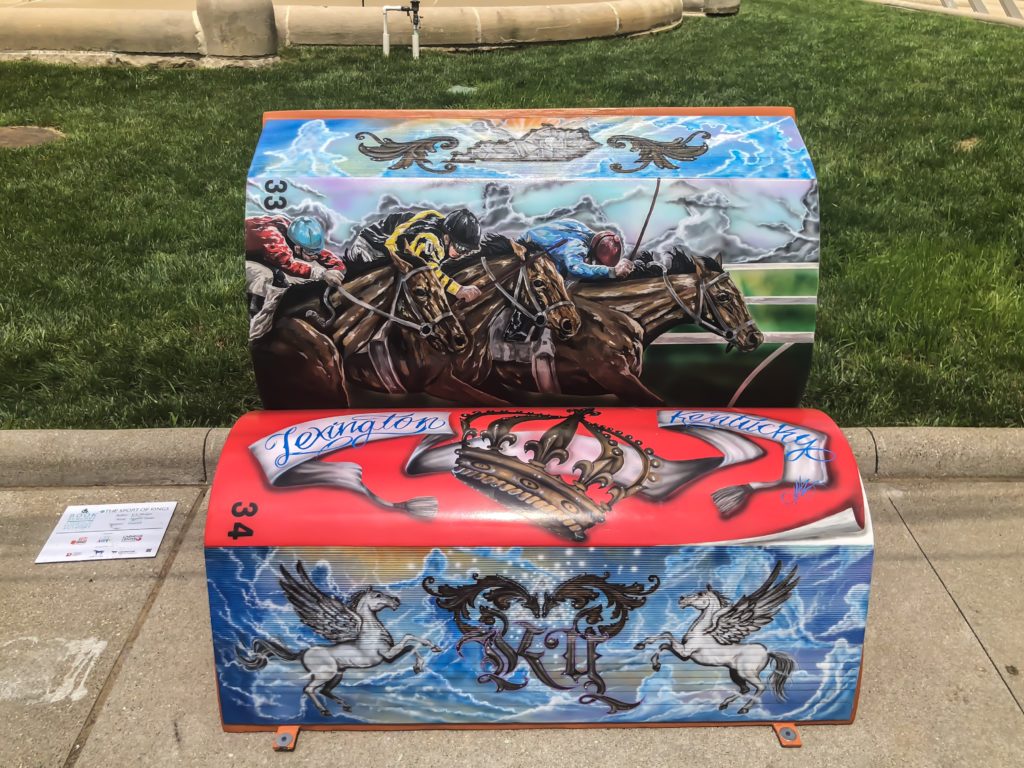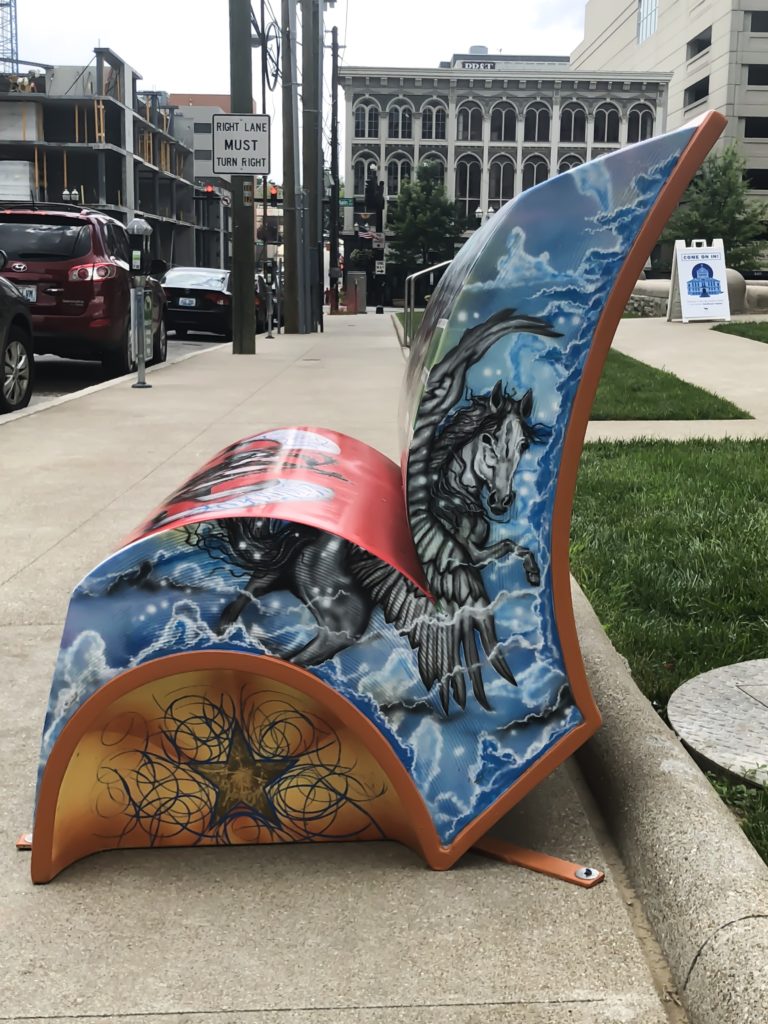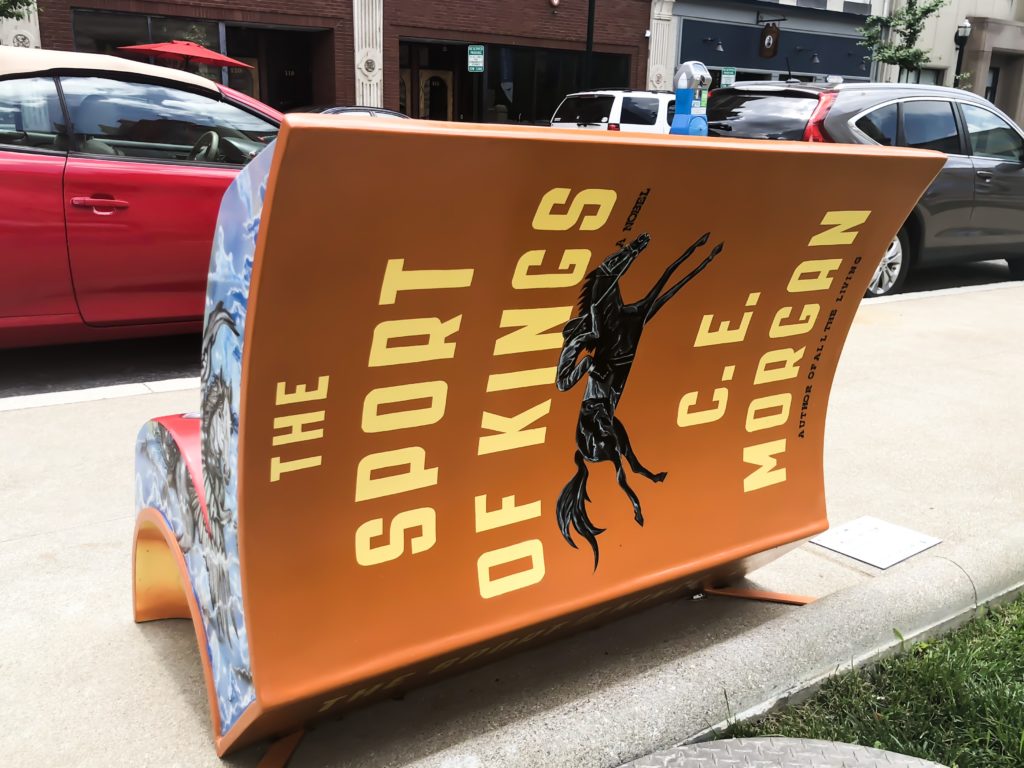 #20: The Sport of Kings
Location: Near 215 West Main Street, Lexington, Kentucky
​Born in Cincinnati, Ohio, C. E. Morgan came to Kentucky to study English and music at Berea College and has lived mostly in the Commonwealth ever since. A graduate of Harvard Divinity School, she is the author of the acclaimed 2009 novel, All the Living, which focuses on the hardscrabble life of a tobacco-farming couple in Kentucky. Her second novel, The Sport of Kings, has won numerous awards, including a 2016 Kirkus Prize for Fiction. In 2017, the book was named a finalist for the Pulitzer Prize for Fiction. The subject of this sweeping, complex novel is the history of racism in America as revealed in the people and places connected with the horse-racing industry. This epic story, which takes place in Cincinnati and central Kentucky, unfolds over a span of 250 years—from the Revolutionary War to 2006.
Author: C. E. Morgan, Berea, Kentucky
Artists: Agustin Zarate, Lexington, Kentucky
Sponsors: VisitLEX
"​I chose to illustrate C.E. Morgan's book, The Sport of Kings. The story takes us through three generations of a farm family, from crops to thoroughbred breeding. We see their desire for greatness, interrupted by the frailties of man, by racism, by the divide between rich and poor. Agustin Zarate is an artist living in Lexington, Ky." – Agustin Zarate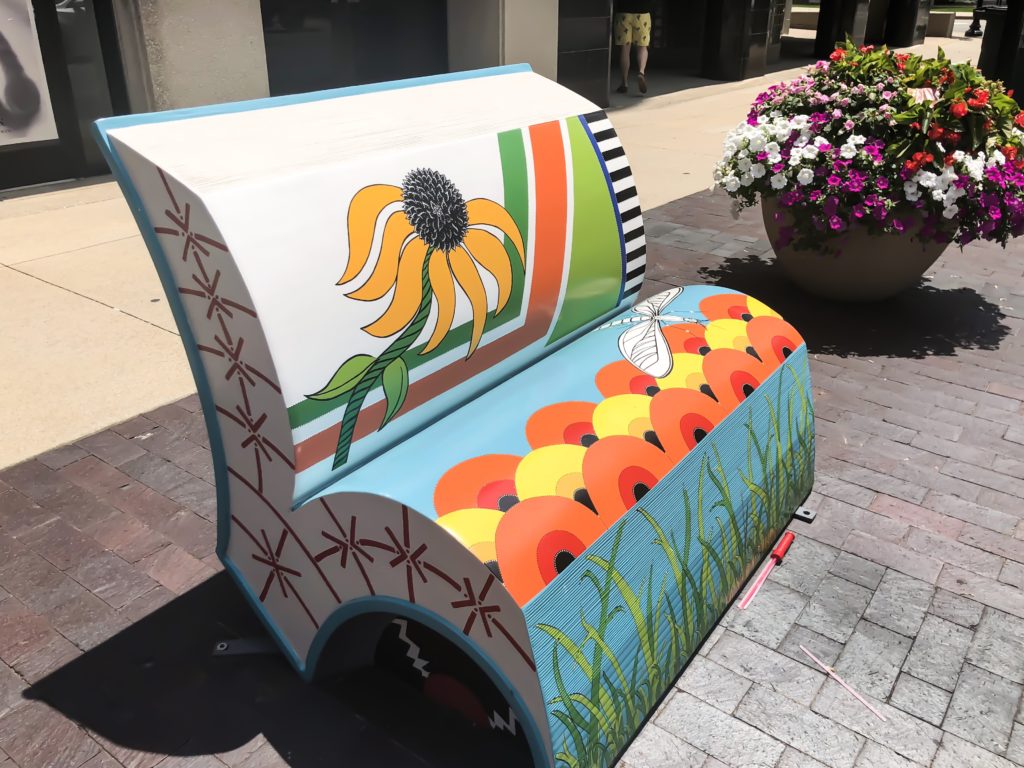 #3: Mosquitoland
Location: Near 162 East Main Street, Lexington, Kentucky
Novelist David Arnold lives in Lexington, Ky., and is the New York Times bestselling author of Kids of Appetite, Mosquitoland, and The Strange Fascinations of Noah Hypnotik, which has been optioned for film by Paramount.  Arnold has been credited with creating a unique voice in teen and young-adult fiction.  The 2015 novel, Mosquitoland, is the story of Mim Malone who, after her parents break up, is transported from her home in Cleveland, Ohio, to rural Mississippi, where she lives with her drugging dad and new stepmother.  When she discovers that her mother has fallen ill back in Ohio, she hops a Greyhound Bus to be with her. The 1,000-mile bus trip becomes an odyssey, as Mim encounters an odd collection of stories and characters who teach the young girl about mental illness, love, loyalty, and trust.
Author: David Arnold, Lexington, Kentucky
Artist: Blake Eames, Lexington, Kentucky
Sponsor: 163 E. Main LLC
"​My design for the  Mosquitoland bench uses graphic symbols and patterns found throughout the pages. These images depict the experiences that Mim, the book's heroine, has with pharmaceuticals, fireworks, and vinyl records. The bus design is from the book cover; it was the cover's bold, geometric design that initially caught my eye. Blake Snyder Eames is a professional artist and designer living in Lexington, Ky." – Blake Eames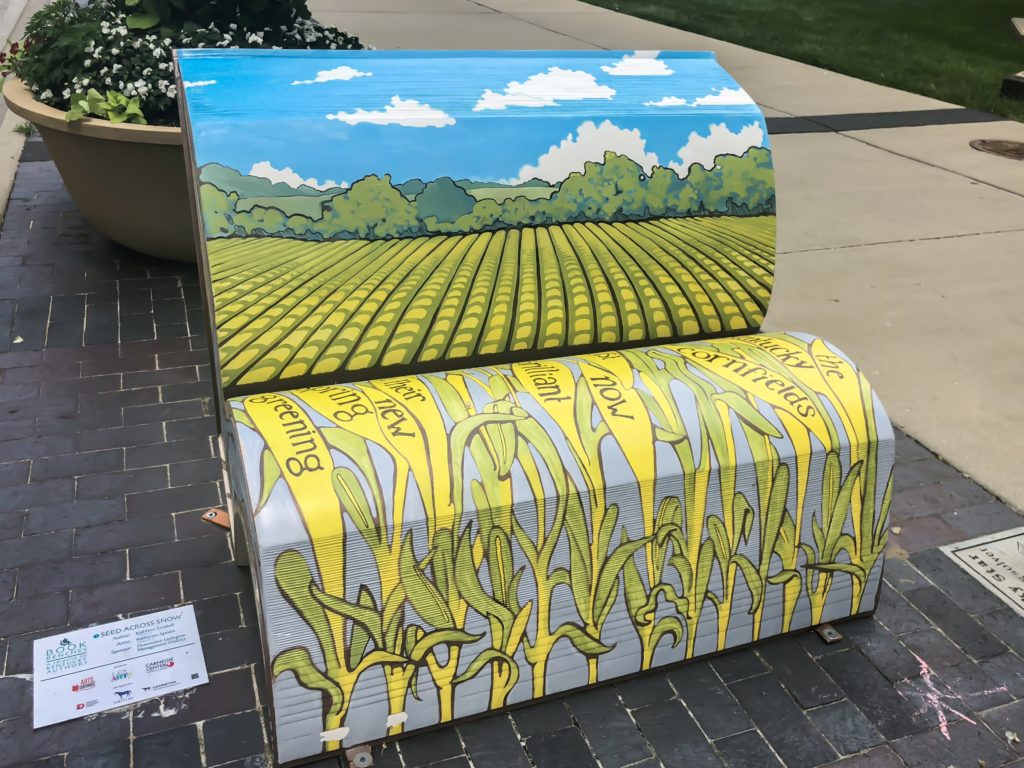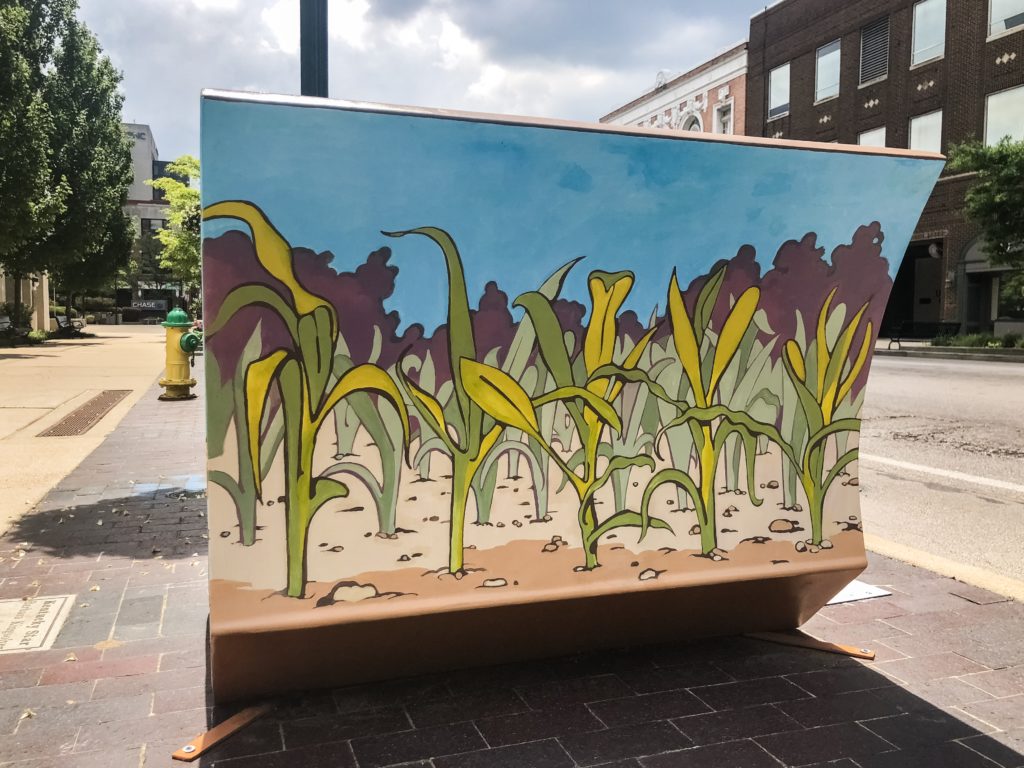 #9: Seed Across Snow
Location: Near 203 East Main Street, Lexington, Kentucky
Kathleen Driskell is Professor of Creative Writing and Program Director of Spalding University's low-residency Master of Fine Arts in Writing Program in Louisville, Ky. She is the author of five books of poetry and has been published in numerous magazines including Southern Review and Shenandoah.  Her 2009 best-selling book of poetry, Seed Across Snow, centers on tragedies surrounding her family's home in a haunted old church with a small graveyard next door. These poems reveal how we are informed by both the past and present—lessons learned from love, family, nature, death, humor, sadness, and serenity.
Author: Kathleen Driskell, Louisville, Kentucky
Artist: Katherine Spears, Lexington, Kentucky
Sponsor: Downtown Lexington Management District
"I was inspired by how beautifully Kathleen Driskell's poetry relates human experience to the natural environment. On this bench, I've included imagery from multiple poems in  Seed Across Snow, focusing in particular on those that reveal a love of place and have a distinct Kentucky character. Katherine Spears, who received a BA in studio art in 2014, now lives in Lexington, Ky." – Katherine Spears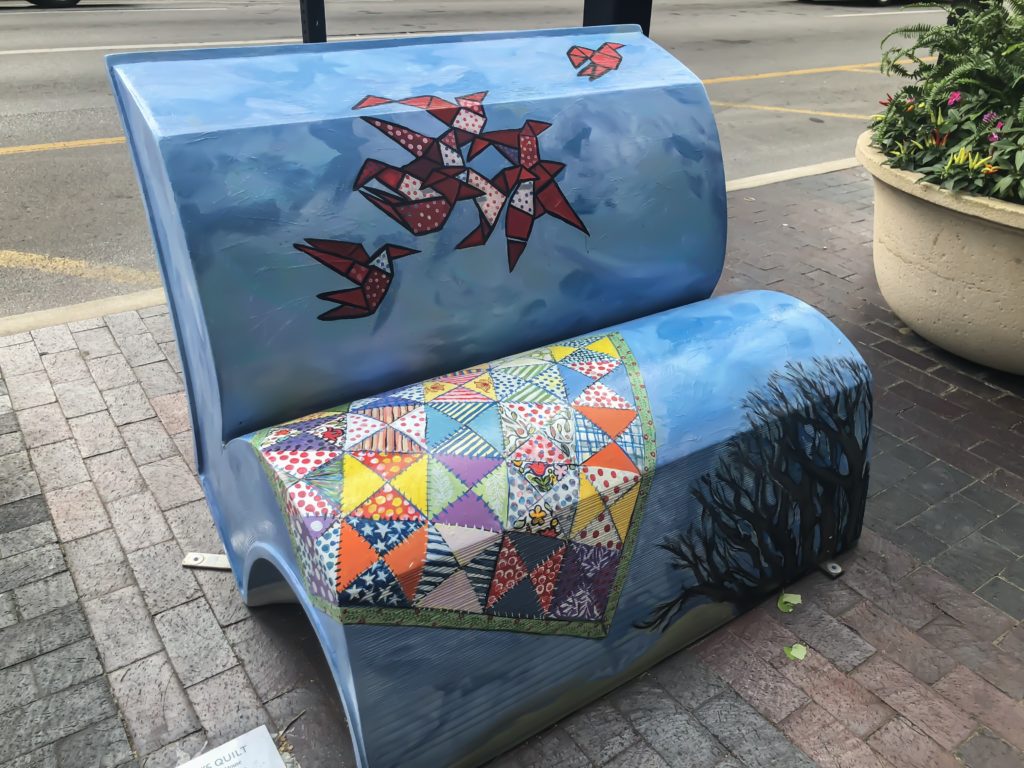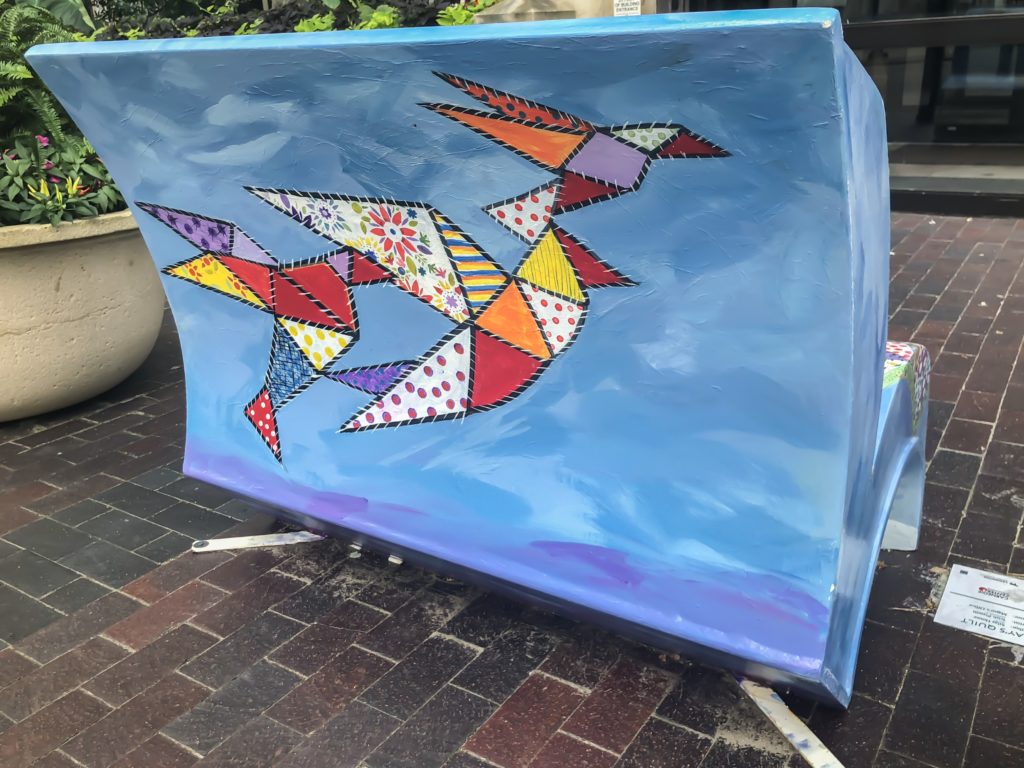 #10: Clay's Quilt
Location: Near 200 East Main Street, Lexington, Kentucky
Laurel County, Ky., native Silas House is the bestselling author of six novels: Clay's Quilt  (2001), A Parchment of Leaves  (2003), The Coal Tattoo  (2005), Eli the Good  (2009), The Same Sun Here  (2012), and Southernmost  (2018).  In addition, he has published one nonfiction book and three plays.  His first novel, Clay's Quilt, is set in the hills of Kentucky and has as its central character a young coal miner, Clay Sizemore, who is surrounded by a patchwork quilt of family, friends, and love interests.  These disparate characters include his big-hearted, God-fearing Aunt Easter, his beautiful cousin Dreama, his best friend Cake, his love interest Alma, and his mother whom he discovers has had a troubled history.  This is a novel about how the roots of place and family become an essential part of one's identity.
Author: Silas House, Lily, Kentucky
Artist: Trish Prewitt, Lexington, Kentucky
Sponsor: Mayor's Office
"I've wanted to read a book by Silas House for a while, and I chose  Clay's Quilt. I was confident a story about rural Kentucky and possibly quilts, would offer much to work with. The novel was packed with imagery but the strongest visual for me was a winter sky with bare trees and red birds. The problem was to combine that with a section of a quilt. A friend suggested origami birds which connected the two ideas. Trish Prewitt lives and makes art in Lexington, Ky." – Trish Prewitt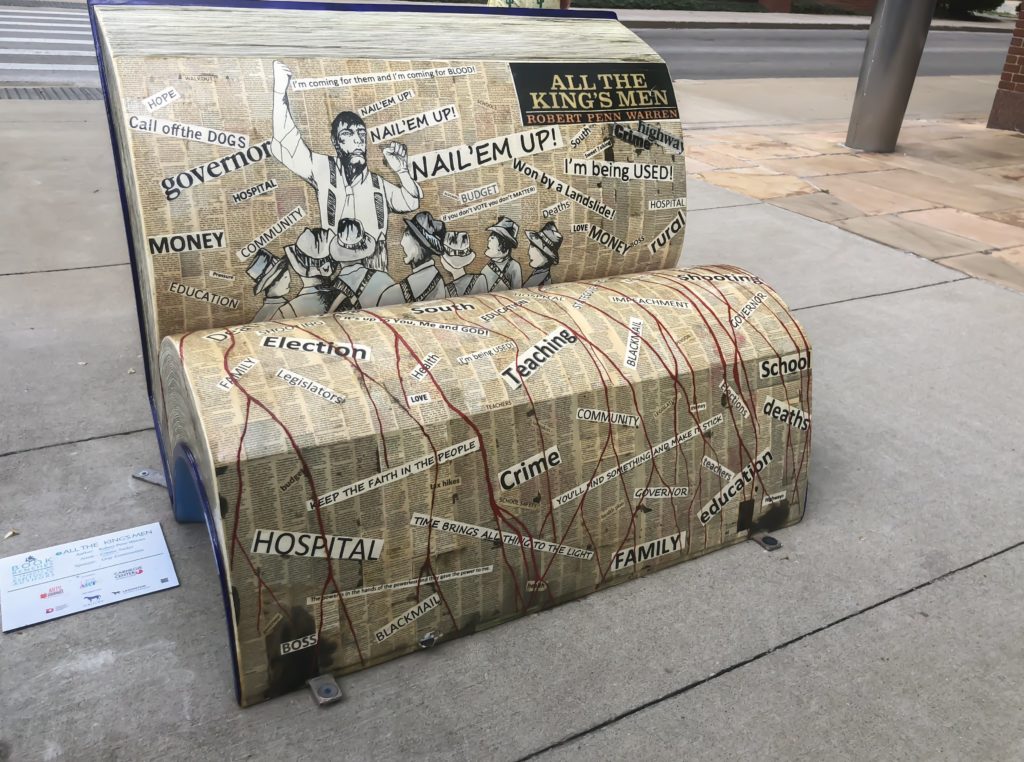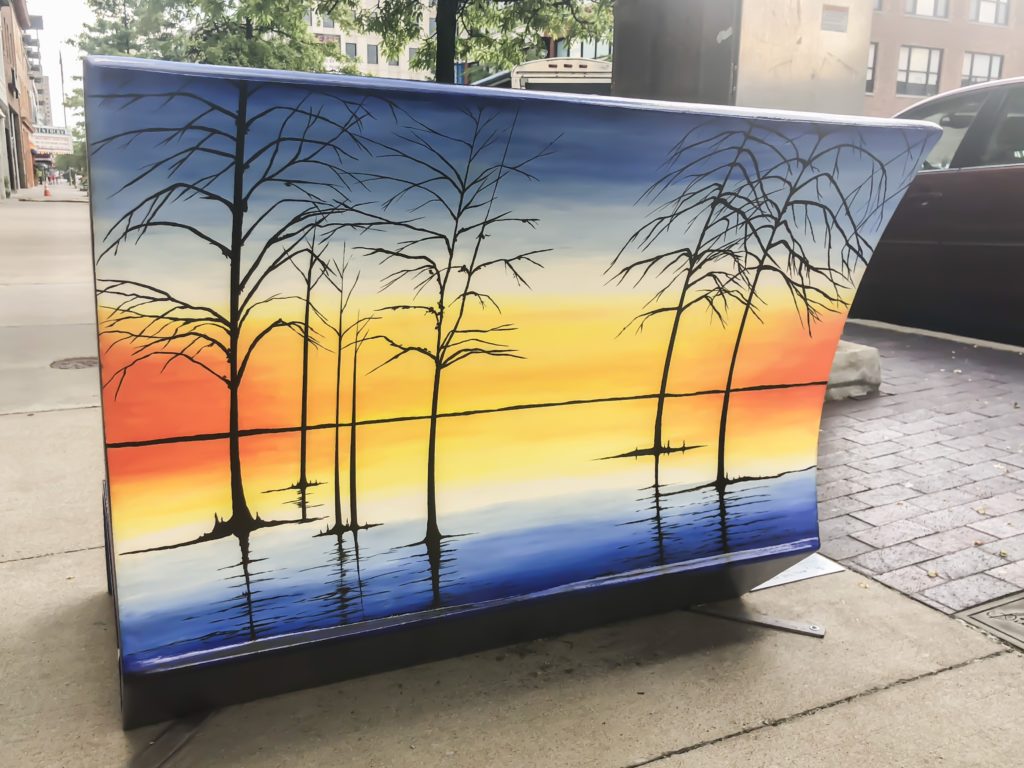 #31: All the King's Men
Location: Near 300 East Main Street, Lexington, Kentucky
​Western Kentucky native Robert Penn Warren was a poet, critic, novelist, and teacher. Warren won the Pulitzer Prize three times–twice for poetry and once for fiction. He taught at numerous universities including Vanderbilt, Yale, and Louisiana State University.  He was appointed the nation's first Poet Laureate on February 26, 1986. His 1946 novel, All The King's Men, won the Pulitzer Prize in 1947 and is set in the politically corrupt American South. The novel is loosely based on the life of Governor Huey P. Long who served as Governor of Louisiana from 1928-1932 and U.S. Senator from 1932 until his assassination in 1935. This novel was adapted to film in 1949 and won the Academy Award for Best Picture, Best Actor, and Best Supporting Actress.
Author: Robert Penn Warren, Guthrie, Kentucky
Artist: Connie Tucker, Lexington, Kentucky
Sponsor: Gray Construction
"​All the King's Men is a sophisticated novel about a man heading for a tragic end. His intentions are often good, but they are clouded by the urgencies of his appetites and passions. My Book Bench based on Robert Penn Warren's novel displays imagery of political turmoil, power of the press, and Louisiana, where the book is set. The artist, Connie Tucker, is a Lexington, Ky., educator." -Connie Tucker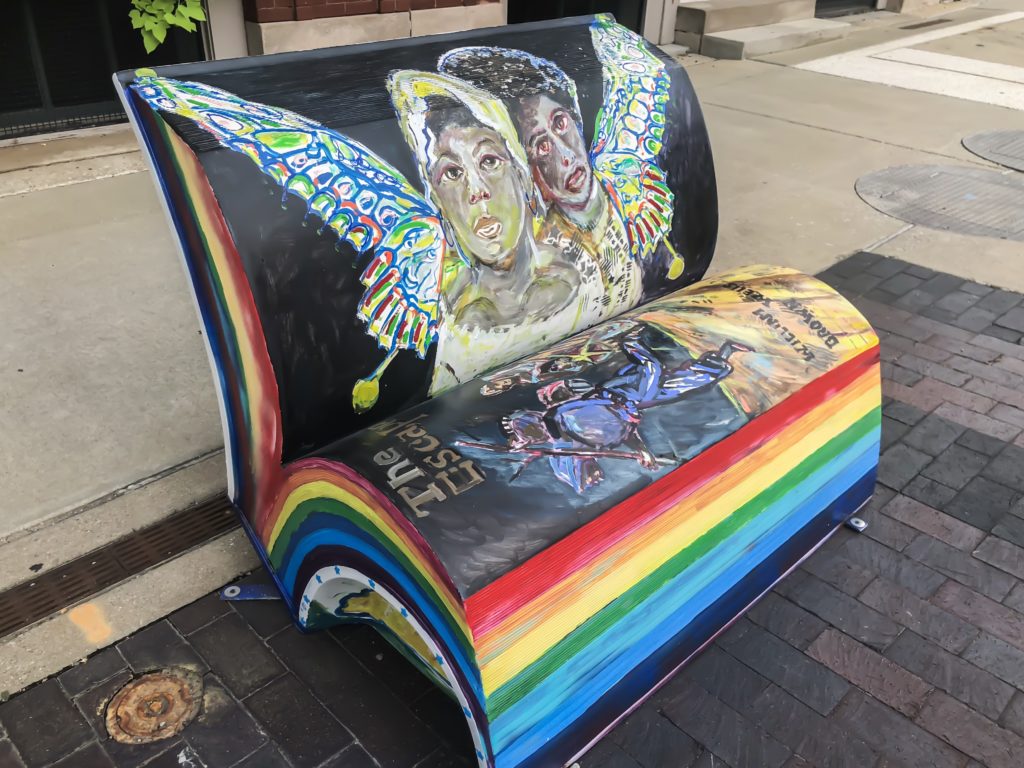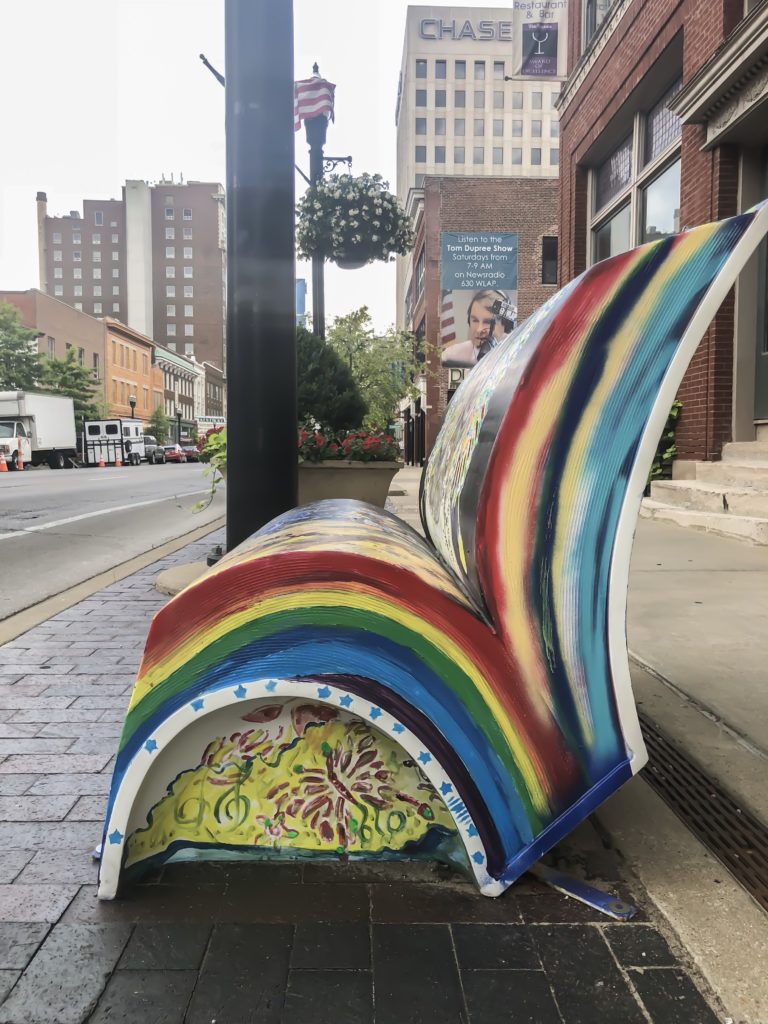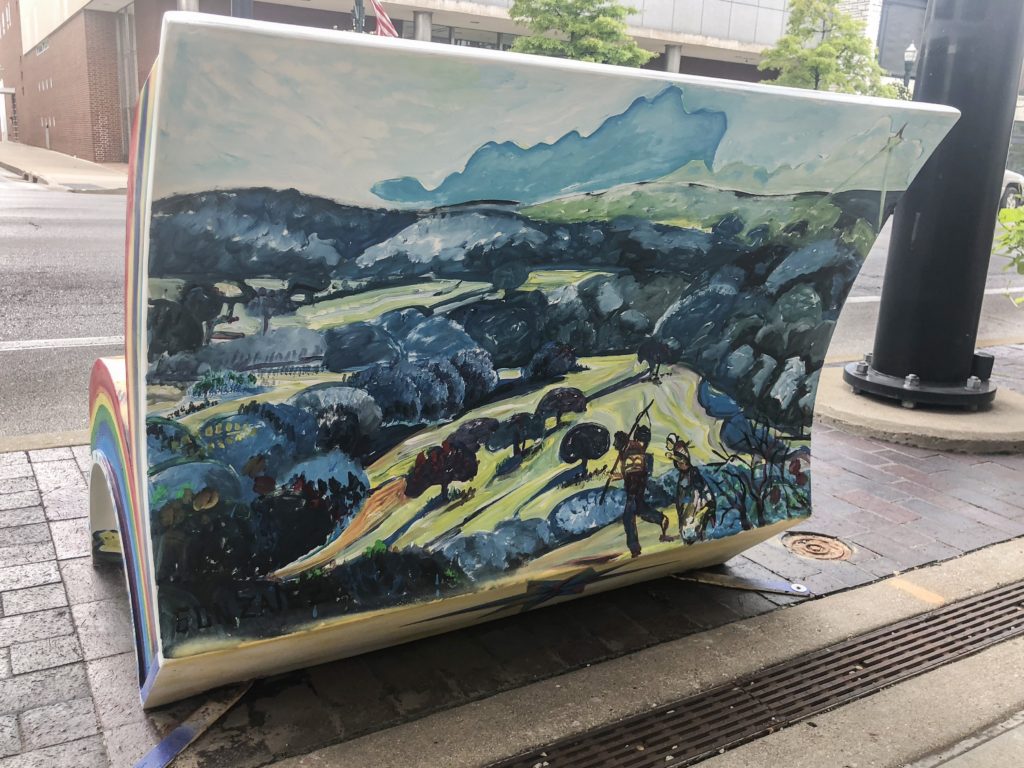 #6: The Escape; Or, a Leap For Freedom
Location: Near 300 East Main Street, Lexington, Kentucky
Playwright, journalist, novelist, and historian William Wells Brown was born a slave on a Montgomery County, Ky., farm near Mount Sterling where his mother was a slave and his father the slave owner's cousin. At age three, he was brought to Marthasville in Warren County west of St. Louis. After sixteen more years of enslavement, he escaped in 1834 to free territory in Ohio and educated himself. He is best known for his popular 1847 autobiography, Narrative of William W. Brown, a Fugitive Slave, Written by Himself.  His 1858 five-act play The Escape was the first play published by an African American and relates the story of two slaves from different owners who marry in secrecy but are revealed by a bi-racial slave. The ensuing events ultimately lead to a dramatic, successful escape to Canada.
Author: William Wells Brown, Mount Sterling, Kentucky
Artist: Enrique Gonzalez, Lexington, Kentucky
Sponsor: LexArts Board
"My inspiration for the book bench is William Wells Brown's play, The Escape. It's a story of love, freedom, and the struggles of African Americans in the pre-Civil War era. The main characters are front and center with a backdrop of wings of freedom. The North Star is a symbol of the guiding force illuminating their path to safety. Enrique Gonzalez, a native of Venezuela, now lives and paints in Lexington, Ky." – Enrique Gonzalez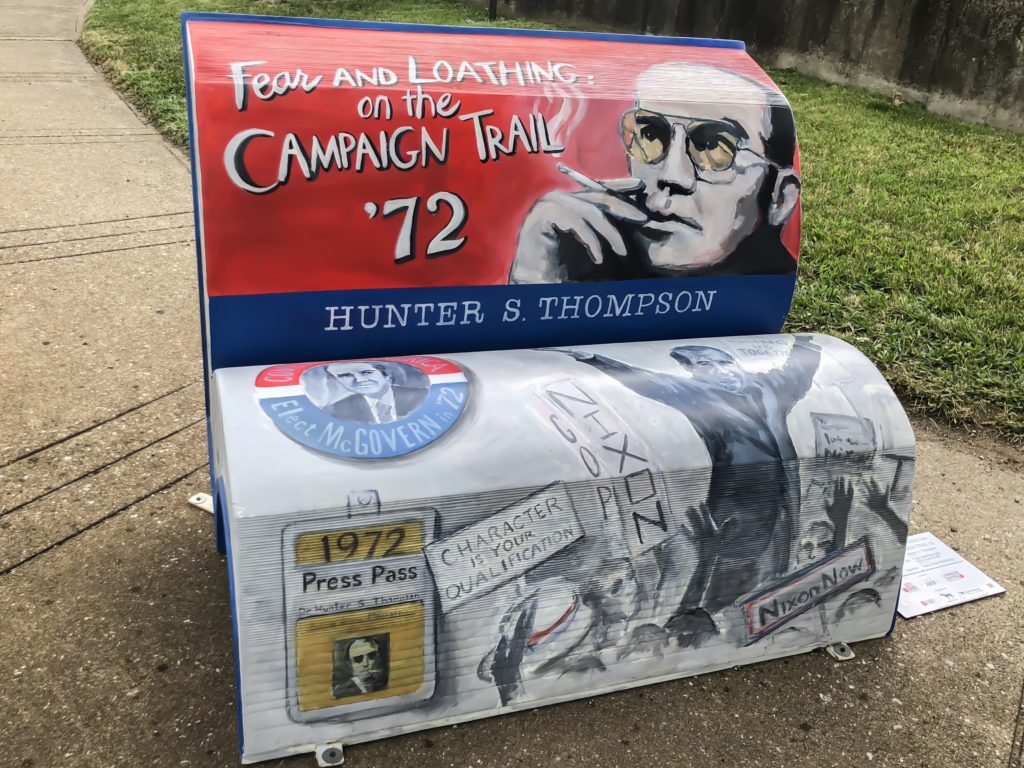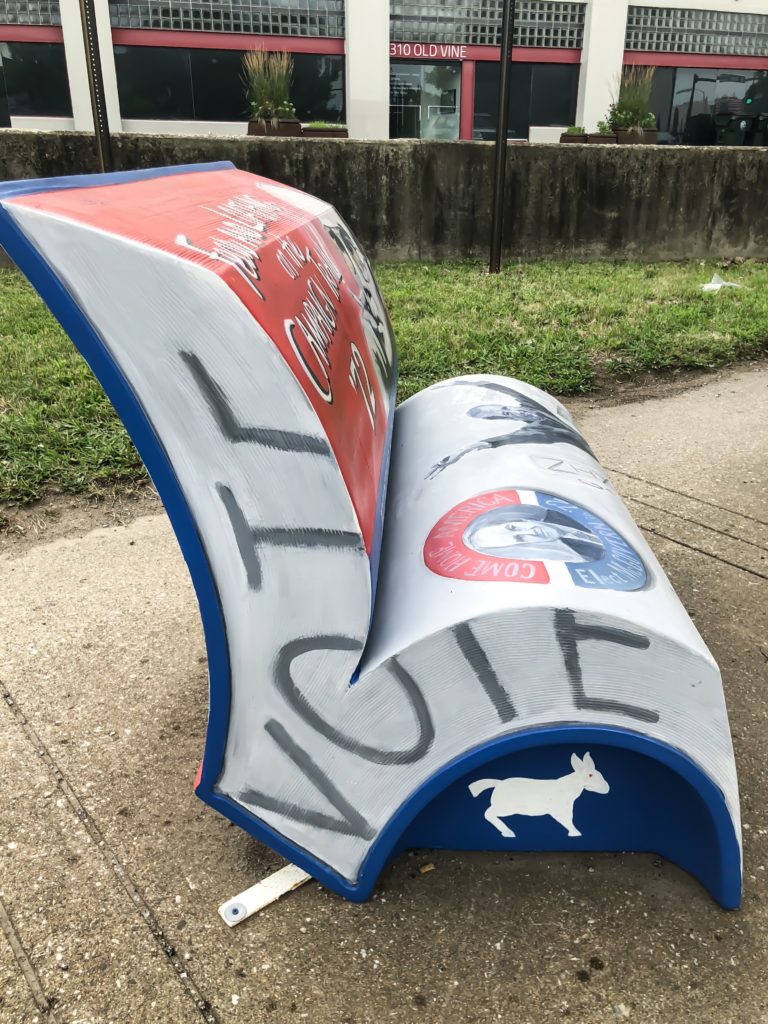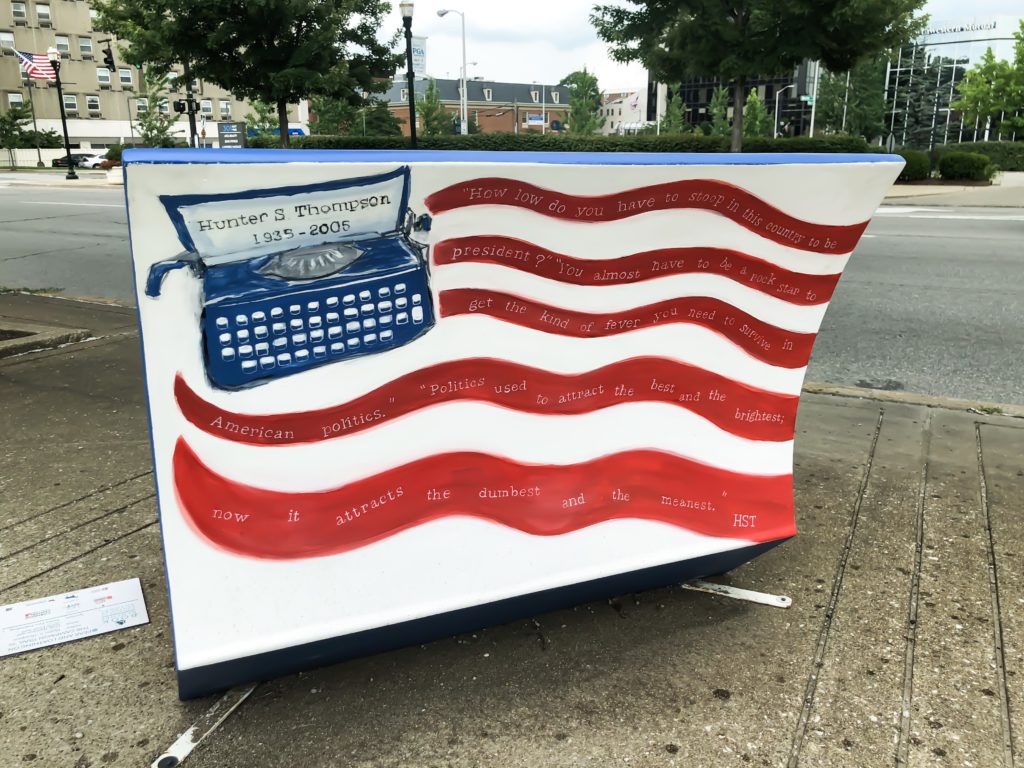 #28: Fear and Loathing on the Campaign Trail '72
Location: Near 310 East Old Vine Street, Lexington, Kentucky
Louisville, Ky., native Hunter S. Thompson is credited with being the creator of Gonzo Journalism, defined as a style of journalism without claims of objectivity, often including the reporter as a first-person protagonist and narrator of the story. Thompson got his first exposure to journalism as a sports reporter for an Air Force newspaper at Eglin Air Force Base in Florida. He then worked a series of jobs at a variety of small-town newspapers, as well as serving a short stint as a copy boy at Time Magazine, until his break came when his landmark article "The Kentucky Derby is Decadent and Depraved" was published in the June, 1970, issue of Scanlan Monthly. Thompson's 1973 collection of articles on the 1972 presidential campaign in the book, Fear and Loathing on the Campaign Trail '72, were first serialized in Rolling Stone Magazine  and satirically chronicled the sometimes-tumultuous events leading up to the nominations of Republican Richard Nixon and Democrat George McGovern.
Author: Hunter S. Thompson, Louisville, Kentucky
Artists: Cissy Hamilton and Sylvia Cerel-Suhl, Lexington, Kentucky
Sponsor: Smiley Pete Publishing
"​Our inspiration to create a bench for Fear and Loathing on the Campaign Trail '72 came from the absurd American political process that the book's author, Hunter S. Thompson, discovered in the 1972 election. We were struck by similarities with the current political climate. Cissy Hamilton is a painter with a studio in Artists Attic. Sylvia Cerel-Suhl is a community artist and educator." – Cissy Hamilton and Sylvia Cerel-Suhl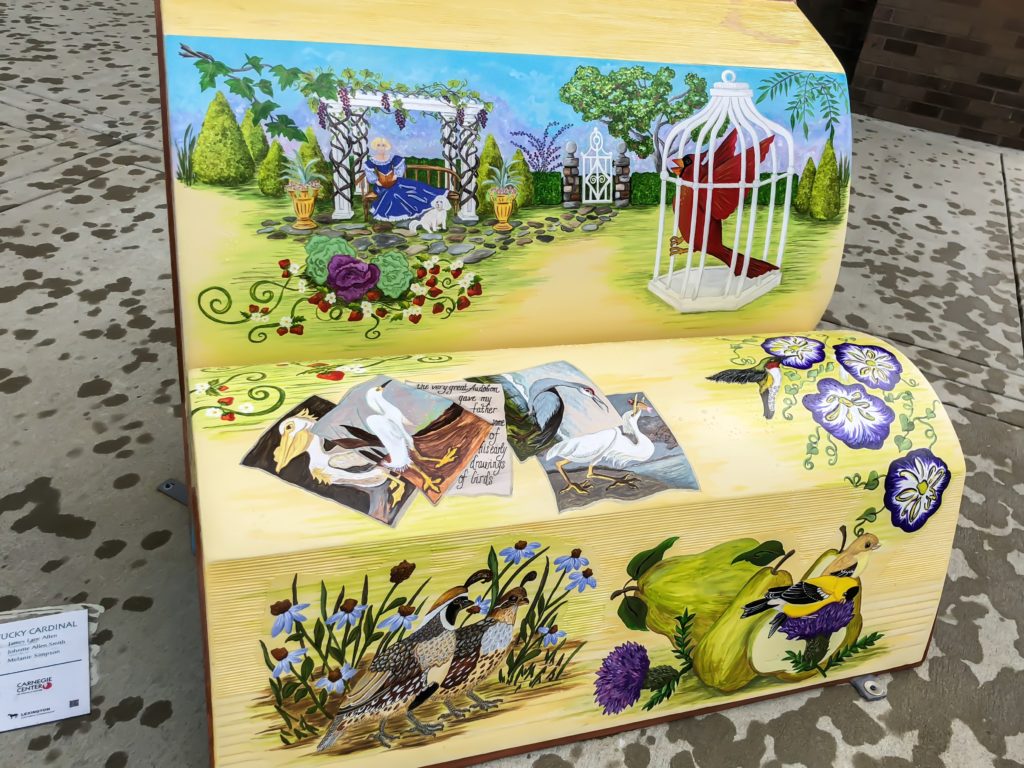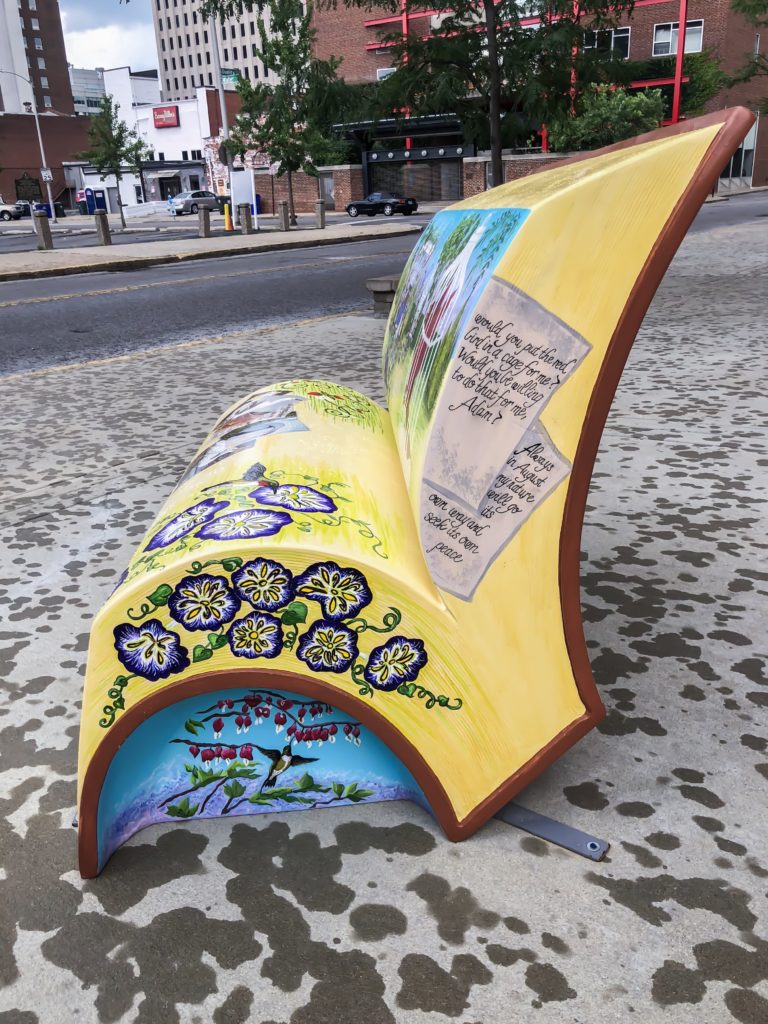 #2: A Kentucky Cardinal
Location: Near 235-277 East Vine Street, Lexington, Kentucky
Lexington, Ky., native James Lane Allen has been called Kentucky's first important novelist.  He belongs to the late 19th Century "Local Color" writing era, which focused on capturing regional stories and vernacular.  Allen's 1894 novel, A Kentucky Cardinal, begins as a picturesque, pastoral story, but as the central conflict arises, it quickly becomes a struggle of man against woman.  The protagonist is the reclusive Adam Moss, who devotes himself to nature and has converted his garden into a fairyland of fruits and flower blossoms that attract migrating birds. The antagonist is Georgianna, his beautiful, vexing next-door neighbor, who wishes to lure him from his love of nature and focus his attention upon her.  Her first act in this pursuit is to persuade Moss to cage a beautiful Kentucky Cardinal for her.
Author: James Lane Allen, Lexington, Kentucky
Artist: Johnnie Allen Smith, Olive Hill, Kentucky
Sponsor: Melanie Simpson
"Whether designing and making women's fashions or decorating interiors, I have spent my entire life as an artist. I grew up on a small farm and, I continue a lifelong joy of gardening and cultivating plants and flowers. This is the same joy that is felt by Adam Moss, the main character in James Lane Allen's  A Kentucky Cardinal, the subject of my bench. Johnnie Allen Smith is an artist from Olive Hill, Ky." – Johnnie Allen Smith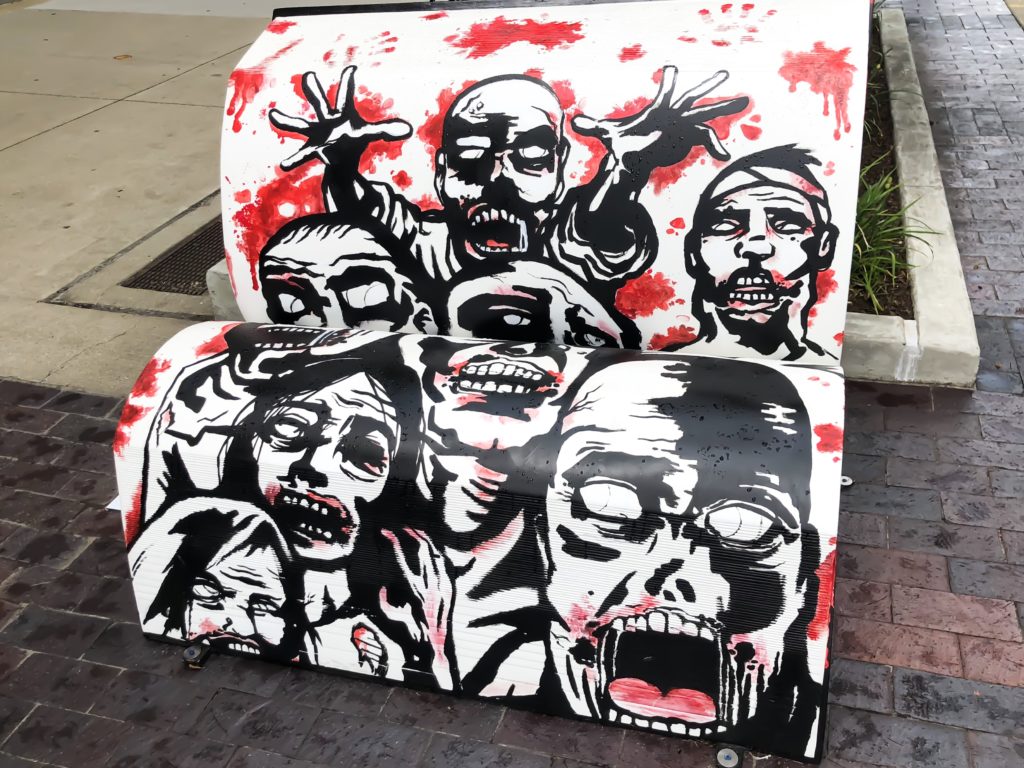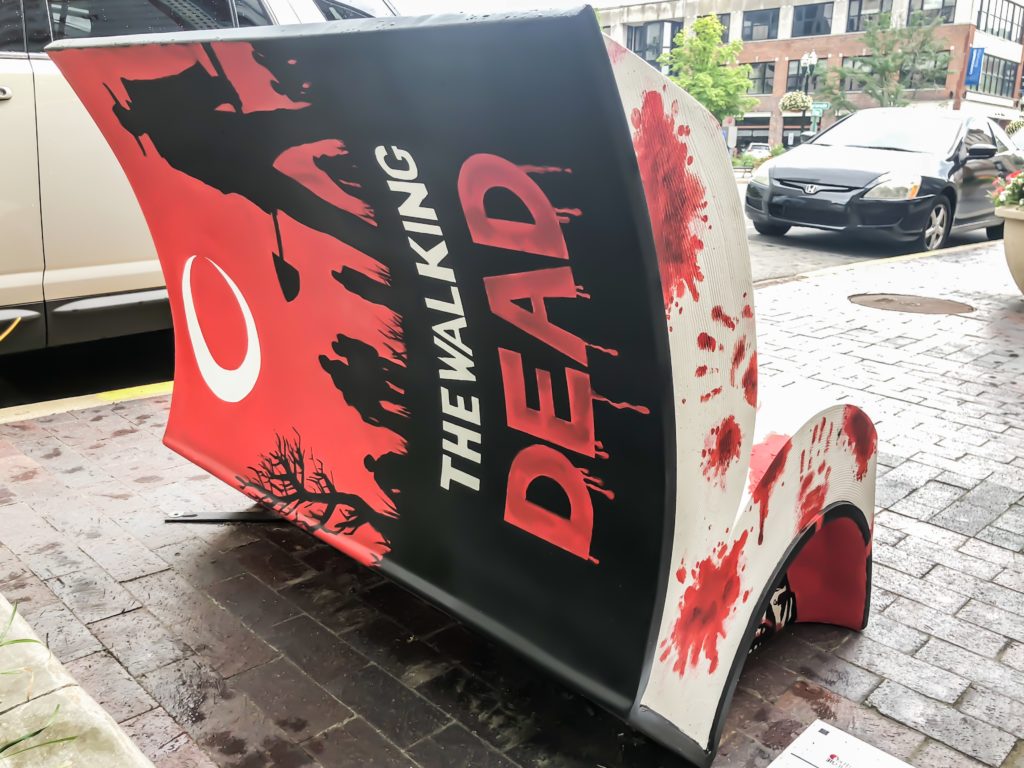 #16: The Walking Dead
Location: Near 212 East Main Street, Lexington, Kentucky
Richmond, Ky., native Robert Kirkman is a comic book writer, novelist, and film producer who is best known for the television series, The Walking Dead  (2010), Fear of the Walking Dead (2015), and Outcast (2016).  He is one of five partners with Image Comics, an illustrator-owned publishing company, and a co-owner of Skybound Entertainment, a multiplatform entertainment company.  Kirkman has also written a series of non-graphic The Walking Dead  novels. In 2010, he produced a television adaptation of his comic book series, The Walking Dead, a post-apocalyptic horror film series about the years following a zombie apocalypse. A group of survivors search the Earth for a safe and secure home. They face challenges from the zombies and from the interpersonal conflicts that arise within the group.
Author: Robert Kirkman, Cynthiana, Kentucky
Artist: Maui Crane, Lexington, Kentucky
Sponsor: JRA Architects
"Robert Kirkman, author of  The Walking Dead, wrote: "In a world ruled by the dead, we are forced to finally start living." I'm a huge fan of  The Walking Dead, and it was an honor to come up with a design based on the cult favorite comic book series. I was inspired by artist Tony Moore's black-and-white illustrations in the book. Maui Crane is a Lexington, Ky., artist and designer." – Maui Crane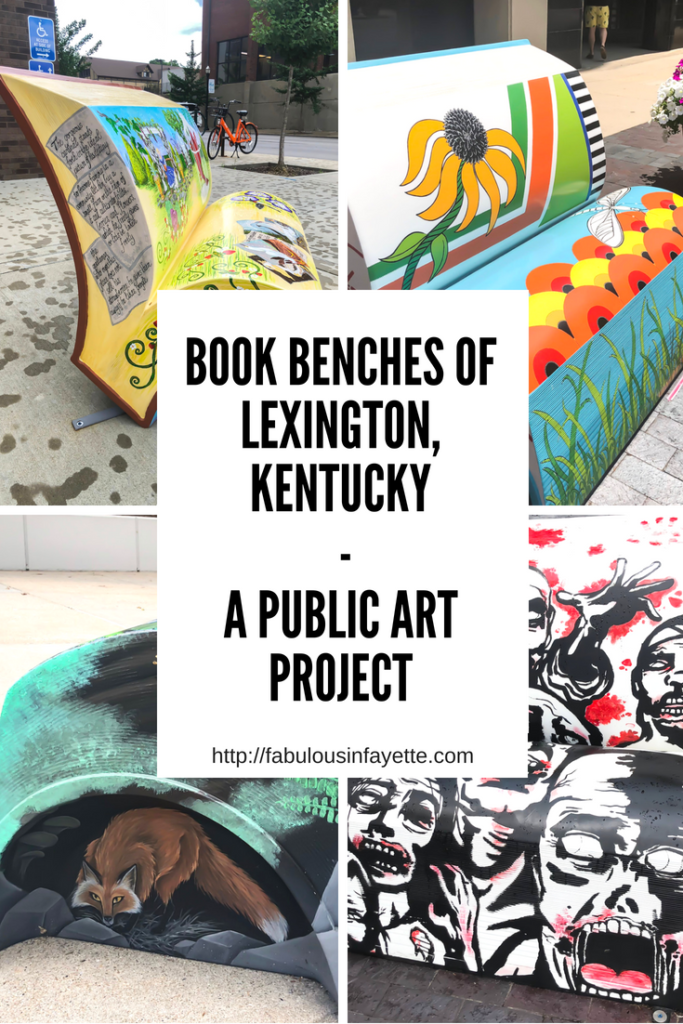 All of the benches are sponsored. However, the project was initially funded by the Corridors Commission, the Downtown Lexington Management Office, and VisitLex. There were several different genres represented. There were books of fiction, non-fiction, children's books, and there was even a book with almost no words!
For some of the benches, the artist and author were the same person. Some of the benches involved the community of Lexington and were decorated by some of Lexington's schools (Henry Clay High School, The Lexington School, Frederick Douglass High School, Head Start with the Community Action Council, and Sayre School). Some of the artists of the benches had personal ties to the authors. Other benches included personal touches from the artist. One of the artists paid homage to their two cats on the bench that they painted.
Don't miss out!
Book Benches will be placed throughout Lexington for public display from June to October 2018.
​There will be a final Gala and Auction of the Book Benches on Saturday, November 17, 2018 at The Livery in Lexington, Kentucky. Proceeds from this to further the missions of Arts Connect, LexArts and the Carnegie Center for Literacy and Learning.
See a full map: HERE.
*Descriptions from bookbenches.org and photos taken by Fabulous in Fayette
Volume II and III of Lexington's Book Benches coming soon…