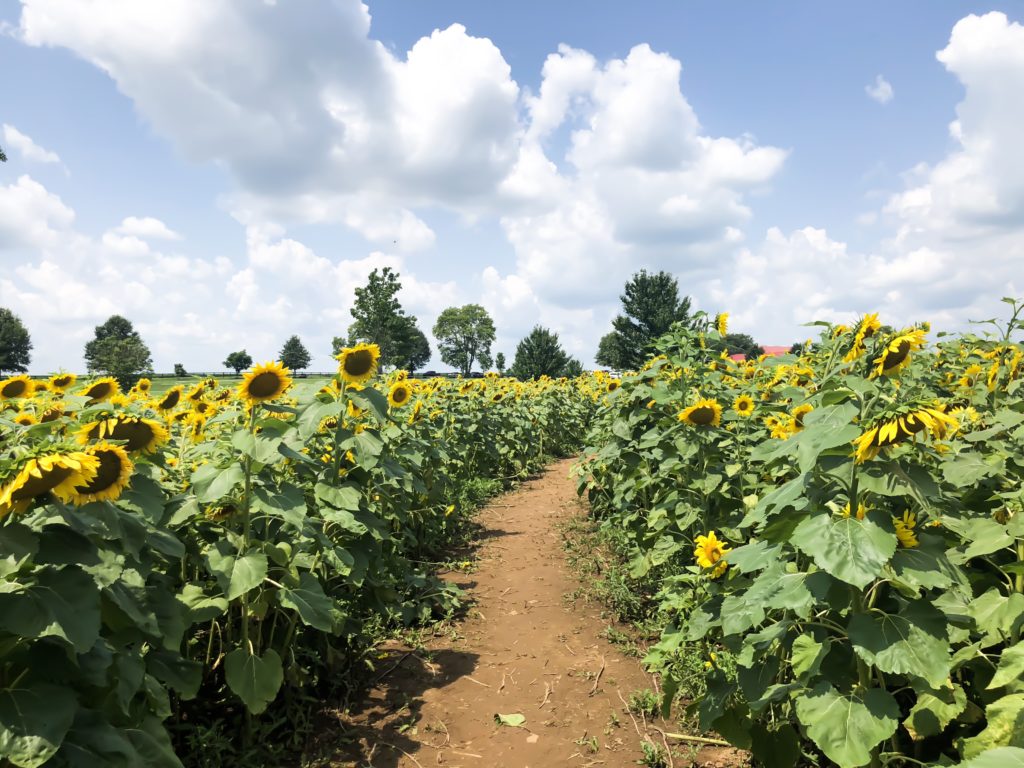 It's the beginning of August and summer is slowly coming to an end. Before we know it, it will be fall, which is my favorite season! However, there are still a couple of weeks left before it's officially fall, so we might as well take advantage of what summer has to offer, while we can!
One of the quintessential things about summer is visiting a sunflower field. They are such beautiful flowers and make for some gorgeous photos! Sunflowers are so bright and cheery and once summer is over, it makes me reminiscent about the summer that has just passed. Sunflowers are unmistakable due to their bright yellow petals which are very similar to the sun's rays. Sunflowers symbolize adoration, loyalty and longevity. They are also associated with warmth, positivity, power, strength, and happiness since they bear such a strong resemblance to the sun itself.
Whenever late July or early August comes around each year, I'm paying a visit to one of the local sunflower fields so I can admire their beauty in person.
Visiting a sunflower field is just one of the many ways to celebrate the inevitable end of summer.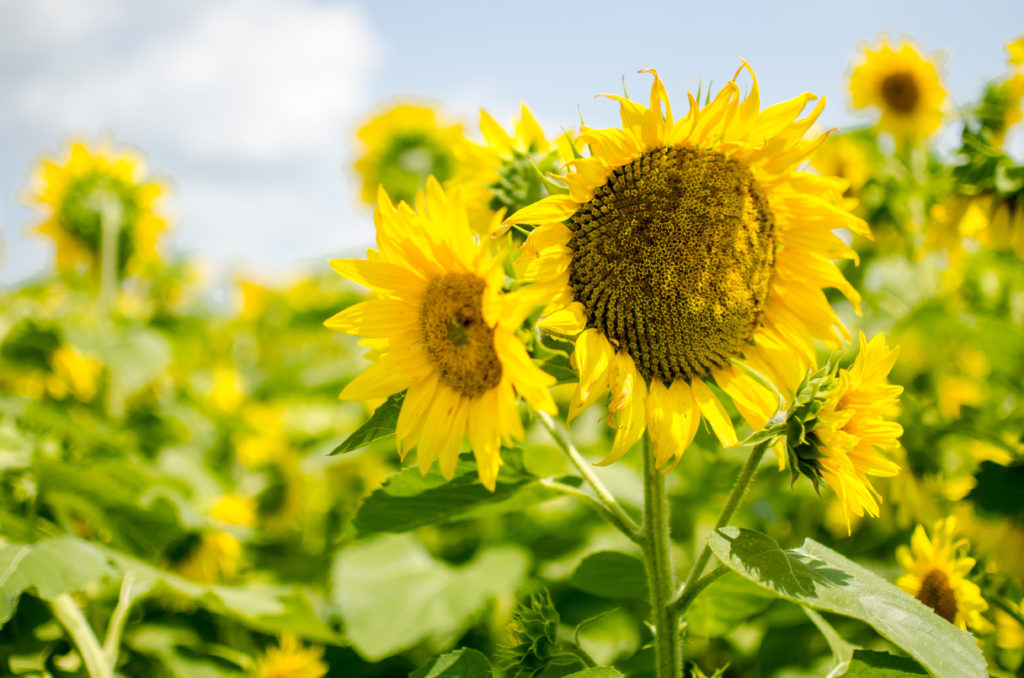 10 Ways to Celebrate the End of Summer in Lexington, Kentucky:
1. Visit the Sunflower Field at Evans Orchard – Georgetown, Kentucky
Obviously, I have to mention this first on my list, since I was just there over the weekend! I originally had planned on going to a sunflower field in Paris, Kentucky a few weeks ago (I took pictures there last year), but it was destroyed by that huge storm that we had. I was bummed because I thought I had missed my chance to take pictures with sunflowers. I was already planning on having to wait until next year. I was super excited to see that there was a sunflower field in Georgetown, at Evans Orchard. If you want to go see them, you should go as soon as you can! Sunflowers don't last forever, so you want to make sure you see them in all their glory! P.S. If you go, watch out for bees! There were so many!
Location: 198 Stone Rd, Georgetown, Kentucky
Hours of Operation:

Sunday: 12pm to 5:30pm
Monday: CLOSED
Tuesday – Saturday: 10am to 5:30pm
2. Pedal Boats at Jacobson Park – Lexington, Kentucky
Lexington is home to over 100 parks, but at Jacobson Park especially they have many fun activities for you to do. One of my favorite fun and inexpensive activities there is taking a 30 minute ride on one of the pedal boats. It only costs $4 for 30 minutes! The Jacobson Park Boat Dock will close for the season on Sunday, September 30 at 5pm. You can see the schedule: HERE.
3. Pick Your Own Peaches at Eckerts-Boyd Orchard – Versailles, Kentucky
It's peach season, which means at Eckert's-Boyd Orchard, you can pick your own peaches! They have tons of fruits and vegetables available for purchase or picking, depending on the season. They have lots of homegrown veggies available, including: yellow squash, cucumbers, zucchini, green peppers, sweet peppers, banana peppers, and more! Last year, my husband and I picked our own apples. It was so much fun and a great activity for a weekend date! Check out their crop updates: HERE.
Location: 1396 Pinckard Pike, Versailles, Kentucky
Hours of Operation:

Sunday: 10am to 6pm
Monday: CLOSED
Tuesday – Saturday: 9am to 6pm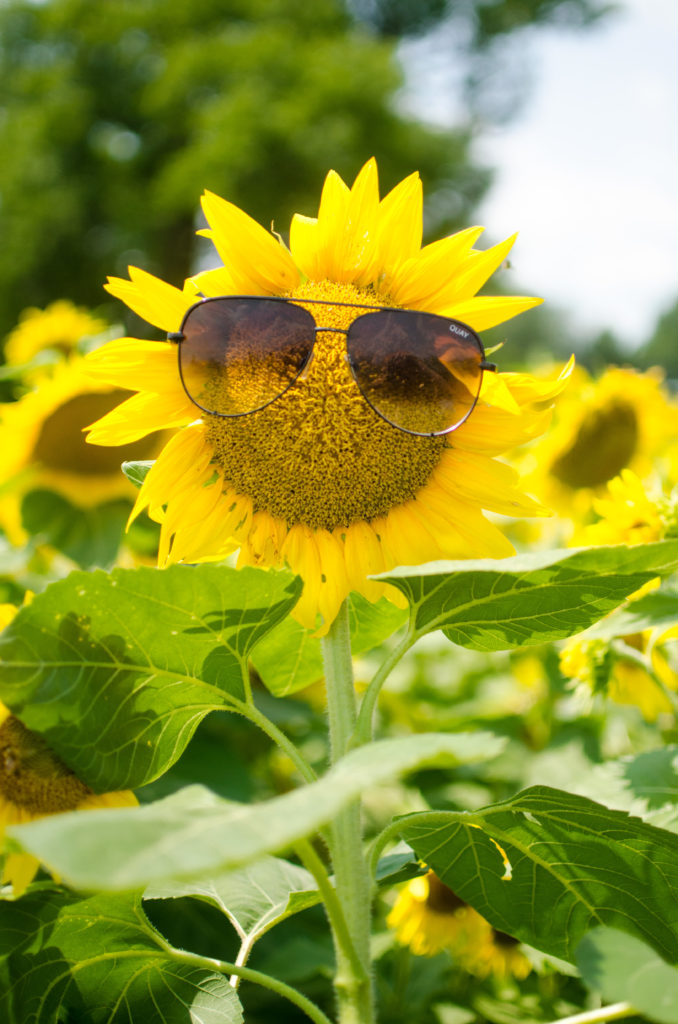 4. Fountain Film Friday (only 2 dates left!) – Lexington, Kentucky
Fountain Films Friday are located at Triangle Park between West Main Street and West Vine Street. It's free and the movies start at dusk! Fountain Films Friday happens during the summer on Fridays. This summer the first movie was shown on July 13 and happened every Friday until the last movie of the summer, which will be on August 17.
Dates: On August 10, the movie that will be shown is Groundhog Day and August 17, the movie that will be shown is The Waterboy
Location: Triangle Park, 400 West Main Street, Lexington, Kentucky
Cost: FREE
5. The Bourbon Drive-In – Paris, Kentucky
The Bourbon Drive-In is located in Paris, Kentucky, which is about thirty-minutes from Lexington. It has been family owned and operated, and has been since 1955. You're able to see two movies each night! The first movie starts at 7pm and the second movie starts at 9:10pm. To see the current movies and times, click here. A concession stand is on site where you are able to order various foods, including funnel cake! Two movies for $8. You can't beat that! The drive-in doesn't close until the beginning of November, so get out there and enjoy it while you can, because it will be November before we know it!
Location: Jackstown Road, Paris, Kentucky
Hours of Operation:

7pm: Box Office and Concession Stand Opens
Around 9pm: The first movie starts
Around 11:15pm: The second movie starts
6. Enjoy a weekend at Lake Cumberland – Jamestown, Kentucky
(or one of the other many state parks in Kentucky!)
Lake Cumberland is one of the top vacation destinations in the eastern United States and is considered the nation's number one house boating destination. Lake Cumberland is also home to one of the ten largest man-made lakes in the country. This scenic lake covers over 63,000 acres with more than 1,200 miles of federally protected shoreline, so of course, that makes it an ideal spot for all types of water sports, camping, hiking and more.
7. Lexington Legends Baseball Game – Lexington, Kentucky
Close summer by seeing a Lexington Legends baseball game at Whitaker Bank Ballpark. There are still quite a few home games left in August. The Lexington Legends are a Minor League Baseball team in the South Atlantic League (SAL), and the Class A affiliate of the Kansas City Royals. The Lexington Legends were established in 2001. See their schedule: HERE.
8. Kentucky State Fair – Louisville, Kentucky
The Kentucky State Fair is the official state fair of Kentucky which takes place at the Kentucky Exposition Center in Louisville. More than 600,000 fairgoers will be in attendance to explore the 520 acres of indoor and outdoor exhibits. There will be many activities for you to partake in, which include sampling a wide variety of food and riding several roller coasters during the 11-day event. The Kentucky State Fair includes competitions in crafts such as quilt-making, home brew beers, and home-made pastries, as well as fine arts and agricultural competitions.
Dates: August 16-26, 2018
Location: The Kentucky Exposition Center is located at the junction of I-65 and I-264 (937 Phillips Lane) in Louisville. "Fair/Expo Center" signs on both interstates lead to the Main Gate. To beat traffic, you may want to try entering Gates 2 or 4 on Crittenden Drive – or Gate 6 on Preston Highway. Traveling from out of state? The Kentucky Exposition Center is just minutes from the Louisville International Airport! Information about parking: HERE.
Cost: More information about tickets: HERE.
9. Attend a Free Concert at the Moondance Amphitheater – Lexington, Kentucky
Moondance Amphitheater will once again offer a summer concert series called "Summer Nights In Suburbia." The concerts feature genres that include jazz, bluegrass, indie rock, blues and folk, just to name a few. In addition to the live music, there will also be food trucks. Bring your lawn chairs/blankets and come enjoy the music. It's free to attend and starts at 7pm!
Location: 1152 Monarch Street, Lexington, Kentucky
Upcoming concerts:

August 10: Bruce Lewis
August 17: Ben Lacy
August 24: Bendigo Fletcher
August 31: Tribute Band (Lost Legends)
10. Take a Dip in the Pool – Lexington, Kentucky
Pool season is rapidly coming to a close, so there isn't much time left to enjoy it! There's only a few more weekends until it closes for the season.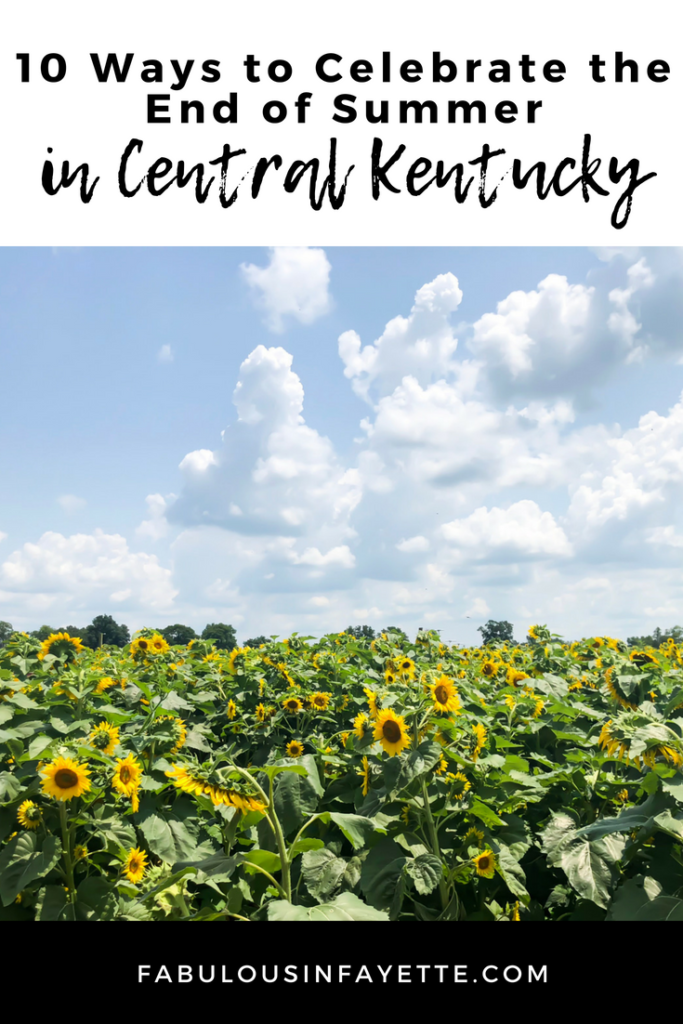 Have a good rest of your summer!