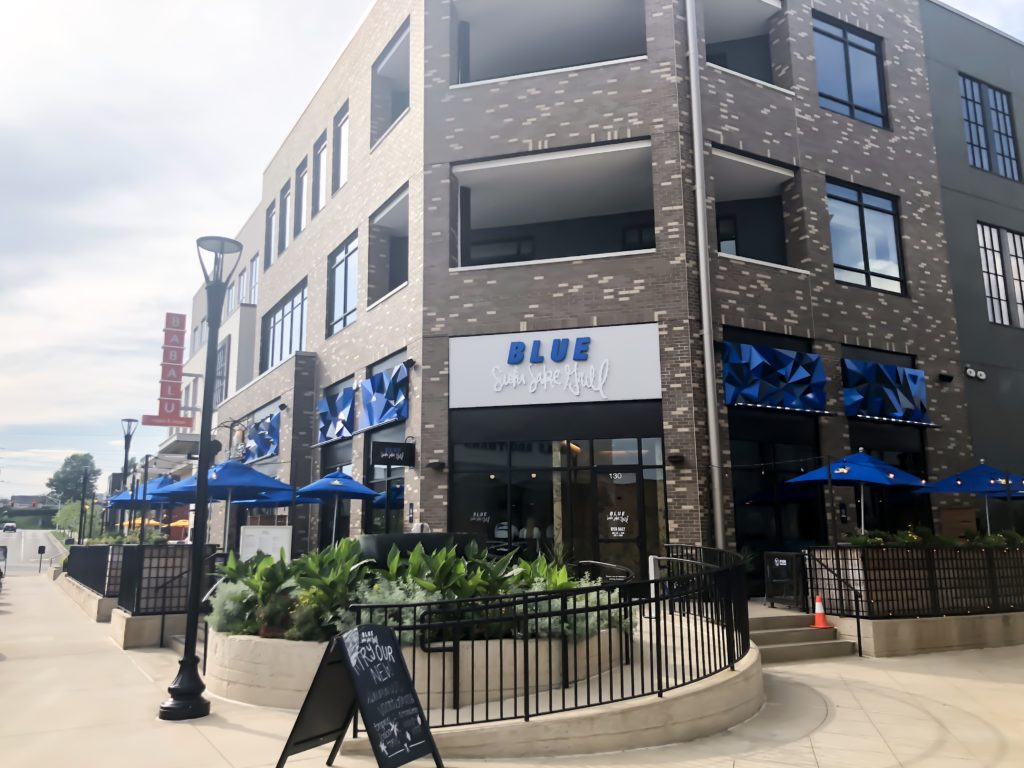 Fabulous In Fayette is occasionally gifted items to try and/or compensated in exchange for a post.  Any collaborative post will be disclosed as a collaboration or partnership. Regardless of receiving a gifted item and/or compensation, my thoughts and reviews are 100% my own. 
Growing up, I was an extremely picky eater. I never tried different types of foods, nor did I really have the opportunity, so I carried that habit carried into adulthood. I was stubborn (I'm a Taurus after all) and became set in my ways and didn't really have any interest in changing.
I moved to Lexington, Kentucky in 2008. I started a new job soon after doing technical support for Apple and I quickly made friends. One of the people I became friends with lived super close to me, so he invited me to dinner one night with him and some other of his friends. We were going to go to a $1 sushi place in located in the shopping center near our house (It no longer exists). I was super nervous, because I never had anything like that before. I didn't want to lose that opportunity to make new friends or be labeled as the "weird, picky eater." I explained to him my situation and he ordered for me without telling me what all was in it. That was that. Up until that point in my life, back in 2008, that was the first time I stepped waaaaay out of my comfort zone regarding food.
Fast forward to 2018…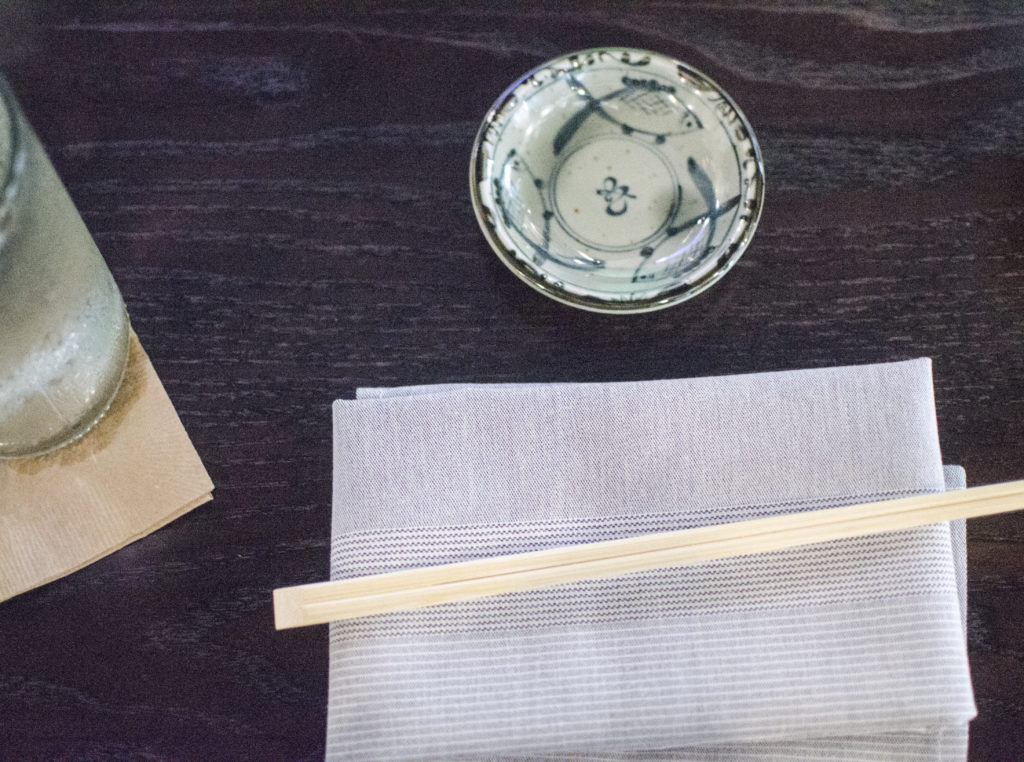 For the past five years, I've been willing to try just about anything and I love getting the opportunities to try new foods and especially new restaurants.
About two weeks ago, my husband and I got invited to eat dinner at Blue Sushi Sake Grill, which is located at The Summit at Fritz Farm. I love spending time at The Summit. It's such a neat place with lots of amazing restaurants and cool shops. I've been going ever since the opening weekend of The Summit back in April 2017.
"Blue Sushi Sake Grill unites creative ingredients with energetic vibes, premium cold sake with happy moments to give you a fresh and fun new way to experience sushi."
Blue Sushi Sake Grill is a great place to enjoy old favorites or embark on a dining adventure. It's the ultimate sushi destination for sushi experts and newcomers. Blue Sushi Sake Grill has everything from traditional and creative maki, sashimi and nigiri, as well as vegan maki. There are also several items on their grill menu, such as Asian-inspired starters, soups, salads and entrées. Their drink menu varies from an impressive list of premium sake to signature cocktails to martinis, beer, and hot teas.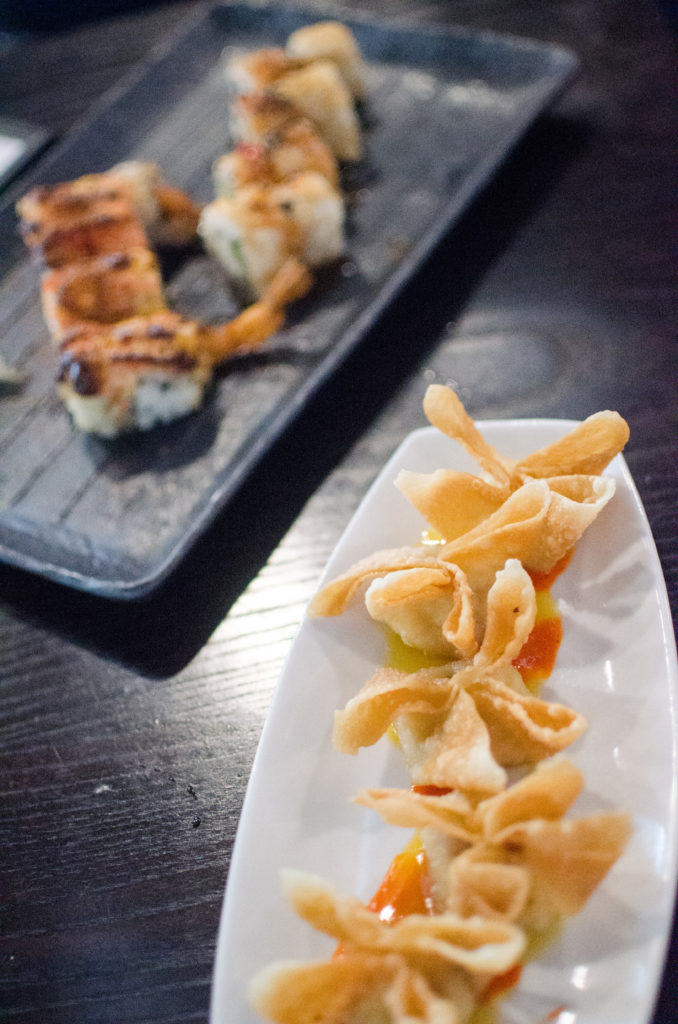 We started out with an appetizer – the Mango Crab Rangoon. It was crispy wonton wrappers stuffed with crab mix, mango, cream cheese and scallion, and they are served with mango and fresno pepper sauces. I was kind of hesitant trying it, because I've had crab before and wasn't really a fan. My husband insisted I try it, because he was pretty confident that I would like it. I ended up loving it! I especially loved the mango and fresno pepper sauce that it is served with.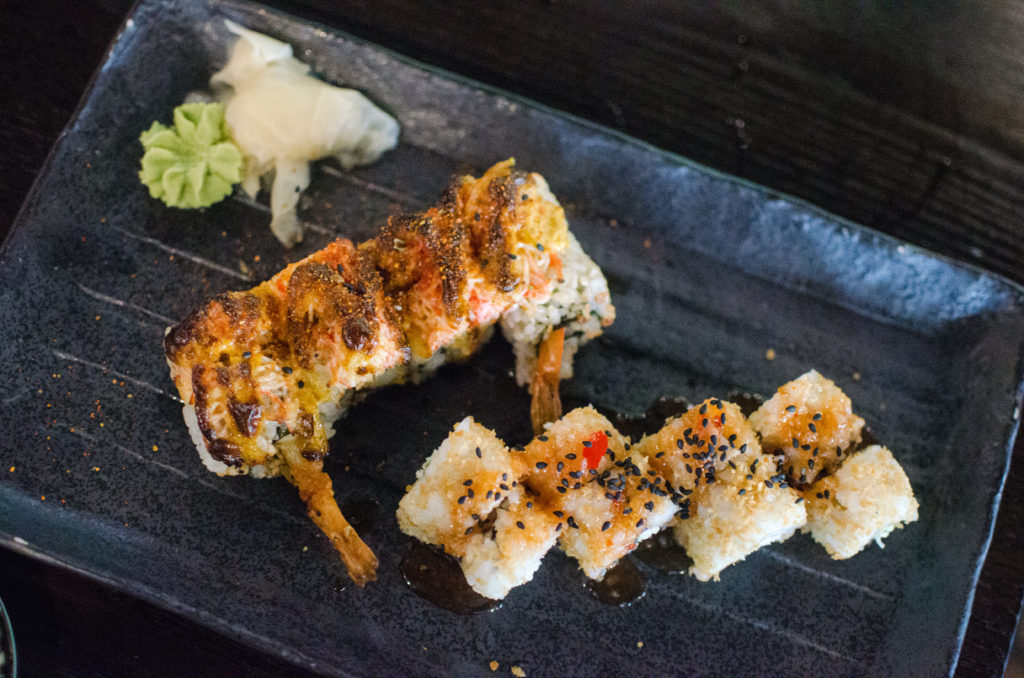 We also ordered two different types of rolls. First, we ordered the Crunchy L.A. Roll (It's a classic and my husband is from Los Angeles, so it was perfect). The Crunchy L.A. Roll is crunchy crab mix, avocado, cucumber, crispy panko, and sweet chili sauce. This roll was a fun and tasty spin on a traditional California roll!
The other roll we ordered was the Thriller Roll. This was shrimp tempura, spicy crab mix, ponzu, and creamy thriller sauce. This roll was truly unique and delicious, and I will definitely order it again!
I was super intrigued to try some of their vegetarian rolls, but that's always something I can try in the future. The veggies rolls I were considering were the Veggie Roll, which has red pepper, cream cheese, avocado, and cucumber. I also were considering the Just Beet It Roll, which has crispy panko goat cheese, beet, cucumber, pickled daikon, sesame oil, yuzu kosho, and scallions.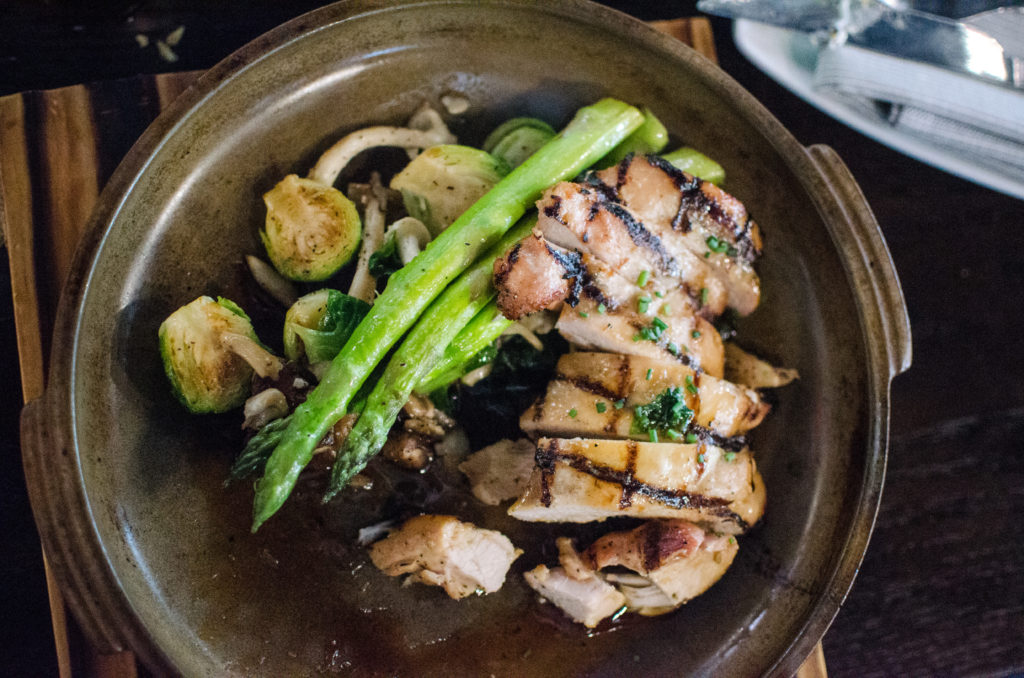 I'm a huge fan of teriyaki, so I decided to order Chicken Teriyaki. It is grilled thigh served in teriyaki sauce, and it is served with wild mushrooms, crispy brussel sprouts, asparagus and your choice of steamed white or brown sushi rice. Another classic dish cooked to perfection!
Another item that I want to try is the River Rock Beef Tenderloin. It is tender beef, served on sizzling rocks with jalapeño ponzu and yuzu kosho.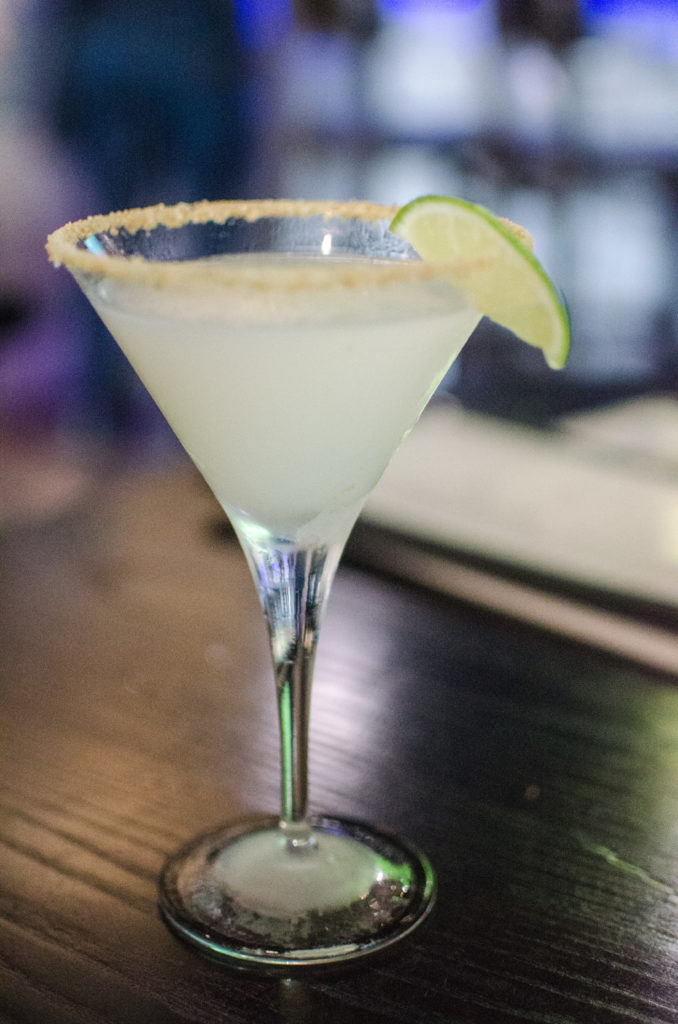 Usually when I go out, I like to have at least one cocktail. If the restaurant has pretty creative cocktails opposed to the more traditional ones, than hands down, I want to order one. Blue Sushi Sake Grill has quite a few martinis to choose from. When looking at the menu, my eyes immediately went to the Key Lime Martini. This martini had Svedka vanilla vodka, coconut purée, fresh lime elixir, and a graham cracker crust rim. It definitely lived up to its name. It tasted exactly like a key lime pie! What's not to love?!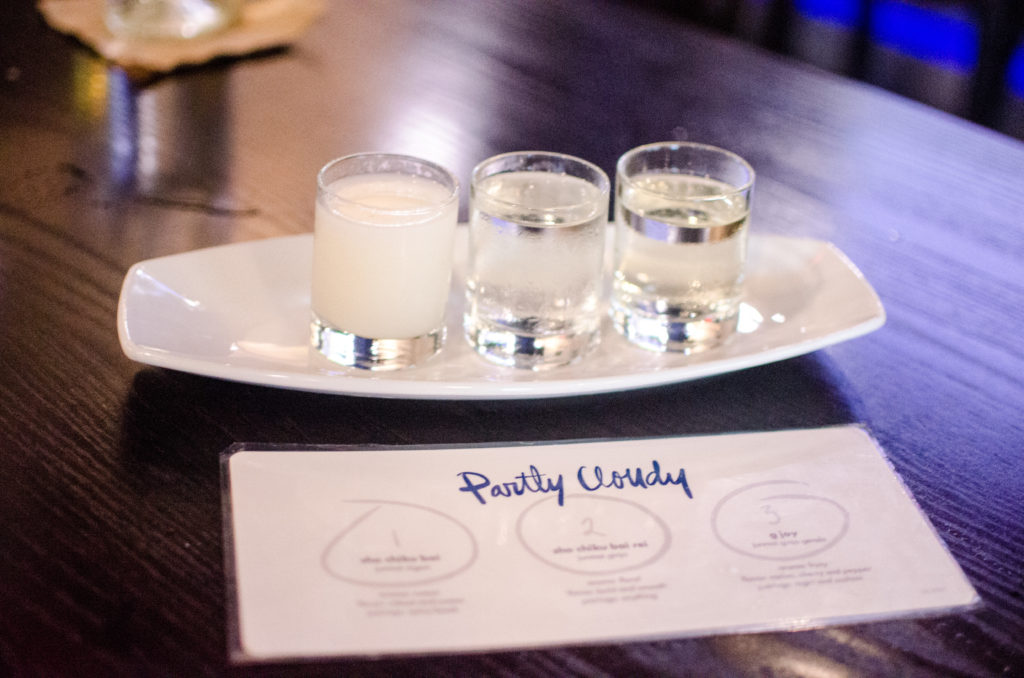 Neither my husband or I had tried sake before, so we decided to give it a whirl. Blue Sushi Sake Grill has several different types of sake to pick from. They have everything from sweet to dry. The measurement of sugar and alcohol determines its score on the scale. Less sugar produces a drier sake. All of their sakes are gluten-free.
Also, at Blue Sushi Sake Grill, they have the option of ordering a sake flight. They have two choices: Partly Cloudy and Sky Guardian.
The Partly Cloudy comes with (2 ounces each):
The Sky Guardian comes with (2 ounces each):
Hakutsuru Sho Une – Neutral (sparkling; sweet, floral and fruity aroma, with hints of tropical fruits, banana cream, hazelnut, vanilla and honeycomb)
Gekkeikan Suzaku – Dry (junmai ginjo; creamy body, notes of pear, honeydew and pineapple)
Sakemoto – Drier (junmai; light-bodied, melon, asian pear, white flowers and candy nougat, honey and jicama)
We ordered the Partly Cloudy flight, wanting to experience the sweet and the dry. My favorite was definitely the sweet and cloudy Sho Chiku Bai!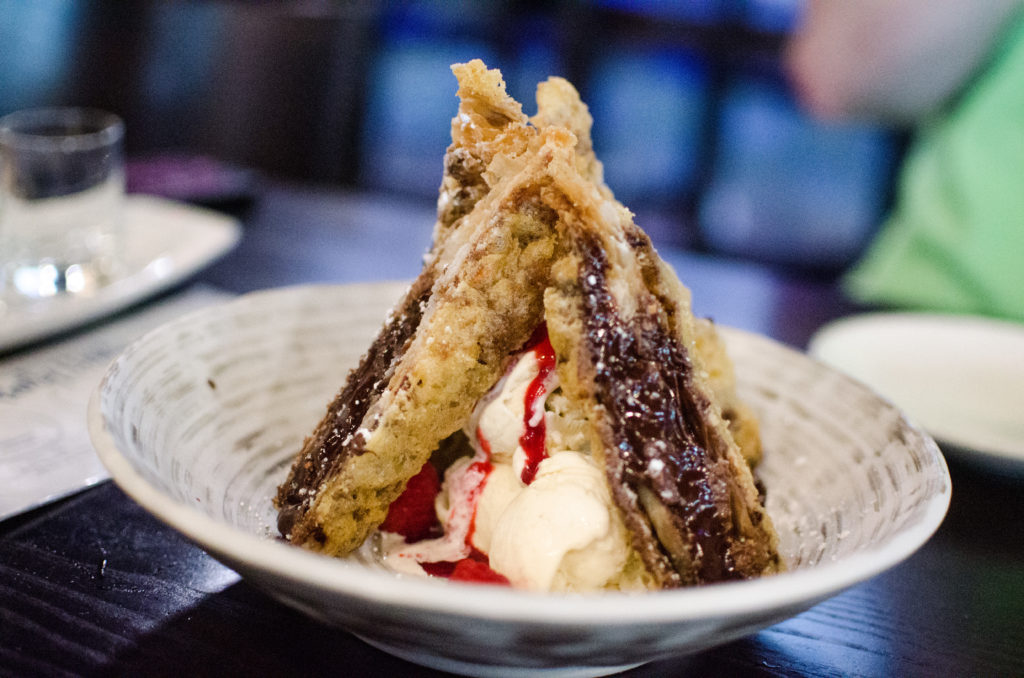 Obviously, a meal wouldn't be complete without dessert. We decided to get the Chocolate Spring Rolls. They are made with toasted cashews, cinnamon, raspberry purée, chocolate syrup, vanilla bean ice cream. They were absolutely heavenly!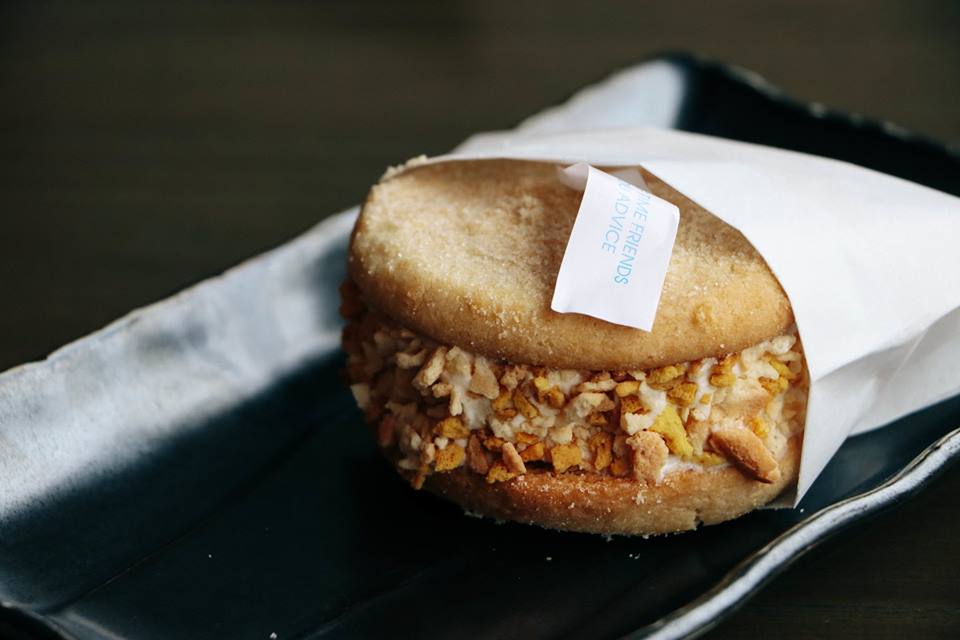 There is a brand new treat that is available for a limited time this summer at Blue Sushi Sake Grill, so be sure to get it before its gone!
I present to you… Blue's Fortune Cookie Ice Cream Sandwich. It features two sugar cookies held together with a center filled of vanilla bean ice cream, fortune cookie crumble, and topped with a good fortune.
105 The Summit at Fritz Farm, Suite 130, Lexington, Kentucky 40517
*There are 13 locations in eight states;  Nebraska, Texas, Colorado, Kansas, Illinois, Kentucky, Indiana, and Ohio.
Hours of Operation:
Sunday: 12pm to 9pm
Monday through Thursday: 11am to 10pm
Friday and Saturday: 11am to 10:30pm
Join Blue Sushi Sake Grill For Happy Hour:
Sunday: 12pm to 8pm
Monday through Saturday: 3pm to 6:30pm
Be sure to check them out and support a local business!