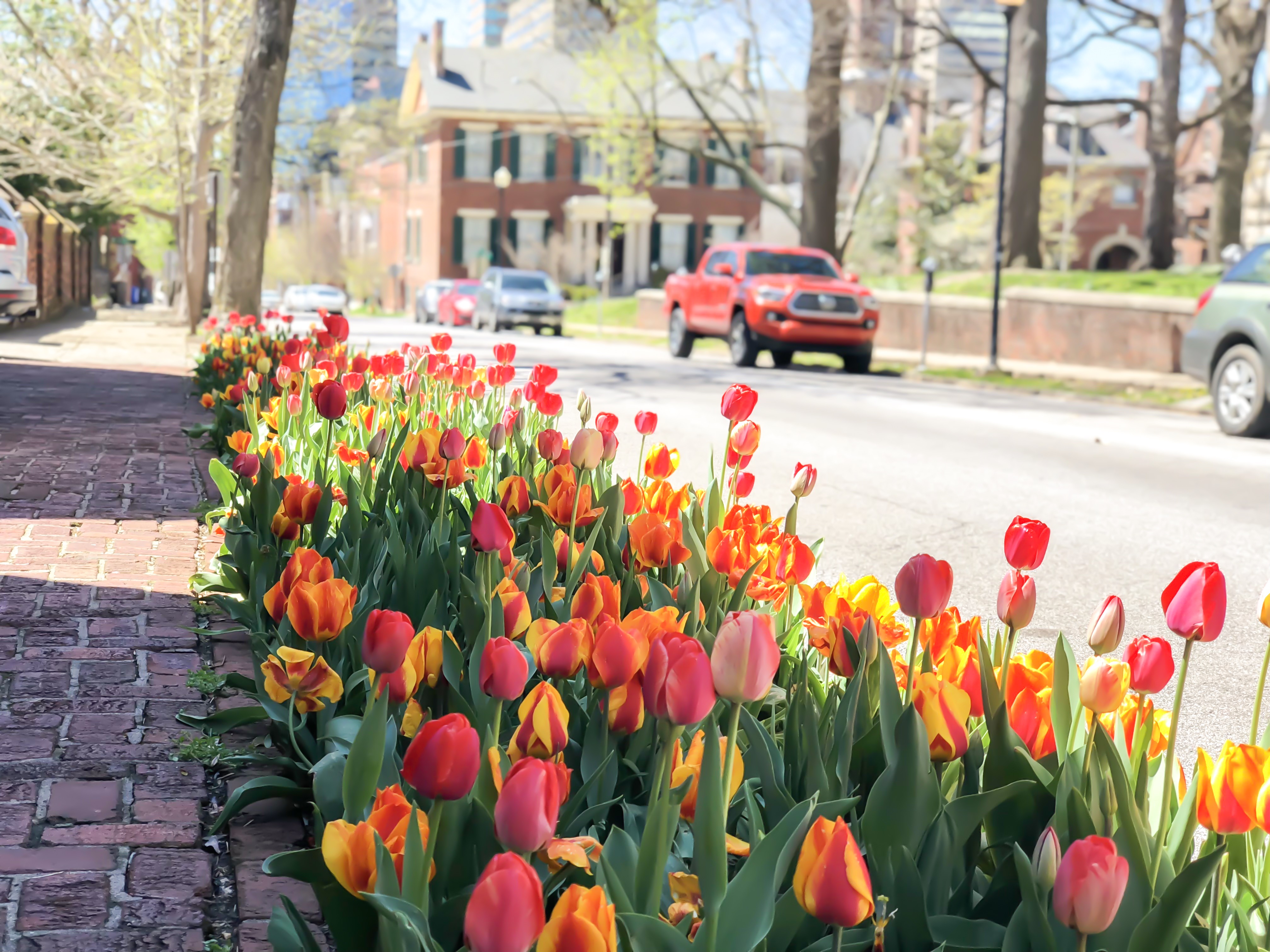 I've kind of taken a hiatus the past two months from my blog, but I'm now ready to bring some fresh new content. Recently, I've given my website a new facelift, and it's about 90% completed. From time to time, I think we all need to jazz things up. The weather is nice and there is lots of sunshine, so that means there is more time to be spent outdoors! Summertime is when I'm most creative, and I'm excited for y'all to see what I have up my sleeve!
I know everyone may not use instagram, so I figured that I would share everything from Instagram at the end of the month. This way everyone could see what life was like for me in Lexington during the month of May and be able to see all the restaurants and businesses in Lexington all in one place that I mentioned. Not everything I post on instagram has it's own individual post on my blog.
We kicked off May with lots of beautiful flowers, and the saying held true, "April showers bring May flowers!" Downtown surprisingly has lots of beautiful flowers. I love walking along Market Street and enjoying the park near the Carnegie Center. The buildings are beautiful and colorful. My absolute favorite is the pink house! Nearby there was where my husband and I got married in 2011 – the Bodley Bullock House.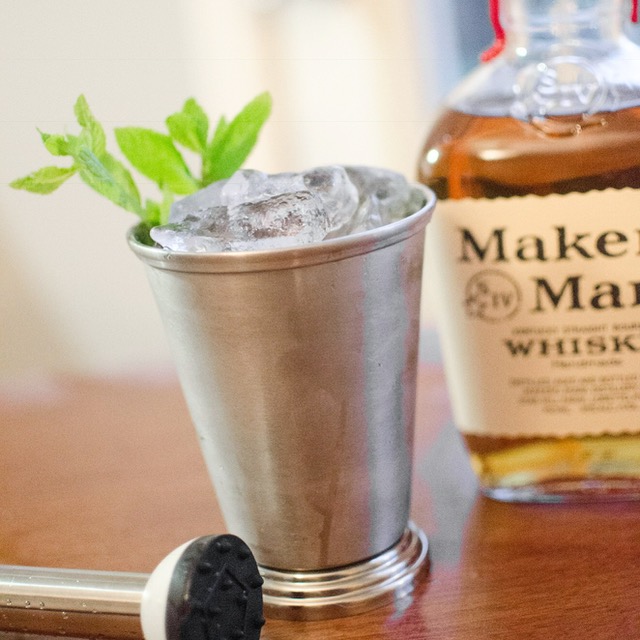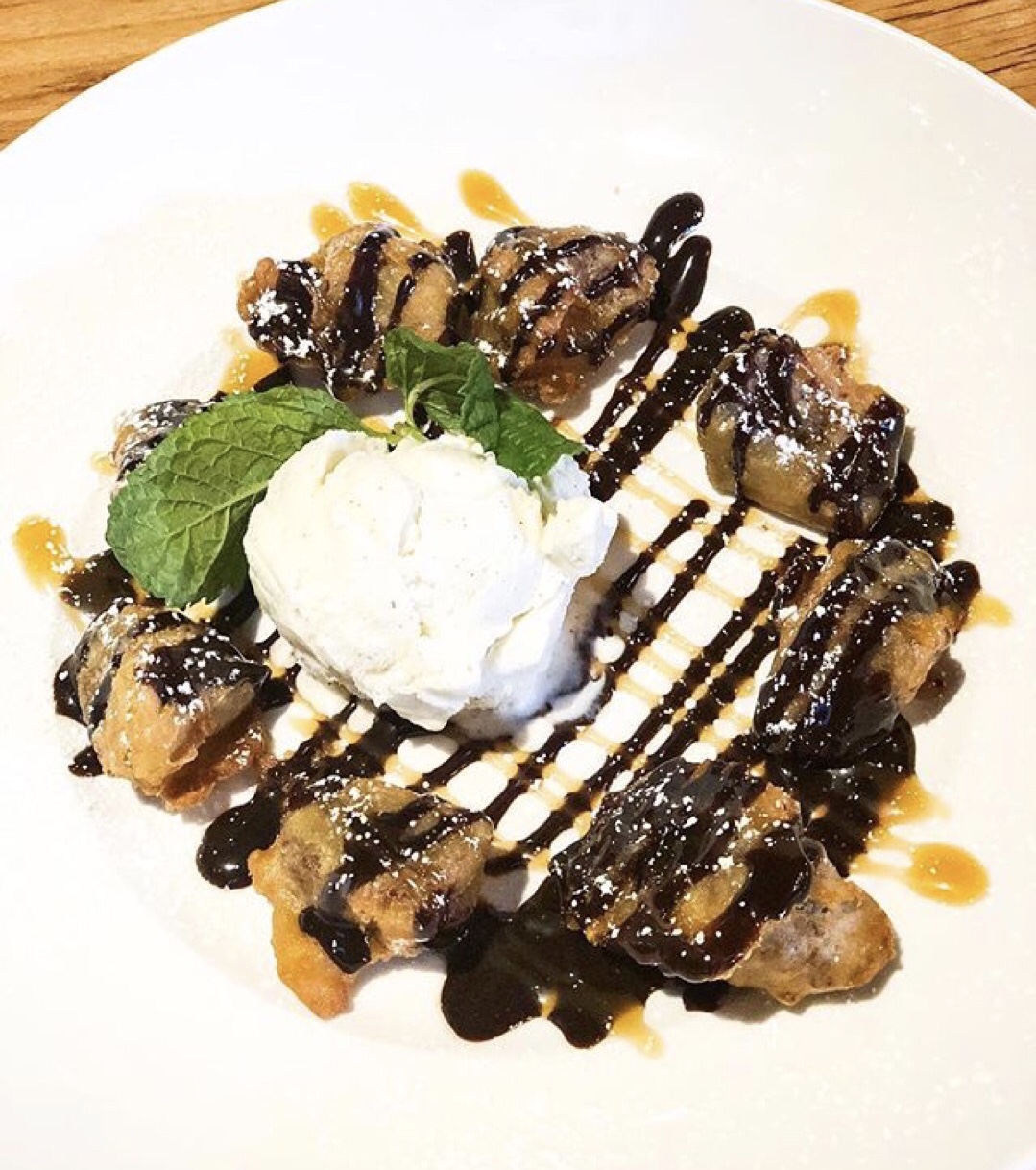 Since the Derby is in May, I figured I would showcase some Kentucky dishes. If you haven't tried the Derby Pie Bites from Carson's, then you are missing out! They are fried Derby pie with caramel and chocolate and served warm with vanilla bean ice cream. I promise you won't want to share! You also couldn't have the Derby without having a Mint Julep! Some fun facts: The Mint Julep is a Kentucky staple. Each year, nearly 120,000 of them are served during the two-day event (between Oaks and Derby Day) at Churchill Downs. Churchill Downs uses 254,000 ounces of bourbon (or over 10,000 750 milliliter bottles), 300 create of mint (about 4,000 pounds of locally sourced stuff from Louisville, Kentucky's Dohn's Garden), and 60,000 pounds of ice make up the Mint Juleps!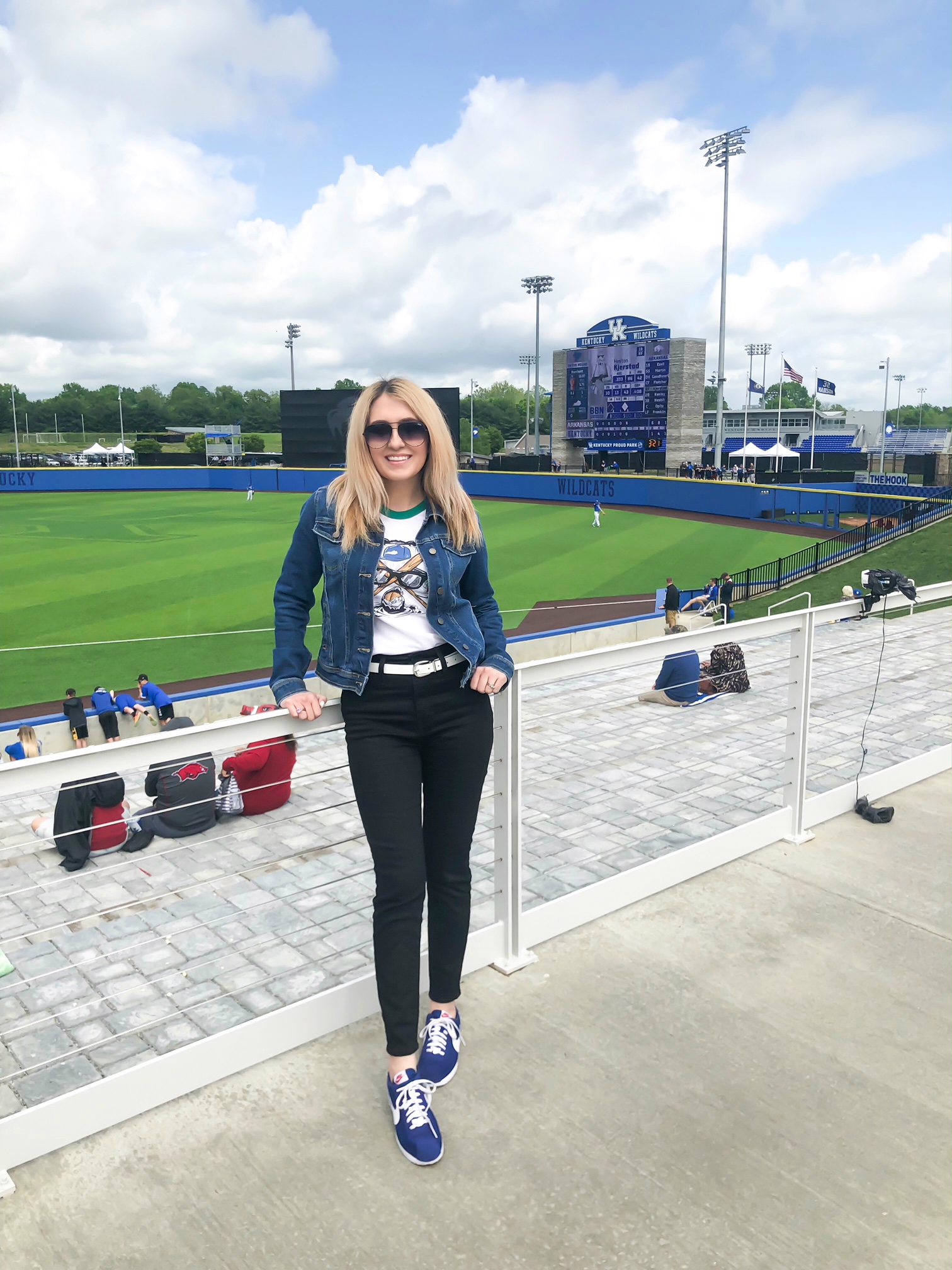 May had some beautiful weather, so you couldn't help but want to spend time outdoors. I'm a huge baseball fan, so one afternoon, my husband and I decided to check out Kentucky Proud Park and watch the Wildcats play!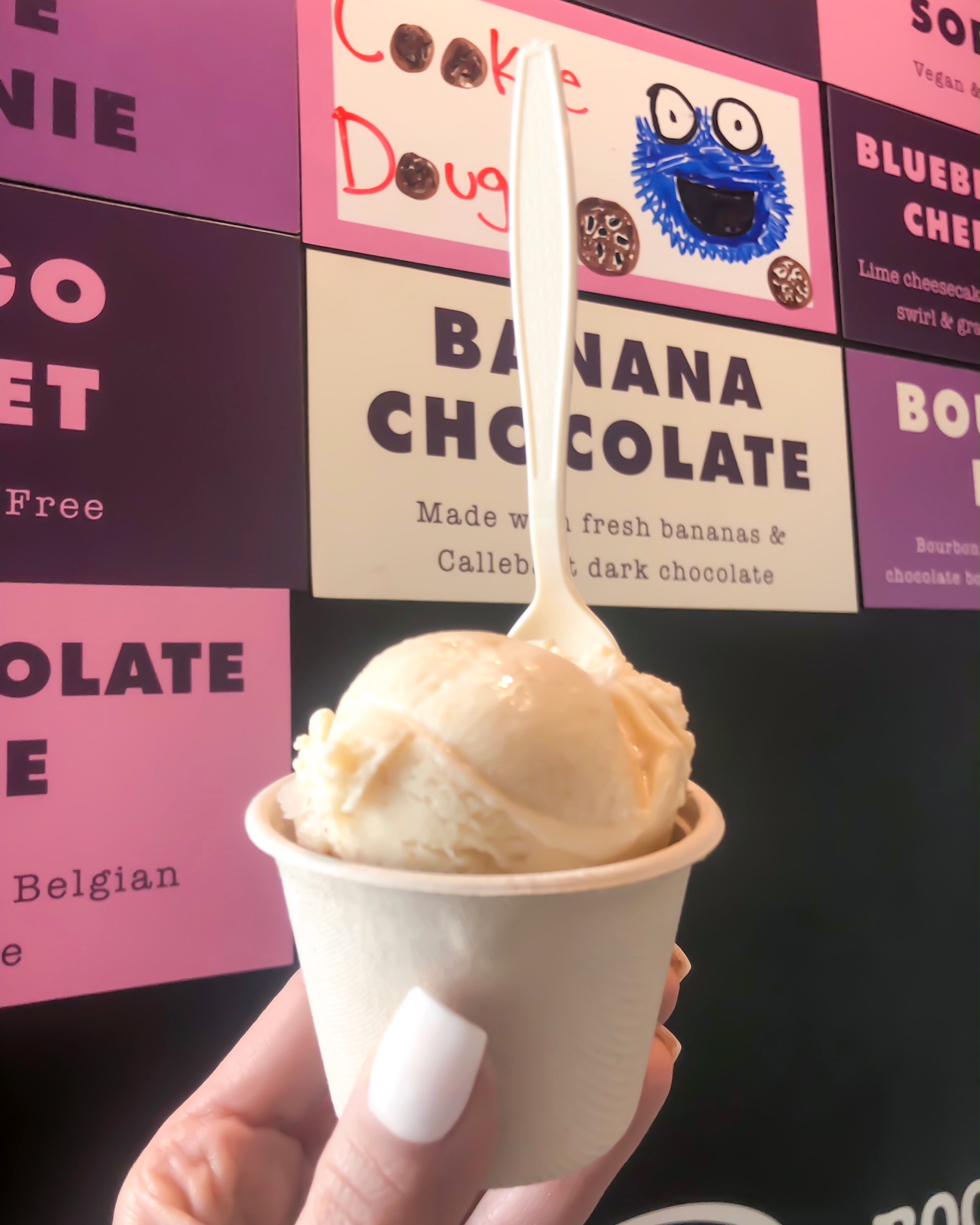 Speaking of beautiful weather… the perfect treat to indulge in is ice cream! I can't promise if they still have it, since it was only available for a limited time, but for Small Batch Friday, Crank and Boom released a new flavor – Cookie Dough. It was cookie infused ice cream with chocolate chip cookie dough chunks and mini chocolate chips. It was amazing as usual!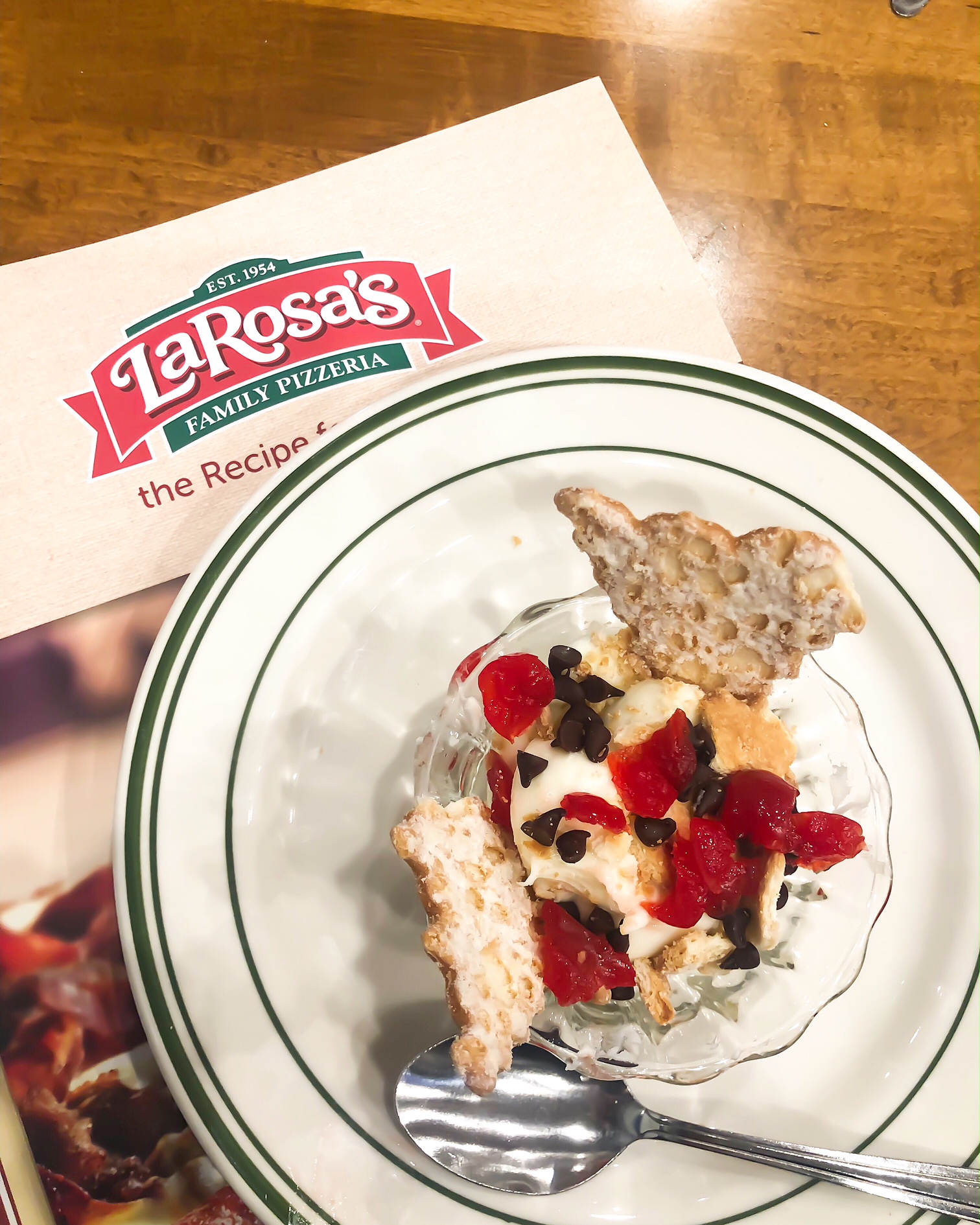 In other exciting restaurant news, Lexington finally has a LaRosa's Pizza. It opened up in mid-May near Skyline Chili and First Watch on Richmond Road. LaRosa's has been serving up for over 60 years. They have locations in Cincinnati, Greater Dayton, Central Ohio, Northern Kentucky, Southeast Indiana and central Tennessee, and now Lexington, Kentucky!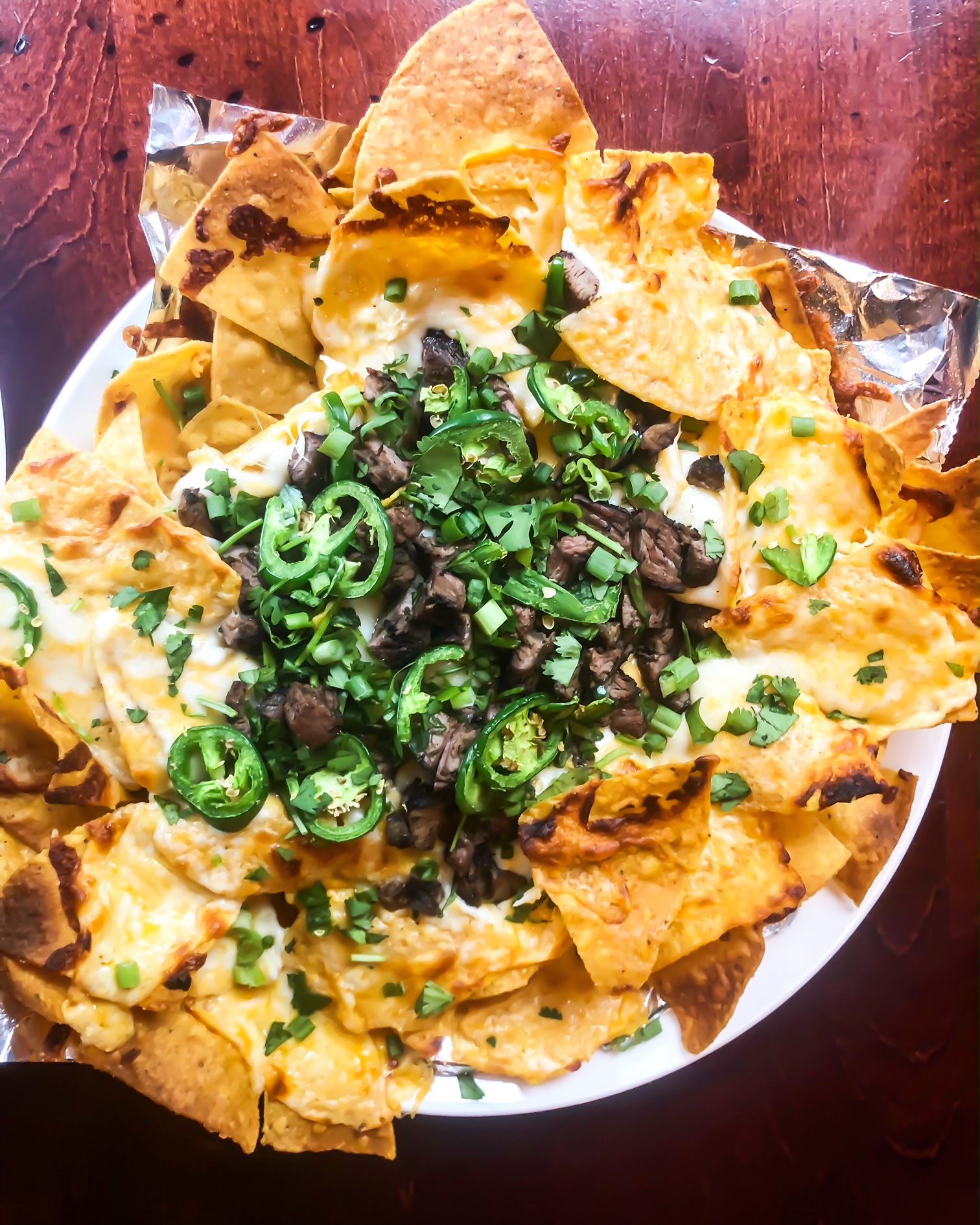 Who doesn't love nachos? If you love nachos, you should try the West Sixth Nachos from Saul Good. They are crispy corn tortilla chips piled with grilled steak, a five-cheese blend, beer cheese made with local brewery West 6th Amber Ale, scallions, fresh jalapeños, cilantro, sea salt, and lime.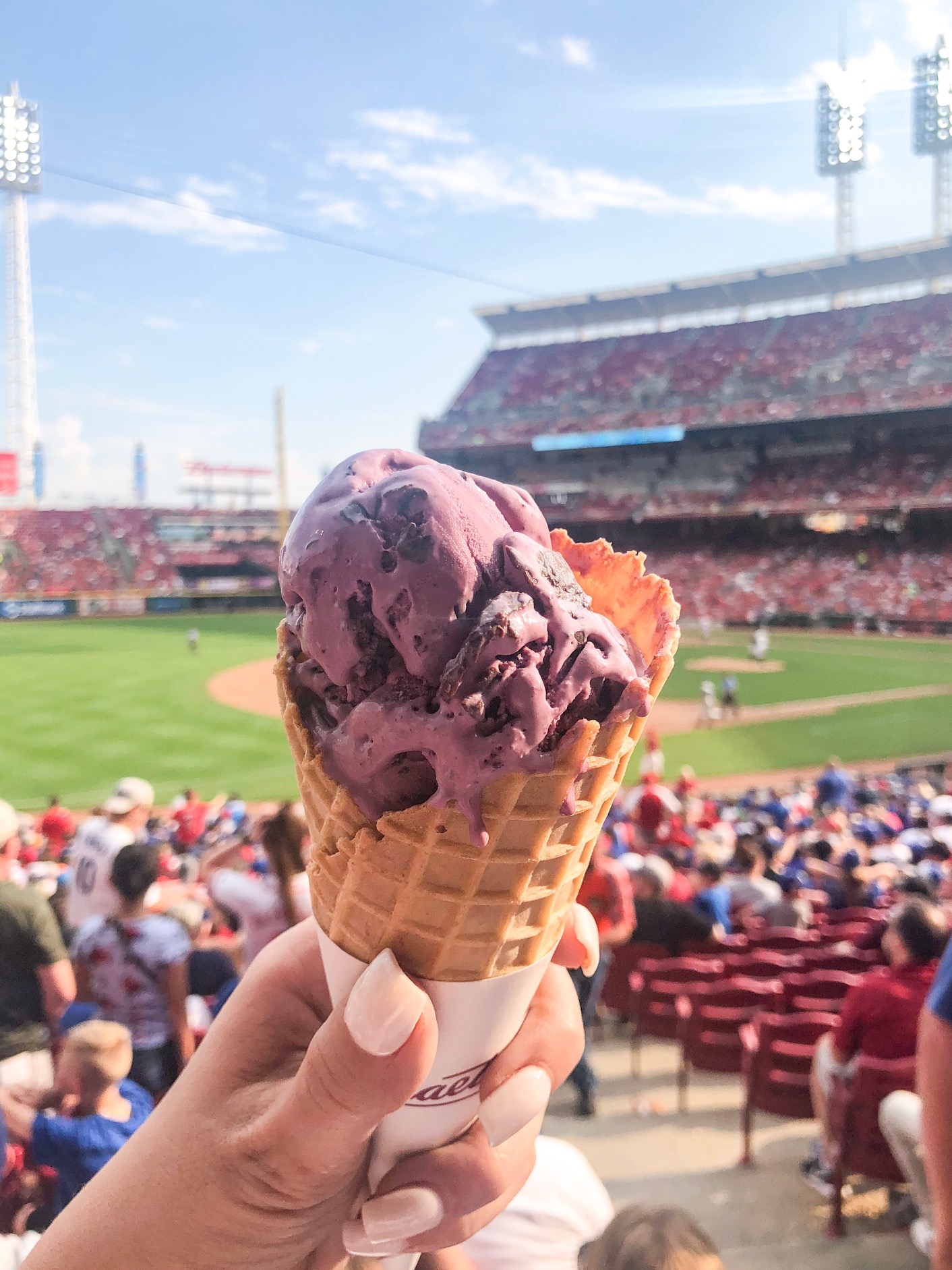 Like I have mentioned before, I love baseball. I have my favorite teams, of course, but I would be happy watching just about any game, no matter who is playing. So, obviously, since my favorite team was playing the Reds at Great American Ballpark, I had to see them. I wasn't able to go to Friday's game, but I was able to drive up and go to both Saturday, and Sunday's, games. Every time I go to a stadium, I have to get ice cream. I know we have Graeter's Ice Cream here in Lexington, but they do at Great American Ballpark, since Graeter's originated in Cincinnati 149 years ago. They don't have many flavors at GABP, but they have one of my favorites -Black Raspberry Chocolate Chip. Maple Cinnamon Crunch and S'mores are two of my other favorite flavors!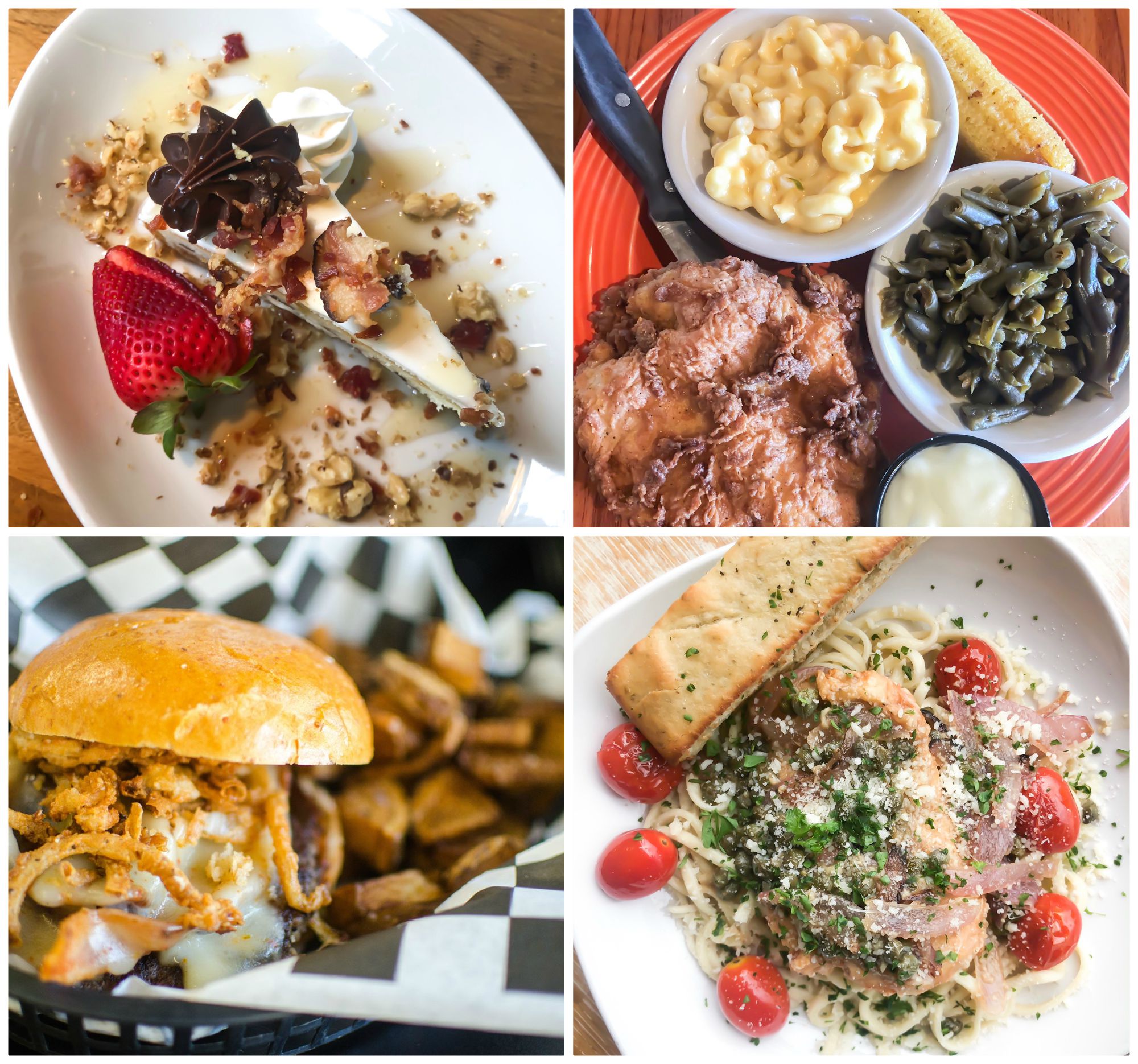 One of my favorite things about April and May is that Malone's has my favorite cake of all time! It's always a Chef's Feature so it's not available year round. The Kentucky Bourbon Butter Cake is so heavenly, so much so that I've been getting it probably for the past seven years (or longer)! The Kentucky Bourbon Butter Cake has three layers of buttery cake and bourbon ganache, studded with chocolate and pecans, frosted with bourbon icing, drizzled with bourbon honey and topped with candied walnut-bacon crumbs.
If you are looking for a down home Southern cooking, then Ramsey's is your place! Ramsey's has been a Lexington icon for 30 years!
On May 28, we celebrated National Burger Day! I'm a huge burger snob and have super high expectations for burgers. The crazier the burger, the better! A burger that has lots of toppings and textures is right up my alley! One of my favorite burgers is the Kentucky Bourbon Burger from Lexington Diner. It was a winner at the 2015 Taste of the Bluegrass. The burger has bourbon BBQ, applewood bacon, ghost pepper jack, and fried onion straws! The ghost pepper gives it that extra heat. Don't be scared of the ghost pepper!
I've not sure if you saw on Pasta Garage's social media, but they now are selling their sauces at their restaurant. While picking up a jar of their Vodka Sauce, my husband and I decided to eat a delicious lunch. Feast your eyes on the Chicken Piccata! It is linguine with breaded chicken, onions, capers and grape tomatoes in a lemon garlic sauce.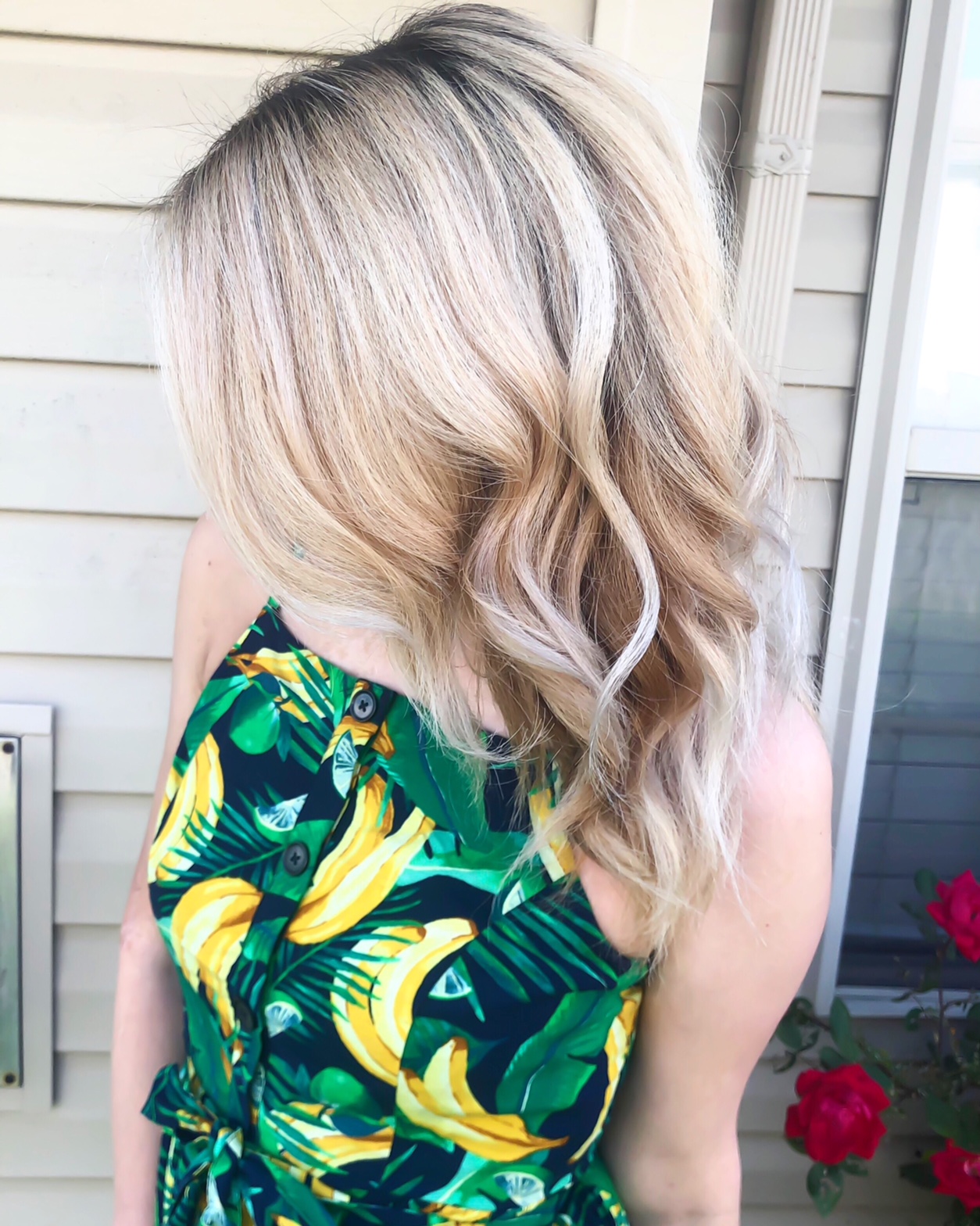 Dry Bar finally opened up a location in Lexington! It's located in Chevy Chase next to Peplum. In case you are unfamiliar with Dry Bar, Dry Bar specializes in blowouts! There are many different styles you can choose from. I was invited to try it out when they opened and opted for the Mai Tai. decided to get the Mai Tai. The Mai Tai is described as effortless, messy, beach hair. Getting a blowout lasts for a couple of days, depending on the texture of your hair. I was in and out in a little over an hour (I have super thick and coarse hair), and I had flawless hair for days and days!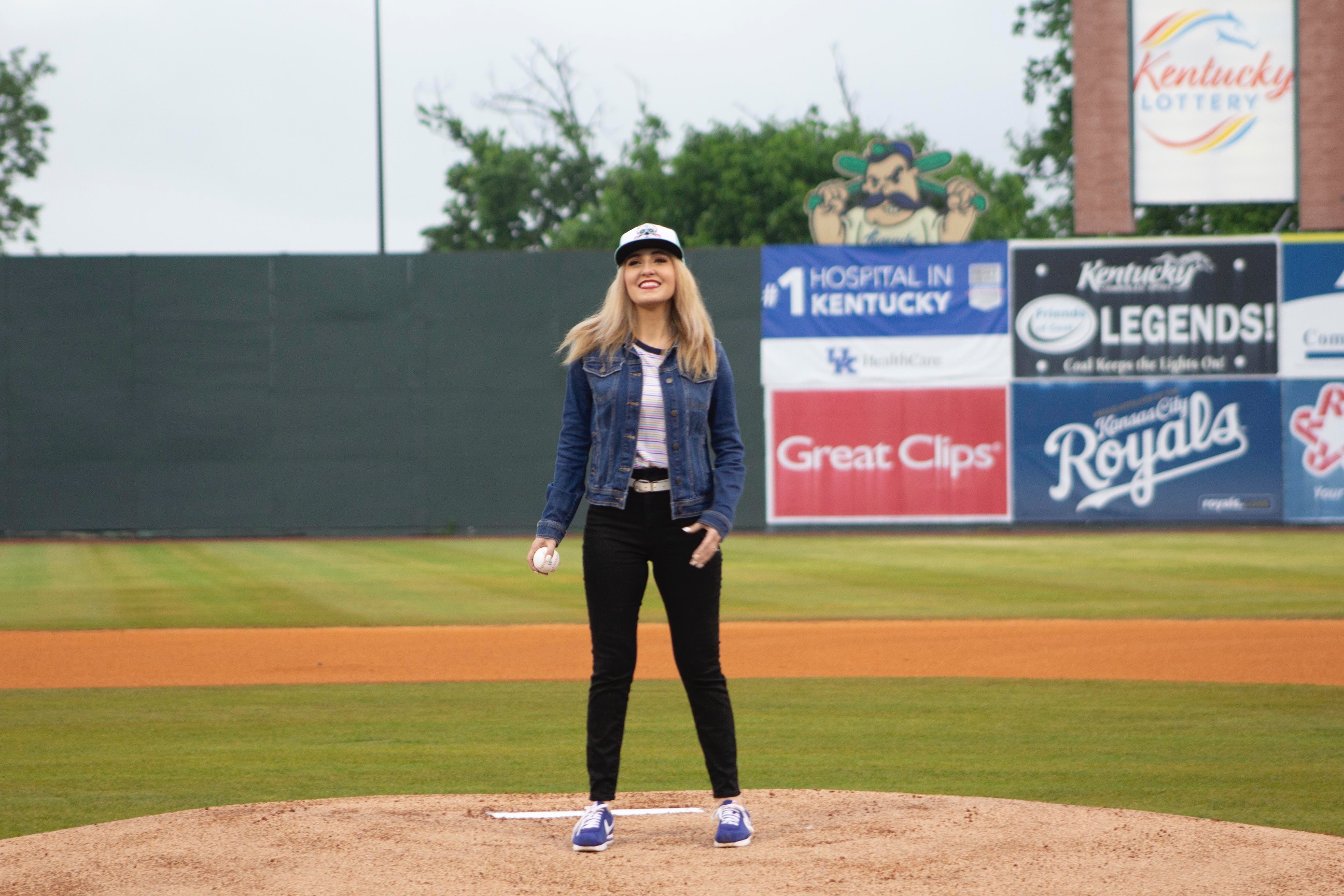 In mid-May, I was honored to throw out the first pitch for the Lexington Legends. Being a huge baseball fan, this was something that I have always wanted to do. I was so happy that I had the opportunity to do this!
Attending a Lexington Legends game is perfect for a date night, a night out with friends, or even an outing for the whole family! They also have some afternoon games as well!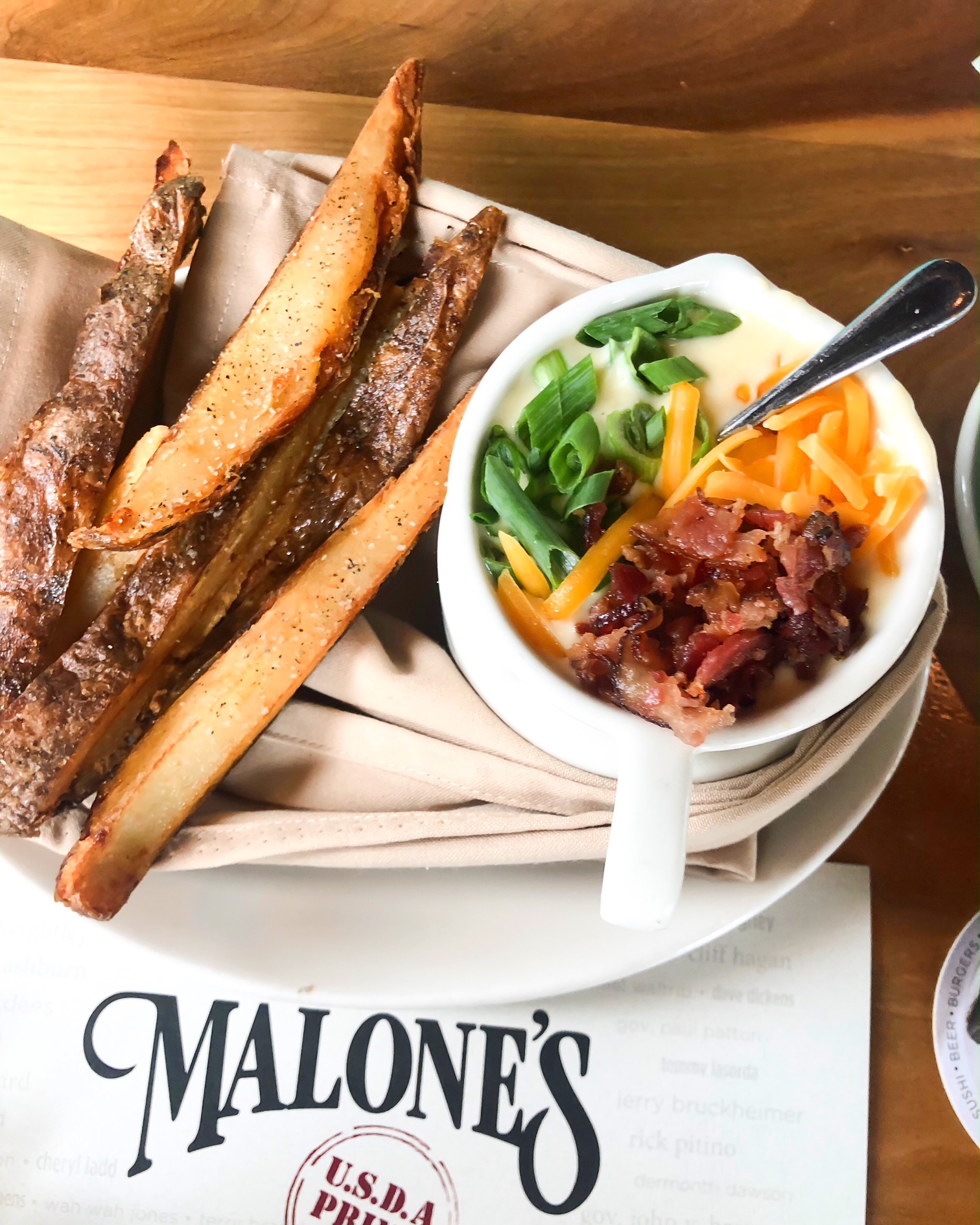 I'll end this recap of May on a high note… The Baked Potato Fondue from Malone's is hands down my favorite appetizer of all time. It never fails that anytime I'm eating at Malone's or Harry's I order it as an appetizer. I've been ordering it for years, ever since I found it on the menu! The Baked Potato Fondue is crispy spears of hand cut potatoes served with Mornay cheese sauce and are loaded with bacon, cheddar and scallions.
In Case You Missed It:
I hope everyone has a great June!