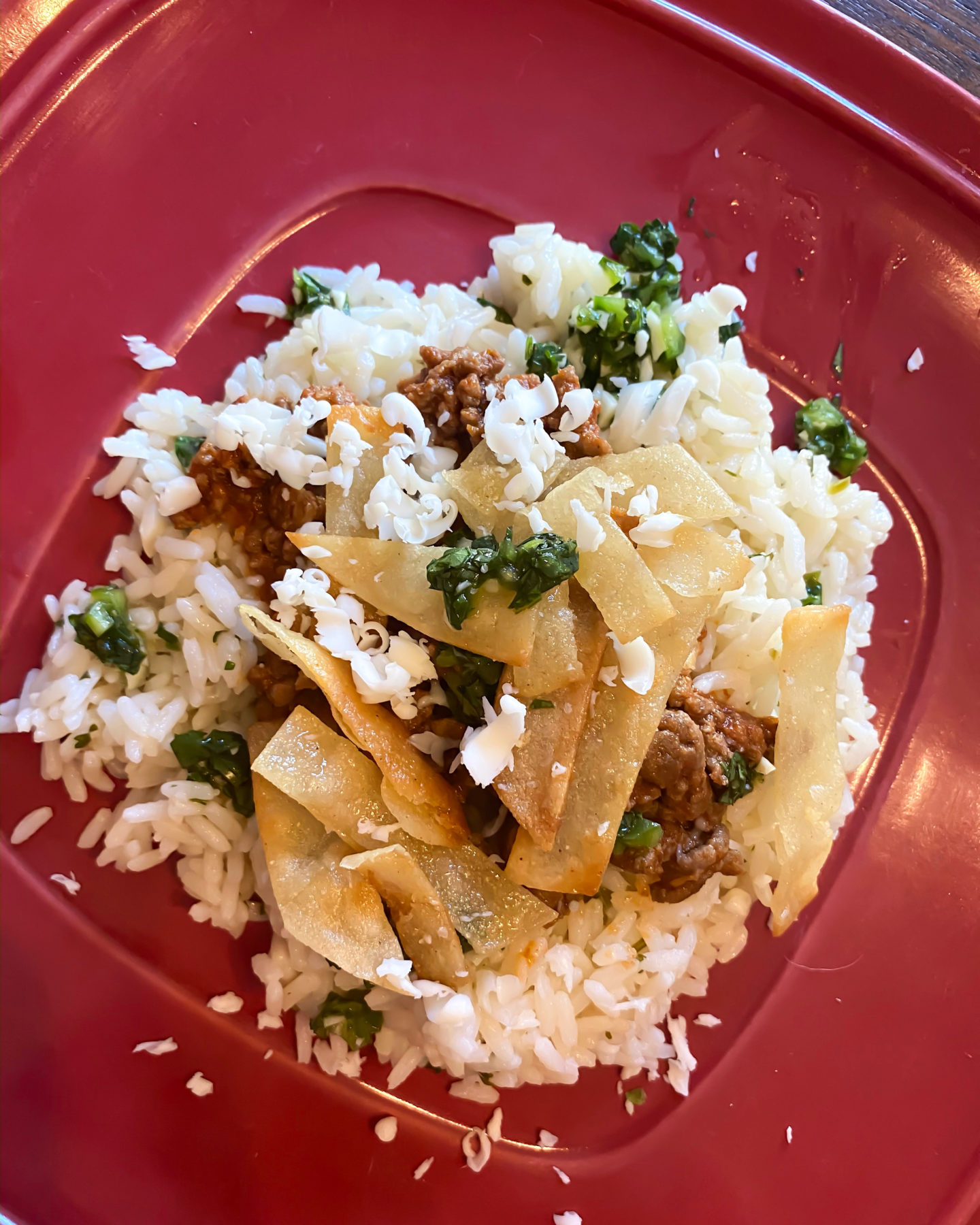 Since it's Cinco de Mayo, and also Taco Tuesday, I figured I would share one of my favorite Mexican recipes that I make at home. My husband and I actually are going to have it again tonight. This is probably one of my top five favorite dishes that we have for dinner.
I'm a huge fan of rice. Some people may think rice is boring, but it doesn't have to be! One of my favorite parts of this dish, and what takes it to the next level, is the chimichurri. Without it, the dish would be kind of forgettable and not very exciting. There is just something about the freshness of the chimichurri that elevates the dish to another level. All of the flavors in this dish will leave you wanting more!
Beef Taco Bowls
Ingredients:
3 cloves garlic
1 cup of white rice
1 handful fresh cilantro
1 jalapeño pepper
1 lime
2 oz. of shredded Oaxacan cheese
14 fl. oz tomato sauce, canned
2 tbsp of your favorite taco seasoning (I make mine with chili powder and cumin)
16 oz. of ground beef
3 small corn tortillas
Directions:
1. Cook the rice. Bring a small pot of rice to a boil. Reduce to a simmer and cook until tender for about 18-20 minutes. When rice is complete, mix in 1 tbsp. chimichurri and set aside.
2. While the rice is cooking, prepare the rest of the dish.
3. Time to make the chimichurri. Start by mincing the cilantro.
4. Stem the jalapeño. Be sure to halve, remove the seeds and mince. You can always keep the seeds for more spice. Remember to wash your hands and cutting board after working with the jalapeño.
6. Halve the lime and juice.
7. Mince the garlic.
8. In a mixing bowl, combine the ingredients: cilantro, jalapeño, lime juice, garlic, 1 tbsp. of olive oil, 1 tbsp. of water, salt and pepper to taste. Set aside.
9. Halve the tortillas. Cut into small strips.
10. Now, it's time to make the crispy tortilla strips and brown the meat. Be sure to line a plate with a paper towel. Add 1 tbsp. olive oil to a non-stick pan on medium-high heat. Add tortilla strips to the pan and stir occasionally until crispy. This will take about 5 to 7 minutes.
11. Remove the tortilla strips and set aside.
12. Add the ground beef to the pan. Stir occasionally. Break into small pieces and cooked until browned. This will take about 6-8 minutes or until the internal temperature is 160 degrees.
13. Add the tomato sauce and seasoning mixture to the pan. Stir to combine. Bring to a simmer
14. Stir occasionally until thickened for about 3 to 5 minutes.
15. To plate dish, put rice into bowl first. Top  the rice with the beef mixture and garnish with cheese, chimichurri, and tortilla strips.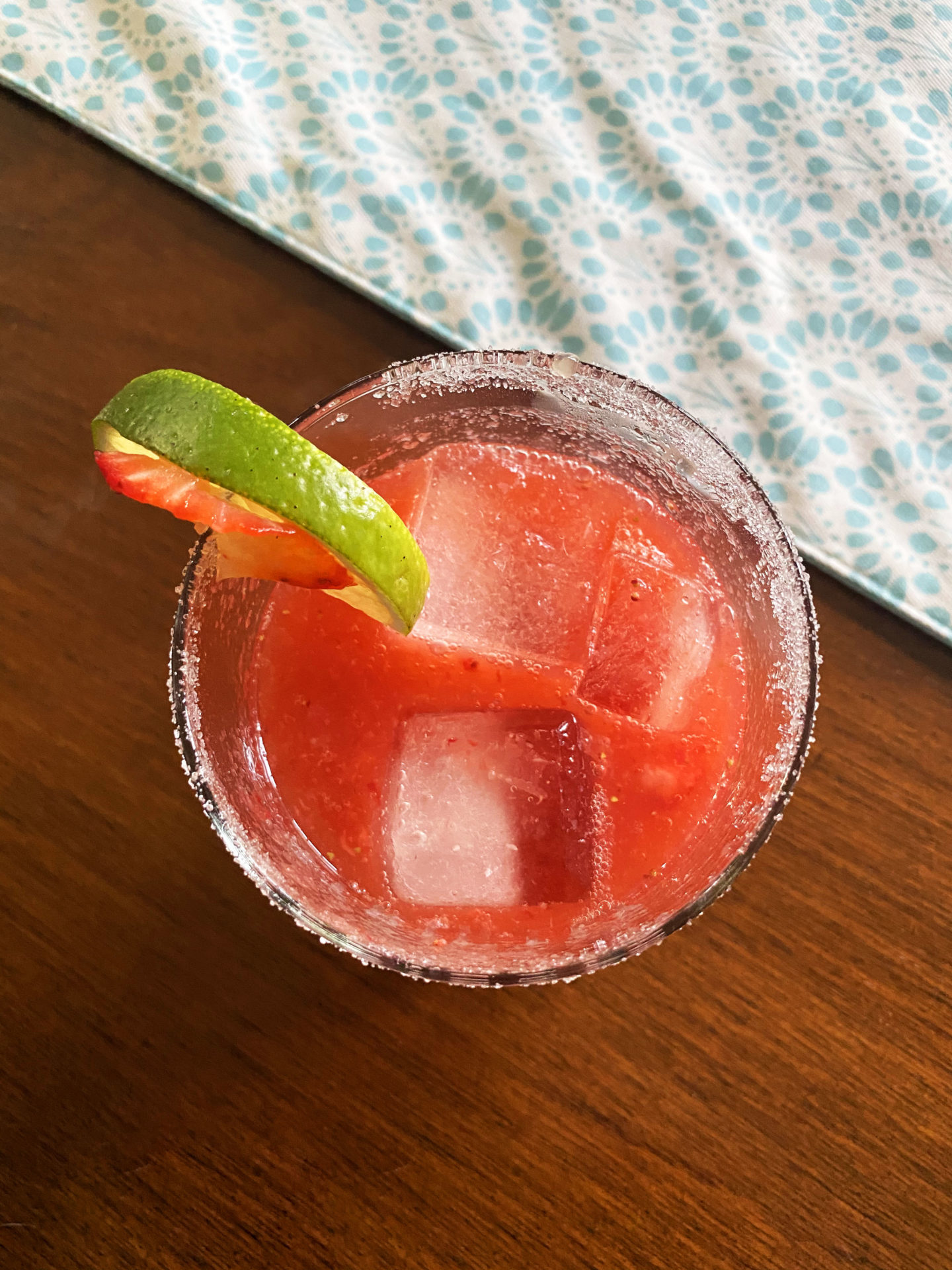 Just like the pasta dish I posted last week, I like to use a lot of fresh ingredients. Sure, buying a jar of something is more convenient, but it's so much more delicious if you make it yourself.
Obviously, the same mentality would apply to cocktails, and when it comes to Cinco De Mayo, you know that means margaritas! I don't want to buy some pre-made mix, because you can definitely tell the difference when using fresh ingredients!
Strawberry Margaritas
Ingredients:
1 lb. of fresh strawberries, hulled
2/3 cup of freshly squeezed lime juice
1/3 cup honey or agave (you can use more or less depending on how sweet you want it)
1/4 cup of Triple Sec
1 cup of reposado Tequila
strawberries and lime slices for garnish
ice
salt or sugar for the rim
Directions:
1. Add strawberries, lime juice, agave, Triple Sec, and Tequila to a blender. Pulse until smooth. Let the mixture rest for about 5 minutes. Taste. You can always add extra tequila or agave if desired.
2. Since I don't like a salt rim, I dip the rim of my glass into sugar. You can do whichever one you prefer.
3. Fill glass with ice and pour mixture into glass.
4. Garnish with a strawberry and lime slice.
5. Serve immediately!
Enjoy!