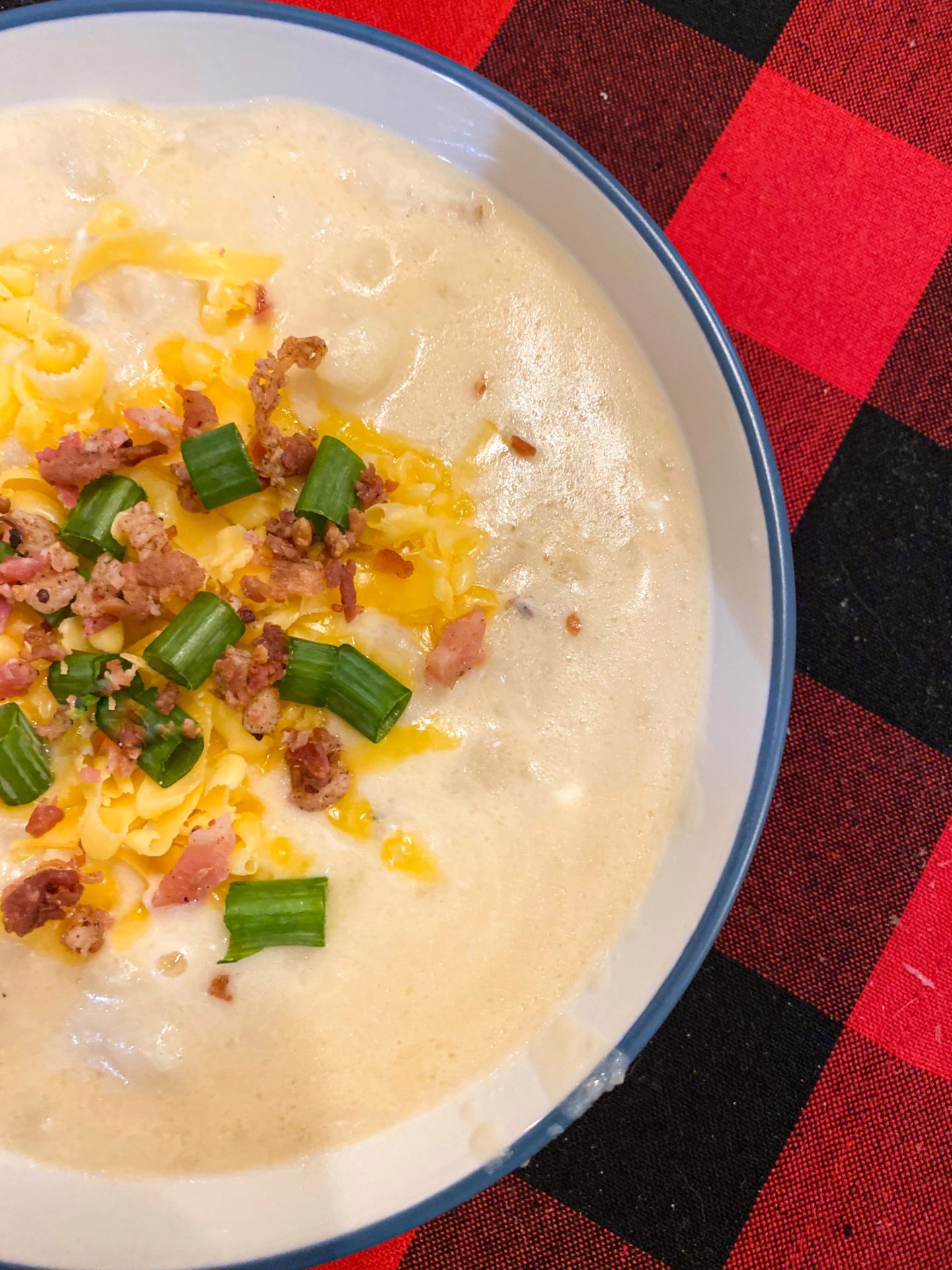 I'm honestly not a huge fan of cooking with crockpots, but sometimes crockpots make things so much easier. Now that it is getting colder, it's the perfect season for soups. One of my favorite soups to make is Loaded Potato Soup. I love it, because it's indulgent and the ultimate comfort food.
Besides how delicious it is, I love how you can let it cook for 6-8 hours and not worry about it. It's super easy to make, because after you've prepped everything, you just follow the directions and put it in the crockpot and go about your day until it's ready! I've been making this for years and it's one of those dishes that I look forward to this time of year!
The soup is a little more chunky and thick, but that's how I've always made it and it's what I like the best! If chunky isn't your thing, then you may want to skip this one!
This recipe also makes enough for 4-6 servings, so you'll have leftovers!
Ingredients:
6 large russet potatoes (You can use smaller potatoes. I've made it with smaller russet potatoes and used 8-10 potatoes)

4 cups of unsalted chicken broth
½ cup of sour cream
4 ounces of cream cheese (make sure it is softened to room temperature)
2 teaspoons of salt
1 teaspoon of pepper
2 teaspoons of onion powder
2 teaspoons of garlic powder
2 tablespoons of cold water
2 tablespoons of cornstarch
2 tablespoons of butter
2 cups shredded sharp cheddar cheese (I always use fresh sharp cheddar cheese and grate it myself)
Bacon, cooked and crumbled (You don't have to fry bacon, if you don't want to. Bacon bits work great too! Bacon bits also save so much time)
Green onions, diced (for garnish)
Directions:
Wash and peel the potatoes. Be sure to cut them into chunks, maybe ½ inches. Smaller is fine too!

Place the potatoes into the crockpot and the seasonings (salt, pepper, garlic powder, and onion powder), as well as the butter. I cut the butter into several slices.

Pour the chicken stock into the crockpot (I use unsalted chicken stock).

Cover and cook for 6-8 hours on low or 3-4 hours on high (Usually, I cook it around 6-7 hours).

Once your timer goes off, be sure to turn your crockpot up to high for the remainder of the recipe, if you have had it cooking on low.

Now, in a separate bowl, mix the cornstarch and water together. Once mixed, now mix it into the soup.

Cover the crockpot again and now cook for another 20-25 minutes, so the soup will thicken. The cornstarch is what allows it to thicken.

Grab another bowl and add the sour cream to the bowl so you can temper. Add a few tablespoons of liquid from the soup to the sour cream that's in the bowl. I usually eyeball it, but I add maybe 2-4 tablespoons of liquid and then stir. This is an extremely important step. You don't want to curdle the sour cream/soup. It's something that can happen if it's heated too quickly or at too high of a temperature.

Turn the crockpot off and then add the sour cream mixture, cheddar cheese, and cream cheese to the crockpot. 

Stir until smooth.

Garnish with the toppings of your choice.
Enjoy!