I've been wishing it was fall for over a month now, since we have ridiculously hot and humid summers here in the Bluegrass State. However, we still have September to get through first. I wanted to channel my inner fall and try to summon the autumn gods to get here faster, so I made a fall-inspired recipe. It's all about the law of attraction. Maybe, just maybe, fall could come sooner if I put out all those "sweater wearing, boot doting, hot toddy sipping" vibes out there. At least one could hope.
Before I get into the recipe, I'll tell you a funny story. My husband and I were in the kitchen making the recipe, and then we started laughing and talking about us making a dish that we have never eaten. We've just seen it on cooking shows that are on the Food Network. We never have even eaten 'regular' gnocchi, which is surprising to me, since I love potatoes (except sweet potatoes, because just no).
This month, any time I posted a recipe, I wanted it to have something to do with bourbon (Mostly, because it would be kind of pointless posting a random recipe that has nothing to do with Kentucky or has any Kentucky ties). I'll have more recipes to come later this month! After all, bourbon is a HUGE part of the culture here in Kentucky, and September is National Bourbon Heritage Month.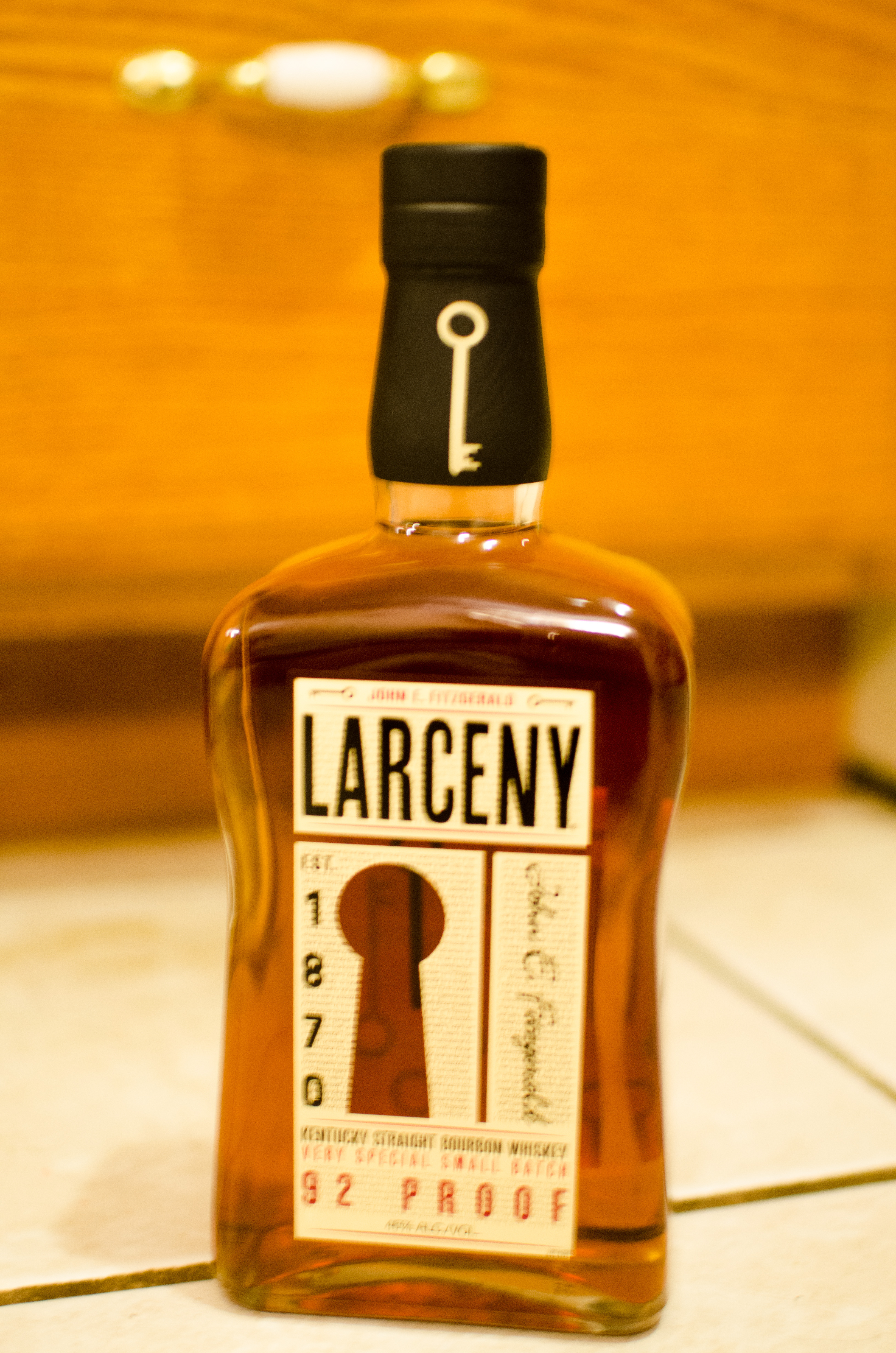 I decided to use Larceny as my bourbon, but you can use any kind you want. However, you may want to know about bourbon in order to know which ones you should use and which ones you should stay away from. Something to be aware of: All bourbons have different flavor profiles.
Larceny has the taste profile of a six-year-old Kentucky Straight Bourbon. It's 92 proof and 46% APV). It's made with wheat as the secondary grain, instead of the traditional rye (FYI: Corn is the first grain like it is in all bourbon). By wheat being the secondary grain, it results in a smoother tasting bourbon.
Fun Fact: Larceny is a small batch bourbon. The Master Distillers select a limited number of barrels from specific floor locations in the rickhouses that have reached peak maturity for Larceny. Their small batch is typically 100 barrels or fewer.
Details about Larceny:
Color: Bright new copper
Aroma: Fresh bread and toffee, with a note of butterscotch
Taste: Buttery caramel and honeyed notes with a rich mouthfeel
Finish: Long, gently sweet and savory

Ingredients:
small butternut squash, about 1 lb. (ours was a little over 1 lb).
1/2 cup parmesan cheese
3/4 teaspoon nutmeg
1 teaspoon of salt
pepper (we used around 1 teaspoon)
2 eggs
1 cup flour (I would slowly add more in the mixture, until it is manageable to work with and is not as sticky. It is heavily dependent on how large your squash is. Just remember you can always add more, but you can't take away).
Ingredients for the Cream Sauce:
3 tablespoons butter
2 tablespoons flour
2 shallots, finely diced
4 cloves garlic, minced
2 cups chicken stock
1 cup bourbon
1/3 cup heavy cream
salt and pepper
fresh thyme leaves (to garnish)
Directions:
Preheat the oven to 450 degrees Fahrenheit.
Cut the squash in half.
Be sure to remove the seeds and lay on an oiled, rimmed baking sheet.
Roast the squash until soft (usually 30-40 minutes). You may need to do it longer, depending on the size of your squash. I recommend weighing the squash at the grocery store before you buy it, so you'll definitely know the weight.
Scoop the flesh of the squash out and place it in a food processor, and then puree until it is completely smooth.
Mix the pureed squash with parmesan cheese, nutmeg, salt, pepper, and eggs
Then add the flour into the mixture and work together by hand. Warning: It will be very sticky!
Once the mixture is smooth, put flour down on your work surface and a large piece of parchment paper.
Don't skip this step! Flour your hands and grab a handful of dough. Roll into a long-strip about 1/2 inch wide and then into 1/2 pieces.
Place each piece in the palm of your hand and gently roll with a fork to create ridges.
Place on the parchment paper and repeat until finished.
Bring a large pot of water to boil. Boil half the gnocchi, remove, and repeat until finished. You know the gnocchi is finished, when it floats. It usually takes maybe around 5 minutes.
Heat a large skillet over medium heat. Make sure to add the butter and flour, and whisk until smooth.
Add the shallots and garlic and sauté for 3 minutes.
Add the bourbon and chicken stock.
Whisk and raise the heat, so the sauce can come to a boil.
Allow the sauce to reduce down to a thin gravy-like consistency. Then lower the heat to medium-low and add the cream (If the cream sauce thickens too much, add a little water from the gnocchi pot to thin it out!)
Add salt and pepper to taste (around 1 teaspoon).
Once all of the gnocchi are finished cooking, remove them and place them into the cream sauce.
Stir to coat.
Serve the gnocchi warm and you can garnish with fresh thyme leaves if you wish.
*Now, be forewarned, this recipe takes at least 1.5 hours to 2 hours to complete, and most likely even longer if you are a complete novice to cooking or if you are doing completely by yourself or if you bought a large squash (which would result in lots of gnocchi). It's also a recipe, where you need to be good at multi-tasking, since you are making the gnocchi and the sauce essentially at the same time. So, if you plan on making this, be sure to set a lot of time aside or you may end up being hungry before it's finished!
**If this recipe doesn't say fall, then I don't know what does.
Enjoy!