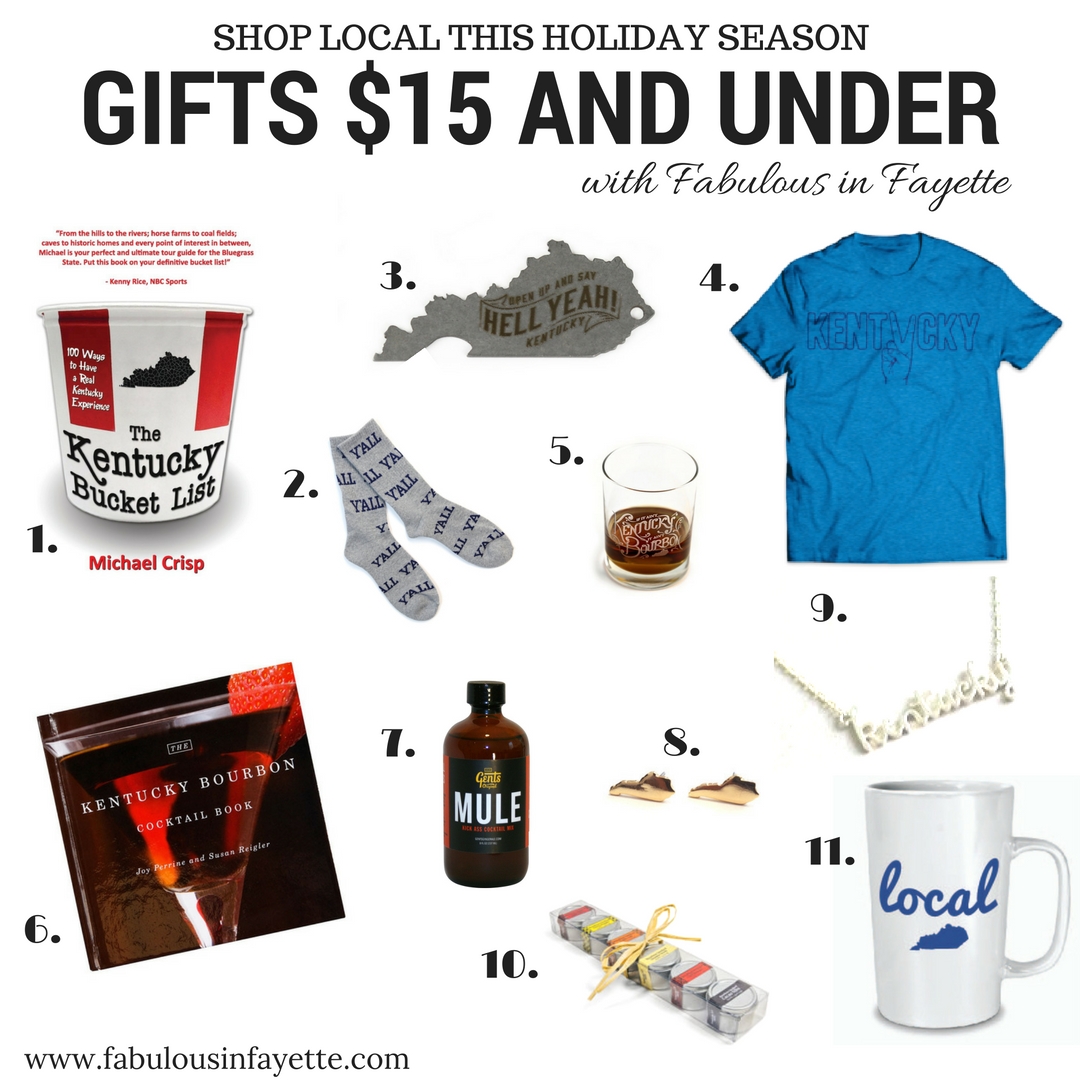 Can you believe there are only sixteen days until Christmas?!? I know there are tons of last minute shoppers out there, so I have put together several gift guides to help you out. All the products featured are from local shops and all are Kentucky themed. If you are new here, shopping local is extremely important to me, and is even a big movement in Kentucky (especially Lexington) with all the Kentucky Proud products that you'll see in stores and the many opportunities that we have to shop at various markets (NoLi Night Market, Market 301, The Distillery Market, etc). It's also common to see a 'Shop Local' sticker featured in store windows and on the products themselves.
Today, I'll be featuring gifts $15 and under.
1. The Kentucky Bucket List: 100 Ways to Have a Kentucky Experience by Michael Crisp: What better way to start off the new year than by planning on crossing things off your list that you haven't done or experienced yet? There's also a follow-up book called, The Kentucky Bucket List: Part Two (*You can buy it from The Morris Book Shop, but they are closing in January, so it would be nice to show them one last great holiday season!
2. Y'ALL socks: They have these in navy and gray, but they also have several Kentucky themed ones that are different colors. Around the Fourth of July, I bought the red, white, and blue Kentucky socks, which you can see here.
3. Kentucky Bottle Opener:  This bottle opened was designed, engraved, and manufactured all right here in the Bluegrass state!
4. One Month Subscription to My Kentucky Tee: I've actually been a customer of theirs since July 2015, and I absolutely love them! I  have every single one of their shirts, except two. How it works: It's a t-shirt subscription box. When you sign up, you get that month's tee, plus the 1792 introductory tee. It cost $15 per month, and each month you will receive a new Kentucky themed t-shirt. You can sign up and view the past month's t-shirts, here. However, this will be one subscription box that you won't want to cancel. Make sure if you sign up for a subscription to let them know that Whitney Scheibel told you about it!
5. 'If It Ain't Kentucky, It Ain't Bourbon' Bourbon Glass: This is a 14 oz. rocks glass. I surprised my husband with some of these, and he loved them! They also have several other designs to choose from, such as: Heaven Must Be a Kentucky Kind of Place, Bourbon Breath, Strictly For My Bourbon, and more!
6. The Kentucky Bourbon Cocktail Book: There are over 100 recipes in this book, including seasonal drinks, after-dinner bourbon cocktails, Derby cocktails, and even medicinal toddies. You can also learn how to make classic drinks such as the Manhattan and the Mint Julep to drinks for special occasions, including the Candy Cane, Pumpkin Eggnog, and Kentucky Bourbon Sparkler. Not only will you learn how to make cocktails, but you learn about appetizer pairing.
7. Gents Original: Small Batch Moscow Mule Cocktail Syrup: I'm sure a lot of you have heard of Moscow Mules, but here in Kentucky, we like our bourbon, so we make Kentucky Mules. The mule cocktail syrup is crafted with organic ginger root, fresh-squeezed limes, cane sugar and sea salt. It is handcrafted by local artisans right here in Lexington, Kentucky.
8. Gold Post KY Earrings: Show off your love of Kentucky with these cute little Kentucky shaped earrings.
9. Kentucky Script Necklace: This is so cute and dainty. You could wear it on game day or just any regular day to let everyone know that you are proud of being from Kentucky!
10. Bourbon Barrel Aged Miniature Trial Set: The gift set contains: Bourbon Smoked Chili Powder, Bourbon Smoked Citrus Pepper, Bourbon Smoked Garlic Salt, Bourbon Smoked Togarashi, Bourbon Smoked Sesame Seeds, and Bourbon Smoked Cacao Nibs. All of Bourbon Barrel Foods items are handcrafted in small batches in Louisville, Kentucky. They even use reclaimed barrels straight from Kentucky's finest bourbon distilleries as both a smoking and aging agent. They are known for their 'EAT YOUR BOURBON' slogan!
11. Local Lustre Mug: What better way to say you are a local and that you loving shopping local than this mug?!?
Shops featured in this gift guide: The Morris Book Shop, Kentucky For Kentucky, My Kentucky Tee, Kentucky Branded, Go Bourbon, Gents Original, Miss Molly Vintage, and Bourbon Barrel Foods.