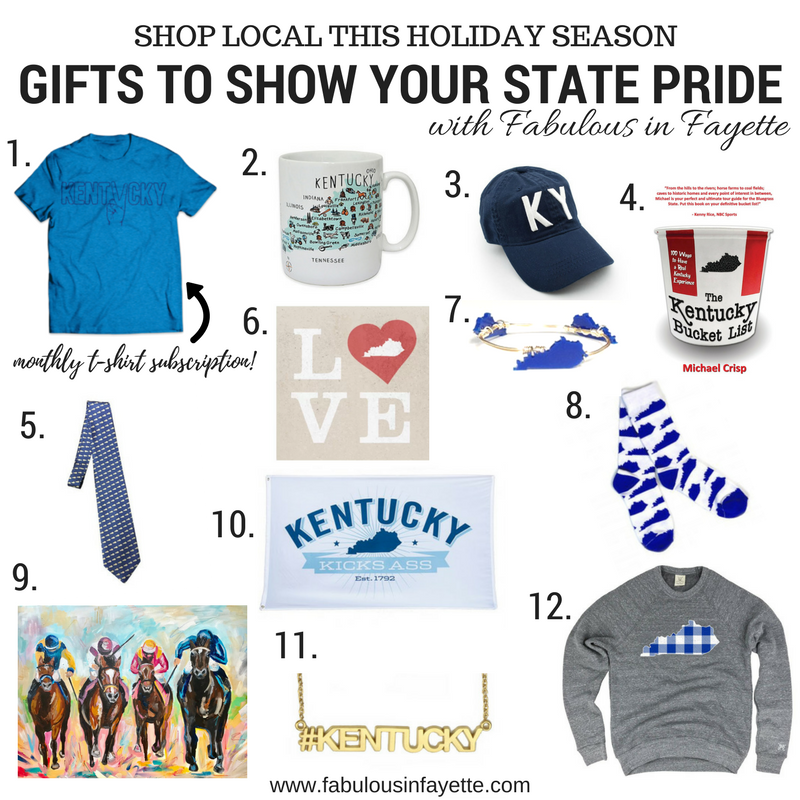 I think Lexington, Kentucky is one of the greatest places to live and over the years, it has won several accolades (such as: #15 Best College Towns & Cities in America, #5 Best City for 20-Somethings, #2 Most Charitable City in America, #31 Best City to Live In, and much much more), Lexington is located in Fayette County, which is Central Kentucky. Lexington is known as the "Horse Capital of the World" and is the second largest city in Kentucky and the 60th largest in the United States.
Kentucky is one of the few states that has tremendous state pride. Some people may laugh at it, but they simply just don't understand. You should be happy where you live! It's all about what you make it!
Back in 2013, some kickass Kentuckians, Griffin VanMeter and Whit Hiler, wanted to replace our current slogan, Unbridled Spirit, with a new one — Kentucky Kicks Ass. Their shop, Kentucky for Kentucky has some kickass Kentucky gear!
With that in mind, I've put together a gift guide so you can show your state pride to My Old Kentucky Home!
Gifts to Show Your State Pride:
1 . Subscription to My Kentucky Tee: I've actually been a customer of theirs since July 2015, and I absolutely love them! I  have every single one of their shirts, except maybe two. How it works: It's a t-shirt subscription box. When you sign up, you get that month's tee, plus the 1792 introductory tee. It cost $15 per month, and each month you will receive a new Kentucky themed t-shirt. You can sign up and view the past month's t-shirts here. However, this will be one subscription box that you won't want to cancel. Make sure that if you sign up for a subscription to let them know that Whitney Scheibel told you about it!
2. My Place "Kentucky" Jumbo Mug: Drink your coffee while showing your stare pride with this extra large mug.
3. KY Cap: Simple and casual, this hat is perfect for any occasion and outfit.
4. The Kentucky Bucket List: 100 Ways to Have a Kentucky Experience by Michael Crisp: What better way to start off the new year than by planning on crossing things off your list that you haven't done or experienced yet? There's also a follow-up book called, The Kentucky Bucket List: Part Two and also there is The Best Kentucky Trivia Book Ever.
5. State Tie: Help your guy show his state pride even when the dress code is a little more formal. Perfect for Keeneland!
6. Kentucky State LoveTextual Art: A great piece for a gallery wall!
7. Kentucky Bangle: Love your state and your accessories with this awesome bangle!
8. Kentucky State Socks: These socks look great in blue and white, but they are available in many colors to match any outfit!
9. "Whip it Good" Print by Kayla Weber: This was painted by my friend, Kayla Weber, and she is ridiculously talented. This piece of artwork is by a local artist and would look amazing on the walls of any Kentucky home! Photographic print of the original painting "Whip it Good". Available in sizes 8×10, 11×14 and 16×20. 1 inch border for framing on 11×15 and 16×20. Half inch border on 8×10. Available in other size upon request. Signed by artist.
10. Kentucky Kick Ass Flag: Show how much you think "Kentucky Kicks Ass" by flying this flag!
11. #KENTUCKY Necklace: Get your #Kentucky bling on with these awesome hand-crafted gold #Kentucky necklaces by Meg C.
12. Buffalo Plaid Kentucky Raglan: Keep warm and cozy this winter by wearing this classic sweater.
Only 38 days until Christmas!